Adding Curb Appeal: DIY Window Boxes
This post and its photos may contain affiliate links. As an Amazon associate I earn from qualifying purchases. If you make a purchase through these links, I may receive a small commission at no extra cost to you!
This is a sponsored post written by me on behalf of Gilmour. All opinions are 100% mine.
Add instant curb appeal to your home with quick and easy DIY "window box" planters, and add a pop of bold color to brighten up the space!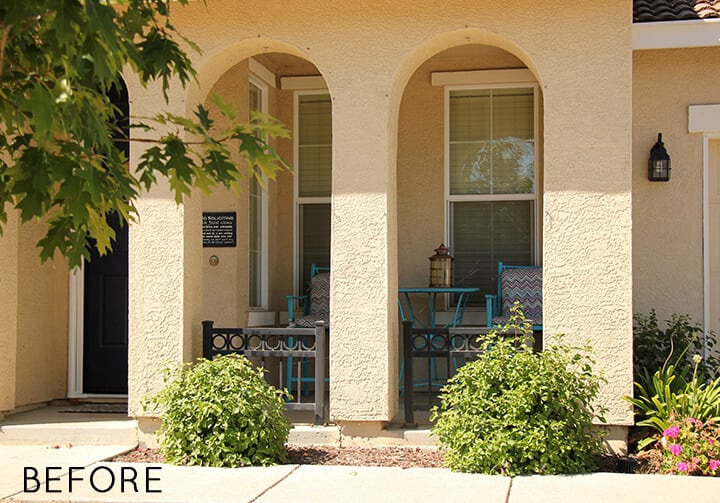 Last year I painted our patio set a vibrant aqua color, and bought bright blue and purple chevron seat cushions in the hopes of adding a pop of color to our front patio. Unfortunately, when the patio set was sitting under the shade of the porch, the splash of color practically disappeared and looked washed out. Drought conditions in California this year have forced our entire neighborhood to adopt a brown front lawn policy, and without lush green grass the entire yard was looking sad and colorless. I knew that we needed to do something to bring the color and fun back to our front patio right away!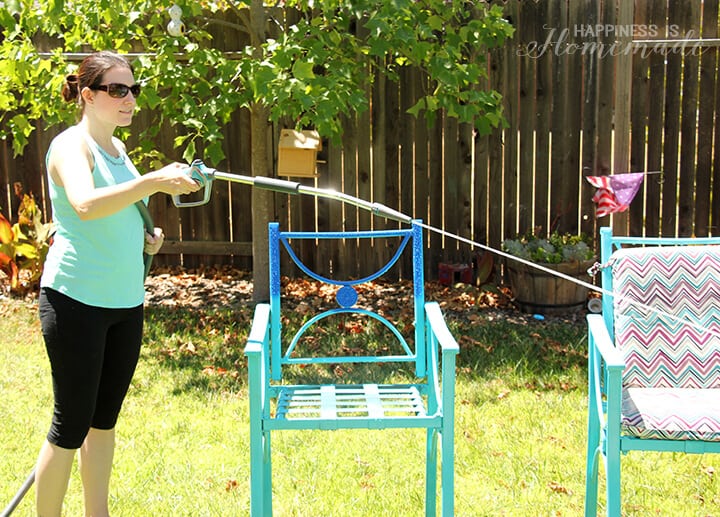 I started by moving the patio furniture into the backyard where I could give it a power washing with my Gilmour Flexogen hose and Metal Power Jet Wand. We're on strict water restrictions here due to the drought, so I placed the furniture on the lawn so that I could clean the furniture and water the grass at the same time with the over spray. Win-win!
The USA-made Flexogen hose is perfect for power washing because of its high burst abilities and extreme flexibility due to its eight layer design (most hoses have only six!) and oxygen infused foam. The combination of the Flexogen and the Gilmour Metal Power Jet Wand are perfect for any tough cleaning job! I also gave the front patio a quick once over to remove the layer of dust and cobwebs that had settled there over the past few months.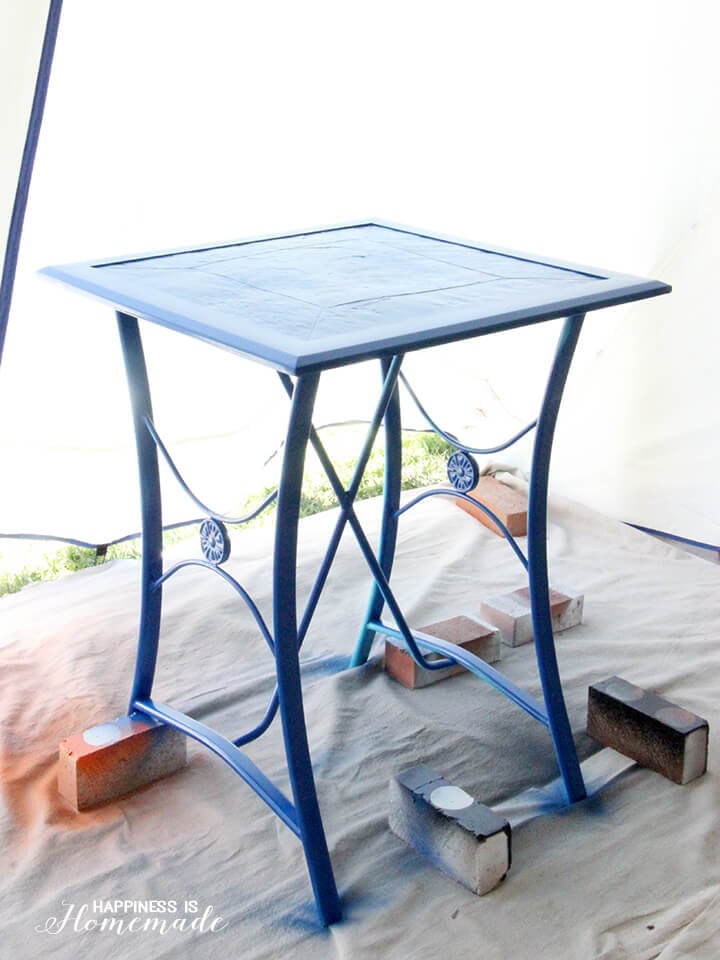 I set up my spray painting tent and gave the patio furniture a fresh coat of dark blue paint to coordinate with the front door color.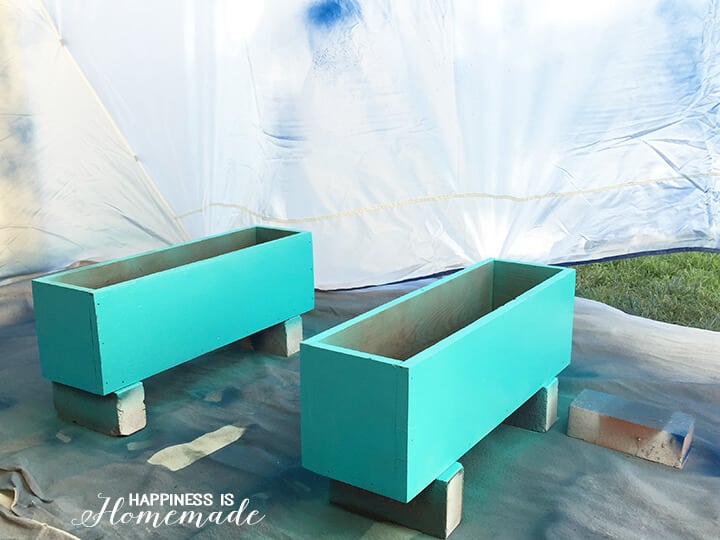 We built two simple wood boxes to serve as "window box" planters for the front porch, and I spray painted them in "Seaside."
We attached plumbing straps to the back of the window boxes, and wrapped and secured them to the top rail of the porch fences.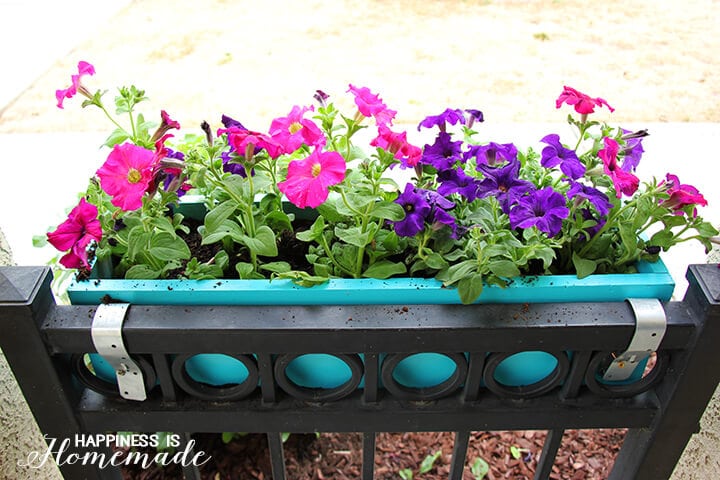 I love the color combination of aqua, purple and magenta – so bright and cheery! I filled the two window boxes with colorful petunias, trimmed the bushes around the patio, and added a fresh layer of bark mulch to the planting area.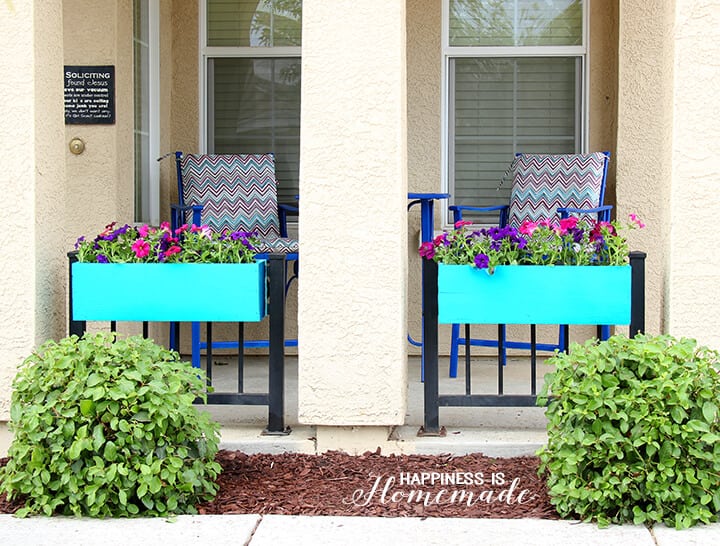 Now that's the pop of color I was hoping for!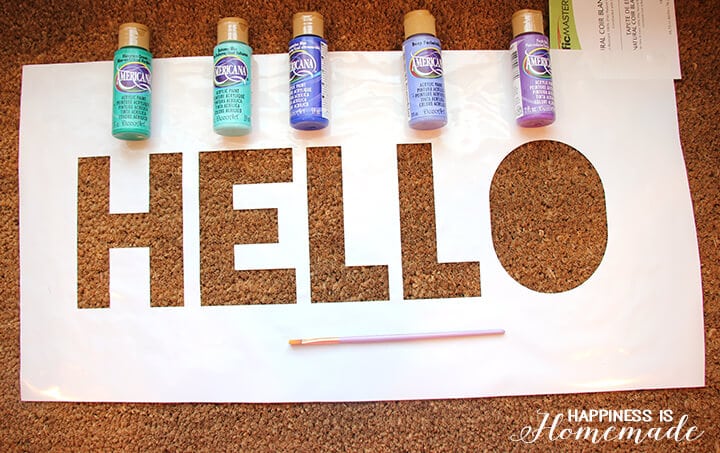 I also stenciled a new doormat for the porch while I was at it.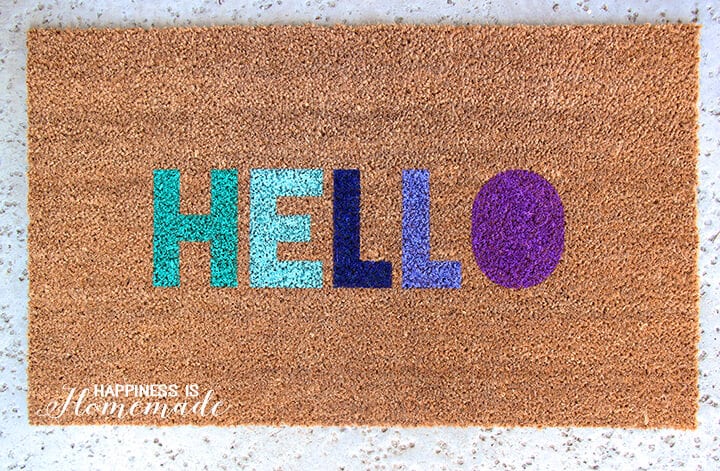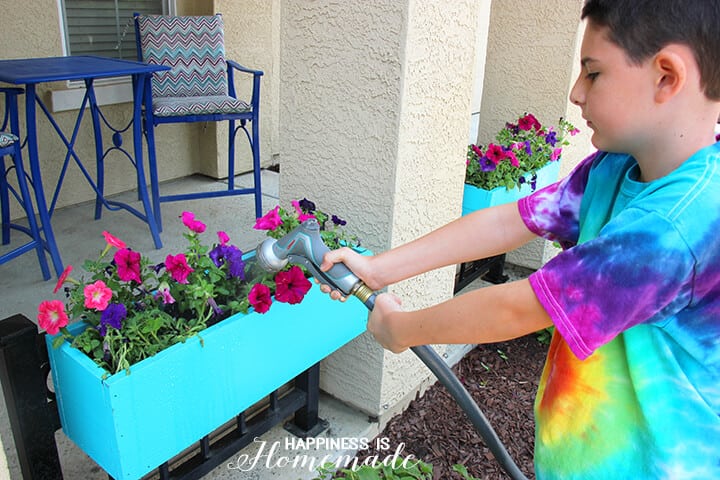 The boys have been enjoying taking care of the new window box planters too. They earn screen time for doing chores and helping out around the house, so watering the window boxes has quickly become one of their favorite chores. The Gilmour Watering Durable Metal Sprayer makes it easy for them with a comfortable soft grip and easy-to-read settings. We use the sprayer on the "flowers" setting for the window boxes, and every few days we use the "garden" setting to water the deeper roots.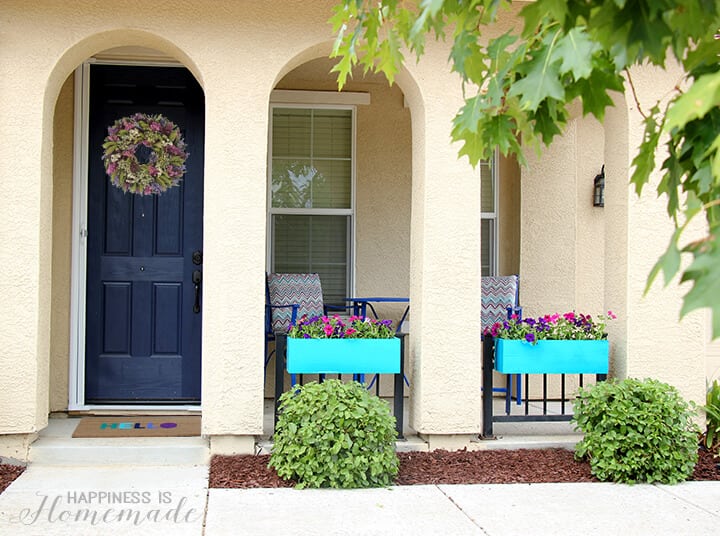 This entire front porch update was a super quick and easy way to add curb appeal to our home for very little time or money. I know that with the help of our favorite Gilmour gardening tools, we'll keep this area looking fresh and colorful for years to come! To stay up to date with the latest Gilmour news and product information, be sure to follow Gilmour on Facebook!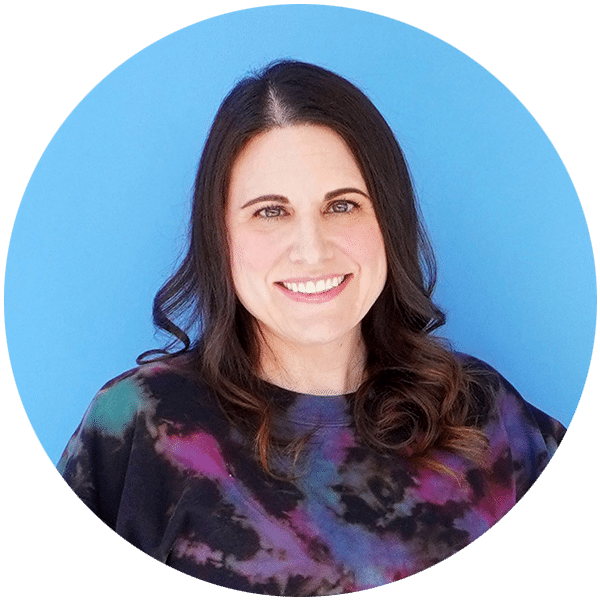 Heidi Kundin has captivated the hearts of millions with her colorful and inspiring approach to crafting, celebrations, and family fun. With over 15 years of experience, Heidi's website has become a must-visit destination for those seeking quick and easy creative ideas and last-minute solutions. Her warm personality shines through her posts, inviting readers to join her on a creative journey that's fun, rewarding, and achievable.