Here's one from my archives that deserves a revisit!
My boys are NUTS over guitar picks…don't ask me why! I decided to have them make their own special guitar picks instead of raiding their dad's guitar case every five minutes (you're welcome, Daddy!).
Here's what you need: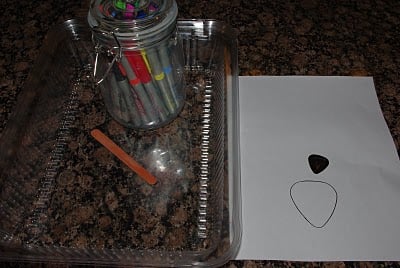 * Permanent Markers
* Foil
* Guitar Pick – trace the pick and enlarge about 250% to make a template
* #6 plastic – this can be found in many food packaging materials including clear takeout containers. Our came in the form of disposable cake pan lids that we purchased at the Dollar Tree.
* Optional: nail file or sandpaper
Cut your plastic into a flat sheet and trace over your guitar pick template. My kids were too impatient, but at this point you might want to lightly sand the side that you are going to draw on as it makes the marker adhere better (without sanding, the marker will likely start to scratch off after awhile unless you are also planning on using a sealer on it). Start coloring!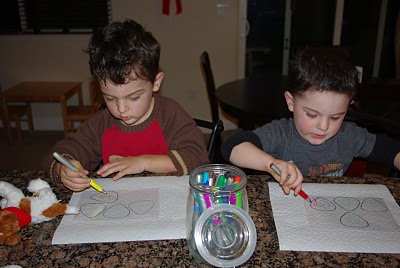 Preheat your oven to 325 degrees. Cut out your picks and place them on a "cookie sheet" crafted from foil. You can also use a regular cookie sheet lined with foil, but it makes the shrinking process take a little longer.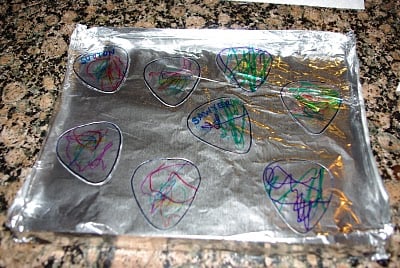 Place the picks into the oven, and after about a minute they will start to bubble, shrink and curl up. Don't worry about the curling – they will flatten themselves out as the shrinking process finishes!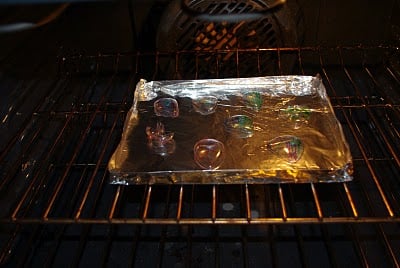 Carefully remove them from the oven – if you're still concerned that they're not perfectly flat, you can place something flat and heavy (we used a dictionary) on them while they cool, but you'll have to work quickly as they cool very fast. I should mention that melting #6 plastic fumes are probably not the best thing for you to breathe in, I'm sure. If you're just doing one quick batch like we did, you probably won't even notice any fumes, but if you're going to do a larger project, I would make sure the area is well ventilated.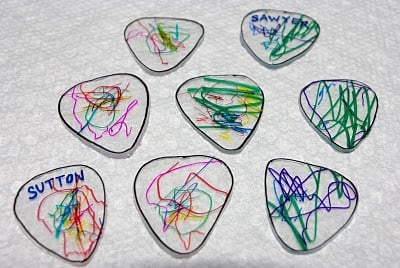 Get someone to test out your finished project – family jam session!