Brown Butter & Maple Brown Sugar Cookies
This post and its photos may contain affiliate links. As an Amazon associate I earn from qualifying purchases. If you make a purchase through these links, I may receive a small commission at no extra cost to you!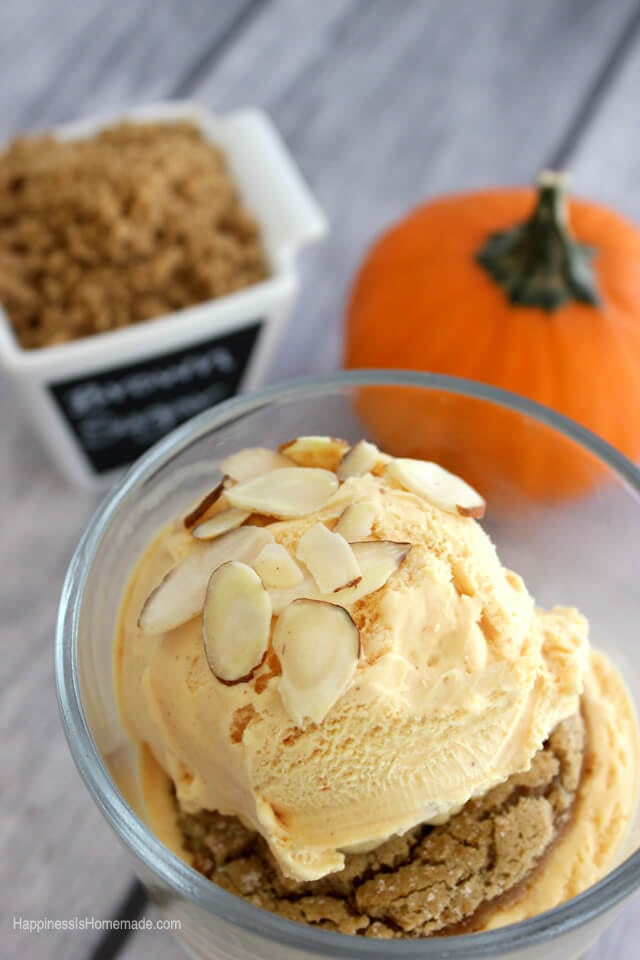 It's been a long and stressful half-week around here, and I am so grateful that we're now heading into a four day weekend (for post-parent-teacher-conferences "Fall Break"). We've faced some tough decisions this week, so to cheer everyone up and lift our spirits I decided to make a special dessert for my family. My oldest son, Sawyer, loves pumpkin pie, but it's hard to justify baking an entire pie when everyone else in the family will just pick at it. I thought about alternative ideas for awhile, and I came up with this deconstructed pumpkin pie dessert made from a base of brown butter, maple, and brown sugar cookies and topped with layers of dreamy, creamy, Slow Churned Pumpkin Patch ice cream from Dreyer's.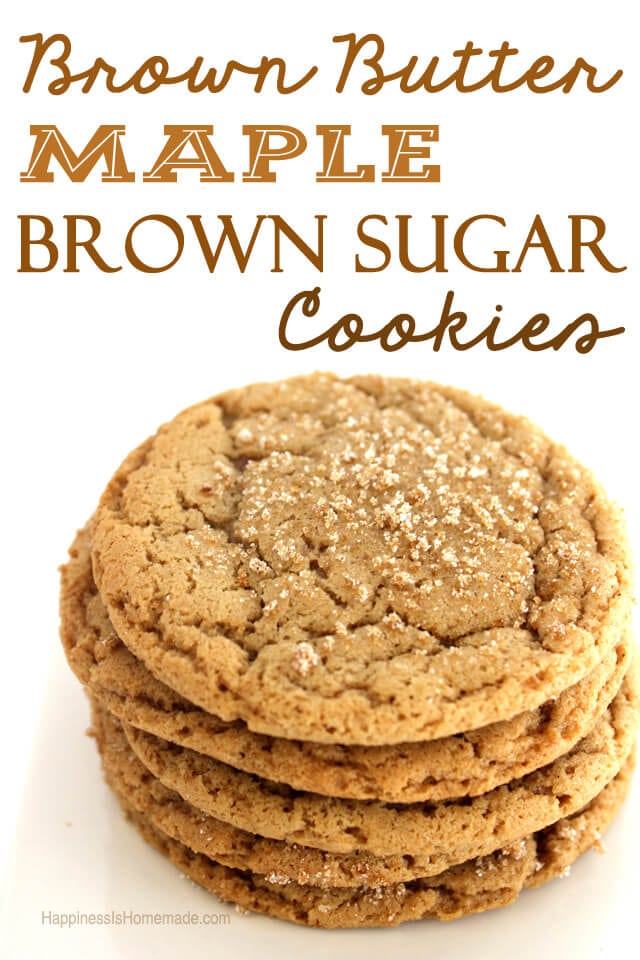 The cookies are soft and chewy, and they make the perfect "crust" counterpart to the ice cream's "pie filling."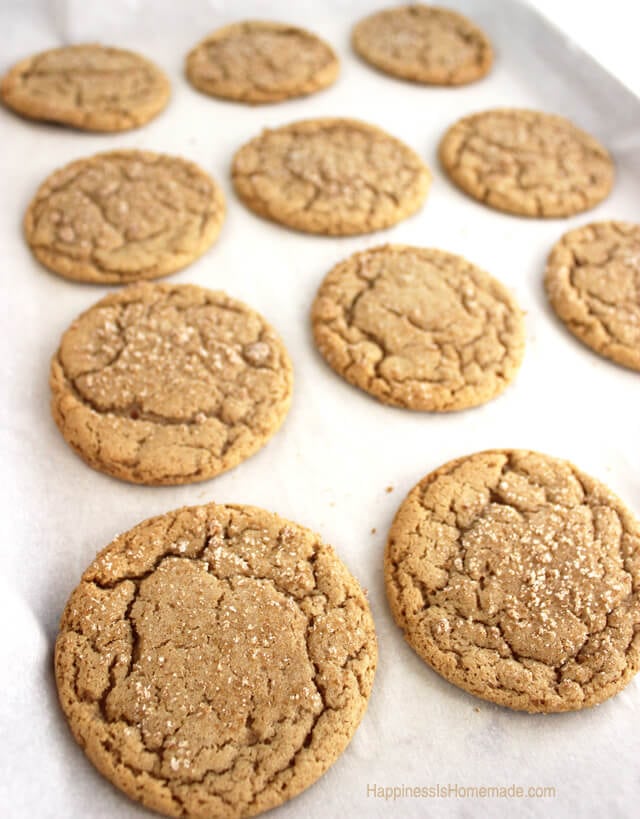 BROWN BUTTER, MAPLE & BROWN SUGAR COOKIES
Adapted from A Spoonful of Sugar
(Makes 24-30 cookies)
INGREDIENTS:
1 3/4 sticks unsalted butter
1 3/4 cups packed dark brown sugar
2 1/2 cups all purpose flour
1/2 tsp. baking soda
1/4 tsp. baking powder
1/2 tsp. salt
1 egg + 1 egg yolk
1 tsp. vanilla extract
2 1/2 tbsp. maple syrup
3 tbsp. brown sugar + 3 tbsp. white sugar (mixed together)
DIRECTIONS:
Preheat oven to 350 degrees
In a small pan, heat the butter over medium-low heat, swirling the pan often until the mixture becomes a light golden brown. Immediately remove from heat and allow to cool until semi-solid and soft. (Note: I quickly cooled my brown butter by pouring it into a large mixing bowl and placing it in the freezer for ten minutes).
Cream together the butter and 1 3/4 cups dark brown sugar until smooth.
Add egg + egg yolk, vanilla, and maple syrup, and mix well.
In a separate bowl combine the flour, salt, baking soda and baking powder.
Add the dry ingredients to the wet ingredients and stir until well combined.
Roll tablespoon sized balls of cookie dough in the remaining brown sugar + white sugar mix and place on a parchment paper lined baking sheet.
Bake 10-12 minutes until edges are lightly golden brown. Allow to cool.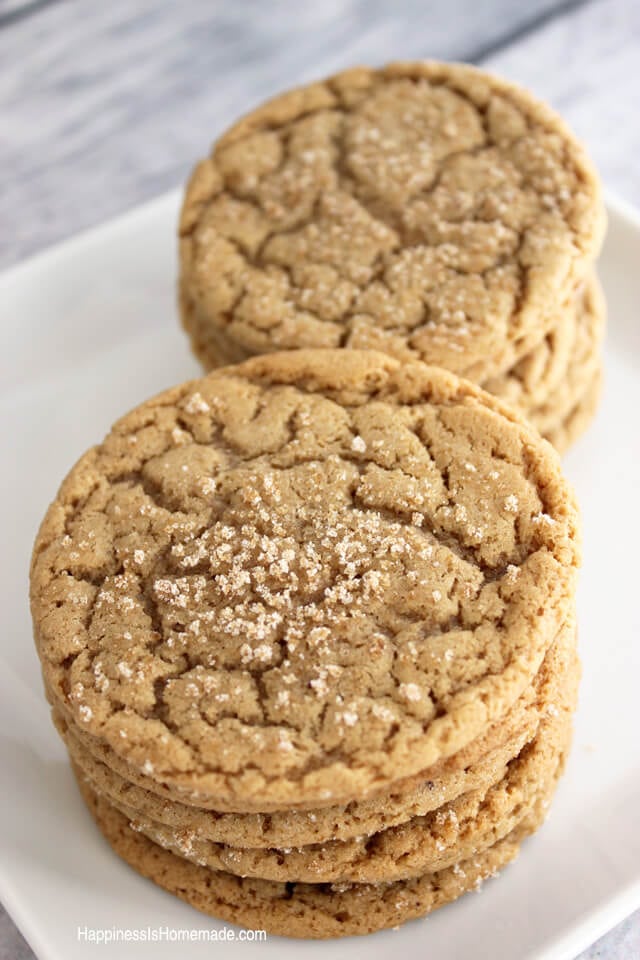 Now, these cookies are pretty incredible all on their own, but they were designed to go hand-in-hand with this limited edition fall favorite…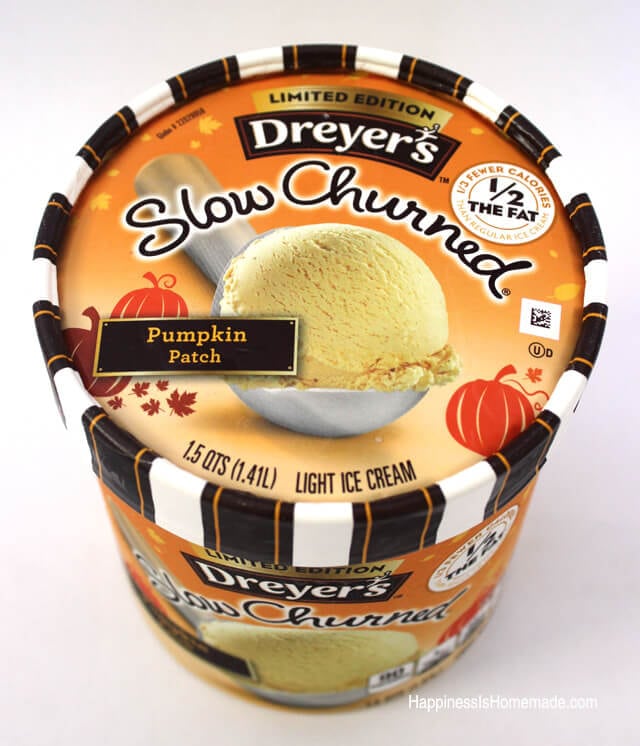 Dryer's Slow Churned ice cream flavors all have an incredible creamy richness that is second to none, but this Pumpkin Patch flavor really shines and hits all the right notes with only half the fat and 1/3 less calories than regular ice cream…seriously, how crazy is it that the better-for-you option actually tastes the best too!? Wholesome ingredients, the perfect texture and great taste…it's almost too good to be true!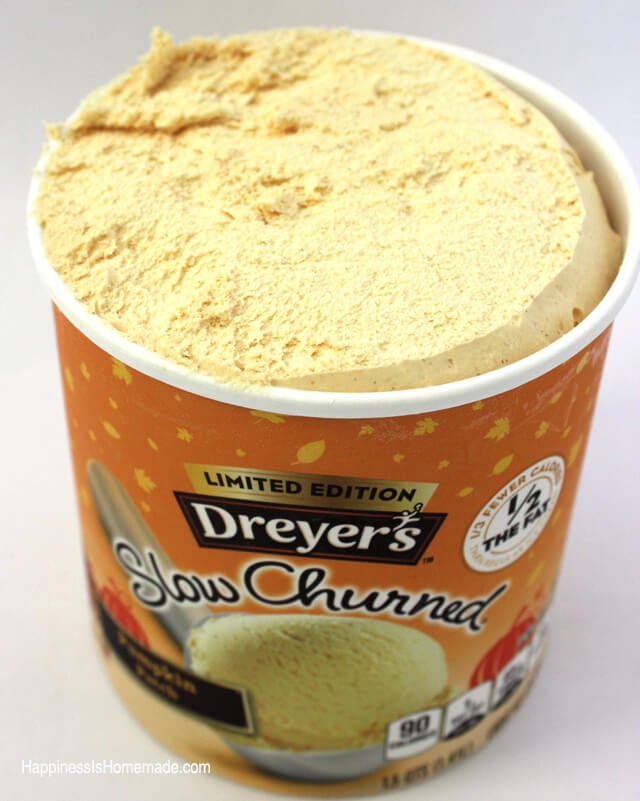 Sawyer declared that the Pumpkin Patch ice cream tastes "exactly like cold and creamy pumpkin pie!" and he was seriously excited to give the new dessert a taste test.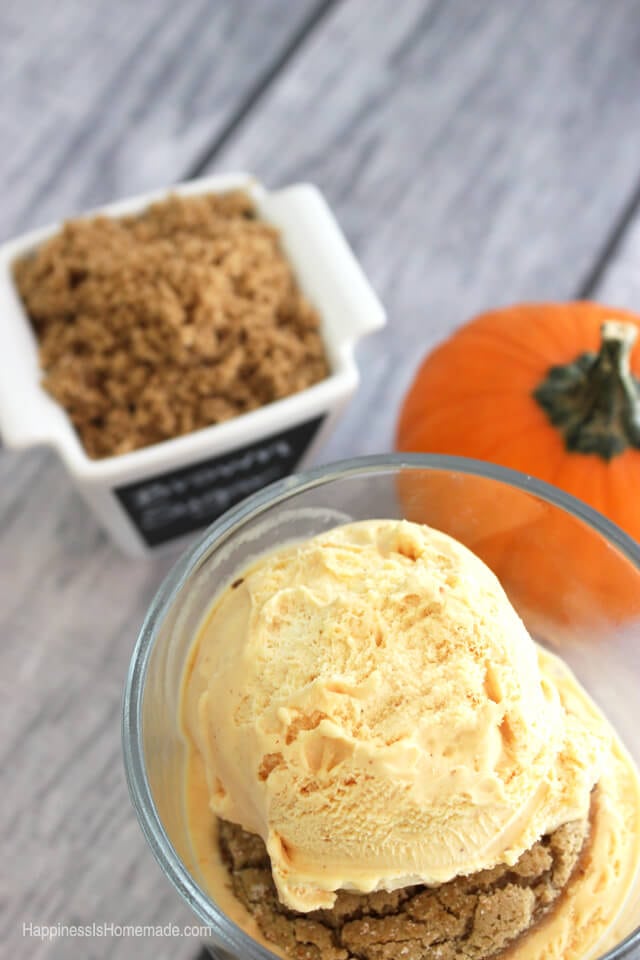 I placed one of our brown sugar cookies in the bottom of a small dish and then layered it with a thin scoop of ice cream, another cookie and topped all off with a larger scoop of ice cream. I sprinkled the grown ups version with slivered almonds, and it added an amazing little bit of crunch, but the kiddos decided to skip the nuts on theirs.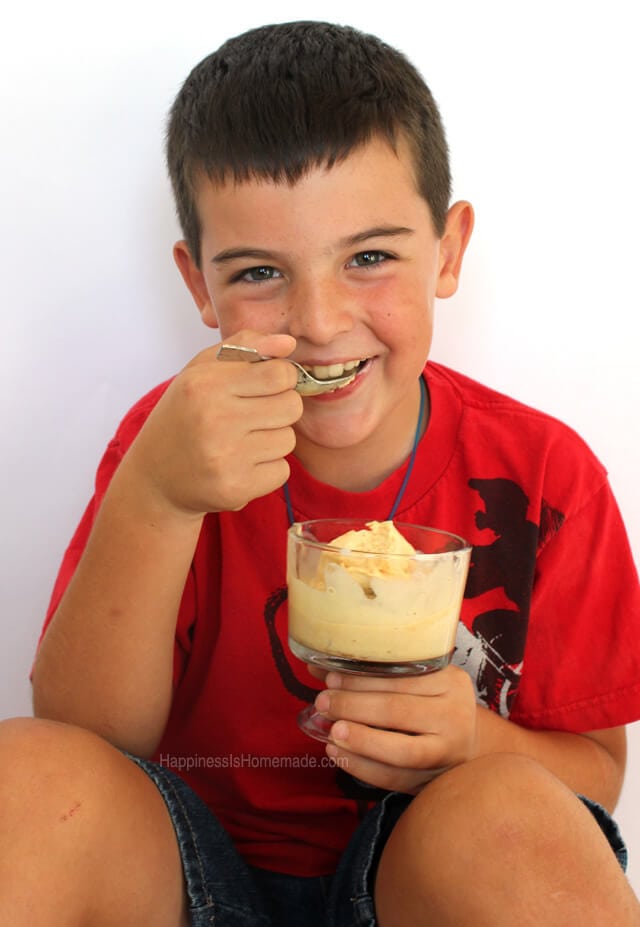 That smile says it all! After a week of frustration and tears (he's struggling a bit with his reading, and it's starting to give him a bad case of anxiety), I couldn't be happier to see him so happy! We sat around the table eating our deserts and chatting about our four day weekend and upcoming pumpkin patch visit, and it was such a joy to relax and find our smiles again after a rough week!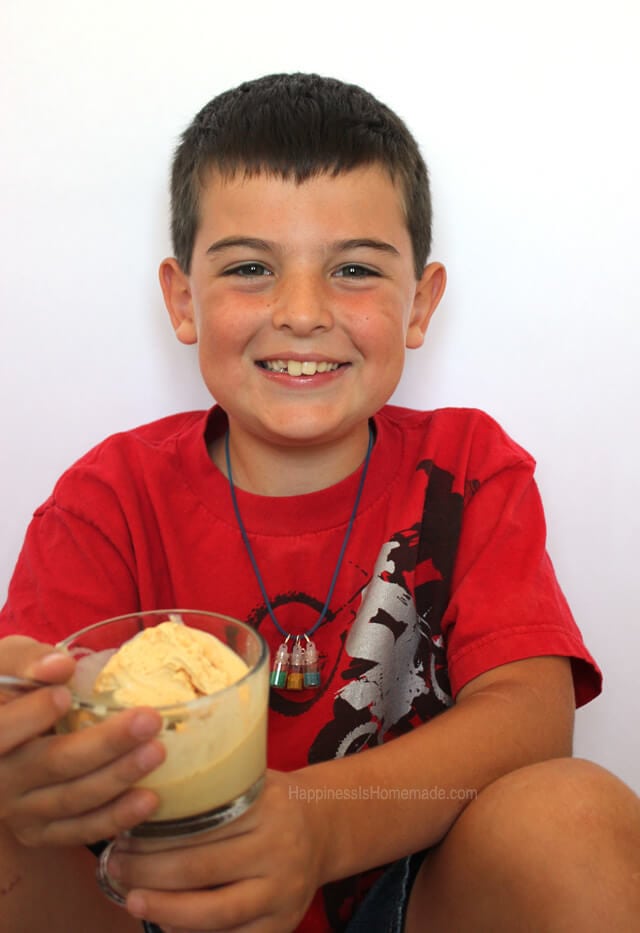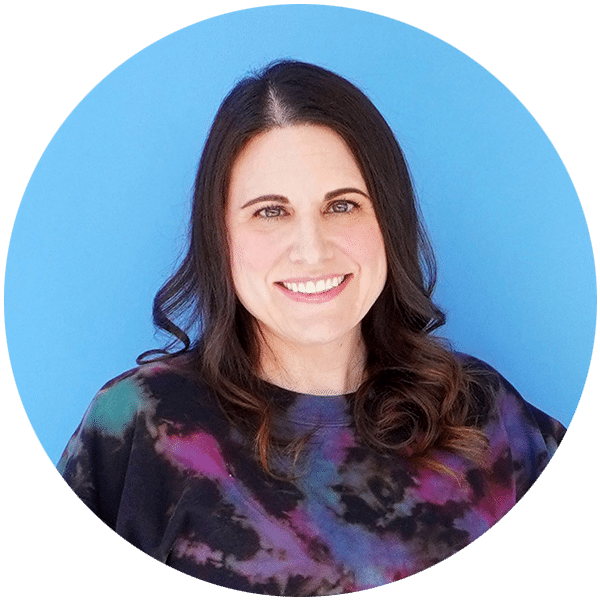 Heidi Kundin has captivated the hearts of millions with her colorful and inspiring approach to crafting, celebrations, and family fun. With over 15 years of experience, Heidi's website has become a must-visit destination for those seeking quick and easy creative ideas and last-minute solutions. Her warm personality shines through her posts, inviting readers to join her on a creative journey that's fun, rewarding, and achievable.