Pumpkin Spice Cookies
This post and its photos may contain affiliate links. As an Amazon associate I earn from qualifying purchases. If you make a purchase through these links, I may receive a small commission at no extra cost to you!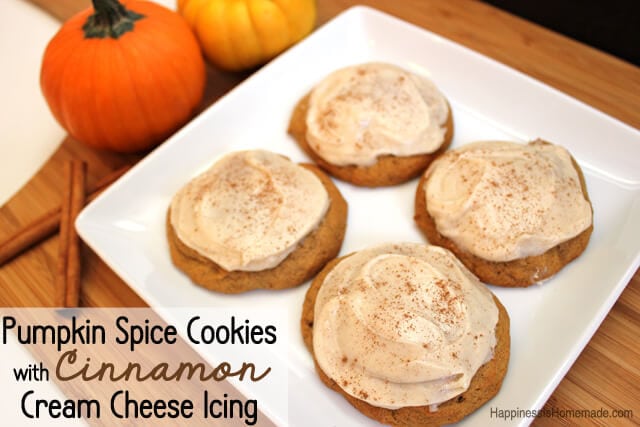 It's pumpkin season, and we've been eagerly baking up all of our favorite fall treats and goodies! I had a major craving for pumpkin donuts the other day, but since we've already had them a few times this season, I opted to make some soft pumpkin spice cookies instead. When I was doing my weekly shopping at Save Mart Supermarket, I couldn't help but notice that they had a great selection of fresh pumpkins, so I decided to challenge myself to make my own fresh pumpkin puree instead of using the canned variety.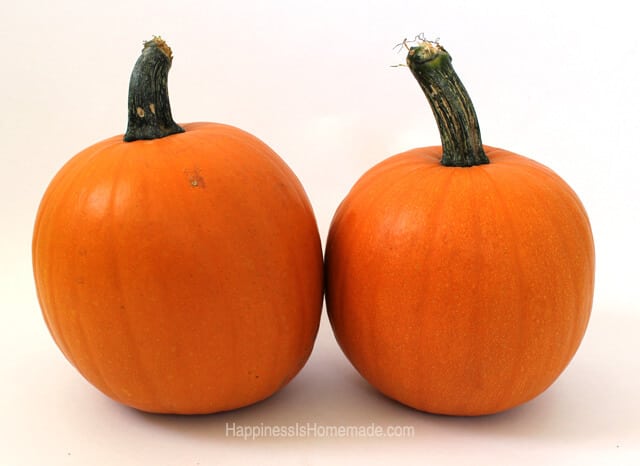 I started with a couple of small-ish pumpkins (about 7-8 pounds each). I ended up only using one of them to make this batch of puree, and I had more than enough for my recipe (plus enough to freeze and save for the next batch!).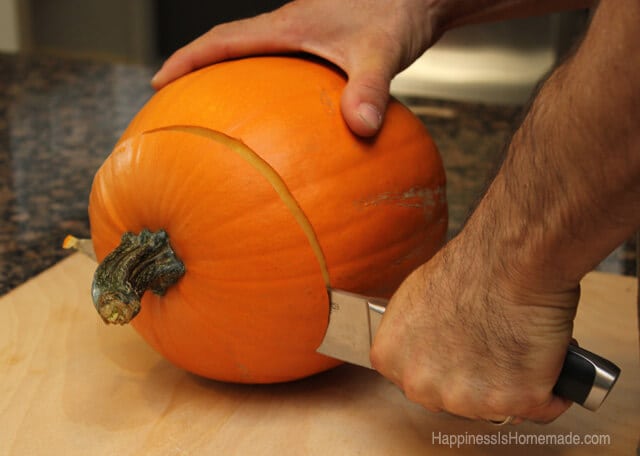 Begin by cutting the top off of the pumpkin. I had my hubby do this part for me since I have a hand injury that wasn't allowing me to get a good enough grip on the pumpkin (besides, he has a lot more going for him in the muscle department than I do anyway!).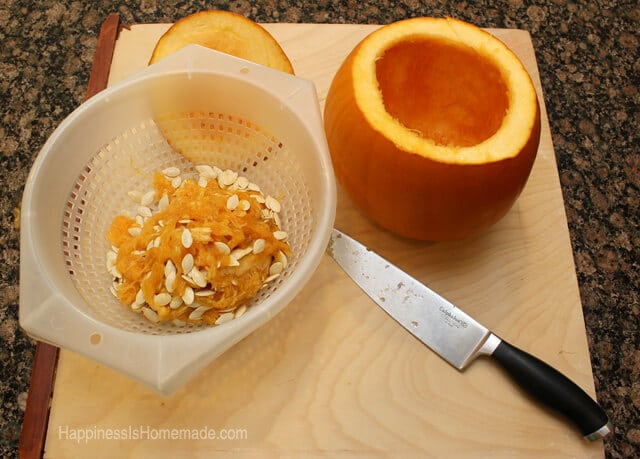 Scoop out all of the seeds – if you want, be sure to save the seeds so that you can also make roasted pumpkin seeds!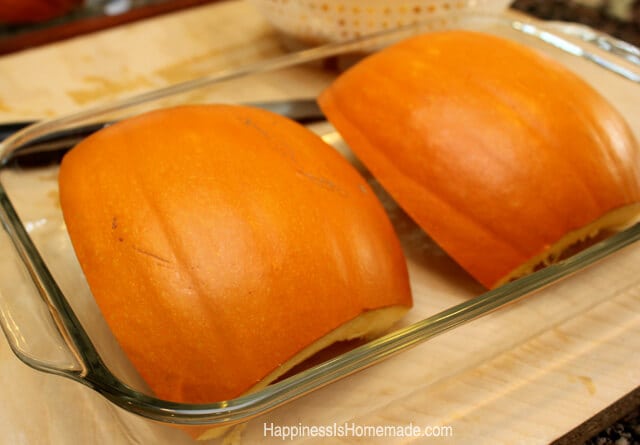 Quarter the pumpkin and place it skin side up into a shallow baking dish along with approximately 1/2 cup water. I had to use two baking dishes to hold all four quarters of my pumpkin.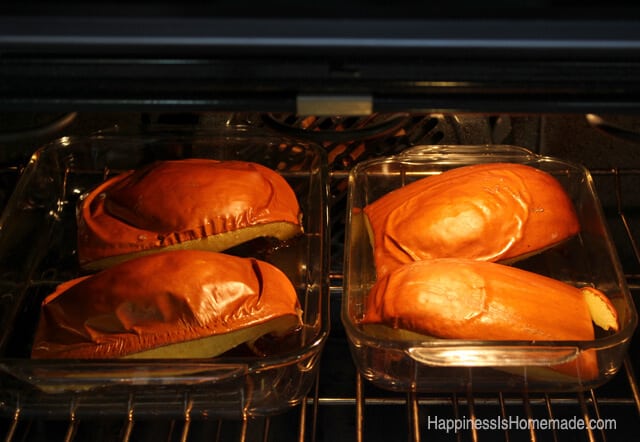 Cook at 350 degrees for about 75 minutes until tender (adjust the time depending on the size of your pumpkin. Start checking it at around an hour. It may take up to 2 hours for larger pumpkins.). The pumpkin skin will start to dry, bubble up and peel away from the flesh.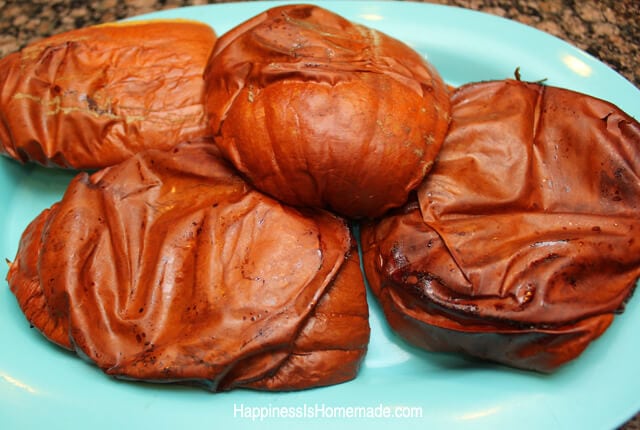 Place the pumpkin pieces face down on a tray and allow to cool for at least 15 minutes.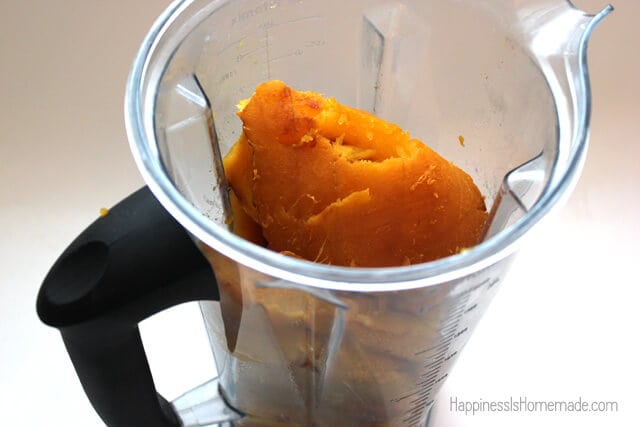 Peel the skin off (this should happen very easily) and use a food processor or blender to make your own pumpkin puree. It's really SO easy!
Honestly, I'm pretty impressed with myself for making my own fresh pumpkin puree! It was fun, simple, and made my whole house smell like fall – I don't know why it took me this long to try it out!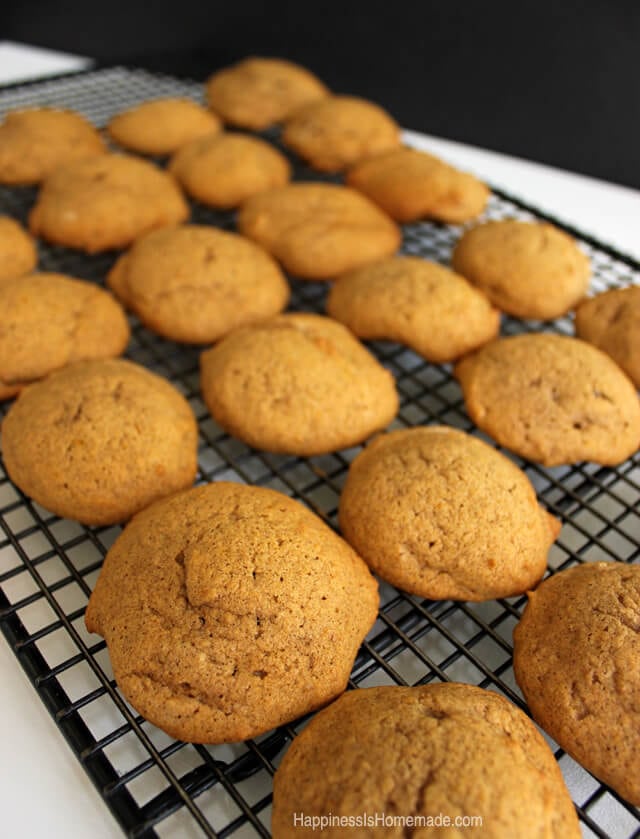 Now for the super yummy part…turning that fresh puree into cookies! These pumpkin spice cookies are super soft and delicious, almost like mini pumpkin breads, but they hold together just like a cookie.
PUMPKIN SPICE COOKIES
(adapted from Let's Dish)
Makes approximately 40 cookies
INGREDIENTS:
1 cup butter, softened
1/2 cup white sugar
1/2 cup brown sugar
1 cup fresh pumpkin puree
1 egg
2 tsp. vanilla
1 tsp. baking soda
1/2 tsp. salt
1 tbsp. + 1 tsp. pumpkin pie spice
2 1/4 cups all-purpose flour
DIRECTIONS:
Preheat oven to 350 degrees.
Cream together butter and sugar. Add pumpkin puree, egg, and vanilla and mix well.
In a separate bowl, combine flour, baking soda, salt, and pumpkin pie spice.
Add the dry ingredients to the wet ingredients and stir until well combined. Drop by rounded tablespoons on to a cookie sheet lined with parchment paper.
Bake for 10-12 minutes until cookies are very lightly browned around the edges.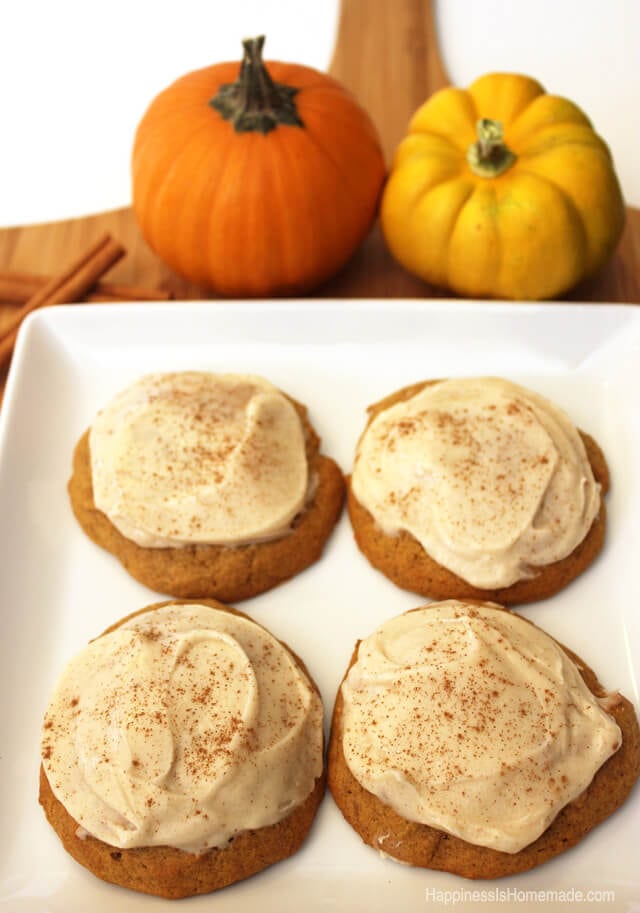 Of course, these cookies are even better with some cinnamon cream cheese frosting!
CINNAMON CREAM CHEESE ICING
8 oz. cream cheese, softened
1/3 cup butter, softened
3 cups powdered confectioner's sugar
2 tbsp. brown sugar
1 1/2 tsp. vanilla
1 tsp. cinnamon
Cream together butter and cream cheese. Add brown sugar, vanilla and cinnamon and mix until creamy and well combined.
Mix in the powdered sugar until the icing is the proper consistency.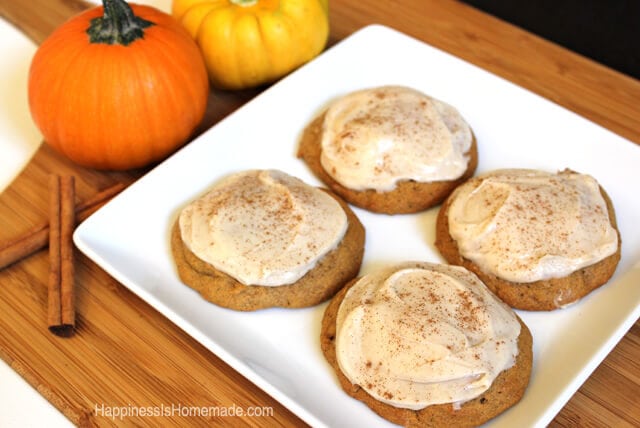 My father-in-law declared these cookies, "A home run…a grand slam!" and my oldest son can't stop telling everyone, "My mom is the best cookie baker EVER!" Hopefully you'll love them just as much as we did!
For even more delicious recipes, be sure to check out the Save Mart pinterest boards and give them a like on Twitter and Facebook!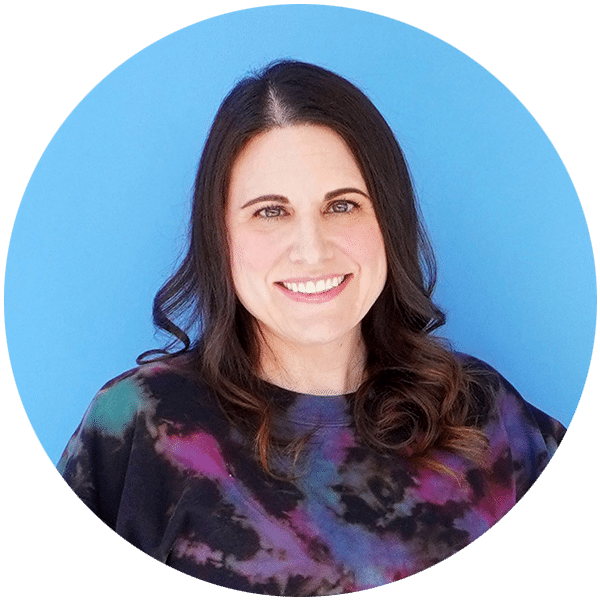 Heidi Kundin has captivated the hearts of millions with her colorful and inspiring approach to crafting, celebrations, and family fun. With over 15 years of experience, Heidi's website has become a must-visit destination for those seeking quick and easy creative ideas and last-minute solutions. Her warm personality shines through her posts, inviting readers to join her on a creative journey that's fun, rewarding, and achievable.