DIY Vintage Sheet Headboard
This post and its photos may contain affiliate links. As an Amazon associate I earn from qualifying purchases. If you make a purchase through these links, I may receive a small commission at no extra cost to you!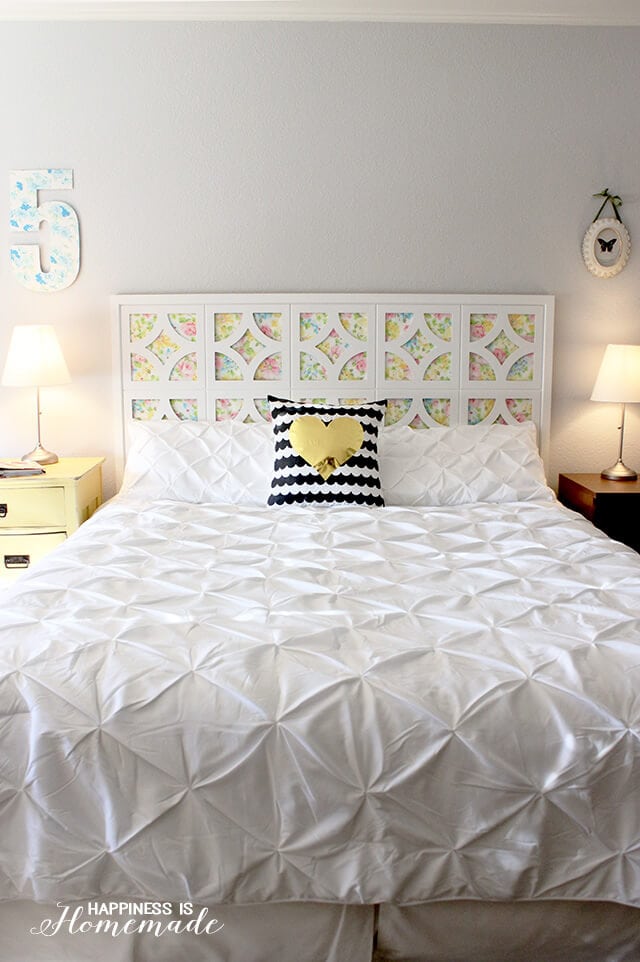 When I first saw these awesome 14″ square wall art pieces from Cut It Out, I couldn't wait to get my hands on them! I think they'd look incredible as a large mirror or art piece, but I had even bigger plans for them – a headboard! A DIY vintage sheet headboard, to be specific.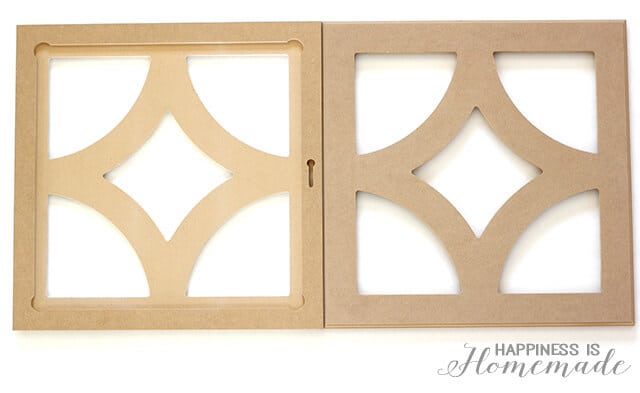 The face of the cut outs are smooth MDF, and the back side has an indentation that's perfect for housing a 12″ x 12″ mirror/decorative paper/photos along with a keyhole for hanging.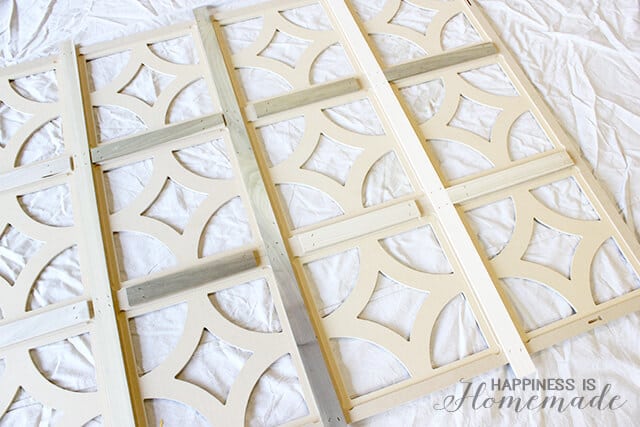 To make our headboard, I laid out 15 of the squares in a 3×5 pattern, and used .25″ x 1.5″ strips of wood to attach them all together. I could have made this project a zillion times easier by using my nail gun to attach the frames directly to our wall, but I know that we are the World's Most Indecisive Couple (especially when it comes to bedroom decor!). By making the smaller frames into a single larger frame, we are able to easily change out the fabric/paper/etc. to switch up the look of our space as often as we like!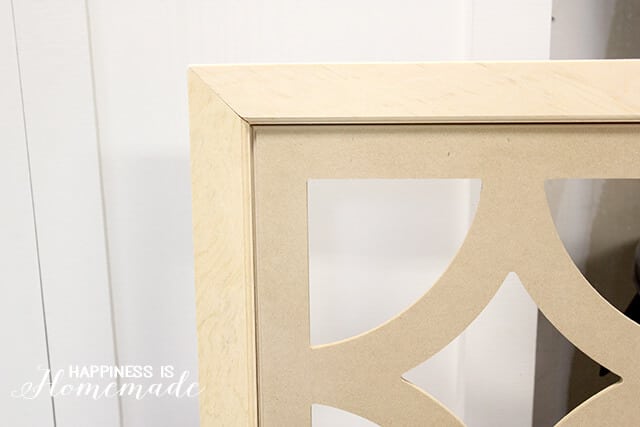 My husband routed the interior edge of some 1×2 wood pieces, and used them to frame out the entire headboard.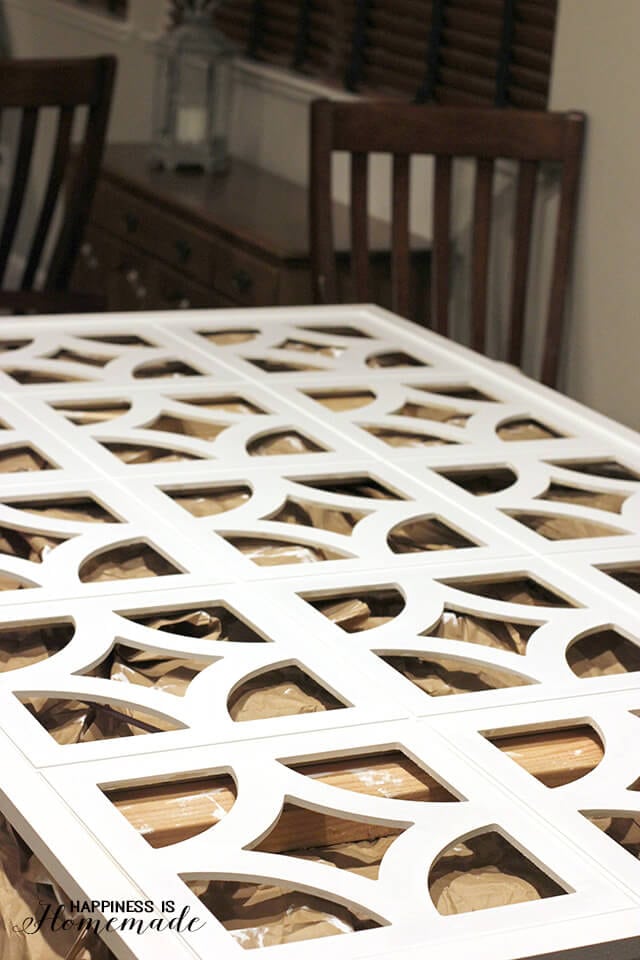 We painted the headboard with one coat of primer and three coats of white enamel cabinet paint. The MDF sucks up a lot of paint, so I highly recommend using a primer first!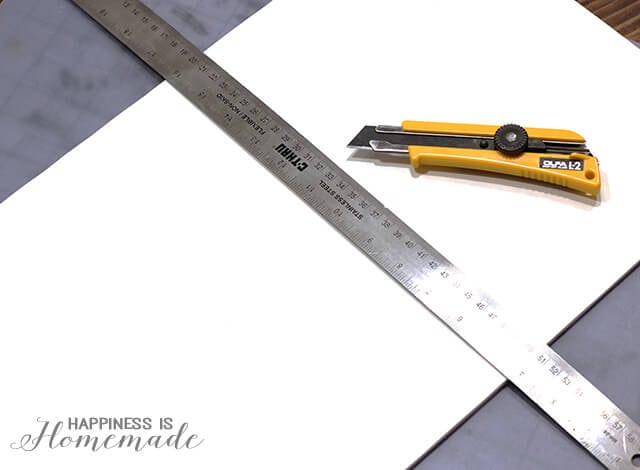 I cut squares of white foam core to fit snugly inside of the openings in the back of the frames. I knew that I wanted to back my headboard with a vintage sheet, but I didn't want to cut the sheet in case I want to use it for something else later.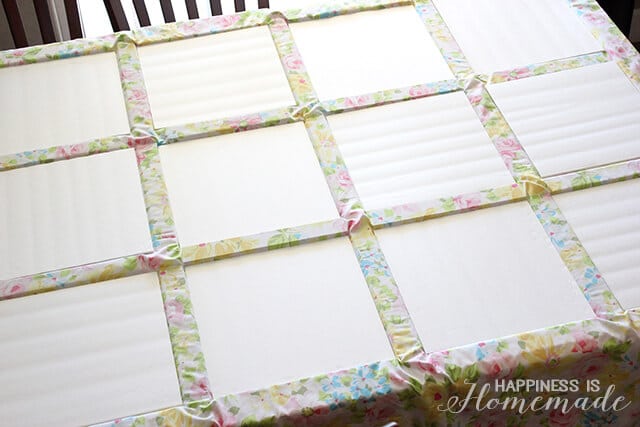 The foam squares hold the sheet in place against the front of each frame opening without having to cut the sheet. I laid the sheet across the back of the headboard, pressed the foam squares into place, and neatly folded the excess sheet around the edges, securing the folds with a few staples into the wood strips.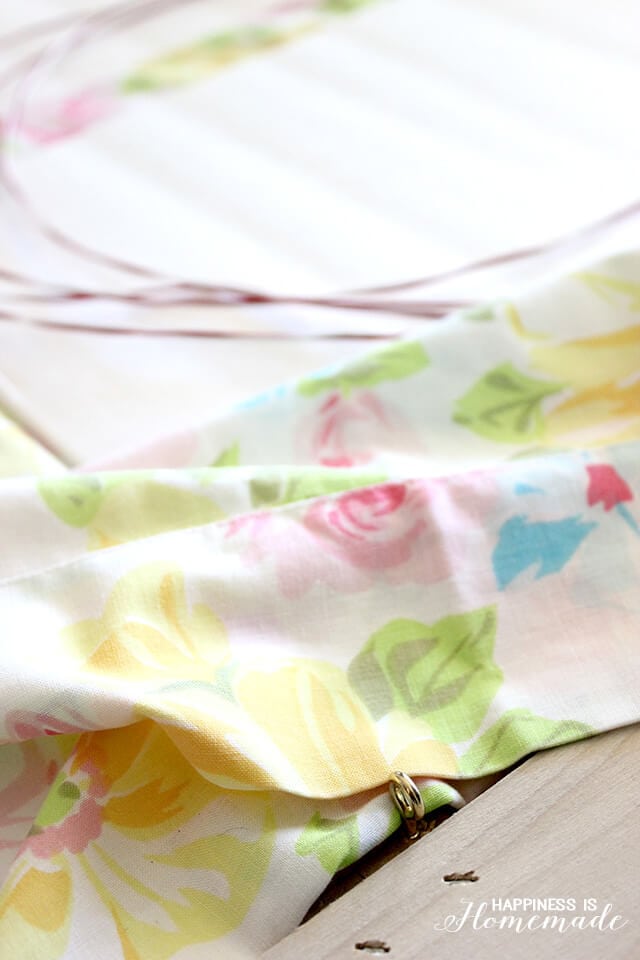 Hanging the headboard with a couple of eye hooks and heavy picture wire (like a large art piece) allows for an easy quick-change if we ever decide to use something else inside of the frames.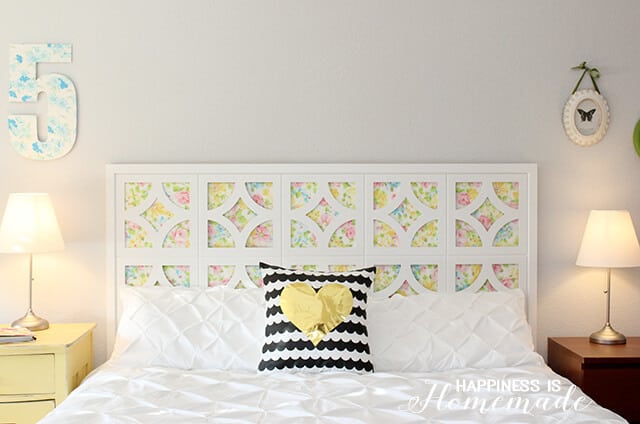 It looks even more awesome than I imagined it would!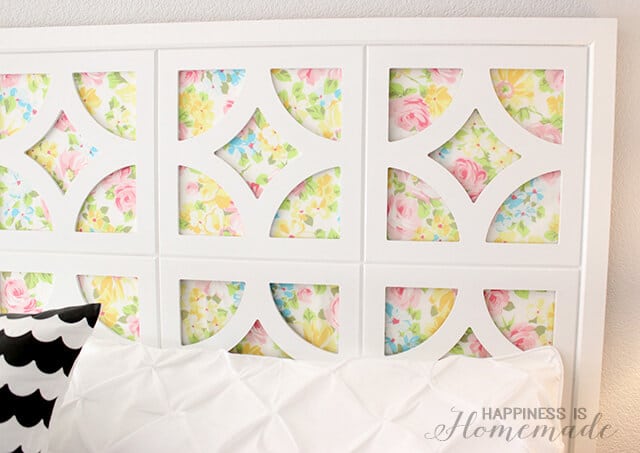 I'm in love! The vintage sheet headboard gives the space such a fresh and cheery new look!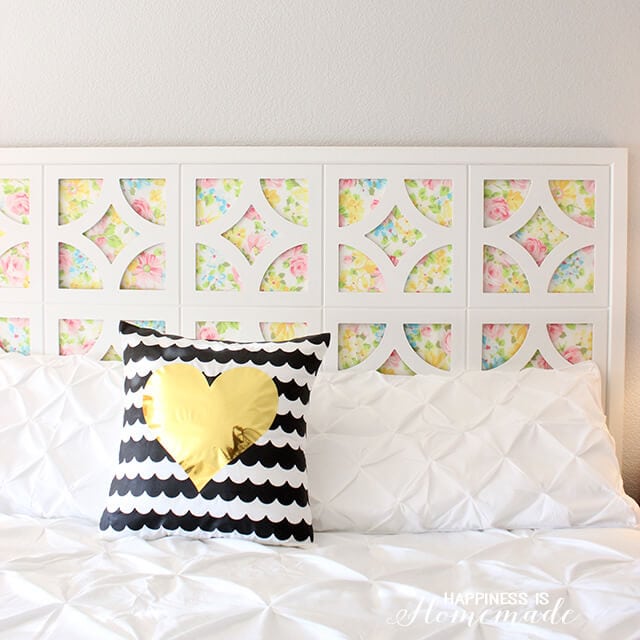 Our master bedroom is finally starting to come together! Next up, curtains and new artwork (oh, and try to find a new nightstand for my husband that better coordinates with my yellow one!).
Also in this room…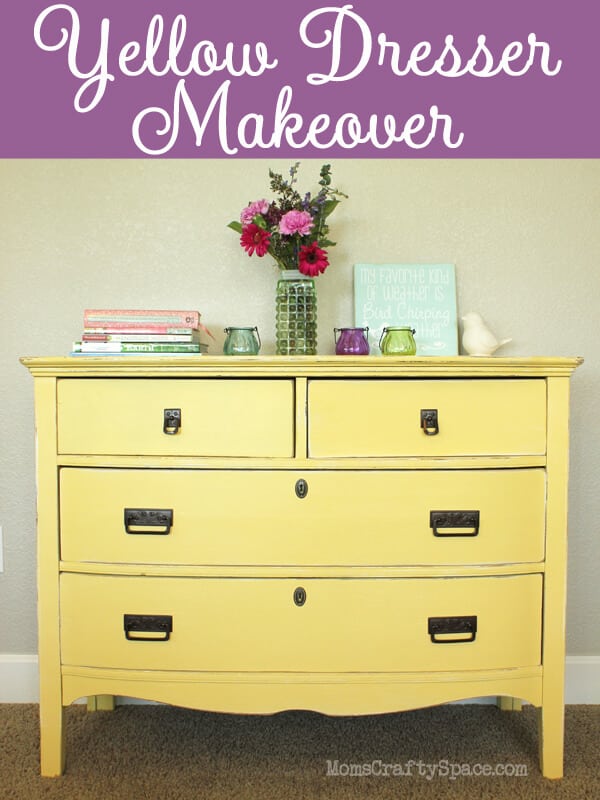 Yellow Vintage Dresser Makeover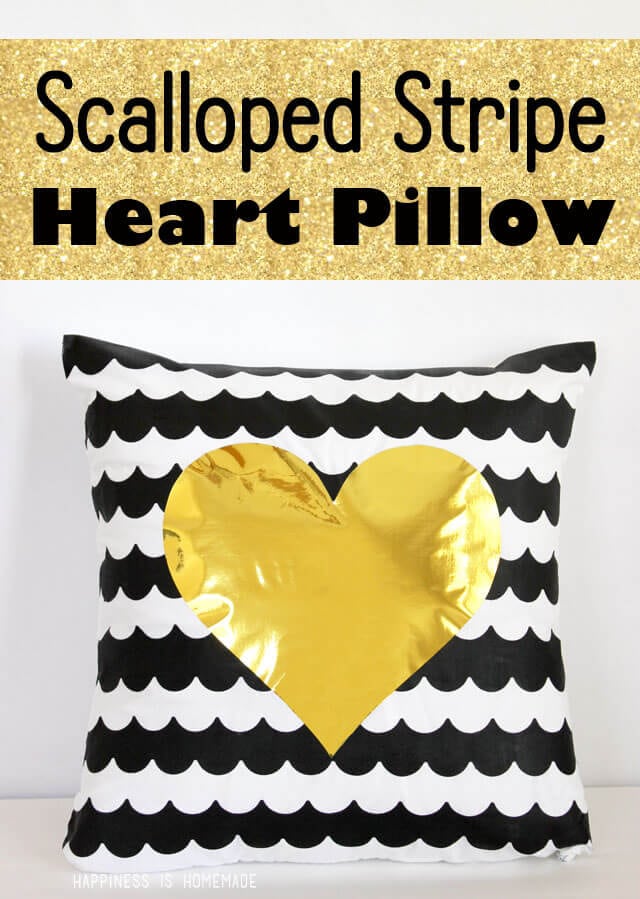 Scalloped Stripe Gold Heart Pillow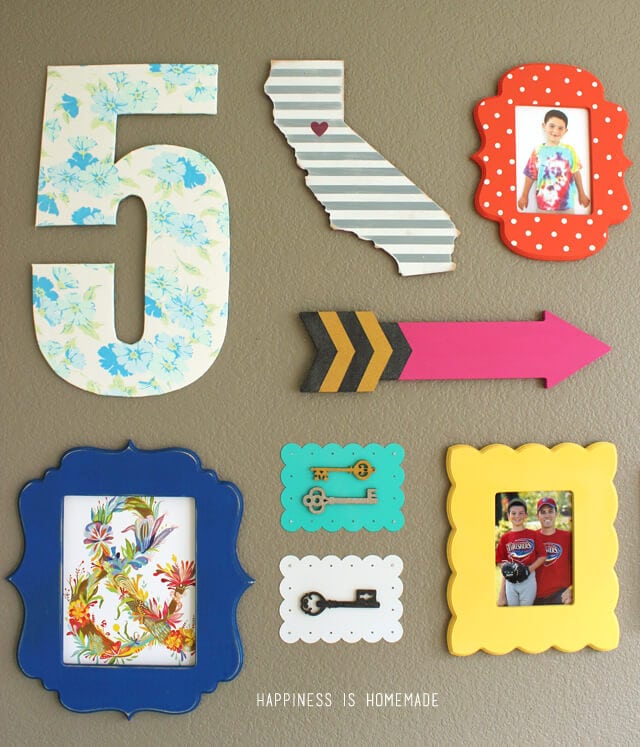 Vintage Sheet Numbers
A huge thank you to Cut It Out for providing me with the incredible wood cut out frames to make this headboard! ♥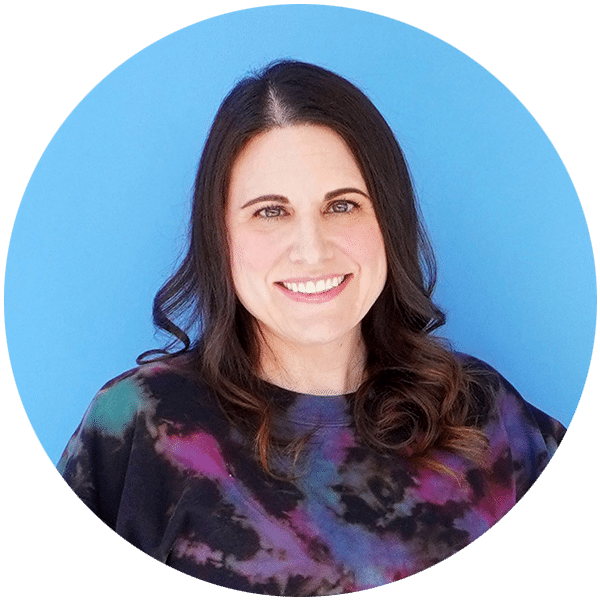 Heidi Kundin has captivated the hearts of millions with her colorful and inspiring approach to crafting, celebrations, and family fun. With over 15 years of experience, Heidi's website has become a must-visit destination for those seeking quick and easy creative ideas and last-minute solutions. Her warm personality shines through her posts, inviting readers to join her on a creative journey that's fun, rewarding, and achievable.