Easter Scavenger Hunt – FREE Printable!
This post and its photos may contain affiliate links. As an Amazon associate I earn from qualifying purchases. If you make a purchase through these links, I may receive a small commission at no extra cost to you!
These free printable Easter Scavenger Hunt clues are SO much fun! Let the Easter Bunny lead your children on a super fun treasure hunt for their baskets using these cute scavenger hunt cards!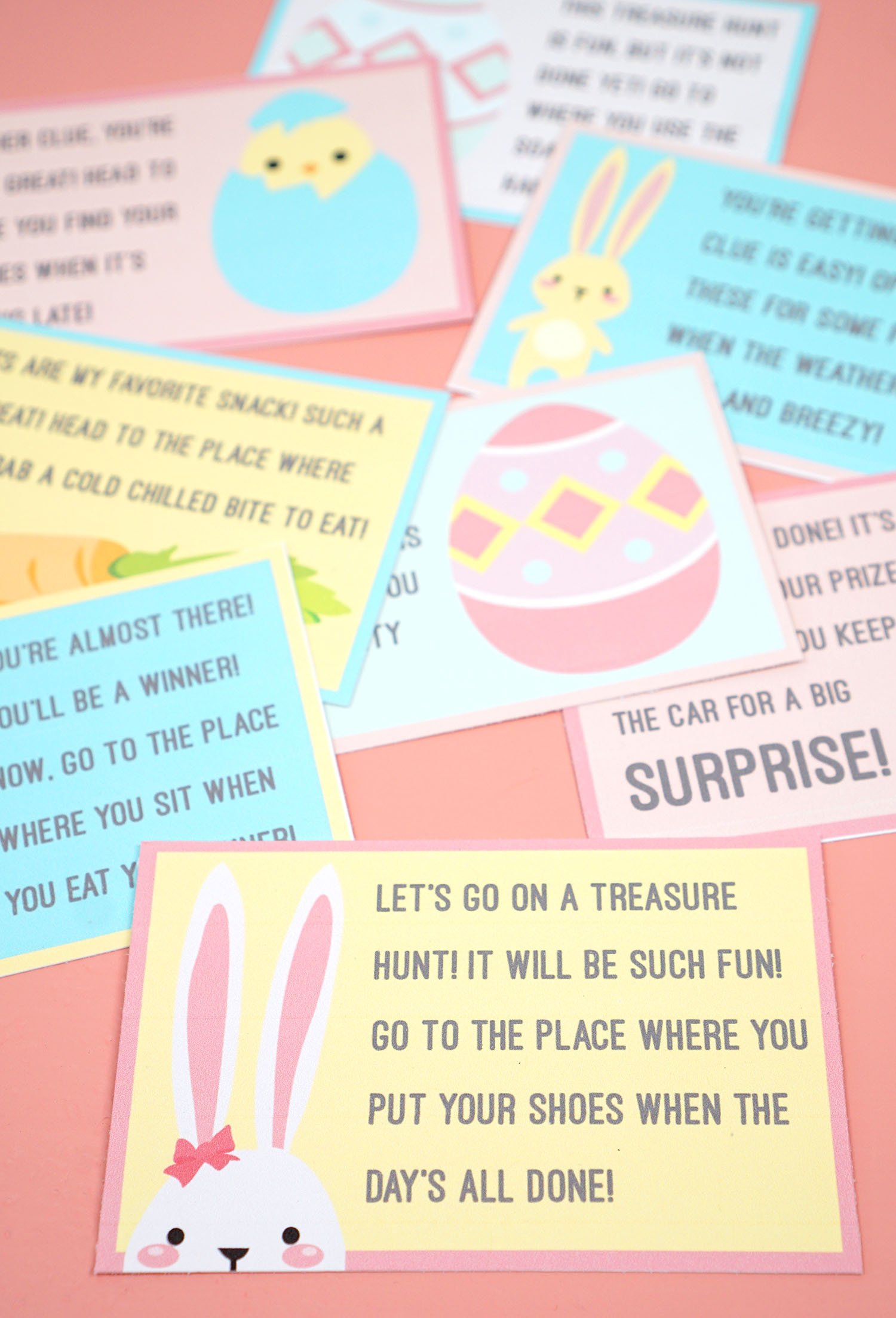 This post may contain affiliate links. I will receive a small commission from these sales at no additional cost to you!
Free Printable Easter Scavenger Hunt
Looking for fun Easter egg hunt ideas? Look no further! These free printable scavenger hunt clues are a fun Easter idea that's perfect for kids of all ages! This free printable Easter scavenger hunt is a fun and exciting alternative to a traditional Easter egg hunt!
Easter will be here before you know it, so we designed this fun printable Easter Scavenger Hunt Cards to get you ready for the big day! Does the Easter Bunny do a treasure hunt for your children?

At our house, the Easter Bunny hides each child's Easter basket, and leaves them their first clue. This clue will lead them on a scavenger hunt to find several more different clues until they discover an Easter surprise (their Easter basket) at the end. It's SUCH a fun activity and a great way to kick off your Easter Sunday!
Check Out These Other Fun Easter Games &Ideas!
Easter Scavenger Hunt Game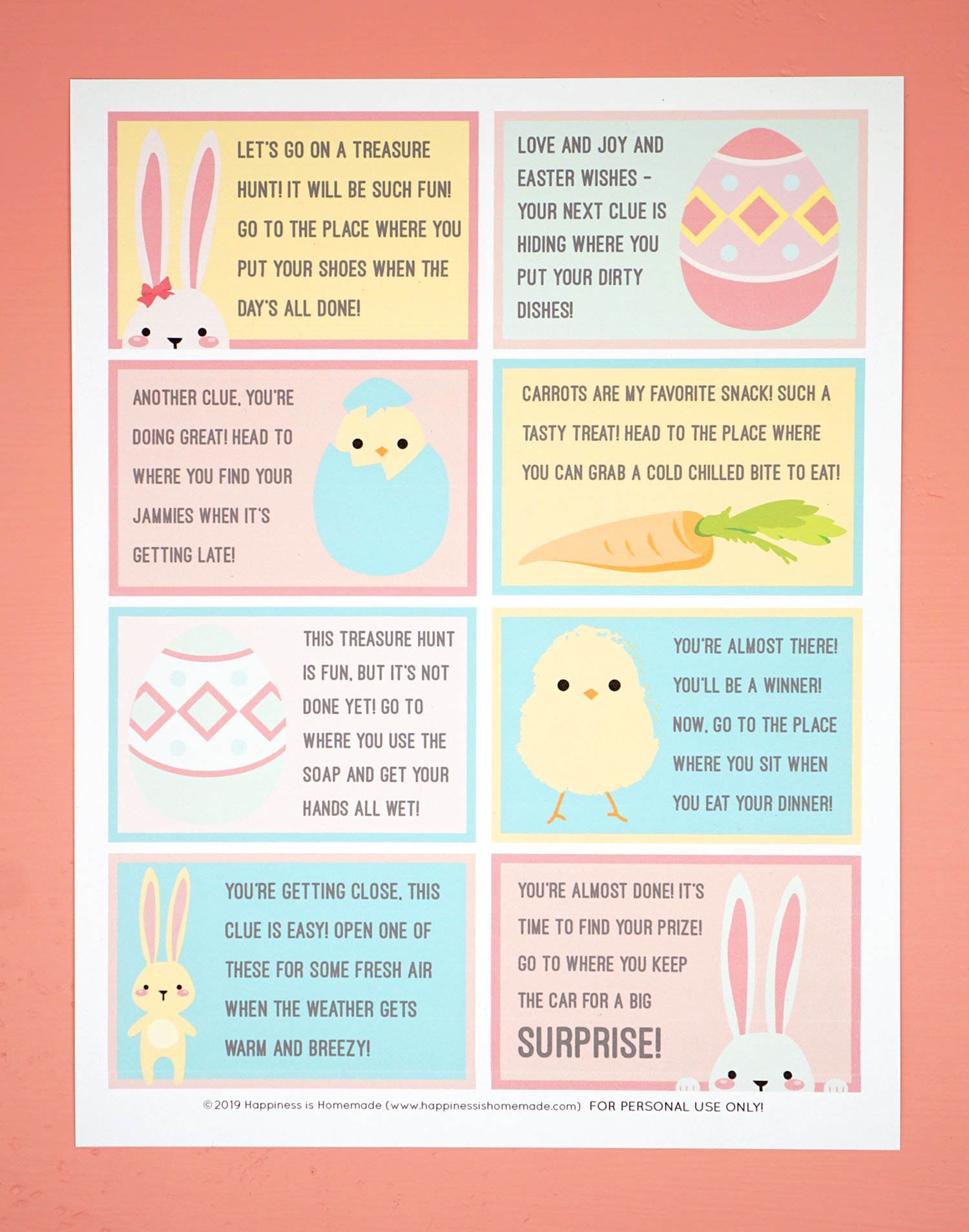 If you're looking for unique Easter scavenger hunt ideas or creative Easter egg hunt clues that cater to various age groups, this indoor scavenger hunt is ideal. It's an excellent option for younger kids, as well as older children, who may be seeking a more challenging Easter activity. This fun Easter egg hunt provides a thrilling way to discover Easter baskets filled with treats while exploring different locations around the house. Plus, it's the perfect activity for those rainy Easter Sundays when an outdoor Easter egg hunt isn't feasible!
How Does a Scavenger Hunt Work?
Scavenger hunts can be played in several different ways depending upon the type of scavenger hunt that it is – there are scavenger hunts where the objective is to seek and find a checklist of items, and there are scavenger hunts that lead you from one place to another, usually collecting a new clue and/or an item at each location.
Since the Easter Bunny likes to hide our kids' Easter baskets, this printable scavenger hunt is the kind where you follow the Easter scavenger hunt clues from one location to the next until they ultimately lead you to a grand prize at the end – your basket full of Easter treats and goodies!
This Easter basket scavenger hunt features cute bunnies, chicks, eggs, and carrots along with silly rhyming clues that lead them to the location of the next clue (and finally, to their Easter basket!).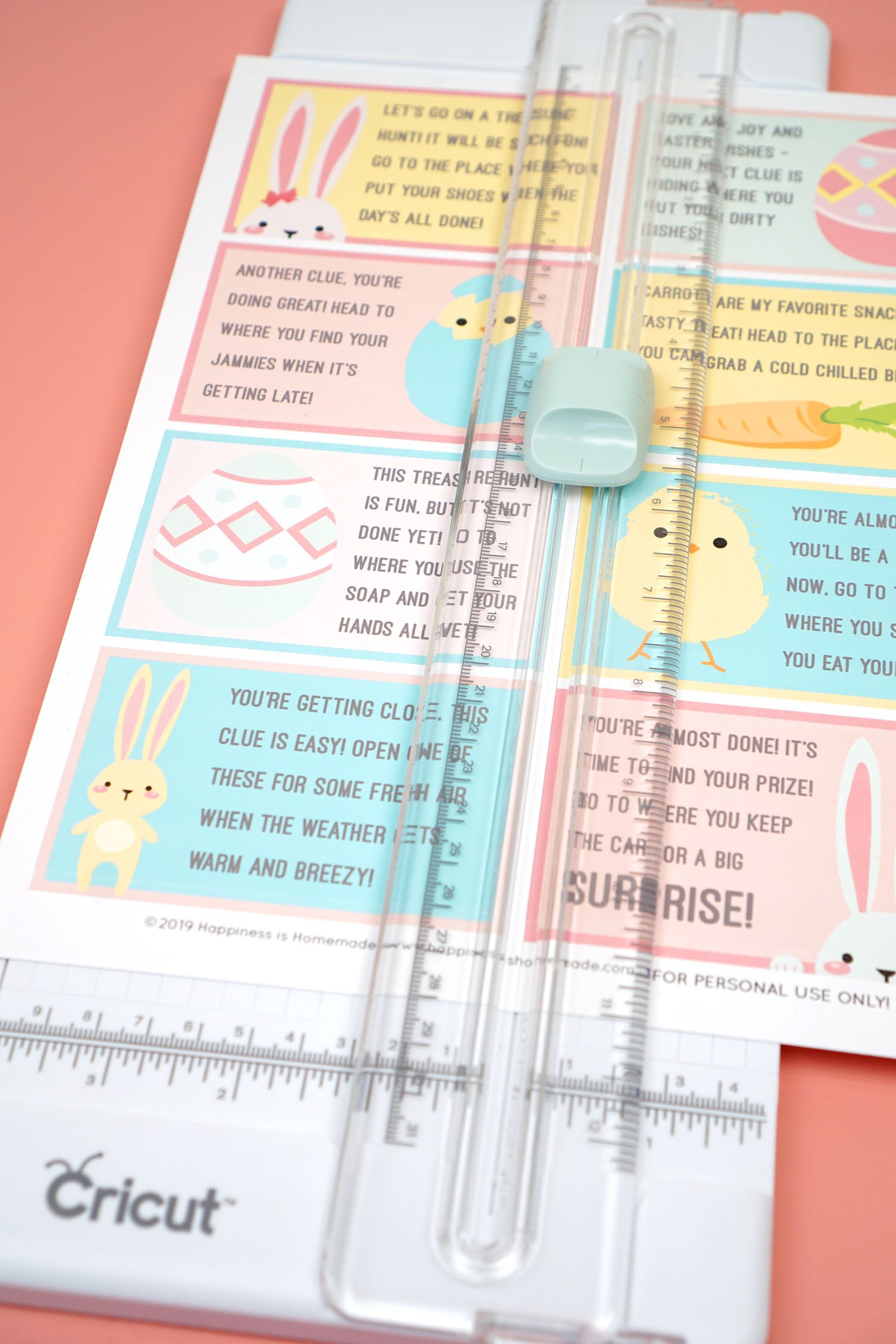 How to Set Up the Scavenger Hunt:
To begin, print out the card set, and cut out each of the individual scavenger hunt cards. I used my Cricut Portable Paper Trimmer because it's the perfect size for the job!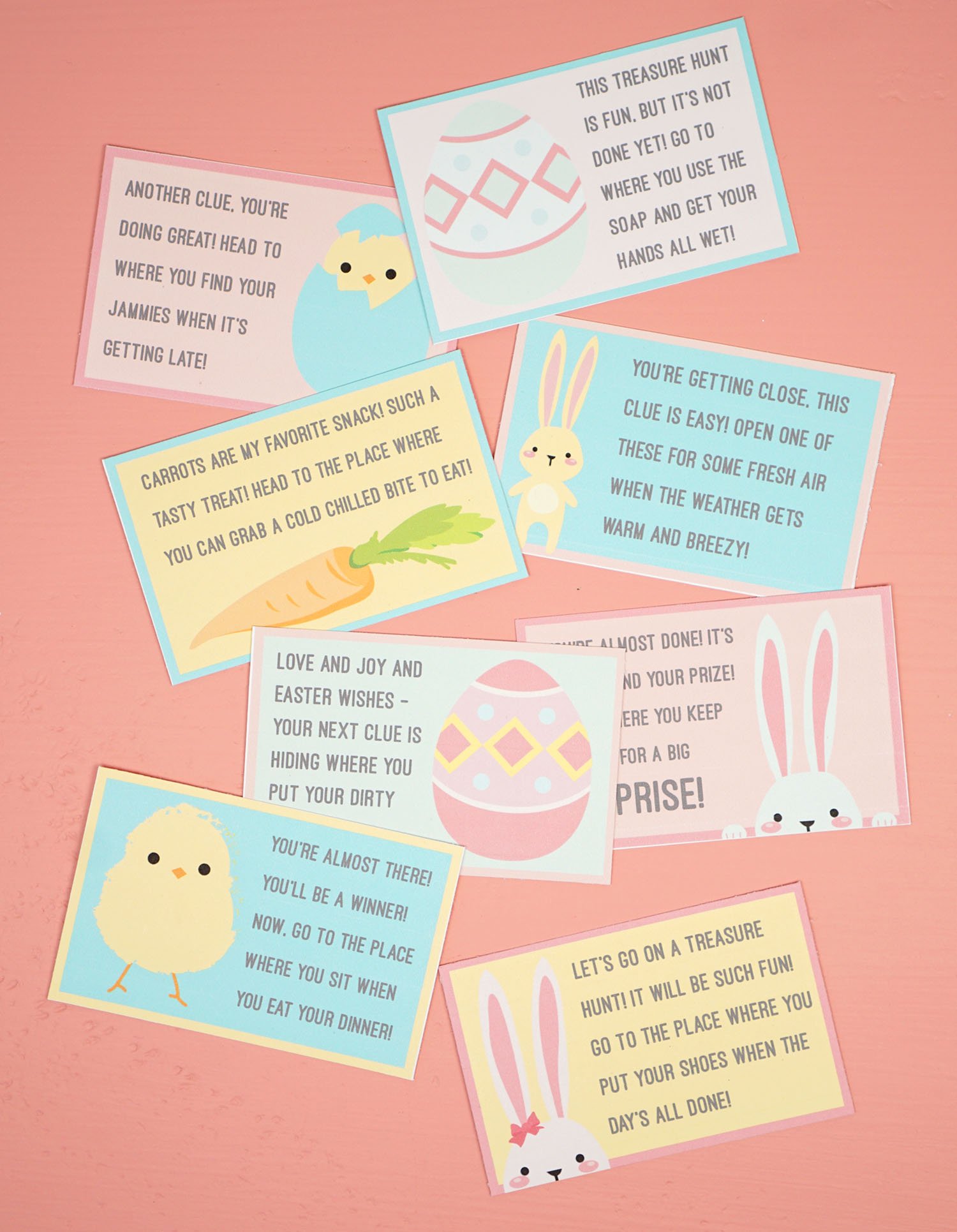 Next, hide the clues! The clues can be hidden as-is or they can be tucked inside of a plastic Easter egg. Then you simply have to hide the plastic eggs!
For multiple kids, I assign each child their own specific color of Easter eggs. Then, I mix up the order of the clues, and make sure that the kids know to only pick up eggs in their own color and leave the rest. Each child still receives the final clue as their last clue, so they are usually all racing to the final prize destination at the same time.

Little kids love searching for the colorful eggs since it combines the thrill of a classic Easter egg hunt with a treasure hunt. You can also choose to include a small prize or candy inside of each egg if desired. For older kids, I prefer to simply hide the paper clues because you can tuck them away in more challenging hiding spots and locations that make the game even more fun and age-appropriate.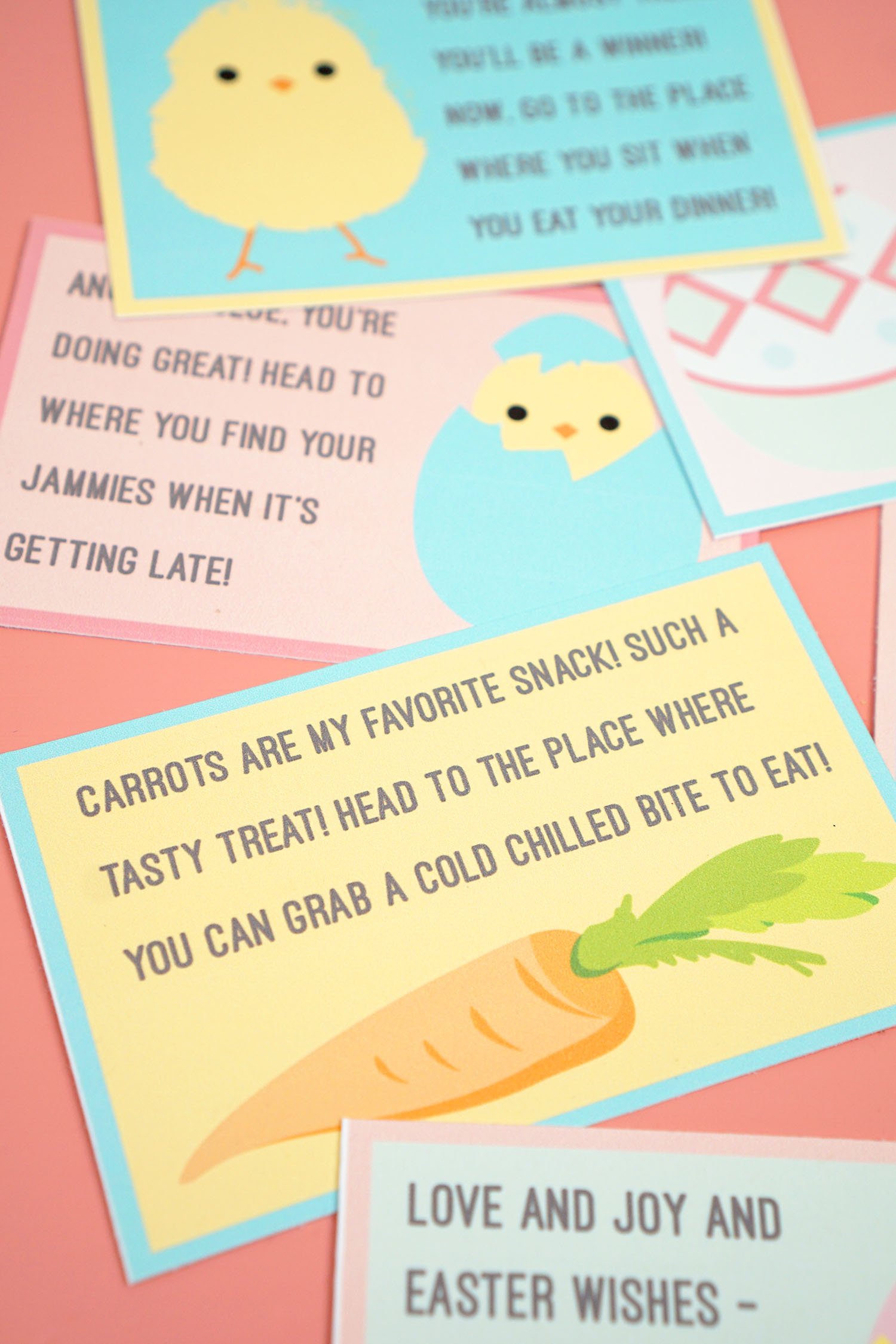 The Printable Easter Scavenger Hunt Clues Include:
Let's go on a treasure hunt! It will be such fun! Go to the place where you put your shoes when the day's all done! [The next clue can be in a shoe basket, near the front door, in the closet, or wherever your child usually puts their shoes at night – it can even be IN the shoes themselves!]
Love and joy and Easter wishes – your next clue is hiding where you put your dirty dishes! [In the dishwasher or on/near the kitchen sink]

Another clue, you're doing great! Head to where you find your jammies when it's getting late!

[In the dresser drawer or wherever pajamas are kept]
Carrots are my favorite snack! Such a tasty treat! Head to the place where you can grab a cold chilled bite to eat! [In the refrigerator – the veggie bin is a good option!]
This treasure hunt is fun, but it's not done yet! Go to where you use the soap and get your hands all wet! [Near the bathroom sink]
You're getting close, this clue is easy! Open one of these for some fresh air when the weather is warm and breezy! [On the window sill or behind curtains/blinds]
You're almost there! You'll be a winner! Now, go to the place where you sit when you eat your dinner! [Under the dining table or their chair]
You're almost done! It's time to find your prize! Go to where you keep the car for a big surprise! [In the garage or in the car]
---
Get the Easter Scavenger Hunt Printable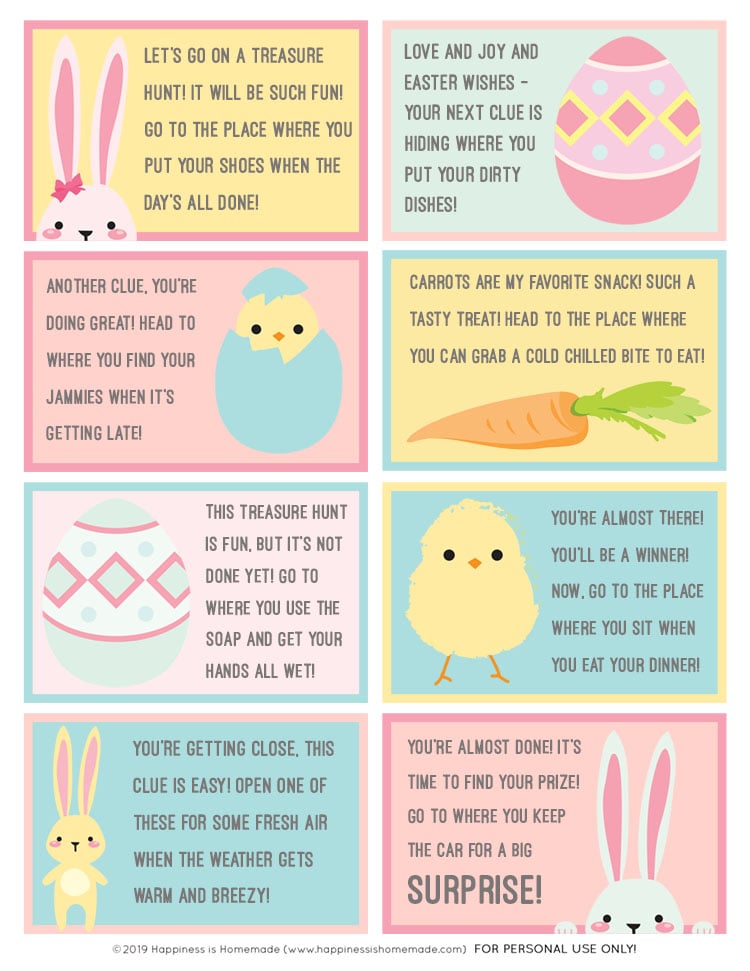 For instant access to the Easter Scavenger Hunt, enter your name and email address into the form below and click the "Get it Now!" button!
The whole family will have fun with this silly Easter scavenger hunt, and it's guaranteed to add some joy and excitement to your Easter morning! A super fun way to celebrate Easter with your family, and it's sure to become a new, fun tradition!

---
WANT MORE EASTER FUN & GAMES?
GET OUR MEGA EASTER ACTIVITIES & GAMES BUNDLE NOW!
---
Check Out These Other Easter Ideas!
---
You May Also Like These Fun Ideas:
---
Pin this Easter Scavenger Hunt for Later!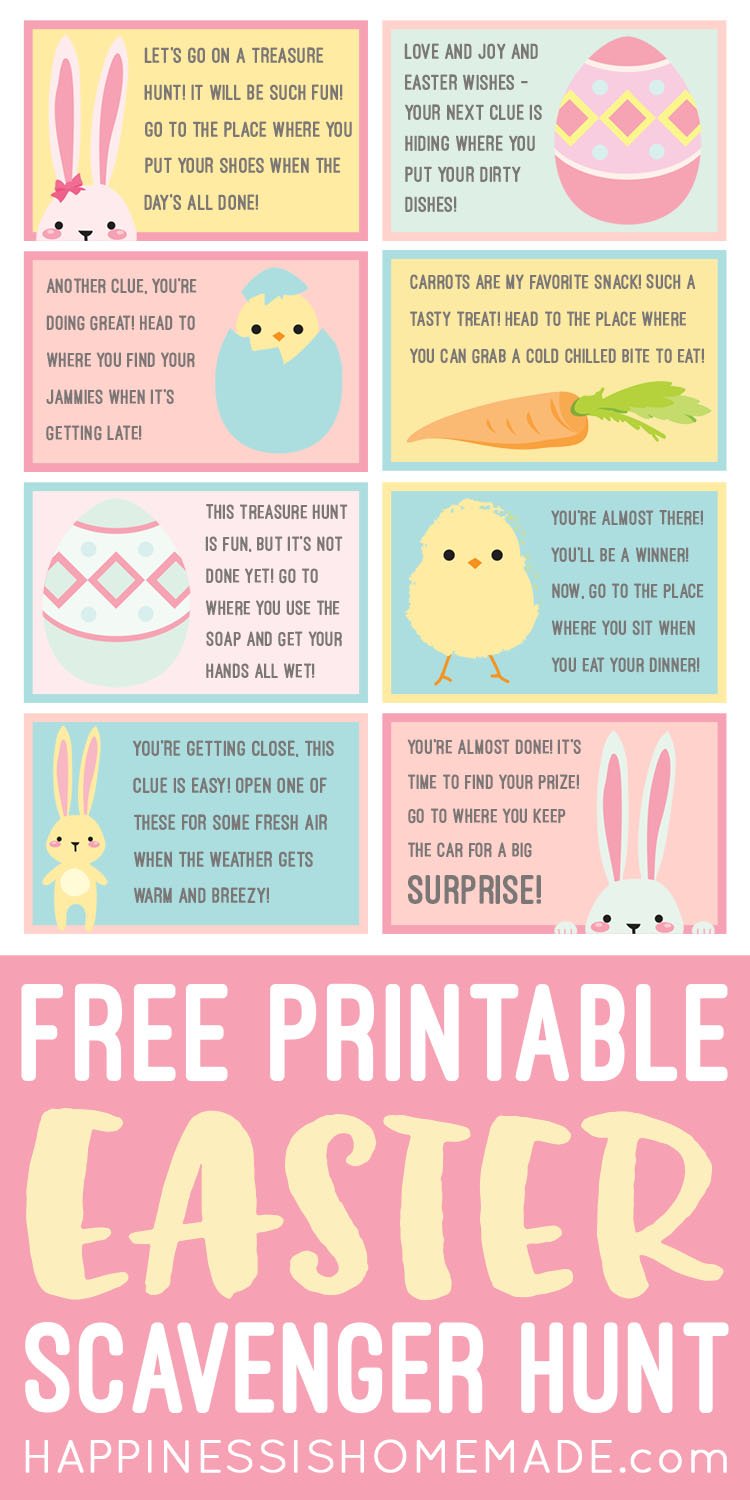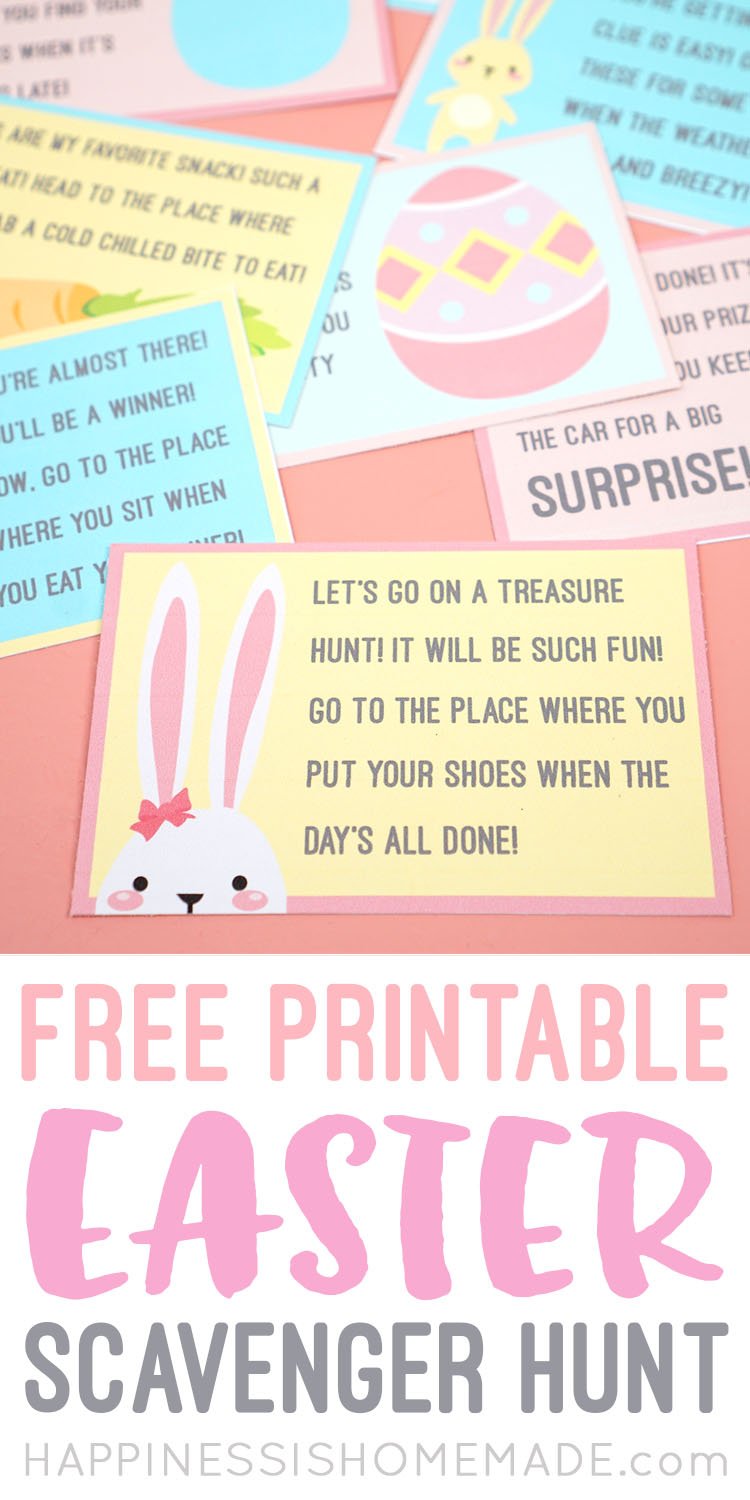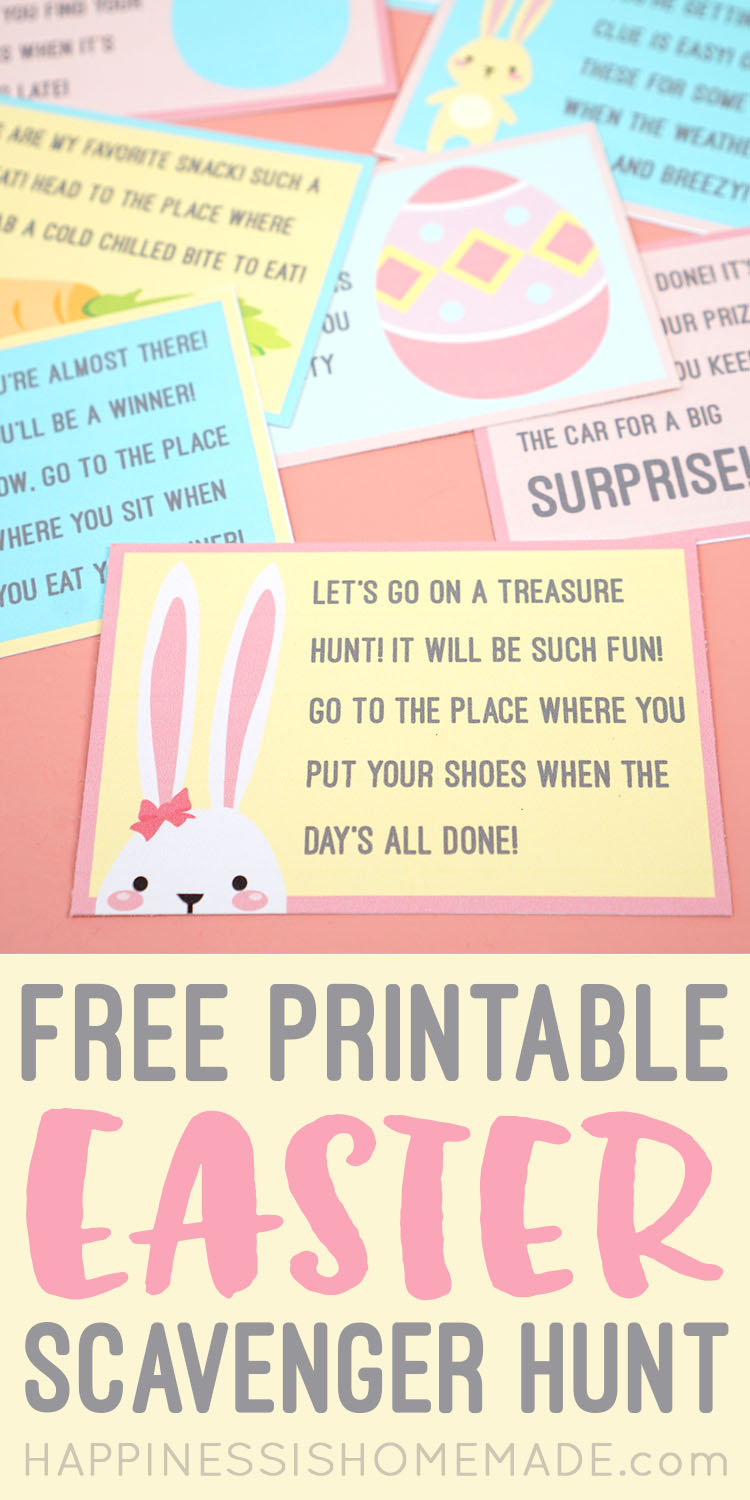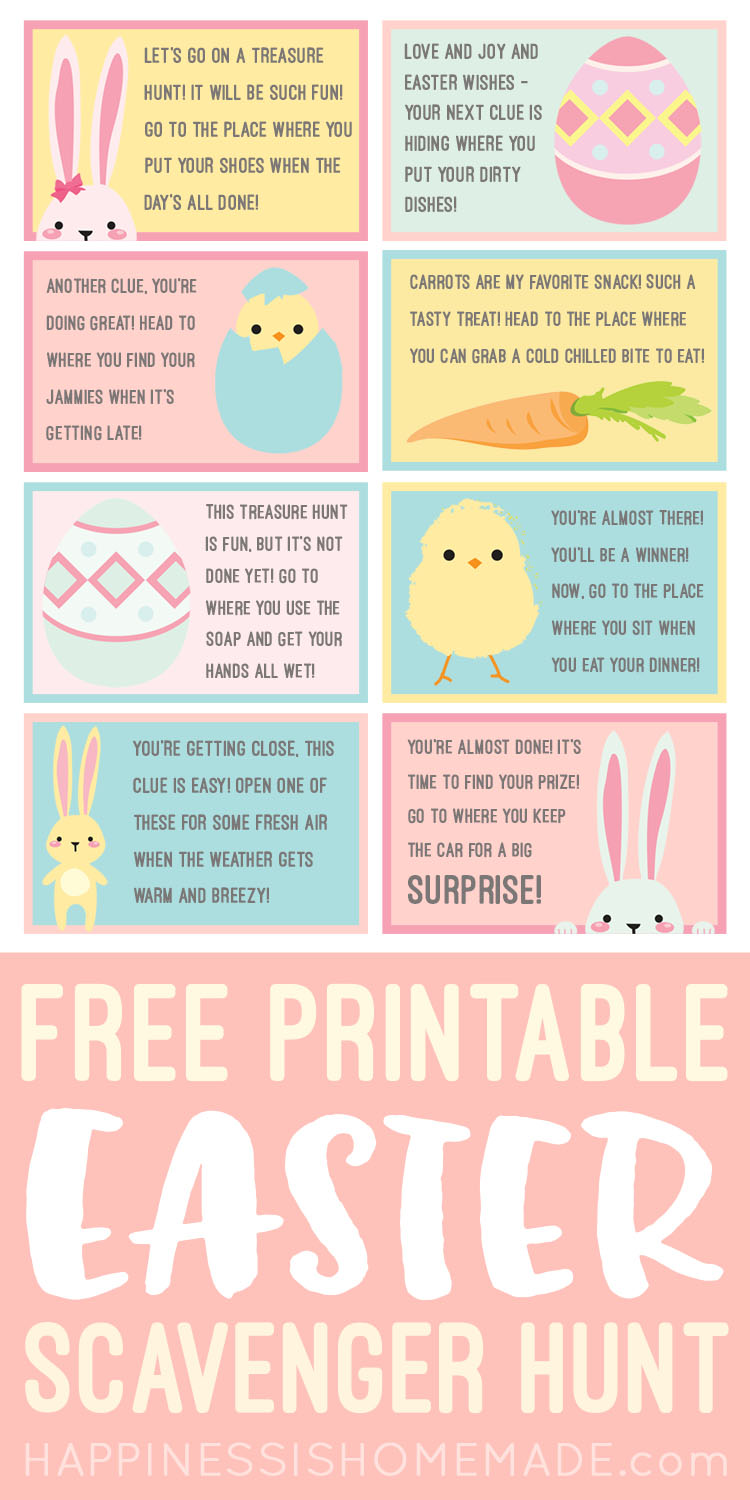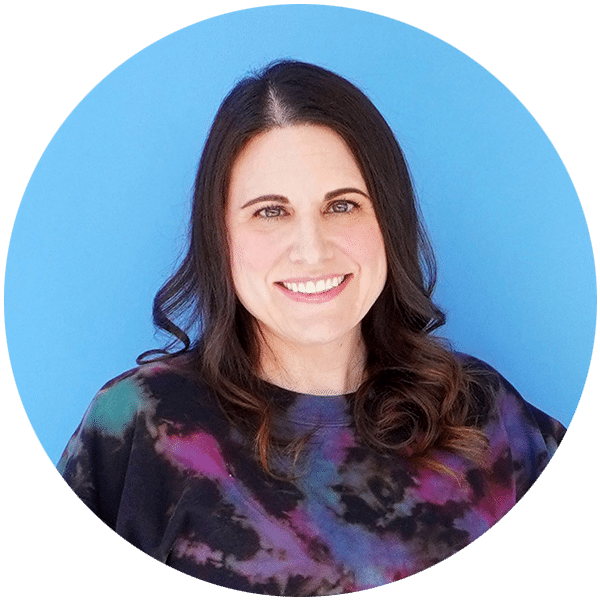 Heidi Kundin has captivated the hearts of millions with her colorful and inspiring approach to crafting, celebrations, and family fun. With over 15 years of experience, Heidi's website has become a must-visit destination for those seeking quick and easy creative ideas and last-minute solutions. Her warm personality shines through her posts, inviting readers to join her on a creative journey that's fun, rewarding, and achievable.