Gumball Machine Christmas Ornament Display
This post and its photos may contain affiliate links. As an Amazon associate I earn from qualifying purchases. If you make a purchase through these links, I may receive a small commission at no extra cost to you!

Have you heard the news? Michaels Stores is hosting a Pinterest Party on November 15th from 1-4 p.m., and you're all invited! Come join in the fun at Michaels Stores nationwide as their in-store crafting team helps you choose your supplies and create one of the Top 10 Holiday Pinterest Projects!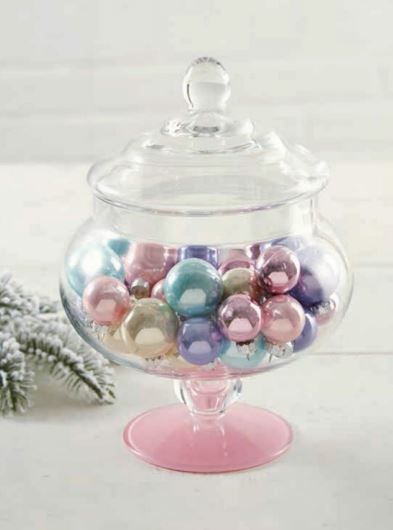 I got a sneak peek at the Pinterest Projects list, and when I saw this cute apothecary jar ornament display, I knew I had to put my own spin on it.
Supplies Used:
* Ashland Apothecary Jar, 12.5″
* Martha Stewart Pearl Glass Paint in Holly Berry
* Foam Spouncer and/or Foam Brush
* Red & White Striped Grosgrain Ribbon
I found several styles of apothecary jars at Michaels, but as soon as I saw this one I fell in love. It looks just like a gumball machine, doesn't it?
I started by giving the inside of the base and the lid a coat of red glass paint. I used a foam brush to apply a generous amount of paint in smooth strokes, and then I used the foam spouncer to smooth out the layer of paint. I let the first layer of paint dry overnight and then added a thin second layer with the spouncer to finish it off.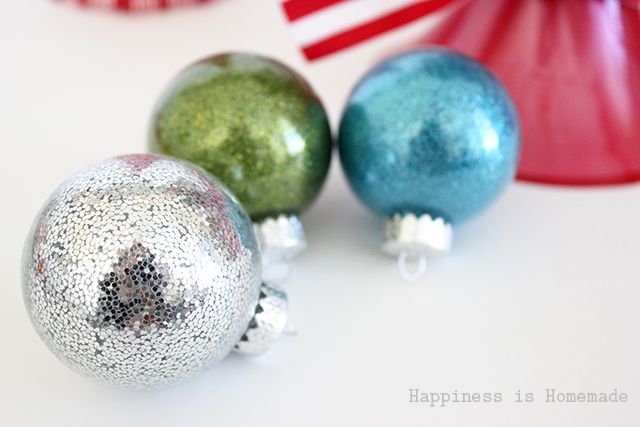 I turned the glass ornaments into colorful "gumballs" using my favorite glittered ornament technique. I usually prefer to use fine glitter, but I love the way that the chunky silver glitter made the ornament look like a disco ball!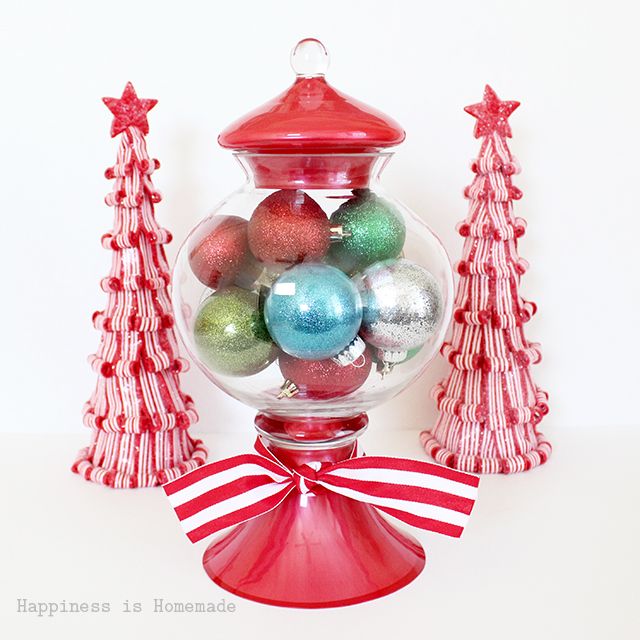 Add the ornaments to the jar, tie on a ribbon, and you're all finished – SO easy peasy! This entire project (including making the custom colored glass ornaments!) took me about 30 minutes (not including drying time), so it will be perfect for making at the Michaels Pinterest Party!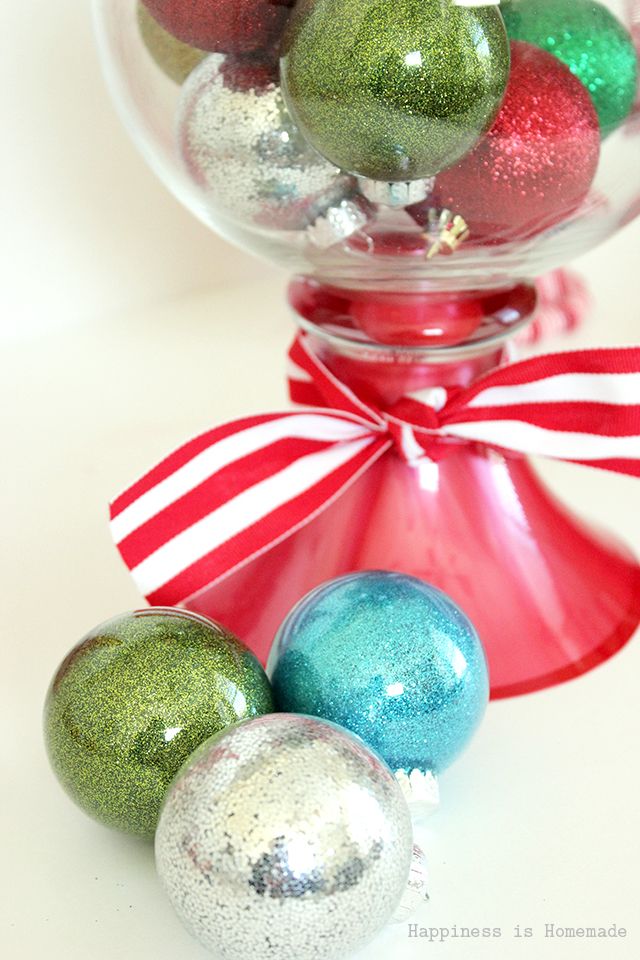 I really can't get enough of these glitter ornaments, too – they're just so quick and satisfying (and sparkly!)! I've made dozens over the past few years, and if I keep going at this rate, my entire Christmas tree will be covered in glitter ornaments by the end of the season!
I'm feeling a Christmas Candyland theme coming on for this year's holiday decor – what do you think?
Be sure to stop by Michaels Stores on Sunday, November 15th from 1-4 p.m. to make this fun apothecary jar ornament display or one of the other Top 10 Holiday Pinterest Projects! Hang out, chat, and create some fabulous holiday decor with other local DIYers in your community. It's going to be a TON of fun!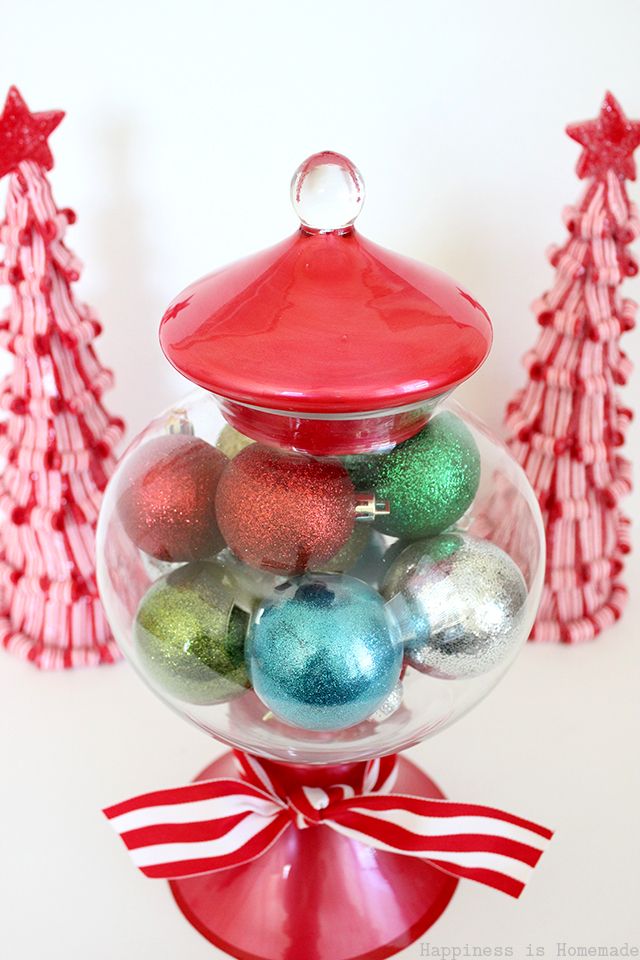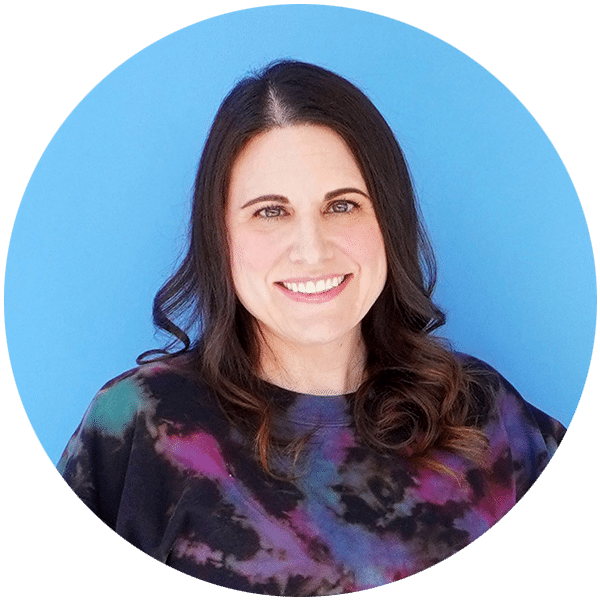 Heidi Kundin has captivated the hearts of millions with her colorful and inspiring approach to crafting, celebrations, and family fun. With over 15 years of experience, Heidi's website has become a must-visit destination for those seeking quick and easy creative ideas and last-minute solutions. Her warm personality shines through her posts, inviting readers to join her on a creative journey that's fun, rewarding, and achievable.