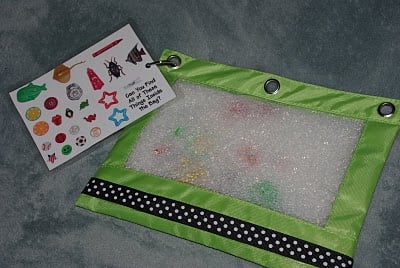 One of Sutton's most favorite things in the world right now are I Spy books, so I knew this I Spy treasure hunt bag would be right up his alley. I got the idea years ago from Babycenter on a discussion thread about frugal homemade holiday gifts. I had originally intended to make them for my triplet niece and nephews, but somehow the supplies got shuffled to the back of the craft closet, and I didn't see them again until recently!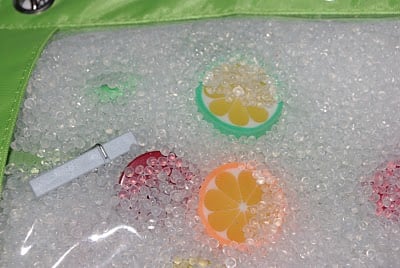 For this project you'll need a pencil pouch with a large clear window (I got mine at Walmart for $.97), 20-25 small flat-ish objects, poly-fil micro beads, some strong glue and a ribbon or something to seal off the zipper area of the pencil pouch.
The directions couldn't be any easier…fill your bag with the objects and the micro beads, seal the zipper shut with strong glue (I also removed the pull-tab from the zipper first to keep it flat), and cover the zipper opening with a ribbon. I used a hefty dose of Fabri-Tac glue to seal my pouch and attach the ribbon in one step.

Get spying!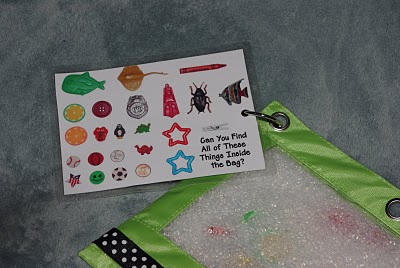 I also chose to make a laminated tag to show Sutton exactly what's inside the bag, but it's just as fun to explore the bag without a key chart. To make my chart I arranged all of the objects on a white sheet of paper and took a quick photo before stuffing them into the bag. I used PhotoShop to add the text, and I also typed out a list of the objects without photos on the back side to make it more challenging when they get older. The tag is simply attached to the pencil pouch using a binder ring.