Inspirational Rainbow Easter Eggs
This post and its photos may contain affiliate links. As an Amazon associate I earn from qualifying purchases. If you make a purchase through these links, I may receive a small commission at no extra cost to you!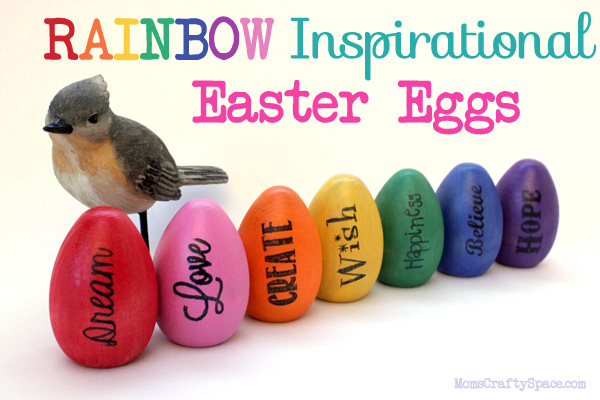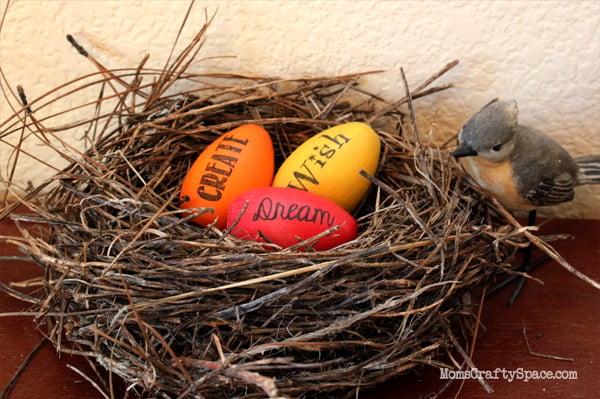 I'm totally in love with these gorgeous rainbow eggs that my boys and I made today! They're cheery, colorful and inscribed with motivational words of inspiration. Love it!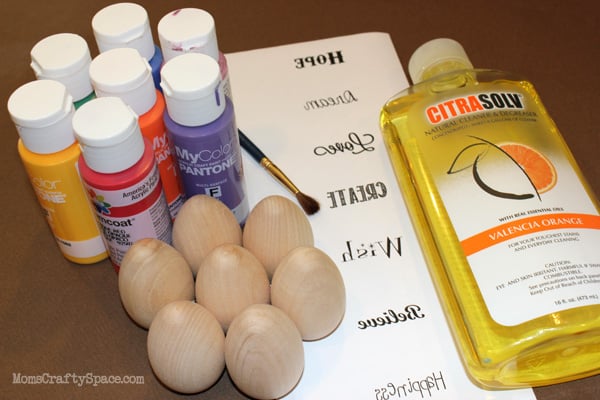 To create your own eggs you will need:
Wooden eggs (available at craft stores or online here)
Acrylic paint
Laser printed or photocopied text (mirrored) – inkjet printed text will NOT work!
Paintbrush
Paper towel
Spoon or other smooth object for burnishing
Spray sealer (optional)

Begin by painting the wooden eggs with a wash of acrylic paint. We used a ratio of about 2:1 (paint to water) and gave our eggs two coats.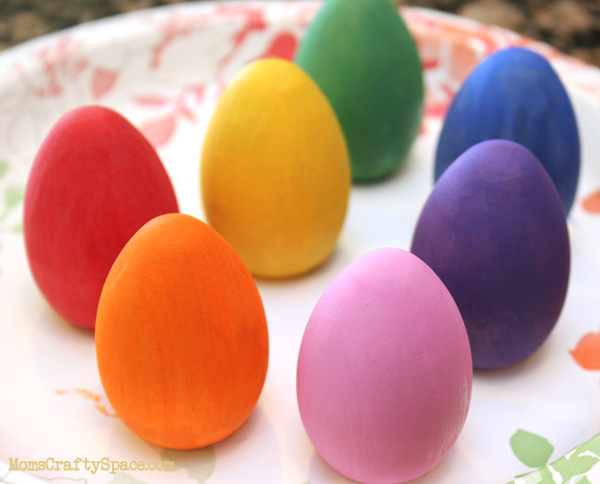 My original intent was to do one single wash of color to enhance the wood grain, but since I had my little helpers working with me I found that one coat was still a bit too splotchy for my liking. A second coat evened out the color and still allowed a bit of wood grain to peek through.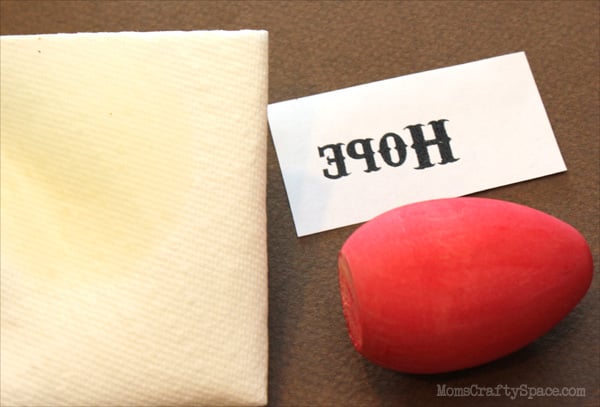 Trim the sheet of text into individual words, leaving a bit of excess around the edges to hold on to. Wet the paper towel with a bit of Citra Solv being careful not to over saturate it.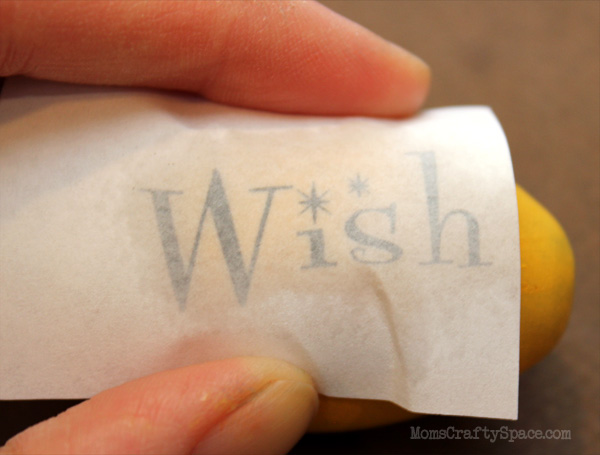 Place the text, ink side down, on to the egg. Once you place the text be careful not to move it around to avoid smearing! Dab the paper lightly with the Citra Solv moistened paper towel – too much moisture will cause the ink to bleed, so use a light hand. Burnish gently with the back of a spoon to transfer the text to the surface of the egg.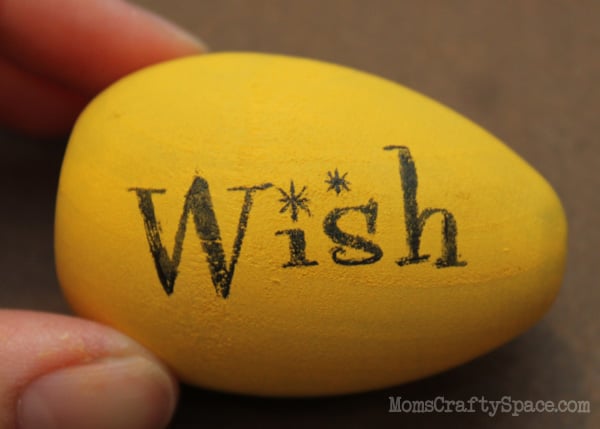 It's as easy as that! You can touch up the edges with a black Sharpie marker if desired.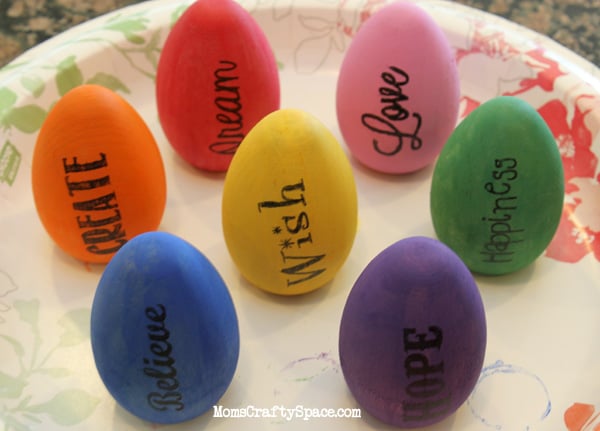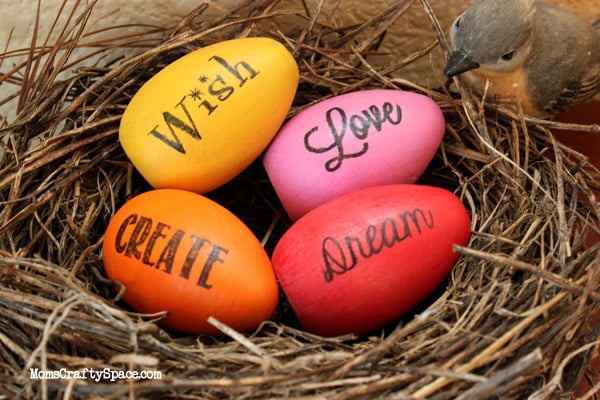 They look so pretty and bright sitting inside of this sweet birds nest. My oldest son found the nest in a fallen tree a couple of months ago, and it has claimed a permanent spot of honor on our nature table.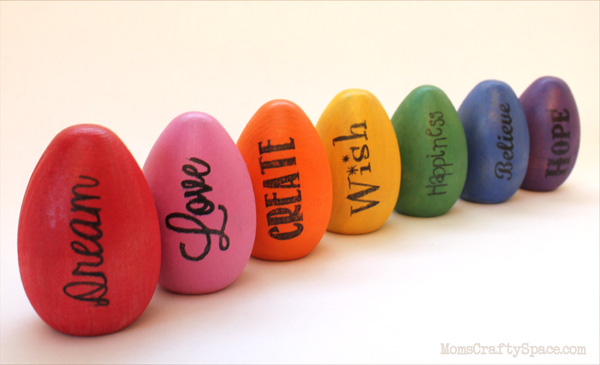 I know I've said it time and time again, but I just can't get enough of rainbow colors! I love how neat and orderly things look when they're lined up in a beautiful spectrum of full color.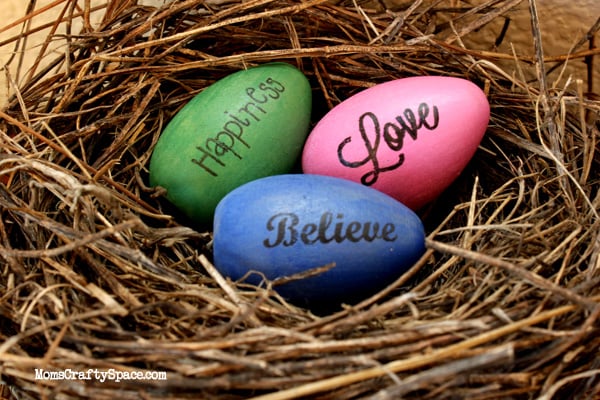 I finished my eggs with a quick coat of satin finish spray sealer, but that was based on personal preference not necessity. The text is permanently transferred and won't rub off (unless you rub more Citra Solv on it!). I think these would also look awesome with images and silhouettes, so I'm sure I'll be making a few more over the coming weeks.
If you make a set of your own, be sure to send me a link or a photo – I love seeing all of the projects that you guys come up with!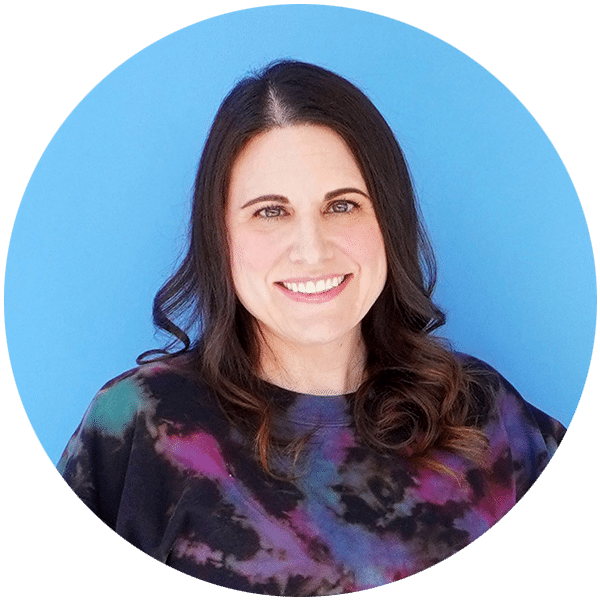 Heidi Kundin has captivated the hearts of millions with her colorful and inspiring approach to crafting, celebrations, and family fun. With over 15 years of experience, Heidi's website has become a must-visit destination for those seeking quick and easy creative ideas and last-minute solutions. Her warm personality shines through her posts, inviting readers to join her on a creative journey that's fun, rewarding, and achievable.