Kids' LEGO Themed Christmas Tree
This post and its photos may contain affiliate links. As an Amazon associate I earn from qualifying purchases. If you make a purchase through these links, I may receive a small commission at no extra cost to you!
Create a LEGO themed Christmas tree with DIY homemade ornaments, plus awesome tips to help keep your real live Christmas tree looking fresh for longer versus water alone!
Each year at Christmas time, my boys decorate their very own Christmas tree, which is usually covered in every single DIY ornament that they've ever created. Over the years we have amassed quite a collection of kid-made ornaments, so this year we decided to pare down and choose a theme for our tree. The boys opted to make a LEGO themed tree (of course!), and they wanted to make all-new ornaments to fit the theme.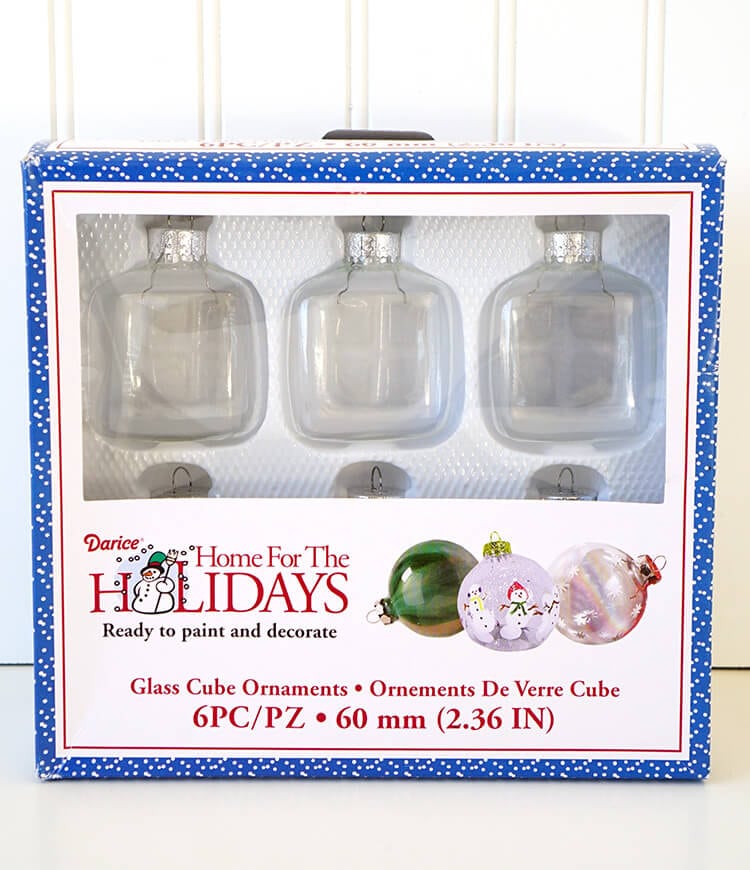 I saw these clear glass cube ornaments at my local craft store, and I immediately knew that they would make perfect LEGO heads!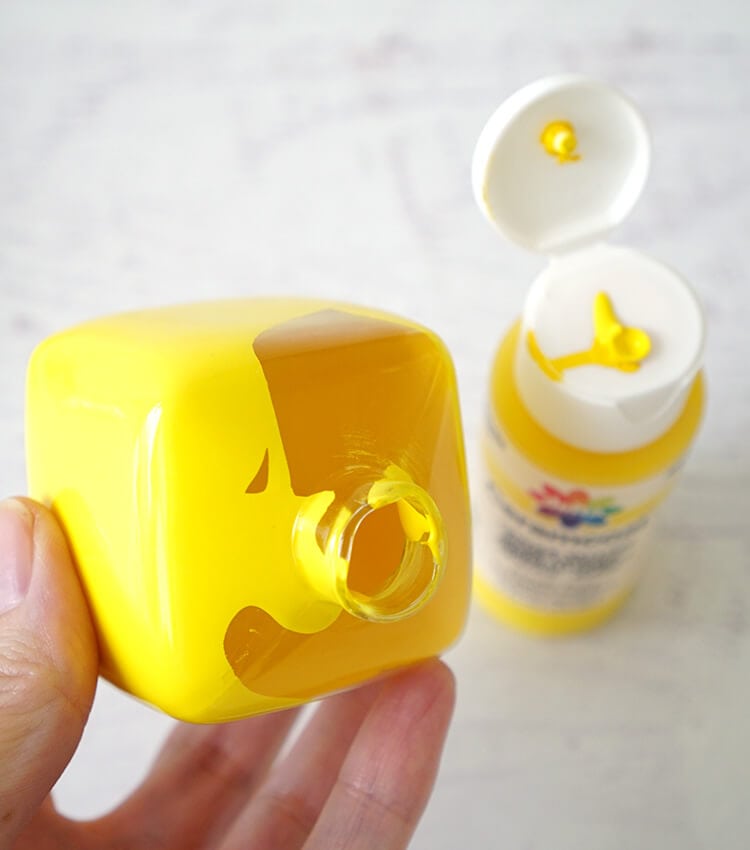 Simply remove the ornament cap, add a squirt of yellow acrylic paint to the inside of the ornament, swirl until the surface is coated, and place the ornament upside down over the bottle of paint so that the excess can drain back into the bottle. Allow to dry completely.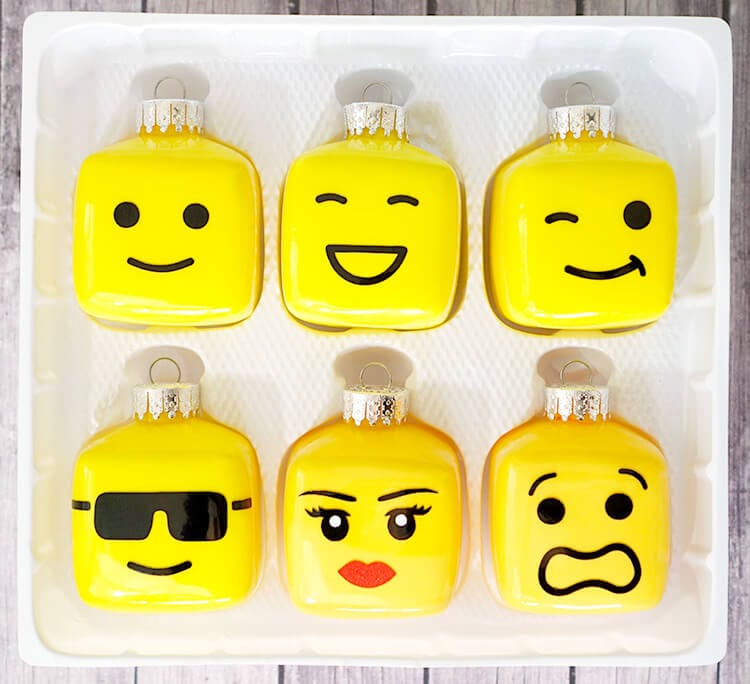 I used my electronic cutting machine and this cutting file along with black, white, and sparkly red vinyl to create these fun faces for our LEGO people. Easy peasy!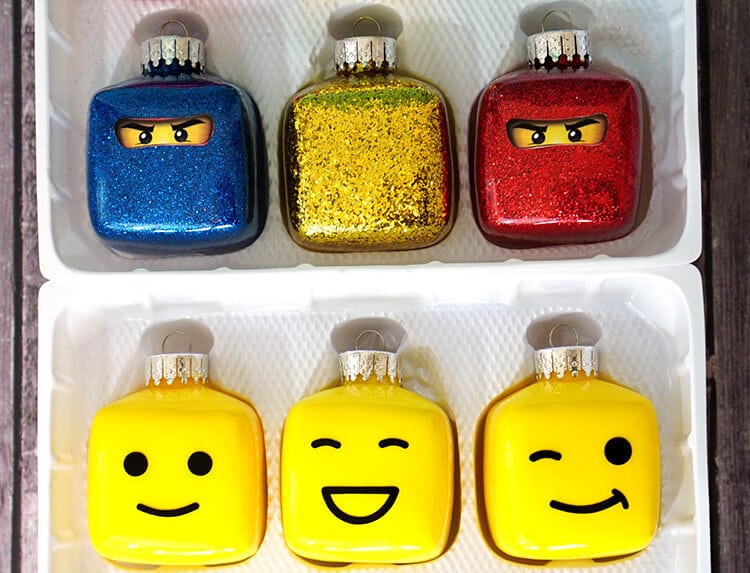 We even made a couple of Ninjago glitter ornaments using printable ninja masks that I found on Pinterest.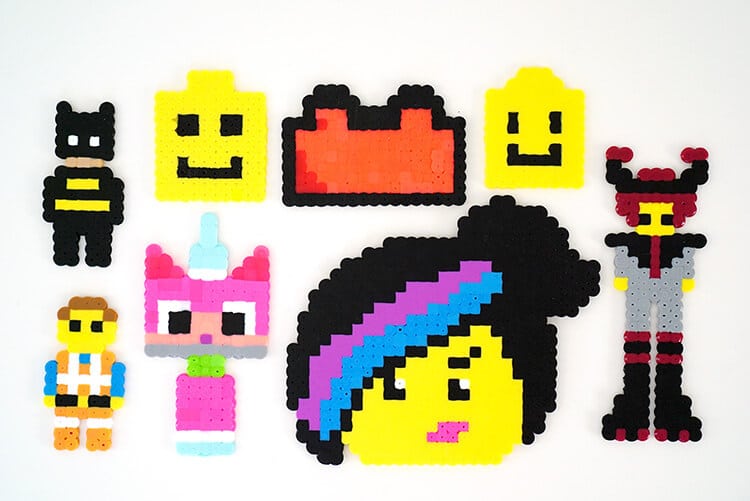 The boys used perler beads to recreate some of their favorite characters from The LEGO Movie, and I turned them into ornaments as well.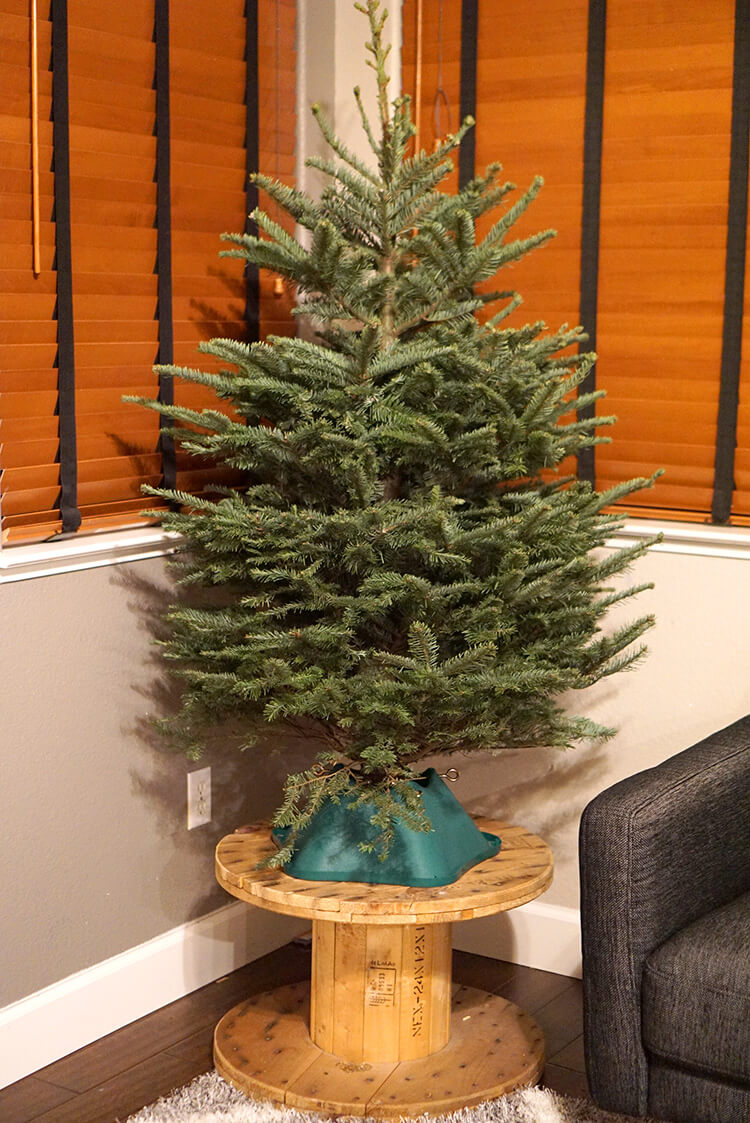 My oldest son insisted on getting a real live Christmas tree (just like he does every year!), and I quickly agreed. Having a fresh tree with that unmistakable Christmas scent is one of the highlights of the holiday season for all of us. A live tree does come with a little bit more responsibility than an artificial one, but we have some handy tricks that make the job simple!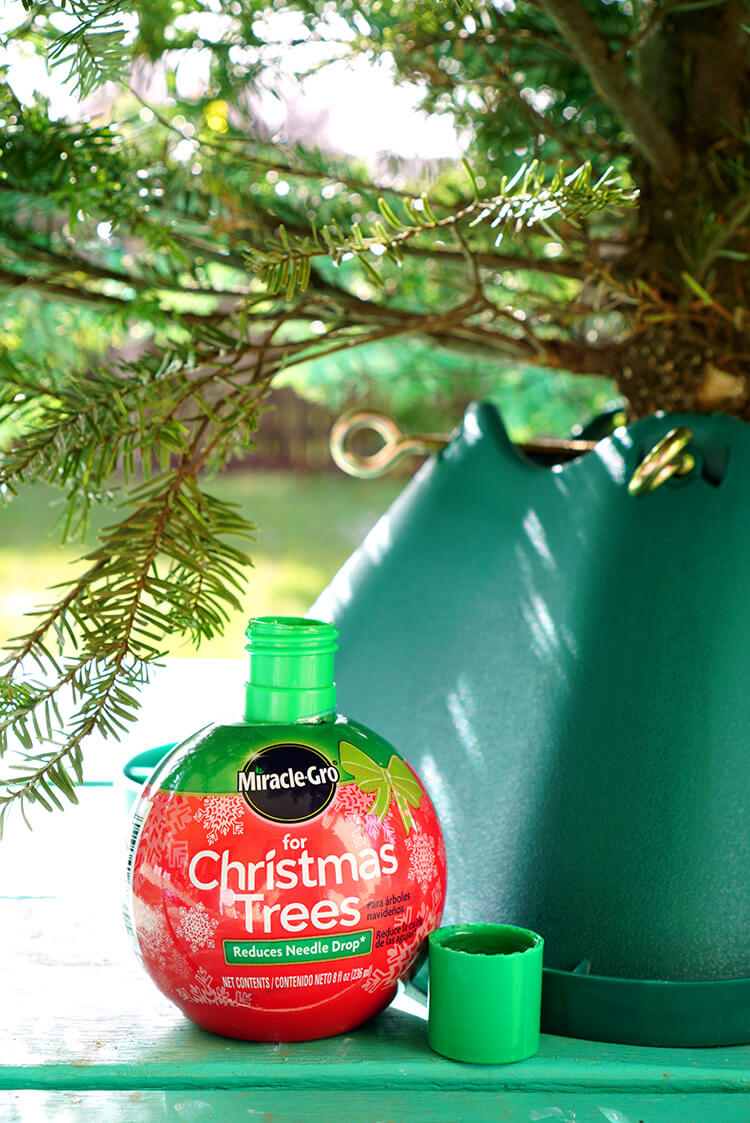 Before you put the Christmas tree into the stand, cut at least 1″ from the base of the trunk. Fill the tree stand with water and check the levels frequently since trees consume more water immediately after set-up. Make sure to check the water level regularly to ensure that the bottom 2″ of the trunk is always immersed in water so that your tree will last the whole season long!
The #1 complaint that people tend to have with live Christmas trees is needles falling off everywhere (aka needle drop), so we use Miracle-Gro® for Christmas Trees to help combat the issue. It works like a charm! Just add a capful (2 tsp.) for every quart of water added to your tree throughout the holiday season, and it will help keep the tree hydrated (vs. water only) and reduce needle drop (vs. water alone).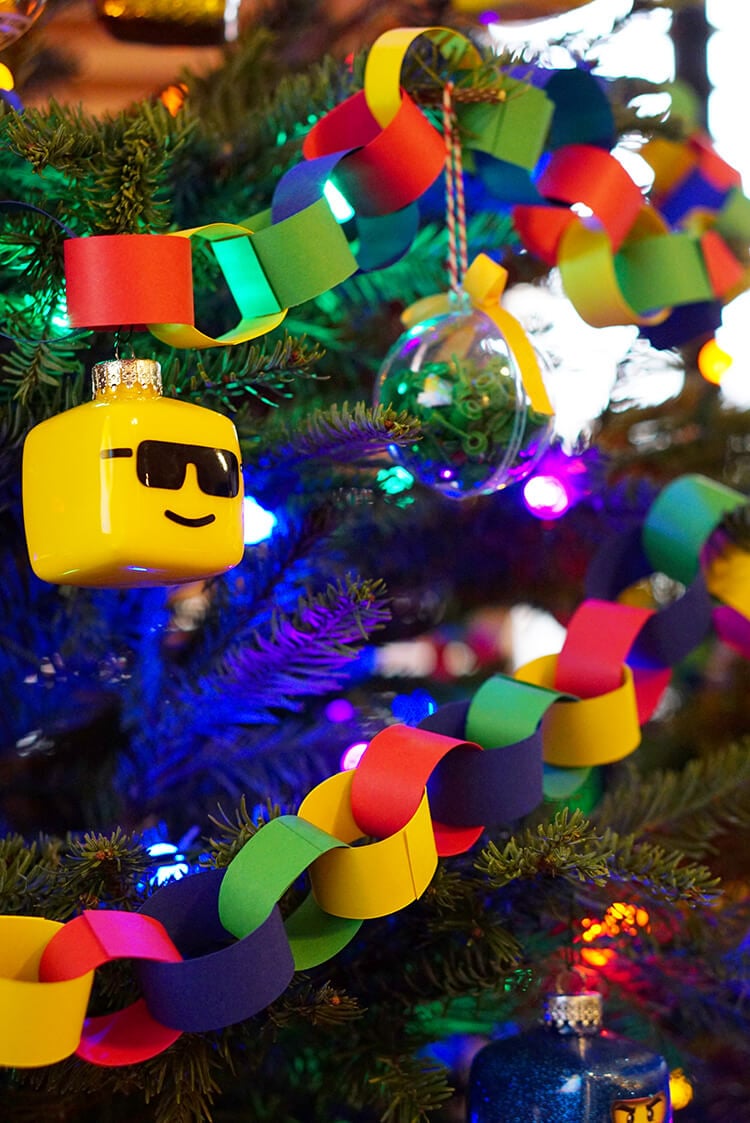 Once our live tree was set up, hydrated, and happy, it was time to add the lights and decorate! The boys and I created this colorful paper chain that represents the basic LEGO colors.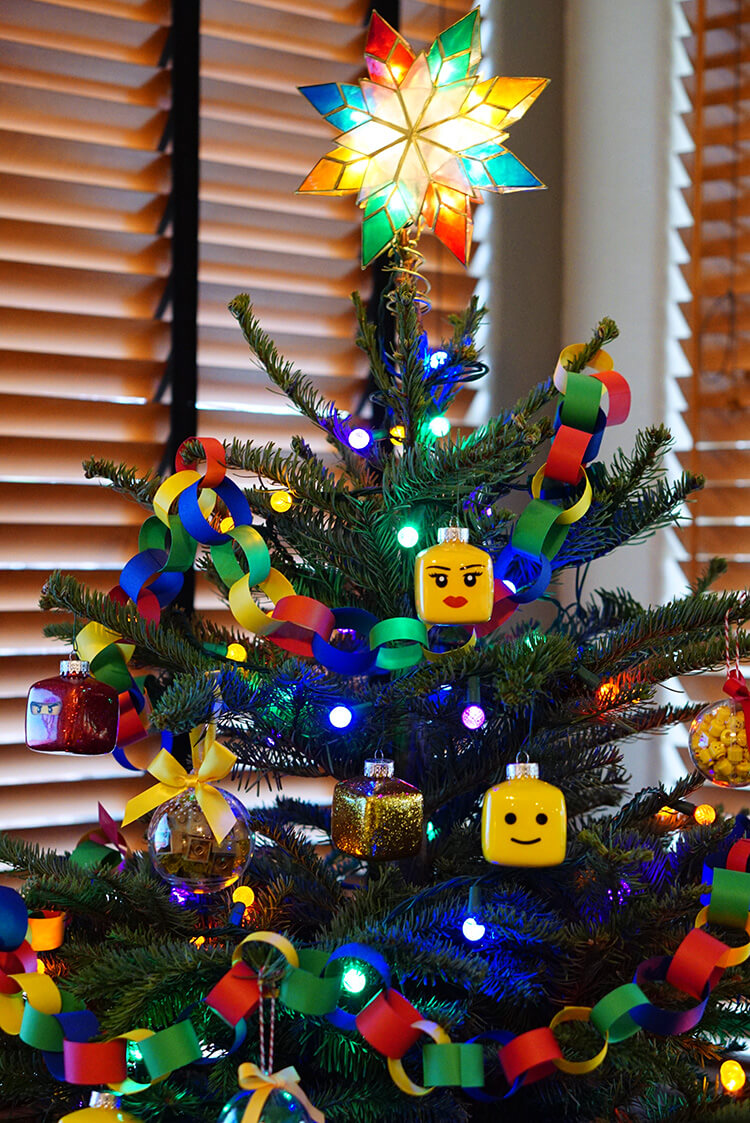 I discovered this capiz shell tree topper online in the same colors, and I knew that it HAD to sit atop our tree!
My husband and the boys also created some quick and easy ornaments out of actual LEGO bricks. These cute candy canes are totally adorable!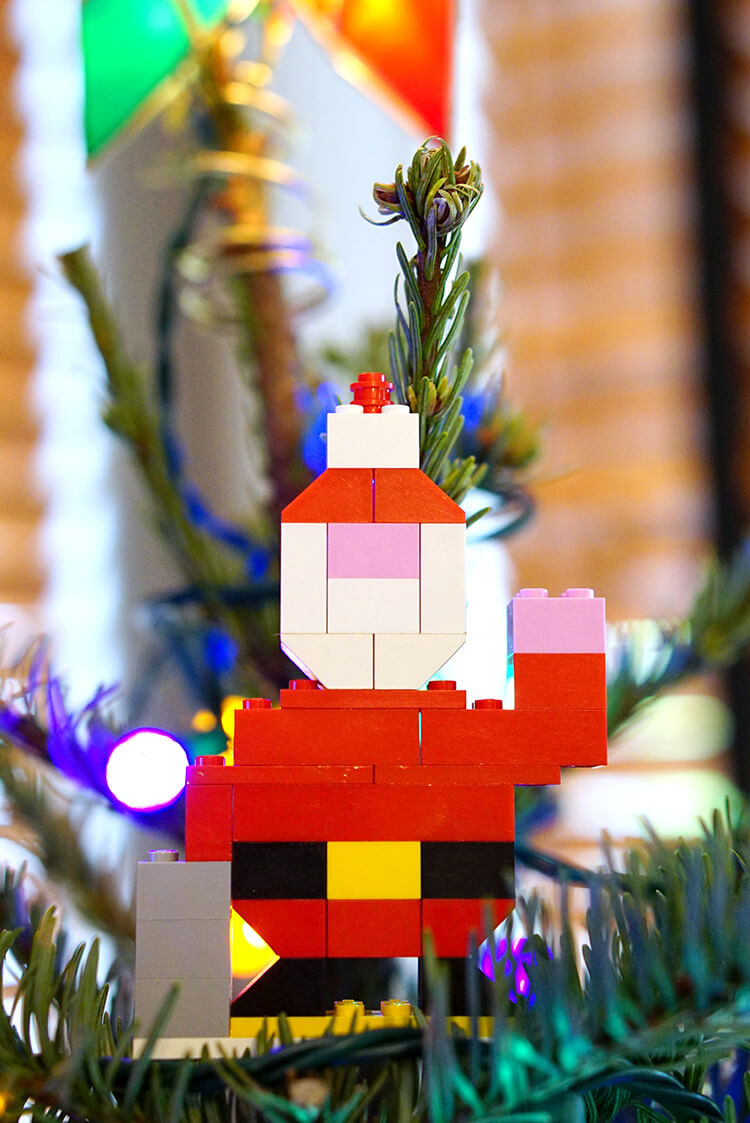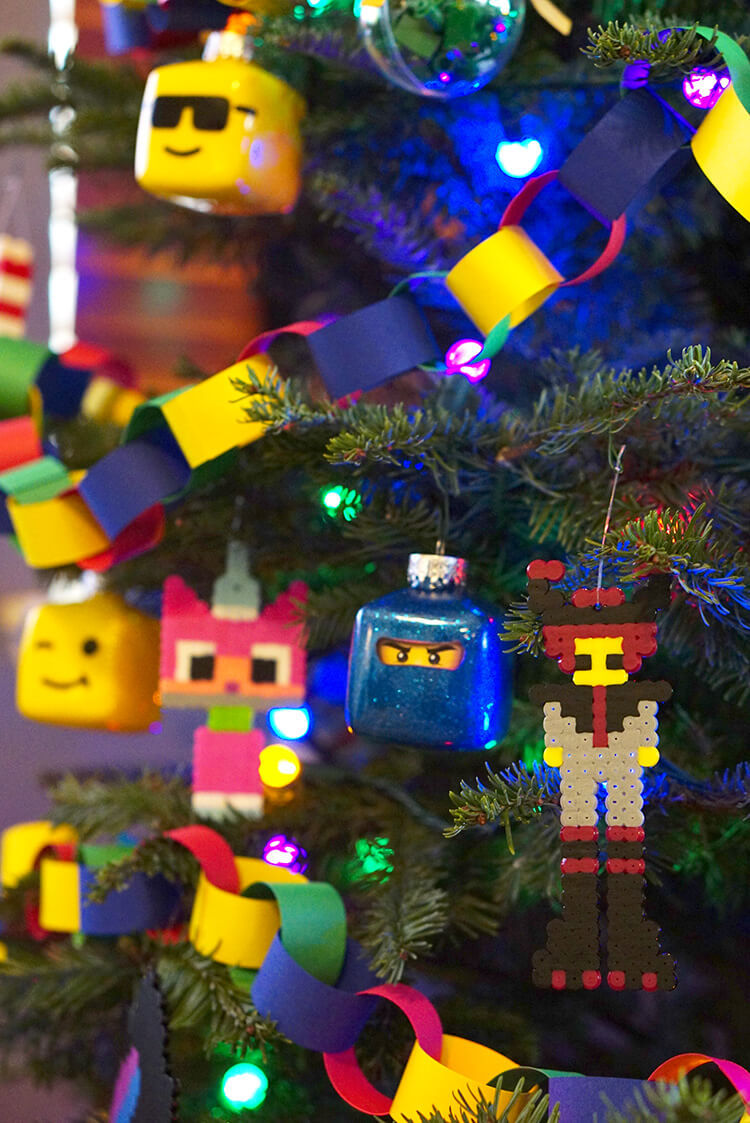 I love that even though the tree is full of toy-themed ornaments, everything is still handmade by our family!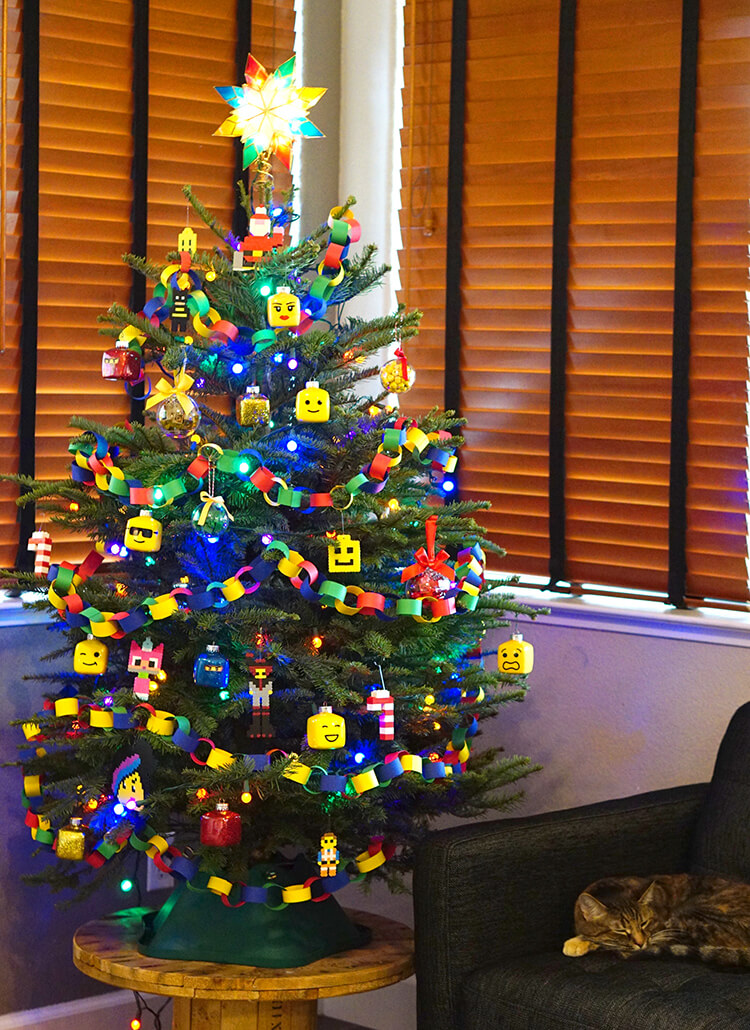 If you look closely, you might also spy a few clear plastic ball ornaments that have been filled with LEGO bricks – there's even one that's entirely full of heads haha! The kids really had a TON of fun putting the themed pieces of this tree together!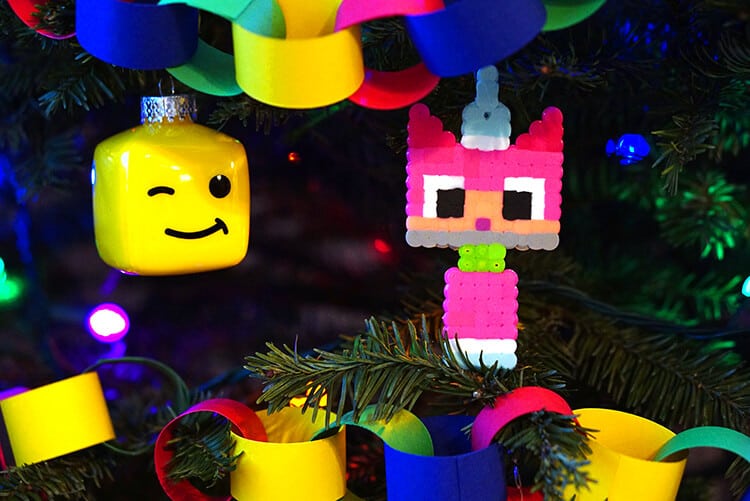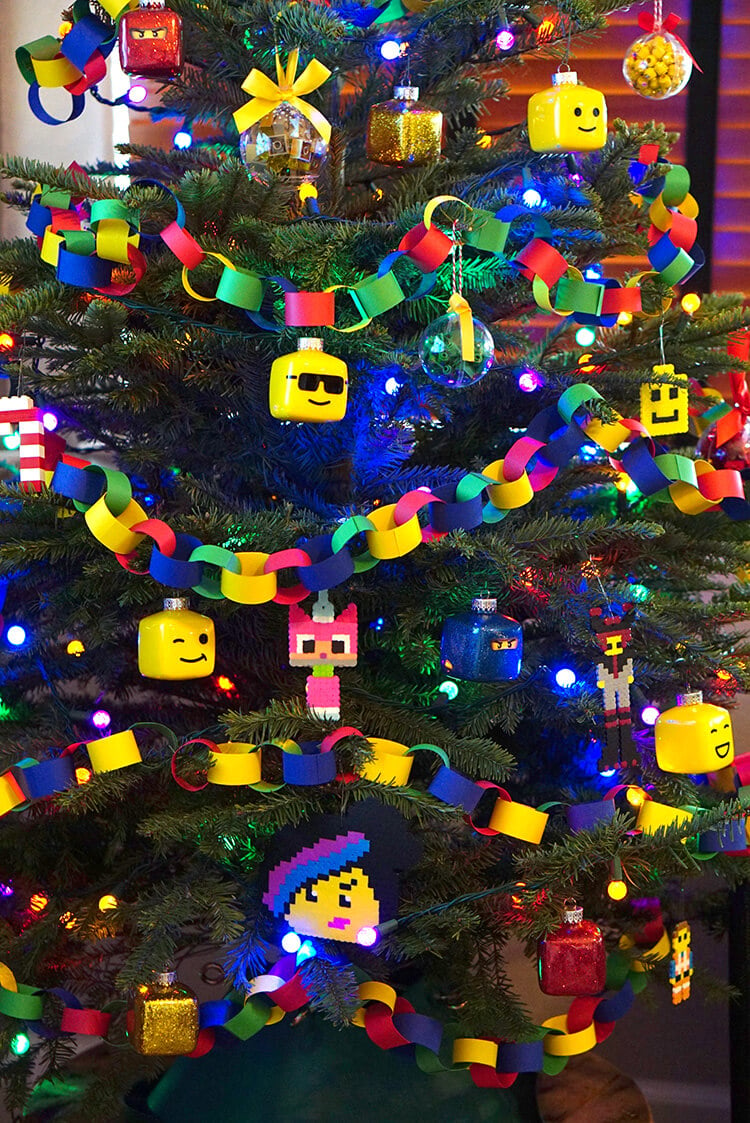 The boys are saying that this Christmas tree is going down in history as the #BestTreeEver, and I think they might be right! It is definitely the most fun that we've had with a Christmas tree theme, and now that their imaginations have been stretched, I'm excited to see what they come up with next year! One thing that I know for sure, next year's tree will also be fresh and live – you just can't beat the magic of that true "Christmas smell!"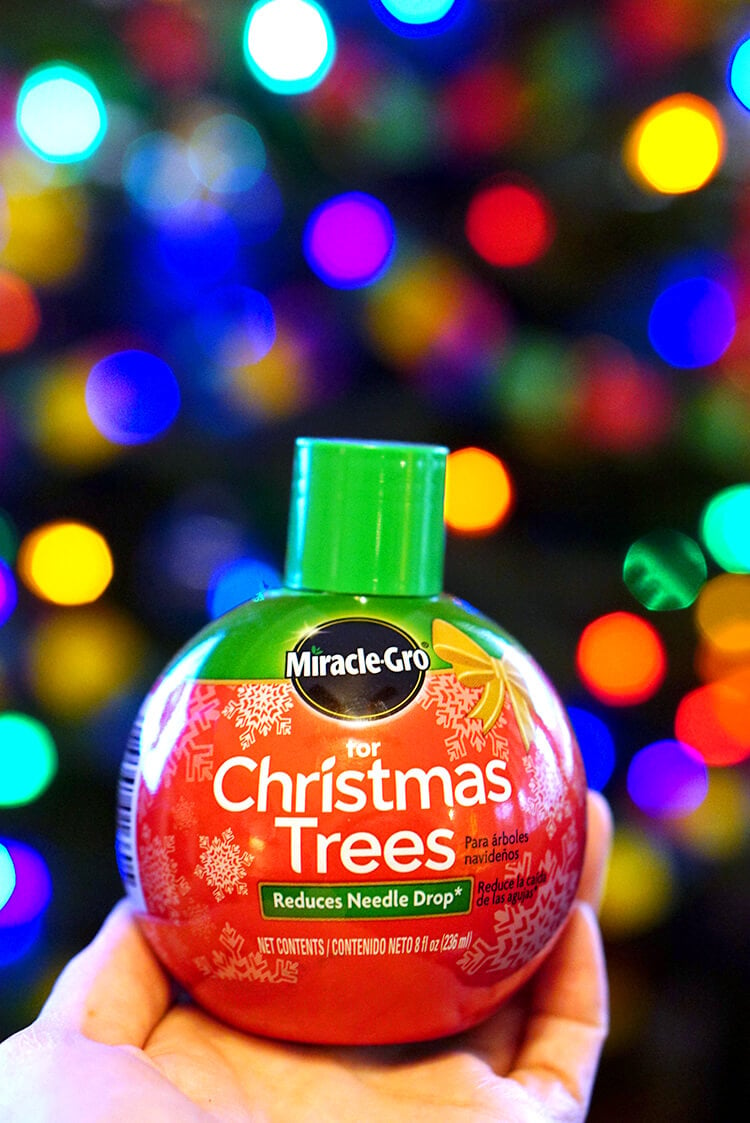 Don't forget to pick up Miracle-Gro® for Christmas Trees (available on Amazon.com and at many home improvement stores) to help keep your tree fresh and green all season long from Miracle-Gro®, the name you know and trust! Click here for additional information.
Happy holiday decorating! Are you creating any themed Christmas trees this year? Let me know about them in the comments!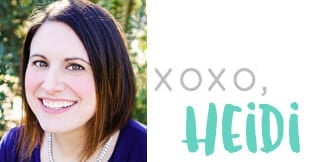 This is a sponsored conversation written by me on behalf of Miracle-Gro. The opinions and text are all mine.
If you like these ideas, don't forget to pin them!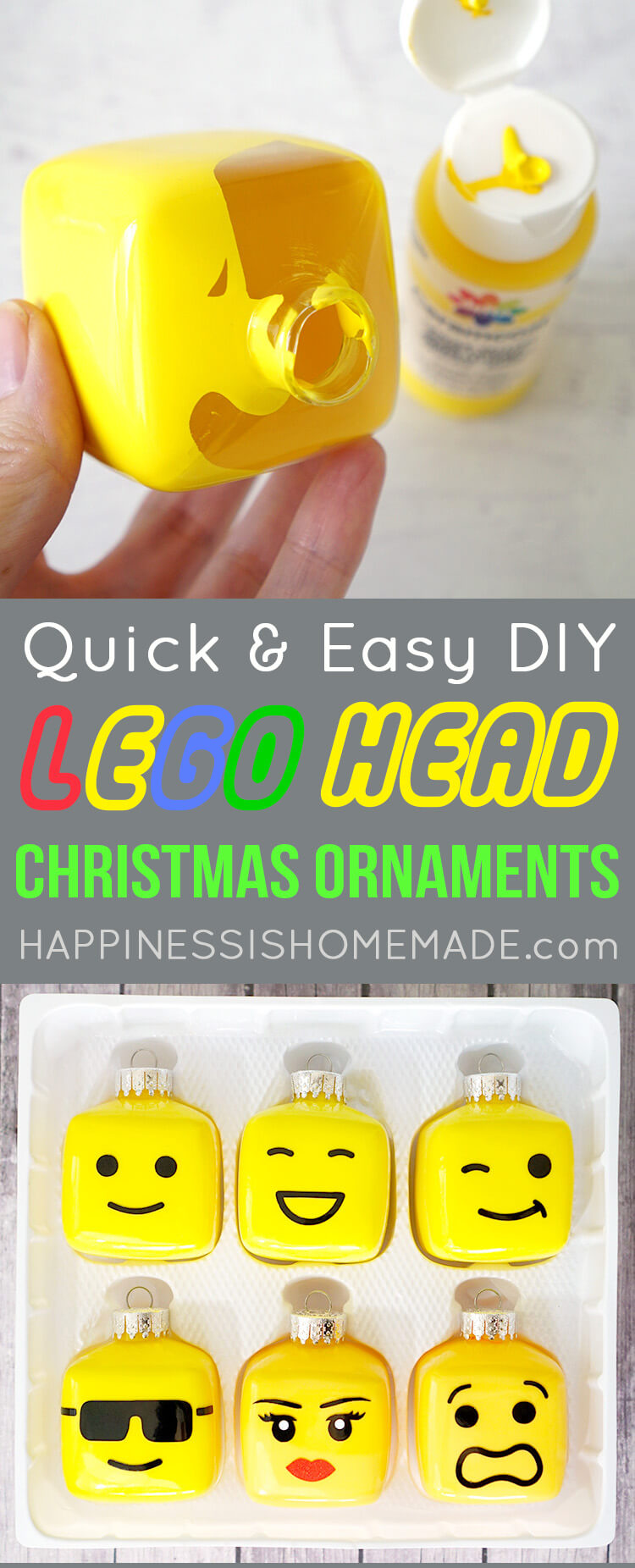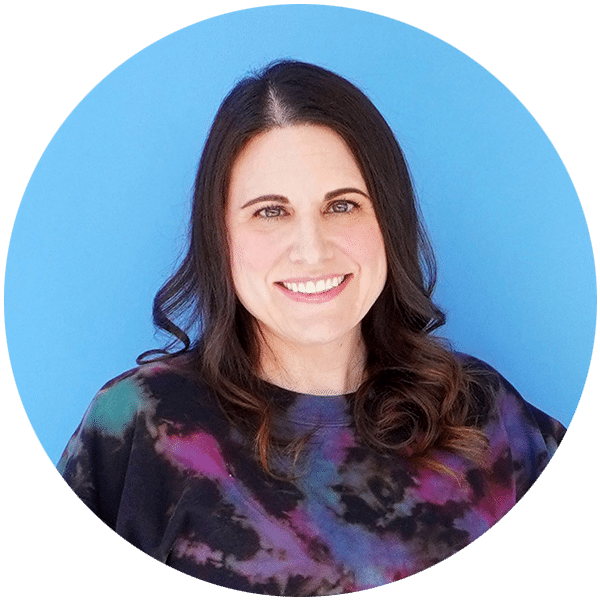 Heidi Kundin has captivated the hearts of millions with her colorful and inspiring approach to crafting, celebrations, and family fun. With over 15 years of experience, Heidi's website has become a must-visit destination for those seeking quick and easy creative ideas and last-minute solutions. Her warm personality shines through her posts, inviting readers to join her on a creative journey that's fun, rewarding, and achievable.