Roasted Red Pepper + Red Lentil Hummus
This post and its photos may contain affiliate links. As an Amazon associate I earn from qualifying purchases. If you make a purchase through these links, I may receive a small commission at no extra cost to you!
This healthy roasted red pepper and red lentil hummus is packed full of flavor, and it's super quick and easy to make! Makes a great party appetizer or healthy after school snack!
I love the holidays, but every party that I've been to lately seems to be packed full of sweet treats with not nearly enough healthy options. This year, I'm bringing this delicious and protein-packed roasted red pepper and red lentil hummus as my potluck appetizer and jump starting those New Year's resolutions! This hummus also makes a great afterschool snack – whip up a batch over the weekend, and it will keep in the refrigerator for the whole week, or you can freeze it for up to 3 months!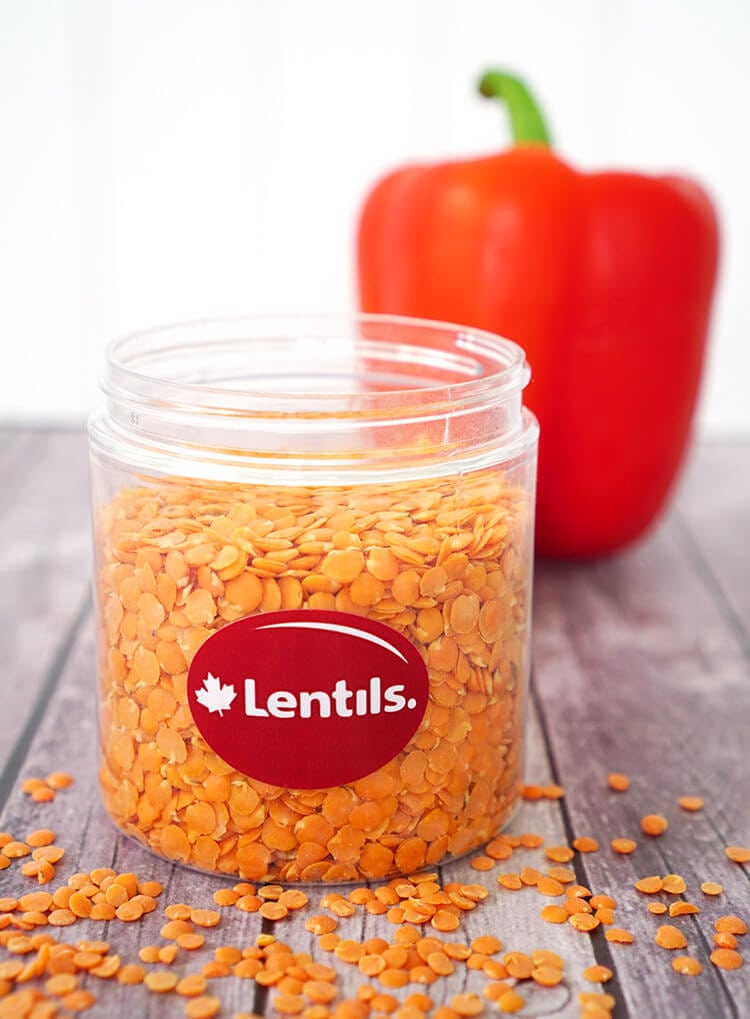 Lentils are one of my favorite pantry staples because they're nutritious, filling, low-fat, and loaded with protein, fiber, and iron (seriously, y'all, lentils pack as much protein as an equivalent portion of steak with only 1/10 of the fat!). Dry lentils store extremely well and will keep for a full year when stored in an airtight container in a cool, dry place. We always have them on-hand!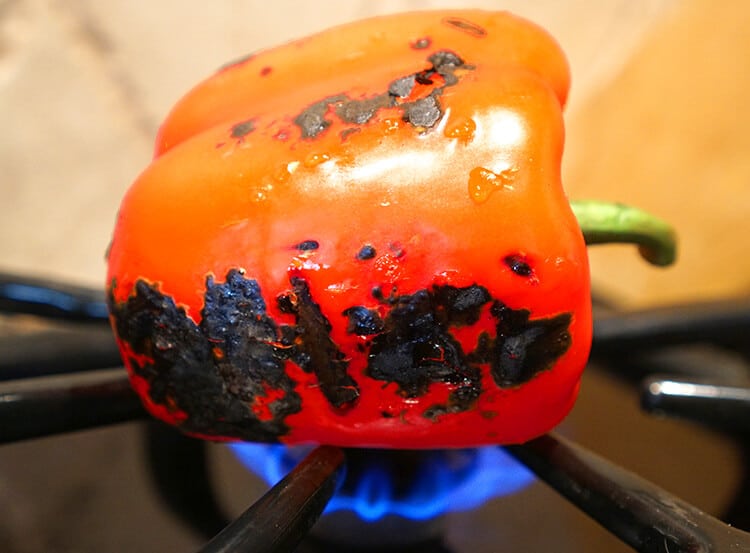 You'll need roasted red bell pepper for this recipe – you can purchase jarred and already roasted peppers at the supermarket, or it's easy to roast a red pepper on your gas cooktop. Simply place the pepper directly over a medium flame, using tongs to turn frequently, until the skin is blackened and charred. Place the pepper in a sealed plastic bag, and when cool, easily remove the skin (just wipe it off!), and chop the pepper into smaller pieces.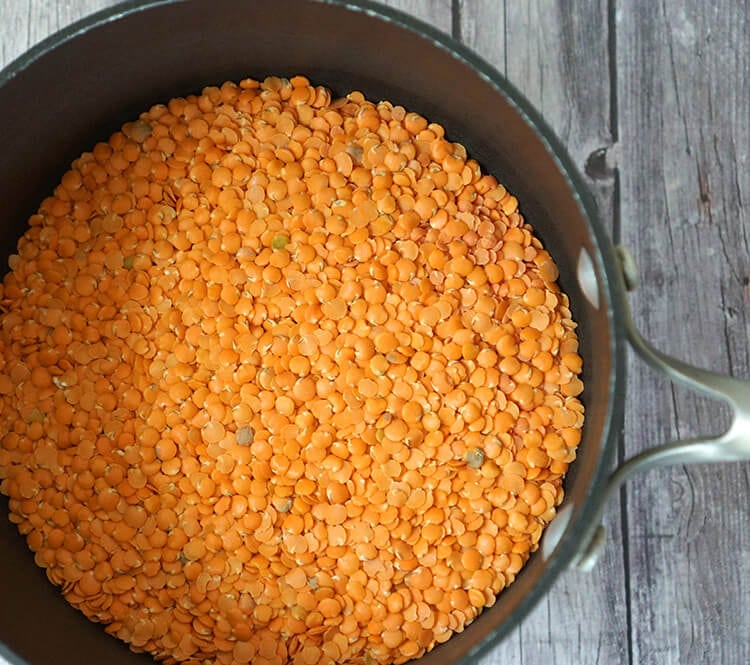 The lentils are also really quick and easy to cook. Rinse the lentils, add water, bring to a boil, cover tightly, reduce heat, and simmer for 5-7 minutes until they are tender. Easy peasy!
(Note: be sure to season with salt after cooking. If salt is added during the cooking process, the lentils will become tough.)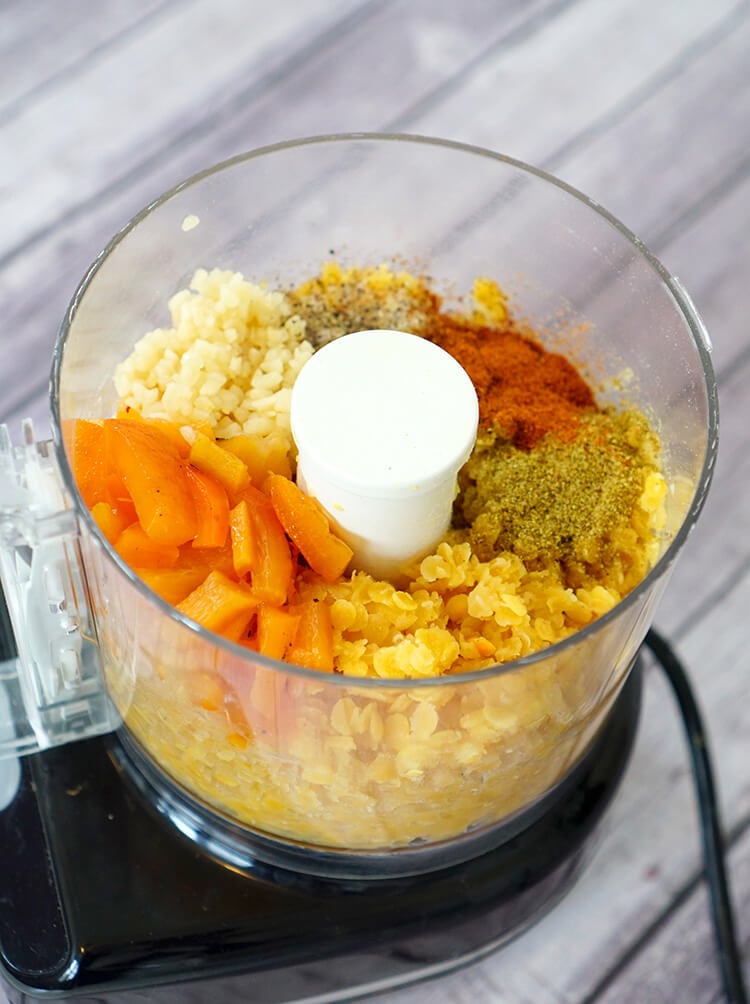 Add all of the ingredients into your food processor and pulse until smooth and creamy.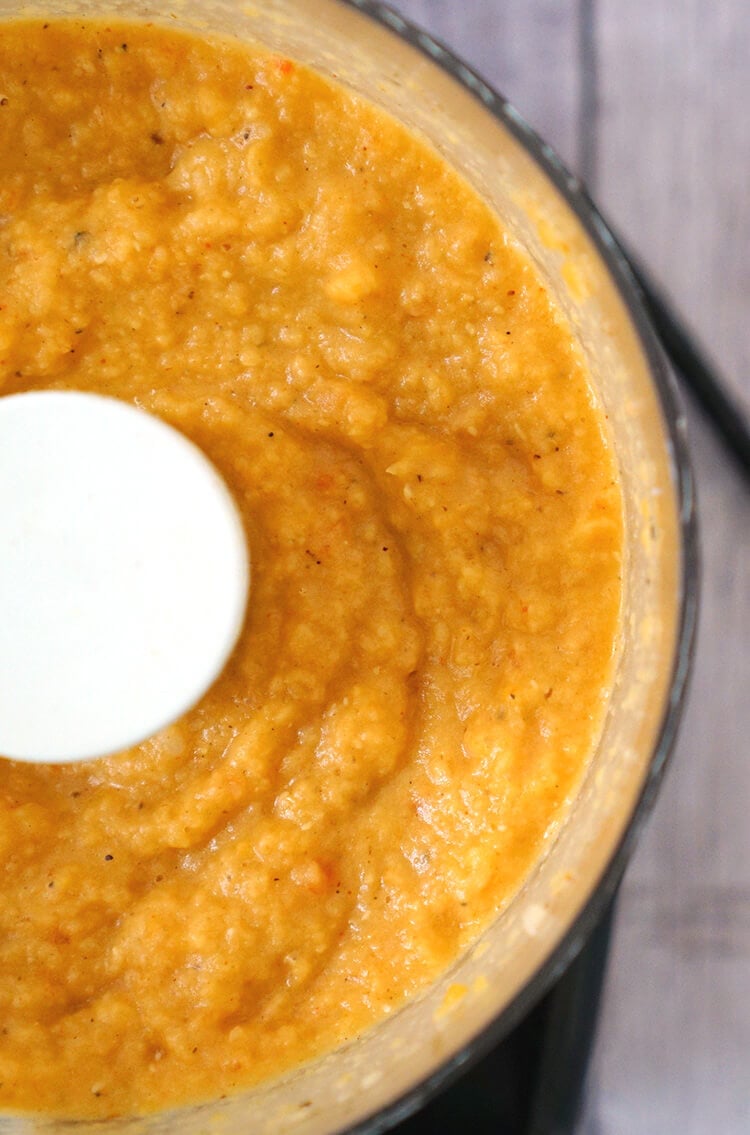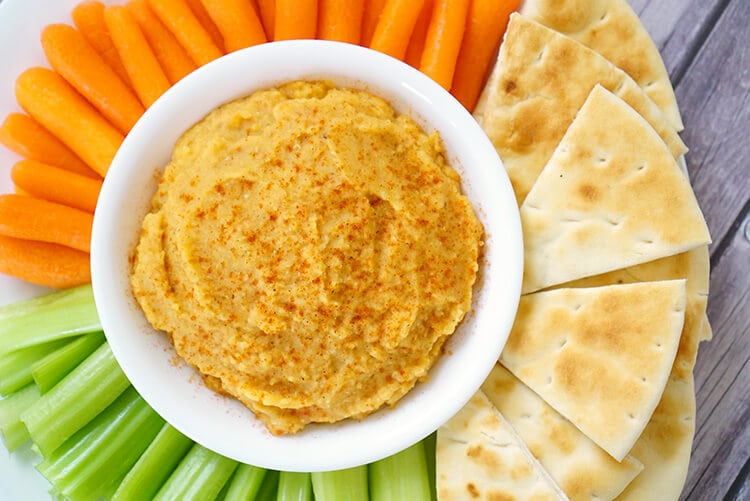 Serve with vegetables, toasted pita bread, and an extra dash of smoked paprika.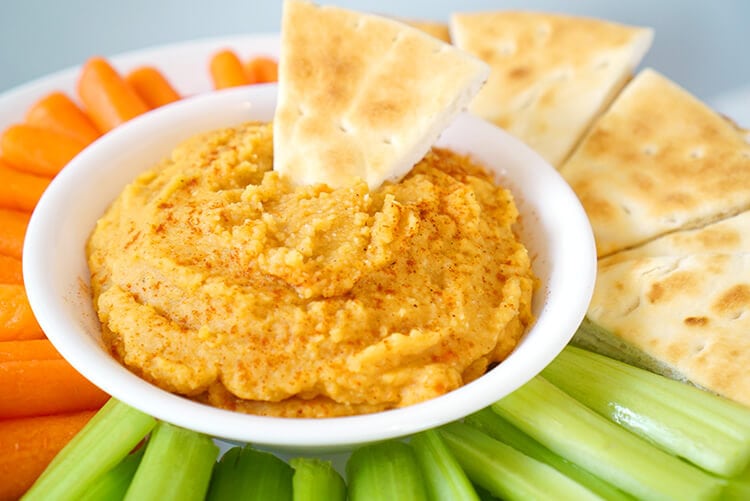 SO yummy…and healthy!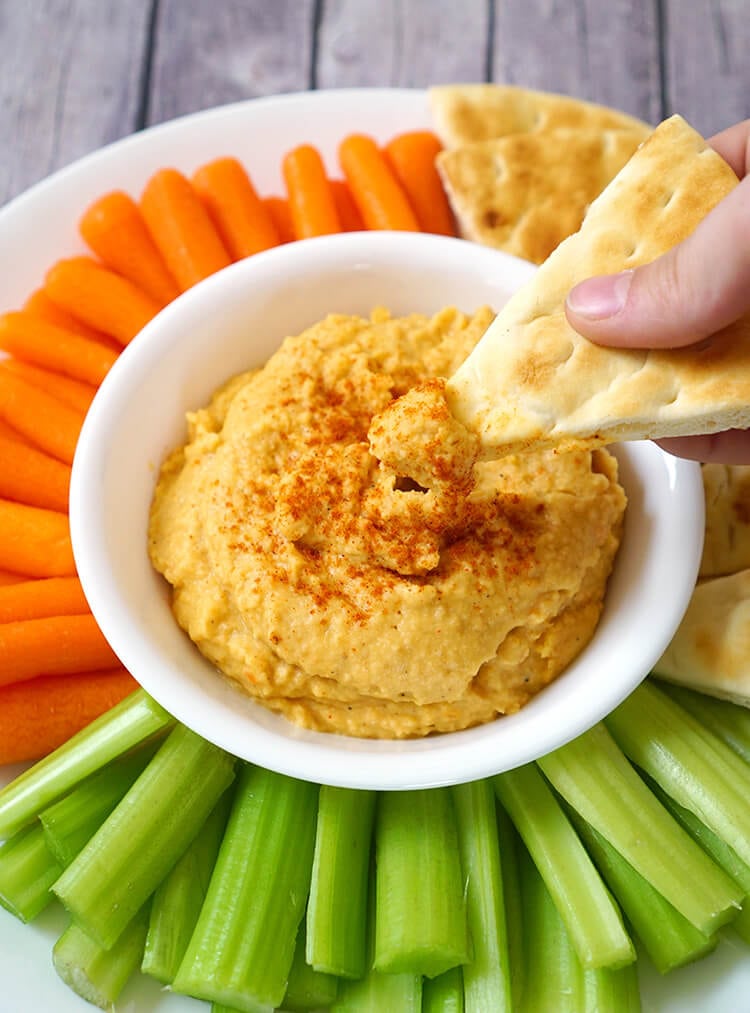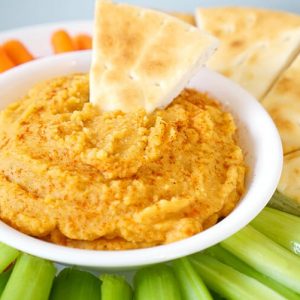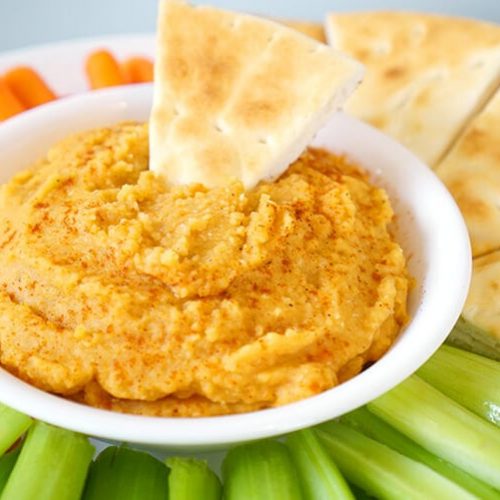 What You'll Need:
1 cup Dried Split Red Lentils
3 cups Water
2-3 Cloves of Garlic
1/4 cup Roasted Red Peppers
2 tsp. Lemon Juice
3 Tbsp. Olive Oil
1 1/2 tsp. Salt
1/2 tsp. Black Pepper
1/2 tsp. Onion Powder
1 tsp. Cumin
1 tsp. Smoked Paprika
Instructions:
Cook lentils and water on the stovetop. (Be sure to use a large enough saucepan as the lentils will double or triple in size) Bring to a boil, cover tightly, reduce heat, and simmer 5-7 minutes until lentils are tender.

Place cooked lentils and all ingredients into the bowl of a food processor.

Pulse until smooth.

Hummus will keep for one week in the refrigerator or three months in the freezer.
For even more delicious lentil recipes and inspiration, be sure to follow Canadian Lentils on Facebook, Twitter, Pinterest, YouTube, and Instagram.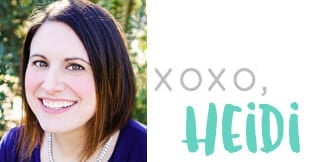 If you like this idea, don't forget to pin it!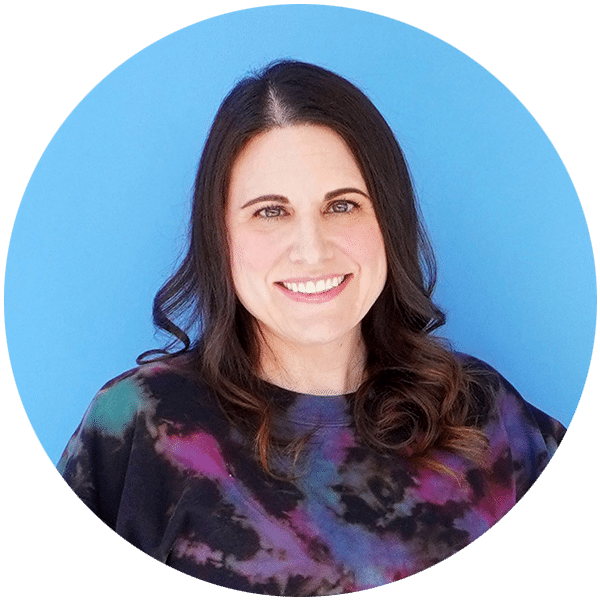 Heidi Kundin has captivated the hearts of millions with her colorful and inspiring approach to crafting, celebrations, and family fun. With over 15 years of experience, Heidi's website has become a must-visit destination for those seeking quick and easy creative ideas and last-minute solutions. Her warm personality shines through her posts, inviting readers to join her on a creative journey that's fun, rewarding, and achievable.