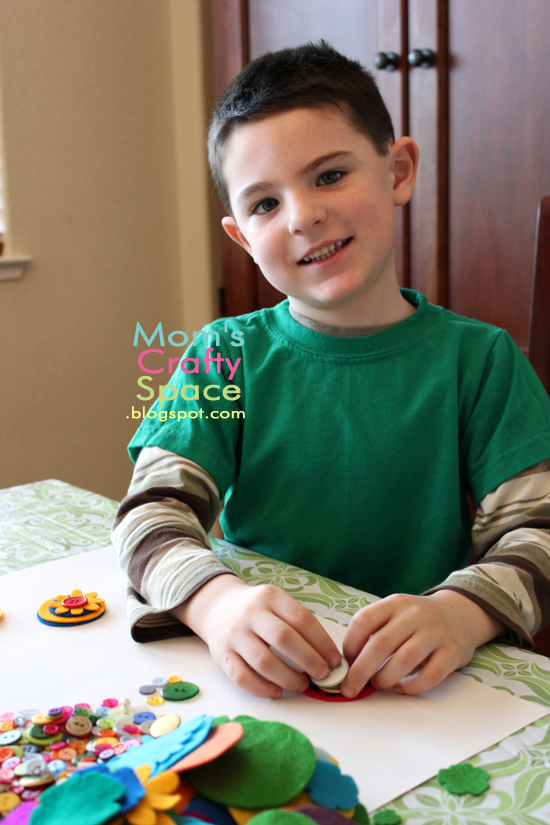 The boys and I made these sweet bouquets of felt flowers a couple of months ago for the current issue of Sacramento Parent Magazine, and we had planned on gifting them to their grandmothers for Mother's Day. Last week they made a couple of gorgeous
rainbow pour painted flower pots
to put them in. The flower pots turned out lovely, but then I drew a total blank when trying to remember where I had stashed the flowers. The sad part is that I can remember that I put them "somewhere safe where I'll remember them…" Sorry, grandmas!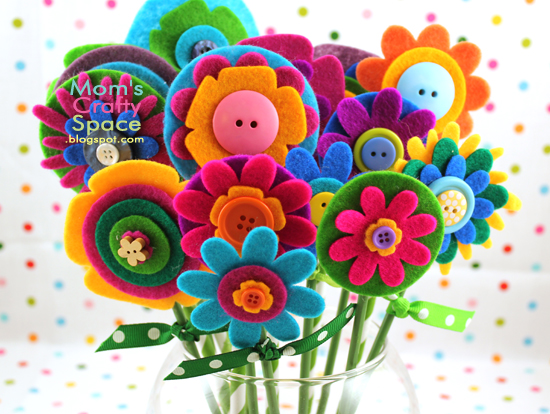 What you'll need:
Felt, cut into various sized and shaped flowers and circles
Buttons
Felt Glue
Wooden skewers, painted green (drinking straws or floral wire may also be used)
Green ribbon
Directions
Select the color and sizes of felt pieces that you want to use (3 to 5 work best) and start layering. Add a dot of glue to the center of each layer to hold your flower together, but do not glue all the way to the outer edges. This will create a flower with more depth and shape.
Finish the center of each flower by gluing on a colorful button, or layer two different sized buttons to create even more dimension.
Glue a painted skewer to the back of the flower to serve as the stem. Hot glue works best for this step as it holds strongly and dries quickly. (Hot glue is a task for adults or older children only!)
Tie a short length of green ribbon to the skewer to create leaves.
Bundle your flowers together and place them into your favorite vase. Hint: if the mouth of your vase is too wide to hold the flowers upright, try placing a small piece of floral foam or playdough in the bottom of the vase to hold the stems in place.