How to Make Recycled Plantable Seed Paper
This post and its photos may contain affiliate links. As an Amazon associate I earn from qualifying purchases. If you make a purchase through these links, I may receive a small commission at no extra cost to you!
Shredding paper is one of my boys favorite things to do, so this time around I decided to recycle our shredded paper at home instead of sending it off to the recycling center. It turned out to be a fantastic lesson in reduce, reuse, recycle…perfect for Earth Day!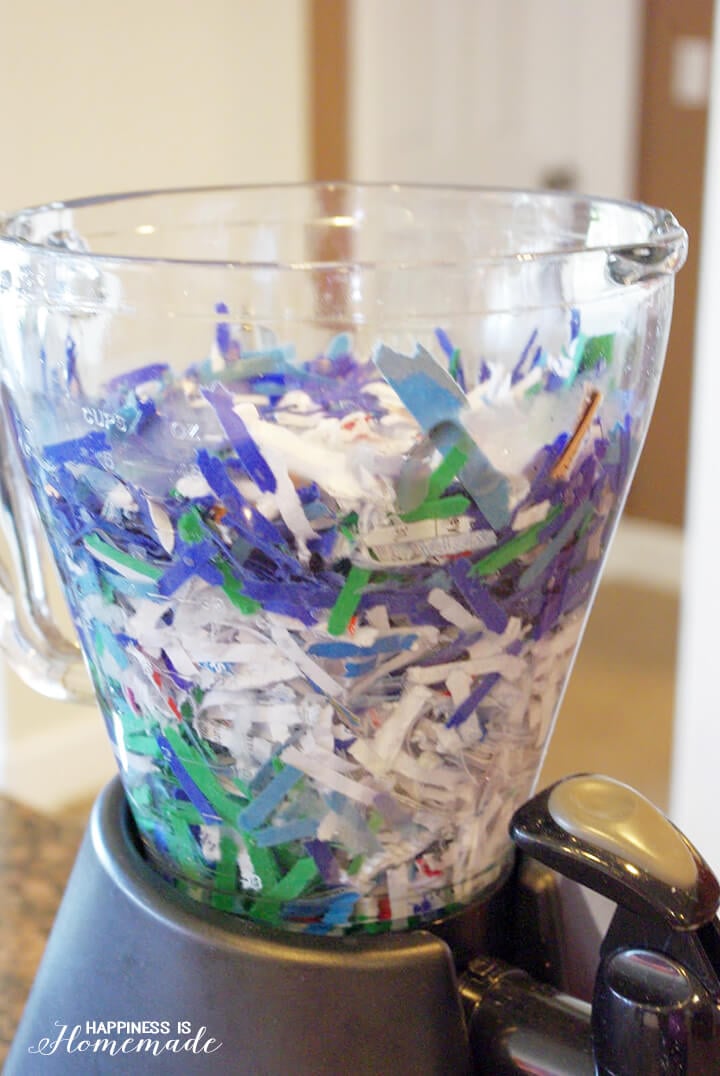 Fill your blender with the shredded paper and add enough water to cover it all. We knew that we wanted our finished paper to be blueish, so we added a few sheets of shredded old artwork (on construction paper) to the mix.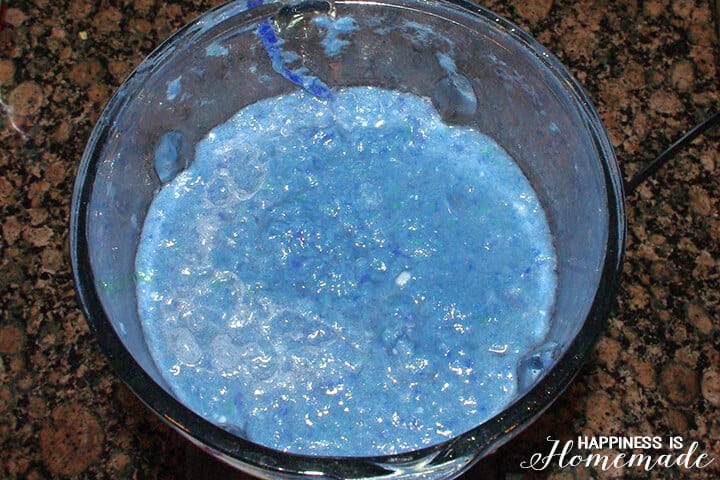 Blend the paper shreddings and water into a fine pulp.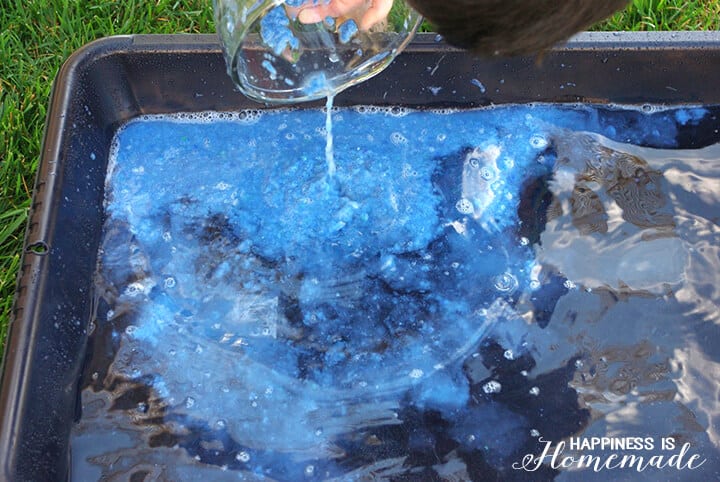 Add a few blender loads of pulp to a large tub of clean water. We used four blender fulls in a mixing tray that my hubby picked up at Home Depot for a couple of bucks (which we will most definitely be reusing for all sorts of other projects!).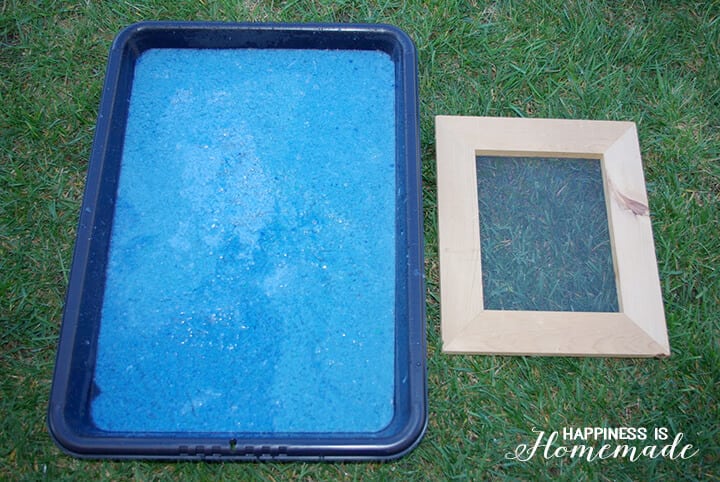 Here's the basic papermaking supplies needed: tub with water and pulp mixture and a wood frame with screen stapled to it. My super awesome handy hubby whipped these up for us with scraps that we had in the garage, but you could even use an old picture frame. The screen is just standard mesh window screen…just make sure you get it stapled on tightly with minimal slack.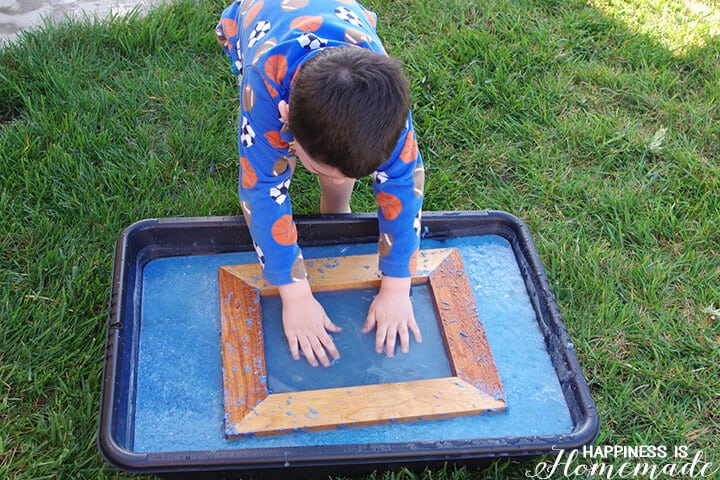 Dip your screen into the pulp/water mix, and allow a thin and even layer of pulp to coat the screen.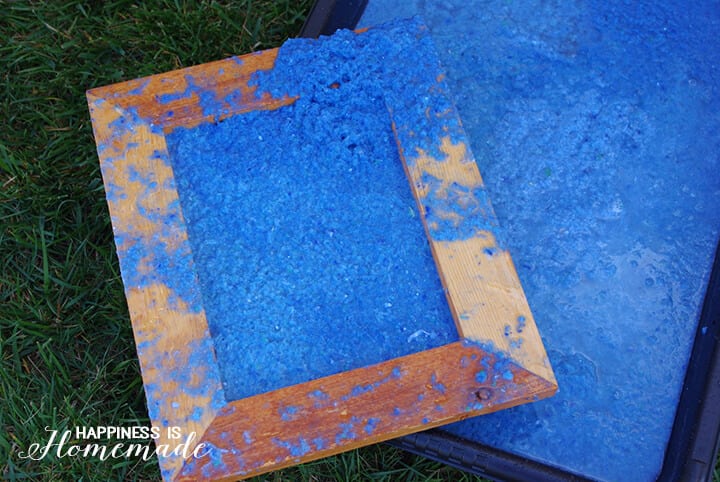 Allow the water to drain through the screen for a few minutes.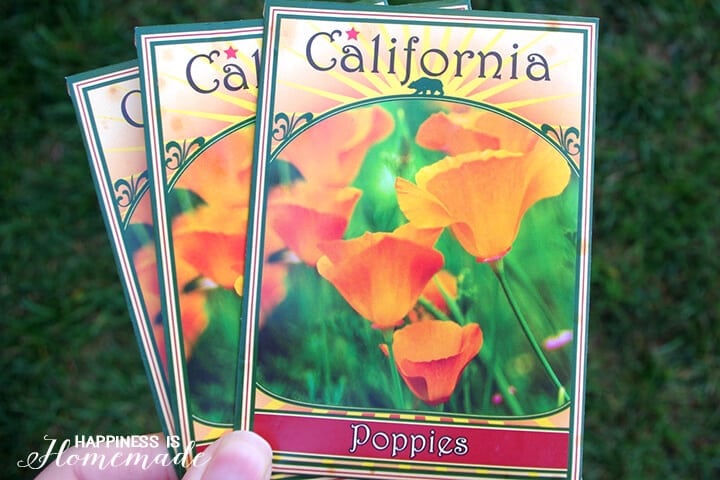 We had a ton of California Poppy seeds laying around, so we decided to add them to our paper to make PLANTABLE paper (super cool, right!?!). We just sprinkled them on top of the pulp mixture while it was still very wet.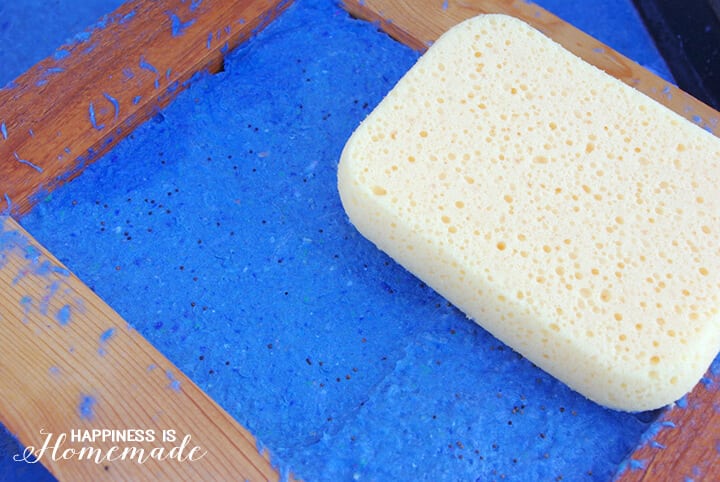 Use a sponge to carefully press out the remaining water, wringing out the water after each pressing. Use caution when lifting up the sponge so that you don't lift up your paper too. I designated this part as a "Mommy job" since the paper is extremely delicate at this stage.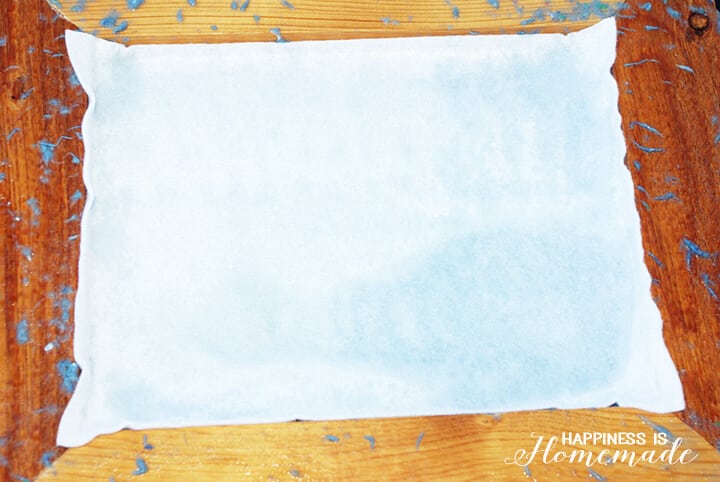 Use a white sheet of felt (colored felt may bleed) to press the remaining water out. Leave the felt in place, and flip your frame over on to a flat surface.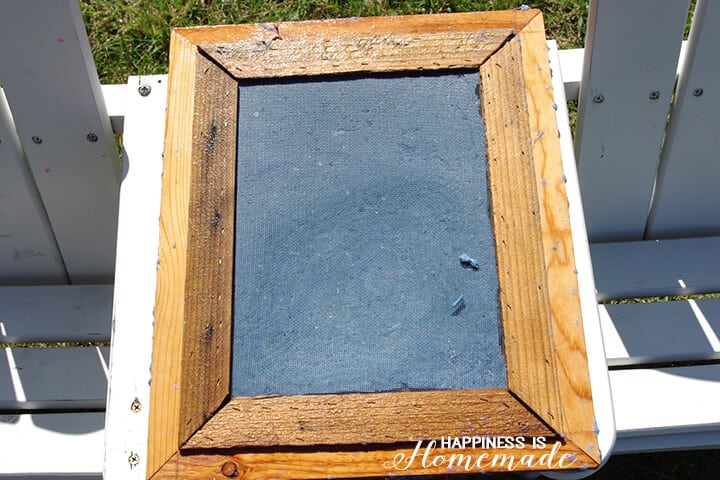 Gently tap the back side of the screen and the paper should easily fall off on to the felt backing.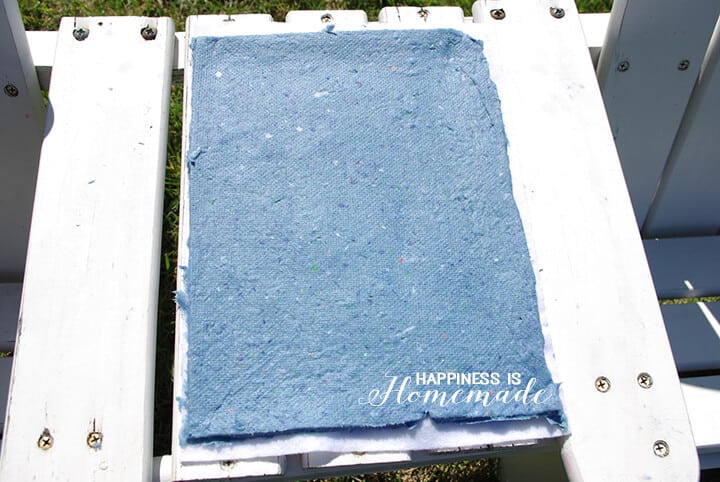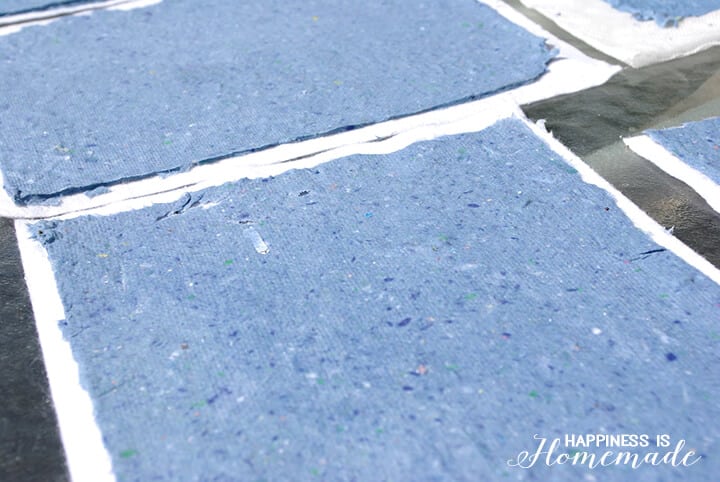 Let your beautiful recycled paper dry in the sunshine. It will take about 24 hours for it to fully dry out. We let ours dry in the sun for about 8 hours and then moved it indoors in the evening.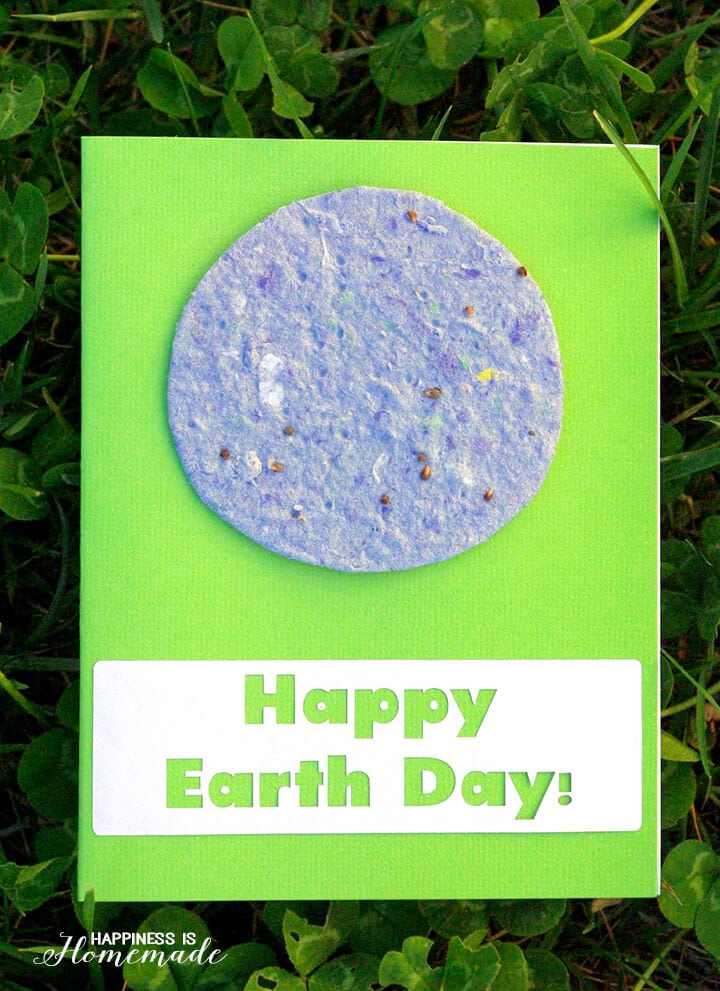 We're using our paper to make fun Earth Day cards! Of course, you can get way more creative than this basic card (in fact, my boys want to add some watercolored green land to the blue Earth shapes), but I just wanted to give y'all a quick example. When our friends plant their "Earths" they will soon be greeted with bunches of sunny orange poppies!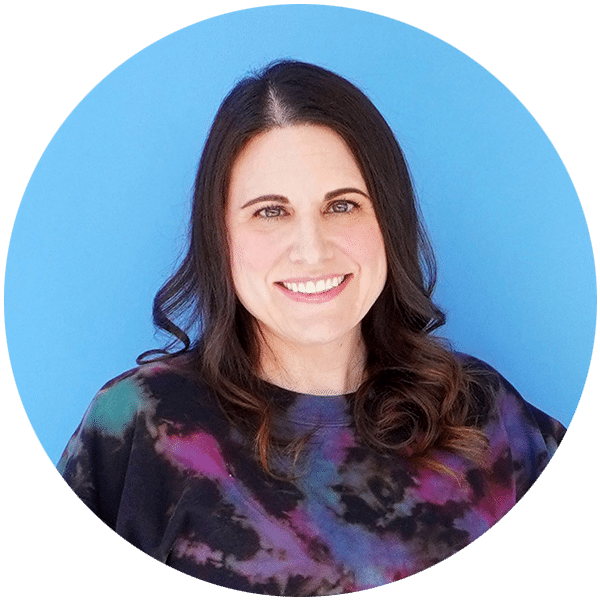 Heidi Kundin has captivated the hearts of millions with her colorful and inspiring approach to crafting, celebrations, and family fun. With over 15 years of experience, Heidi's website has become a must-visit destination for those seeking quick and easy creative ideas and last-minute solutions. Her warm personality shines through her posts, inviting readers to join her on a creative journey that's fun, rewarding, and achievable.