Patriotic Oreo Pops for 4th of July
This post and its photos may contain affiliate links. As an Amazon associate I earn from qualifying purchases. If you make a purchase through these links, I may receive a small commission at no extra cost to you!
How to make patriotic Oreo pops for 4th of July + over 90 other incredible red, white and blue crafts, recipes, and decor ideas for Independence Day!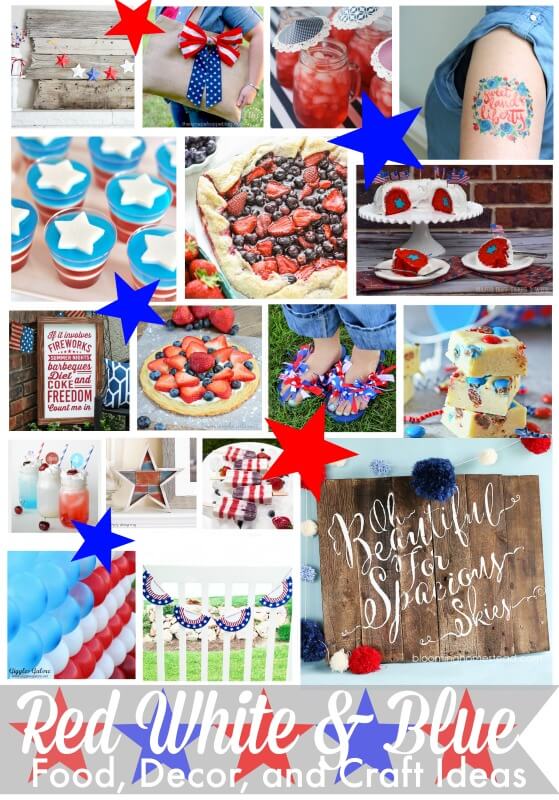 Woohoo! Today's the day! It's time for our second annual Ultimate Red, White & Blue Blog Hop, and I am seriously loving all of these incredible patriotic projects that my blogging friends have created just for you!
I'm sharing how to make patriotic Oreo pops that are sure to impress your friends and family (but are totally quick and easy to make!)! Stick around after the tutorial to see over 90+ more red, white and blue food, decor and craft ideas too!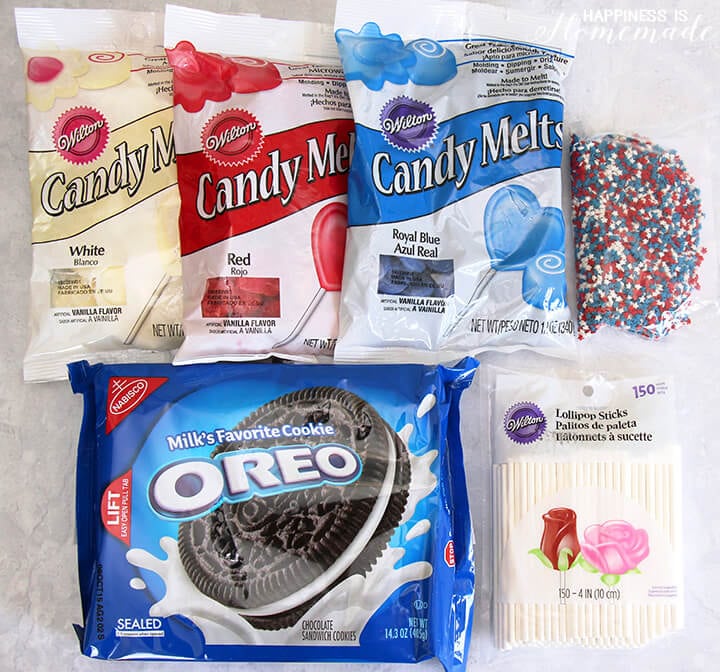 What You'll Need: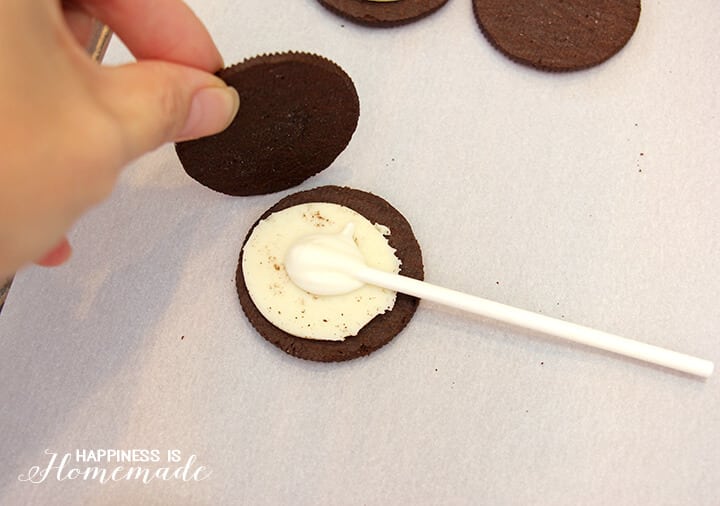 Start by twisting and separating the Oreos into two halves. In a microwave-safe cup, melt a small amount of white candy melts in 20-second increments, stirring well after each. Dip the end of a lollipop stick into the melted candy, and sandwich it between both halves of the Oreo.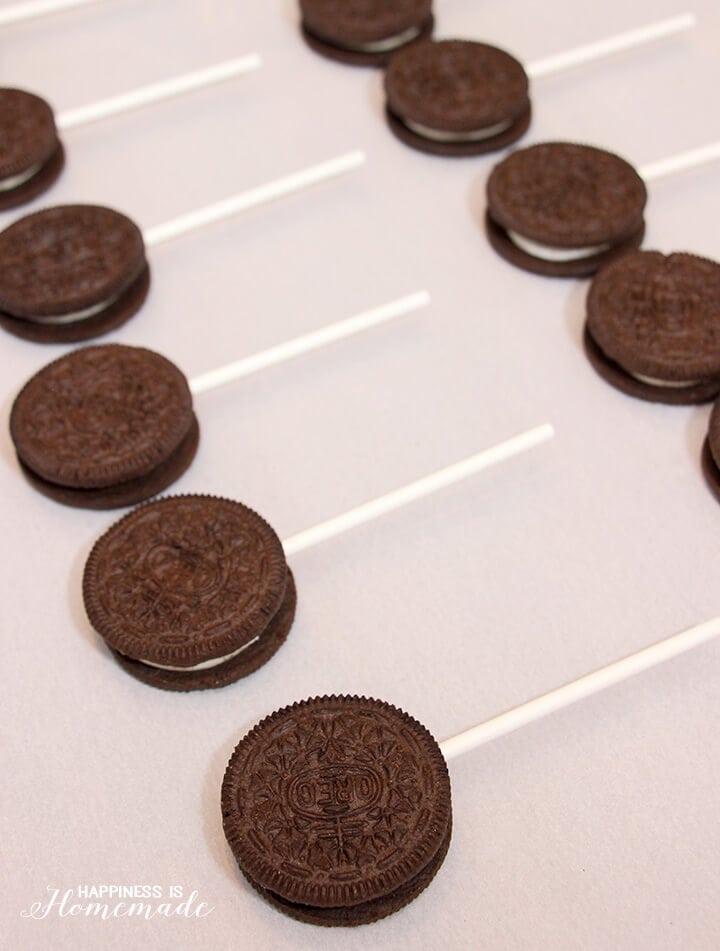 Allow the candy to cool and firm completely before moving on to the next step. A quick trip to the freezer will speed up the process if you're in a hurry.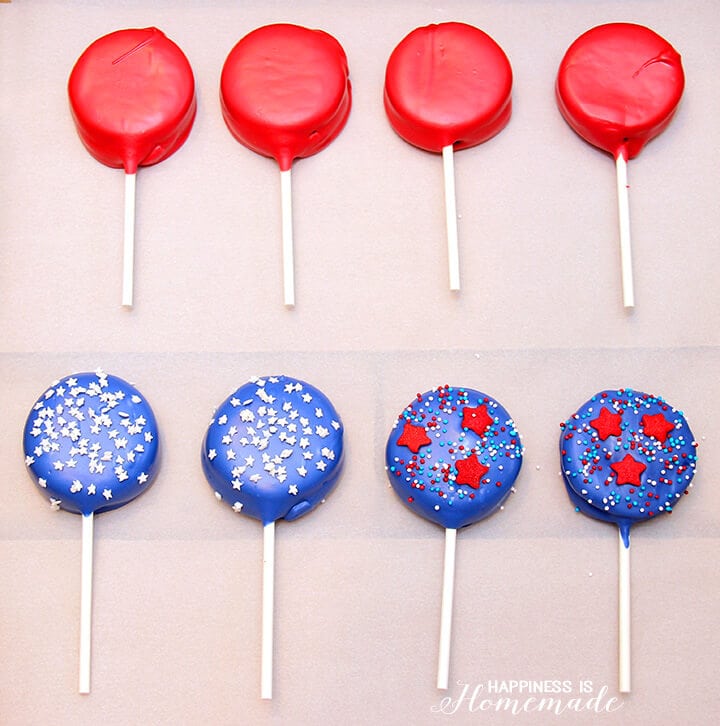 Fill a microwave-safe cup about 2/3 full of red candy melts, and melt them in the microwave (again using 20-second increments and stirring afterward). Dip the Oreo pop into the red candy, allowing the candy to completely cover the cookie, and then lay the cookie pop on a sheet of parchment paper to cool and firm up. Add sprinkles while the candy is still wet (if desired). Repeat the process for each additional color of candy melts.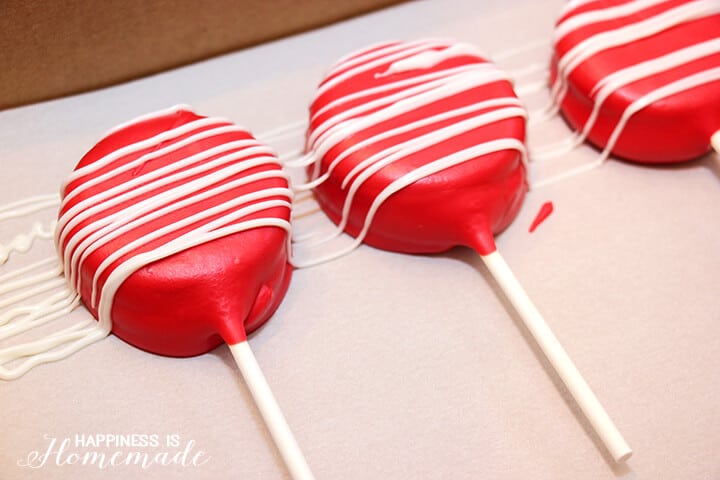 To add a drizzle of color, melt 6-8 candy melts in a snack size ziploc bag. The candy will melt much faster in the bags than it did in the cup, so melt it in 10 second increments, kneading the bag between increments. Snip a TINY bit off of the corner of the bag, and drizzle the melted candy over the Oreo pops. Easy peasy!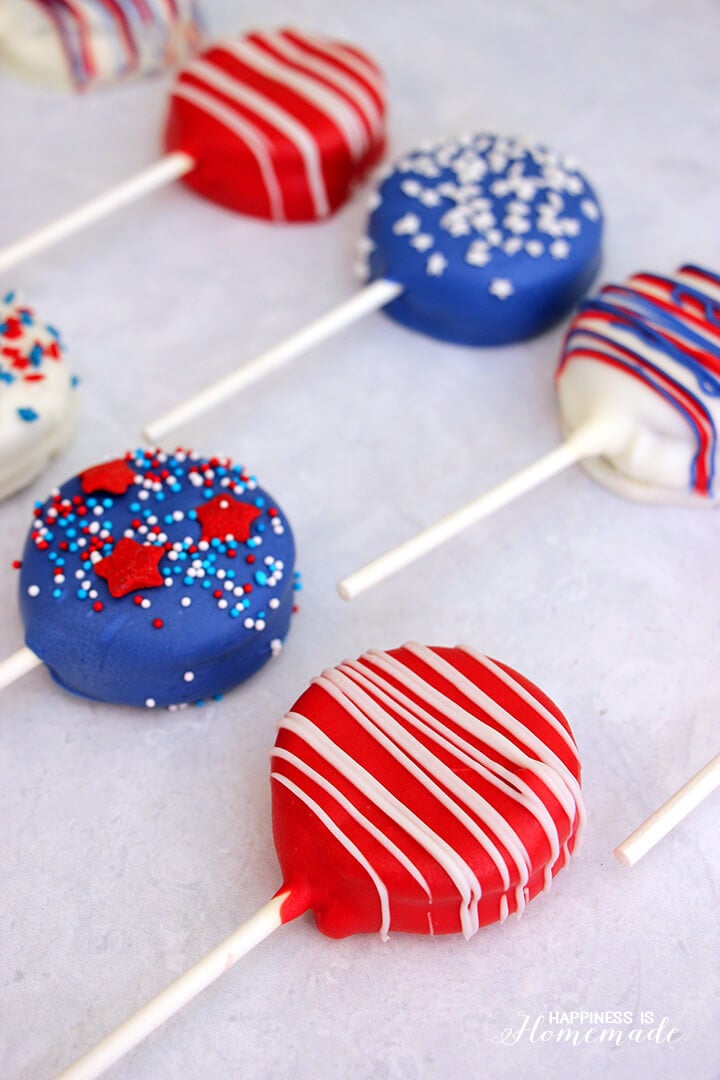 Allow the pops to cool and firm before handling.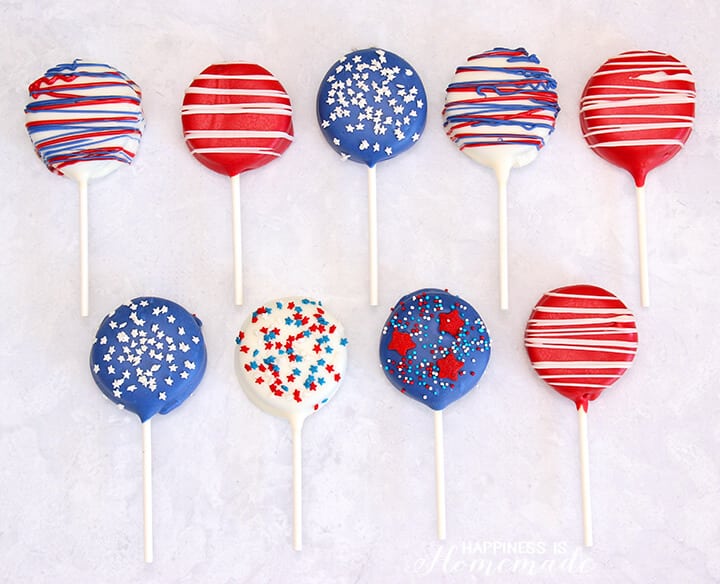 These yummy treats are super easy to make, and they're SUPER cute, too! I may have taken nearly a zillion photos of them because they're so adorable…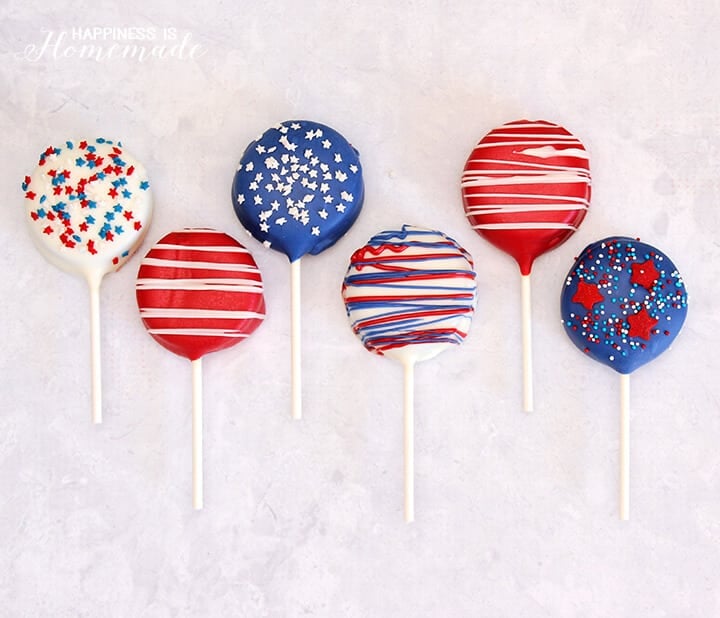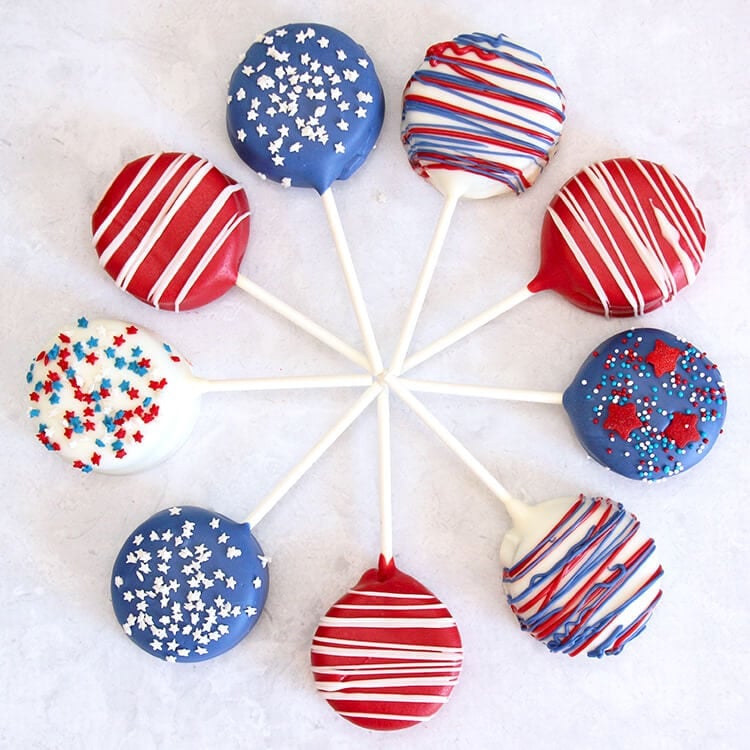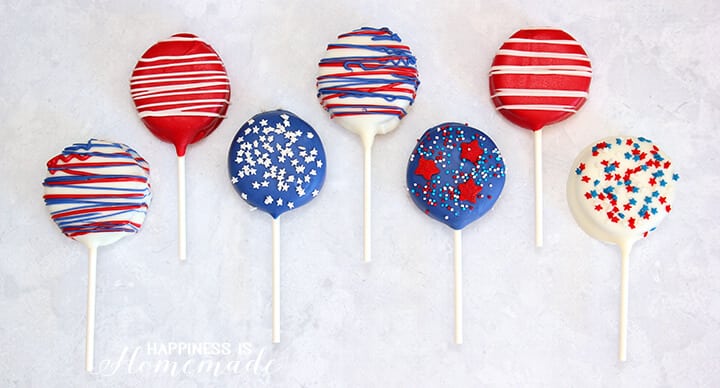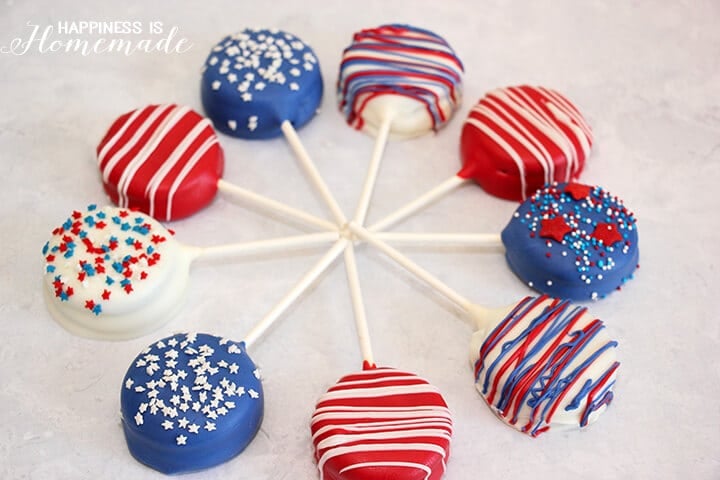 I couldn't make it through shooting all of these photos without needing to take a "taste test break" though!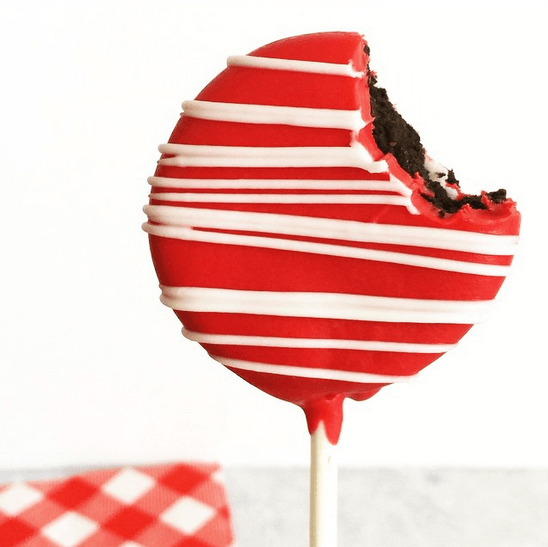 YUM!
If you liked these Oreo Pops, you may love these other 4th of July and patriotic holiday crafts and recipes!
[riview id=260 num=2000 orderby=title order=asc size=200×200 showtitle=always lightbox=0]
For even more red, white & blue awesomeness, be sure to check out these inspirational 4th of July ideas from some of my friends!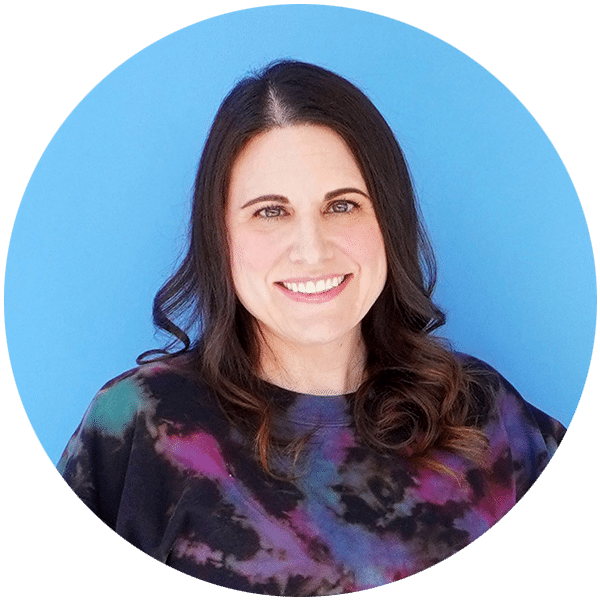 Heidi Kundin has captivated the hearts of millions with her colorful and inspiring approach to crafting, celebrations, and family fun. With over 15 years of experience, Heidi's website has become a must-visit destination for those seeking quick and easy creative ideas and last-minute solutions. Her warm personality shines through her posts, inviting readers to join her on a creative journey that's fun, rewarding, and achievable.