Printable Emoji Christmas Songs Game
This post and its photos may contain affiliate links. As an Amazon associate I earn from qualifying purchases. If you make a purchase through these links, I may receive a small commission at no extra cost to you!
Guess the Emoji Christmas Songs in this free printable Christmas Emoji Game! This Christmas Songs Emoji Game is tons of fun for all ages! Great Christmas party game!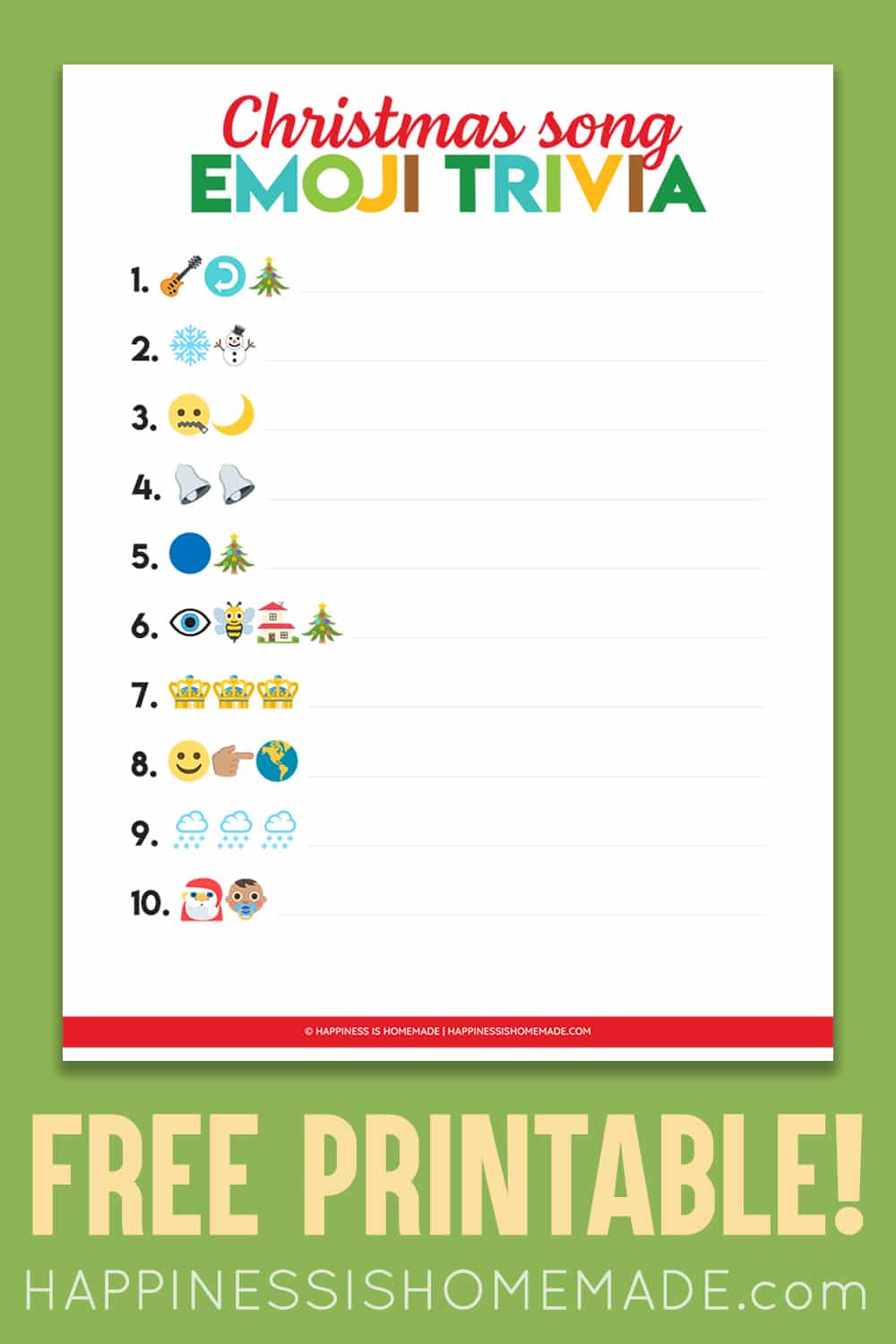 This post may contain affiliate links. I will receive a small commission from these sales at no additional cost to you!
Printable Christmas Song Emoji Trivia Game
Are you looking for a fun and easy Christmas game for your Christmas party or to play at home with the kids? You're going to LOVE this fun Christmas Song Emoji Game! It's the perfect print-and-play holiday game for all ages! Download the free printable Christmas emoji game and answer key, and let the holly jolly fun begin!
What You Need to Play the Christmas Emoji Game:
Christmas Song Emoji Trivia Game printable and answer key (available below!)
Pens or pencils for everyone
A timer (the timer on your phone works just fine!)
Emoji-themed prizes (optional)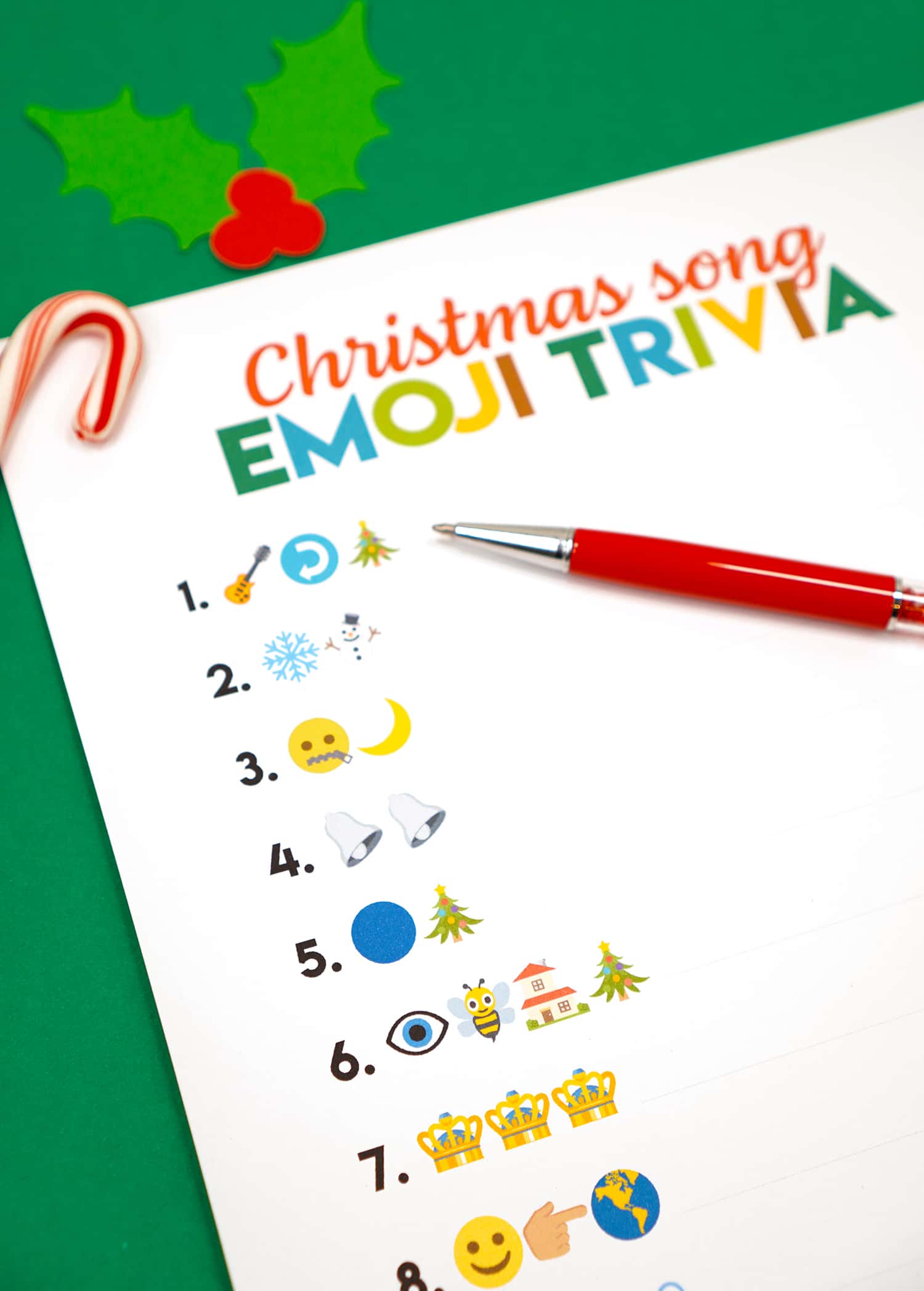 How to Play the Christmas Song Emoji Game:
Before passing out the printable game sheets, explain that each player will be given 10 song titles to guess based on the emojis, or pictures, for each song. Give an example that's not listed, such as a drum emoji + boy emoji = The Little Drummer Boy.
Provide everyone with a game sheet and a pen or pencil. Tell the players to keep their sheets face down until you say, "Go."
Set your timer for 2 minutes. Tell the participants to start when the timer begins.
The first person who completes their game sheet with all correct answers during the timer period wins. If no one finishes before the timer buzzes, the person with the most correct answers wins.
Award a prize to the winner(s)!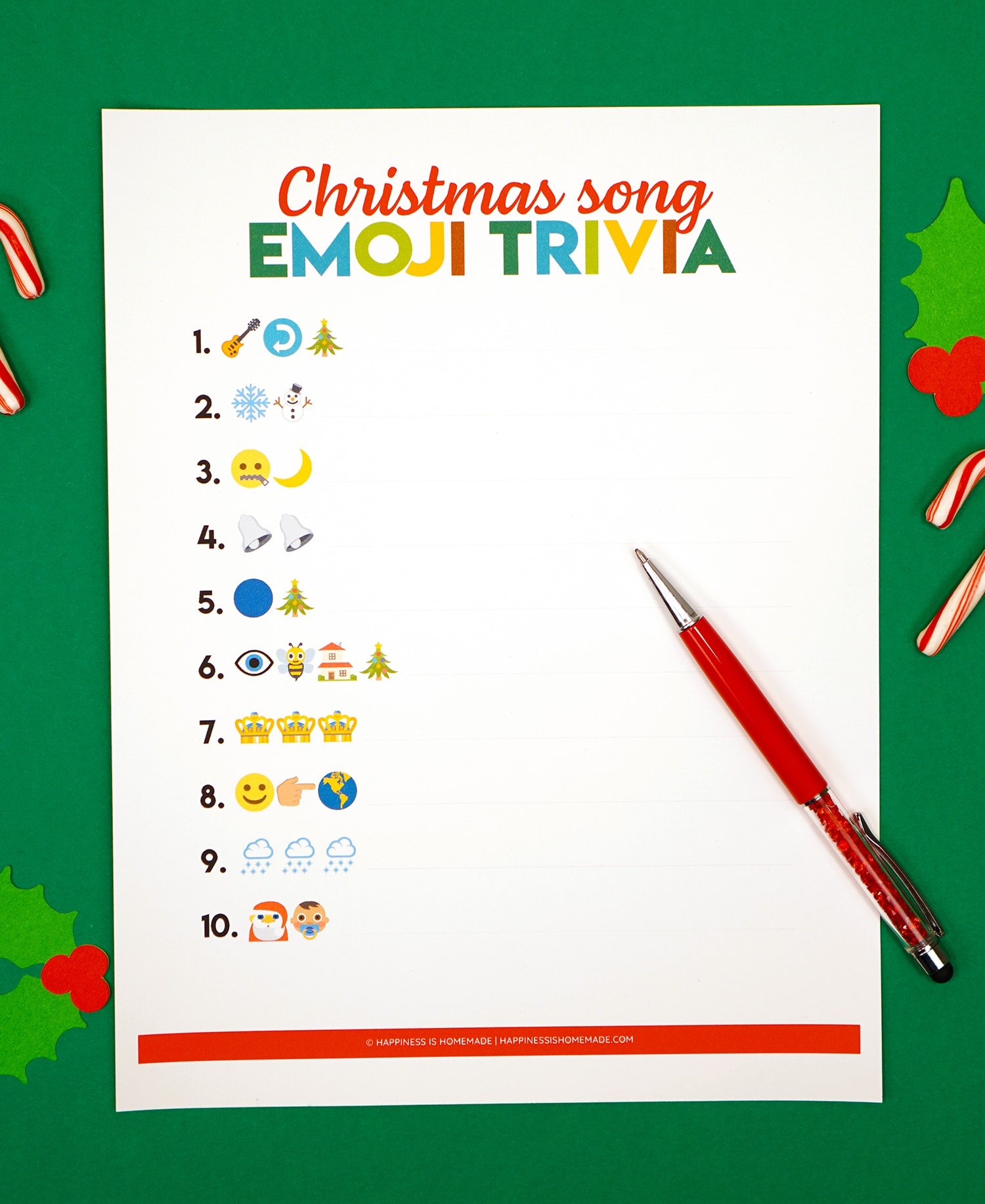 Other Ways to Play Christmas Song Emoji Trivia
Want to make the game a little more exciting? We have a few fun ideas for you!
Christmas Song Emoji Pictionary:
Cut the emoji clues into strips, and put them in a jar. Split the players into two teams. Have someone from each team come up and draw the pictures on the board (like Pictionary). The team that gets the most correct wins.
Christmas Song Charades:
Use the song titles to play charades! Divide into two teams, and have someone from each team act out the song titles for their team to guess. This is sure to get lots of laughs.
Group Chat:
You can even play the Christmas Emoji Game with your friends far and wide! Set up a group chat or text with all of the players, and text the emojis to their phones. The first one to call out the answer gets the point. The player with the most points at the end of the round wins. You can continue the game beyond the examples we have listed if you do it this way. Here are even more clues:
Run + Deer + Run = Run, Rudolph, Run
Grandma + Run + Deer = Grandma Got Run Over by a Reindeer
Eye + Woman + Kiss + Santa = I Saw Mommy Kissing Santa Claus
Smiling emoji + Christmas tree = Happy Xmas
Bell + Guitar = Jingle Bell Rock
Gift + Christmas tree + Teeth emoji x 2 = All I Want for Christmas is My Two Front Teeth
Now you get the idea! What fun combinations can you come up with for your favorite Christmas songs?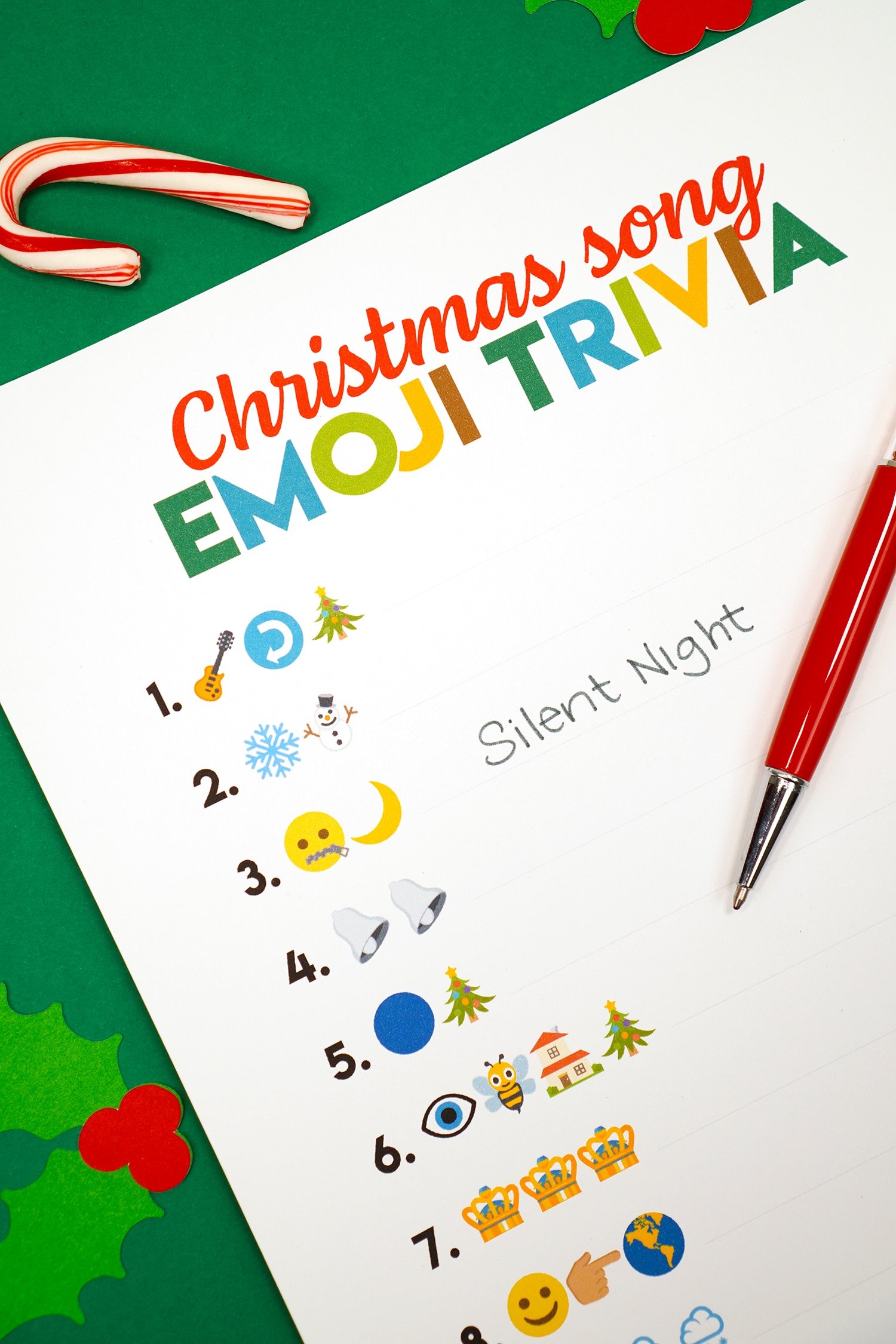 Emoji-Themed Prize Ideas:
While you don't have to provide prizes for this fun little game, it encourages some friendly competition and is a lot of fun for everyone playing. Here are some of our favorite emoji-themed and Christmas-themed prizes that we think would be perfect for the winner of the Christmas Song Emoji Game!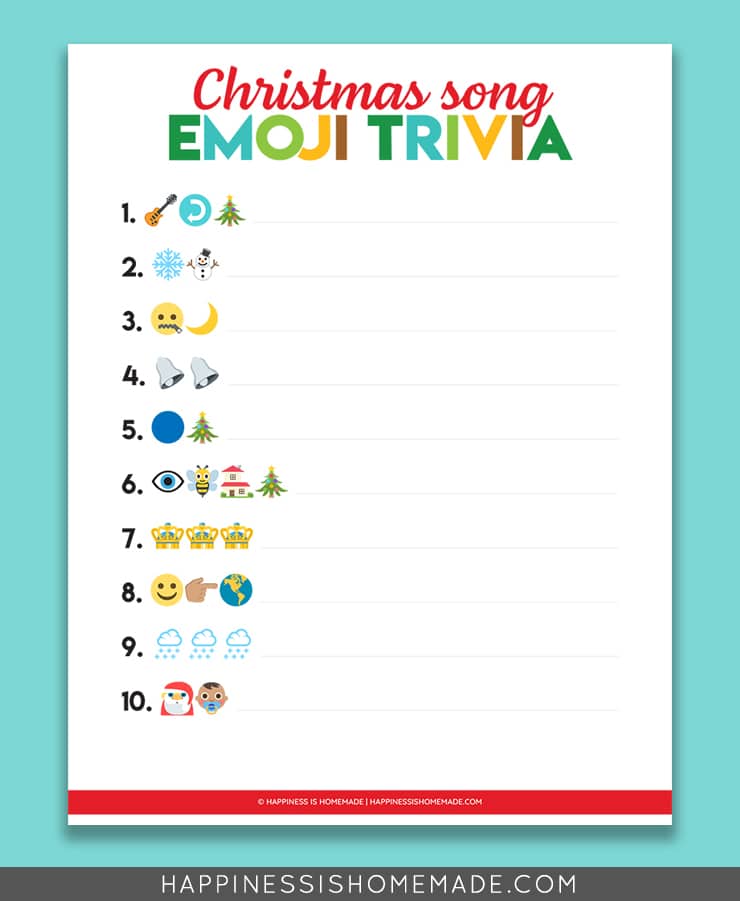 ---
To get the Emoji Christmas Game, enter your name and email address into the form below and click the "Get It Now!" button!
---
We hope you enjoy playing this Christmas Song Emoji Game at your Christmas parties and family festivities! Don't forget to pin it and share it!

Check out these other Christmas printables!
---
WANT MORE CHRISTMAS FUN & GAMES?
GET OUR MEGA CHRISTMAS PARTY GAMES BUNDLE NOW!
---
Don't Forget to Pin this Emoji Christmas Songs Game for Later!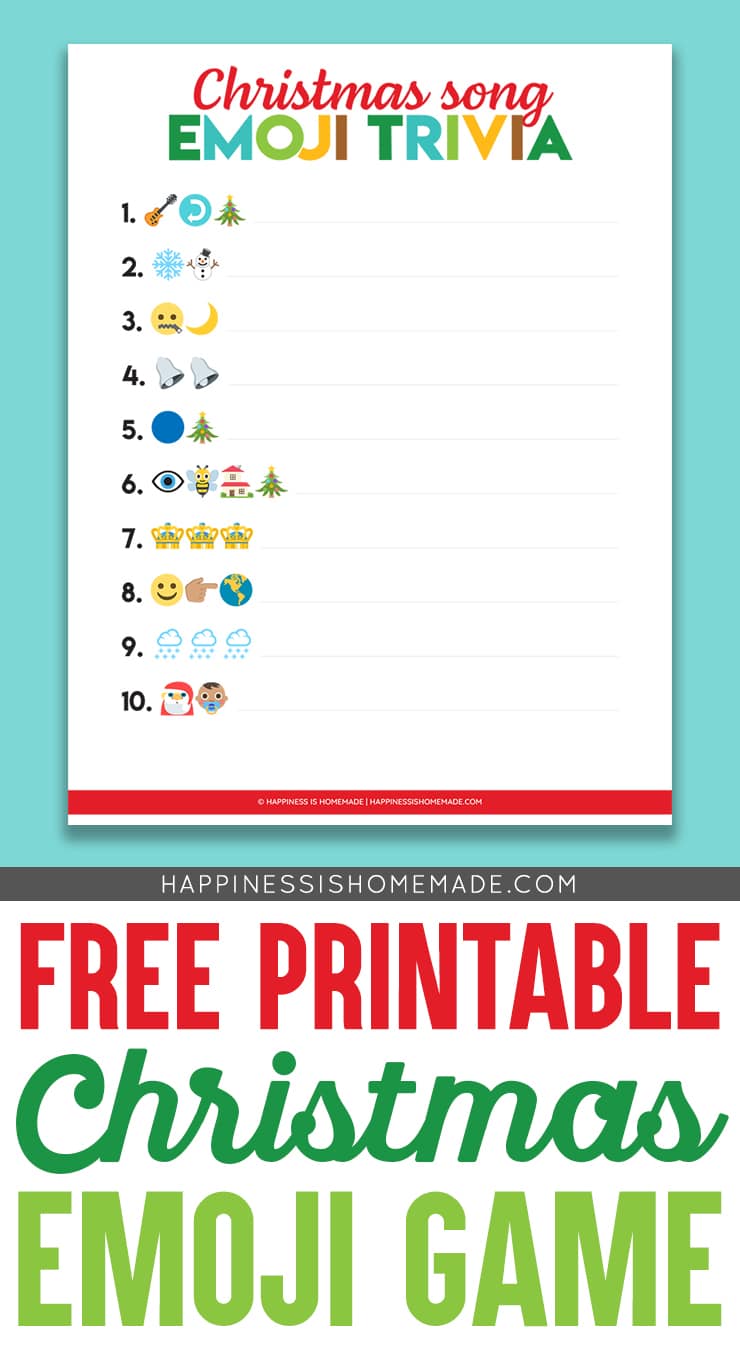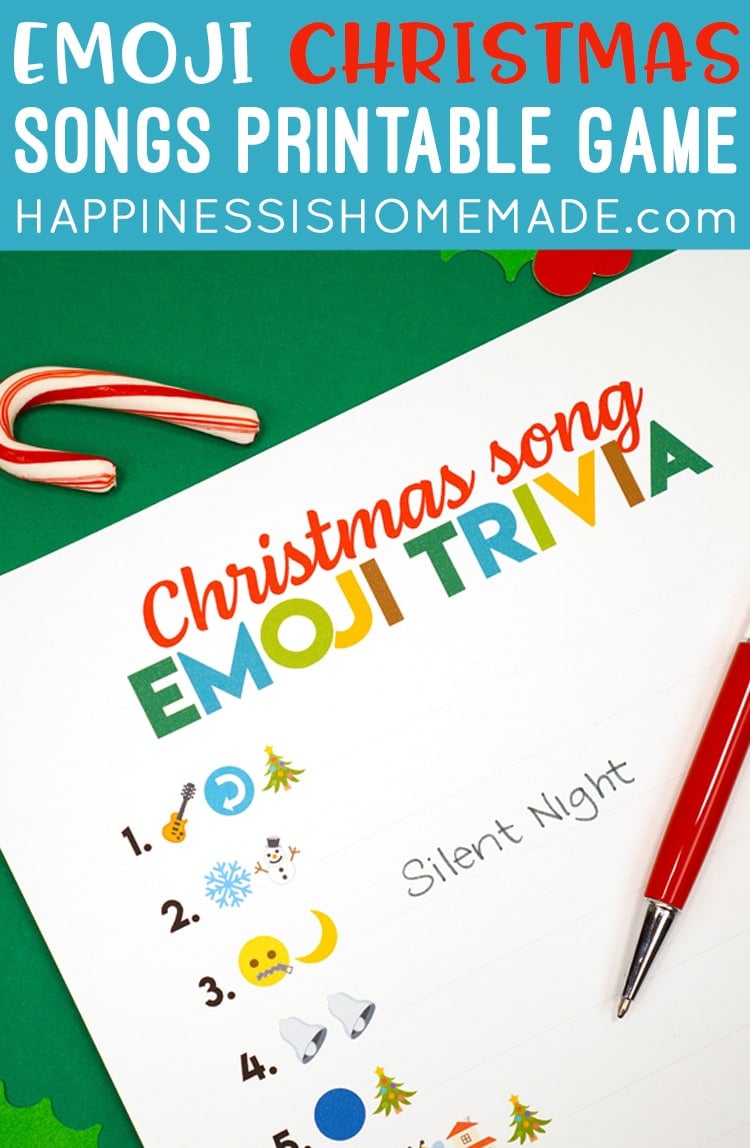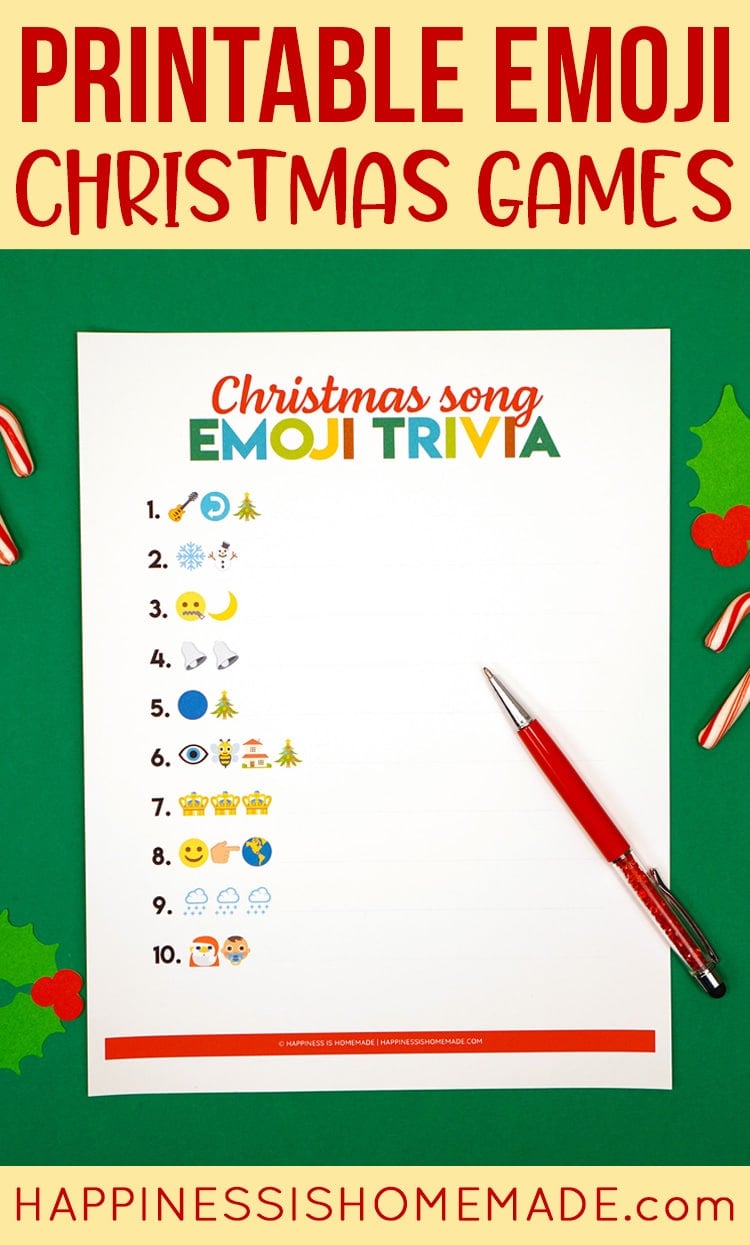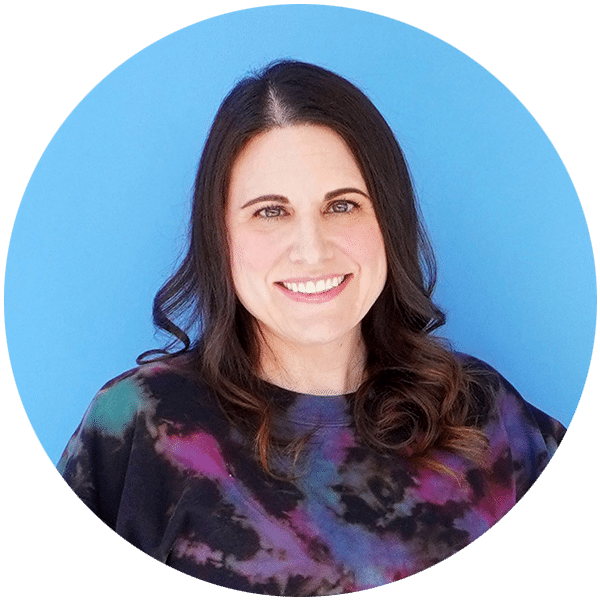 Heidi Kundin has captivated the hearts of millions with her colorful and inspiring approach to crafting, celebrations, and family fun. With over 15 years of experience, Heidi's website has become a must-visit destination for those seeking quick and easy creative ideas and last-minute solutions. Her warm personality shines through her posts, inviting readers to join her on a creative journey that's fun, rewarding, and achievable.