Quick & Easy Homemade Breakfast Pizza Recipe
This post and its photos may contain affiliate links. As an Amazon associate I earn from qualifying purchases. If you make a purchase through these links, I may receive a small commission at no extra cost to you!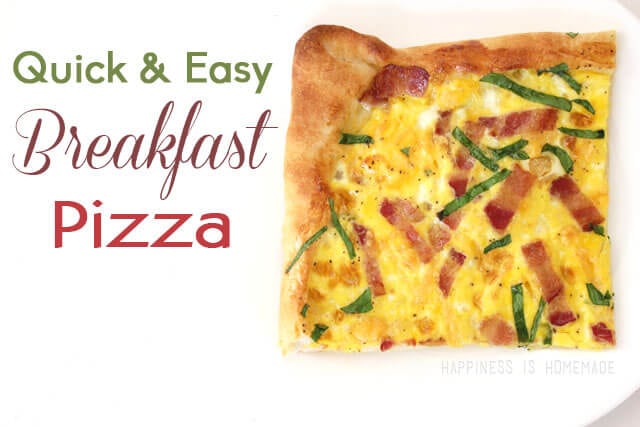 We do a lot of variations on eggs and bacon around here since Sutton, my seven-year-old, would gladly eat eggs for every single meal if we allowed him to. Mini quiche cups and fritattas are a couple of our favorites, so it was sort of a no-brainer when he suggested one morning that we make a breakfast pizza. We decided on a bacon, cheddar and spinach breakfast pizza (and another one with sausage, too), and I was surprised by how much we all enjoyed it. It was a good thing we made two!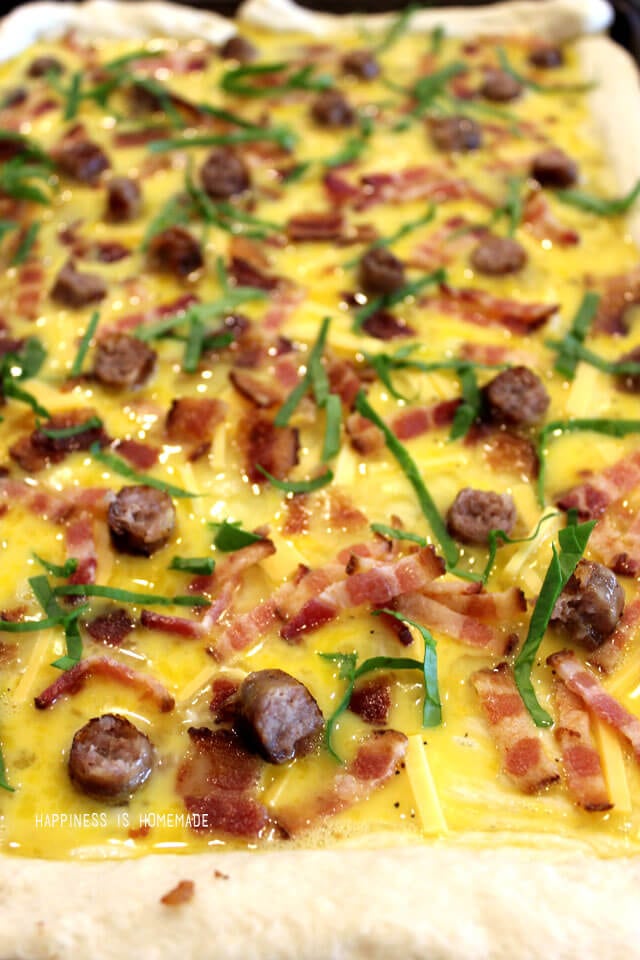 I had leftover cooked bacon and sausage from the previous morning's breakfast, so that cut our prep time down to about 4 minutes.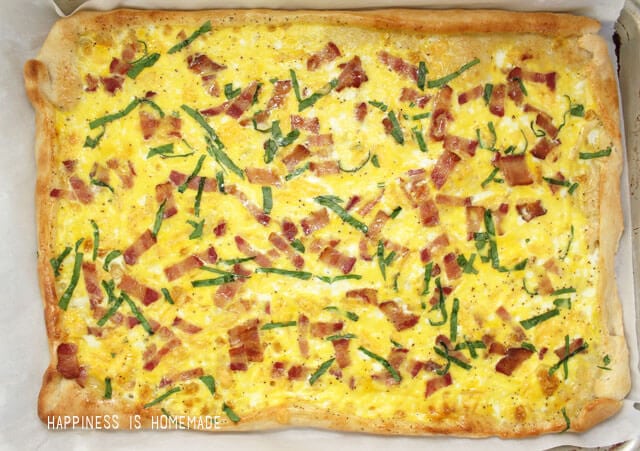 Just line a large cookie sheet with parchment paper, roll out your pizza dough (we used store bought thin crust pizza dough to keep prep to a minimum), add 5-6 scrambled eggs (whatever fits best on your pizza dough), add toppings and bake! SO quick and easy!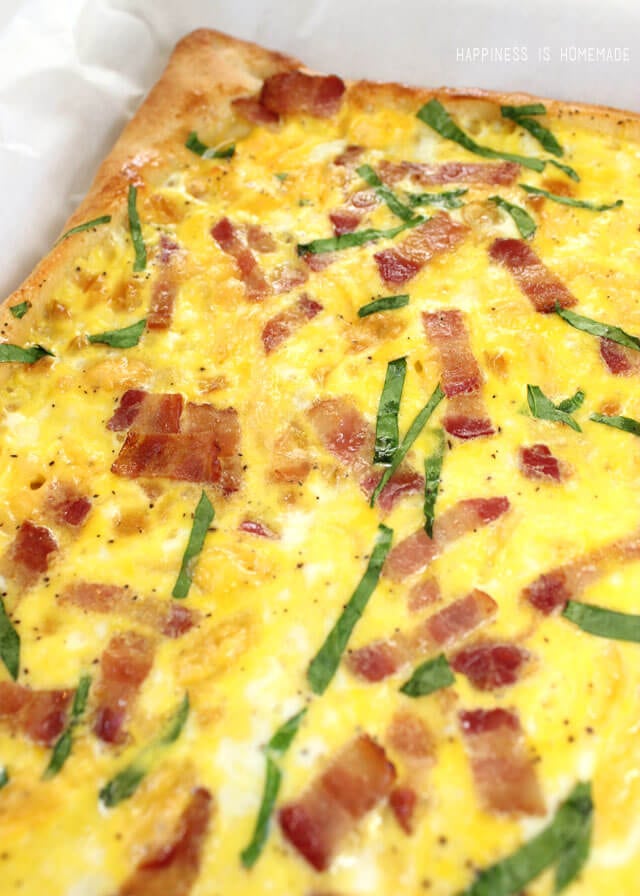 YUM! You can add any toppings that you want – peppers, olives, mushrooms, etc.. – but I kept it simple for my picky eaters. I did manage to add some extra nutrients by throwing shredded spinach on top, too. My kids will eat spinach in almost anything as long as it's in small pieces!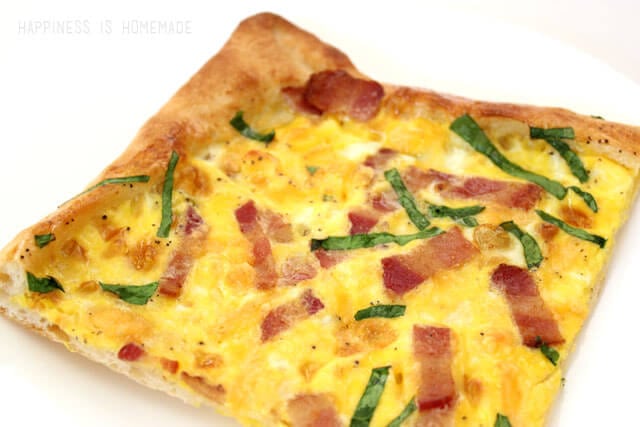 This breakfast pizza is great for a quick weekend breakfast, and it's delicious reheated on hurried weekday mornings, too. I recommend reheating in the oven on top of a pizza stone to get the crust nice and crispy again (about 4 minutes at 350 degrees should do the trick!).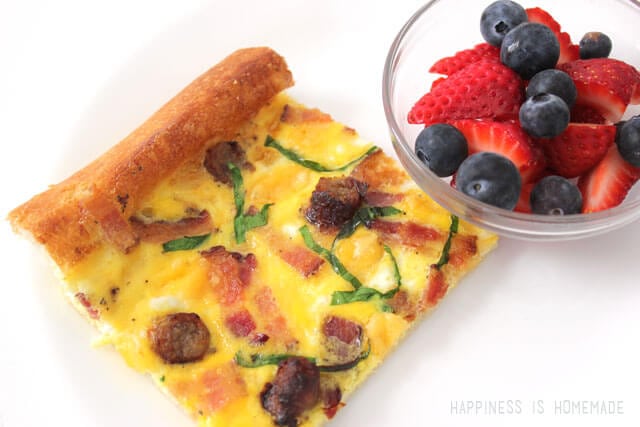 It's also perfect for brunches and for those times when company stops by unexpectedly. You can whip this up in a hurry and still look like you put together an impressive meal for your friends and family!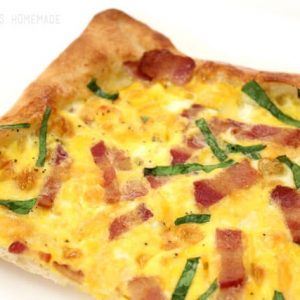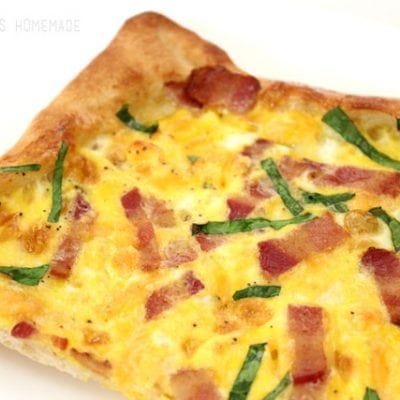 What You'll Need:
1

tube

refrigerated pizza crust dough

5-6

scrambled eggs, raw

(number of eggs depends on the size of your crust - don't overflow it!)

toppings: pre-cooked bacon, sausage, cheddar cheese, spinach, mushrooms, peppers, onions...whatever your heart desires!

salt & pepper
Instructions:
Preheat oven to 350 degrees.

Line a large baking sheet with parchment paper.

Roll out the pizza dough making sure to leave a thick roll of crust around the edges to contain the liquid eggs. Use a fork to poke a few small holes in the bottom of the crust for air venting.

Scramble 5-6 eggs in a small bowl and add salt and pepper.

Pour the eggs on the crust and top with toppings.

Bake for 13-16 minutes or until eggs are firm and crust is a light golden brown.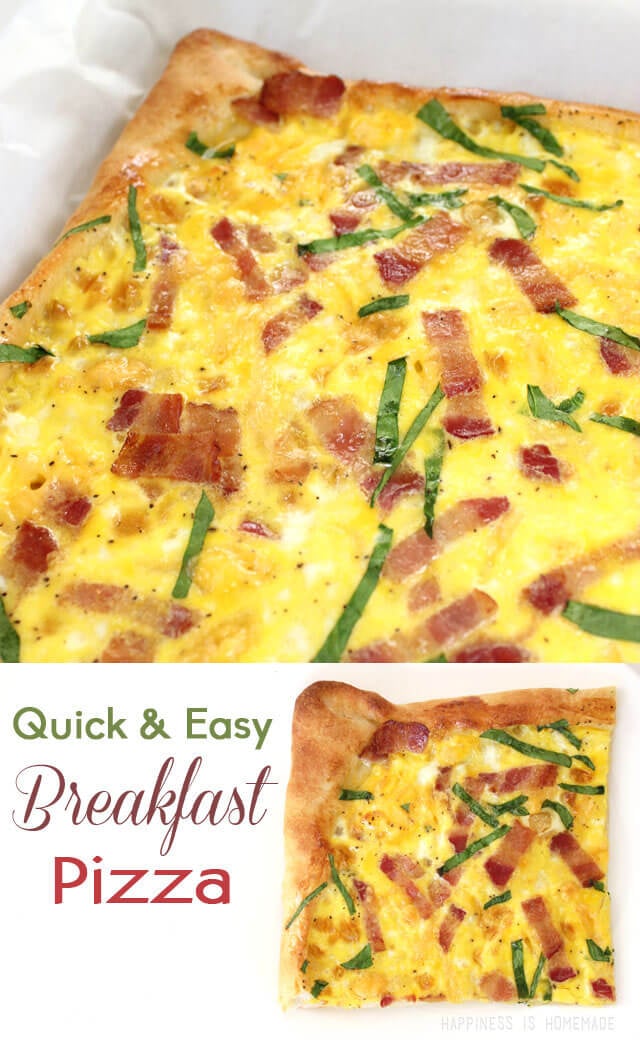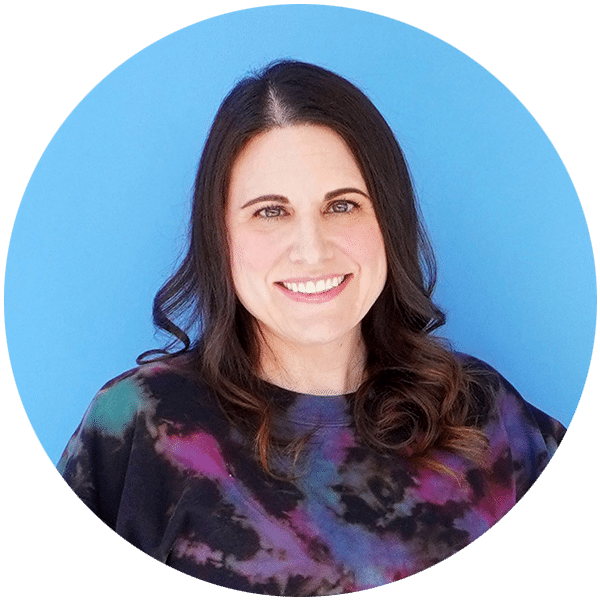 Heidi Kundin has captivated the hearts of millions with her colorful and inspiring approach to crafting, celebrations, and family fun. With over 15 years of experience, Heidi's website has become a must-visit destination for those seeking quick and easy creative ideas and last-minute solutions. Her warm personality shines through her posts, inviting readers to join her on a creative journey that's fun, rewarding, and achievable.