15-Minute Jack Skellington Halloween Makeup
This post and its photos may contain affiliate links. As an Amazon associate I earn from qualifying purchases. If you make a purchase through these links, I may receive a small commission at no extra cost to you!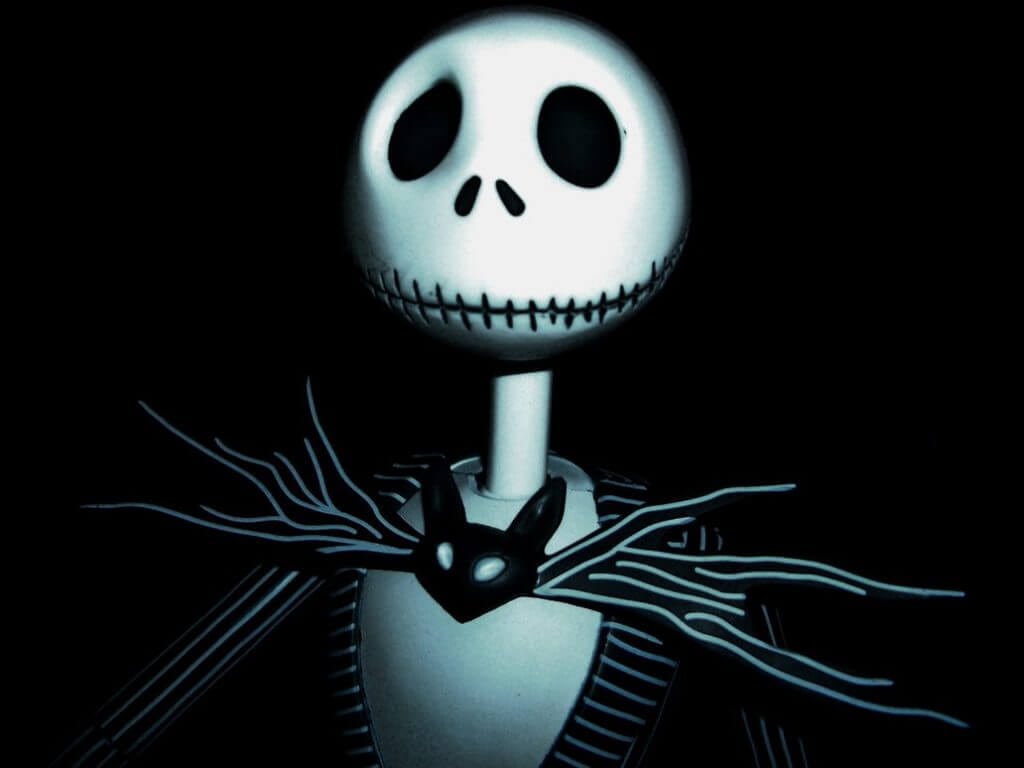 Sawyer decided in June that he wanted to dress up as Jack Skellington from The Nightmare Before Christmas for Halloween, so when a box of Tulip® Body Art® Face & Body Paint showed up on our doorstep a few weeks ago, he couldn't wait to do a test run of his makeup. I have done full-face Halloween makeup on him several times before, so I know that in order to avoid a case of the squirmies and be successful, our makeup application time needs to be limited to 15 minutes or less.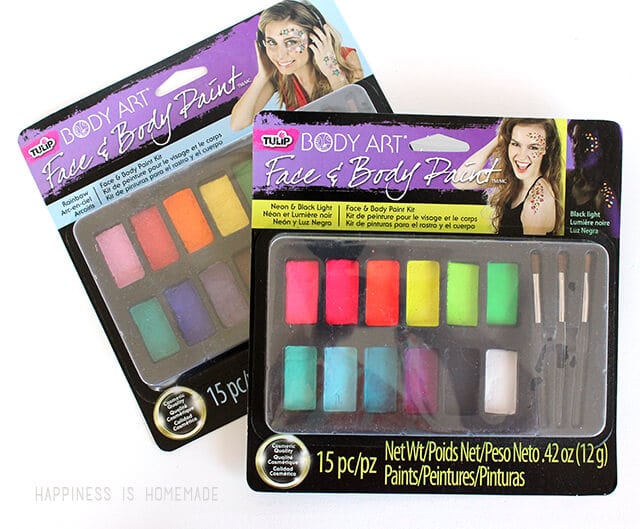 I had never used Tulip® Body Art® paint before, so I was a little nervous about how well the colors would show up, especially the white. Jack Skellington makeup is simply black and white, so both colors need to be saturated to achieve the full effect.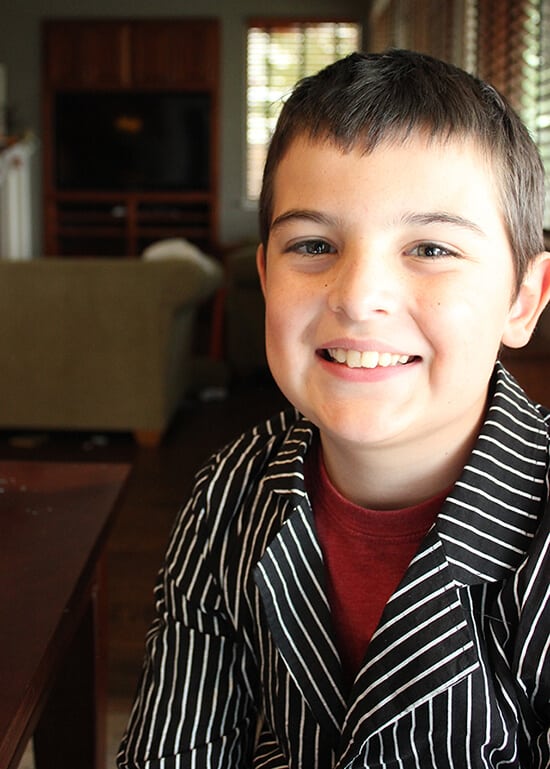 This guy couldn't wait to get started! We picked up a secondhand mobster costume that consists of a black and white pinstripe suit, so it will work perfectly for Jack Skellington, too (with the addition of a white shirt and Jack's bat bow tie!).
Just like a box of watercolors, the Face & Body Paint needs a bit of water to soften it up and activate it, and then it can easily be applied with a brush or a foam sponge.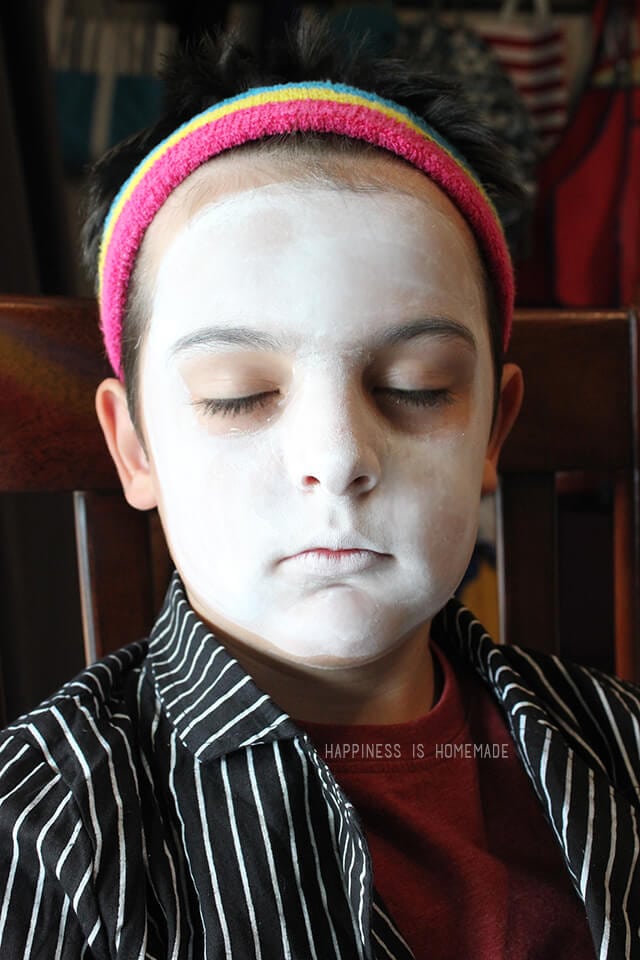 I started by giving his face three coats of white paint with a makeup sponge, allowing it to dry between each coat. The makeup dries really quickly, so we didn't have to wait long to re-coat. This photo here is how it looked after two coats, and after three coats it was solidly white. I really couldn't believe how well it covered and how fast the application was!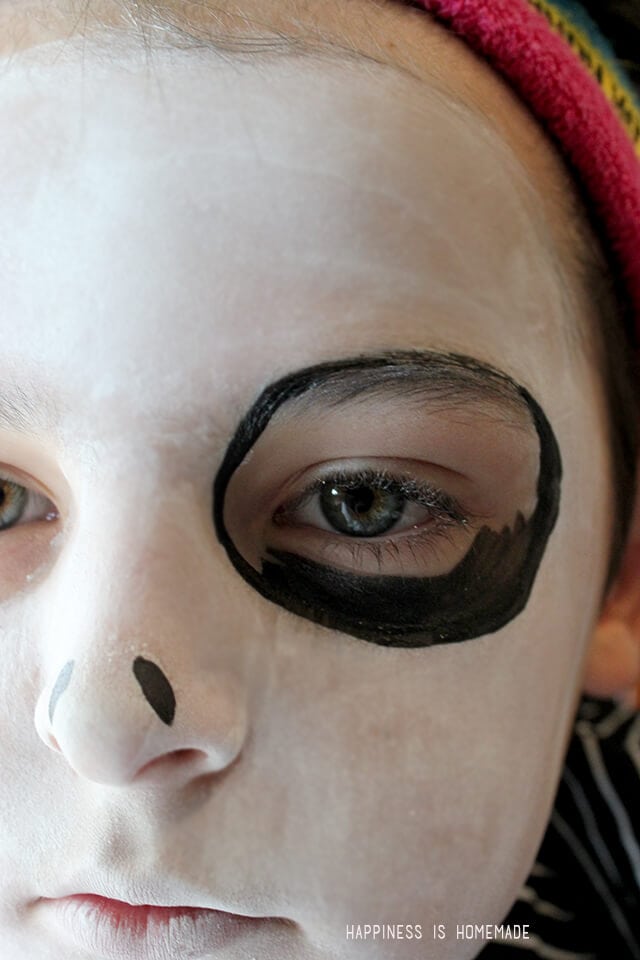 While I was waiting for the 2nd coat of white to dry, I started on the black eyes and nose details. I applied them with a soft paintbrush, and it went on super smoothly and only needed one coat. I need to alter the angle of the eyes just a bit the next time, but I was really thrilled with how well this came out for my first attempt!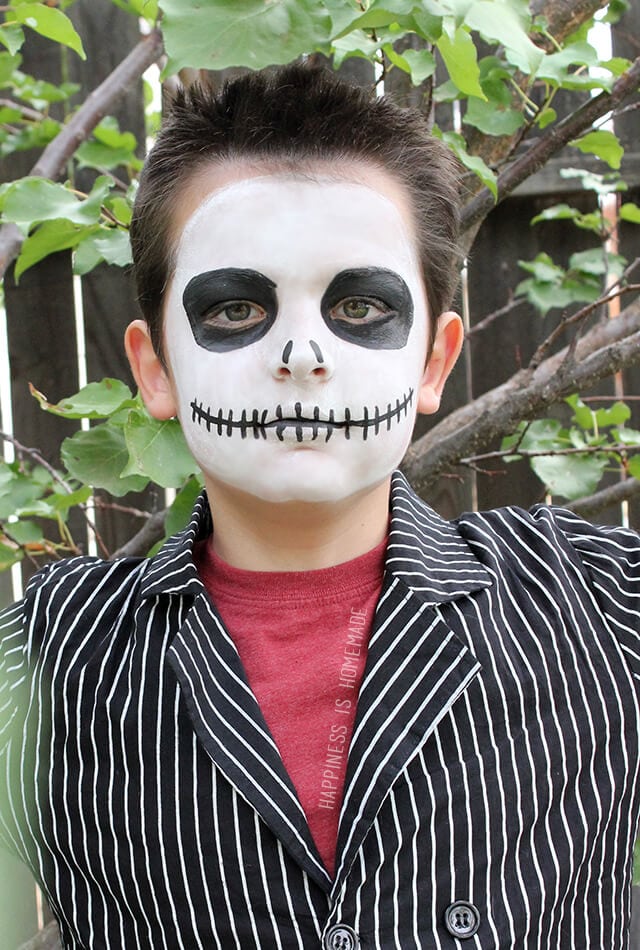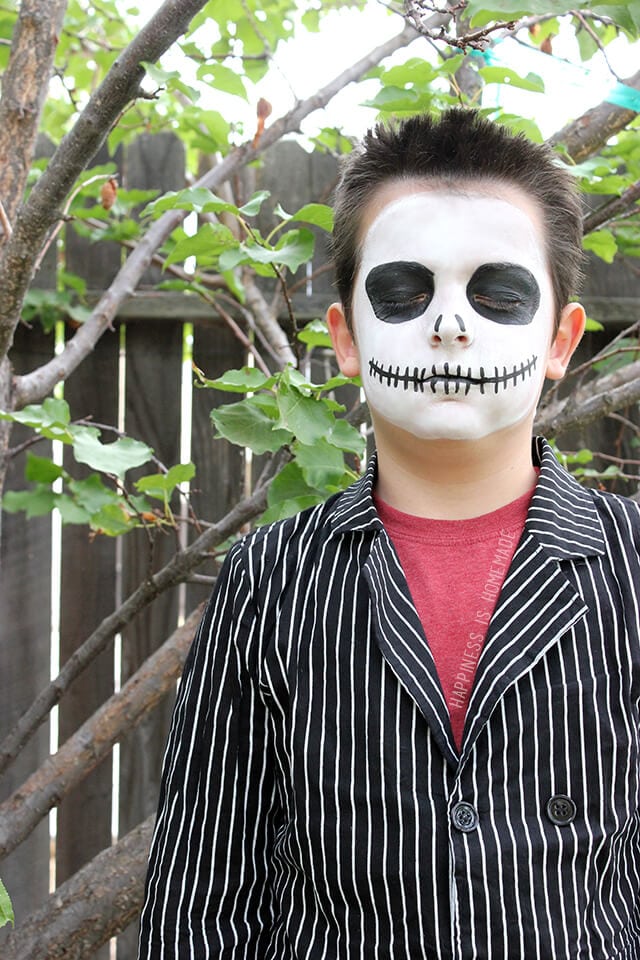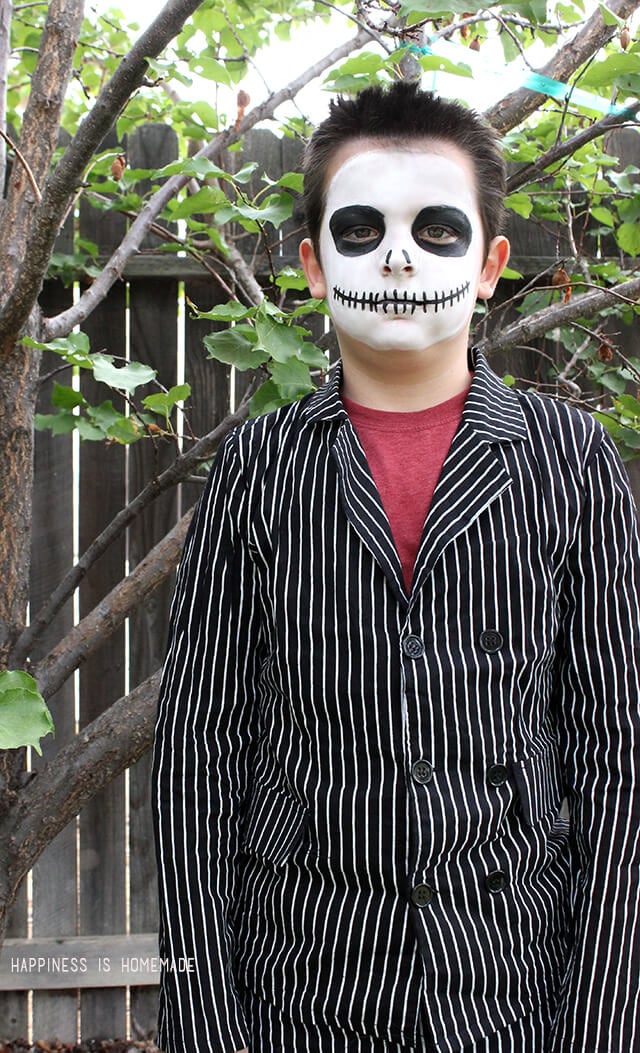 Sawyer wanted to give his face paint the longevity test, so he wore it all afternoon long (for about 4 hours), and I was amazed that the paint didn't crack, peel or smudge at all! He even ate his afternoon snack and drank a bottle of water, and everything stayed perfect! Yet, when it was time for clean up, it washed off really easily with just soap and water (and honestly, I question whether or not he even used the soap!) in less than two minutes flat. I'm seriously baffled at how well that worked, and I'm declaring this the best face paint we've ever used!
The Face & Body Paint wasn't the only fun goodie that we received from Tulip though!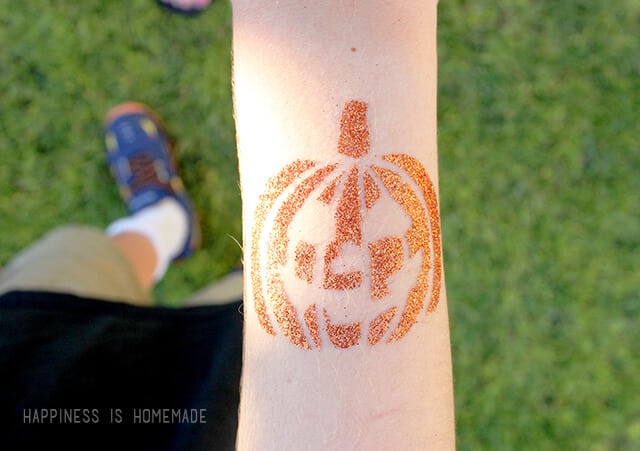 If you're too nervous to attempt a freehand face paint design, or your kiddo won't sit still for long enough, these quick and easy Glitter Tattoos are tons of fun, too.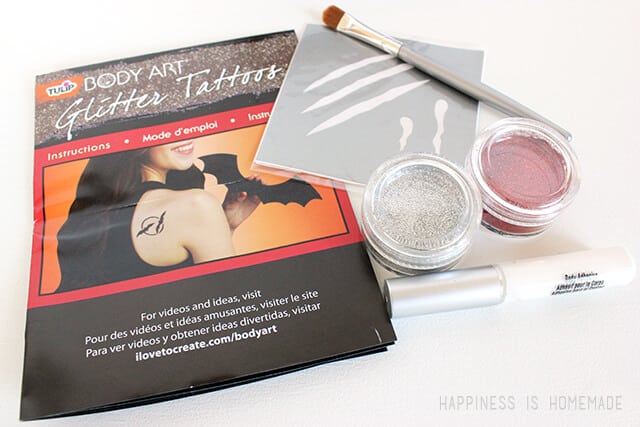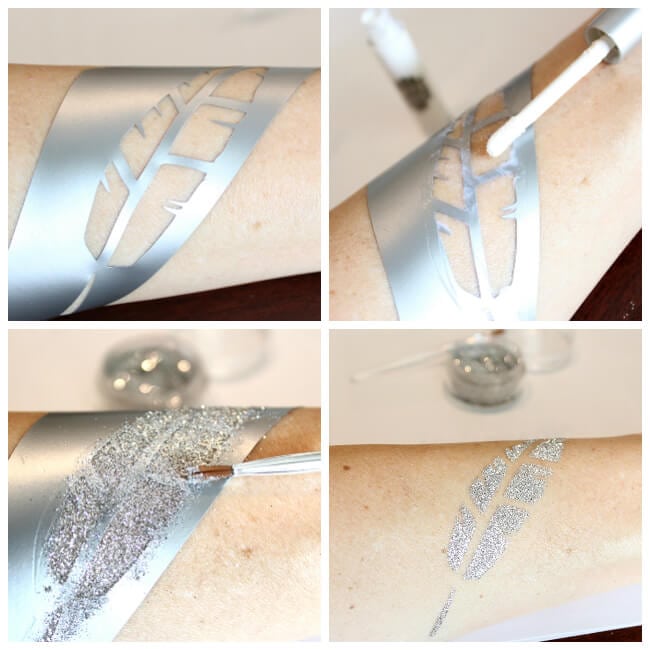 It's as simple as stick…paint…glitter…and peel! Easy peasy!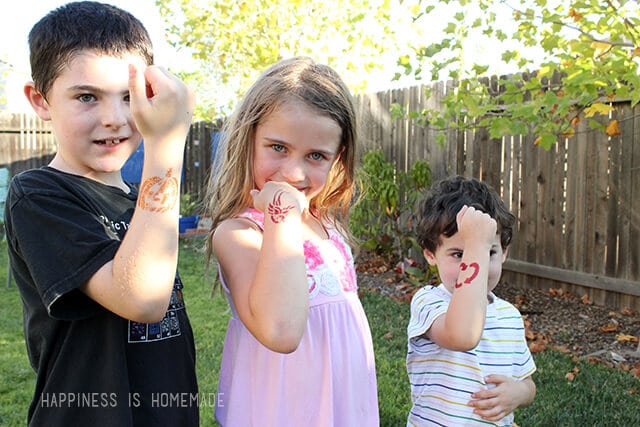 To stay up to date with all the latest news and Tulip Body Art product information, be sure to follow I Love to Create on Facebook, Twitter, and Pinterest!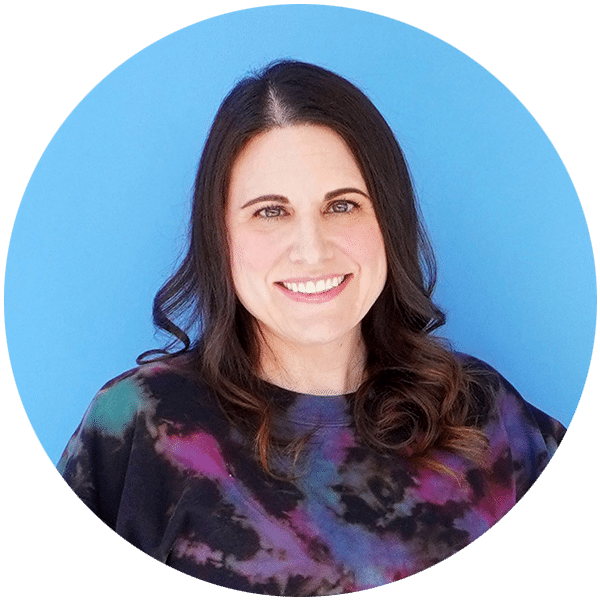 Heidi Kundin has captivated the hearts of millions with her colorful and inspiring approach to crafting, celebrations, and family fun. With over 15 years of experience, Heidi's website has become a must-visit destination for those seeking quick and easy creative ideas and last-minute solutions. Her warm personality shines through her posts, inviting readers to join her on a creative journey that's fun, rewarding, and achievable.