3-Ingredient Rose Petal Sugar Scrub
This post and its photos may contain affiliate links. As an Amazon associate I earn from qualifying purchases. If you make a purchase through these links, I may receive a small commission at no extra cost to you!
I like to save money whenever I can, and I also like to use products with natural ingredients (and no yucky stuff that I can't pronounce!), so saving money by making my own all-natural bath and beauty products is a no brainer. Lately I've been partial to this spa inspired rose petal sugar scrub that made a great re-use of one of my birthday gifts.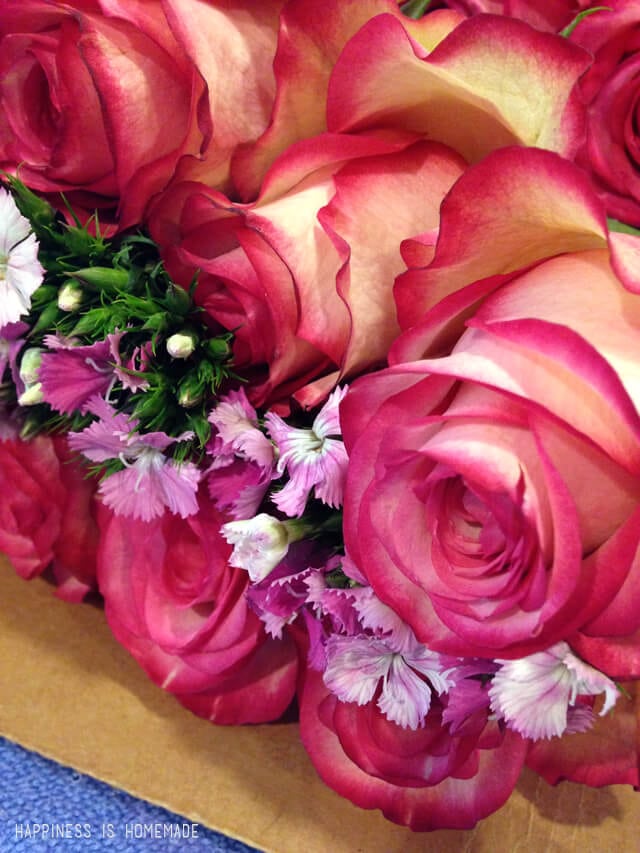 It all started a few weeks ago when The Bouqs sent me this gorgeous bouquet of flowers for my birthday. All of the flowers from The Bouqs are shipped directly from their eco-friendly sustanable farm, and this bouquet was packaged with water gel on the flower stems, so upon arrival they were as fresh as can be. This arrangement is the Desperado (original sized), and it was simply incredible.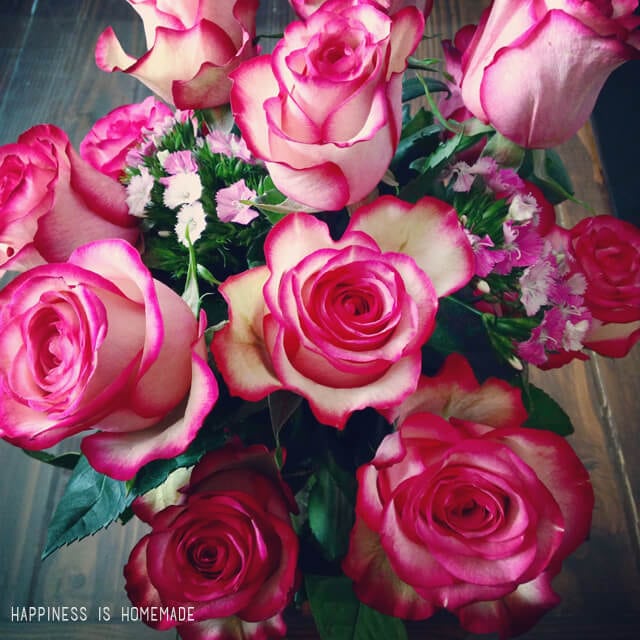 The roses were a creamy white with stunning bright magenta tips, accented by wispy purple dianthus. I have to say that this was one of my most favorite flower arrangements I've ever received, so I was really excited that my flowers lasted for a full week before finally starting to wilt. I was headed out to the compost bin with my 10-day old droopy flowers when it occurred to me that I could dry the pretty petals and incorporate them into a sugar scrub.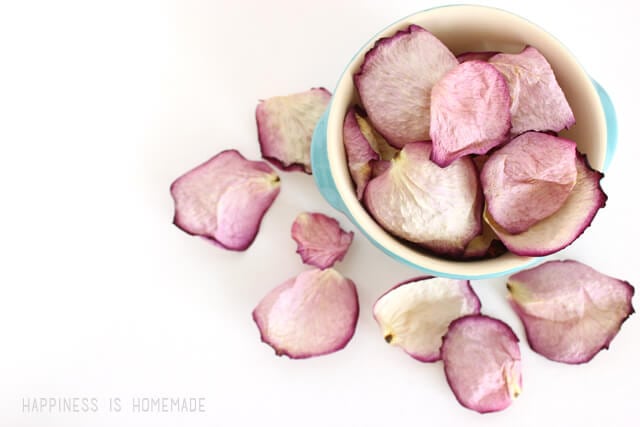 I removed the heads of the roses and spread the petals out on a wire rack for a couple of days until they dried out. As the petals dried they took on a purple-pink gradient hue that I can't get enough of.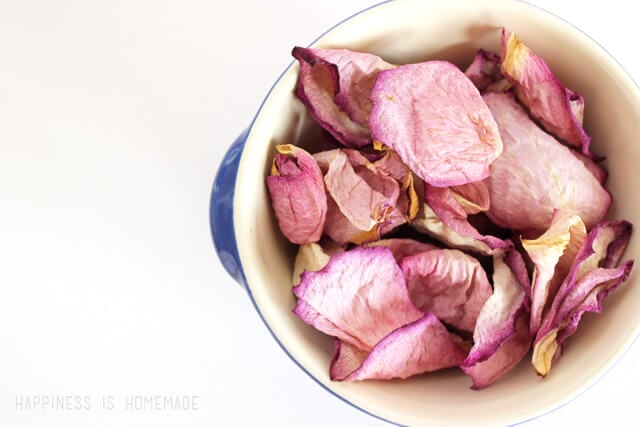 To make the sugar scrub, start with 1 cup of dried rose petals.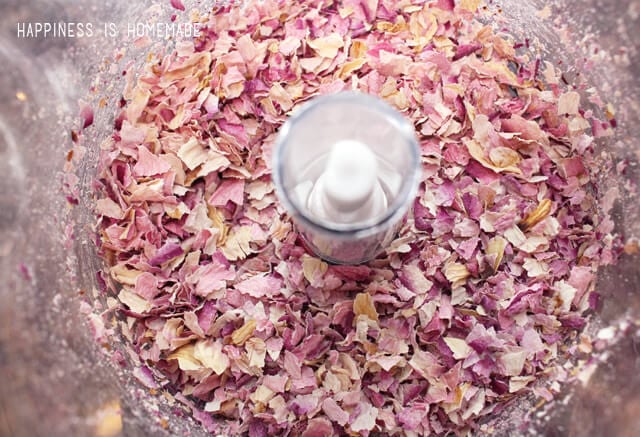 Pulse the petals in a food processor until they become teeny tiny flakes.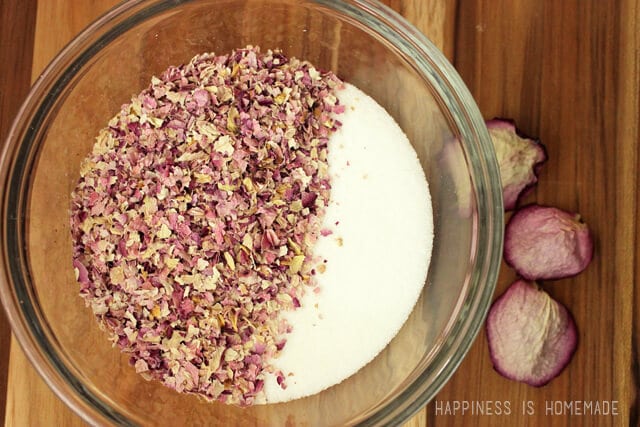 Combine the crushed petals with 2 cups of sugar, 2/3 cup coconut oil and 6-8 drops of your favorite essential oil for fragrance (optional) – lavender, lemon and vanilla all blend nicely with the light rose scent. This time around, I added a few drops of my favorite Serenity blend to my sugar scrub mixture.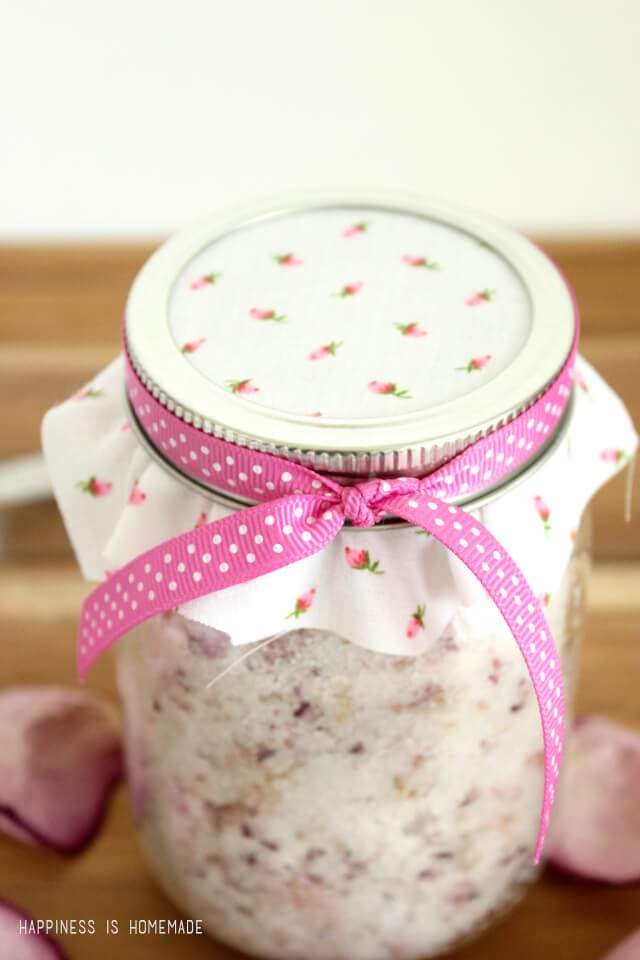 Mix well and then spoon into a storage container. This recipe makes about 16-18 ounces of sugar scrub, so it fits nicely into a pint sized mason jar. Just add a cute fabric jar topper and a ribbon, and it would make a wonderful gift idea!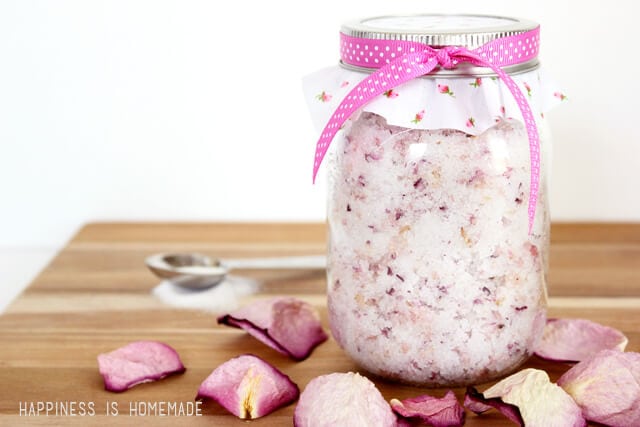 This scrub turns every bath or shower into a luxurious spa experience, and it leaves your skin silky smooth!
A BIG thank you to The Bouqs for sending me the incredible birthday bouquet that inspired this entire project! I highly recommend giving The Bouqs a look the next time you're looking to send fresh flowers – with low prices that include shipping, you really can't beat the quality and value!

You may also enjoy our other DIY bath & body product tutorials:
[riview id=297 num=2000 orderby=title order=asc size=200×200 showtitle=always lightbox=0]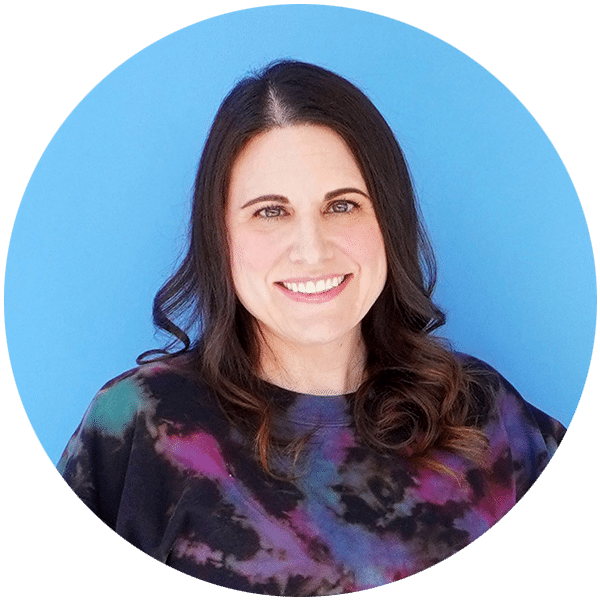 Heidi Kundin has captivated the hearts of millions with her colorful and inspiring approach to crafting, celebrations, and family fun. With over 15 years of experience, Heidi's website has become a must-visit destination for those seeking quick and easy creative ideas and last-minute solutions. Her warm personality shines through her posts, inviting readers to join her on a creative journey that's fun, rewarding, and achievable.