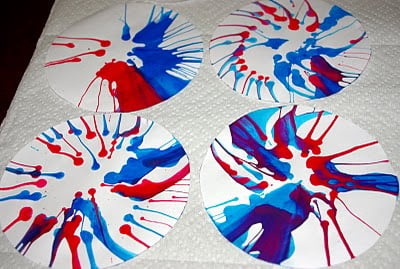 It's been awhile since we've done any salad spinner spin-art, so I decided to let Sutton give it a whirl (haha!) while Sawyer and Mitch were off at karate class last night.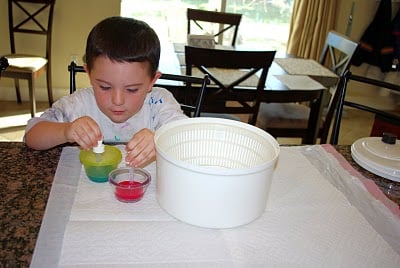 First we watered down some red and blue tempera paint so that it would be easier to suck up with the eyedroppers and easier to spin.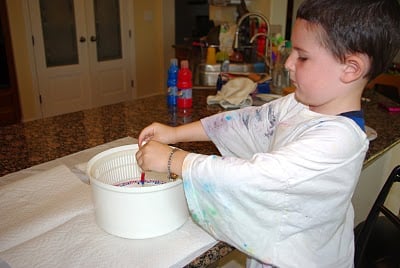 Sutton has really mastered his dropper skills since the last time we tried this activity! Note: now is the time to put down some plastic/newpapers/paper towels/etc underneath your spinner. The paint will start to accumulate and puddle, and in the end it will end up ALL over your work area if you don't put something down…just sayin' 🙂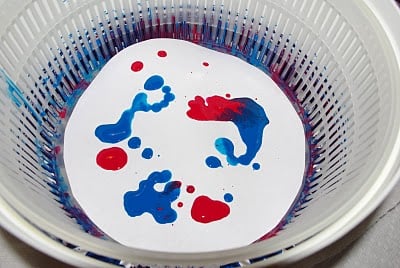 Give your paper a few good squirts of paint to ensure that you'll get the "fireworks" results you want.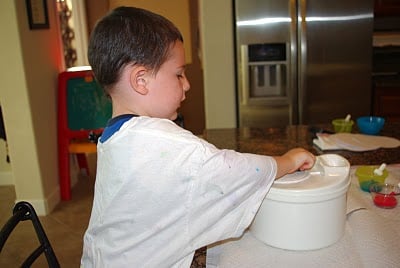 Now it's time for the fun part…spinning the heck out of the salad spinner! This part was a huge hit because Sutton now has the coordination to do the whole project by himself…
such
a hit, in fact, that we made about three times the amount of spin art that I was expecting to!