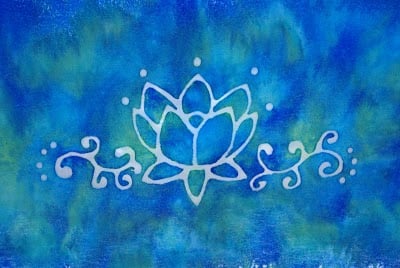 I ran across a fantastic blog post awhile back on That Artist Woman that detailed how to do batik printing using glue instead of wax, but at the time the boys were still too young for it. Thank you to Childhood Magic (whose children made glue batik shirts a few days ago) for reminding me about this awesome technique! Luckily we had all the materials on hand, even the white t-shirts, so I didn't have to go out and buy anything before we got started.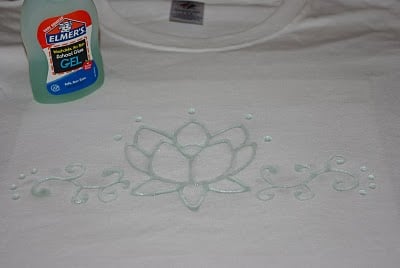 If you want full detailed directions on how to do glue batik, click HERE…I'll just give you the shorthand version 🙂 First we chose simple designs that we wanted to create on our shirts and outlined them in Elmer's blue gel glue. Note: it has to be the gel glue for this to work properly!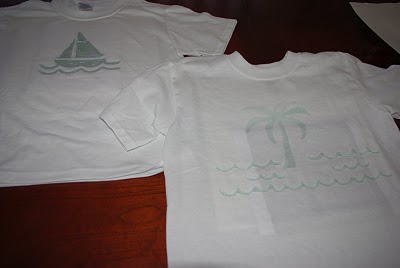 Sawyer chose a sailboat in the water, Sutton picked a palm tree and waves, and I chose a lotus design for my shirt. I applied the glue while the boys watched since I didn't have a ton of glue and wanted to make sure that we all got enough for our designs. We let the glue dry overnight.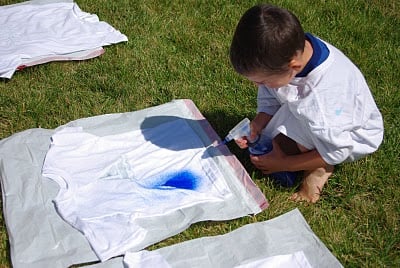 This morning the boys were eager to get back to their shirt project, so I set up their shirts in the yard (on plastic bags so we didn't completely paint the grass too!) and provided them with spray and squirt bottles of watered down acrylic paint. I chose to use only shades of blue and green so that the colors wouldn't get too muddied.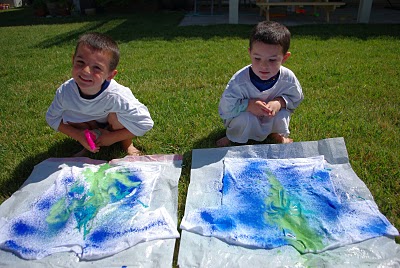 They loved this part! Sawyer especially got into it and had a lot of fun mixing the colors and making sure his shirt was 100% covered in paint.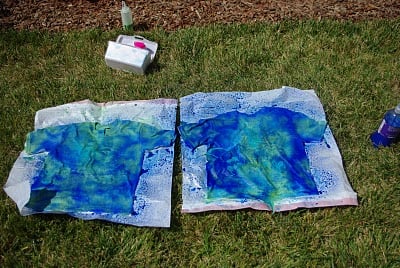 We left them out to dry in the sun for awhile, but it soon became apparent that the shirts were drying really funky on the plastic bags – it was creating the bag texture imprint on the back of the shirt, and even though we had completely sprayed and saturated both sides of the shirt, all of the paint was leeching back into the front of the shirt (weird, I know, since you'd think it would all have pooled underneath and gone to the back side of the shirt) and making the back of the shirt mostly pastel and white again.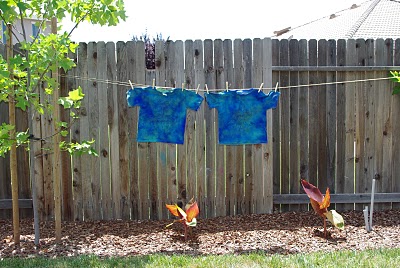 A makeshift clothesline and a few extra squirts of paint soon got us back on the right track though!
I didn't take any photos, but after the shirts are dry, you need to soak them in water to remove the glue, and then wash and dry them. There are some good tips and tricks on the website I linked to above if you want more in-depth detail.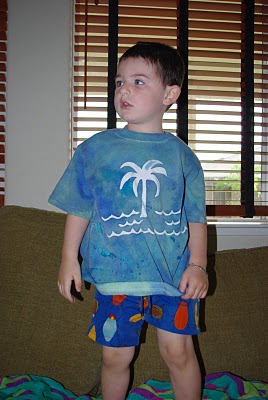 Sutton's finished shirt! The colors faded a good deal from their original brightness since the acrylic paint was watered down, but I like the results…it looks a little vintage 🙂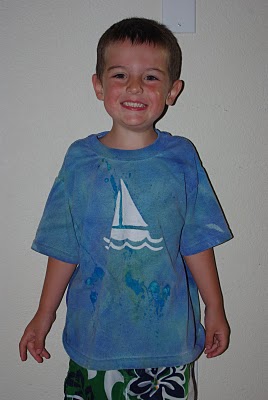 Sawyer's shirt (it's folded up on itself a little in the picture, but the design came out nice and crisp). His shirt has a few brighter spots from one of the paints that we used that wasn't quite as watered down as the others. I definitely learned a few things that I'd do differently next time, but we had a TON of fun in the process! They both asked if they can wear their new shirts to school tomorrow, so I'd call that a success 🙂