I like to call this one my "Homage to Pregnancy" because guess what…it's made up entirely of empty toilet paper rolls! Granted, I could have saved up toilet paper rolls at any point, but being pregnant certainly made collecting them a lot faster thanks to the fact that Baby No-Name loves to sit directly upon my bladder these days 🙂
I was inspired by the wreath created at Creative Jewish Mom (she has all the directions on her blog for how to make your own if you're interested!), and since it's made of recycled materials you have laying around the house, all I needed to purchase was another bag of glue sticks for my glue gun (from the Dollar Tree, hence the $1 spent).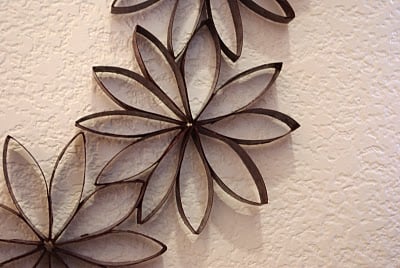 I was surprised with how fast and easily it came together. I cut a strip of flat cardboard to size to use as a template, and then started snipping away at the toilet paper rolls while the boys watched Wall-e. I didn't actually count, but it took around 16-20 empty rolls to create my wreath. Gluing them together was even faster – it took me under an hour to get it all assembled. Unlike the inspiration wreath, mine didn't stay in its natural cardboard state, simply because the inside of empty Costco TP rolls are filled with tons of black printing that didn't look quite so nice. I opted instead for a coat of brown spray paint that we had on-hand.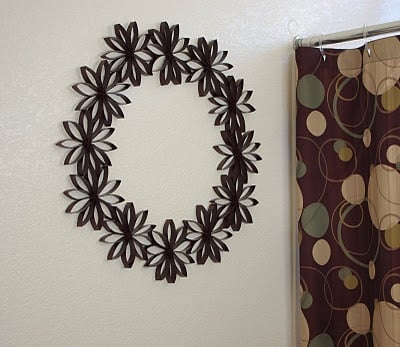 I thought about adding a ribbon, but none of the ribbon that I have matches well enough. I thought about adding buttons and other embellishments, but frankly I couldn't get motivated. It's 103 degrees here today, I'm pregnant, exhausted and still trying to get over my lingering summer cold. For now, I'm calling this "Homage to Pregnancy" good enough! 🙂