Create Room DreamBox Review 2023
This post and its photos may contain affiliate links. As an Amazon associate I earn from qualifying purchases. If you make a purchase through these links, I may receive a small commission at no extra cost to you!
Read our detailed and honest Create Room DreamBox review and get a Create Room discount coupon code to purchase a DreamBox of your very own!
The DreamBox by Create Room (formerly The Original ScrapBox)
This post may contain affiliate links. I will receive a small commission from these sales at no additional cost to you! This post is written in partnership with Create Room/The Original Scrapbox; however, all ideas and opinions are my own!
The DreamBox is an awesome and incredible Craft-Room-in-a-Box organization system that's perfect for crafters, seamstresses, scrapbookers, and hobbyists of all types!
Learn all about The DreamBox by Create Room (formerly The Original ScrapBox) and why it's the most awesome and amazing thing you can add to your craft room! Keep your craft and hobby supplies displayed front and center OR close it all up neatly into a stylish and streamlined storage cabinet when not in use!
We absolutely LOVE our DreamBox, and we wanted to share ALL of the incredible details with you, because we're sure that the DreamBox is about to head straight to the top of your wish list! If you haven't heard of the DreamBox yet, get ready to fall in love! 😍
We have had our DreamBox in the Happiness is Homemade studio for 3 years now, and it is heavily used on a daily basis. Our DreamBox has seen a LOT of crafting action, so rest assured knowing that our DreamBox review is FULLY tested and our opinions are thoroughly researched! We'll let you know the good (there's a LOT!) and the not-so-good (there's not much!) so that you're fully informed before you make your purchase.
Let's get to it!
---
DreamBox Delivery & Unboxing
The first thing to note is that Create Room is currently 4-12 weeks out on DreamBox deliveries. If you are in need of an organization solution right this very minute, a DreamBox may not be your best choice, but trust me, it is absolutely WELL worth the wait! There's really nothing else that compares!
Our Pre-Assembled DreamBox was delivered curbside by an independent freight company about 4 weeks after we placed our order. The freight company was great about calling me ahead of time to arrange our delivery schedule, and the delivery process was WAY quicker and easier than I was expecting it to be!
I just had to climb up there to give you all a sense of scale! This crate was ginormous!
You'll need to get out your drill or electric screwdriver to remove all four sides of the crate before unpacking everything inside.
Unscrew all four sides of the crate, and then remove all of the packing materials and start removing the smaller parts and pieces that are inside of each of the three main cabinets. There are lots and LOTS of storage tubs, shelves, hardware, and other parts and pieces inside of there, so make sure to remove them all carefully!
What's in the DreamBox Crate?
Basic DreamBox Package:
(x1) Center Box
(x1) Left Box
(x1) Right Box
(x2) Swing Doors
(x12) Steel Caster Wheels
(x21) Adjustable Shelves

(x6) 13″x13″
(x3) 13″x6″
(x2) 13″x35″
(x10) 3″x13″ (for swing doors)

(x12) Acrylic Guards
(x16) DreamBox Jars (16 oz.)
(x12) DreamBox Hooks
(x4) DreamBox Rods
(x1) Security Kit
Drawers, crown, etc. will be included in quantities depending on package ordered
40 Tote Package Also Includes:
(x78) InView Tote Tracks
(x40) Totes
(x18) Large Totes
(x8) Shoebox totes
(x16) Shoebox Tote Dividers
(x14) Notions Totes
(x42) Notions Tote Dividers
80 Tote Package Also Includes:
(x126) InView Tote Tracks
(x80) Totes
(x34) Large Totes
(x20) Shoebox Totes
(x40) Shoebox Tote Dividers
(x26) Notions Totes
(x78) Notions Tote Dividers
June 2021 Update: Create Room also now offers DreamBox package options with their brand new DiviDrawers as well!
---
DreamBox Set Up
Here's a quick video peek at our DreamBox assembly and set up!
Once you transport all of the pieces indoors, you'll want to start assembling the DreamBox and adding all of your shelf brackets and shelving. Our Pre-Built DreamBox came with all of the major cabinet pieces pre-assembled; however, you'll still need to attach those pieces together and then add all of the shelving based on your personal arrangement preference.
The DreamBox is SUPER versatile and customizable, so the shelving arrangement options are nearly endless!
I spent a long time arranging and rearranging the shelving to make sure that everything was just where I wanted it to be. The DreamBox includes 21 adjustable shelves and either 40 or 80 acrylic totes (in three different sizes) with InView tracks depending on your package selection, so there are PLENTY of totes and bins to suit all of your needs! We opted for the 80 Tote full set of InView totes with our DreamBox.
The DreamBox also comes with 16 clear lidded jars (16 oz.), 12 acrylic shelf guards, 12 hooks, and 4 metal rods that are perfect for storing ribbon, washi tape, bakers twine, and more!
I also added the optional three built-in drawers to my DreamBox package, and I am really glad that I opted for this upgrade. The drawers are the perfect size for storing all of my planner stickers and supplies!
I spent a good amount of time playing a bunch of different iterations of "What Goes Where?" until I was super happy with the way that things were laid out. These Large Totes (12.25"W x 12.25"L x 3"H) are incredibly versatile, and I was able to store all kinds of different materials in them.
As I was filling up the DreamBox with my craft supplies, I got distracted by that big chunk of bright green Cricut-brand supplies in the center section. If you know anything about me at all, you know that I love, love, LOVE to organize everything in rainbow color order, so all of that green (although pretty!) was driving me a little crazy!
So, to remedy the too-much-green situation, I added some rainbow-colored paper drawer liners to the bins – I simply folded a 12×12 sheet of cardstock to fit the drawer. Easy peasy and SUPER cute! For now, I know what's inside of each drawer, but eventually I may add some drawer labels to help me remember!
2021 Update: I added labels to my DreamBox drawers, and you can get the file here to use them in your craft room, too!
I also added paper drawer fronts to the lower large InView Totes, using polka dot paper this time, because rainbows + polka dots are even MORE of my jam! I love the idea of using paper drawer liners to totally customize the look of your DreamBox! I've seen some really awesome ones that use all different kinds of pretty patterned paper – it's SO easy to make your DreamBox uniquely YOU!
I am SO head-over-heels in love with my colorful DreamBox! 😍 Adding the optional lighted crown was SUCH a good decision, and the additional light makes a tremendous difference, especially when I'm crafting in the evenings!
I love that my DreamBox is so well organized and it is SUPER easy to close up and store everything away, too! I plan on keeping my DreamBox open most of the time, but it's nice to know that I have the option to close it up whenever I want the space to look a little tidier and less colorful!
My DreamBox is a retired 2-panel Shaker style front, but this is the new 3-panel Modern Shaker style currently offered (to be honest, I really like this 3-panel design better than the one that I have!).
---
My DreamBox Craft Room Review
So, want a quick tour of some of our DreamBox highlights? Of course you do!
The rainbow-colored top center section of my DreamBox is filled with my Cricut crafting supplies (including specialty papers, Infusible Ink, and all of my sublimation blanks) as well as our LARGE collection of cosmetic mica powders that we use for our DIY bath and body products.
The Large InView Totes perfectly fit 12×12 papers and rolls of vinyl and iron-on, which really is a dream come true! I have a massive collection of paper and vinyl that had previously been housed in it's own separate shelving unit, so I chose to dedicate two drawers of my DreamBox to the paper sheets and vinyl rolls that I am currently crafting with and using at the moment. It's so nice to have those selections right there at my fingertips!
The InView Totes hold SO much! This drawer is home to over 200 skeins of embroidery floss along with patterns, needles, needle minders, and embroidery scissors. Everything I need for an embroidery project!
The side panels of my DreamBox are filled with all kinds of goodies! This left panel is home to all of my washi tape, ribbon, craft paint, spray paint, and more! The polka dot drawers are filled with paper crafting supplies, scrapbook embellishments, and binding combs for my Cinch book binding machine.
I love the versatility of these adjustable rods!
The Shoebox Totes (5.5"W x 12"L x 4.5"H) that are great for holding your larger and taller items. My kids are constantly asking me where we keep the birthday cards (usually as they're racing out the door to a birthday party!), so I was thrilled to discover that my birthday and holiday card stash fit perfectly in the Shoebox Totes.
And it fits a LOT of cards! The Shoebox Totes come with 2 removable divider inserts that help you portion up the space and organize things even better! Birthday cards in the front, thank you cards in the middle, and holiday cards in the back! 😍
The Shoebox Totes are also great for holding collections of items and supplies. This bin has fancy trims in the front and fabric flowers/bows for headband-making in the back.
One of my most favorite things about the DreamBox is the large storage area underneath the table. I can store machines or other items up to 24 1/2″ tall below table, and the shelves are vertically adjustable to suit your needs. I love that all three sizes of my Cricut EasyPresses can fit on one of the shelves, and I still have plenty of space for my Minc, my Cinch, my Brother sewing machine, and more!
Another one of my favorite things about my DreamBox (I'm allowed to have 50 favorite things, right? 😂) are these Notions Totes (2.3"W x 12"L x 3"H). They might look small, but they pack a MIGHTY organizational punch! The 80 Tote DreamBox package comes with 26 of them, and they're all kinds of amazing!
The Notions Totes also come with removable dividers, so you can really maximize your storage options. Plus, they hold WAY more than might appear at first glance! There are almost 100 colorful hot glue sticks in that rainbow right there!
PLUS, there's a whole SECOND section of glue sticks in the back of the tote, too! 😲 (I told you, these totes hold a TON!)
Note: the removable InView Tote dividers are not "water-tight" so to speak, so they are best for organizing items that are pea-sized or larger. Smaller items in the different sections may mix together over time. The new DiviDrawers may be a better and more secure option for dividing up tiny items – full review to come in July or August!
I love the Notions Totes because about a million and one different supplies fit perfectly into them! Everything from paint to hardware and ribbon to crochet needles – there are SO many different things to use these totes for! This one here is full of more colorful mica powder for making bath bombs and soaps.
There are 12 hooks included with the DreamBox, though I chose to only use six of them to hang a few of my Cricut tools. The 16 clear lidded jars that are also included with the DreamBox are great for a HUGE variety of supplies ranging from felt balls to yarn to sequins, beads, bows, and more! The uses for them are practically endless!
12 Acrylic Shelf Guards allow you to securely place items like mason jars on the shelves without worrying that anything will shift or fall over when opening and closing the DreamBox.
The shelf guards are also great for securing cans and bottles of paint, glue, glitter, resin, and more!
The DreamBox includes a 3′ x 3′ work table with sturdy, locking adjustable legs that allow you to use the table three ways – sitting height (29″ as shown above), drafting, and standing height (36″).
I personally like to stand a lot when I'm crafting, so I frequently find myself using the DreamBox table at standing height.
I also opted to add the upgraded Side Tables to my DreamBox, and they are SO awesome! The side tables add an extra 870 square inches of crafting space EACH to your work area, and they can also be adjusted to all three different height levels!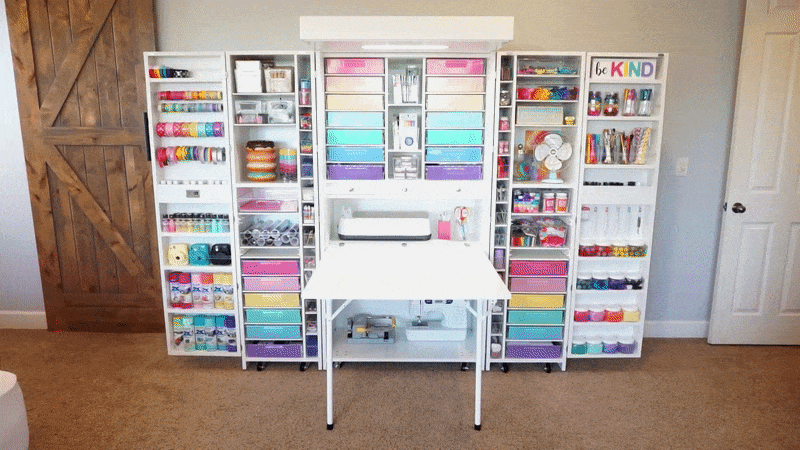 ---
Expand Your DreamBox with the DreamCart!
If your budget allows, I also highly recommend the additional of the perfectly portable DreamCart for the most ideal craft room combination EVER!
We talked about the DreamCart a lot the other day (you can read ALL about it here!), but one of my favorite things about it is the way that it perfectly integrates with the DreamBox to create an even larger and more functional crafting space.
(Naturally, the DreamCart also folds up and can be tucked away when not in use! 😍)
I could not be happier with my new craft room space and how incredibly organized everything is! The DreamBox has truly been a dream come true, and I highly recommend getting one if you're looking to organize any of your crafting or hobby supplies! If you're working from home these days, the DreamBox also makes a fantastic office work station, too!
---
Save with Our DreamBox Discount Coupon Codes!

Check Out These Other DreamBox and DreamCart Posts!
---
Pin this Create Room DreamBox Review for Later!