These chic DIY rope baskets come together easily with Elmer's new CraftBond® Hot Glue Gun and Less Mess Glue Sticks (no more drips & glue strings!)!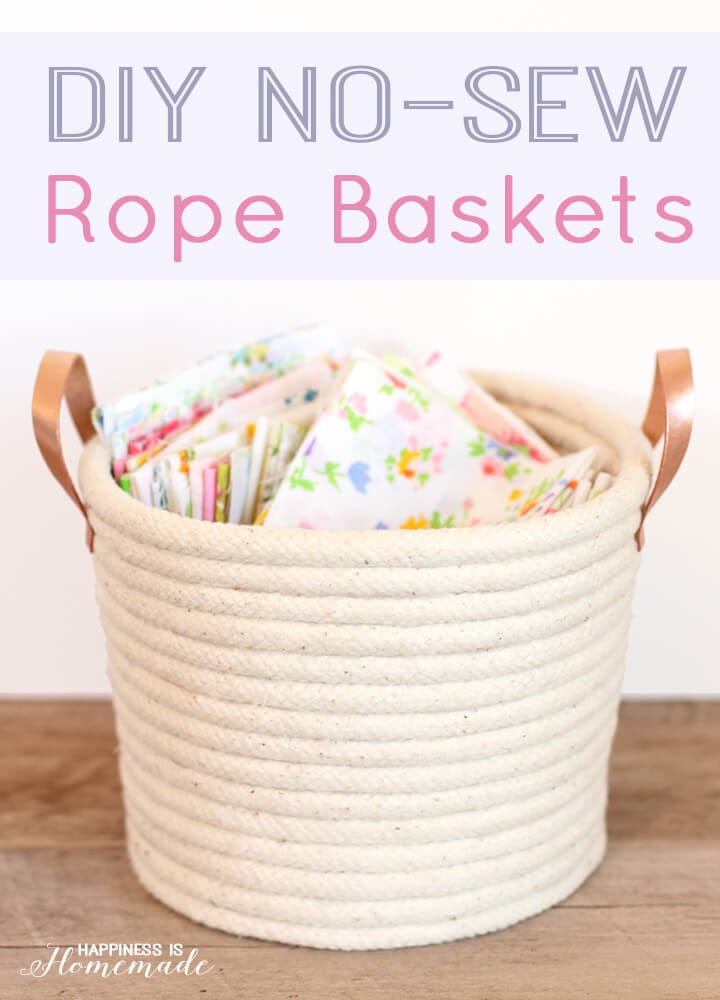 These DIY rope baskets are the perfect way to make your own customized storage and organization solutions! They can be made in a vast array of shapes and sizes, and they're surprisingly strong and sturdy!
What You'll Need:
3/8″ thick cotton piping cord (I used approximately 10-15 yards per basket)
Elmer's CraftBond® Mini High Temperature Glue Gun (available at select Michael's stores)
Elmer's CraftBond® Less Mess 8-inch Glue Sticks (also available in 4-inch size)
Metal or glass vessel such as a bowl, pail, or bin to use for shaping your basket
Parchment Paper
Fabric or leather for embellishments (optional)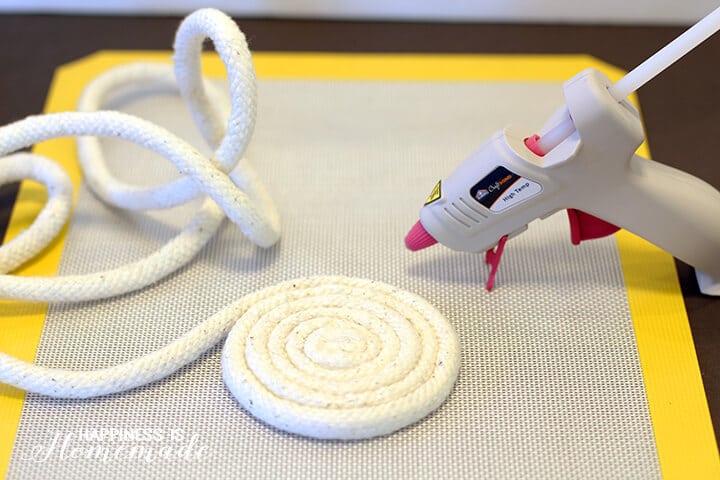 I began by forming a tight coil of rope to serve as the base of my basket. I used my new Elmer's CraftBond® Hot Glue Gun to glue the rope together every inch of the way, and I was pleasantly surprised that the "Less Mess" glue sticks really do live up to their name – I had NO dripping or messy glue strings during the entire time that I was working on this project! (Honestly, if you've ever used a glue gun before, you should realize that's practically a miracle!)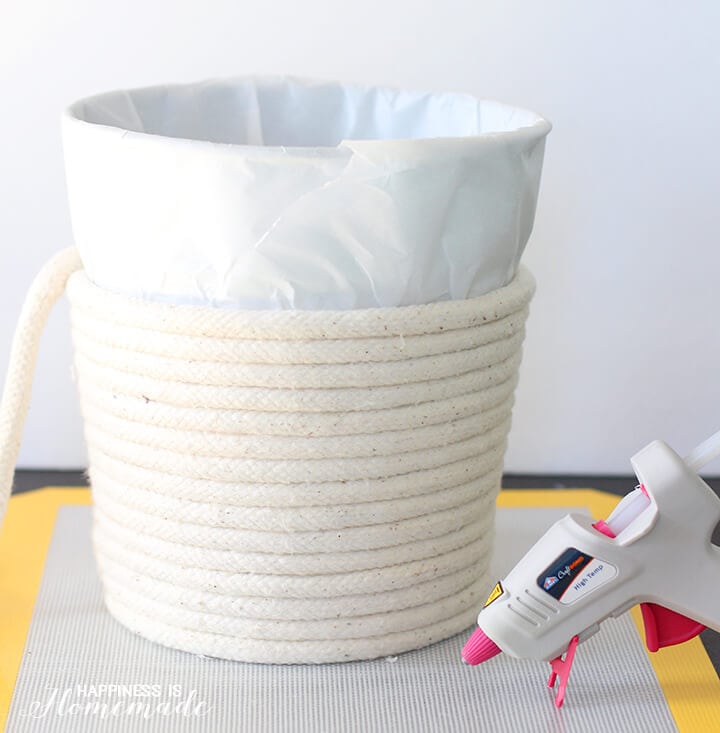 I covered a metal pail with a sheet of parchment paper to provide a layer of protection and to form a barrier against the glue. When my coiled rope base was the same size as my metal pail, I started wrapping the rope tightly around the pail (gluing the rope every step of the way!) to form the shape of my basket. When the basket was as tall as I desired, I simply removed the pail from the inside – easy peasy!
Okay, okay, I know that I said this is a "no-sew" project, and it totally CAN be…but, for added strength and stability, I chose to stitch the end of my rope closed since the piping cord has a tendency to unravel at the ends. You can also use the hot glue to create a finished end piece.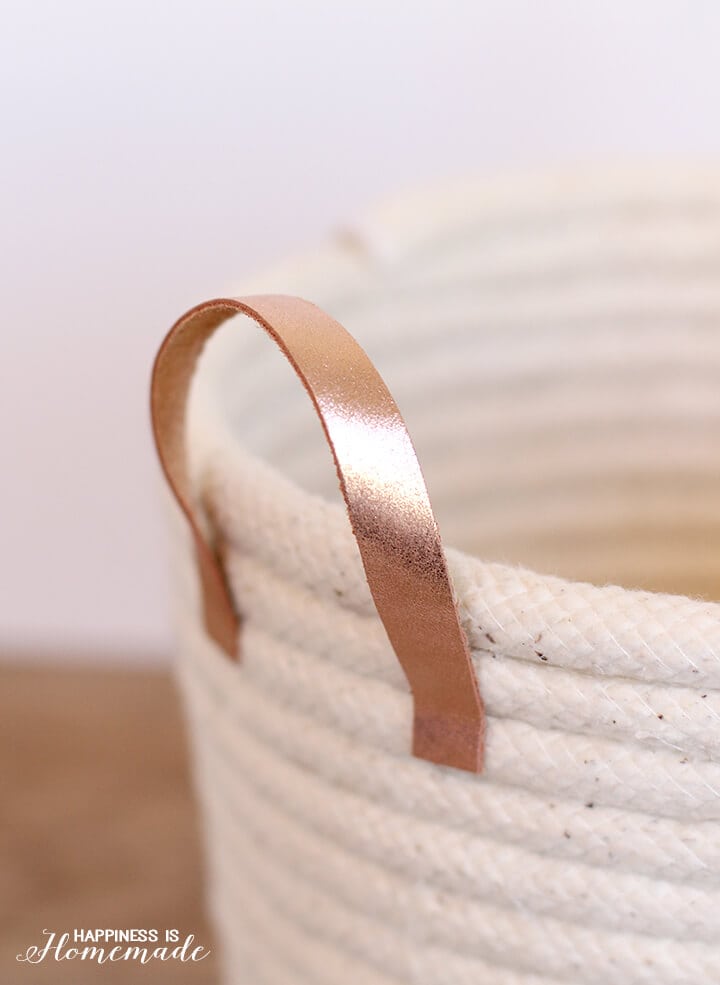 I love the natural color of the cotton rope basket, but I also wanted a little bit of glam and shine, so I added two handles made of of luxurious rose gold leather. It's the perfect finishing touch!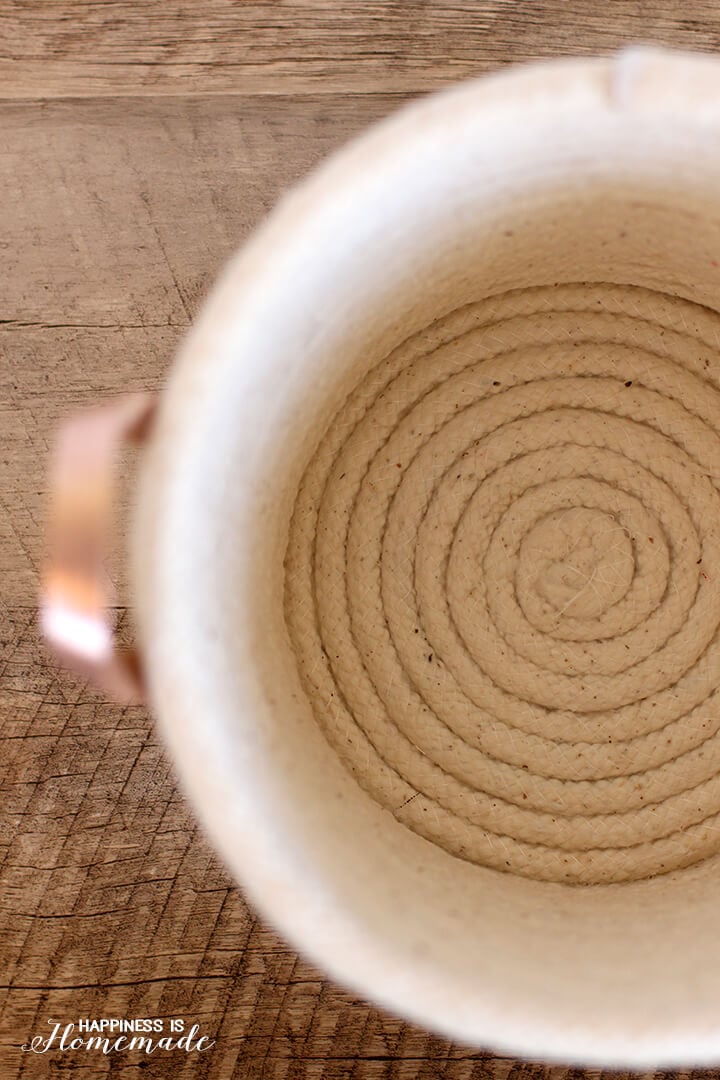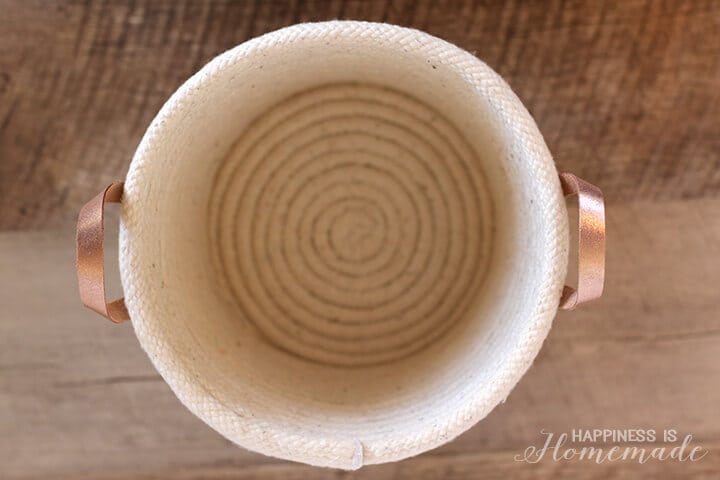 I've discovered that this basket size is incredibly handy for lots of different applications, so I'm planning on making a bunch more! This one is currently home to some of my favorite vintage sheet fat quarters, and it makes me happy every time I see it!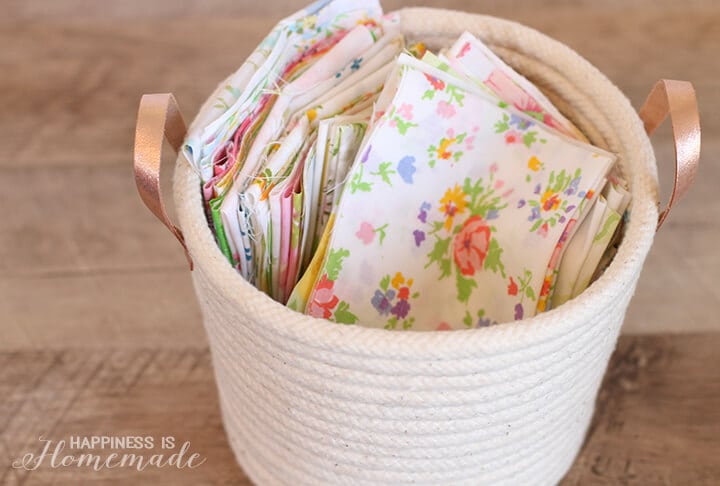 Speaking of vintage sheets, I decided to try my hand at a second version of the rope basket, based off of the fabric-wrapped baskets that my mom used to sell at craft fairs when I was a kid.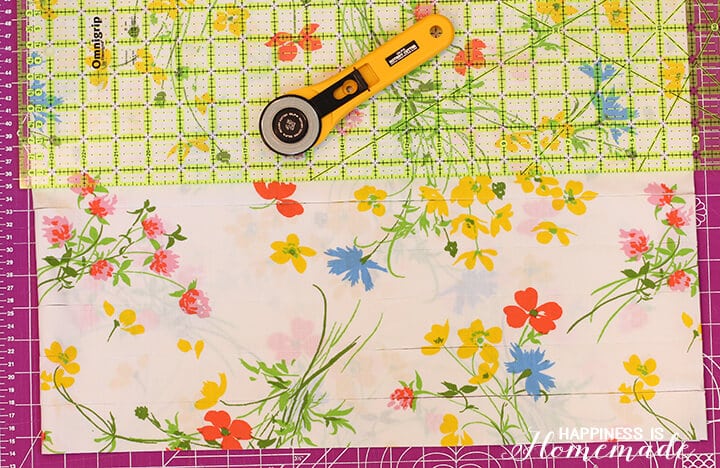 I started by cutting a vintage sheet into 1.5″ strips (note: I used about 1/3 of a full sized flat sheet).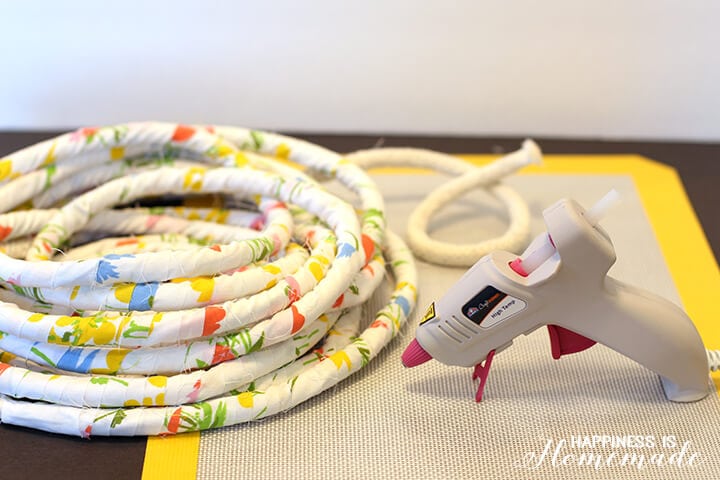 Wrap the fabric strips around the length of rope, and use your super awesome Elmer's CraftBond® Mini High Temperature Glue Gun every 1-2 inches to adhere the fabric to the rope.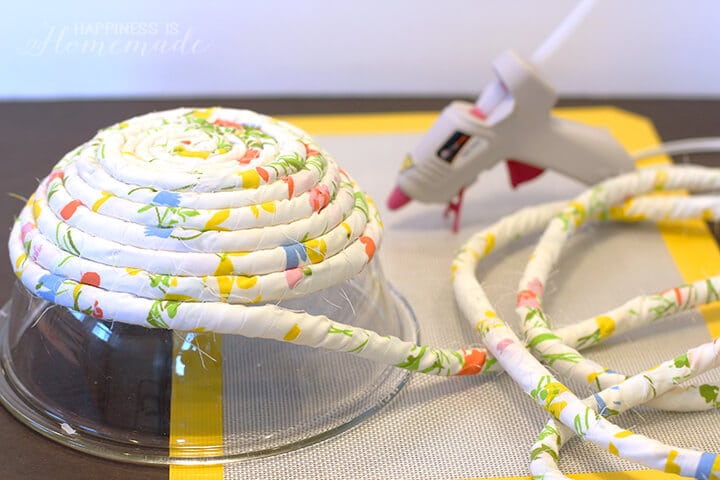 Using the same method that I used for the natural rope basket, I started with a base coil, and then built upon my vessel (in this case, a medium-sized Pyrex bowl) to form the shape of the basket.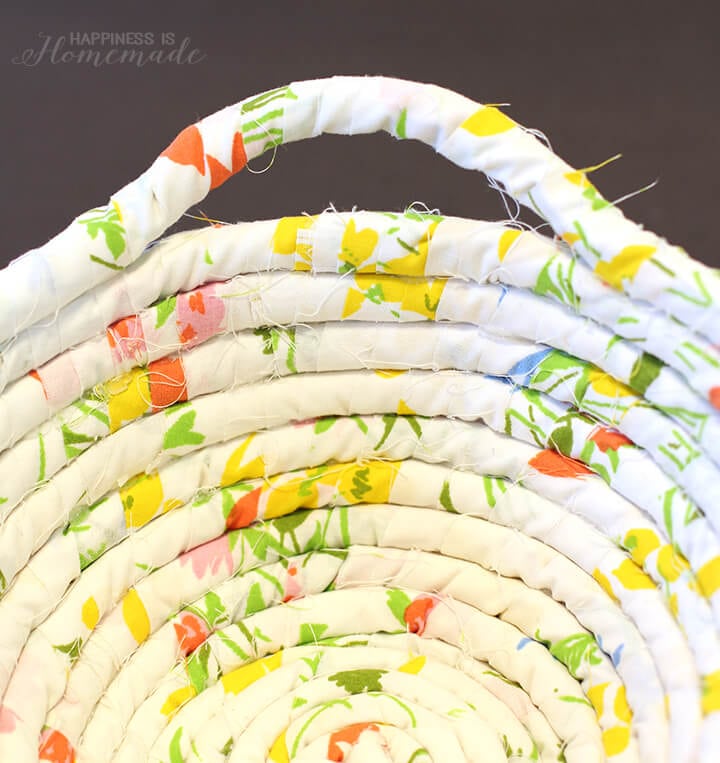 I omitted using hot glue from two 4″ long sections along the top coil of rope, and allowed them to bow up gently to create handles.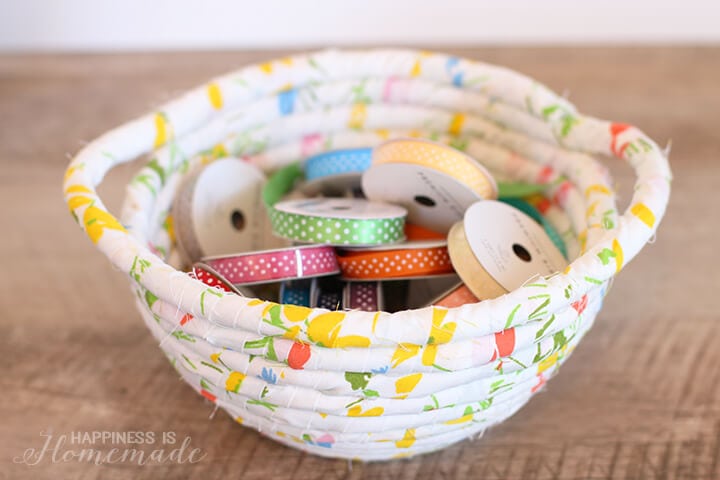 I love the way that it turned out, and it's the perfect size for storing all of my spools of polka dot ribbon!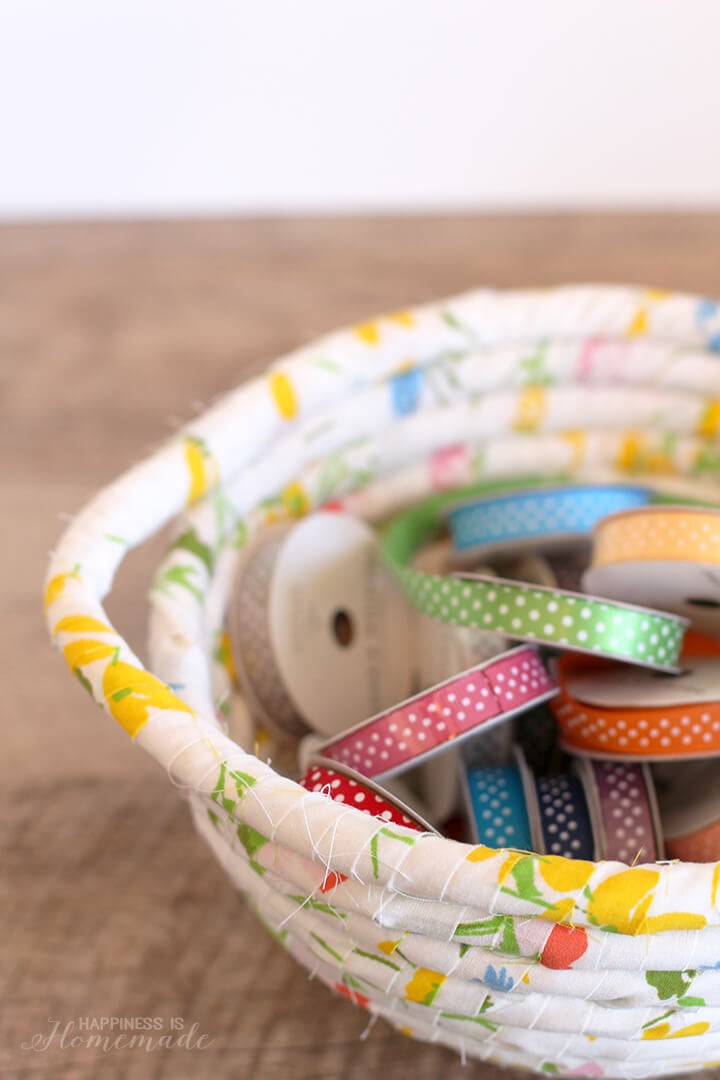 I can see a LOT more of these vintage fabric covered baskets in my future as well! Maybe I'll even mix and match my fabrics next time (just like my mom used to do!)!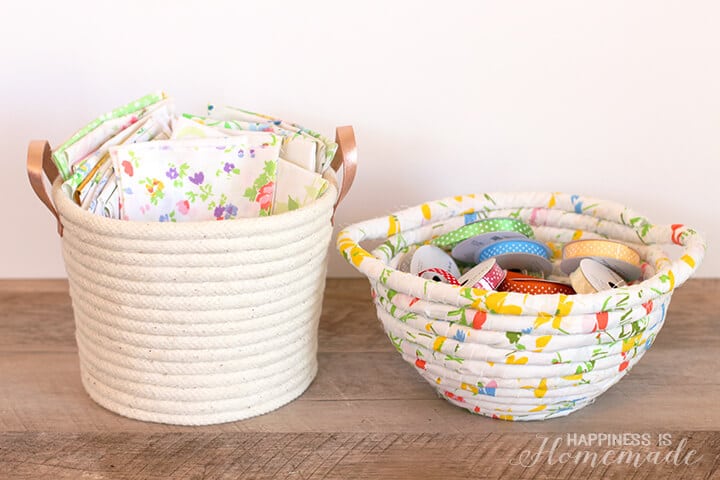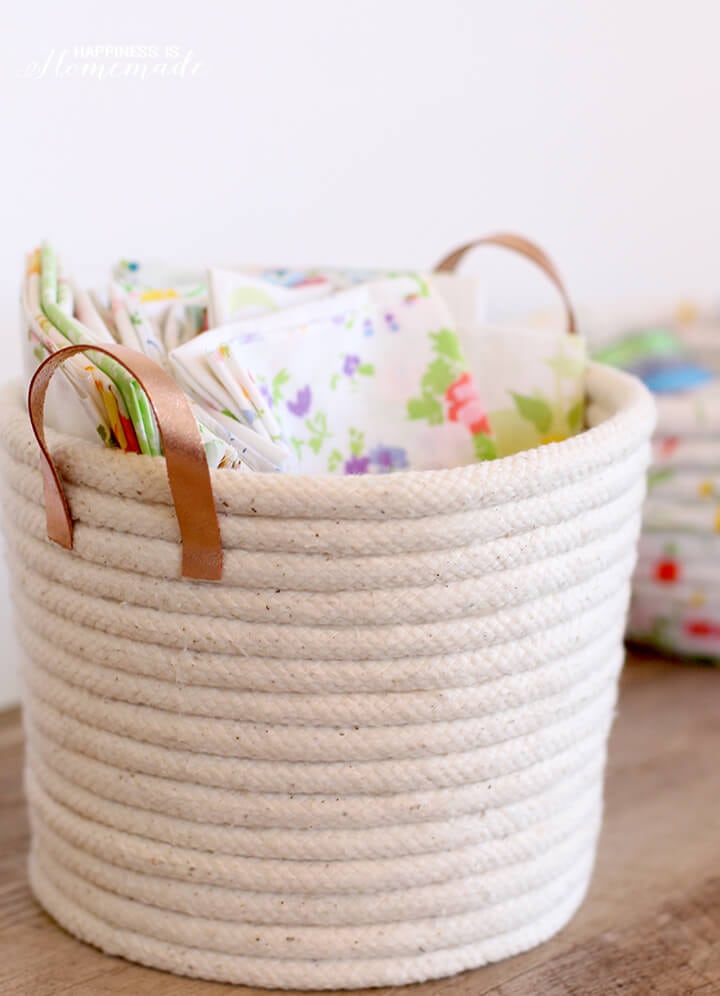 For more fun craft ideas, be sure to sign up for the Elmer's Newsletter and check them out onTwitter, Facebook, Instagram & Pinterest! Happy crafting!