Strawberry Lemonade Gummy Fruit Snacks
This post and its photos may contain affiliate links. As an Amazon associate I earn from qualifying purchases. If you make a purchase through these links, I may receive a small commission at no extra cost to you!
Make your own healthy DIY Homemade Strawberry Lemonade Gummy Fruit Snacks – just 3 ingredients and 10 minutes! Great lunchbox treat for the kids!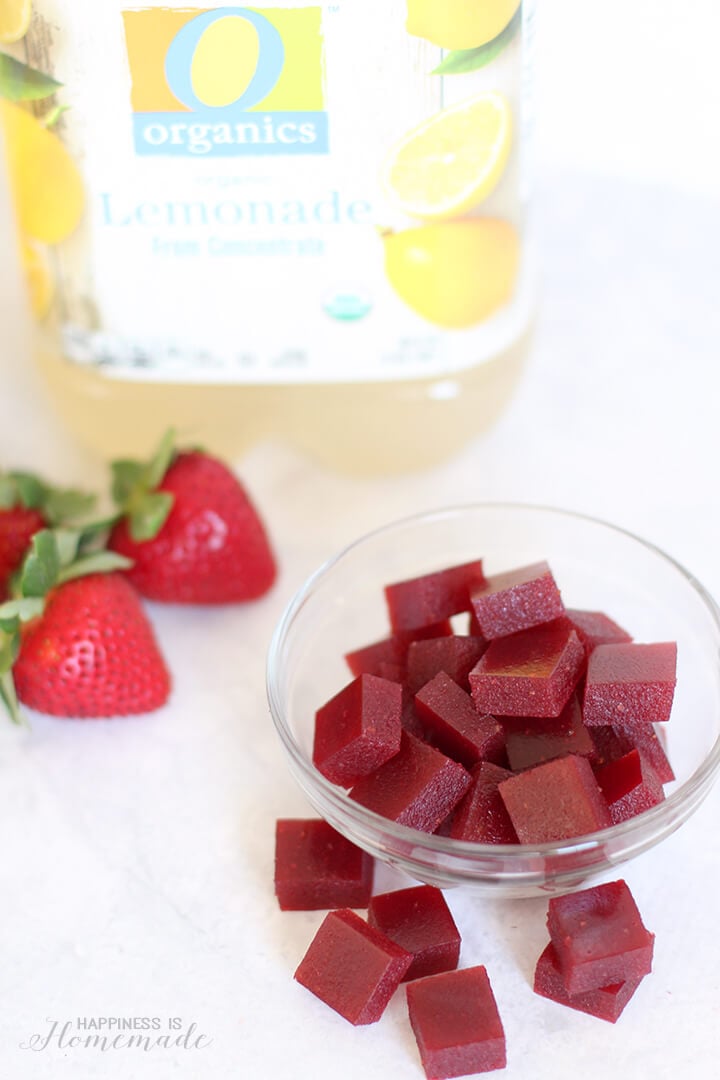 Your kids are going to LOVE seeing these healthy strawberry lemonade fruit snacks in their lunchboxes, and you're going to love how quick and easy they are to make!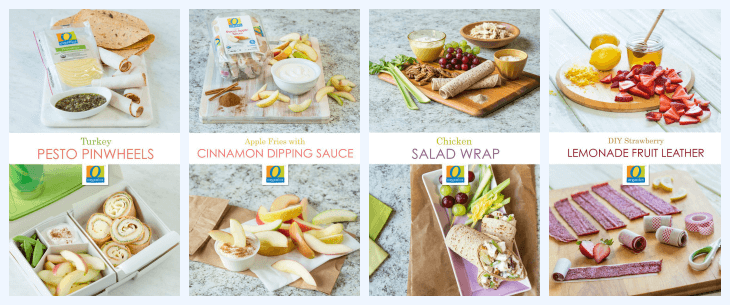 The other night I was cruising around Safeway's new O Organics website, looking for some new recipes to fill my boys' lunch boxes, and I saw this recipe for strawberry lemonade fruit leathers. We've made our own fruit leathers lots of times in the past, so I decided try something new (but similar!) and make strawberry lemonade gummy fruit snacks instead!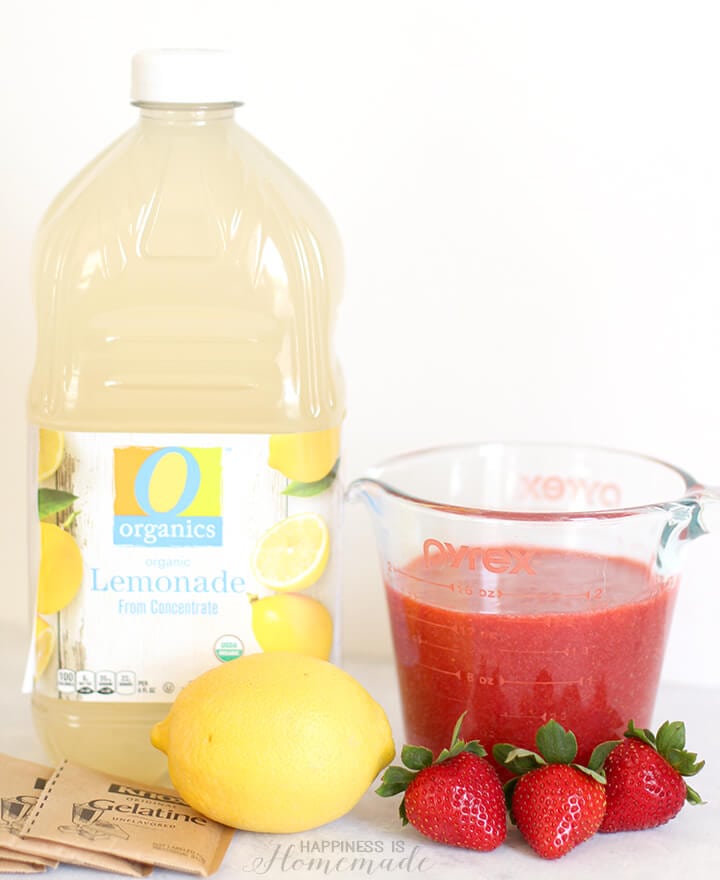 What You'll Need:
1 1/2 cups of fresh strawberry puree
1/2 cup O Organics Lemonade
4 envelopes of unflavored gelatin
Stevia, sugar, or honey to taste (optional)
Start by making the strawberry puree – just toss strawberries into a blender or food processor and process until smooth. Pour the puree into a small saucepan, and mix in the lemonade and sweetener (optional – our strawberries were really ripe, so we didn't use any sweetener in ours). Place the saucepan on the stove over low-medium heat, and gradually whisk in the envelopes of gelatin one at a time (note: be careful not to dump all the gelatin in at once or it will clump and make it difficult to melt!). Allow mixture to come to a low boil, stirring frequently. Once the mixture is boiling, allow it to boil for 30 seconds before removing it from the heat.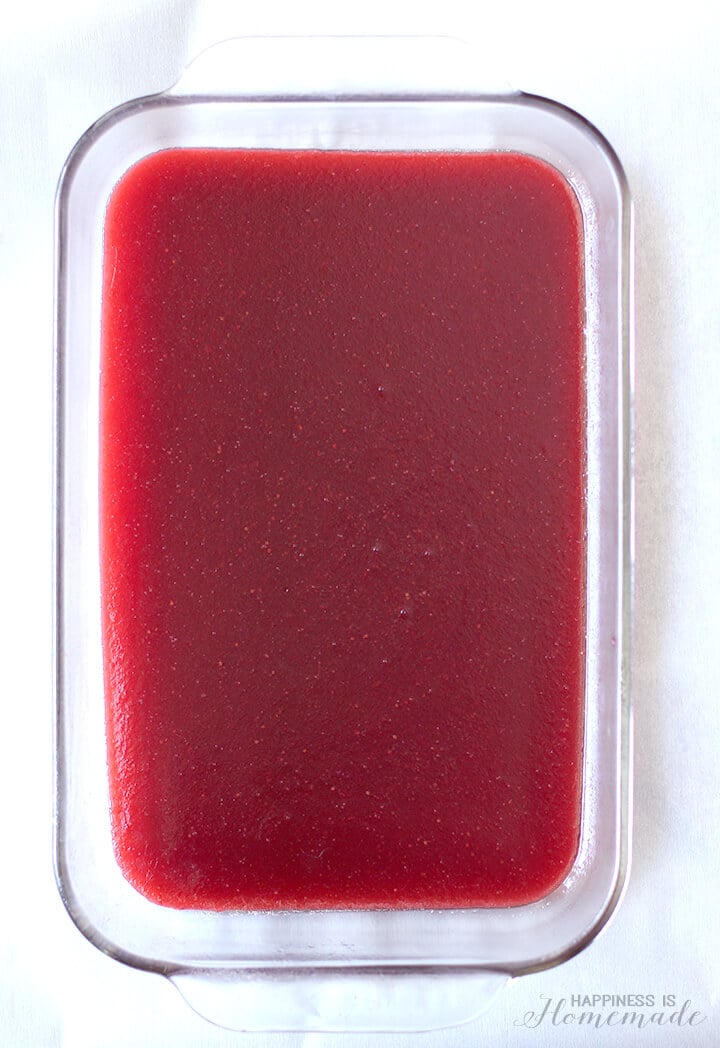 Spray a 9″x13″ glass baking pan lightly with cooking spray. Allow the hot gelatin mixture to cool slightly, and then carefully pour the warm mixture into the baking pan. Chill in the refrigerator for 4 hours.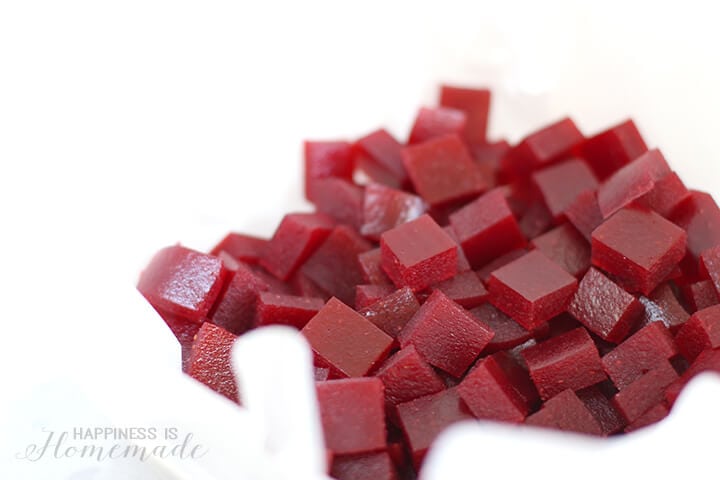 Place a sheet of parchment paper on your kitchen counter or cutting board. Turn the glass pan upside down over the parchment paper, and the large sheet of gummy snacks should release easily on to the parchment paper. Use a pizza cutter to cut the gummy sheet into bite sized fruit snacks.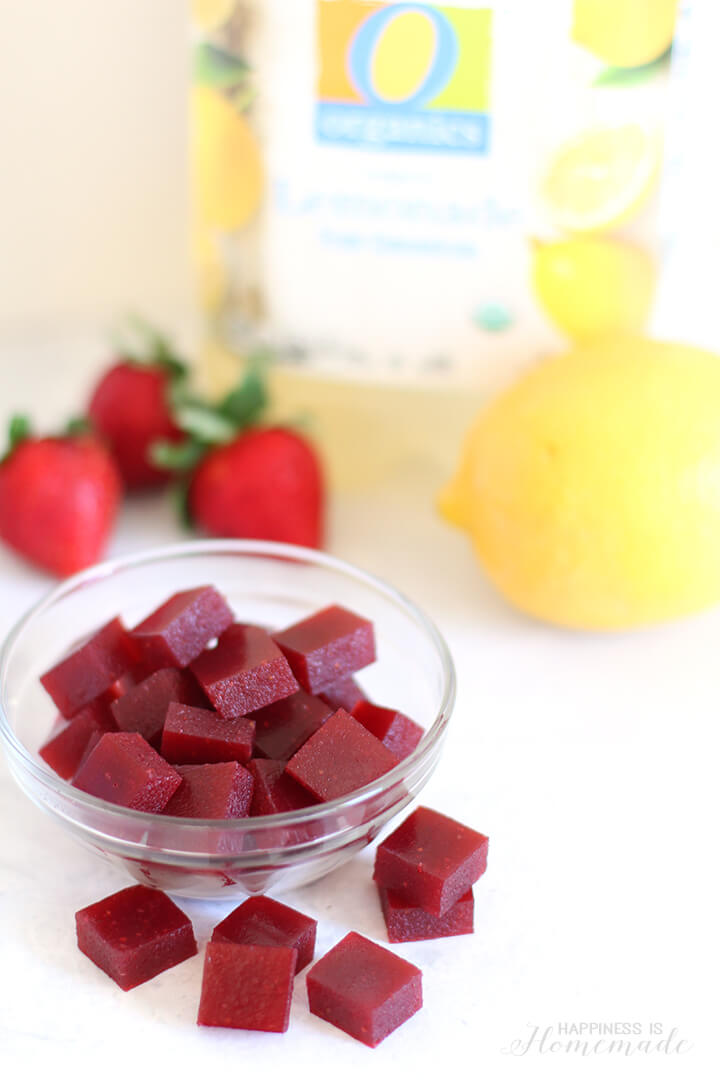 Yum! The kids couldn't wait to get their hands on these!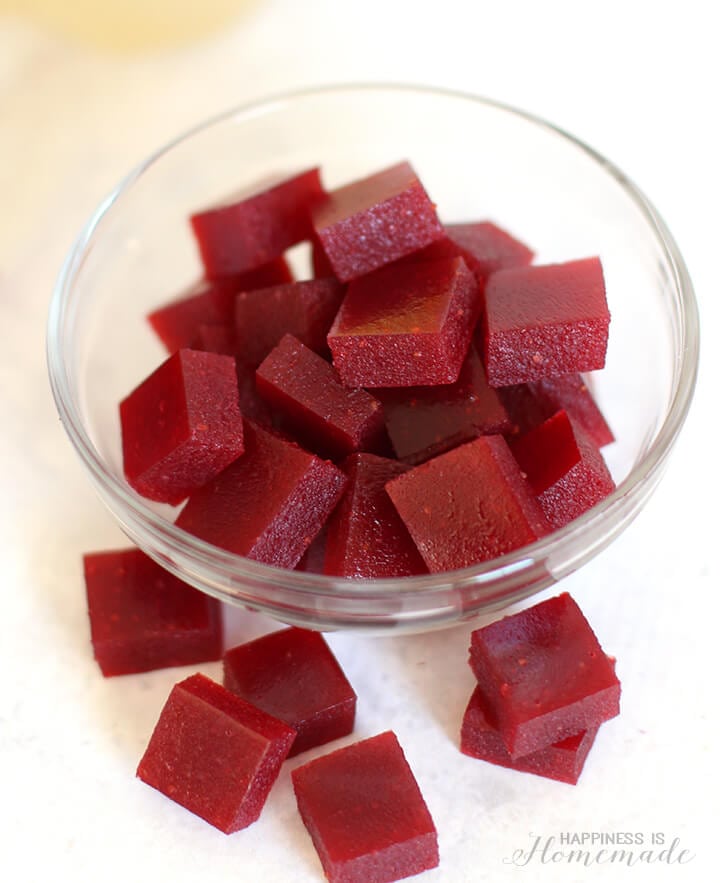 Using just a few high quality ingredients, I was able to create a sweet treat for my kids that's actually good for them (and not packed full of yucky additives and preservatives!). These gummy fruit snacks have just the right amount of sweetness along with a chewy texture that's totally addictive!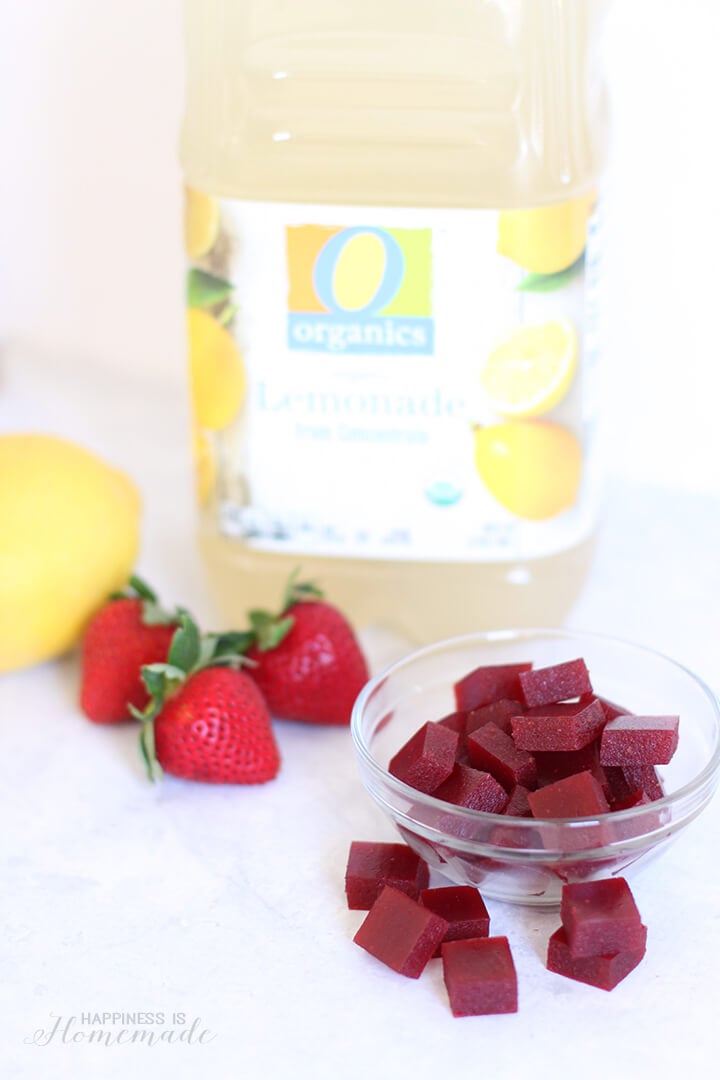 These fruit snacks will retain their shape in a cool lunch box during the school day; however, the best flavor and texture is achieved when kept refrigerated. Store in an air tight container in your refrigerator for up to a week.
Oh, and if you're also interested in making the strawberry lemonade fruit leathers that were the inspiration for these gummies, check out this handy how-to video from Safeway: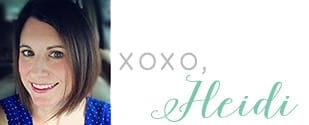 This is a sponsored conversation written by me on behalf of O Organics. The opinions and text are all mine.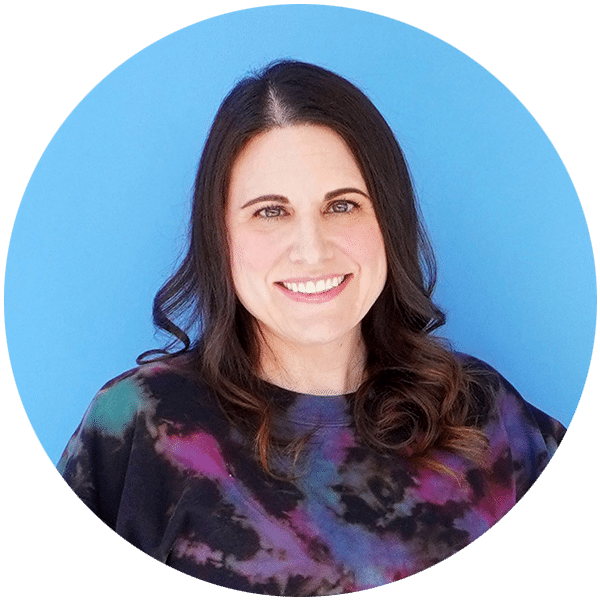 Heidi Kundin has captivated the hearts of millions with her colorful and inspiring approach to crafting, celebrations, and family fun. With over 15 years of experience, Heidi's website has become a must-visit destination for those seeking quick and easy creative ideas and last-minute solutions. Her warm personality shines through her posts, inviting readers to join her on a creative journey that's fun, rewarding, and achievable.