With all the rain we've been having lately, the boys and I decided that we could use some cheery color to help brighten up the day. Really, they'll use any excuse they can come up with to get crafty (not that I'm complaining!).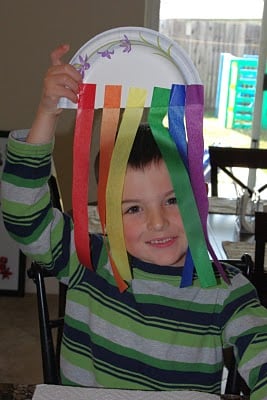 We cut paper plates in half and attached strips of colored tissue paper to the back side. You could use construction paper, crepe paper, or whatever you have on-hand. I got our tissue strips from Oriental Trading Co., and it came with enough to last us a lifetime! Sawyer took advantage of the opportunity to teach Sutton about the correct rainbow color order 🙂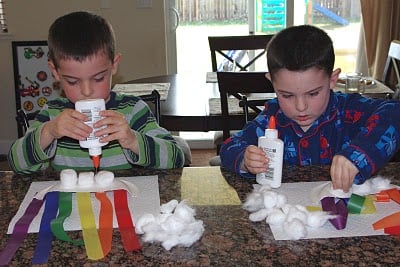 Then they glued cotton balls to the other side of the plate to create the cloud. At first they attached whole cotton balls, but they soon discovered it was much more fun to shred them up before gluing them down.