Learn How to Make Paracord Bracelets
This post and its photos may contain affiliate links. As an Amazon associate I earn from qualifying purchases. If you make a purchase through these links, I may receive a small commission at no extra cost to you!
First off, let me start by saying that of course this paracord bracelet craft is tons of fun for both boys and girls (despite what that image above shows!), but I'm a mom of boys, and this was specifically written with them in mind. Many of the craft kits that are sold in stores these days are marketed towards girls, so I know how hard it can be to find project ideas that will get my boys' stamp of approval (and it's getting even harder as they approach their tween years!). Fortunately, there are a lot of creative moms out there, and I'm joining up with some of the most awesome ones to participate in the Summer Survival series – made especially for (and by!) moms of boys.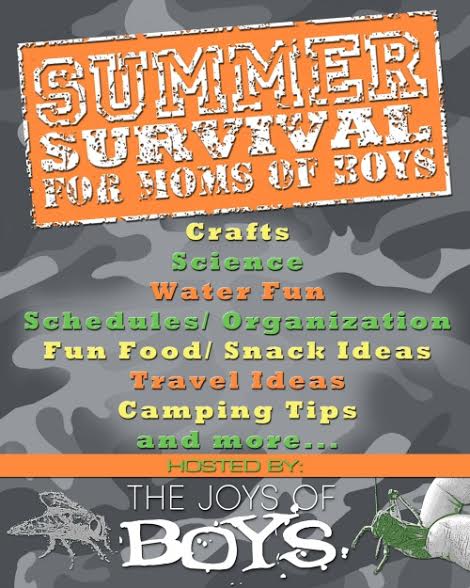 Click the image above to discover lots of great ideas and activities that are sure to be a hit with the boys!
My boys got hit pretty hard by Rainbow Loom fever this past year, but after awhile they got tired of the lengthy and delicate weaving process required for more challenging bracelet designs. Their little fingers weren't quite as nimble as they wanted them to be, and they would often end up frustrated after a slightly-too-hard tug would send rubber bands flying off the loom and ruin all their hard work. Eventually my eight-year-old son decided that he had had enough, and the loom ended up in a craft room drawer, and my son ended up bummed that he wasn't able to make the fancy schmancy bracelets that he wanted.
A few days later we were browsing the craft section of Walmart, and he spied a bundle of paracord that he HAD to have. He was suddenly in Bracelet Fever mode again as he excitedly explained to me that he had seen a video tutorial on YouTube showing how to make paracord bracelets the last time that he had been watching Rainbow Loom tutorials. He couldn't stop talking about how awesome the bracelets are (because survivalists like Bear Grylls wear them!), so I agreed to buy him the cord and a few plastic buckles so that he could give it a try.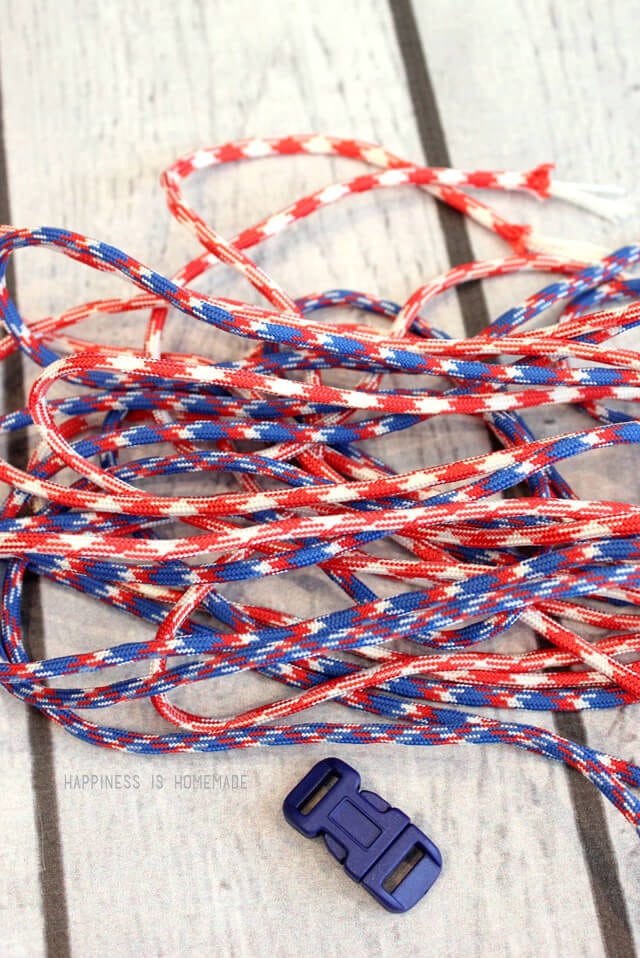 The basic paracord survival bracelet, called The Cobra, is made with a simple technique of square knots. To make a Cobra bracelet you will need: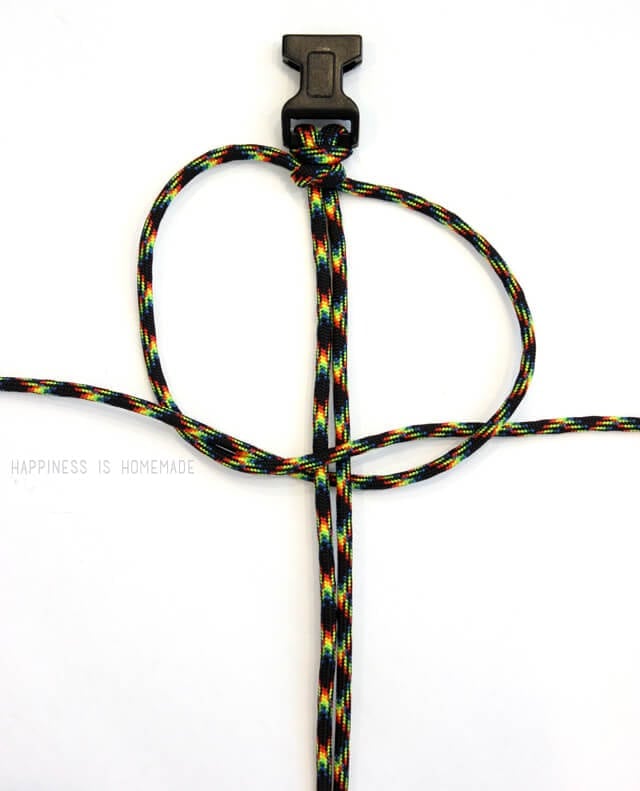 I took a bunch of photos to put together a knotting and bracelet making tutorial, but then I decided that video is a much better option for teaching something like this (that's how we learned after all!). We watched a few different YouTube tutorials when we first started out, so I decided to share a few of our favorites with you instead of trying to explain things with still pictures. This first video demonstrates how to make the basic Cobra bracelet with clear step-by-step instructions and lots of helpful information – perfect for beginners!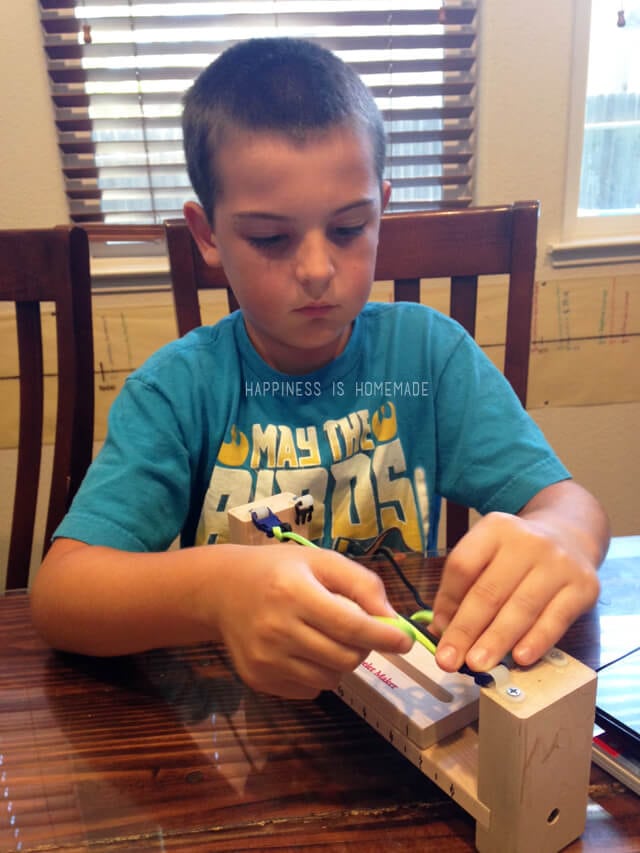 If you plan on making a lot of bracelets (trust me, it's addictive!), I highly recommend using a jig. A jig holds your center bracelet cords in place and frees up your hands to focus on knotting. A jig can be purchased online or homemade.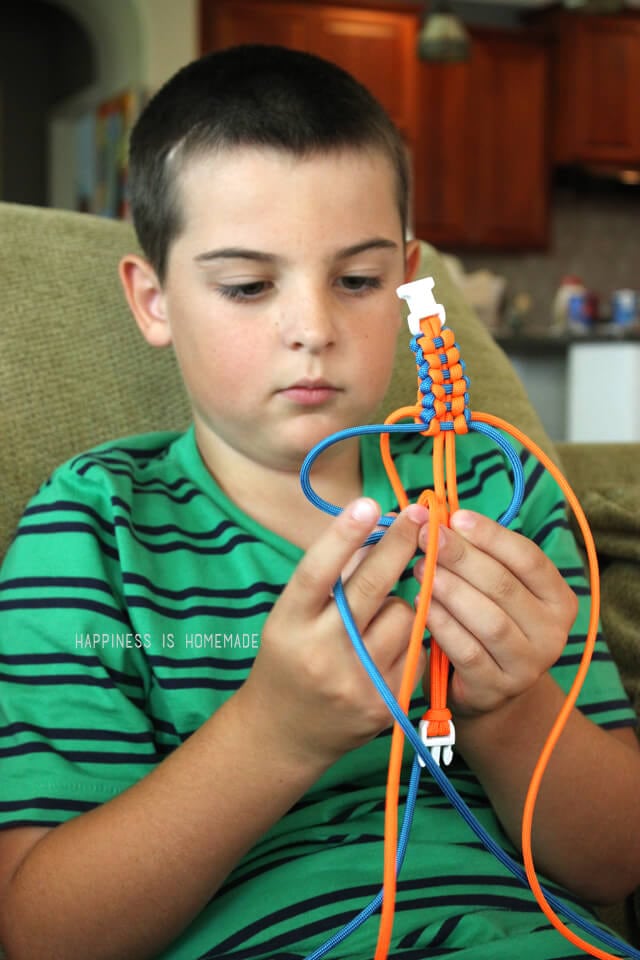 Once you've mastered the Cobra bracelet, there are about a zillion more variations for you to try! Here Sawyer is working on the Jagged Ladder from the video below. (Note: we hadn't purchased our jig yet when I took this photo, but it would have been much easier to handle all of those cords if it were on a jig!)
This 4-strand fishtail is another one that works up really quickly…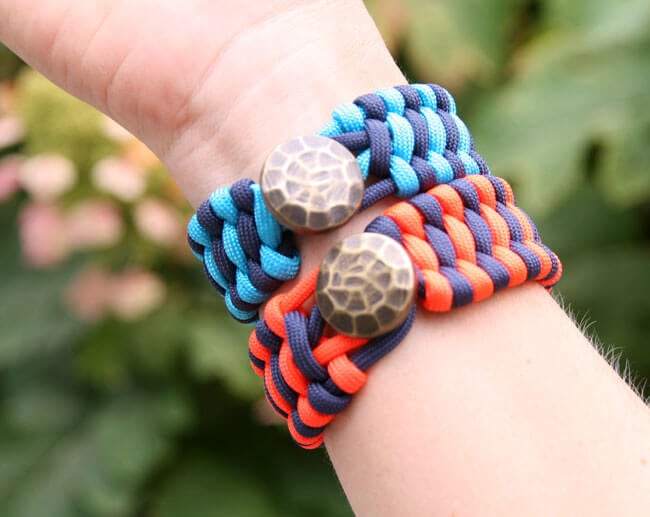 I love the addition of buttons on this Woven Trilobite Bar Cuff Bracelet from Remarkably Domestic. I might need to make one of these for myself!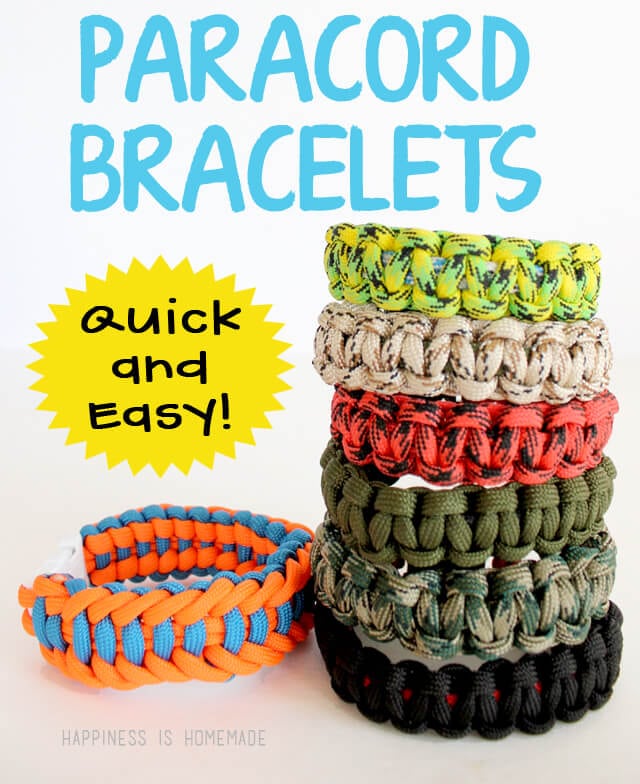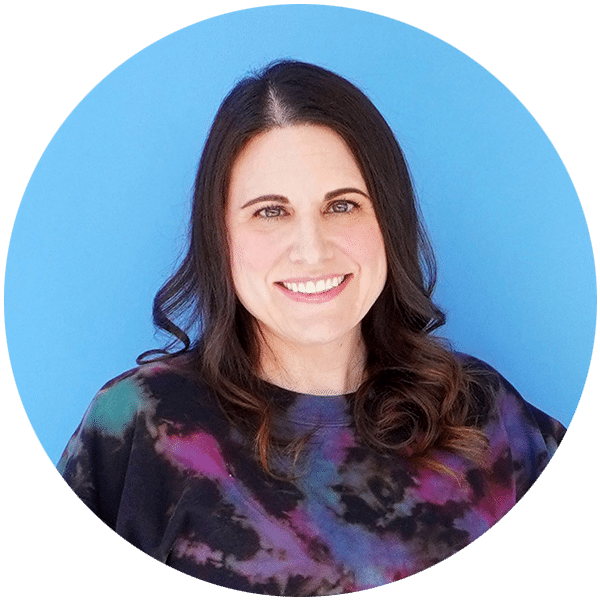 Heidi Kundin has captivated the hearts of millions with her colorful and inspiring approach to crafting, celebrations, and family fun. With over 15 years of experience, Heidi's website has become a must-visit destination for those seeking quick and easy creative ideas and last-minute solutions. Her warm personality shines through her posts, inviting readers to join her on a creative journey that's fun, rewarding, and achievable.