Superhero Movie Night Birthday Party Ideas
This post and its photos may contain affiliate links. As an Amazon associate I earn from qualifying purchases. If you make a purchase through these links, I may receive a small commission at no extra cost to you!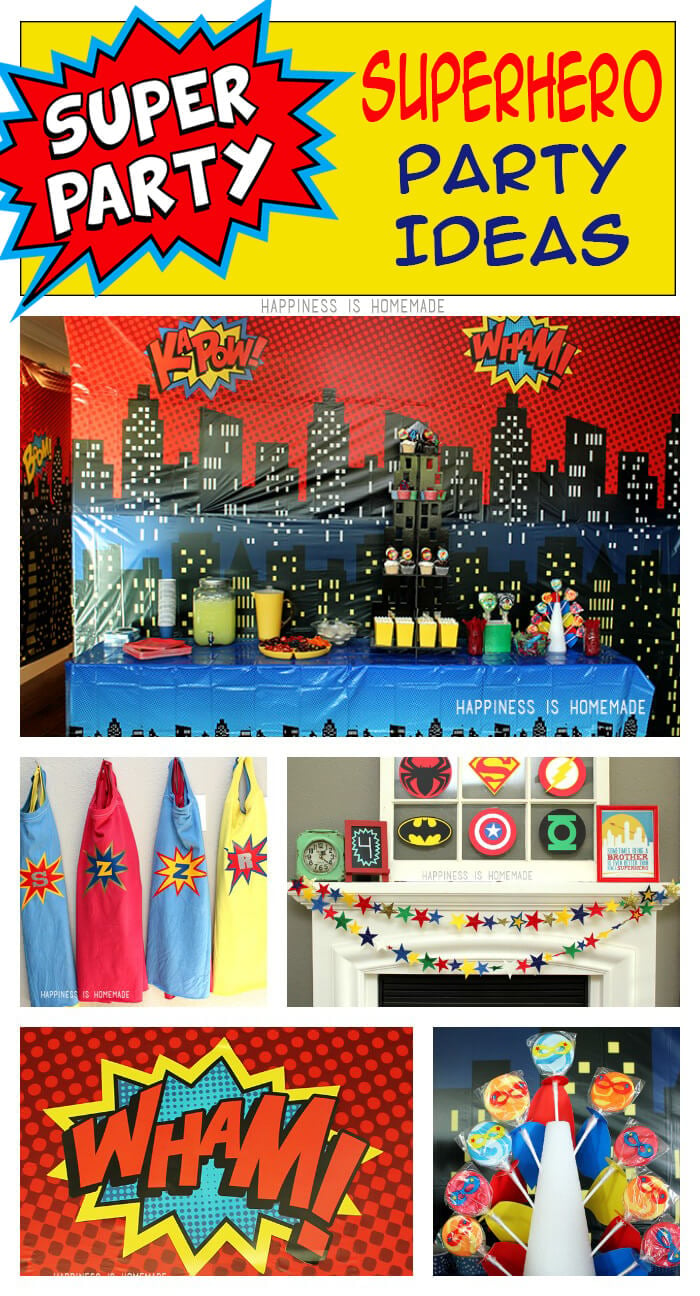 We recently celebrated my youngest son's fourth birthday with a fantastic superhero movie night party, and it was a huge success! I had never done a party in a superhero theme before, so I had about a zillion fun ideas that I wanted to implement.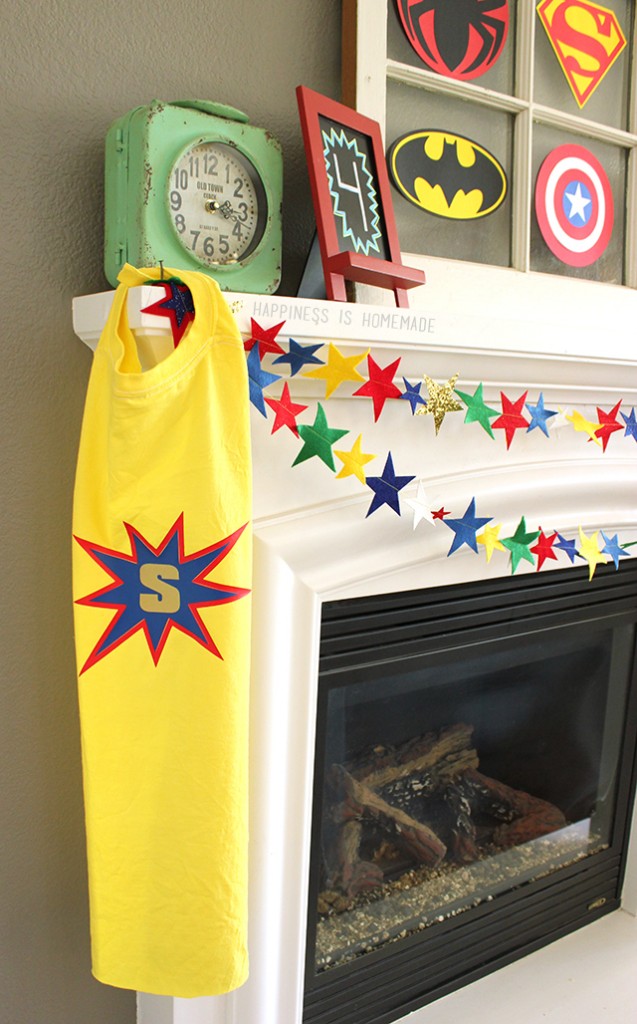 I spent the week before Simon's party in full-on party prep mode – making personalized superhero capes, star garlands, decorations, treats and more, but it was a ton of fun! I don't think I've ever had as much fun getting ready for a party as I did this one. I wanted to keep the party theme geared towards the general idea of superheroes instead of the actual comic book characters, but I couldn't resist throwing in some of the iconic logos in the artwork above the mantel. I simply cut them out of colored paper with my Silhouette CAMEO and used double stick tape to adhere them to the glass in the window frames.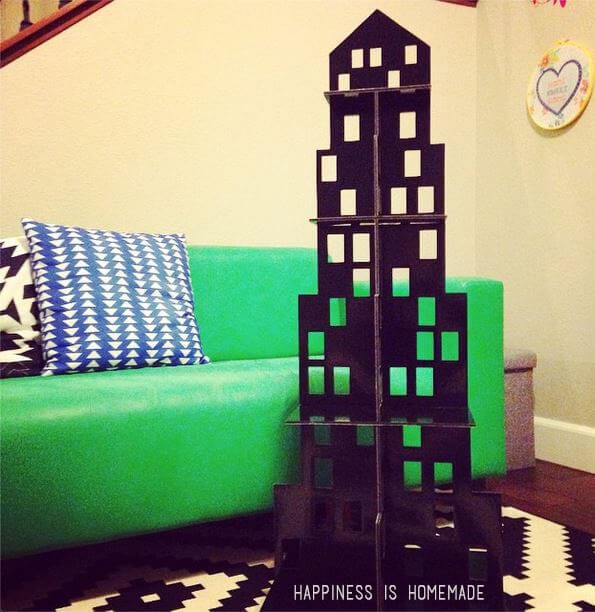 I couldn't believe how huge this cupcake tower from Oriental Trading Company was once it was all assembled! I must have missed the "large" part of the description, so I was expecting it to be much smaller, but it was an awesome surprise! It's made of foam core, so it's sturdy, but incredibly lightweight.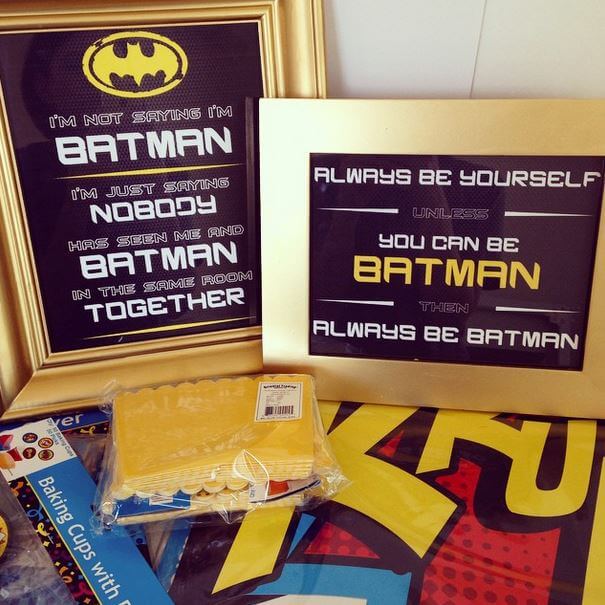 I framed these funny Batman printables from Let's Eat Grandpa, and our guests (especially the adults) thought they were fabulous!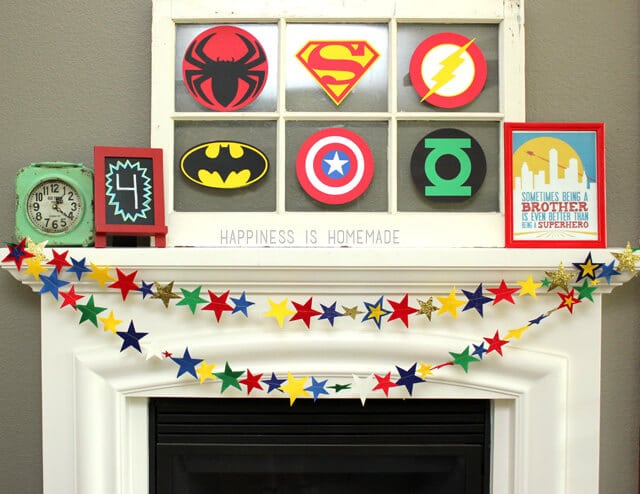 The mantel was my favorite part of the party decorations. The "Sometimes Being a Brother is Even Better Thank Being a Superhero" print is from Seven Thirty Three, and we've actually had it hanging up in our playroom for awhile. Now that the party is over, I'm thinking of taking all of these decorations and giving our playroom a full superhero makeover so that I don't have to put them away out of sight (I'm seriously loving them!).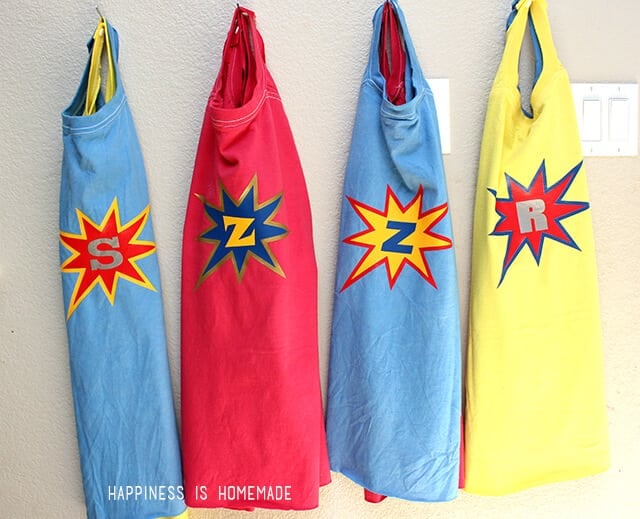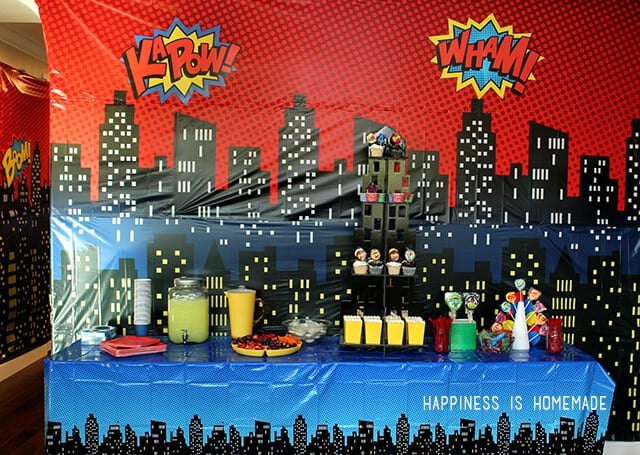 This amazing city backdrop came from Oriental Trading Company, and it was HUGE! We covered two walls with it (for behind the party food table and the photo booth area), and only used about half of the amount on the roll! It does show a few light wrinkles in areas where it's placed over light switches or other protrusions, but the overall effect was still super awesome. It definitely transformed the entire space!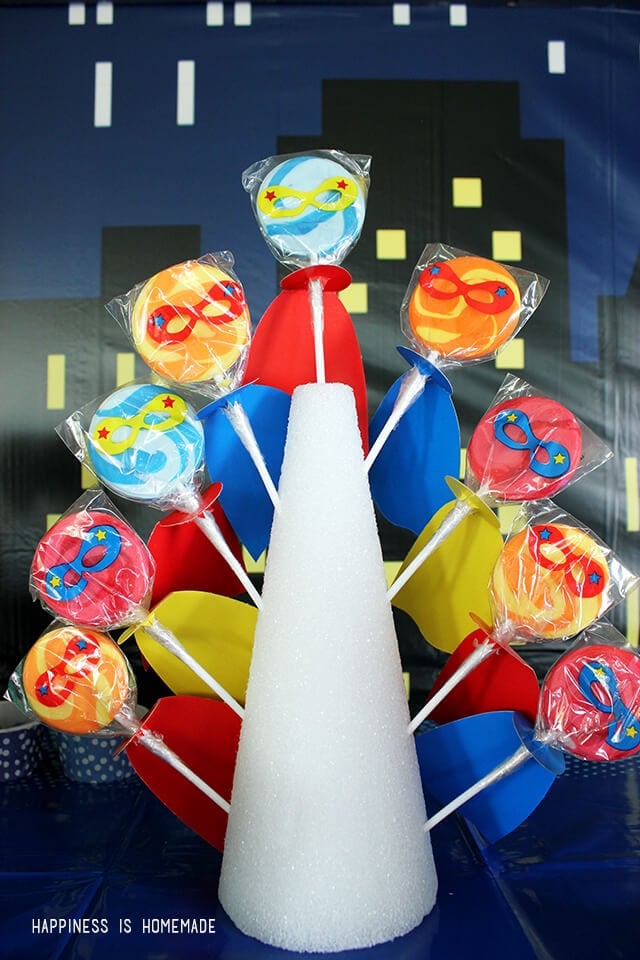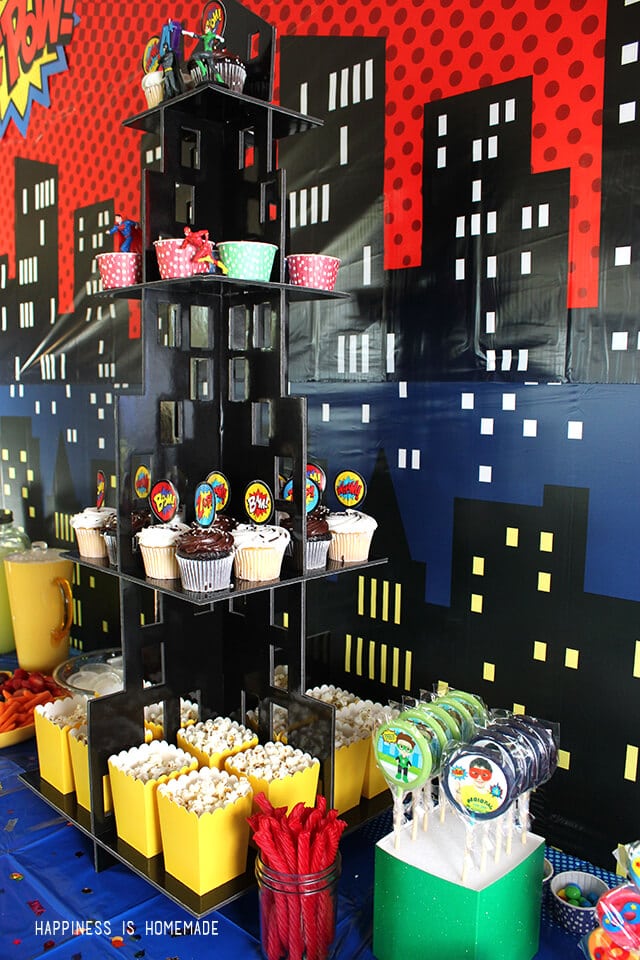 The cupcake tower was large enough to hold all of our cupcakes plus popcorn boxes and mini treat buckets for all of the guests!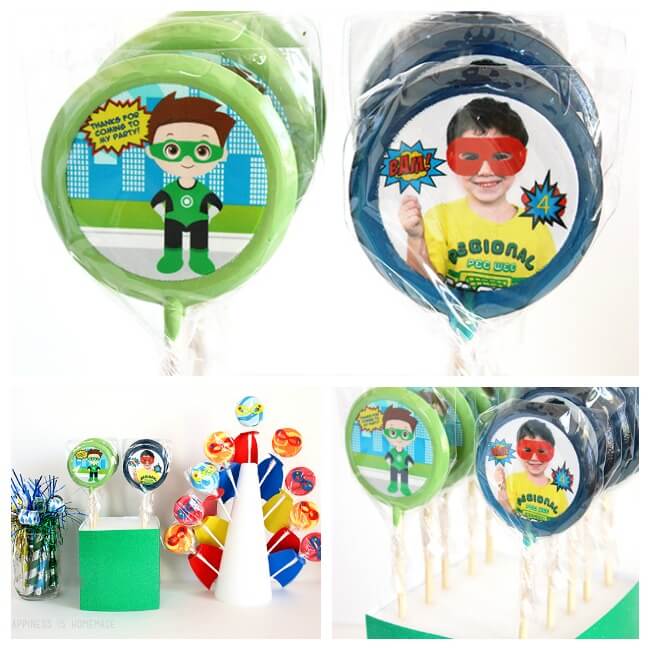 Lollipics made these incredible custom lollipops for us, and they made an awesome party favor for our guests. I wanted to use a photo of Superhero Simon on the lollipops, but he wanted to use a cartoon superhero character, so we compromised and split the order half and half. The green apple and blue raspberry flavored lollipops were delicious, and the kids went crazy over seeing Simon's face on a lollipop!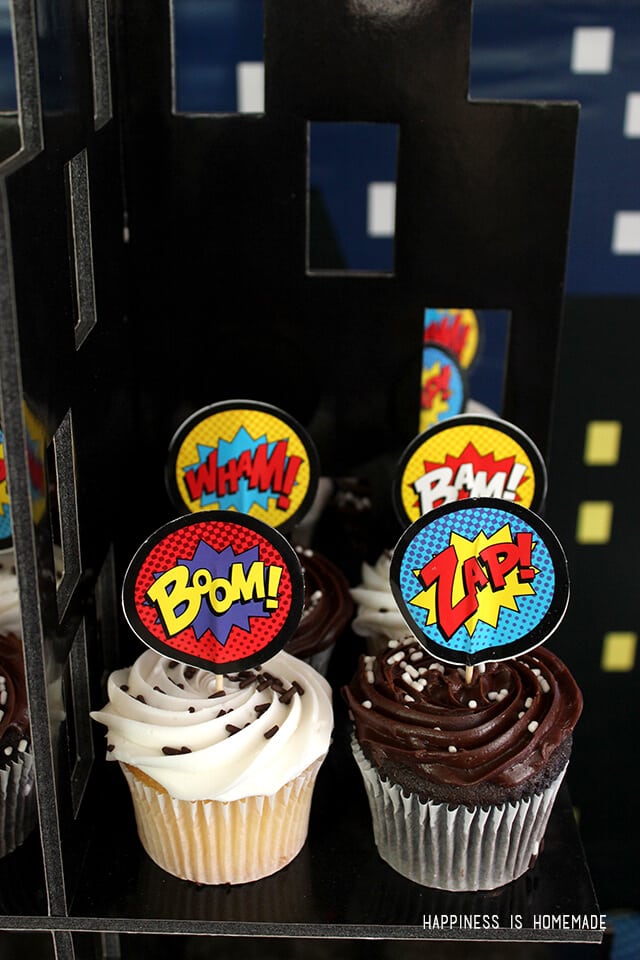 I totally cheated and picked up cupcakes from the bakery this year instead of making them myself. I love the colorful superhero action word cupcake toppers, and I think they looked great on top of the black and white cupcakes!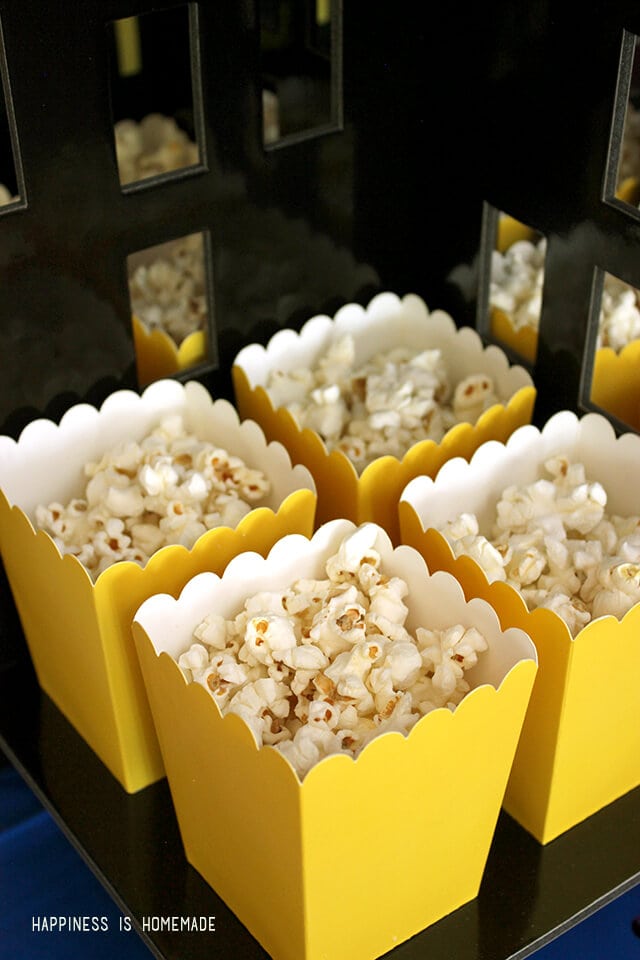 Naturally we had to have popcorn ready for showtime!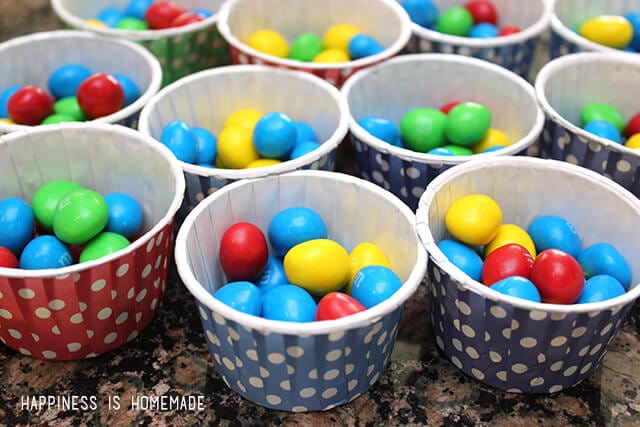 (and M&M's in superhero colors!)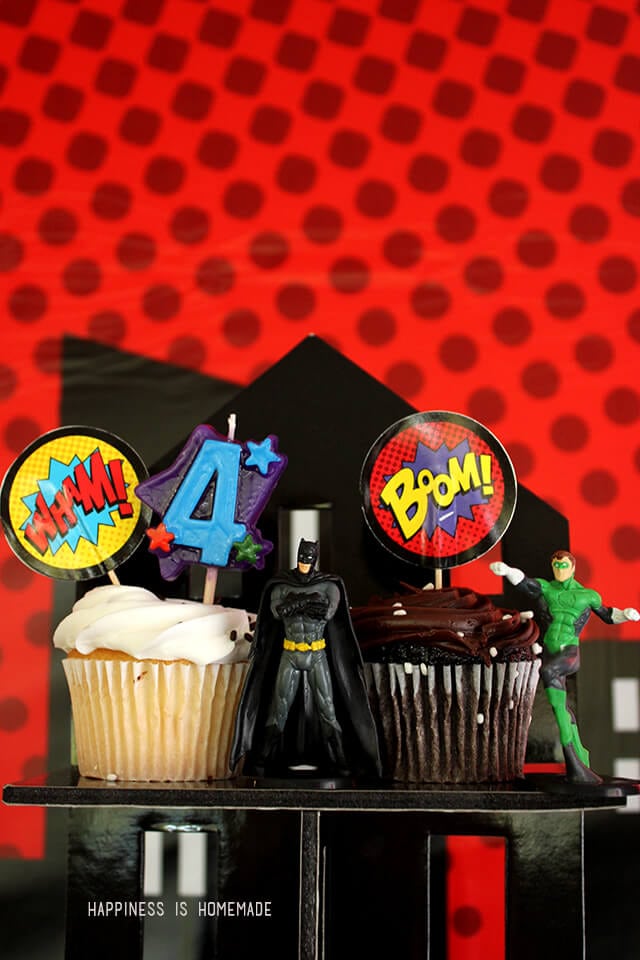 I grabbed a few of these little superhero figures from the dollar store, and the kids had fun placing them in different locations all evening long. They especially seemed to enjoy hanging out by the cupcakes.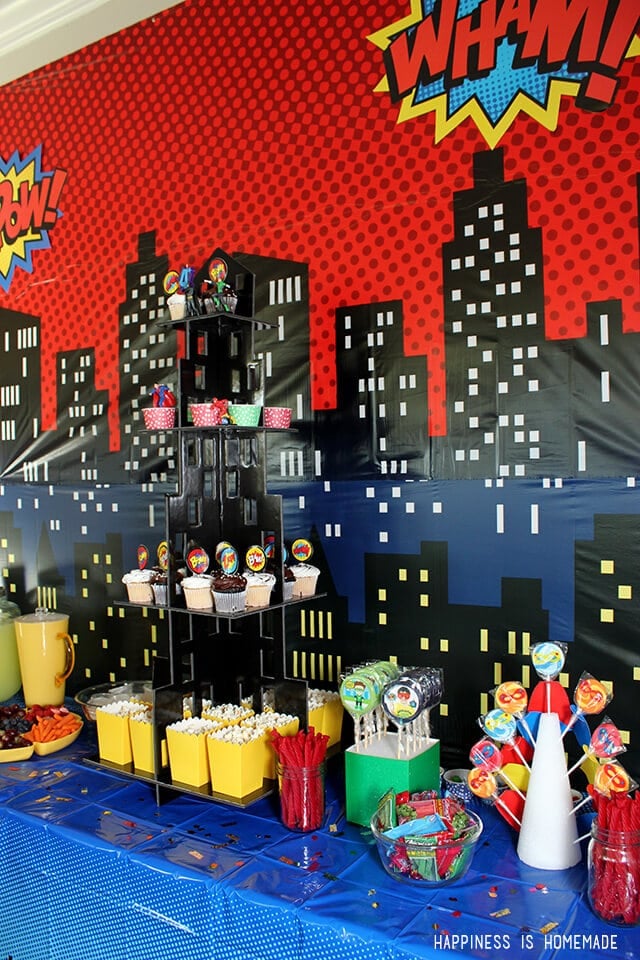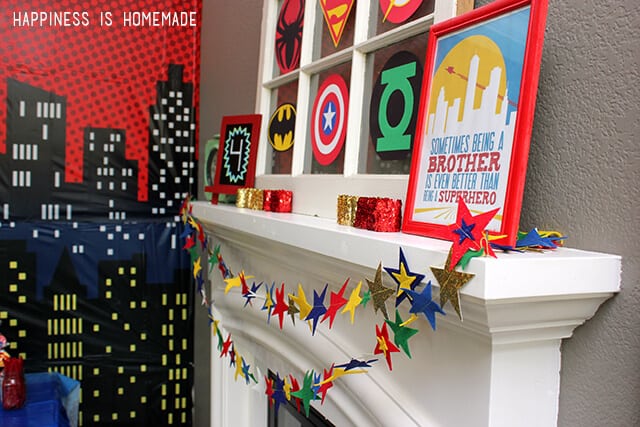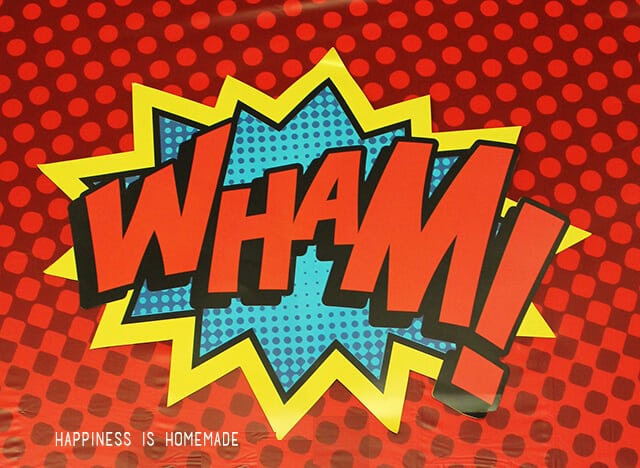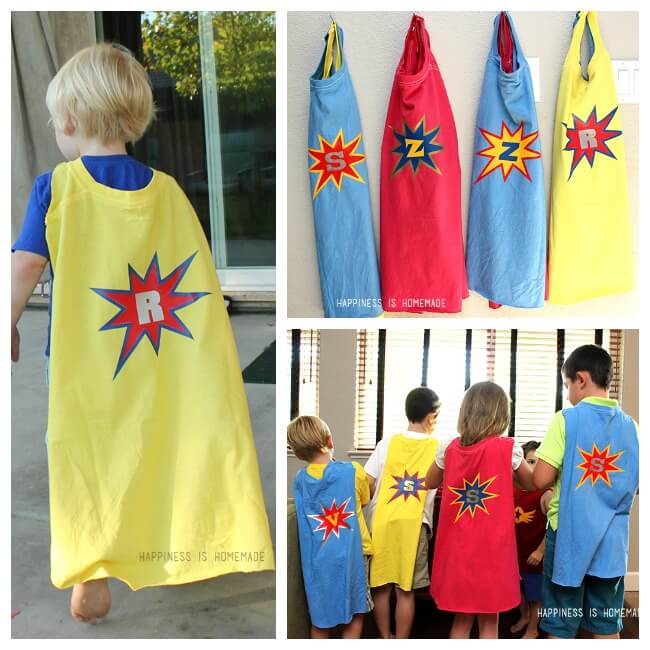 The party guests couldn't wait to get dressed up like superheroes in their new personalized capes!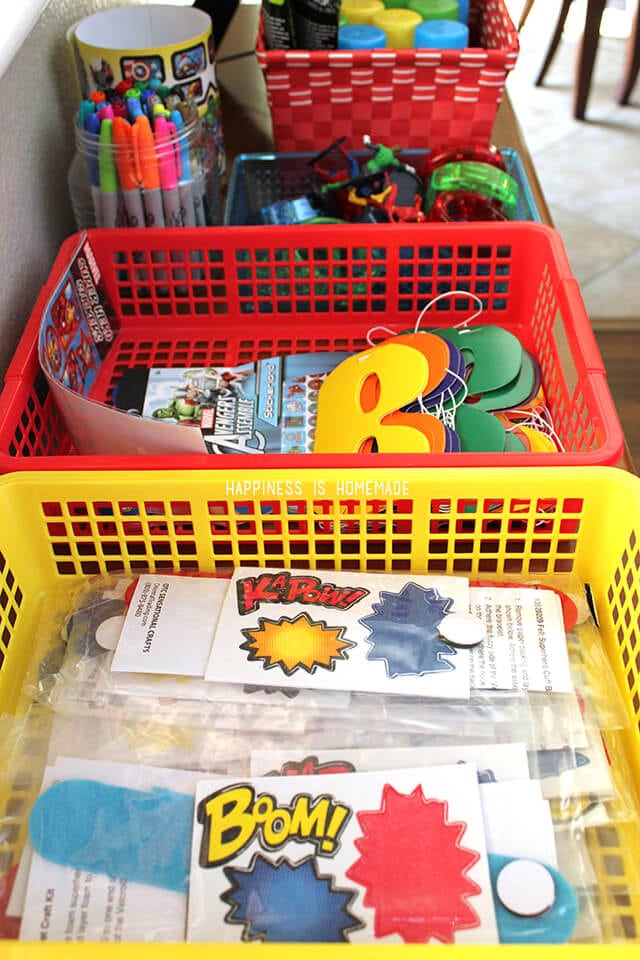 To keep the kids occupied until movie time, I set up a few superhero crafts and activities.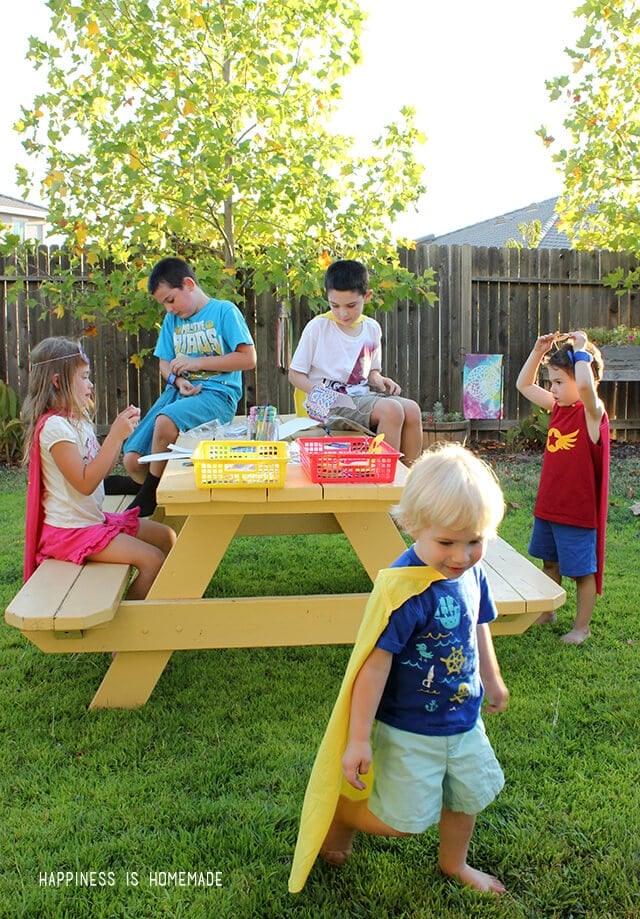 The kids gathered around the backyard picnic table to decorate paper masks and make superhero cuff bracelets.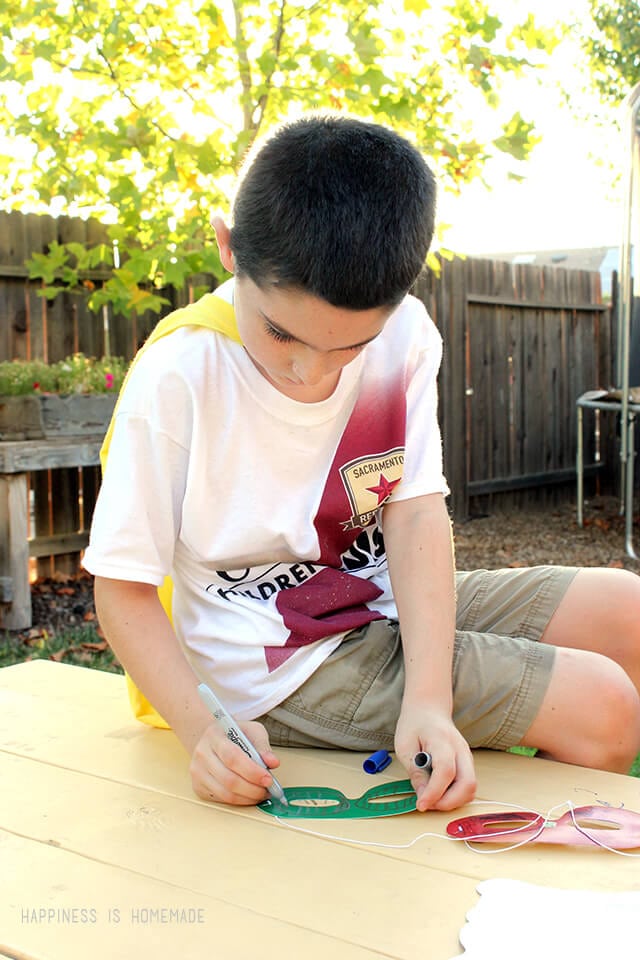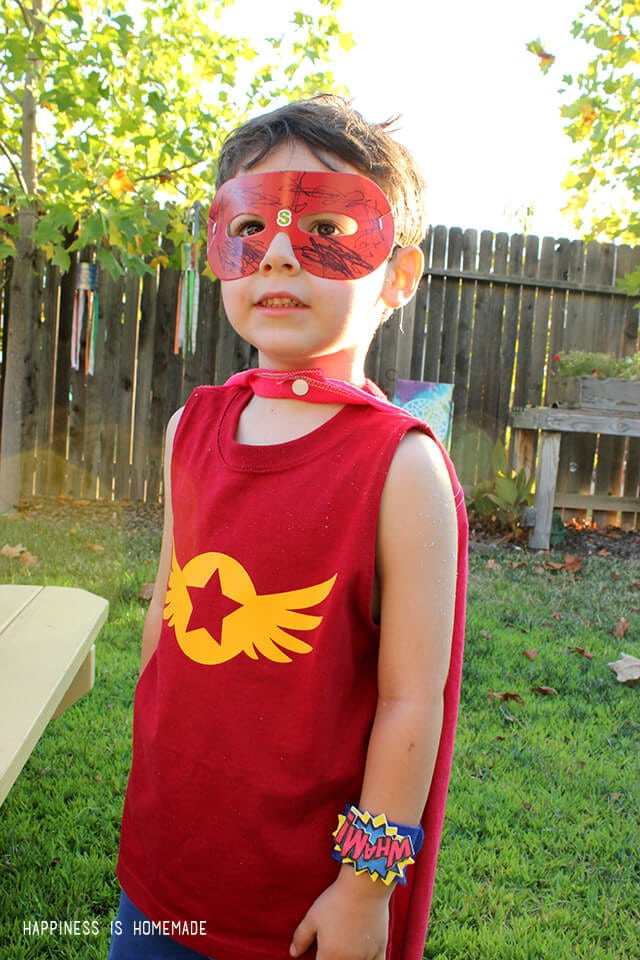 Once they were totally decked out in their superhero gear, it was time to test their super powers – with a silly string "spidey web" battle!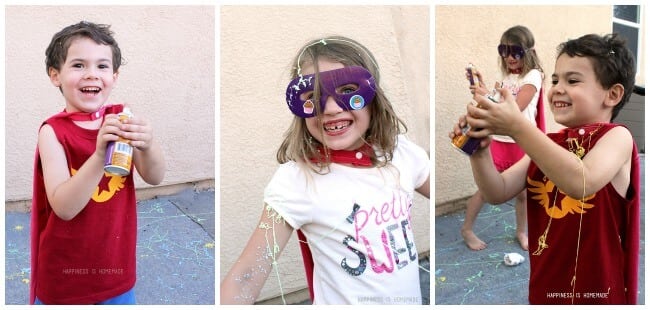 This was the best $10 ever spent at the dollar store! I was wishing that I had picked up twice as much silly string for twice the fun!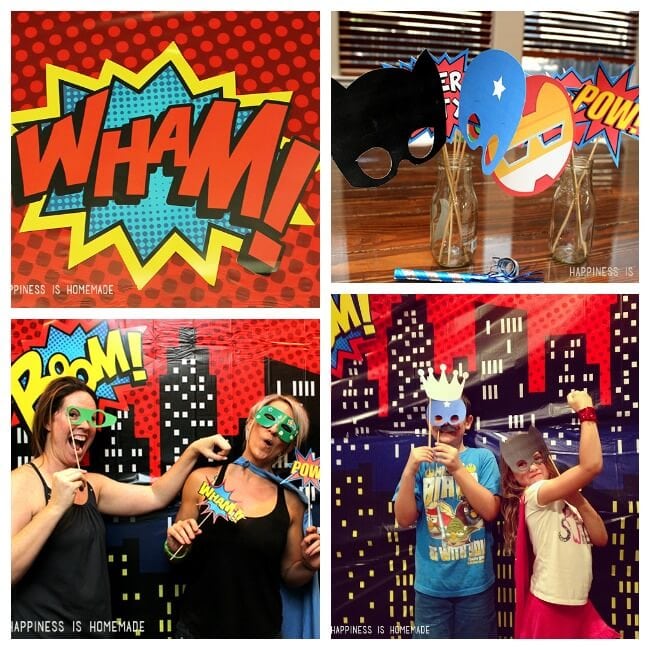 I used Cutesiness superhero clip art to create a set of photo booth props, and the adults had just as much fun as the kids did playing around and hamming it up for the camera!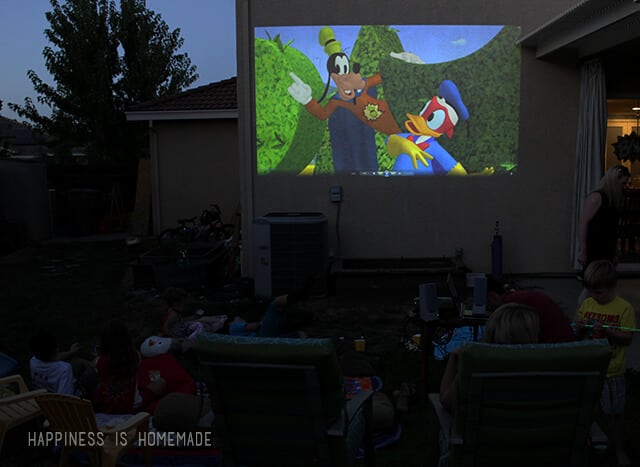 As the sun set, we spread out blankets, pulled out the lawn chairs, and cracked open glowsticks for backyard movie night. The feature film of the evening was Mickey Mouse Clubhouse: Super Adventure, and the kids loved it! It was totally perfect for our group of 2-8 year olds, and at an hour long, it was the appropriate length to keep their full attention, too.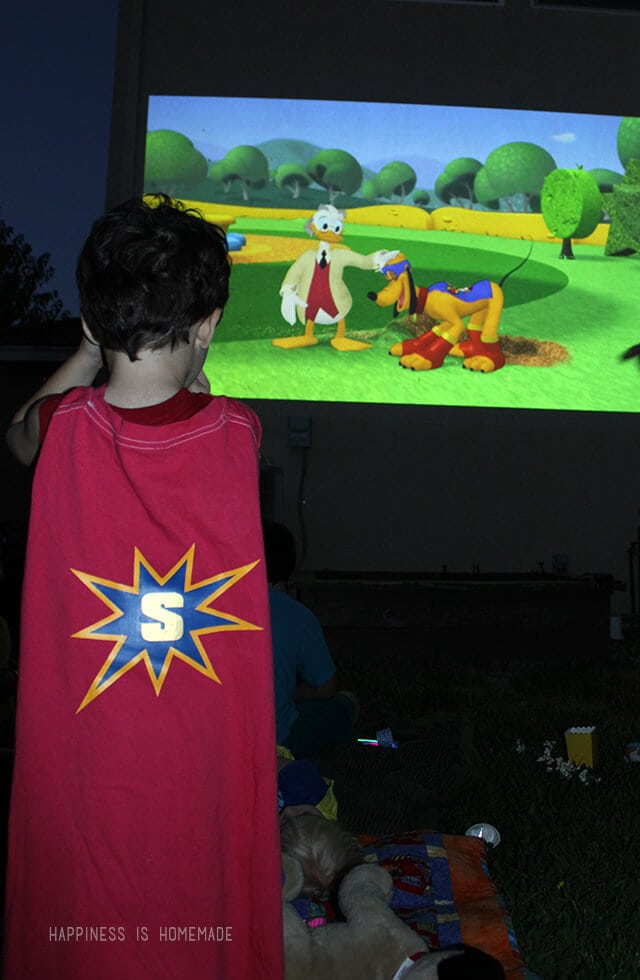 Simon had a fantastic party, and we couldn't have done it without the help of a few generous companies who provided us with these awesome party products (thank you so much!):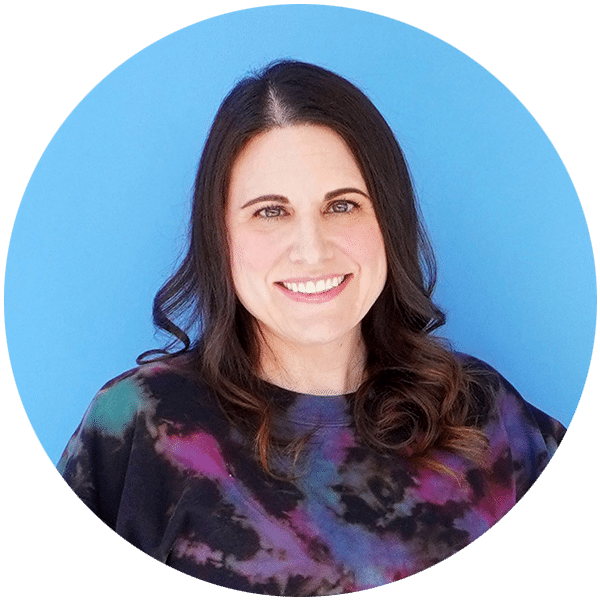 Heidi Kundin has captivated the hearts of millions with her colorful and inspiring approach to crafting, celebrations, and family fun. With over 15 years of experience, Heidi's website has become a must-visit destination for those seeking quick and easy creative ideas and last-minute solutions. Her warm personality shines through her posts, inviting readers to join her on a creative journey that's fun, rewarding, and achievable.