This Vanilla Pumpkin Spice Sugar Scrub smells amazing and leaves your skin silky smooth! Whip up a batch in just five minutes!
It's time for another edition of Craft Lightning, and I've teamed up with a super talented group of ladies to share some awesome creative ideas that can be made in 15 minutes or less! This all-natural DIY vanilla pumpkin spice sugar scrub can actually be made in about FIVE minutes (which means it also makes a fantastic last-minute gift idea!).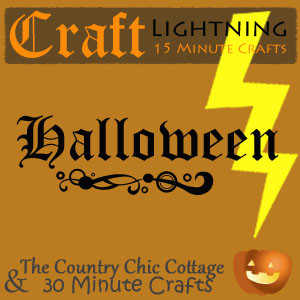 I have to admit, I had planned on sharing a totally different 15-minute Halloween craft idea with you today, but it ended as a big fat failure. Not to worry though, I already have plans to salvage and resurrect it, but instead of having a Halloween craft to share with you today, this is really more of an autumn themed idea. Fall, pumpkins, Halloween…it all runs together in our house anyway!
A couple of weeks ago I made a divine 10-minute pumpkin spice shea butter soap, and I can't get enough of the smell. I find myself walking by the bathroom or kitchen sink to wash my hands an extra time (or ten!) each day just to smell that lovely aroma. I am totally one of those people who love pumpkin spice everything (#pumpkinspiceeverything, yo!). Since our pumpkin spice soap supply is quickly dwindling, I decided to whip up a batch of vanilla pumpkin spice sugar scrub for my shower, and I think the smell might be even better than the soap!
For an 8-oz container of sugar scrub, simply mix together 1 cup of granulated sugar, 1/4 cup of coconut oil, 2 tsp. of pumpkin pie spice, and 2 tsp. of vanilla extract. That's it! Super easy peasy to make, and the smell is out-of-this-world incredible!
For more of our fall and Halloween crafts (including last year's 10-Minute Halloween Headband Craft Lightning post!), be sure to check out the Halloween project gallery!
You may also enjoy our other DIY bath & body product tutorials:
[riview id=297 num=2000 orderby=title order=asc size=200×200 showtitle=always lightbox=0]