Outdoor Halloween Yard Decorations
This post and its photos may contain affiliate links. As an Amazon associate I earn from qualifying purchases. If you make a purchase through these links, I may receive a small commission at no extra cost to you!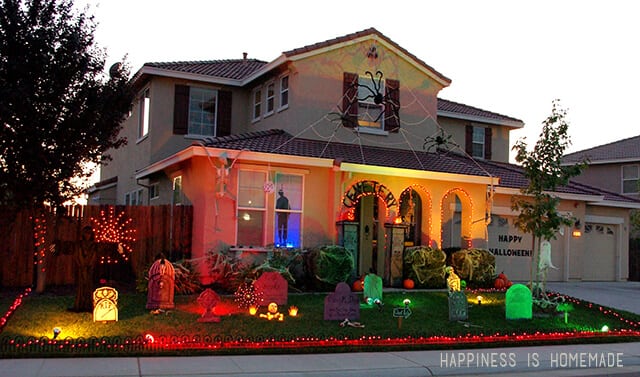 I love everything about Halloween – the decorations, the costumes, the pumpkin carving, and of course, the candy (#Treats4All)! Each year our neighborhood association hosts a Halloween yard decorating contest, and we've always placed in the top three. After using the same decorations in different configurations for the past few years, this year we're thinking about switching things up and going with a completely new theme. Our association doesn't allow us to put out decorations until October 4th, so I decided to browse through our old photos for inspiration to tide me over until then, and I realized that I've never actually shared them on here with y'all! Take a peek at some of my past favorites, and hopefully you'll find yourself inspired, too!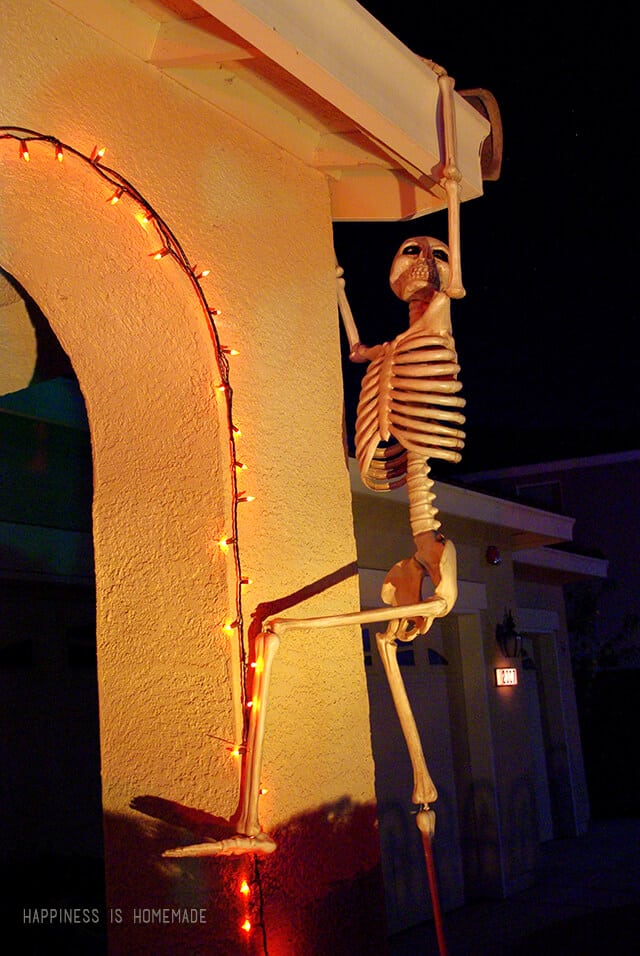 These climbing skeletons were wildly popular! We placed one on each of the front corners of the house, and rigged them so that they appeared to be scaling the side of the house.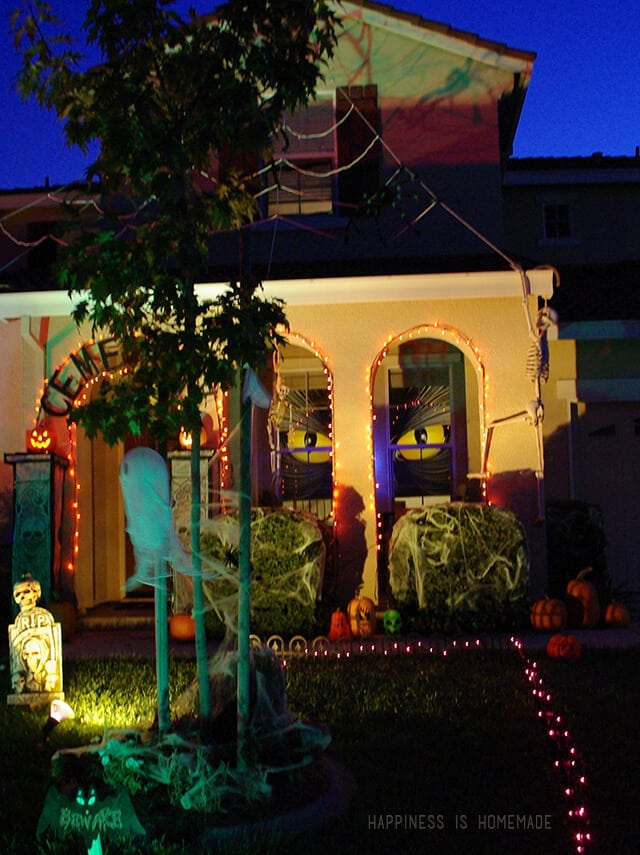 Backlit window decorations like these glowing eyes are incredibly simple and inexpensive, yet they make a big impact!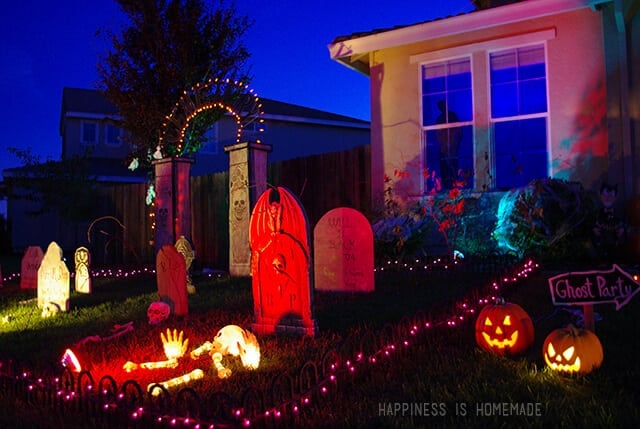 We reconfigure our cemetery each year, but it's always an important and central part of our yard decor. The boys are usually in charge of the layout of the cemetery, so it can sometimes look a little random or haphazard, but we just chalk it up to being part of the abandoned and dilapidated look! The kids have so much fun setting up all of the decorations, but I think that the adults might have even more fun with it!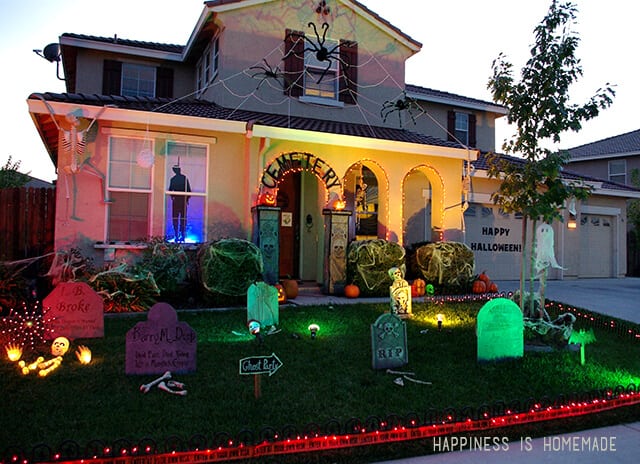 The giant spiderweb on the roof is made from rope and eye bolts, and the spiders came from various Halloween stores. I love how much detail and dimension it gives to the second story of the house even though it's relatively simple.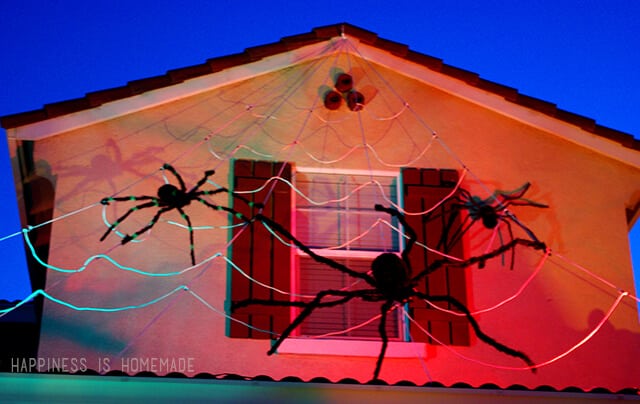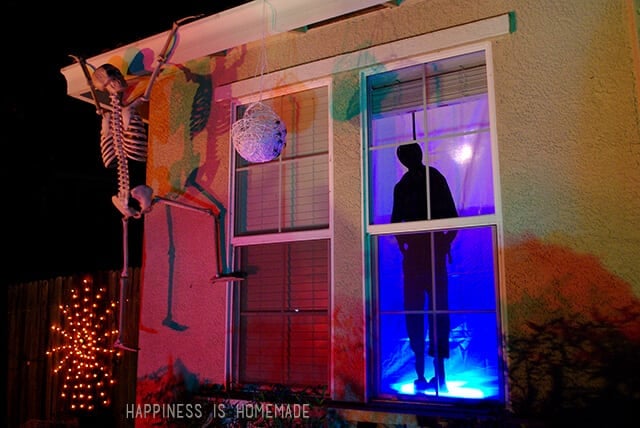 The hanging man is simply black paint on a white sheet hanging inside the window. A black light upon on the window sill creates an eerie glow and draws the eye towards the window. In addition to the climbing skeleton, I also added some spider egg sacs made from liquid starch, yarn and plastic spiders to the corner of the house.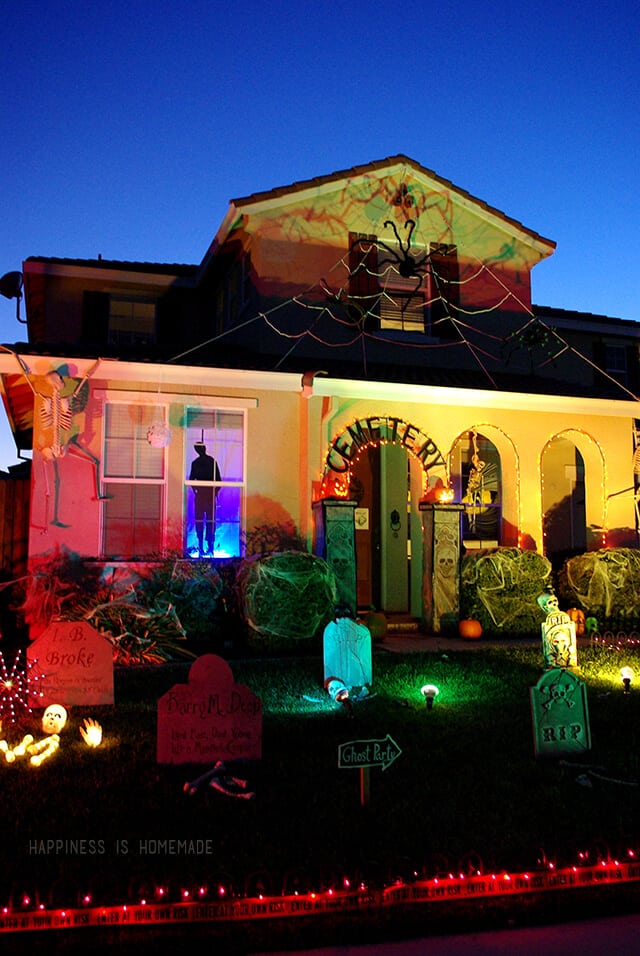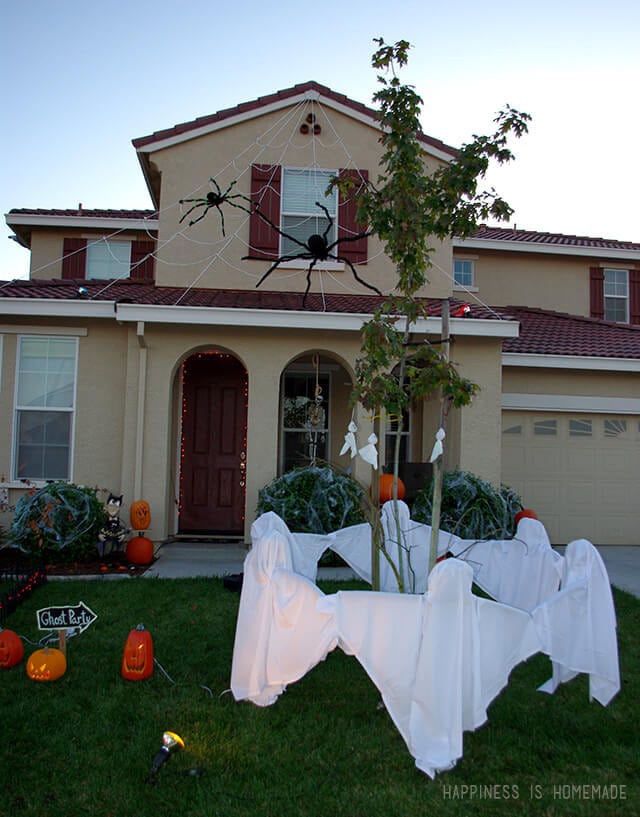 A couple of years ago we set up a ring of ghost children around the base of our tree. The frames of the ghosts are made from PVC pipe, foam pipe cover, and balls of newspaper and tape for the heads. The white covers were simply pieces of sheets that have been cut and tied to look like ghostly figures. By day the ghosts were cute and fun…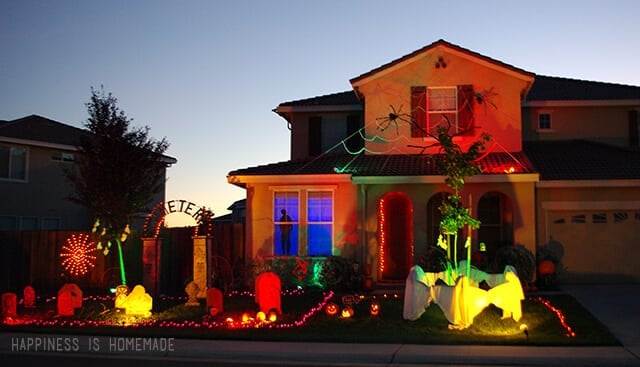 …and as the sun set they looked much more creepy! They still look kind of sweet here, but once we turned on the fog machine the whole scene turned incredibly spooky!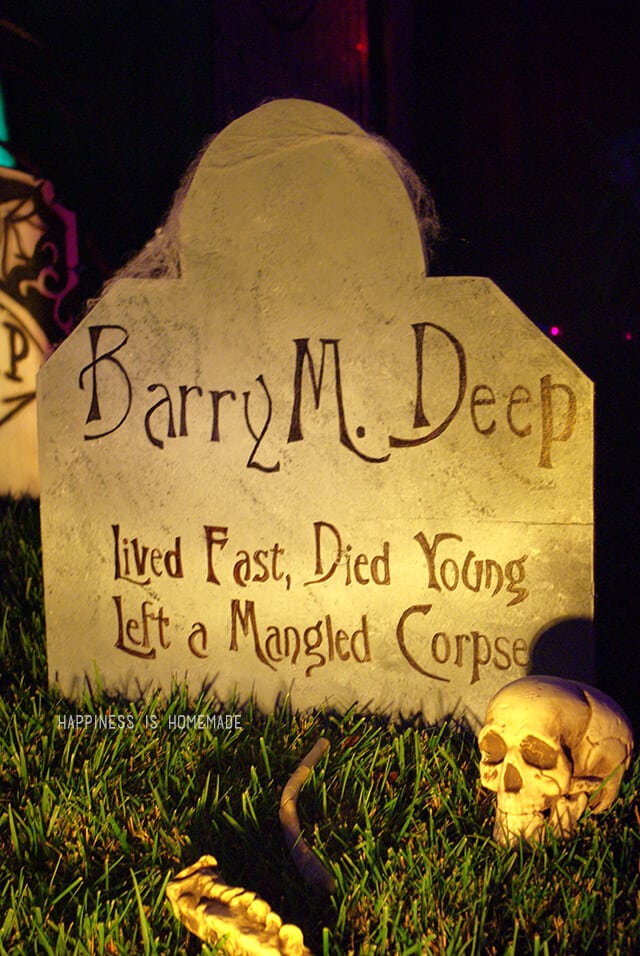 We change up the tombstones every couple of years, too. These first ones were made from plywood, paint and permanent markers.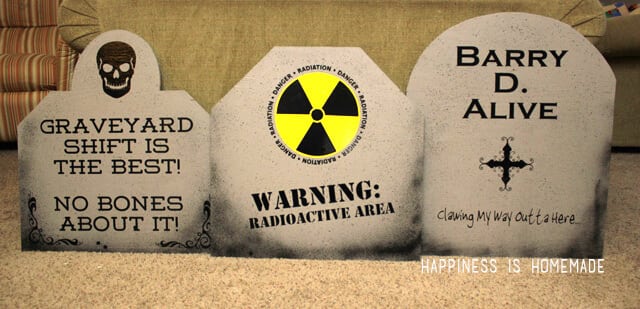 Our most recent versions were also made from plywood, but with the addition of spray paint shading and vinyl lettering and embellishments. If you have any humorous or clever tombstone suggestions, I'd love to hear them in the comments below!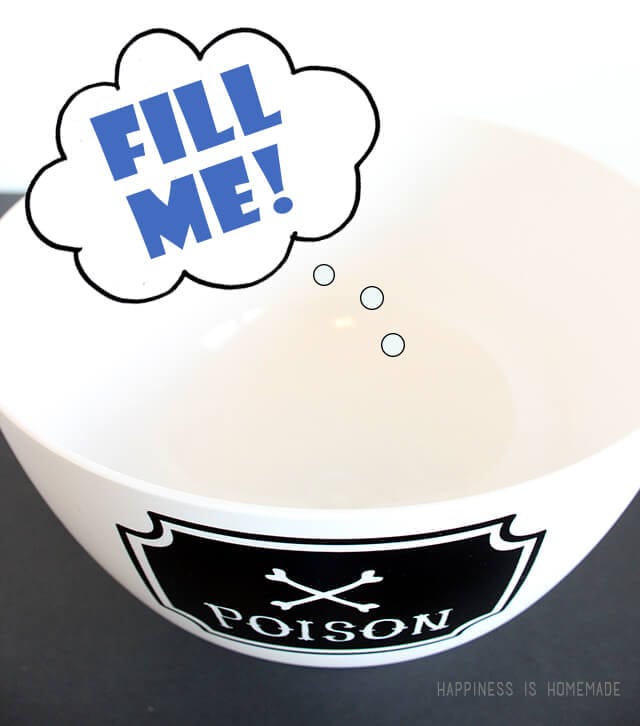 Once the yard is decorated and ready for little visitors, it's time to fill up that empty candy bowl! Okay, so maybe we haven't actually decorated our house yet this year, but I still couldn't wait to fill up my new candy bowl!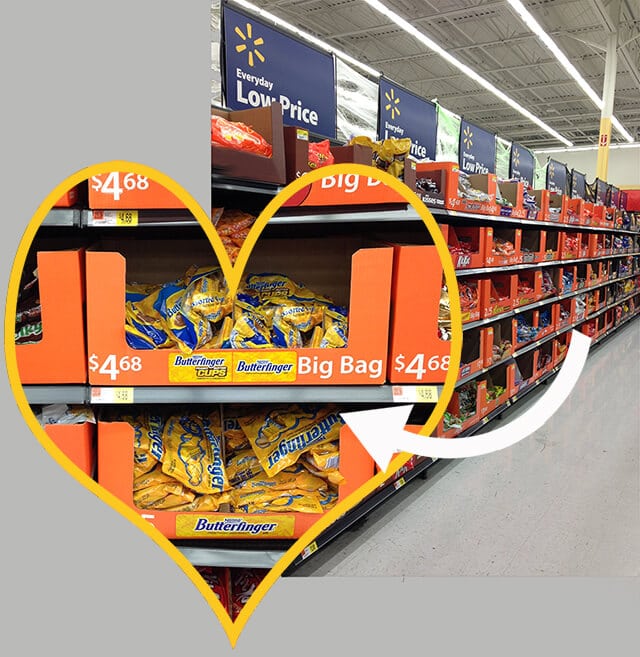 I think the Halloween candy section at my local Walmart gets bigger and bigger each year – what a huge selection! I always make a beeline right for our favorites – Nestle Butterfingers!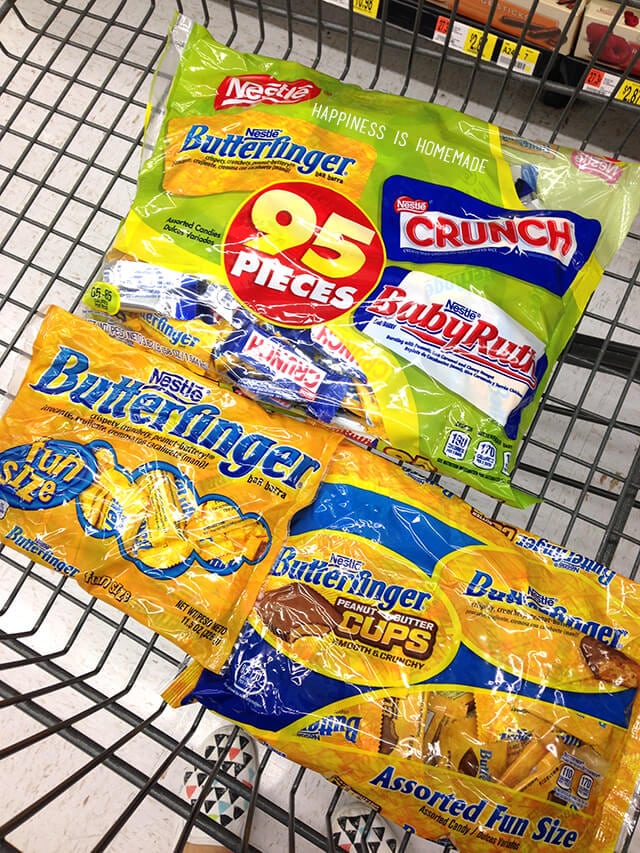 I'm pretty sure that I'm going to need to come back for Round Two before Halloween though. We get a TON of trick-or-treaters since our house looks so inviting!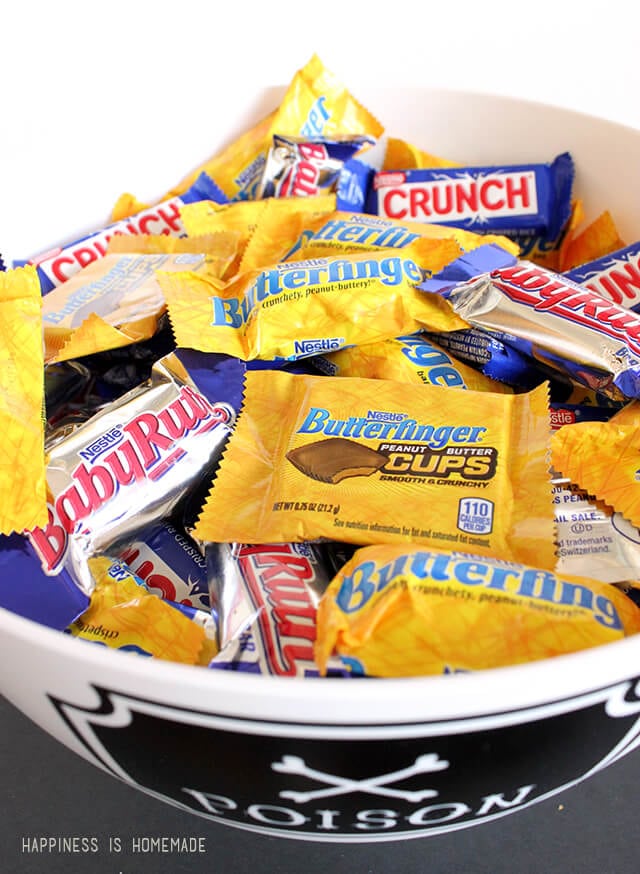 You can't entice all of those kids up to your door and not offer them the good stuff! We always have a stash of the very best Nestle candy to pass out – this year it's Butterfingers, Butterfinger Cups, Baby Ruths, and Nestle Crunch Bars. YUM!
I'm getting really excited about this year's decorations, but I still haven't settled 100% on a new theme for this year. If you decorate your house for Halloween, what are your favorite decorations? I'd love to hear some of your ideas!

This post is brought to you by #CollectiveBias and their client; however, all opinions are my own.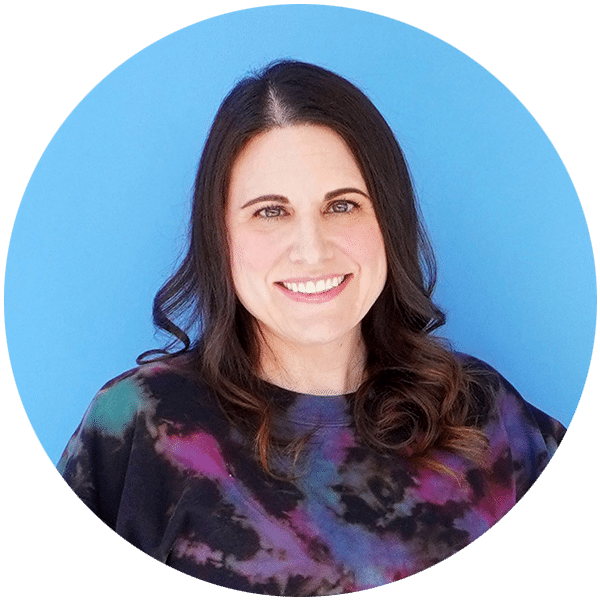 Heidi Kundin has captivated the hearts of millions with her colorful and inspiring approach to crafting, celebrations, and family fun. With over 15 years of experience, Heidi's website has become a must-visit destination for those seeking quick and easy creative ideas and last-minute solutions. Her warm personality shines through her posts, inviting readers to join her on a creative journey that's fun, rewarding, and achievable.