The Thankful Tree
This post and its photos may contain affiliate links. As an Amazon associate I earn from qualifying purchases. If you make a purchase through these links, I may receive a small commission at no extra cost to you!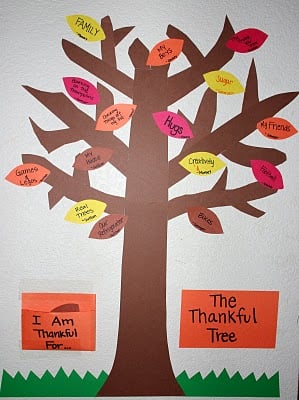 With our newborn taking up lots of my time and attention, the big boys have been allowed to watch a bit more television these days, and they've been begging me to add EVERY toy that they see on commercials to their holiday wish lists. I decided that it was time for a shift in their focus, so we created our Thankful Tree (perfect for Thanksgiving too!).
They cut out the branches out of 12×18 construction paper, and I assembled them into a tree form and cut out a bunch of leaves for our thank you notes. I didn't get a full wall shot, but the finished product is an impressive 3 feet tall! Every day we've been coming up with at least one new thing that we're thankful for (Sutton likes to add at least 2-3). Though it hasn't curbed their cries of "I want that!" whenever a Hot Wheels commercial comes on, it has definitely shifted their attitude to one of gratitude. Several times over the weekend they stopped whatever they were doing to tell me that they had something to add to the Thankful Tree. This is a great activity, especially at this time of year, and the results can be pretty humorous!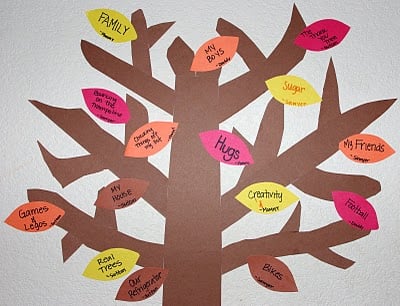 We're thankful for many things including hugs (Mommy), football (Daddy), our refrigerator (3-year-old), sugar (the 4-year-old, right after eating some Halloween candy), and the Thankful Tree itself (3-year-old again). Of course, we're also thankful for family, friends, and all of our toys, but those aren't nearly as funny 🙂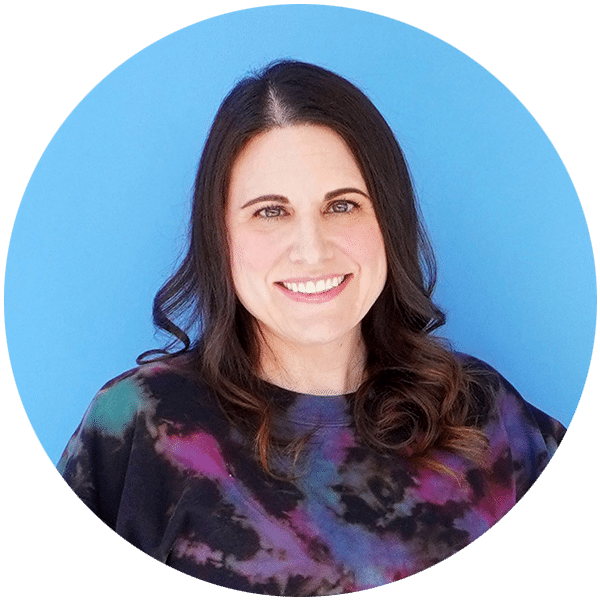 Heidi Kundin has captivated the hearts of millions with her colorful and inspiring approach to crafting, celebrations, and family fun. With over 15 years of experience, Heidi's website has become a must-visit destination for those seeking quick and easy creative ideas and last-minute solutions. Her warm personality shines through her posts, inviting readers to join her on a creative journey that's fun, rewarding, and achievable.