This weekend's forecast finally calls for some Fall-like weather, but since it has been so warm around here lately we're severely lacking some brilliant Fall leaves and anything else that might remind us that it's already Autumn. Despite the current absence of Fall, when I saw these gorgeous leaf lanterns over at Twig and Toadstool last week I knew that I had to find a way to make some for myself.
I attempted to collect some leaves from my parents' house since they have dozens more trees than we do. Unfortunately just-barely-yellowing leaves were the best that I could come up with, and they definitely weren't inspiring me in the way that I had hoped. Fortunately for me, my dad seems to have inherited Grandmom's affinity for gathering and pressing leaves and flowers in between pages of old books…and then forgetting about them until something triggers their memory to remind them that they are still hidden there. Up on the top bookshelf, carefully tucked between the pages of "The New Book of Knowledge," we found stem upon stem of brilliantly colored Japanese Maple leaves in every hue of the season. Perfect!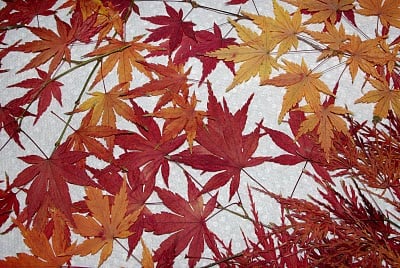 I found an old glass piece in my cupboard, grabbed my Mod Podge and started getting creative…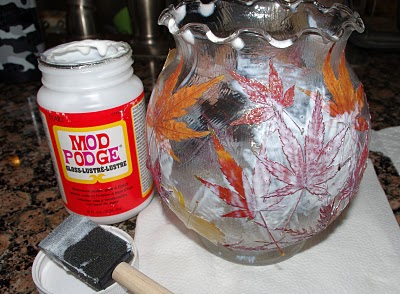 When Sutton saw my lantern drying on the counter he wanted to make one too, so he chose an empty glass pasta sauce jar to upcycle into his own lantern. I set up all of the supplies for him, and then he took over and did the project entirely on his own. I have to say that I'm pretty impressed with his focus these days, and the end result was lovely!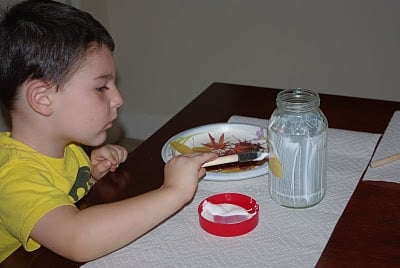 Our lanterns cast an inviting and soothing warm glow, and they definitely fill the missing leaf void that we were experiencing! They brought the final element of Autumn to our collection of acorns, pumpkins and indian corn that grace our Fall nature table, and I'm so glad that my dad had the bits and pieces that we needed to make it happen (thanks Dad! ♥)