Tips + Tricks for Gorgeous Gift Wrap
This post and its photos may contain affiliate links. As an Amazon associate I earn from qualifying purchases. If you make a purchase through these links, I may receive a small commission at no extra cost to you!
Use these handy simple tips and tricks for making your holiday gift wrap gorgeous and display-worthy! Hint: it's all about the layers!
When it comes to holiday gift wrapping, presentation is everything! Okay, the gift inside the package is pretty important, too, but if you're like me, and you enjoy displaying your wrapped gifts for a long while before Christmas Day, I'm sure you also like to make them look nice!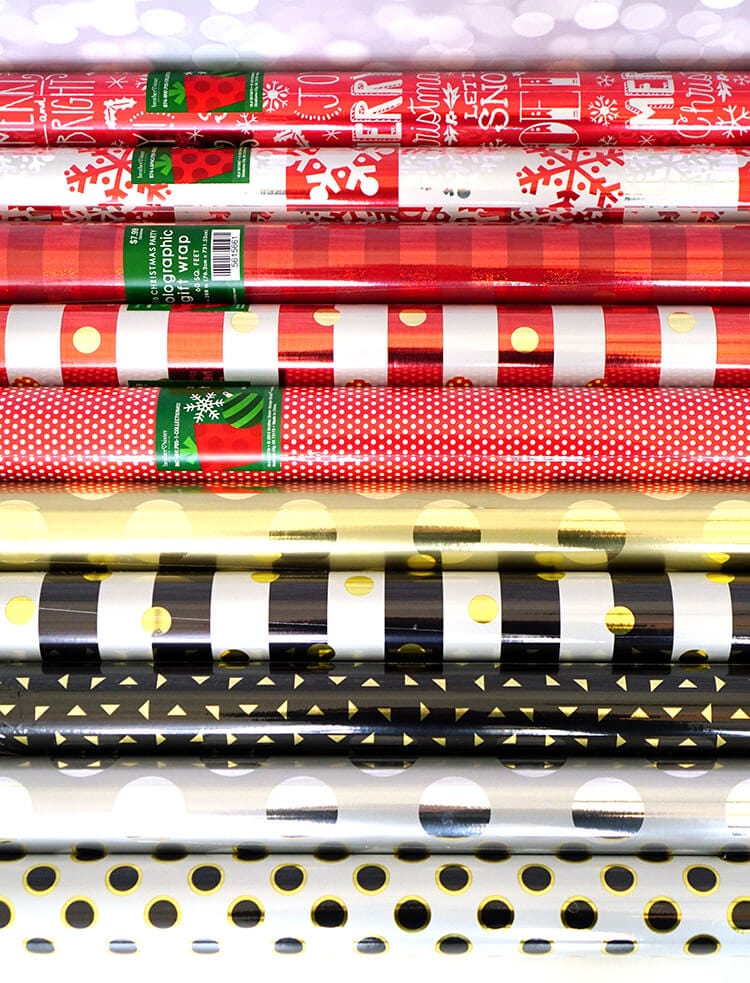 When it's time to wrap my holiday gifts, I always head straight to Hobby Lobby! They have a HUGE selection of gift wrap in a ton of different colors, so it's easy to mix and match to create your own custom combination. Our Christmas tree is filled with red, black, gold, and silver ornaments and ribbons this year (with lots of glittery metallic sparkle and buffalo plaid), so I selected gift wrap to compliment the theme. Don't forget to take a peek in the regular gift wrap aisle as well (near the party goods, not in the holiday section) – that's where I snagged this amazing black and gold triangle print that works perfectly with the other gift wraps!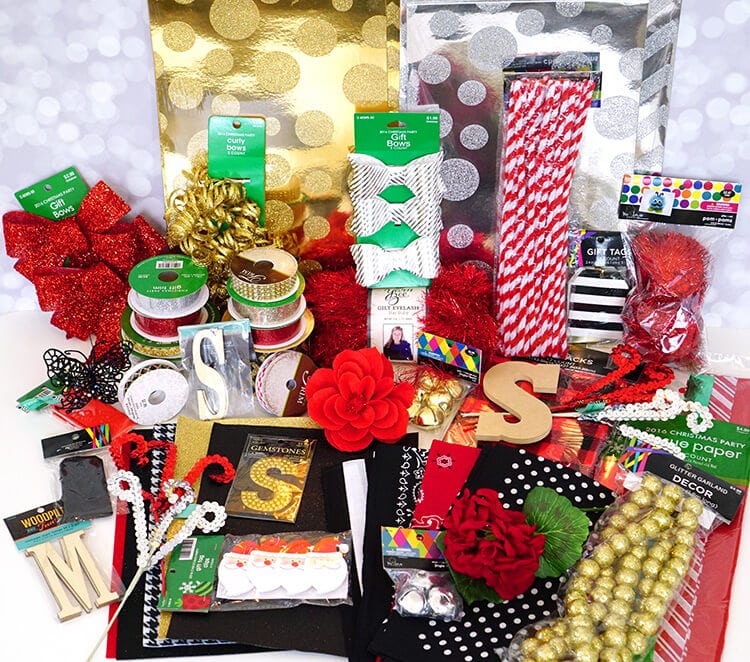 Of course, you can't forget all of the gift tags, ribbons, and embellishments! The holiday aisles have an abundant selection, but I like to visit the other areas of the store to pick up some other materials as well. The craft section has tons of wooden letters that make great gift tags (and can double as an ornament when you're done!), sparkly glitter felt, jingle bells, bandanas, pom poms, chenille stems, and lots more. One of my favorite areas to pick up gift toppers is the floral department – that's where I snagged these incredible faux flowers, shiny sequined picks, and sparkly butterflies (and they have even more ribbon in the floral department as well!).
Hobby Lobby's gift wrap is ultra high quality! It's super thick (aka peek-proof!), comes in large rolls with a handy grid on the back side for easy cutting, and my scissors glide through it like butter – SO nice!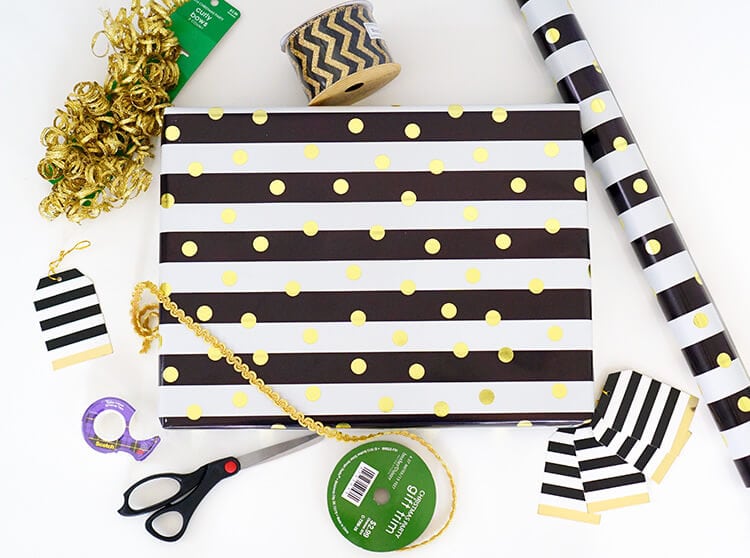 The gift wrap is really pretty on its own, so if you tend to lean towards a minimalist approach, just add a single ribbon/bow and a gift tag, and you'll have a simply elegant gift that's ready for giving. Personally, I lean towards the "more is more" approach with it comes to gift wrapping…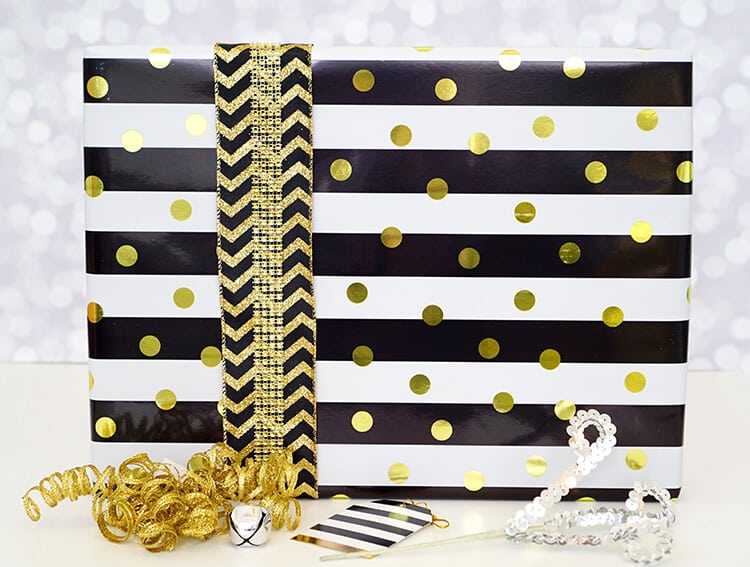 When I wrap my gifts, it is ALL about the layers! I like to layer gift wrap upon gift wrap with ribbons and embellishments galore. For this present, I used black and white striped gift wrap with gold metallic foil dots, layered with glittery black and gold chevron ribbon and gold "bling on a roll" rhinestones for lots of sparkle and shine.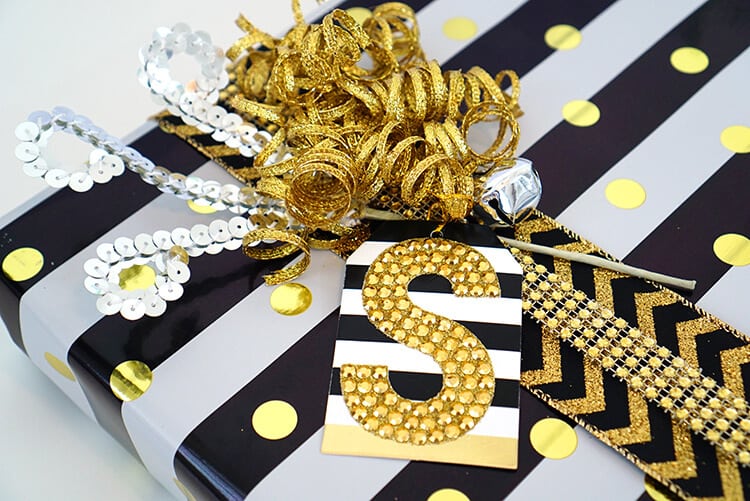 I added a rhinestone "S" to my gift tag and slipped it underneath a gold curly ribbon bow with silver jingle bells and a silver sequined floral pick for maximum shimmer.
See, "more is more," am I right? It's SO pretty!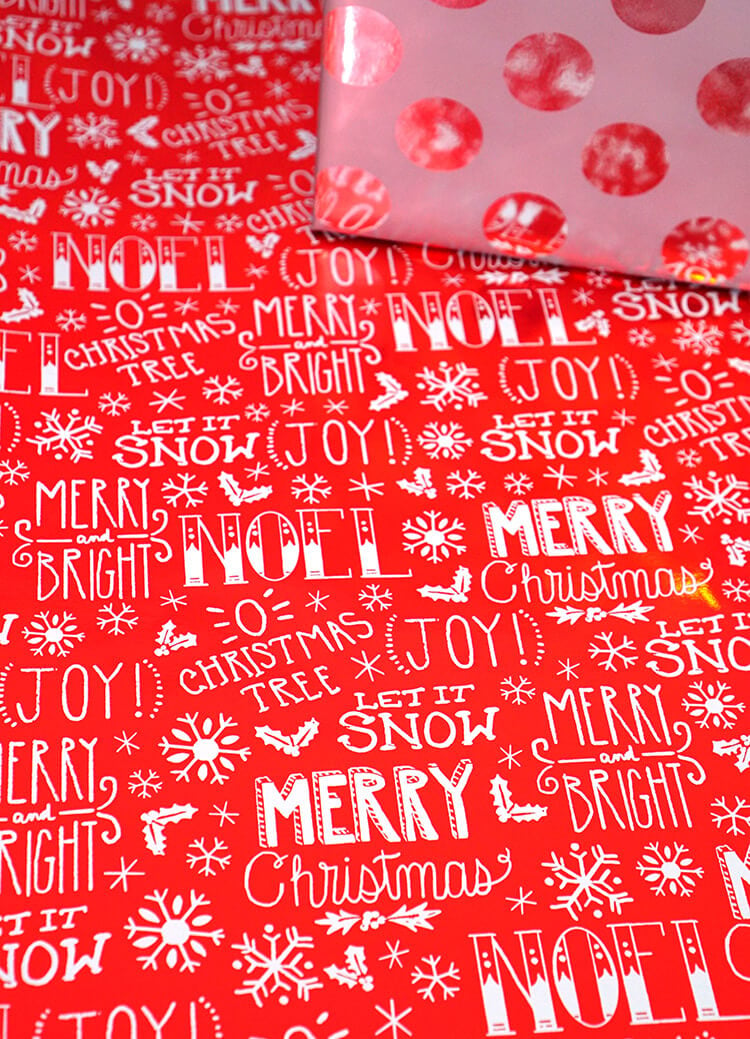 This hand lettered gift wrap is one of my most favorite ever! It's kind of hard to tell from this photo, but it's not actually red and white – it's a shiny red metallic foil with a silver print, and it's gorgeous!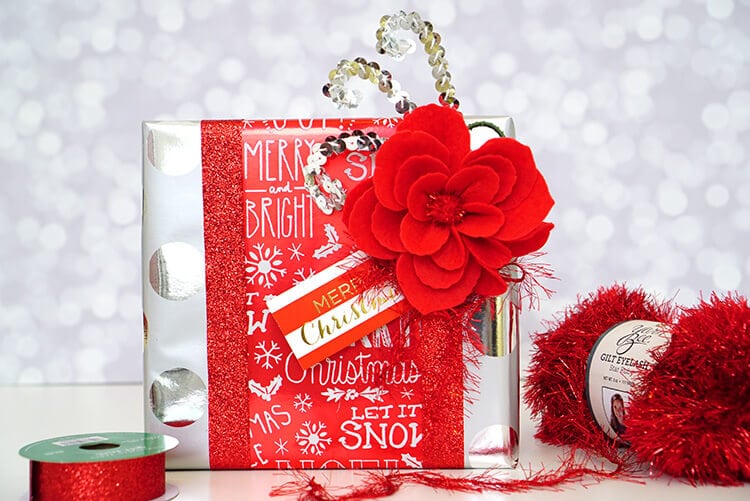 I can't get enough of these fun layers!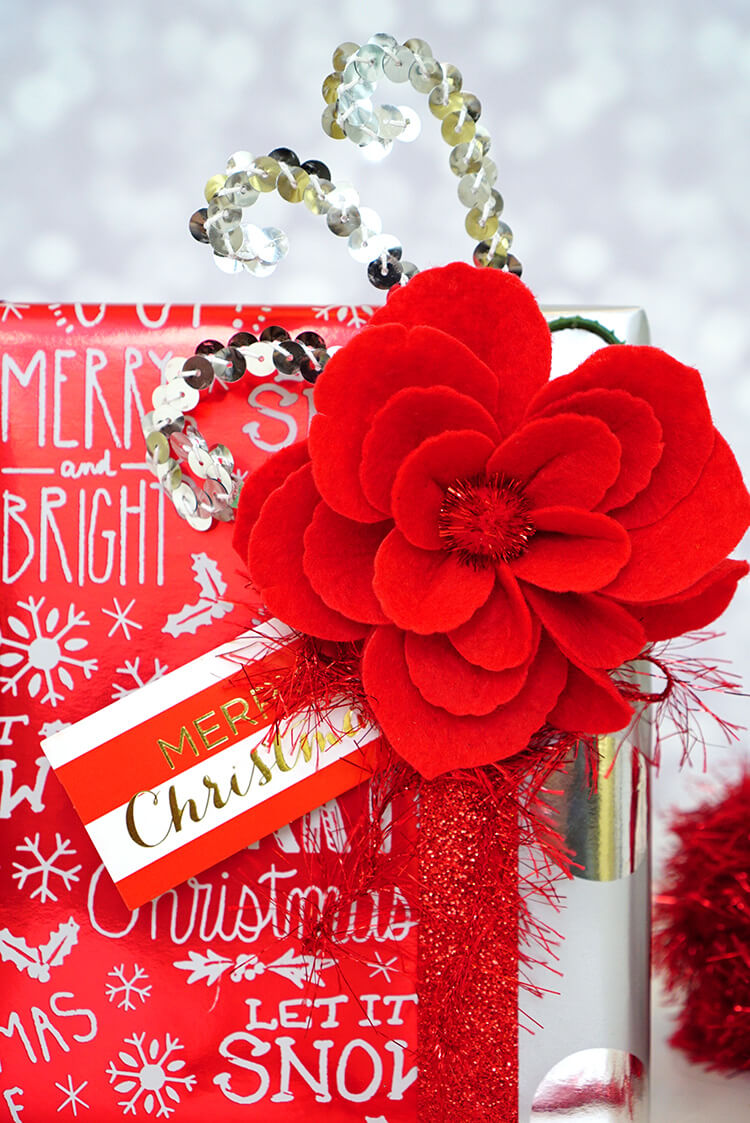 This gift is wrapped in silver foil polka dot gift wrap with a band of red and silver foil gift wrap on top, trimmed with strips of glittery red ribbon on either side. It's topped with a felt and pom pom flower, red sparkly "eyelash" yarn, a silver sequined floral pick, and a red and gold "Merry Christmas" gift tag.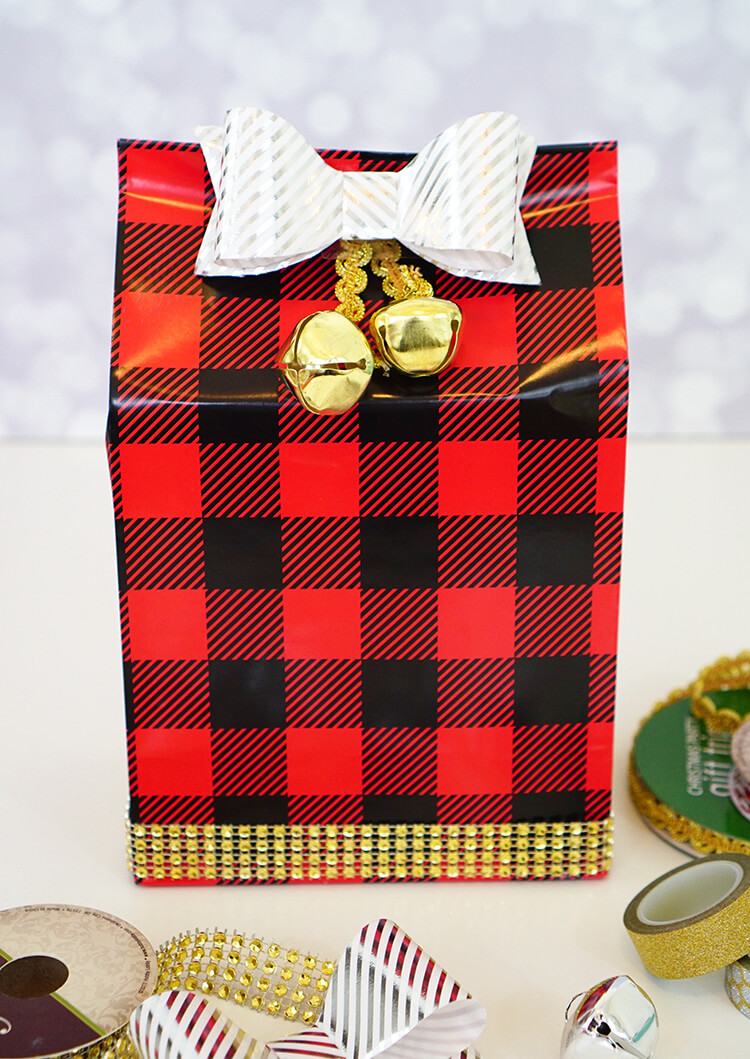 These buffalo check plaid bags were one of my favorite scores in my Hobby Lobby haul! I found them in the party section (as favor bags) near the other woodland and lumberjack party items. Bags make it SO easy to wrap up gifts, and these ones match the theme of my Christmas tree perfectly! I folded the top of the bag over, punched two holes about 1″ down from the top, and threaded a gold ribbon through the holes to tie it shut. Easy peasy! Of course, I couldn't just stop there, so I added gold jingle bells to the ends of the ribbon, gold rhinestone trim to the bottom of the bag, and a silver and white bow to top things off.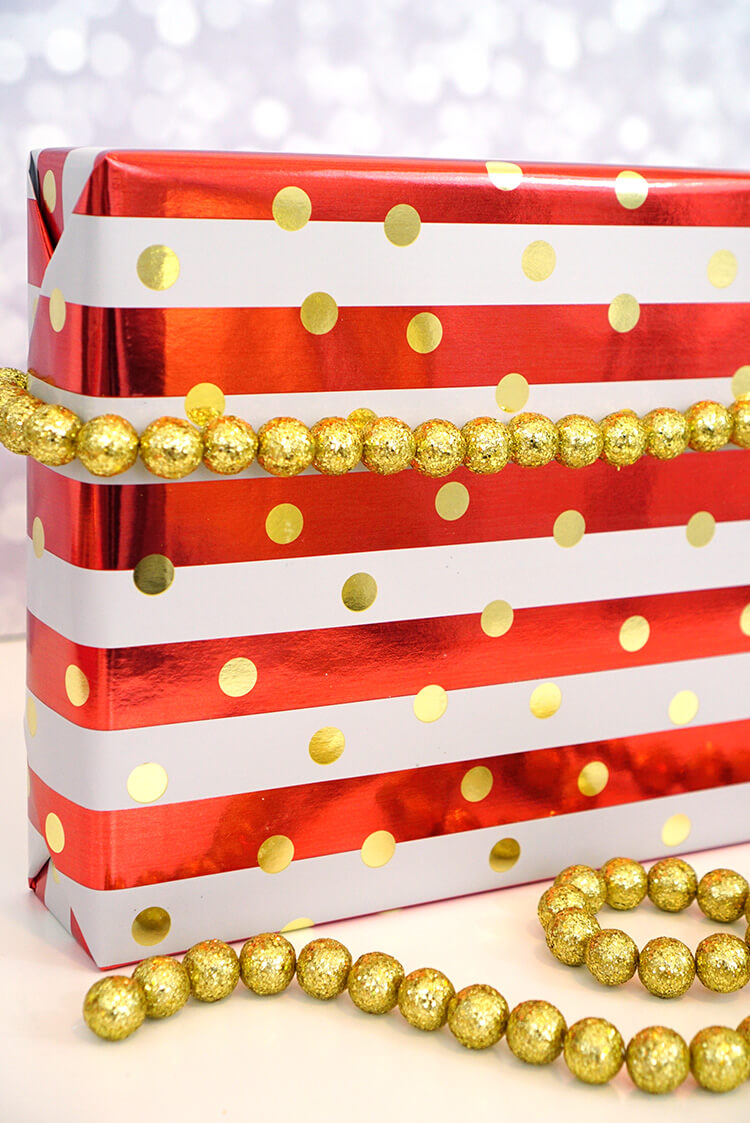 Another awesome find from the party aisle was this glittery gold ball garland! I can seriously think of about a hundred different ways to use it!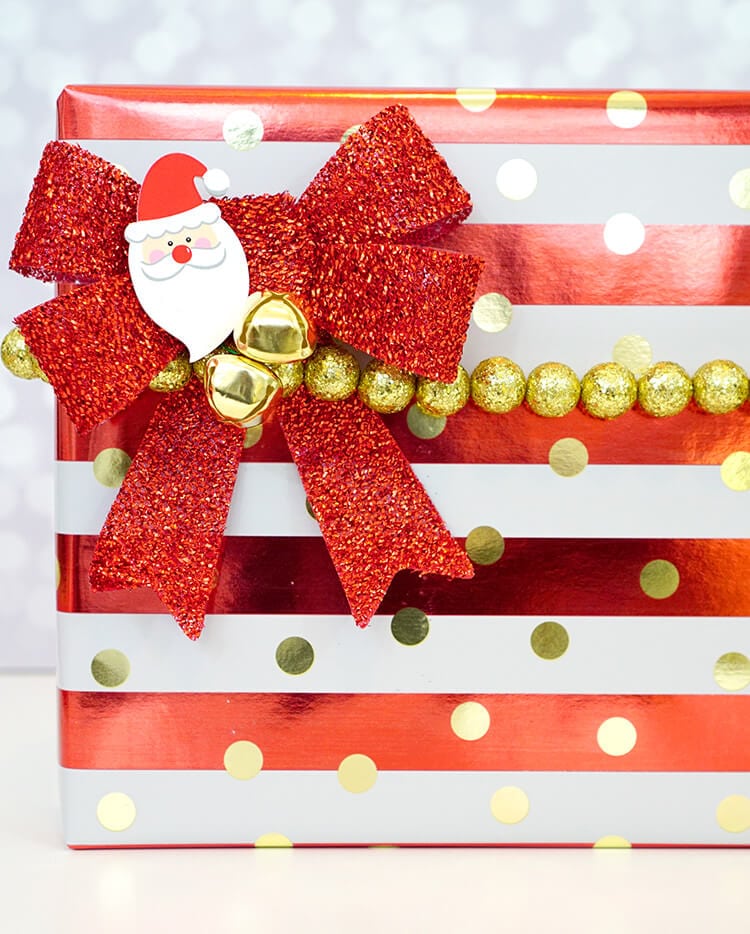 I used the shimmey garland to trim out this red and gold polka dotted gift, and I added a glittery red bow, clothespin Santa clip, and more jingle bells to complete the look.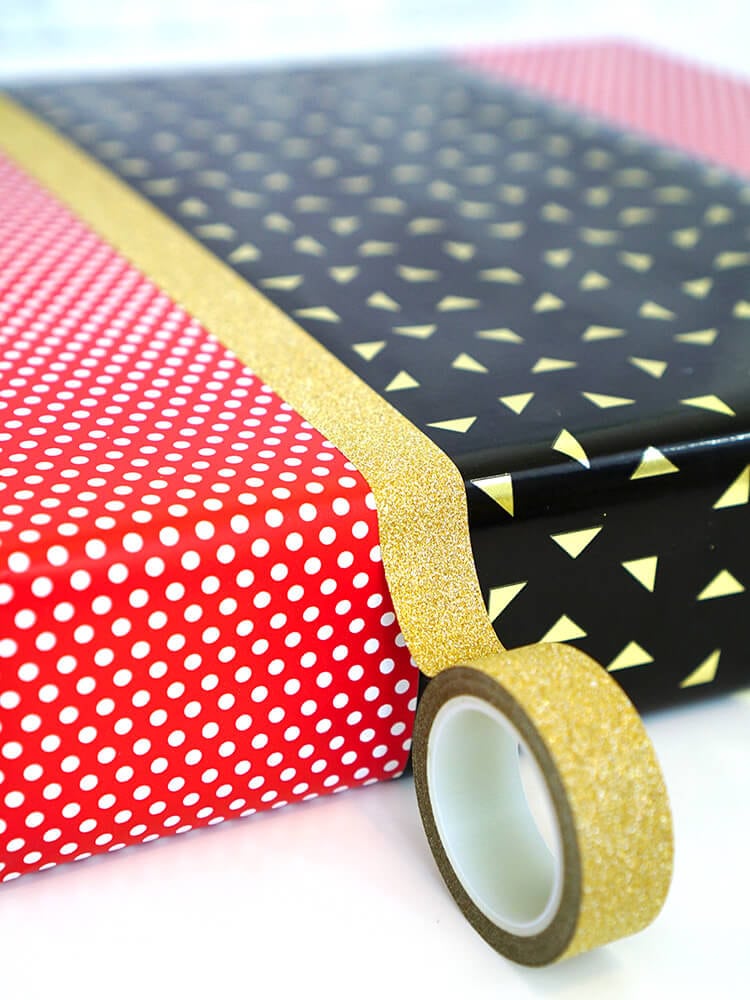 Adding layers doesn't need to be complicated! One of my favorite easy ways to add layering and dimension is to use strips of glittery washi tape. Here I added strips of tape to the edge of my wrapping paper accent piece which serves the dual purpose of helping to secure the second layer of gift wrap as well as giving the edges a pretty and clean finished look. Easy peasy!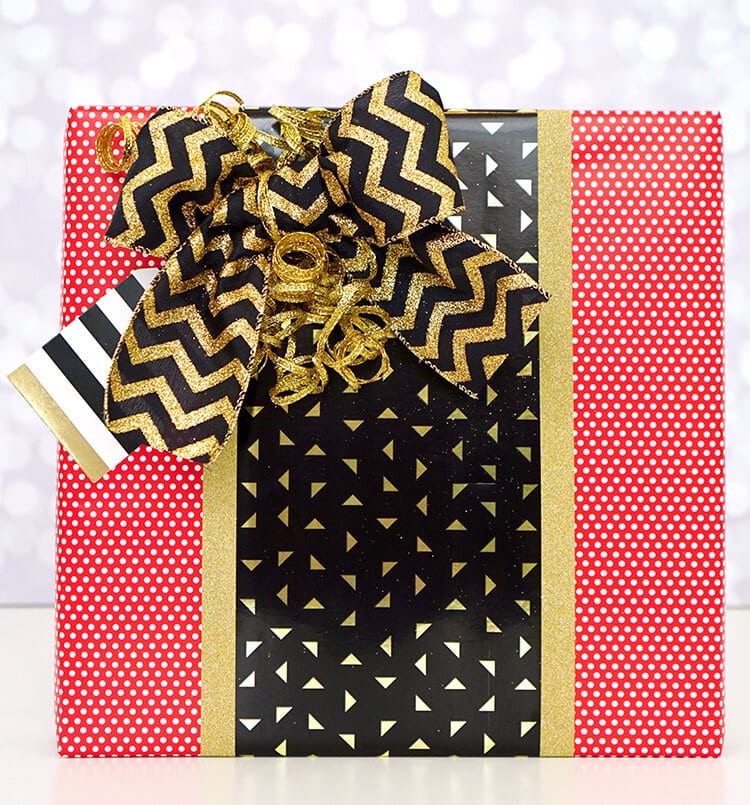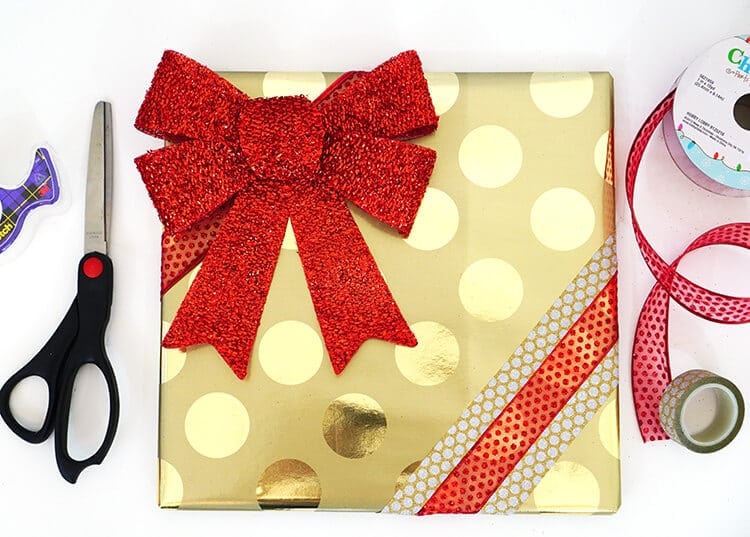 For this gift, I used silver and gold glittered polka dot washi tape to help secure the edges of my ribbon trim. Again, a super simple and easy way to add another layer of interest to your gift wrapping!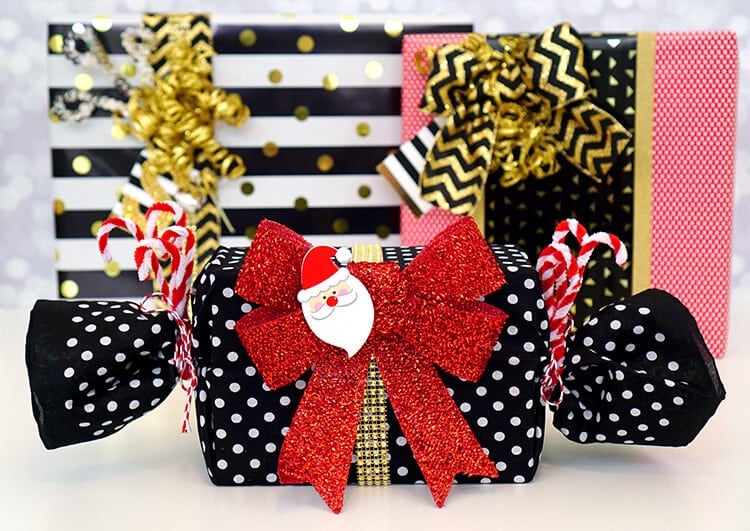 Remember, paper doesn't have to have ALL the fun when it comes to gift wrapping! I love wrapping gifts in unexpected packaging, and this polka dot bandana is a super cute alternative to paper wrapping. I wrapped up the gift, tied the ends with red and white string, and added a couple of red and white chenille stems bent to look like candy canes. So much fun!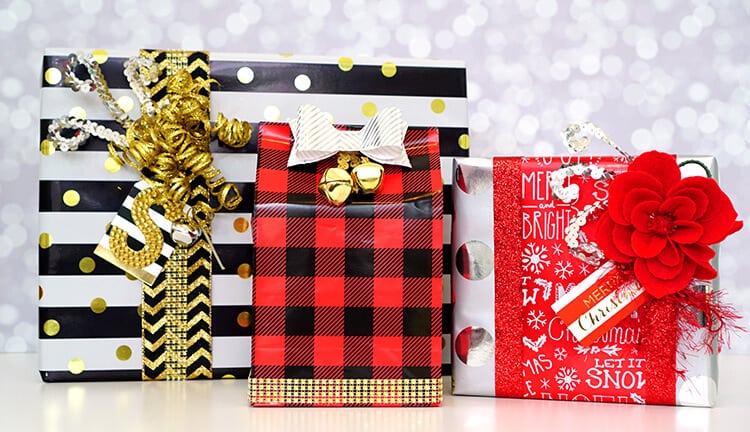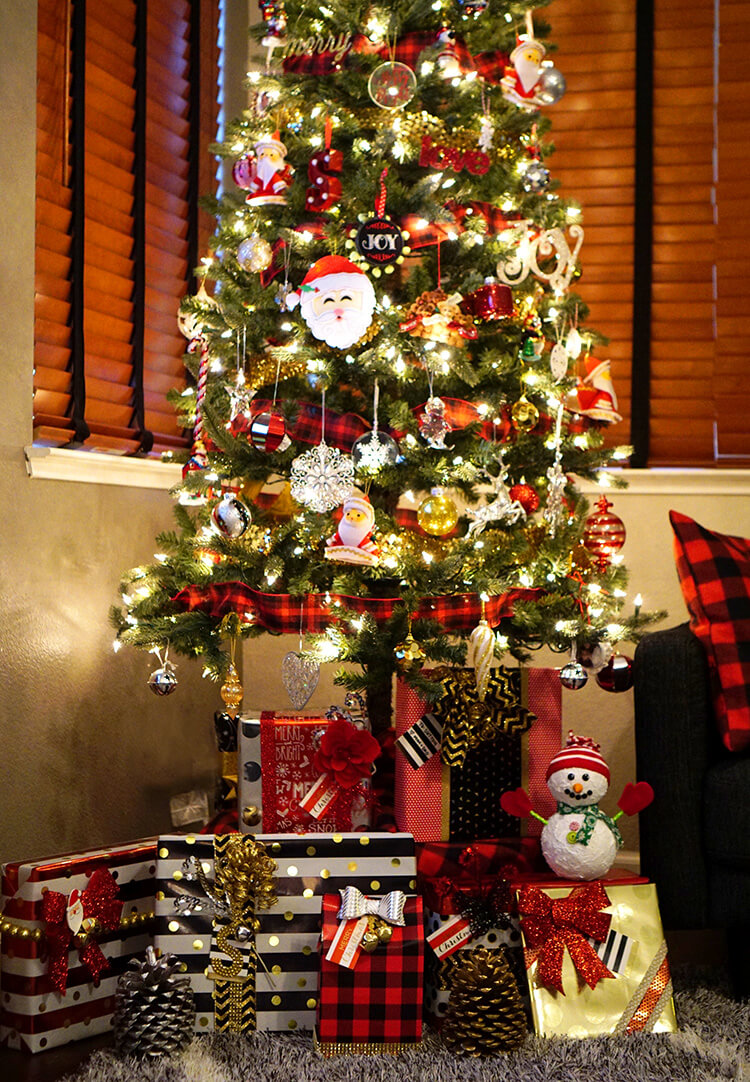 I'm seriously head over heels for the way that my holiday gift wrapping turned out, and I love the way that the presents look under our Christmas tree – perfectly coordinated!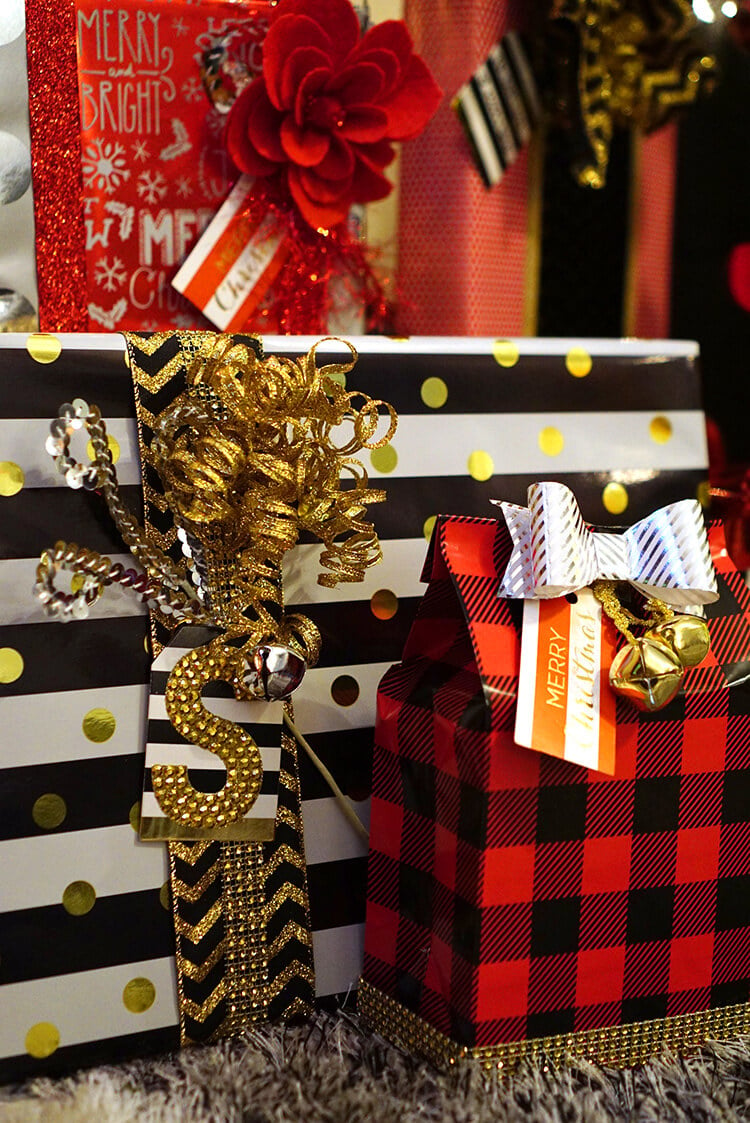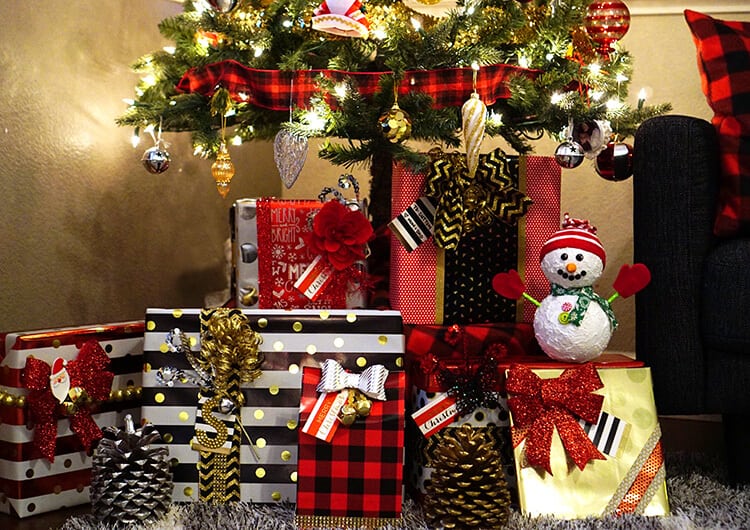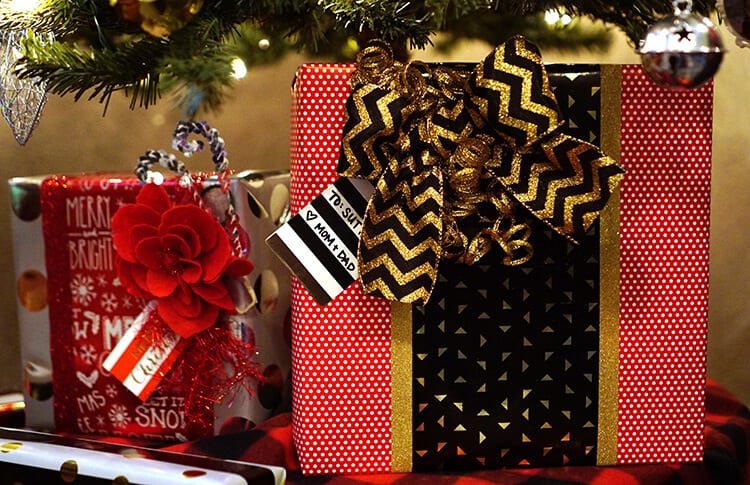 Don't forget to stop by Hobby Lobby for all of your holiday gift wrapping needs, and be sure to check out the entire store for lots of fun gift embellishment and package topper options!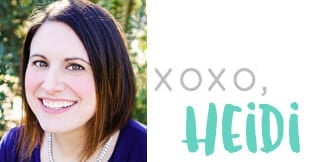 This is a sponsored conversation written by me on behalf of Hobby Lobby. The opinions and text are all mine.
If you like these ideas, don't forget to pin them!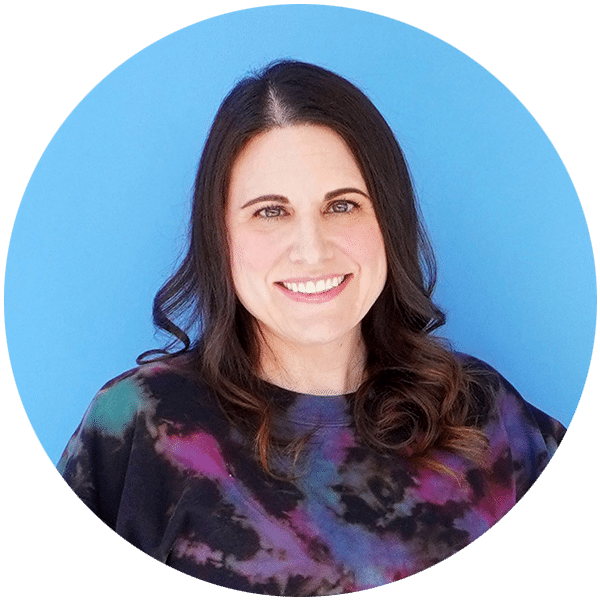 Heidi Kundin has captivated the hearts of millions with her colorful and inspiring approach to crafting, celebrations, and family fun. With over 15 years of experience, Heidi's website has become a must-visit destination for those seeking quick and easy creative ideas and last-minute solutions. Her warm personality shines through her posts, inviting readers to join her on a creative journey that's fun, rewarding, and achievable.