Valentine's Day "Love" Hoop Art
This post and its photos may contain affiliate links. As an Amazon associate I earn from qualifying purchases. If you make a purchase through these links, I may receive a small commission at no extra cost to you!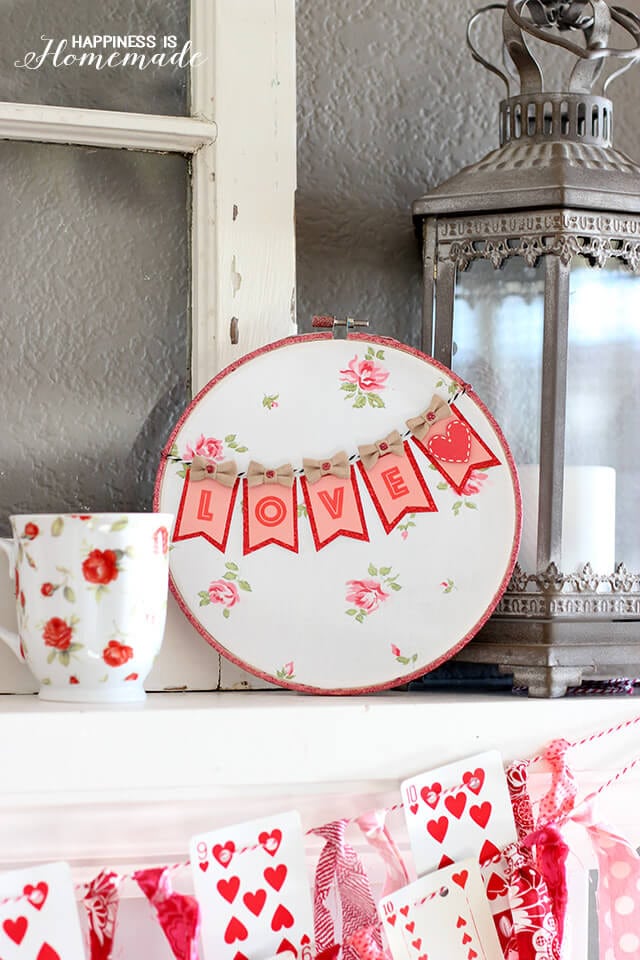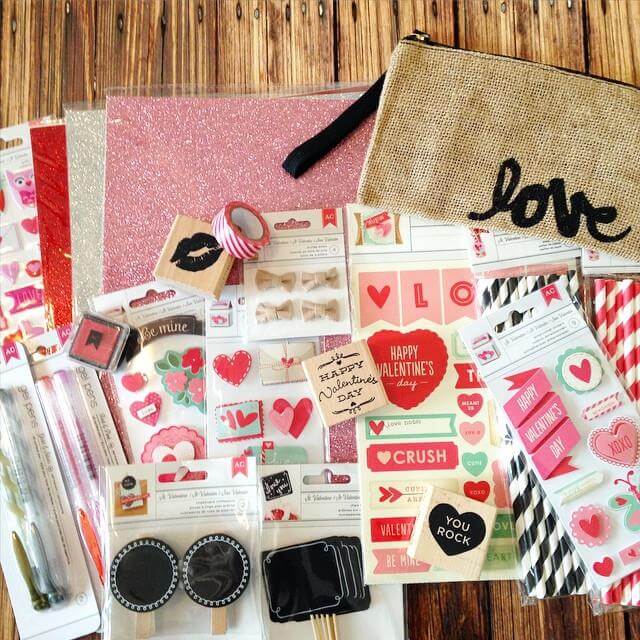 Have you seen all of the seriously amazing American Crafts goodies that are available for Valentine's Day in the Target One Spot yet!? I'm dying of cuteness. Target always has great stuff in the "dollar section," but this time they've outdone themselves! There are over 40 products including washi tape, chalkboard accents, paper straws, stickers, glitter paper, rubber stamps and much more, and they're all only $1-3! Fair warning though: these are limited time items, and they're flying off the shelves, so rush to Target ASAP if you really want to get your hands on them!
I fell in love with all of these adorable supplies the minute I laid my eyes on them, and I knew that I wanted to use some of the vintage-vibe pieces to create decorative Valentine's Day hoop art.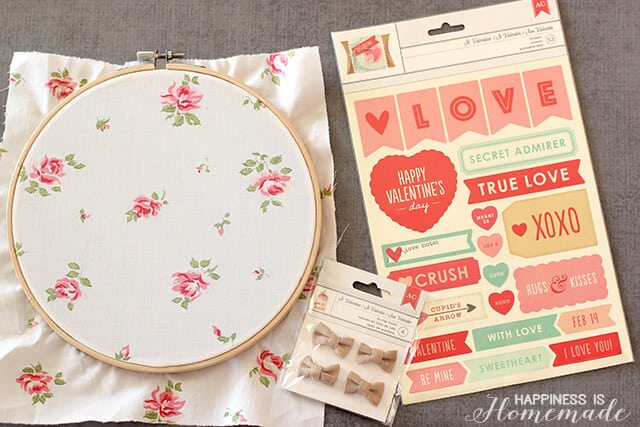 I filled an 8″ hoop with a piece of vintage sheet fabric and chose my favorite stickers and sweet mini burlap bows for embellishments.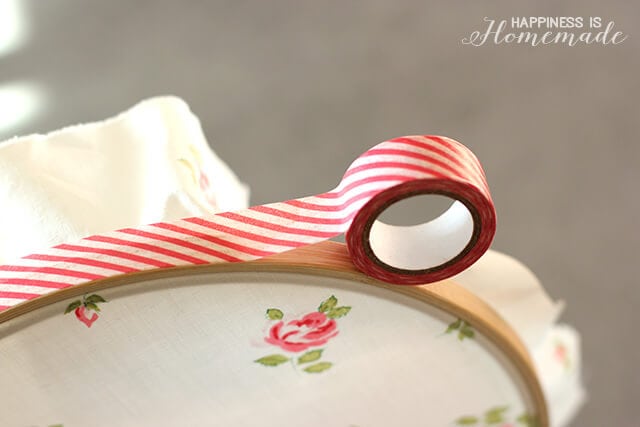 Washi tape edging gives a fun surprise and pop of color to the hoop when you look at it from the side angle.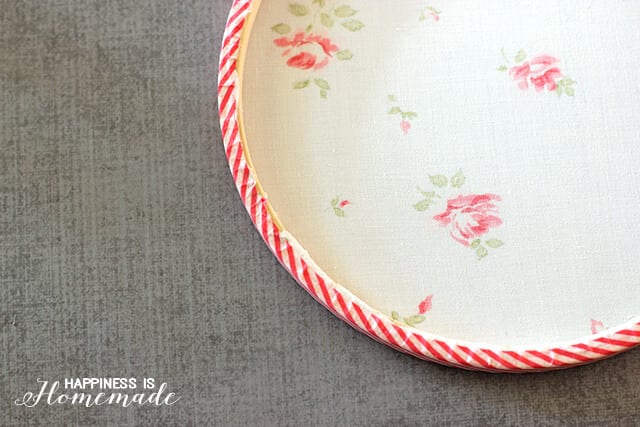 After edging the hoop, I trimmed the excess fabric and wrapped the remainder of the washi tape over the back edge to secure everything in place.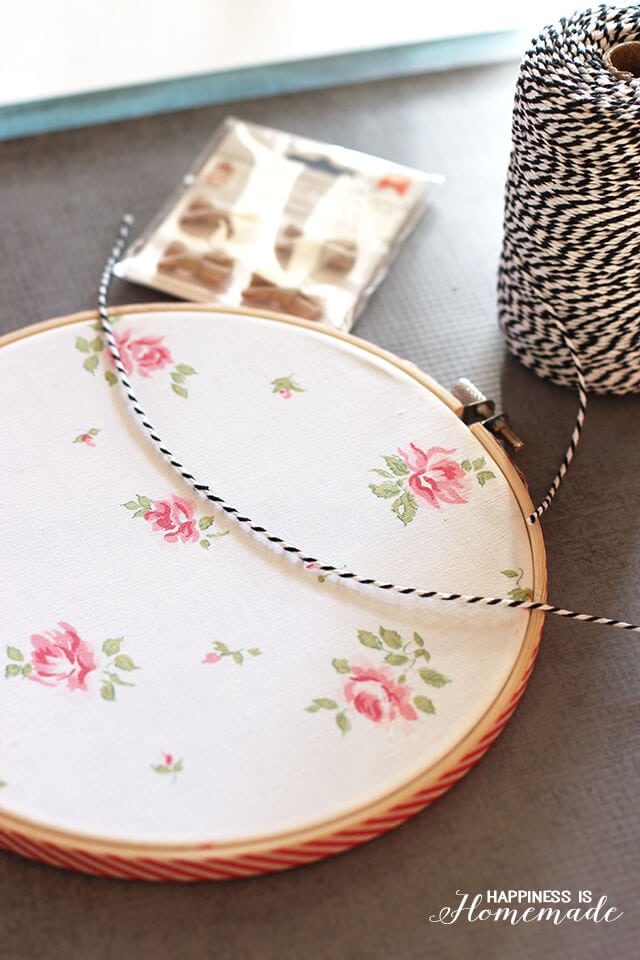 To create the rope for my love banner embellishment, I hot glued a short length of black & white baker's twine to both edges of the hoop.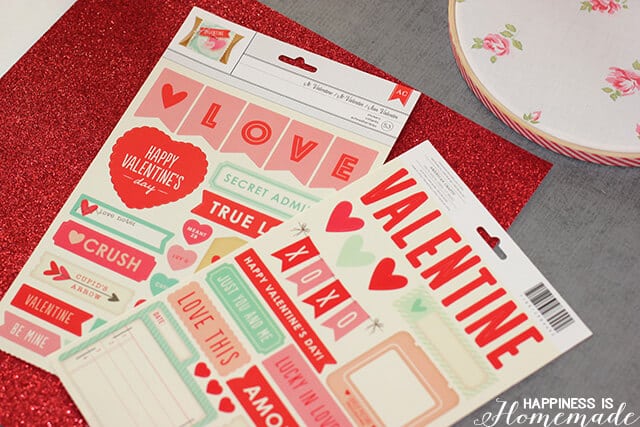 I wanted to use the "love" banner stickers as an embellishment, but I wanted them to stand out and have a little more pizzazz, so I backed them with red glitter paper.
Each flag is secured to the hoop fabric with a tiny dab of hot glue.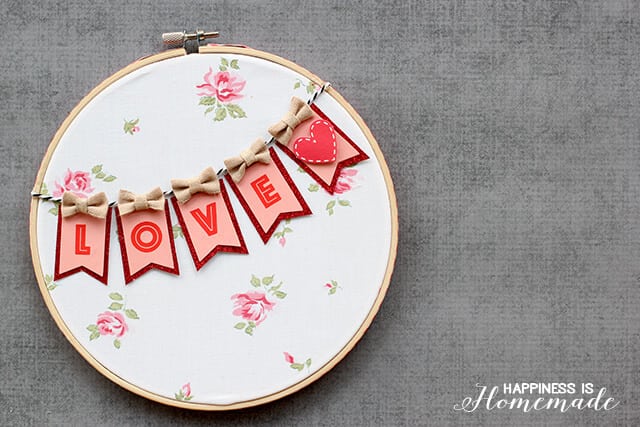 I added a raised 3-D heart sticker to the heart flag, and topped each flag with those adorable mini bows. I contemplated stopping and leaving the hoop as-is at this point, but I decided that I wasn't a huge fan of the raw wood hoop face. It just felt like it was missing something.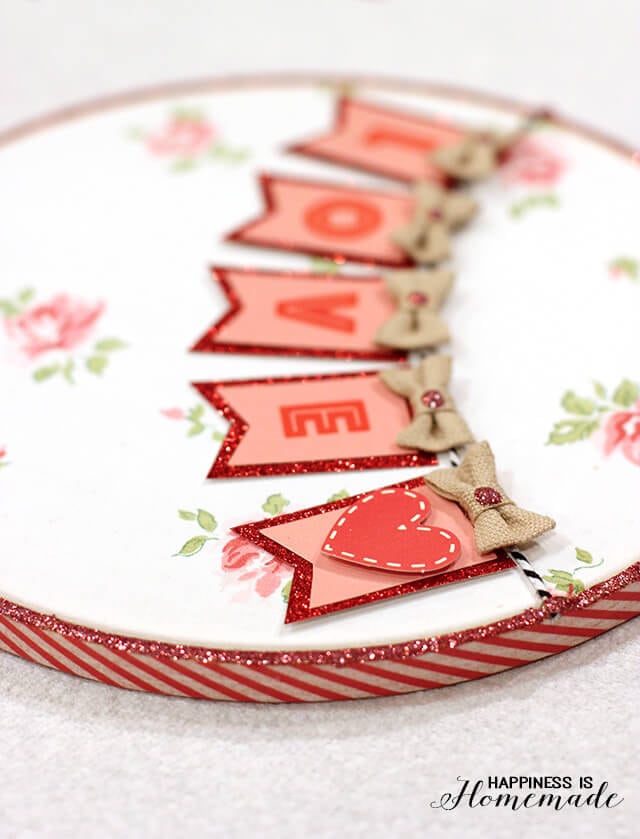 I whipped up a quick batch of coral colored mess-free glitter to match the flags, covered the hoop with a thick layer of sparkle, and added a glittery polka dot to the center of each bow.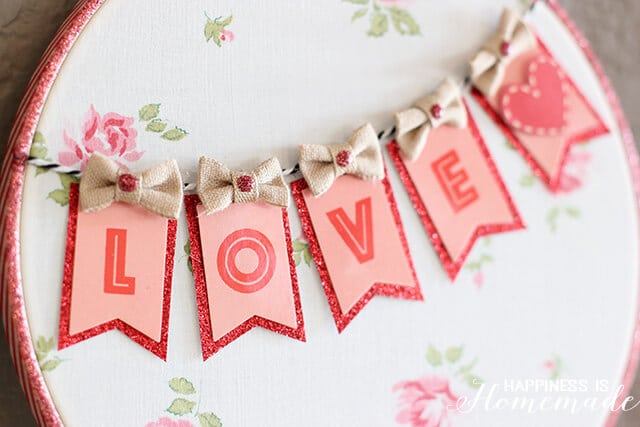 I think it totally gives the hoop the little extra something that I was looking for!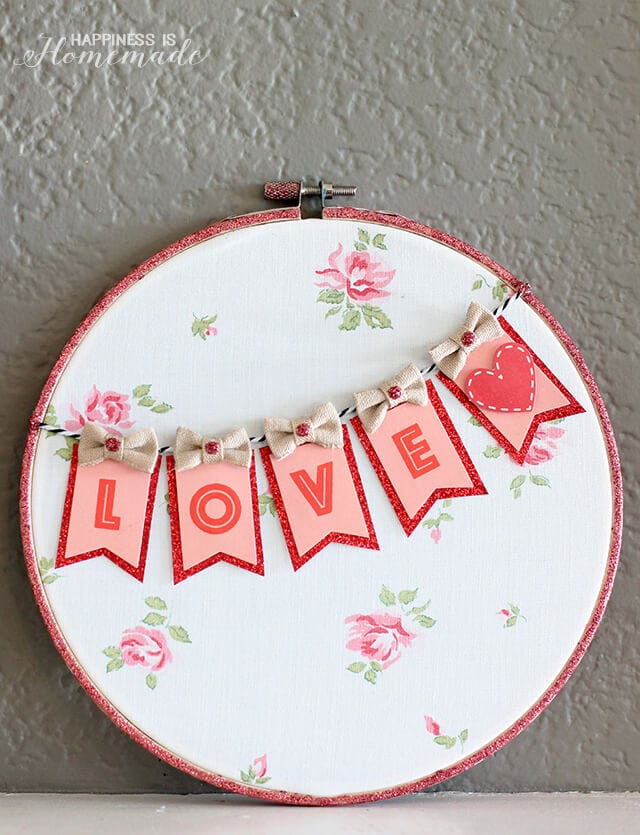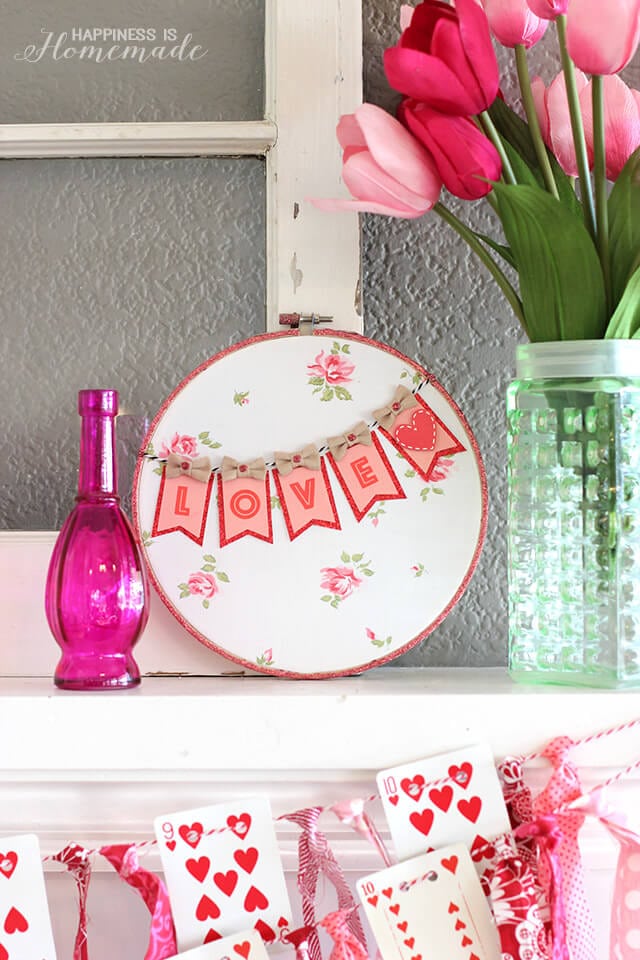 It looks perfect up on my Valentine's Day mantel next to the heart cards garland.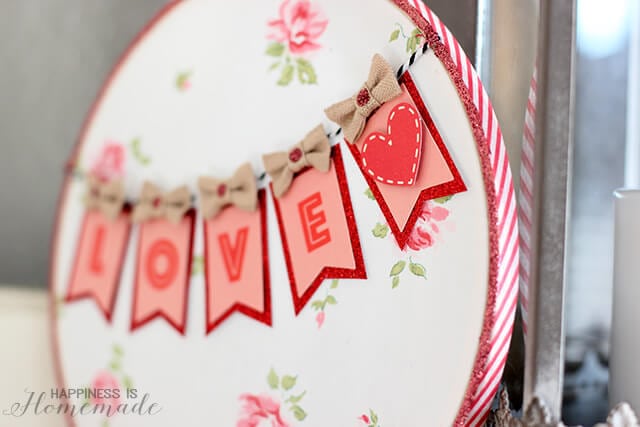 Don't forget to head over to Target if you want to pick up any of the awesome American Crafts supplies that I used for this project!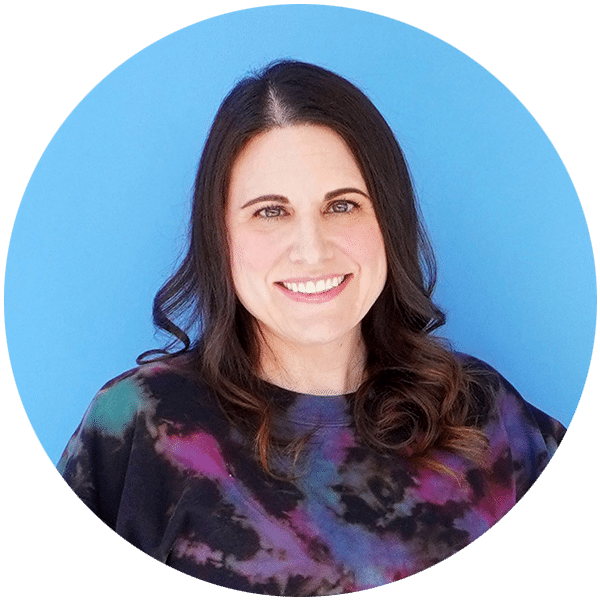 Heidi Kundin has captivated the hearts of millions with her colorful and inspiring approach to crafting, celebrations, and family fun. With over 15 years of experience, Heidi's website has become a must-visit destination for those seeking quick and easy creative ideas and last-minute solutions. Her warm personality shines through her posts, inviting readers to join her on a creative journey that's fun, rewarding, and achievable.