DIY Whipped Sugar Cookie Body Butter
This post and its photos may contain affiliate links. As an Amazon associate I earn from qualifying purchases. If you make a purchase through these links, I may receive a small commission at no extra cost to you!

My skin gets super dry and itchy in winter, and regular lotion just won't cut it. I love using rich and creamy body butter to keep my skin soothed and nourished, so I was thrilled to discover that it is incredible simple to make at home. This homemade whipped body butter is thick and luxurious, and you can use any scent or fragrance that you like – I made my batch a sugar cookie body butter (yum!)!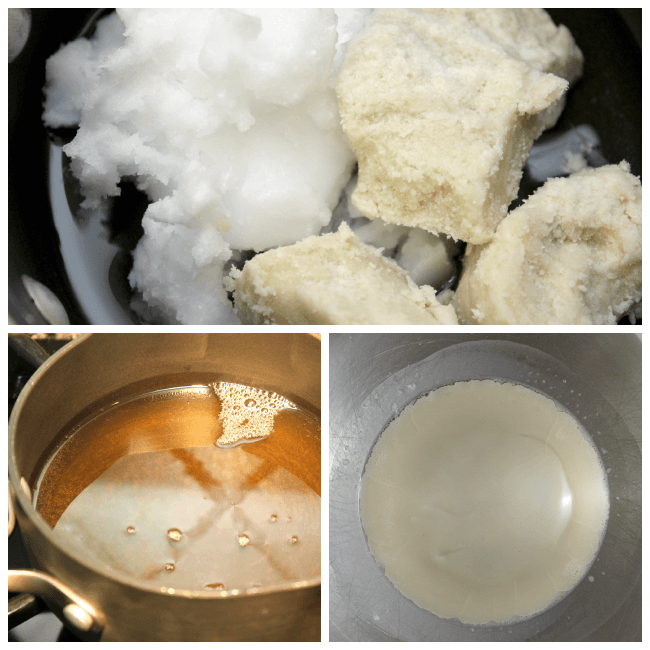 What You'll Need:
In a small saucepan, melt the oils together over low heat. I used 1/3 cup each of the coconut oil and shea butter and 2 tbsp almond oil. Carefully pour the liquid oil into a chilled bowl, mix in 20 drops of fragrance or essential oil, and allow to sit until the oil begins to harden. You can throw the bowl in the fridge if you want to speed up the process, but be careful not to let it get too hard! You want the oil to be firm, but not solid, for the next step (about the consistency of softened butter). When the oil is ready, whip with a mixer for several minutes until the body butter is fluffy and the volume has increased.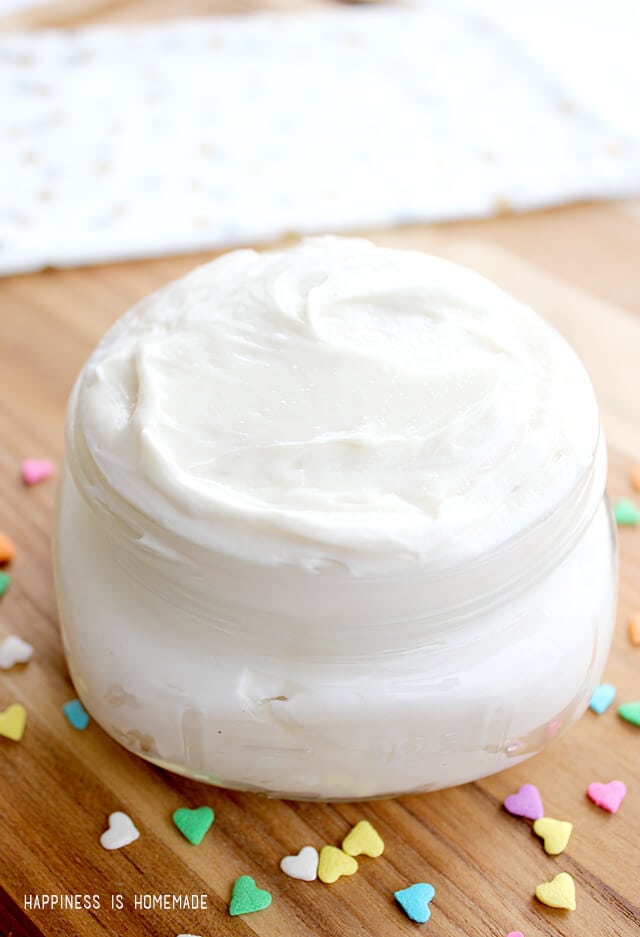 This stuff smells SO good – like warm cookies fresh from the oven!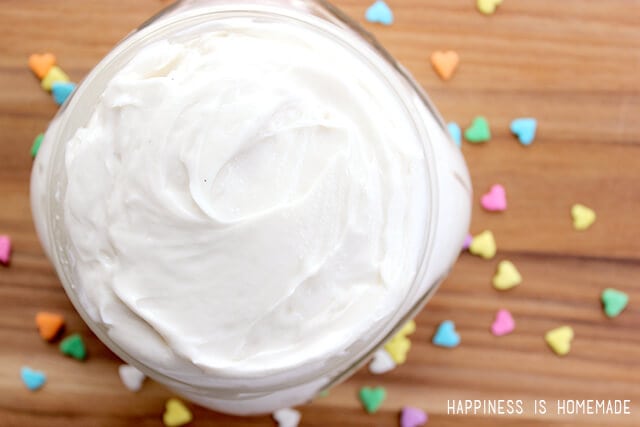 The oils in this recipe are all naturally moisturizing, so it feels like a luxurious spa treatment every time I apply it. My dry winter skin is finally happy!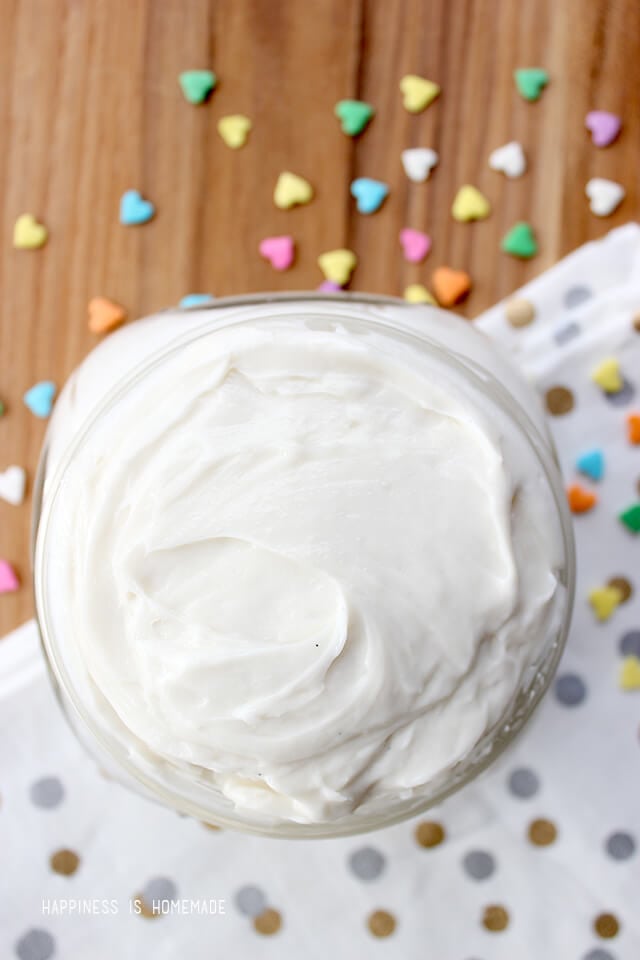 This recipe makes just over a cup of body butter, so it fits perfectly into one of these short little mason jars. Package it with a cute bow, and you have an easy peasy DIY holiday gift that's ready for giving!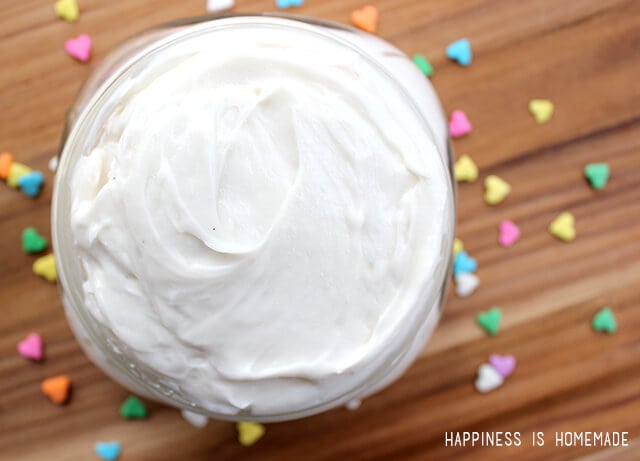 I love this sugar cookie body butter, and I'm already planning my next batch. I think a relaxing nighttime lavender body butter would be incredible, but a zesty citrus fragrance would be awesome, too! What fragrance would you try first?

You may also enjoy our other DIY bath & body product tutorials:
[riview id=297 num=2000 orderby=title order=asc size=200×200 showtitle=always lightbox=0]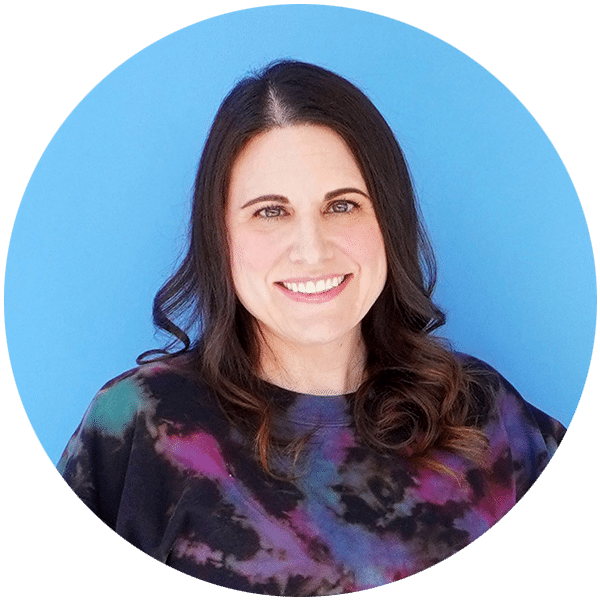 Heidi Kundin has captivated the hearts of millions with her colorful and inspiring approach to crafting, celebrations, and family fun. With over 15 years of experience, Heidi's website has become a must-visit destination for those seeking quick and easy creative ideas and last-minute solutions. Her warm personality shines through her posts, inviting readers to join her on a creative journey that's fun, rewarding, and achievable.