20+ Cute & Creepy Halloween Cupcakes – These Cute & Creepy Halloween Cupcakes are a TON of fun! Your Halloween party guests will love these awesome Halloween cupcake ideas!
20+ Cute & Creepy Halloween Cupcakes
One of my favorite things about Halloween is all of the fun Halloween treats, and these cute and creepy Halloween cupcake ideas are some of the best Halloween dessert ideas ever! Add these fun Halloween cupcakes to your Halloween party table, and your guests will go crazy over these cute and creepy cupcake ideas! If cute Halloween cupcakes are your thing, look no further than the adorable pumpkins, cute fuzzy monsters, and candy corn. If scary is more your speed, we've got bloody eyeballs, graveyards, and candy knives galore as well! Honestly, some of these cupcakes straddle the line between spooky and sweet – those werewolves are downright adorable, and that Reese's Frankenstein is pretty darn cute himself!
If you like these Halloween Treats, you may also like Halloween Rice Krispies Treats, Halloween "Circus Animal" Cookies, and Halloween Spiderweb Cookie Pizza.
20+ Cute Halloween Cupcake Ideas
Spooky Graveyard Cupcakes from Happiness is Homemade – These graveyard cupcakes are easy to make, and are sure to be a hit at your next party!
Spooky Chocolate Cupcakes from Fearless Dining – If you love chocolate, this easy gluten free chocolate cupcake recipe is for you. These cupcakes are moist, chocolaty, and just plain irresistible!
Black Cat Cupcakes from Val Event Gal – Some people think of black cats as unlucky, but I think they are cute! These black cat cupcakes are the perfect combination of creepy and cute!
Candy Corn Cupcakes from Our Best Bites – These fun and festive fall cupcakes are delicious, and so much easier than they look!
Monster Claw Cupcakes from Bakingdom – Not everyone is into a creepy Halloween, so here is a tamer version of clawed cupcakes. Seriously, cutest deadly monster claws ever!
Ghost Cupcakes from Easy Peazy Mealz – There are tons of ways to make ghost inspired cupcakes, but these are my favorite because of the simplicity!
Slimy Monster Cupcakes from Make Bake Celebrate – These bright and colorful cupcakes are sure to be hit at your Halloween party!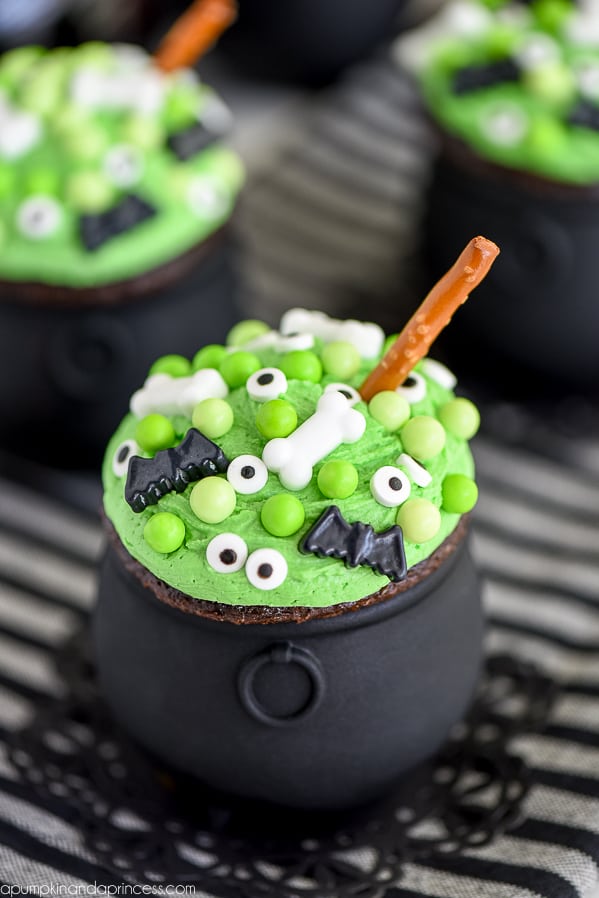 Cauldron Cupcakes from A Pumpkin and a Princess – These Cauldron Cupcakes are perfect for parties and easy to make with kids!
Mummy Cupcakes from Frugal Mom Eh – These Mummy Cupcakes are a fun and spooky Halloween treat that kids will love. Perfect for serving at a Halloween party!
Creepy Cupcakes from Lil Luna – These cupcakes are fun and festive looking, and they are so easy to make!
Witch Hat Cupcakes from Homemade Hooplah – These cupcakes are a festive treat that's easy to make! Made with chocolate cupcakes, colorful buttercream frosting, Oreo Thins, Hershey Kisses, and candy corn pieces.
Googly Eyed Monster Cupcakes from The Decorated Cookie – These googly-eyed monster cupcakes are a fun and easy Halloween treat!
Pumpkin Patch Cupcakes from Your Cup of Cake – These adorable Pumpkin Patch Cupcakes are brought to life with some orange cupcake liners, orange frosting, Tootsie Rolls, and Laffy Taffy! They're prefect for a cupcake decorating party for kids or making for the neighbors!
Halloween Confetti Cupcakes from Love and Olive Oil – These Halloween-themed cupcakes are super simple. All it takes is some Halloween-colored sprinkles and a few plastic zombies.. and tada!
Reeses Frankenstein Cupcakes from Your Cup of Cake – These Frankenstein cupcakes are scary and cute, the perfect combo for a Halloween cupcake!
Zombie Brain Cupcakes from Brendid – This fun Halloween cupcake recipe and icing tutorial makes blood-red brain cupcakes that are all-natural … no, they do not contain real BRAINS, but they are made with real ingredients and contain no artificial food coloring!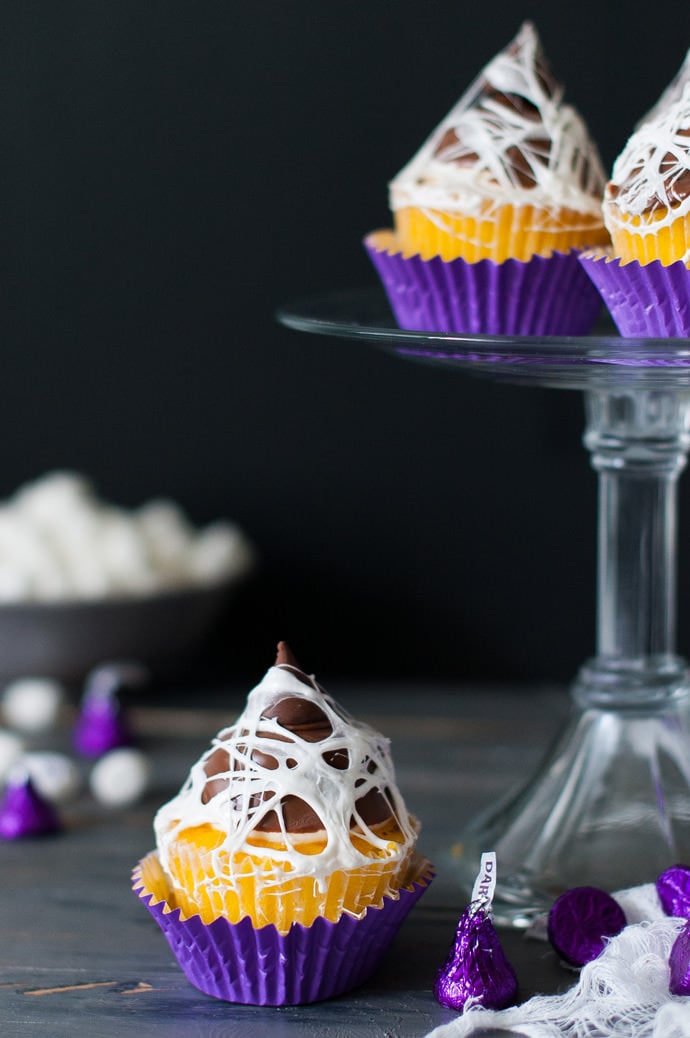 Spooky Marshmallow Spider Web Cupcakes from Handmade Charlotte – These cupcakes are covered in marshmallow "webbing" that is made by melting down mini marshmallows – creepy and delicious!
Bloody Eyeball Cupcakes from The Domestic Rebel – Halloween desserts are typically so cutesy and while I love that, I also love the creepier side of things, too! The reward for tolerating these creepy cupcakes is a big one: a moist and tender red velvet cupcake filled with sweet cherry pie filling and topped with a luscious cream cheese frosting.
Chocolate Spiderweb Cupcakes from The Cake Girls – You can download the free spiderweb template to make these candy spiderweb toppers!
Reese's Cup Werewolf Cupcakes from Hungry Happenings – This Halloween, turn store bought treats into adorably cute and slightly scary cupcake toppers. It's easy to make a whole pack of these Reese's Cup Werewolf Cupcakes for this fun holiday.
No matter which cupcake is your favorite, your Halloween party is sure to be a huge hit when you serve up any of these sweet and spooky Halloween cupcakes!
You May Also Like:
Halloween Rice Krispies Treats
Halloween "Circus Animal" Cookies
Spooky Halloween Eyeball Punch
Pin these Halloween Cupcakes for Later!