Free Printable Halloween Word Search
This post and its photos may contain affiliate links. As an Amazon associate I earn from qualifying purchases. If you make a purchase through these links, I may receive a small commission at no extra cost to you!
This spooky Halloween Word Search printable puzzle game is a ton of fun for kids of all ages! The perfect Halloween activity for classrooms and parties – fun for the whole family!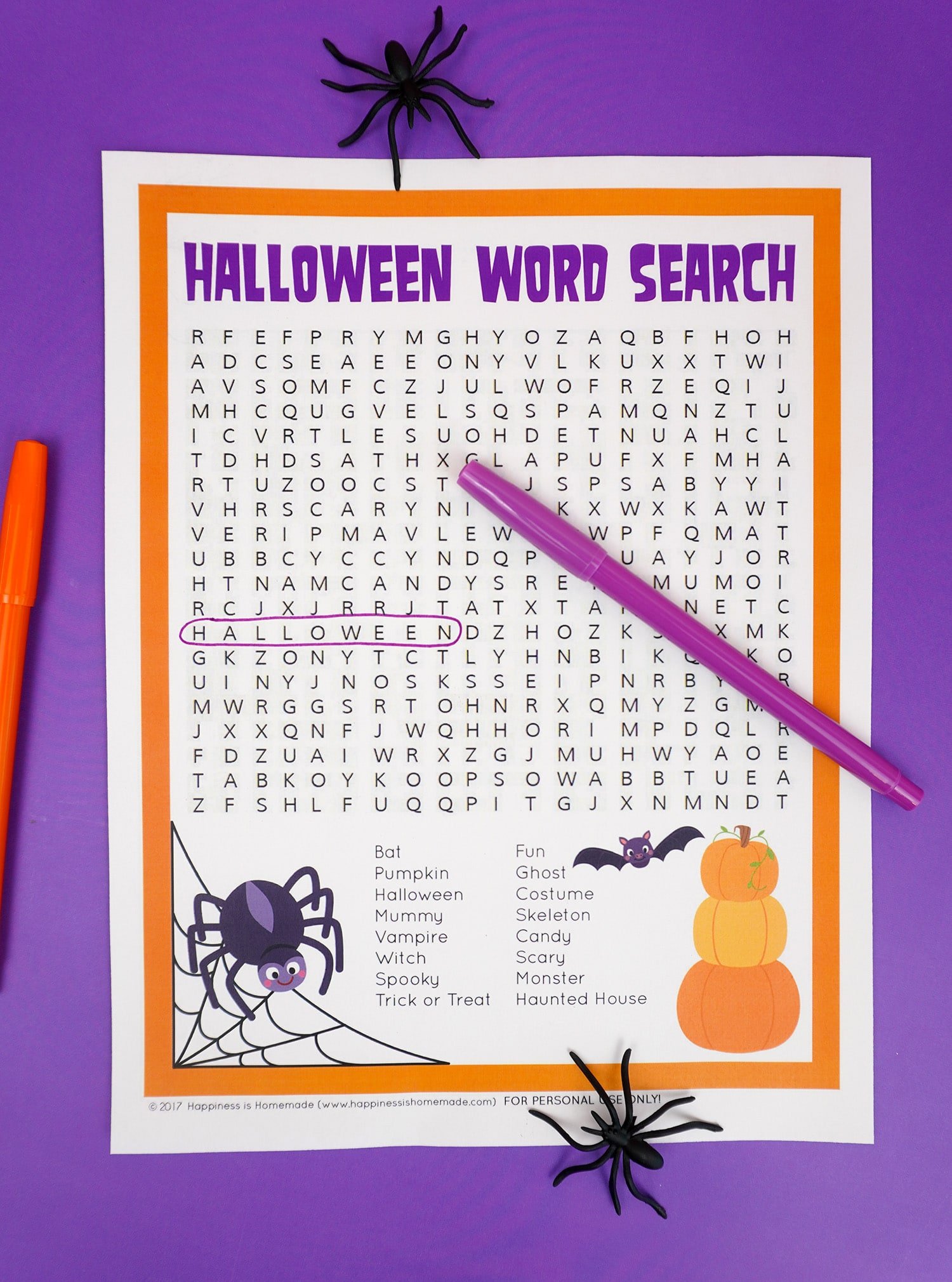 Free Halloween Word Search Puzzle
This blog post may contain affiliate links. I will receive a small commission from these sales at no additional cost to you!
This FREE Printable Halloween Word Search is a Great Activity for All Ages! Find all 16 Spooky Words!
Looking for a fun Halloween game to play in your home or classroom? We've got you covered with this fun Halloween word search – simply print and play!
Word search games are one of my favorites, and my kids love a good word search, too. Since they're such a family favorite, I started designing new puzzles for each of the holidays, and we now have an entire Holiday Word Search Collection available for you!
In this festive Halloween word find, you will seek out sixteen different Halloween words and phrases.

This fun Halloween printable is perfect for big kids and adults! With its 20×20 grid, this free Halloween word search is a little more challenging, so it's best for older kids (elementary+) and adults. Younger kids can certainly play as well, however, they may require a little bit of adult assistance if they get stuck.
You May Also Like These Halloween Favorites!
---
Halloween Word Search Printable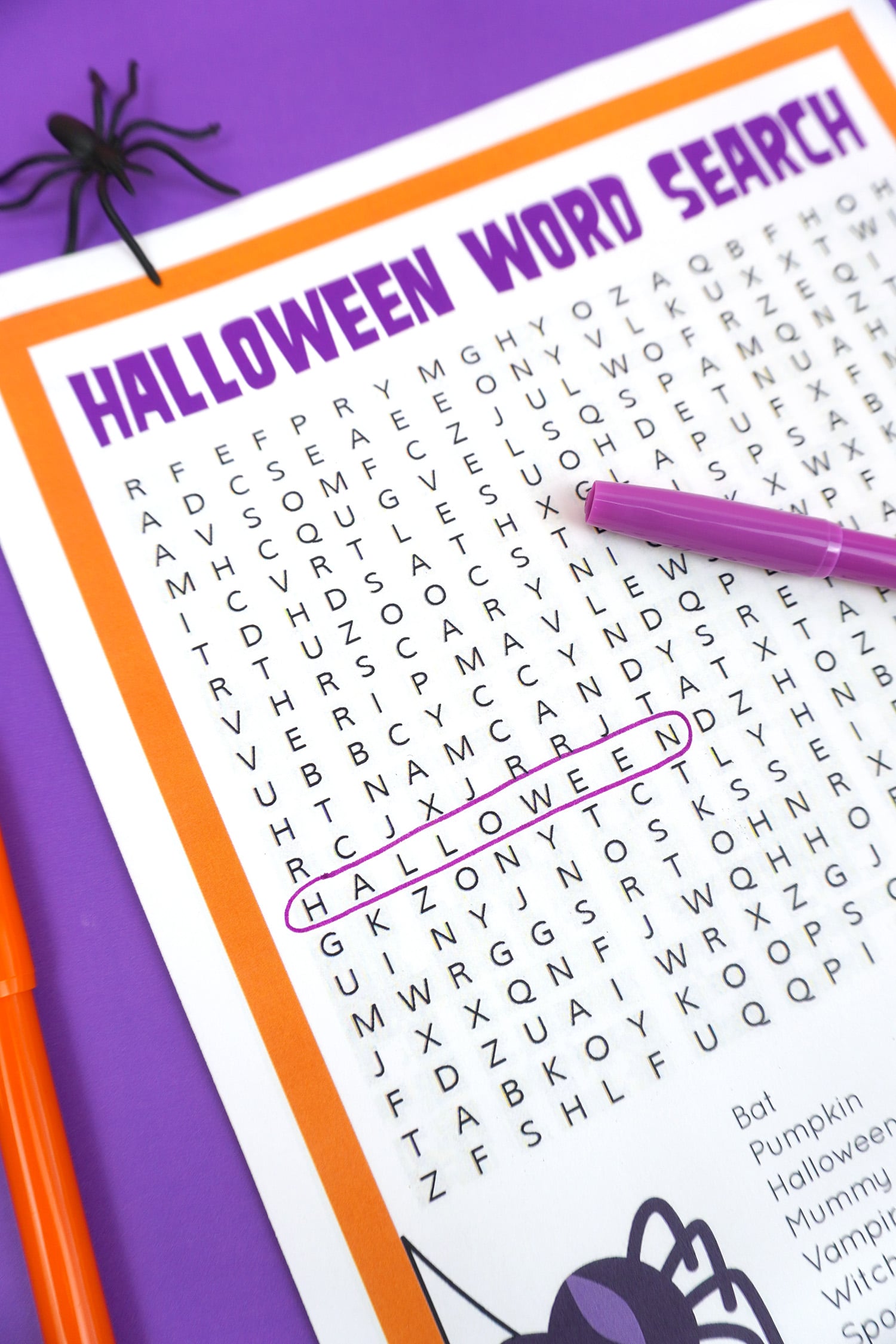 What is a Word Search Puzzle?
Halloween word search puzzles (also known as a "word find") consist of words that are hidden within a grid of letters. The puzzles use word lists or a "dictionary" to list all of the hidden words, and the words can be found forwards, backwards, up, down, or diagonally. The goal is usually to find all of the words as quickly as possible or find the highest number of words in a set amount of time.
The original word search puzzles appeared in newspapers in the late 1800s as promotional items; from there, they became popular among children and adults everywhere, and their appeal has been enduring.
Check Out All of Our Word Searches & Word Scrambles here!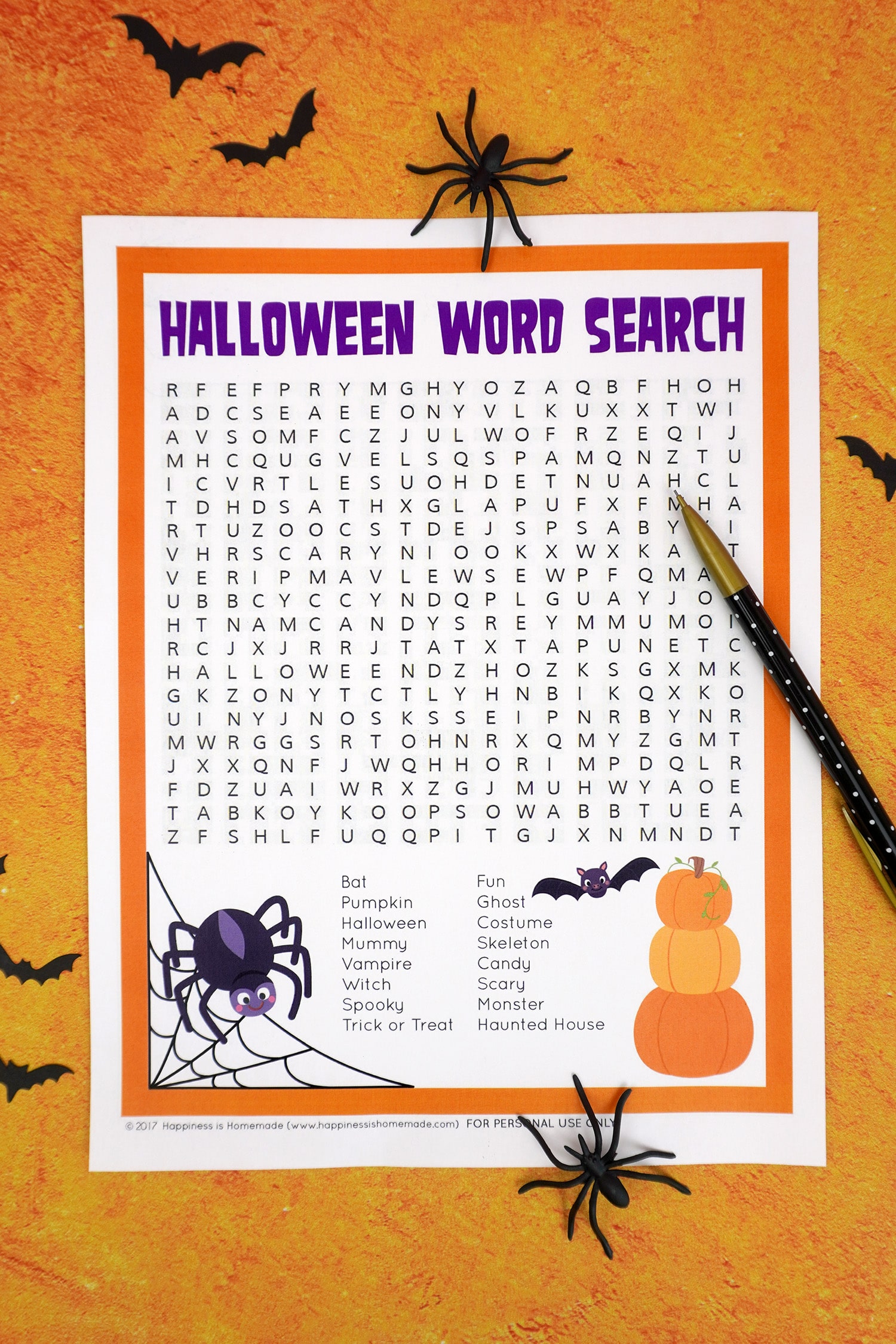 How Do You Play?
Word searches are a fun way to pass the time and keep your mind sharp! Search through the grid of letters to find all of the hidden words.

Sometimes, though, you may have trouble uncovering all of the words in the puzzle, so here are a couple of tricks you can use to find those words more easily:
When searching for a word, for example "Halloween," start at the upper left corner of the word search, and quickly scan through each line of letters to find the letter H. When you find an "H," look to see if any of the letters adjacent to it are an "A," then an "L," and so on until you find the one that spells out the full H-A-L-L-O-W-E-E-N word.
Similarly, you can can also scan the word search in small chunks or sections looking for your letter instead of taking it line-by-line.
If your word contains a unique letter that doesn't appear as frequently in the word search, searching for that letter can help speed the process along as well.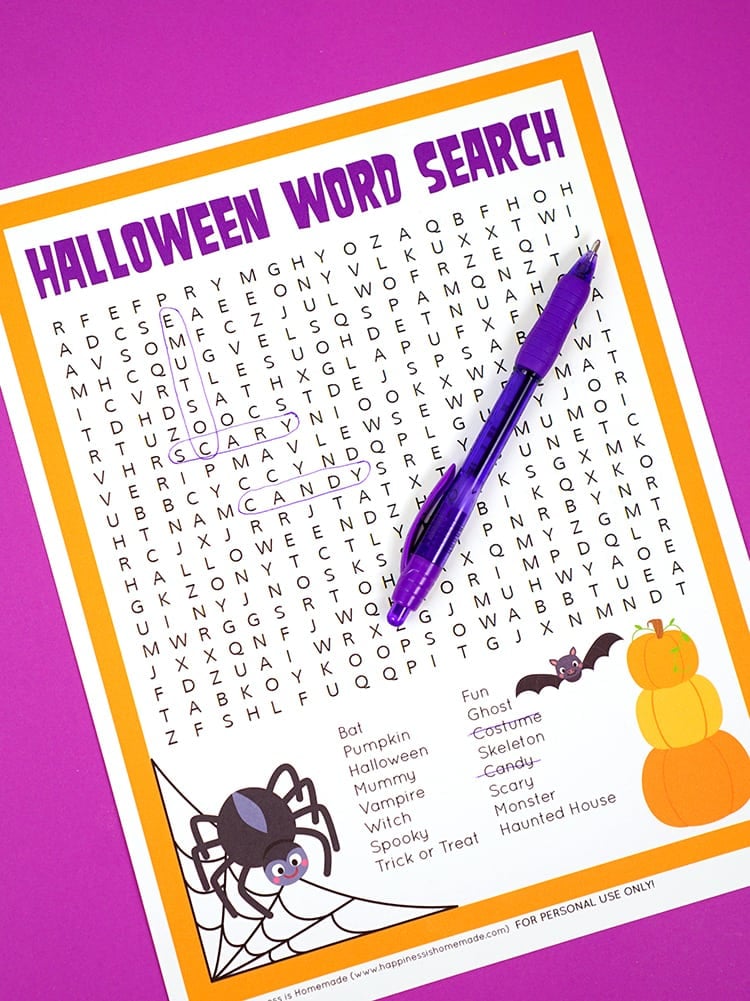 What are the Benefits of Word Searches?
Word search puzzles are incredibly beneficial for the brain because they offer a balance of both visual and mental stimulation. Word searches are not only fun, they also improve cognitive skills like logic, reasoning, and mental dexterity as well as improving attention span and concentration levels.
The benefits of word search puzzles go beyond just improving mental function – these puzzle games can introduce new vocabulary words to expand and improve vocabulary skills, spelling, and reading comprehension. Word searches are also a great way to get children interested in reading!
Brain games that stimulate the mind are becoming more popular every day. It is now common to see people playing word games on their phones or tablets or doing a crossword puzzle while waiting for an appointment. These games have been shown to improve cognitive function, help the elderly with dementia, and even be used as a therapy against depression and anxiety!
---
Download the Halloween Word Search & Answer Key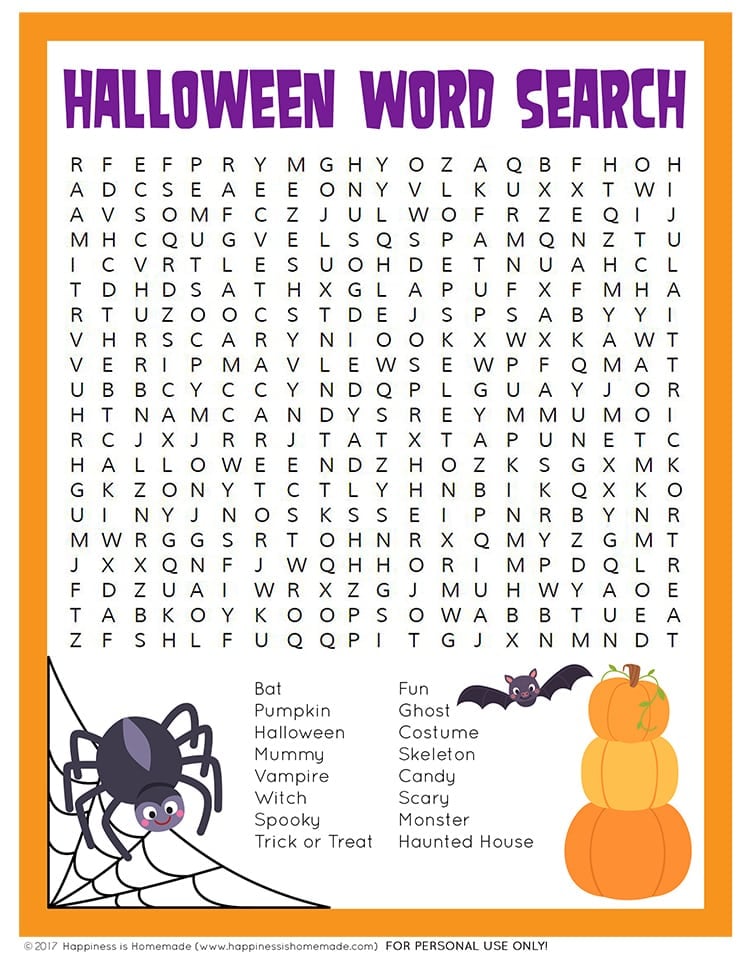 To get the Halloween Word Search PDF File, enter your name and email into the form below and click the "Get It Now!" button!
This word search is for personal use only. Classroom use is allowed.
---
WANT MORE HALLOWEEN FUN & GAMES?
GET OUR HALLOWEEN GAMES & ACTIVITIES BUNDLE NOW!
---
Happy Halloween season! It's the most fun time of year!

Check Out These Other Free Halloween Printables!
---
Pin the Halloween Word Search Puzzles for Later!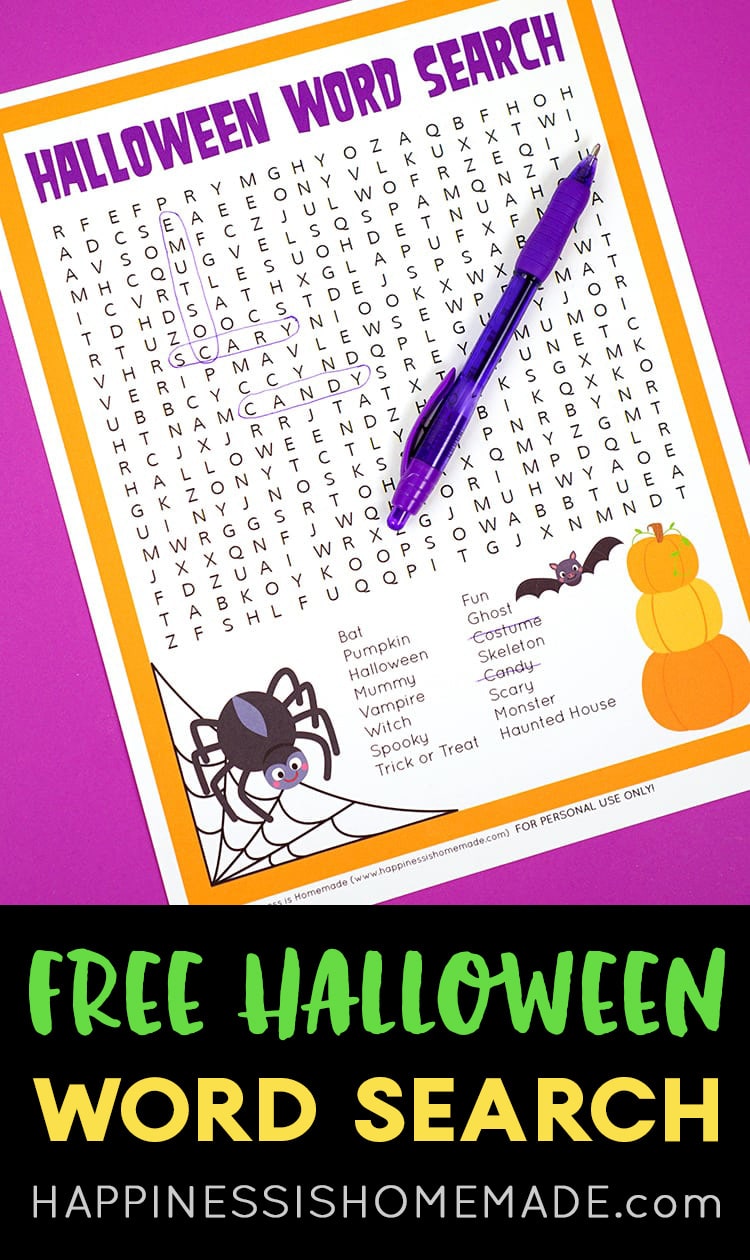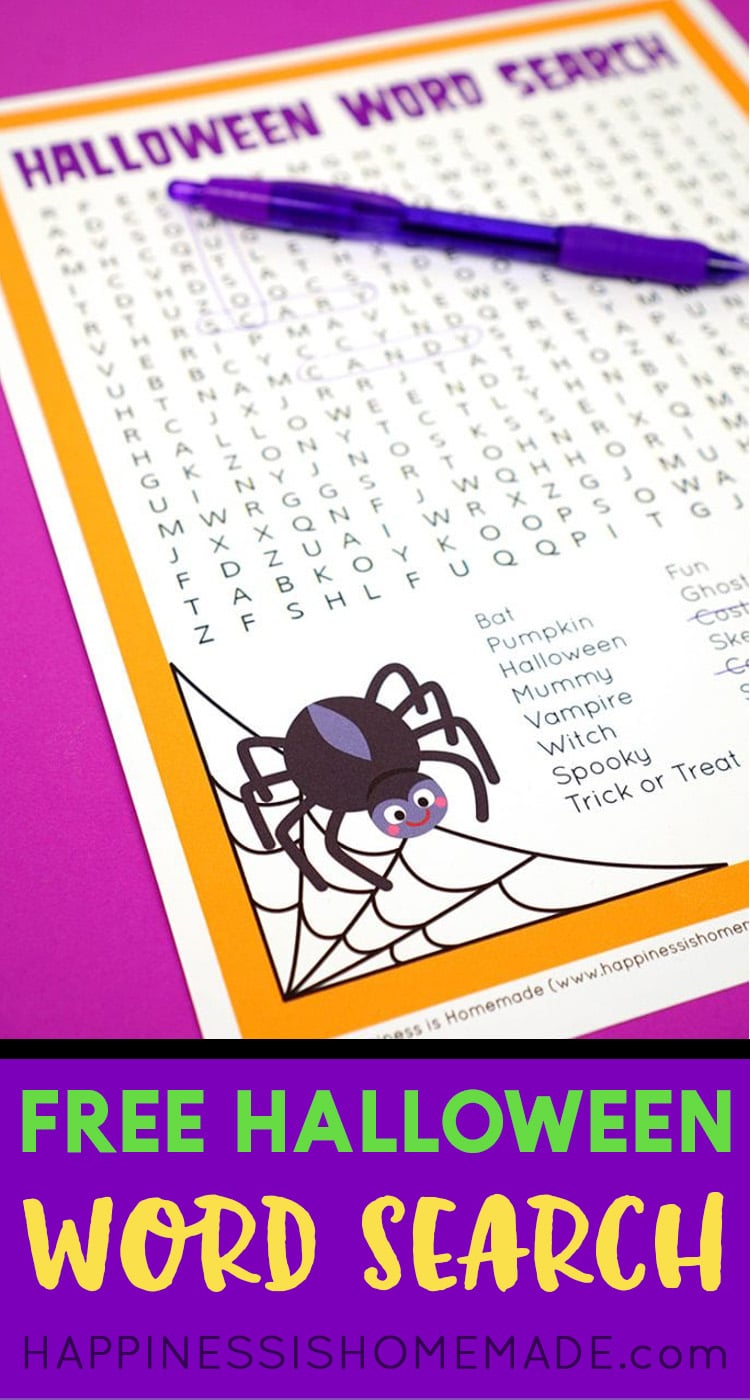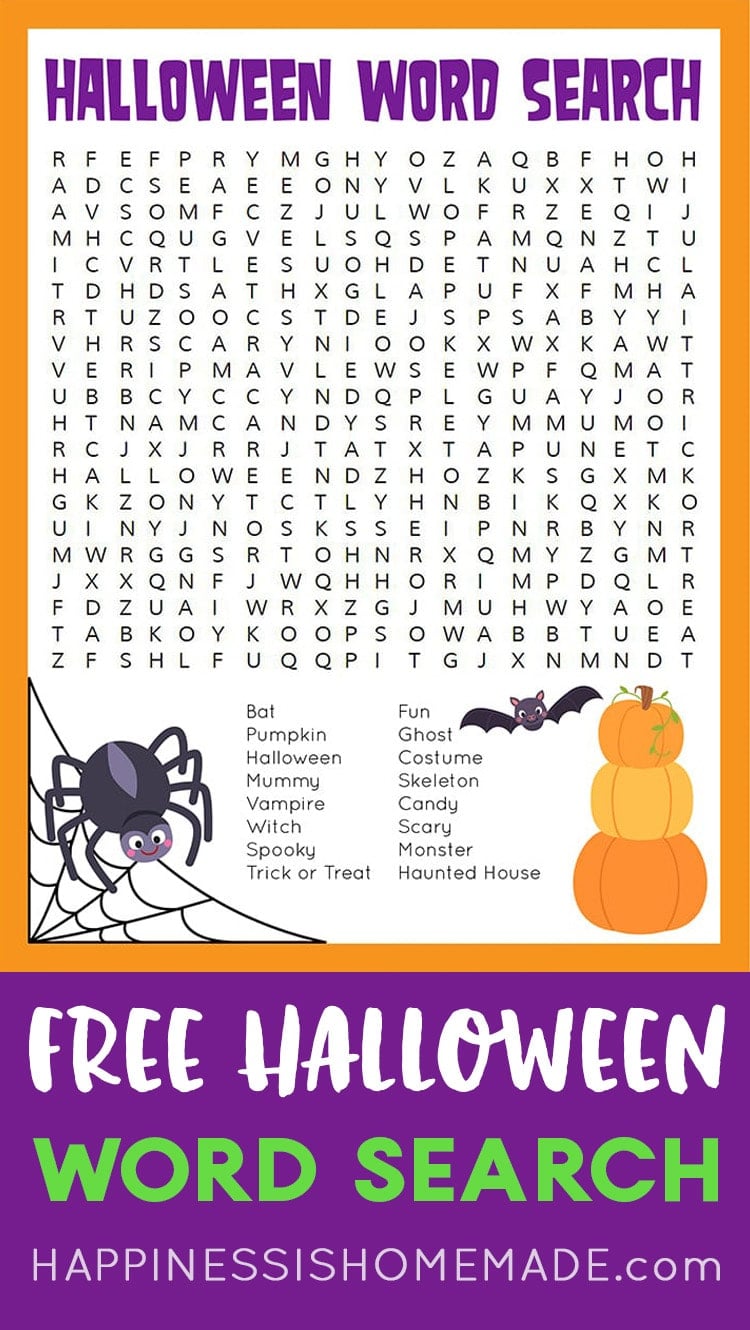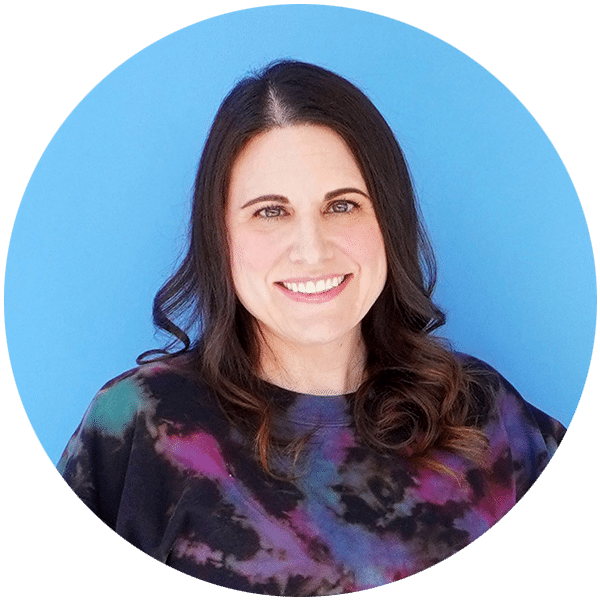 Heidi Kundin has captivated the hearts of millions with her colorful and inspiring approach to crafting, celebrations, and family fun. With over 15 years of experience, Heidi's website has become a must-visit destination for those seeking quick and easy creative ideas and last-minute solutions. Her warm personality shines through her posts, inviting readers to join her on a creative journey that's fun, rewarding, and achievable.