Apple Pie Bars with Streusel Topping
This post and its photos may contain affiliate links. As an Amazon associate I earn from qualifying purchases. If you make a purchase through these links, I may receive a small commission at no extra cost to you!
These delicious Apple Pie Bars with Streusel Topping are the perfect combination of apple pie and apple crumble – sweet, soft, crispy, crunchy, and purely delicious!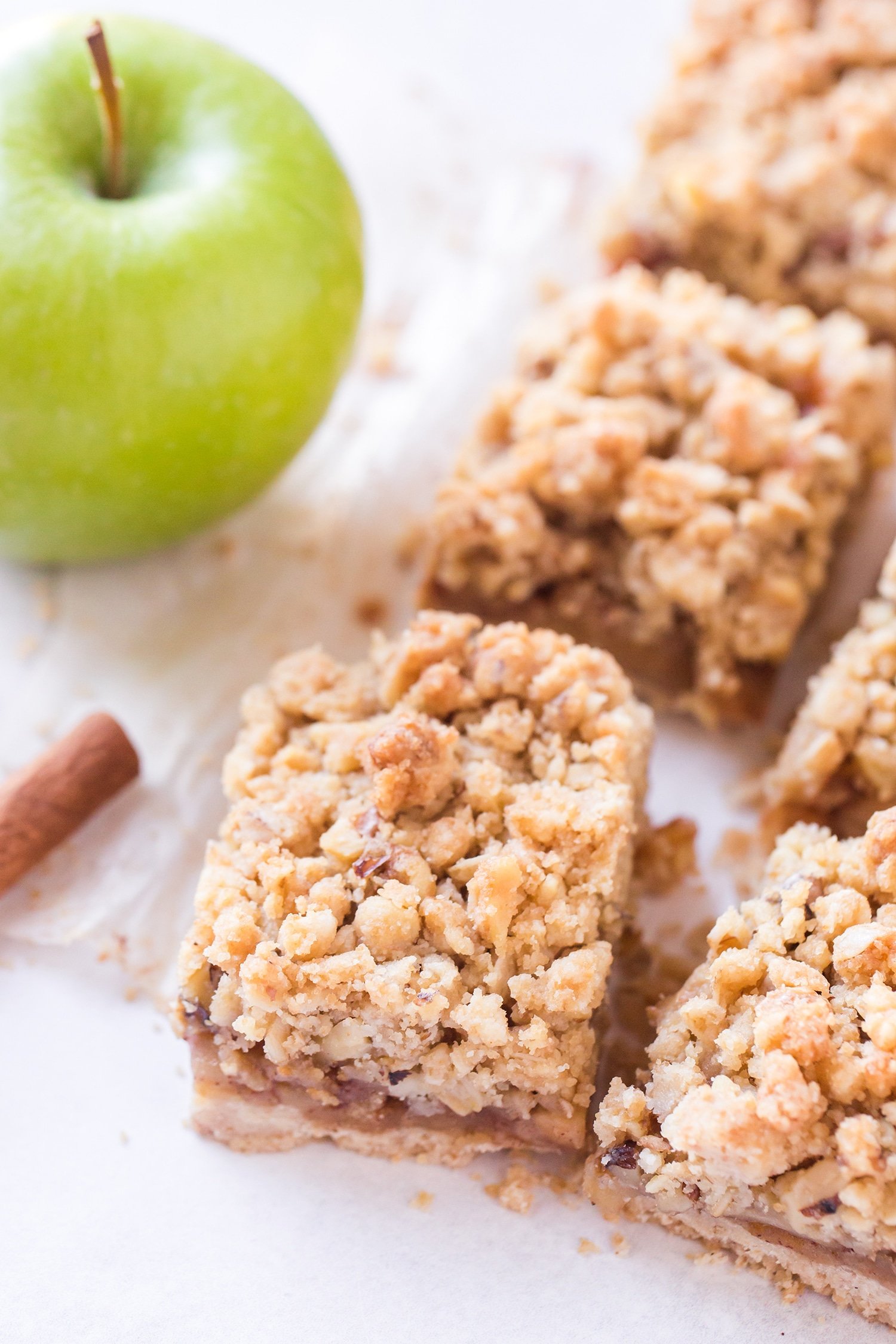 This post may contain affiliate links. I will receive a small commission from these sales at no additional cost to you!
These fresh and easy Apple Pie Bars are the quintessential fall dessert! Buttery pie crust is layered with spiced apples and topped with a streusel crumble topping that will knock your socks off. They're a mix between a classic apple pie and a crisp apple crumble packed into one delectable apple bar that's sure to be a new family favorite!
How to Make Apple Pie Bars
Preheat oven and line baking dish with parchment paper.
Mix crust ingredients, add to baking dish, and bake.
Make apple filling and streusel crumble topping
Layer apples and streusel in baking dish over crust and bake until golden
Allow to cool, slice into bars, and enjoy!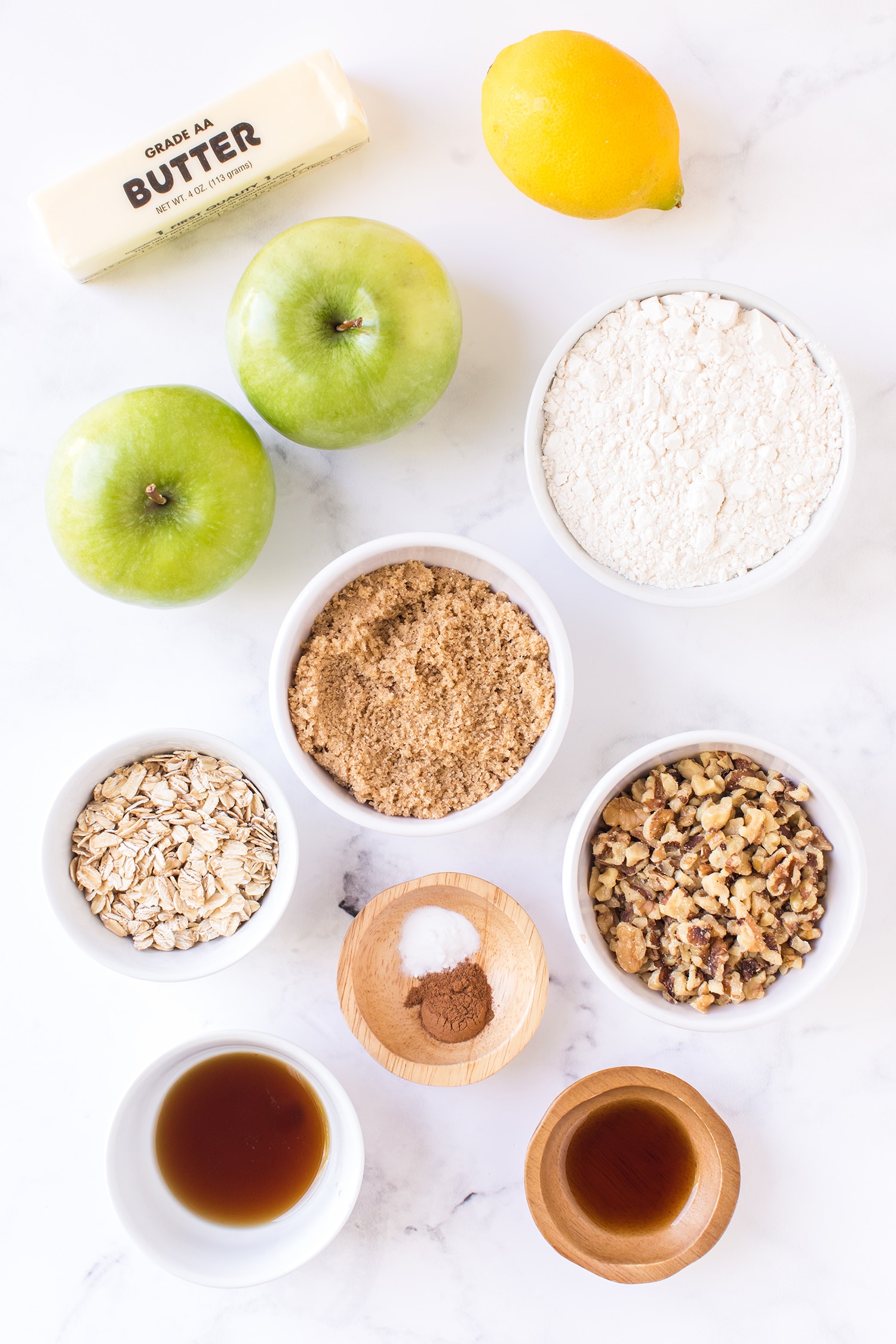 These delicious apple pie bars are made with simple pantry staples and are topped with a to-die-for cinnamon streusel crumble topping!
Ingredients Needed for Apple Pie Bars:
All-Purpose Flour
Butter: I used salted butter, but you can use unsalted if you have it available. I recommend adding a pinch of salt if you decide to use unsalted butter.
Apples: See notes below as to which types of apples work best with this recipe.
Brown Sugar
Baking Soda
Ground Cinnamon
Lemon Juice: Either fresh or from concentrate lemon juice can be used.
Vanilla Extract
Walnuts: You can also substitute with pecans if desired.
Oats: I used old fashioned oats, but you can use instant oats as well.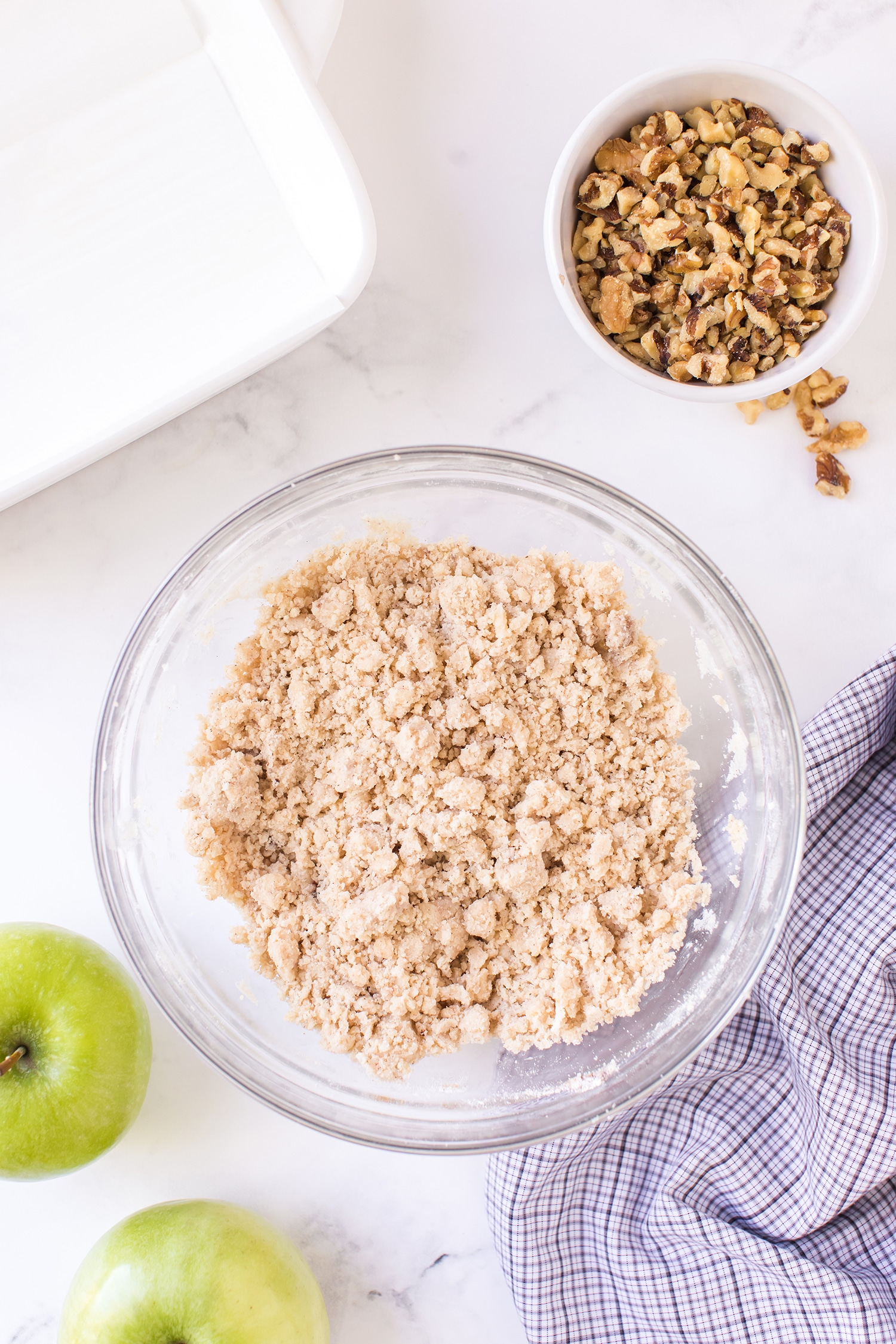 Supplies Needed:
Measuring Cups & Spoons
Various Mixing Bowls and Tools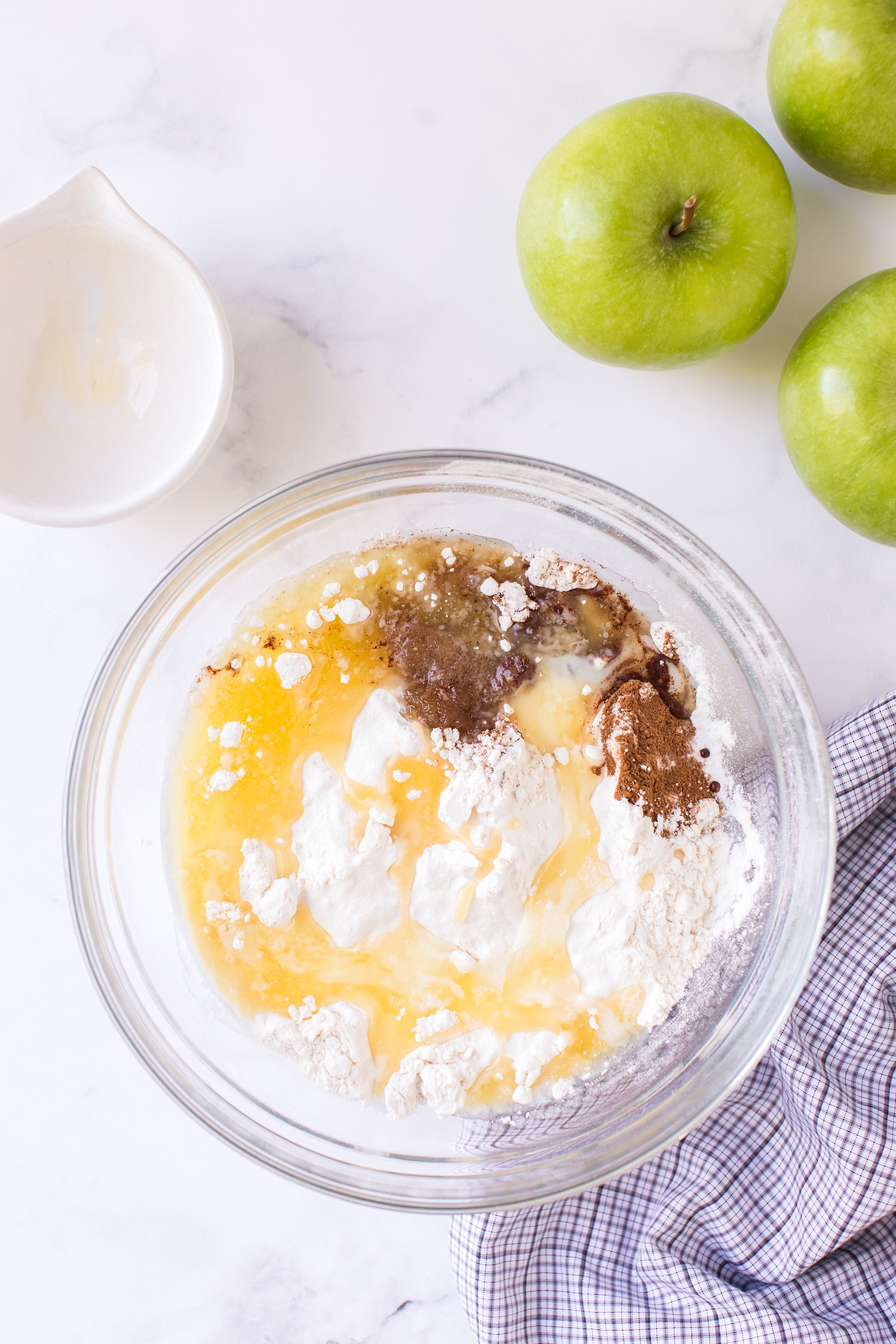 Begin by mixing together all of the crust ingredients.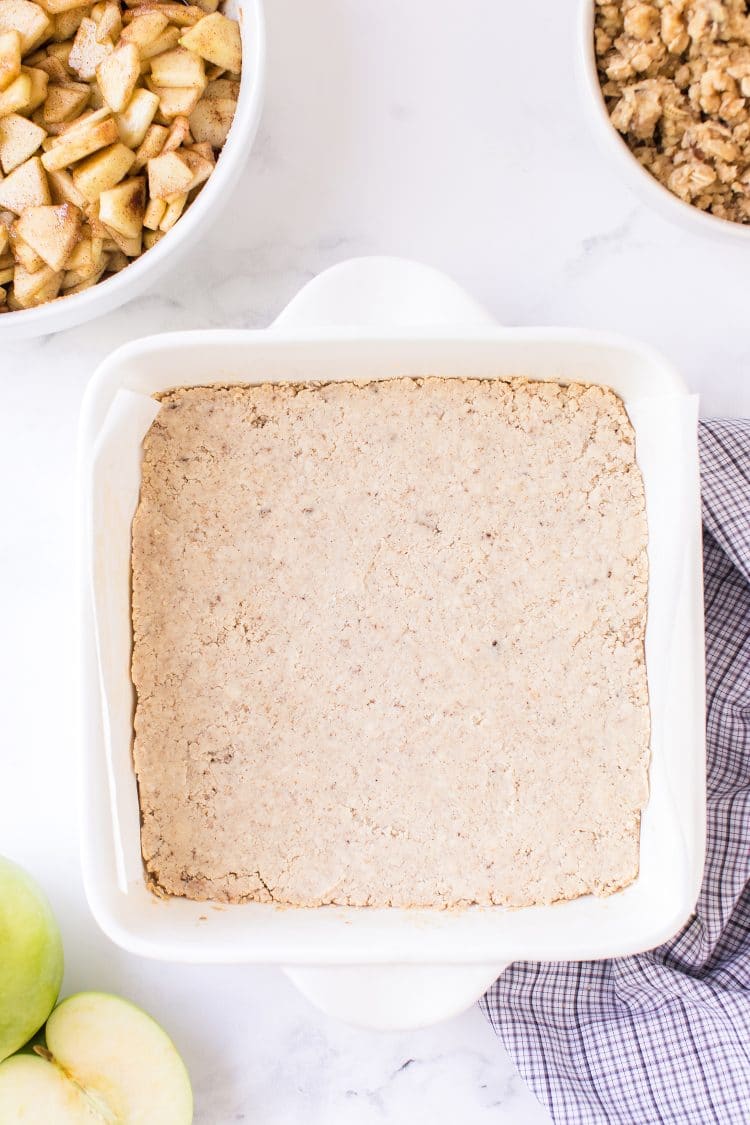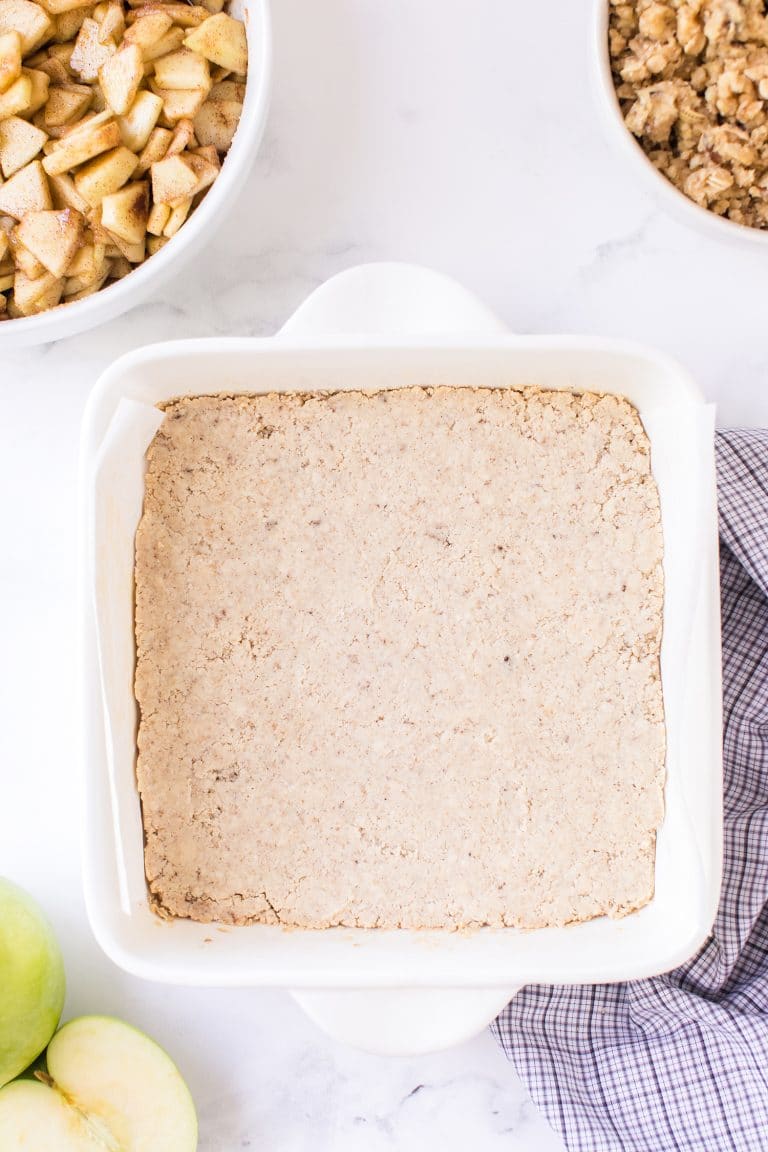 Line a baking dish with parchment paper, and use your hands to spread the crust mixture into the bottom of the prepared pan. Bake the crust in a preheated oven for 20-25 minutes until the edges are lightly golden.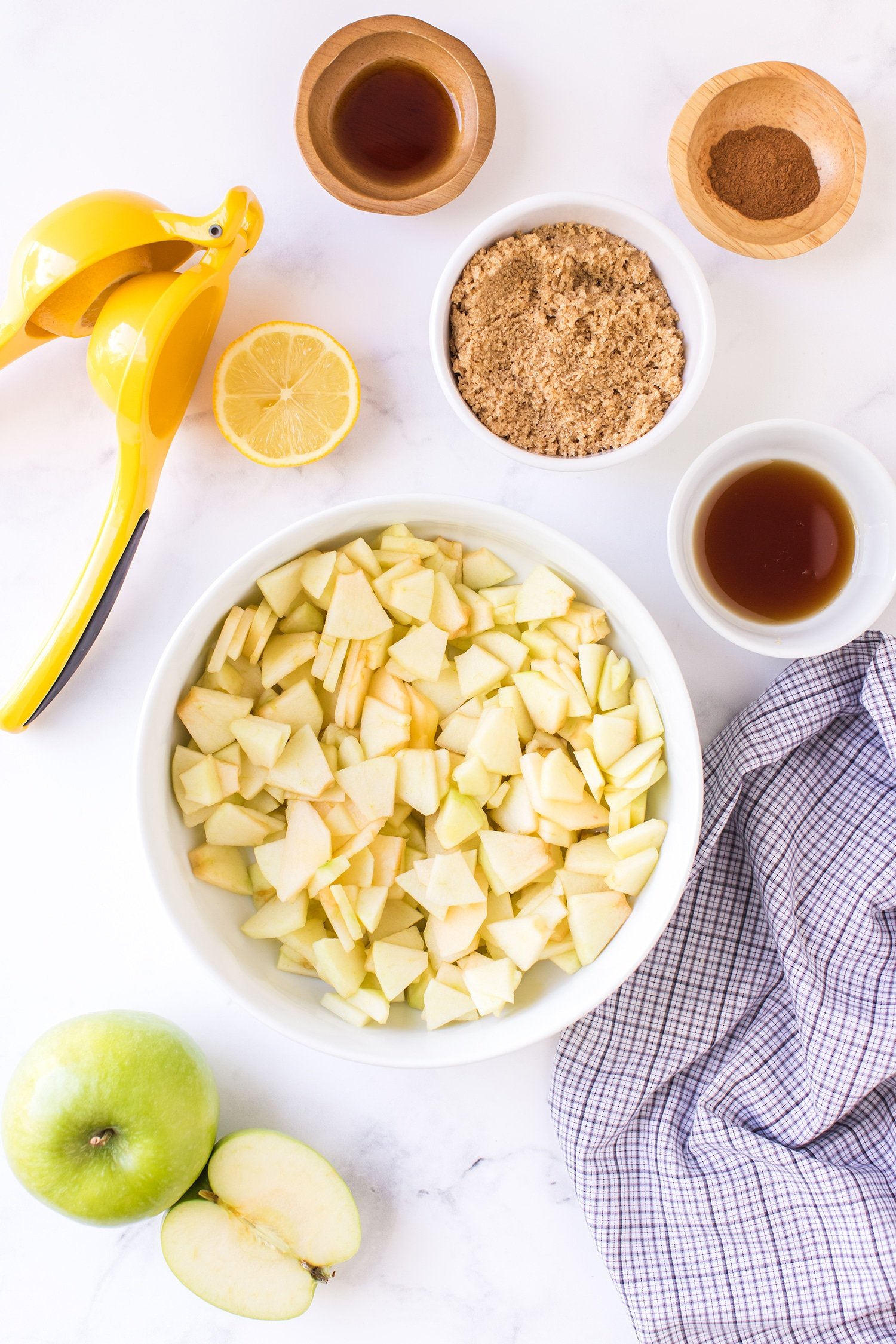 While the crust is baking, prepare the apple filling.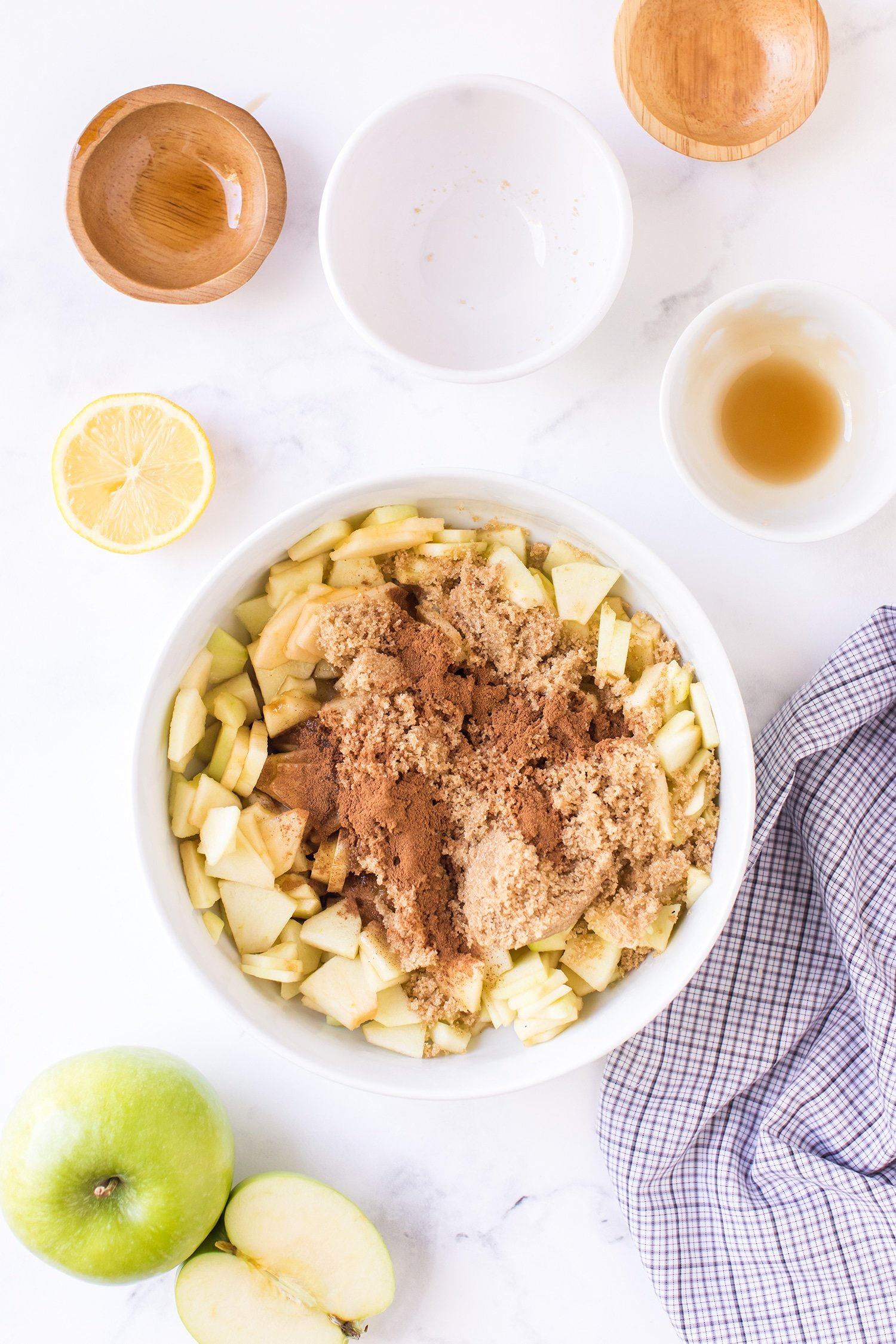 Mix sliced apples with brown sugar, cinnamon, maple syrup, vanilla extract, and a dash of lemon juice.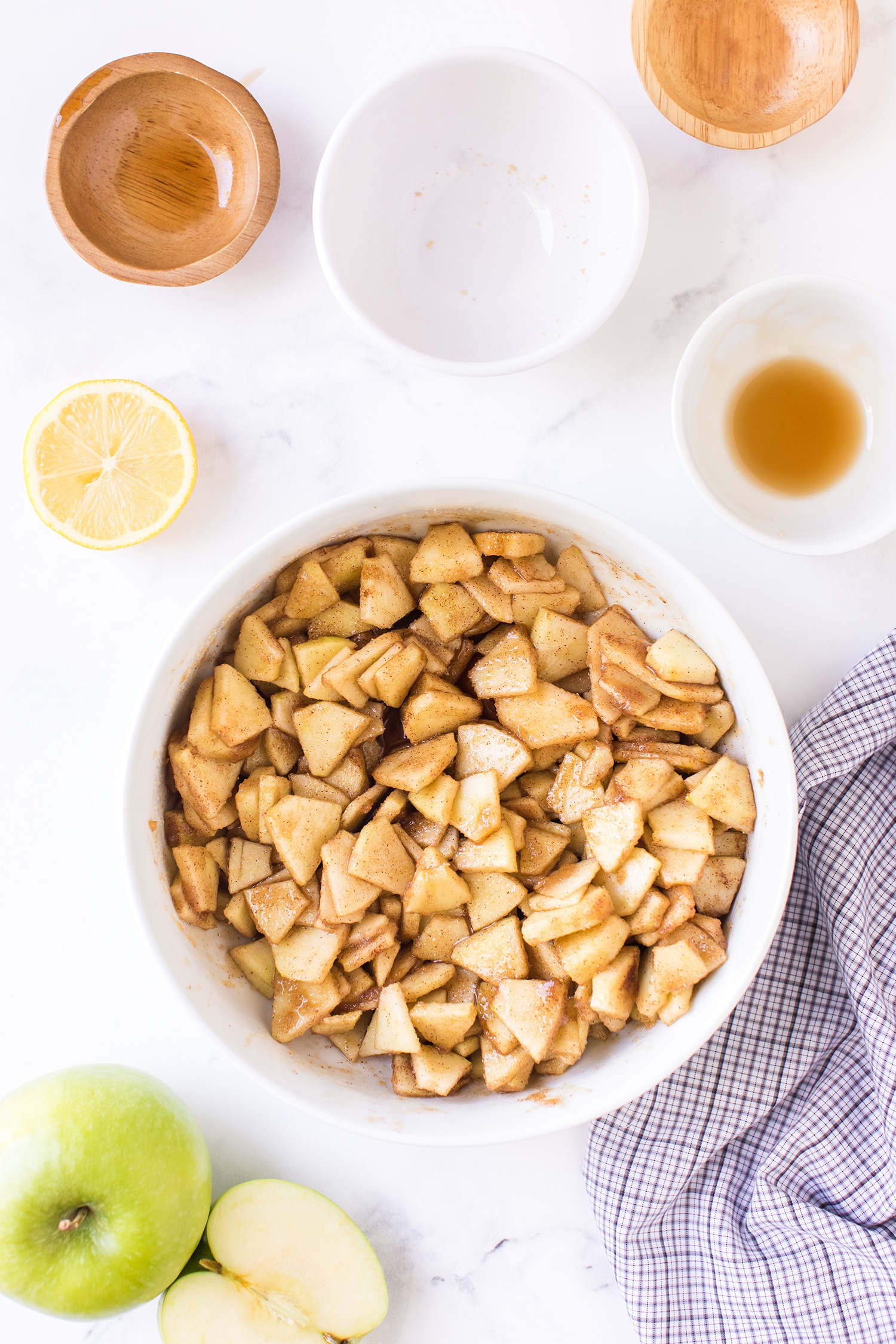 (Also, these apples are seriously delicious all mixed up like this, so if you happen to sneak a few out of the bowl and into your mouth…no judgement here 😉)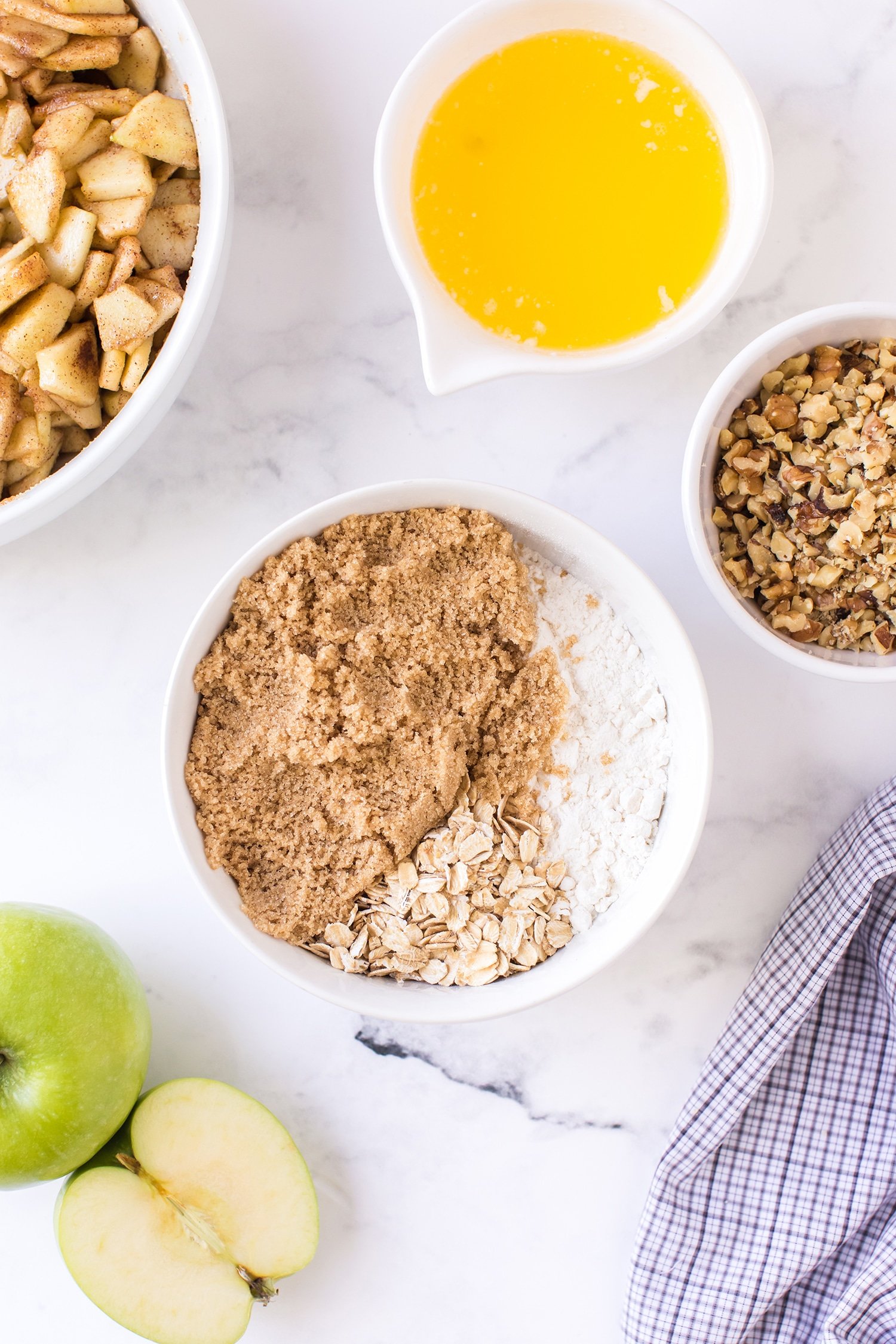 Mix up the ingredients for the streusel topping (YUM!). If you're not a fan of walnuts, you can also substitute chopped pecans in the crumb topping. My family likes walnuts, but I personally prefer pecans myself!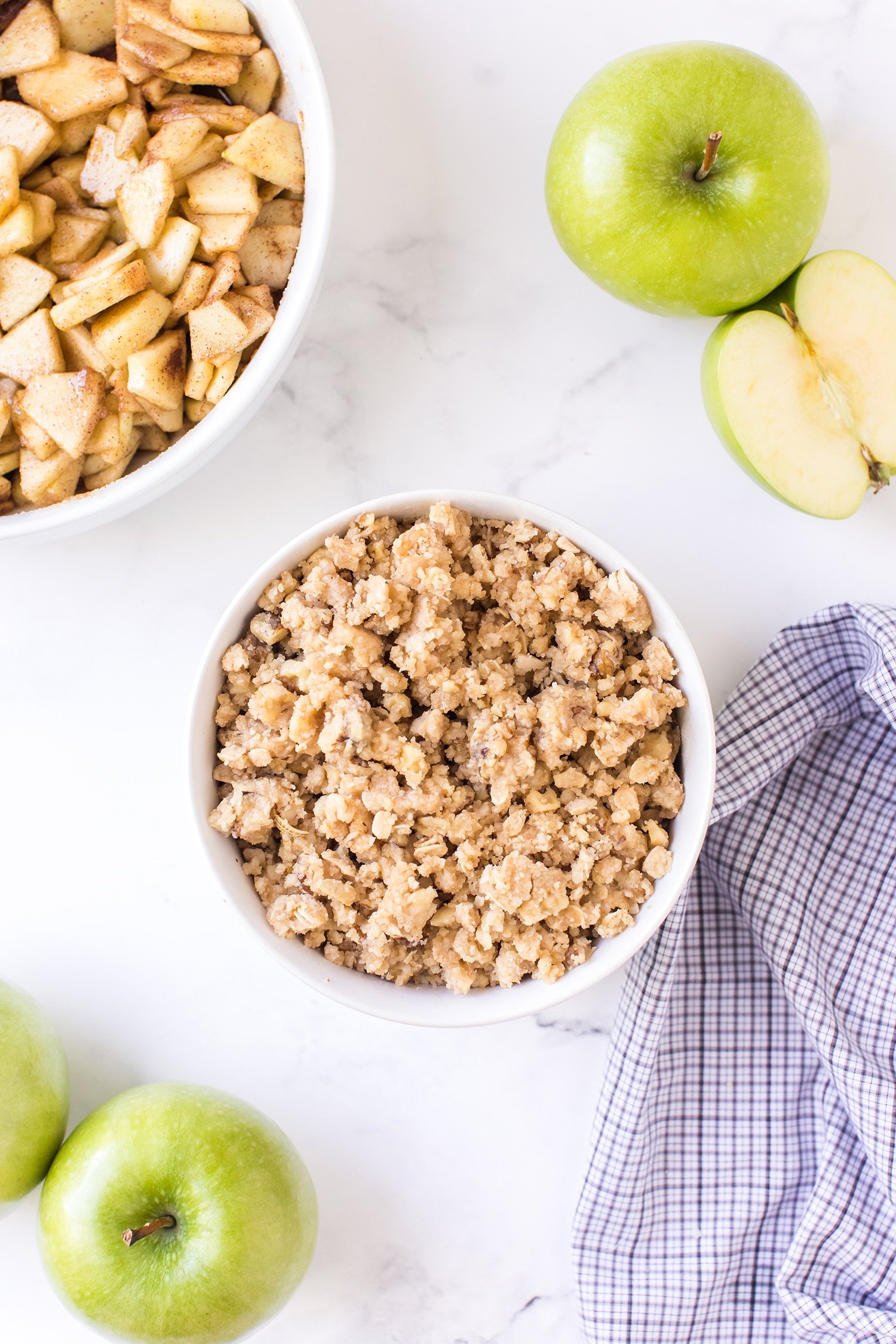 When everything is thoroughly combined, you will have a crumbly topping mixture that looks similar to this.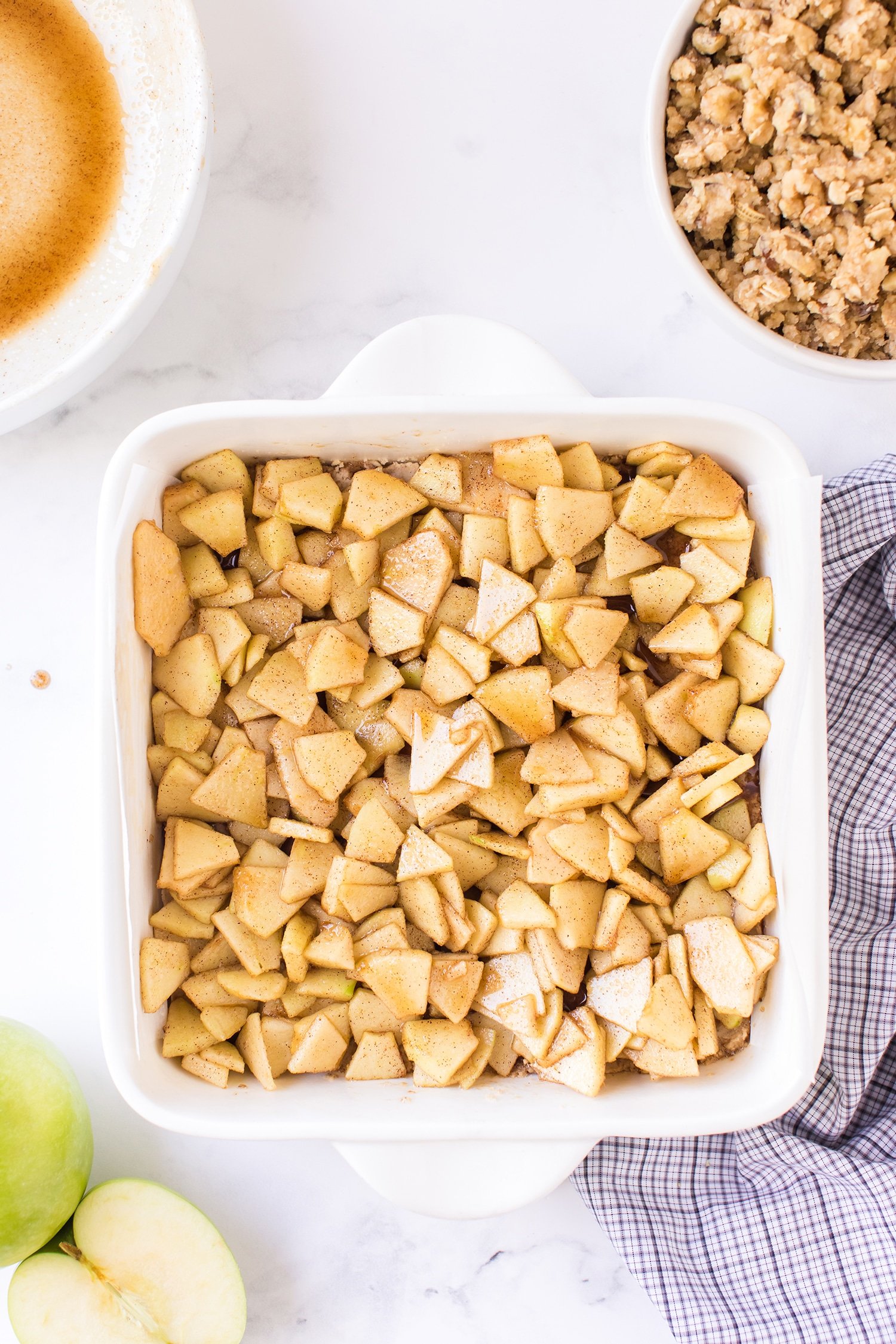 After the pie crust comes out of the oven, pour the apple pie filling on top of the crust, and spread to form an even layer.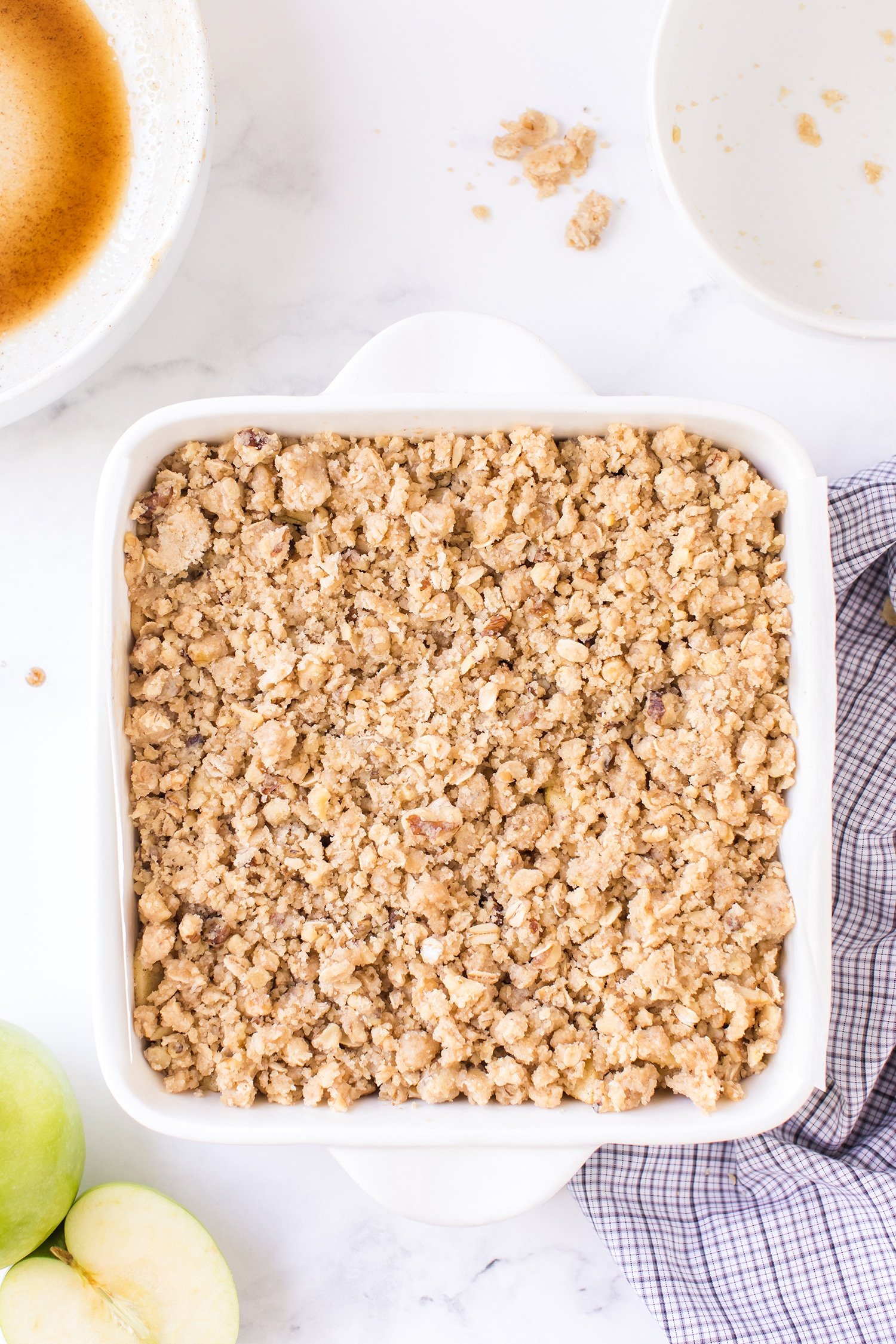 Top the apple filling with the crumble topping mixture and spread it into an even layer.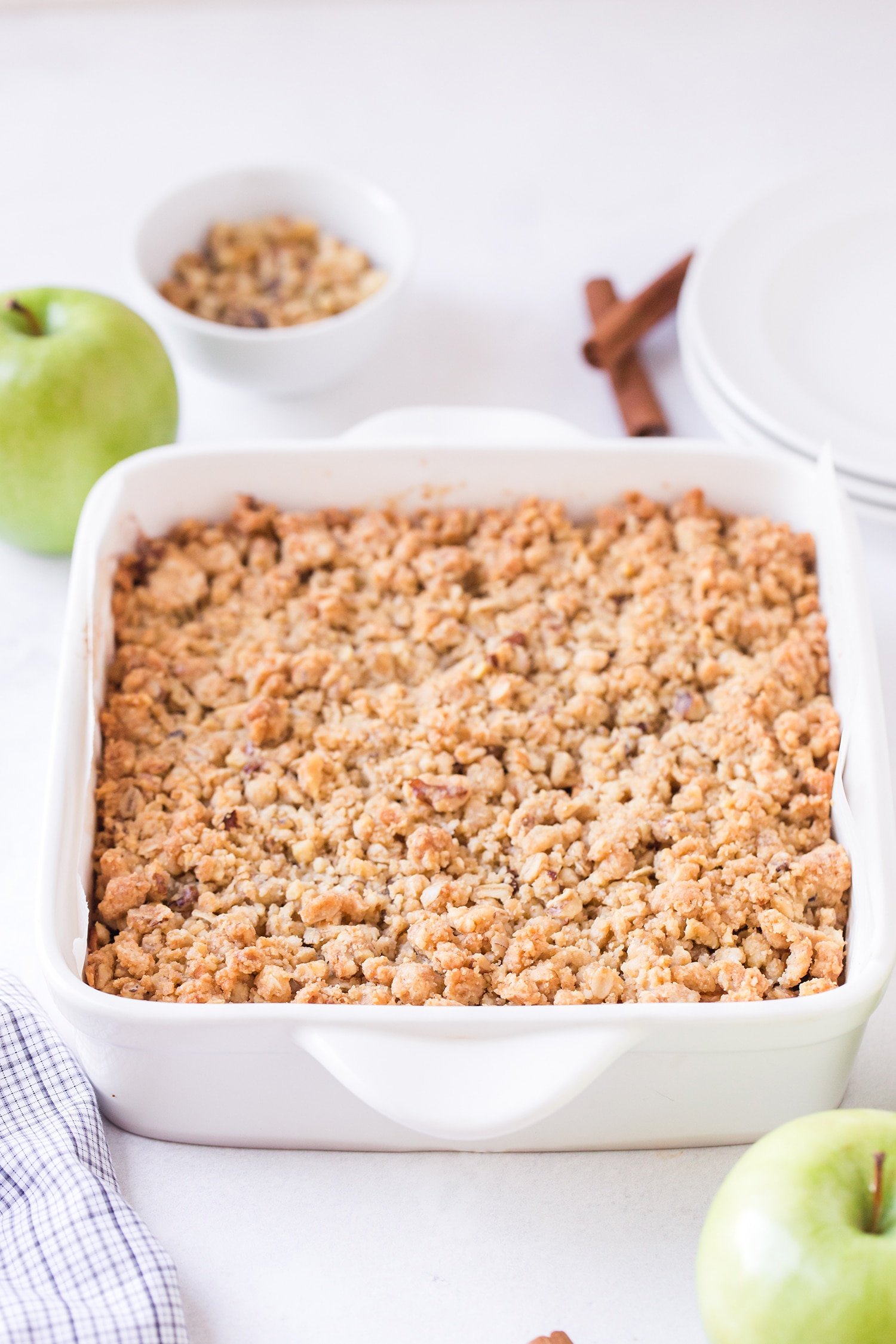 Bake until the streusel topping is golden brown and your house smells like Heaven!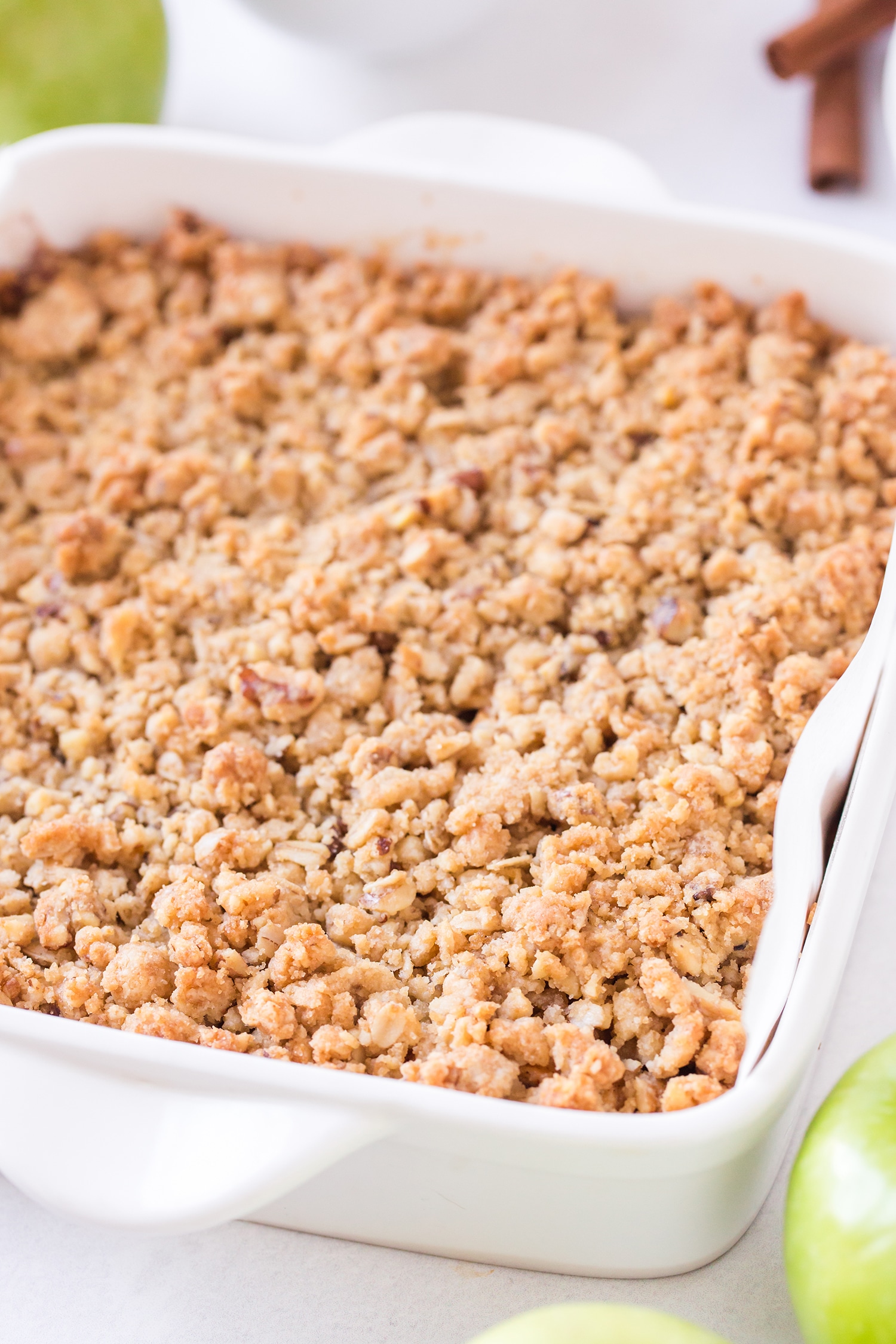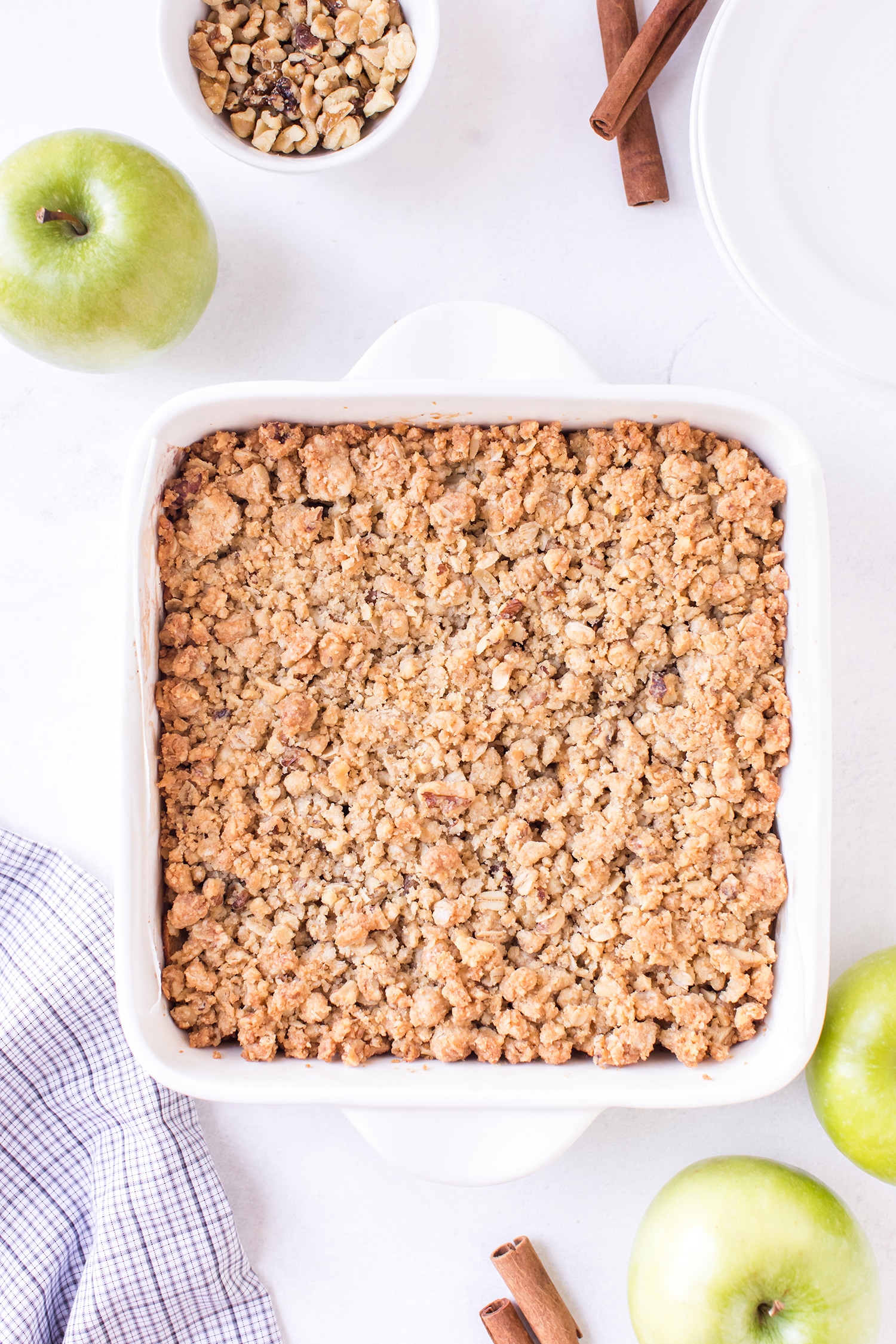 Allow the apple pie bars to cool for at least 30-40 minutes.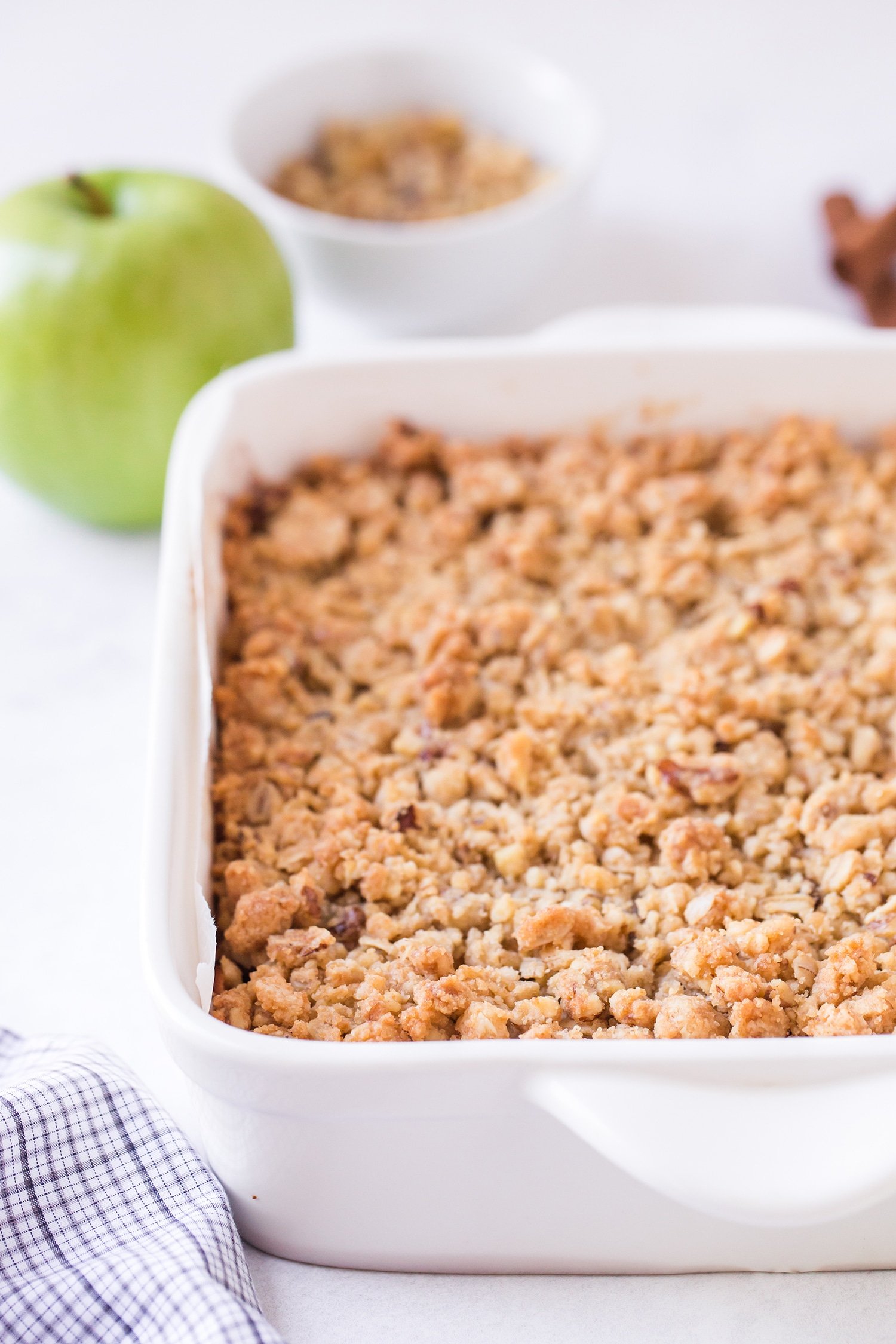 I know, I know, it's SUPER tempting to cut into them right now when they smell so incredible and look so divine! Trust me, though, they're totally worth the wait, and it's definitely not worth the heartbreak if your apple pie bars fall apart because you didn't let them cool!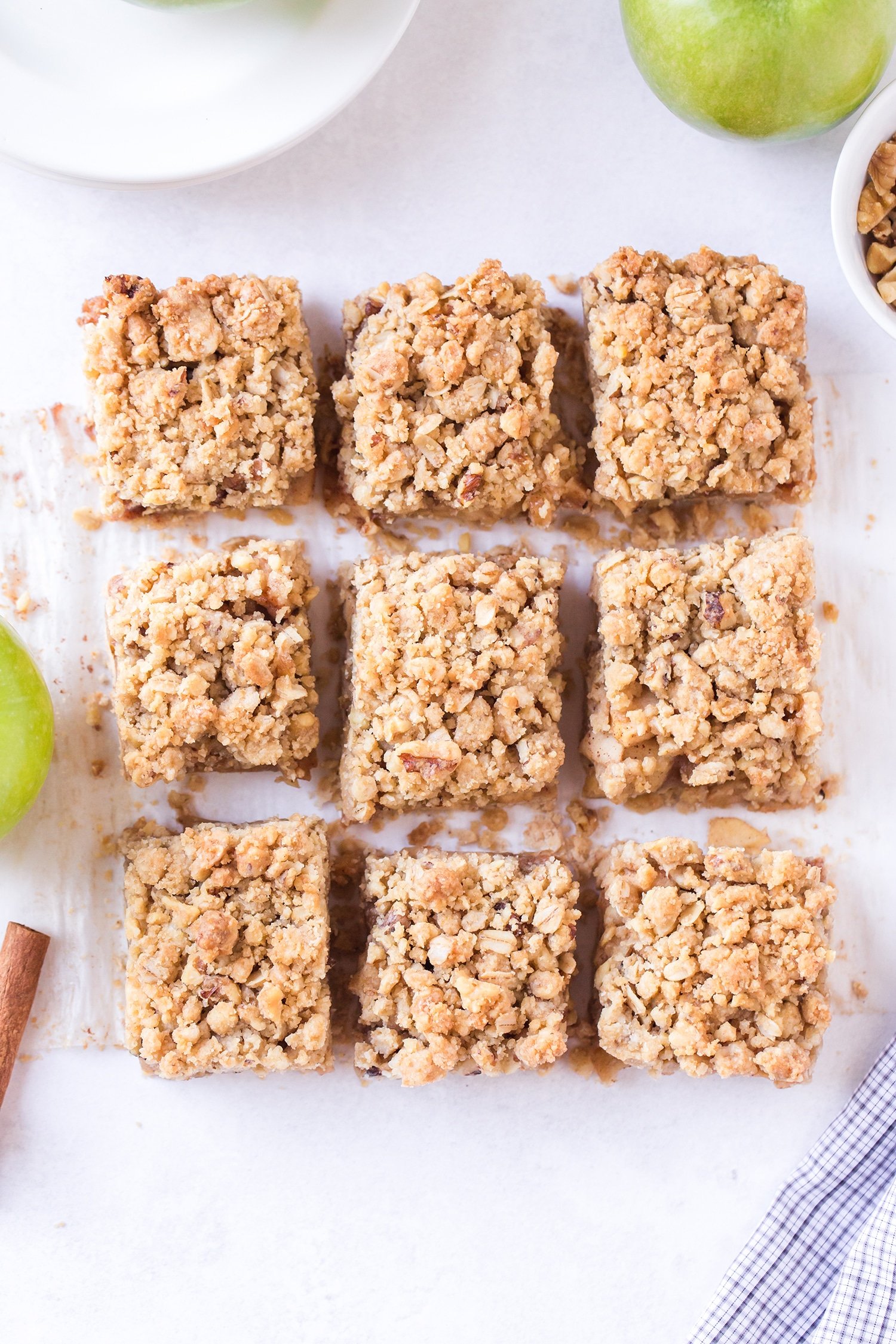 Once the bars have cooled, gently lift the parchment paper to remove them from the baking dish, and use a sharp knife to slice them into individual bars. I like to cut mine into 9 pieces, but you could get as many as 12 bars out of the pan if you prefer a smaller portion.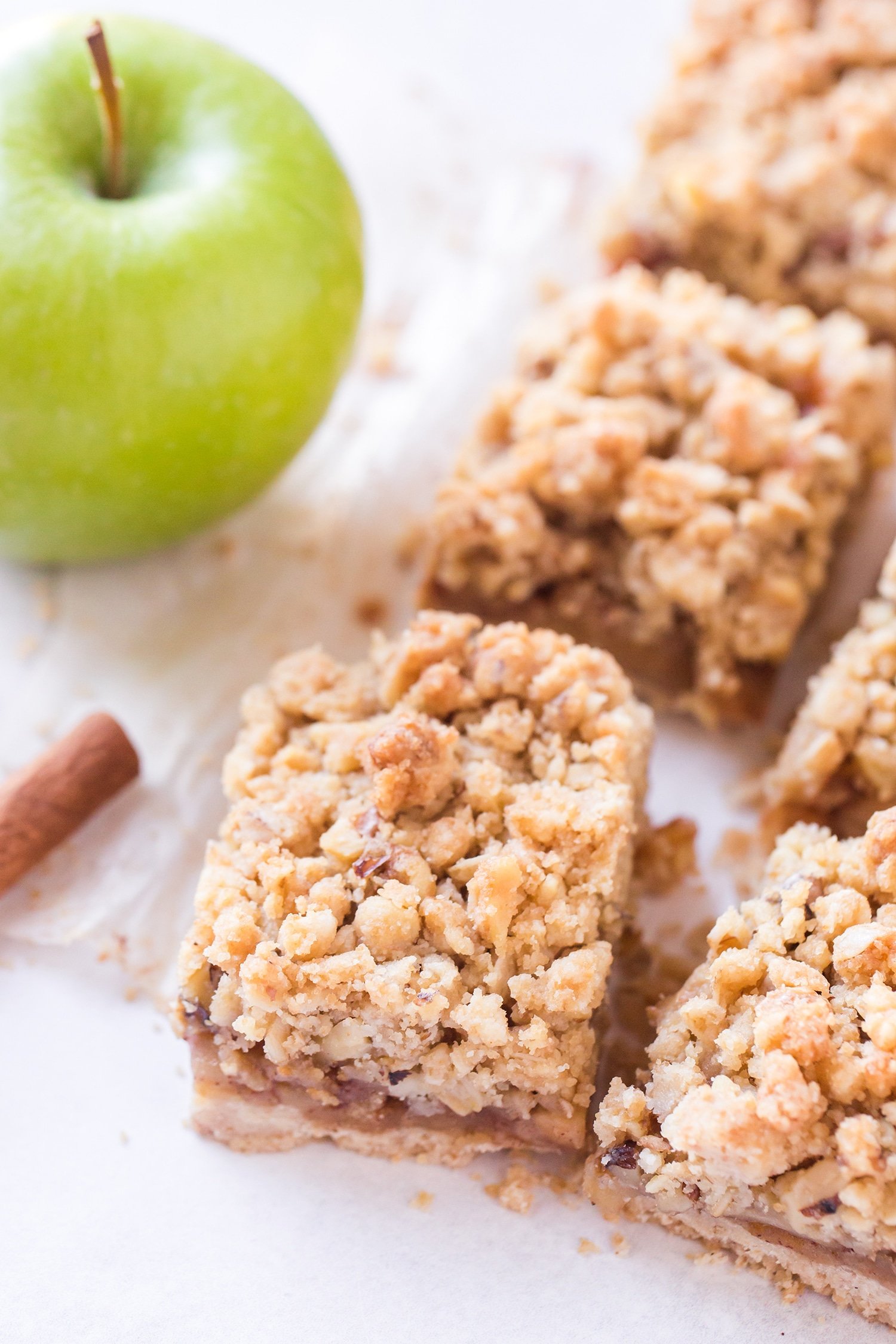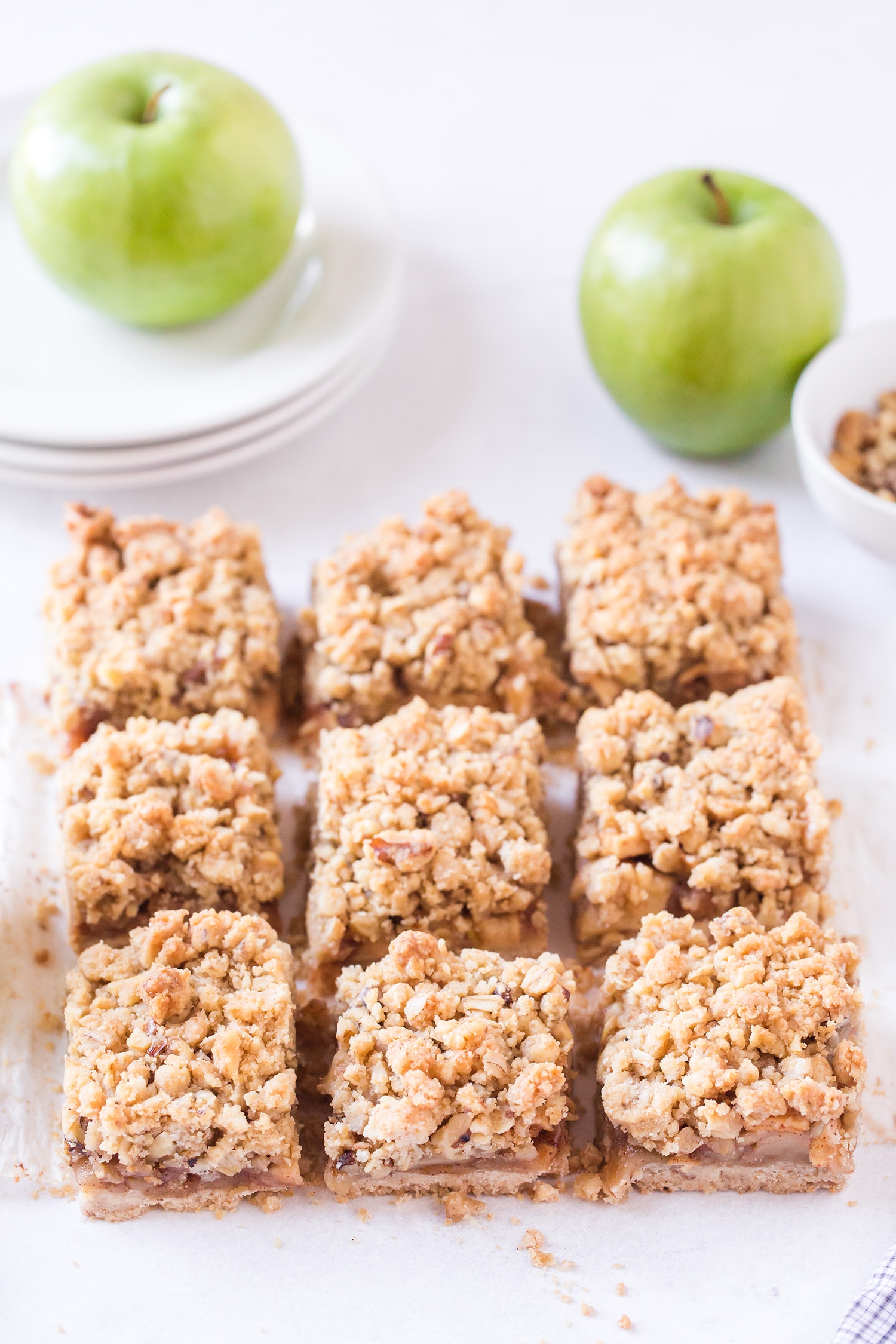 These apple pie bars are the perfect fall dessert for your family, and if you're having dinner guests, they make for an extra special treat!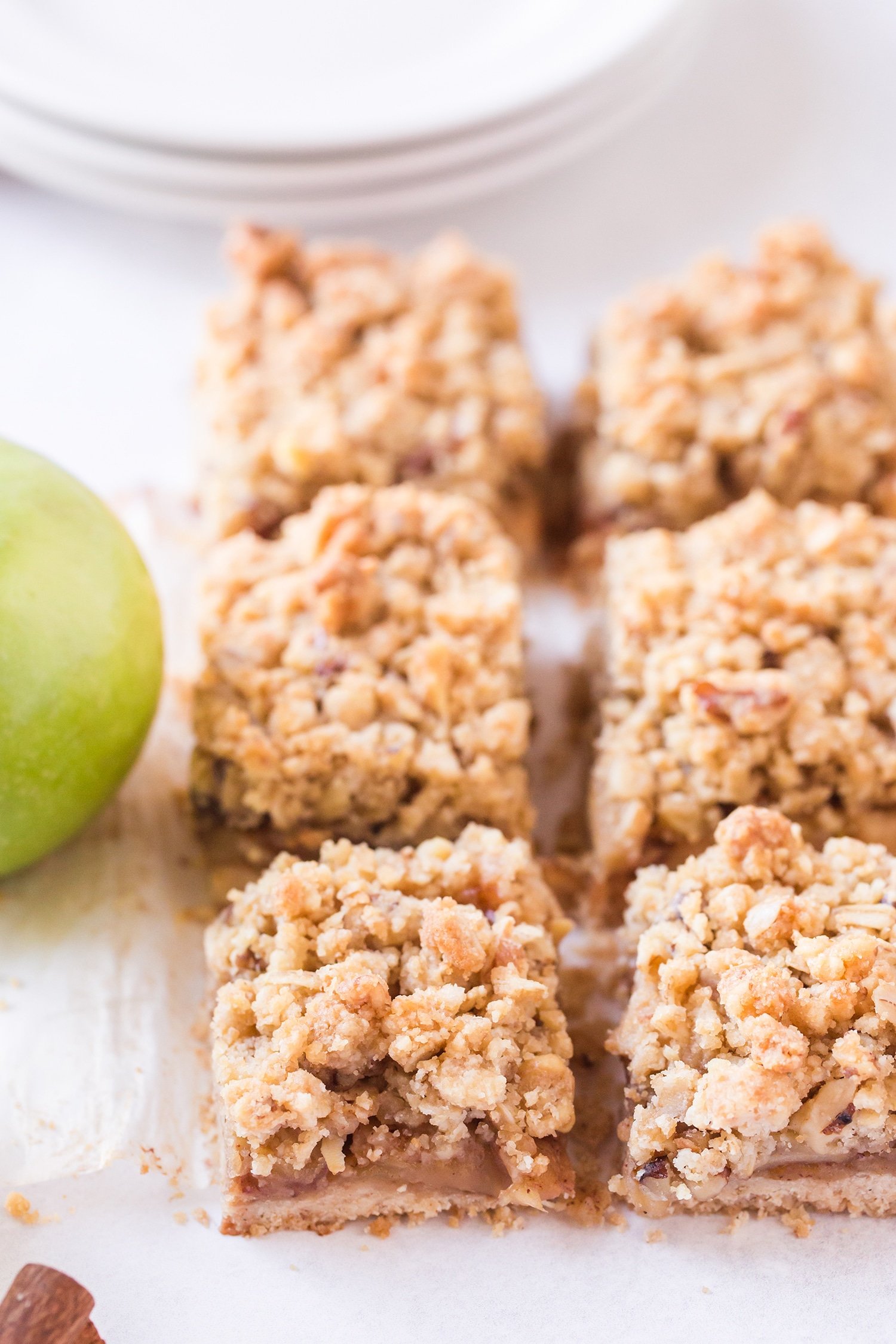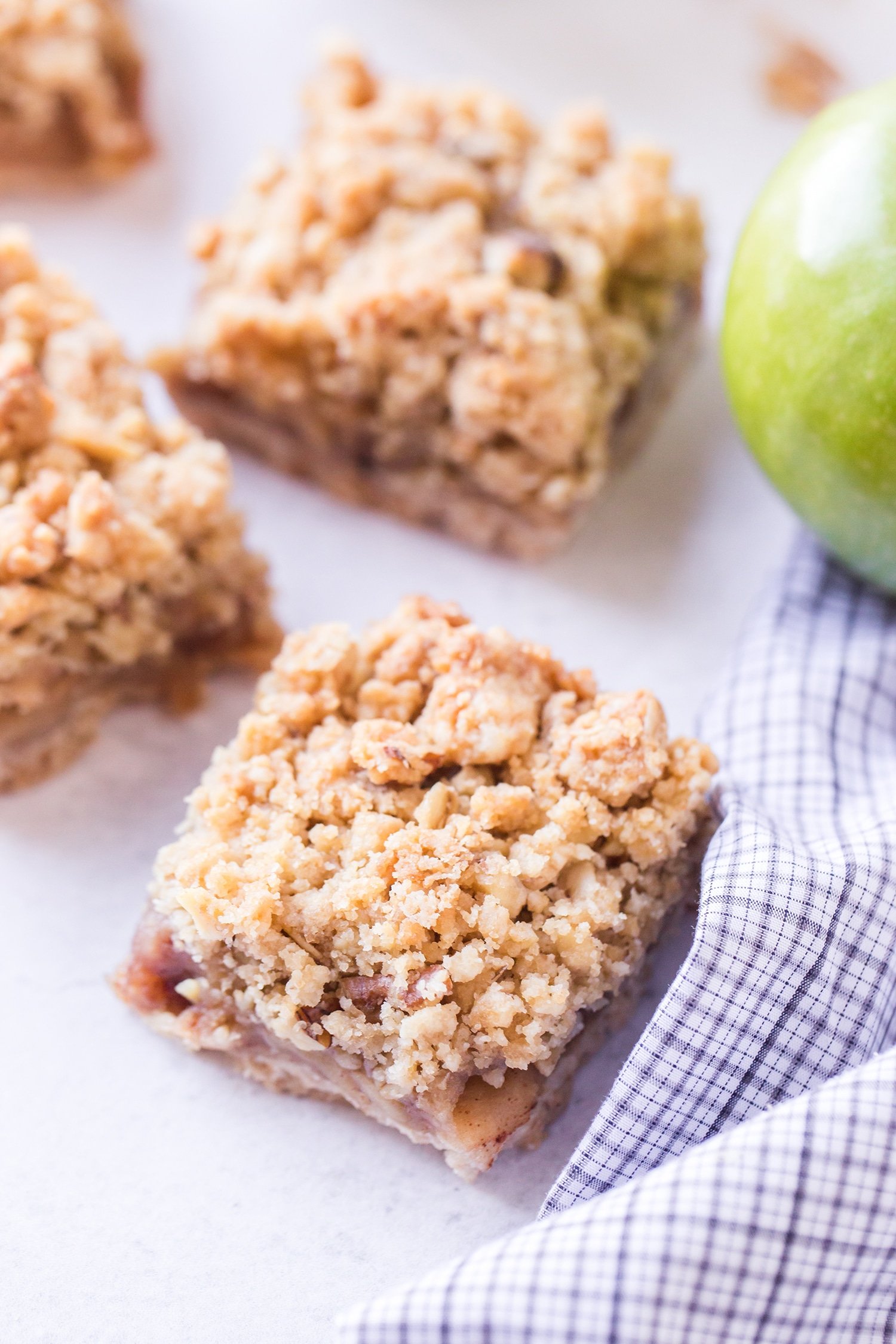 I'm pretty sure that I'm going to have to make a big batch of these for Thanksgiving dessert this year!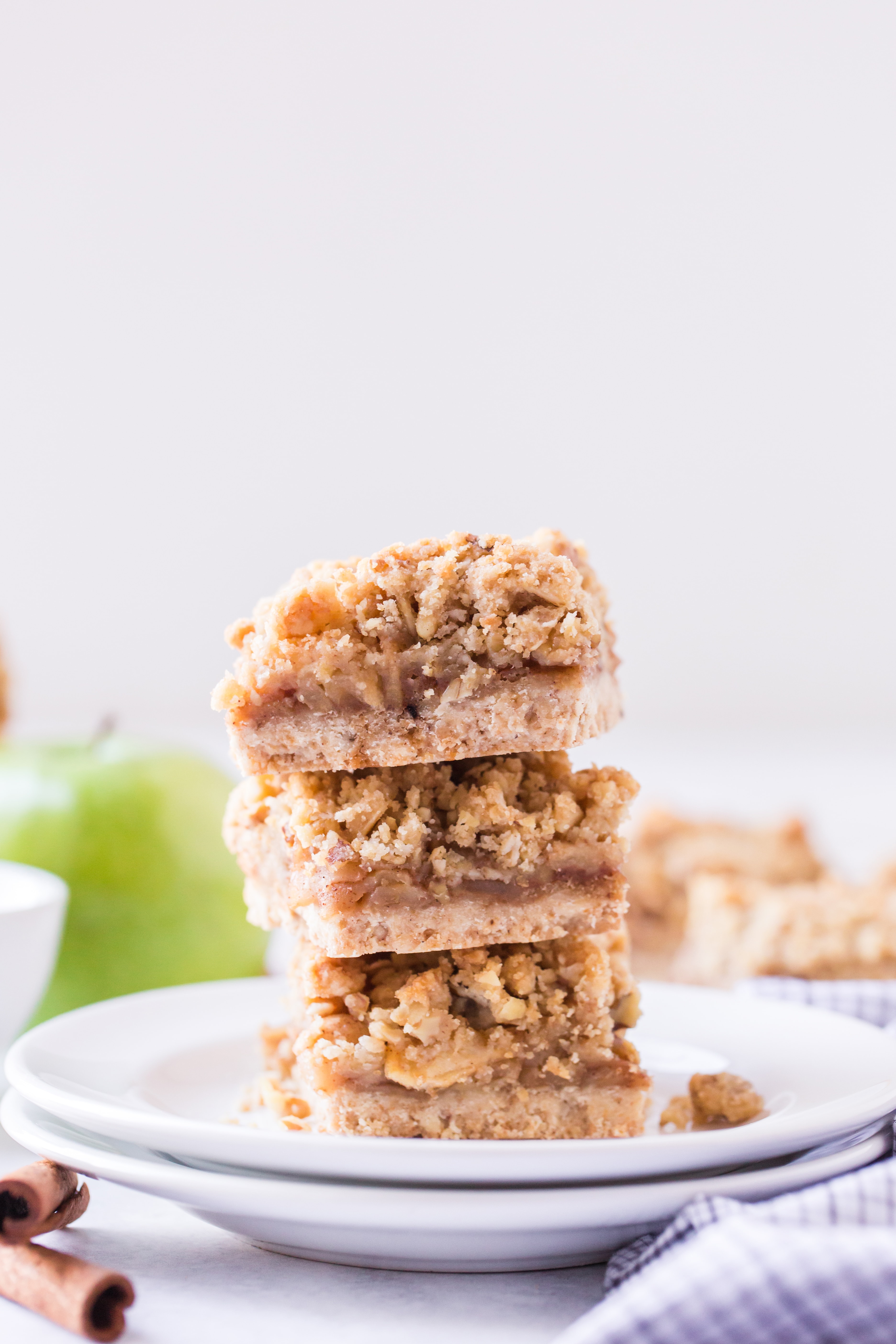 If you really want to kick things up a notch, you can serve these apple pie crumble bars with a drizzle of homemade salted caramel sauce or praline ice cream. Y-U-M!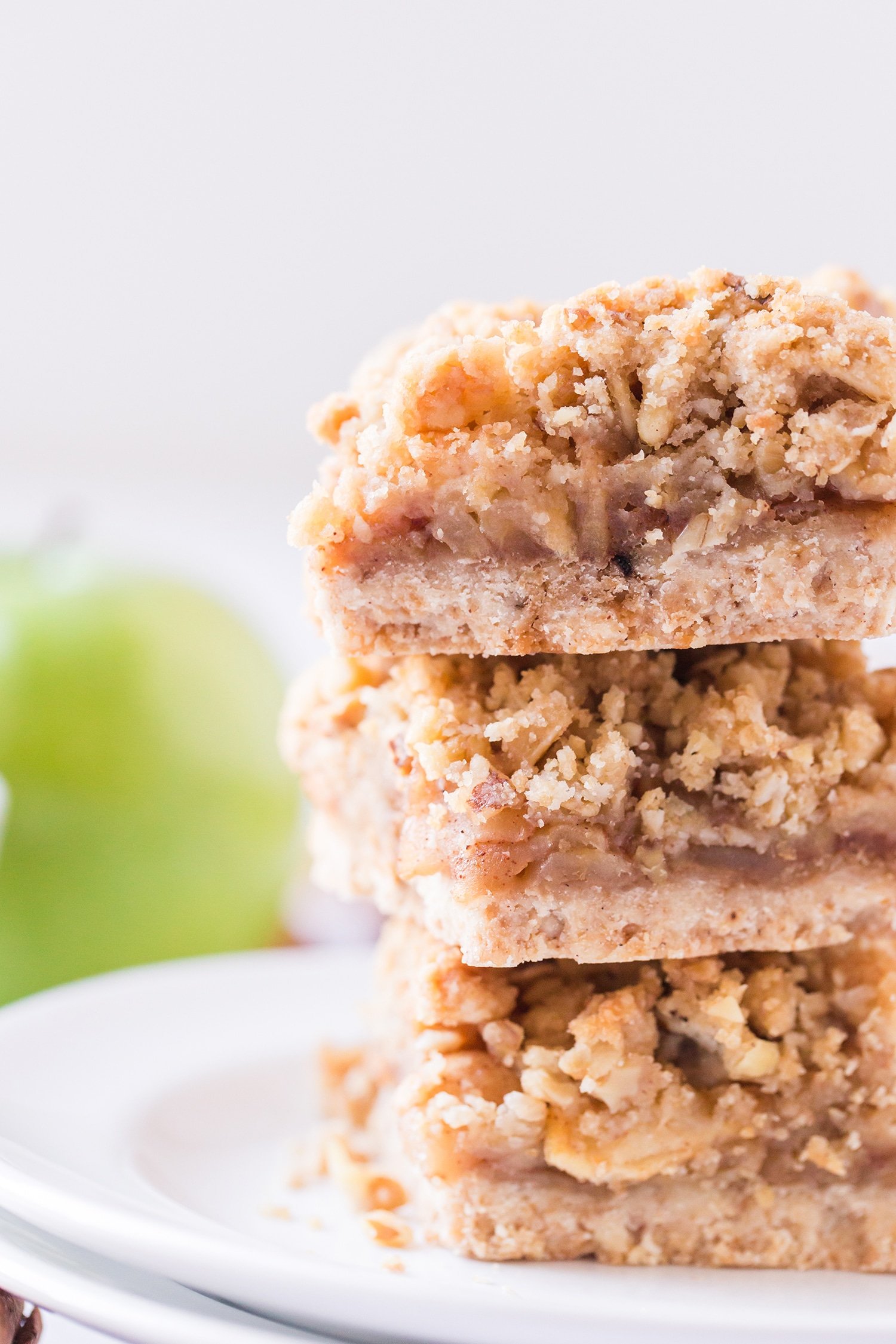 That crumbly streusel topping is seriously to. die. for. Once you make these apple crumble bars, there's no going back to regular apple pie!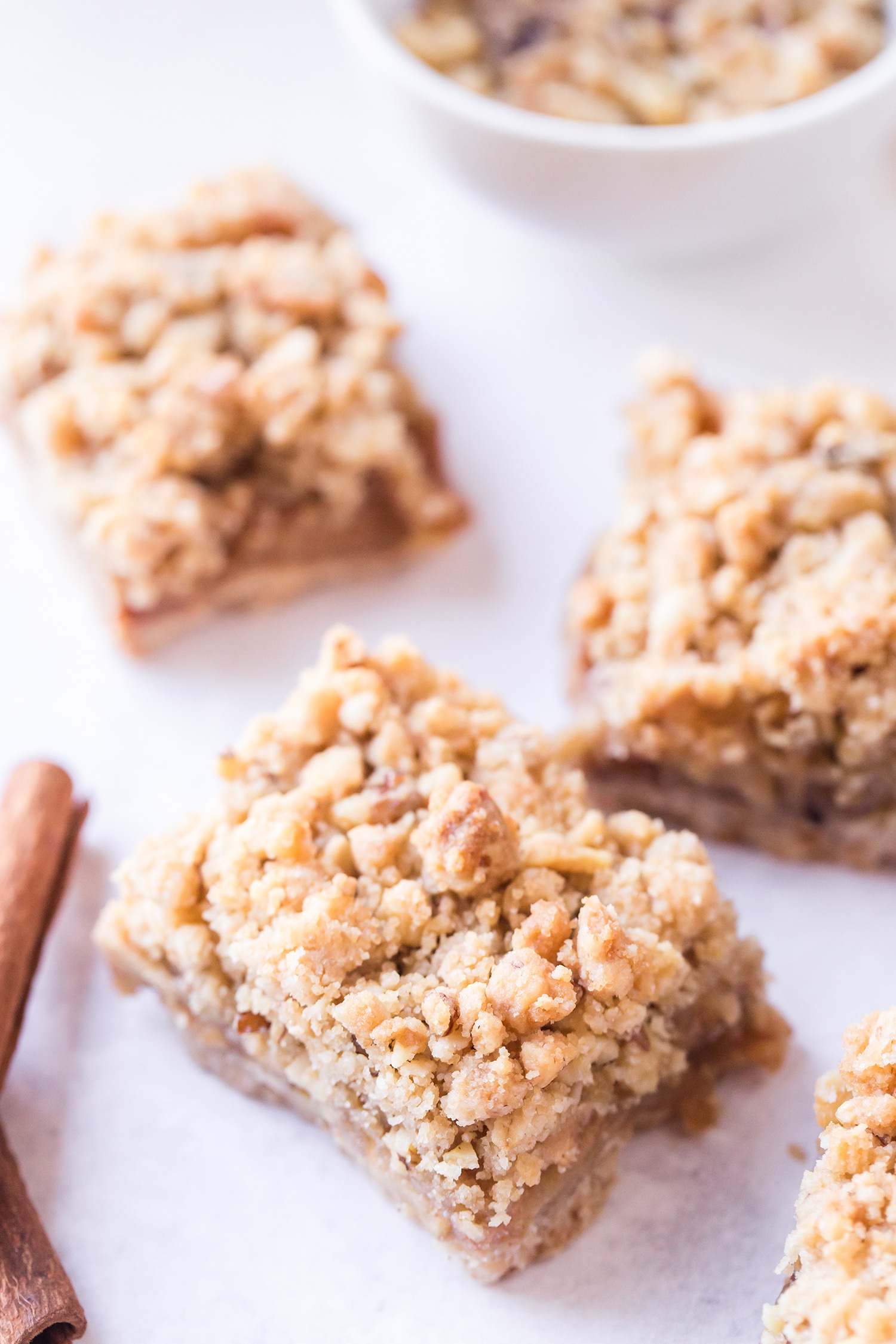 Some of the questions that we frequently receive about this recipe are:
How do I store apple pie bars?
You can keep apple pie bars at room temperature for up to two days because of the sugars and acid. If you put it into the refrigerator, it will be good for up to 5-6 days. Keeping them in sealed containers will prevent them from getting stale.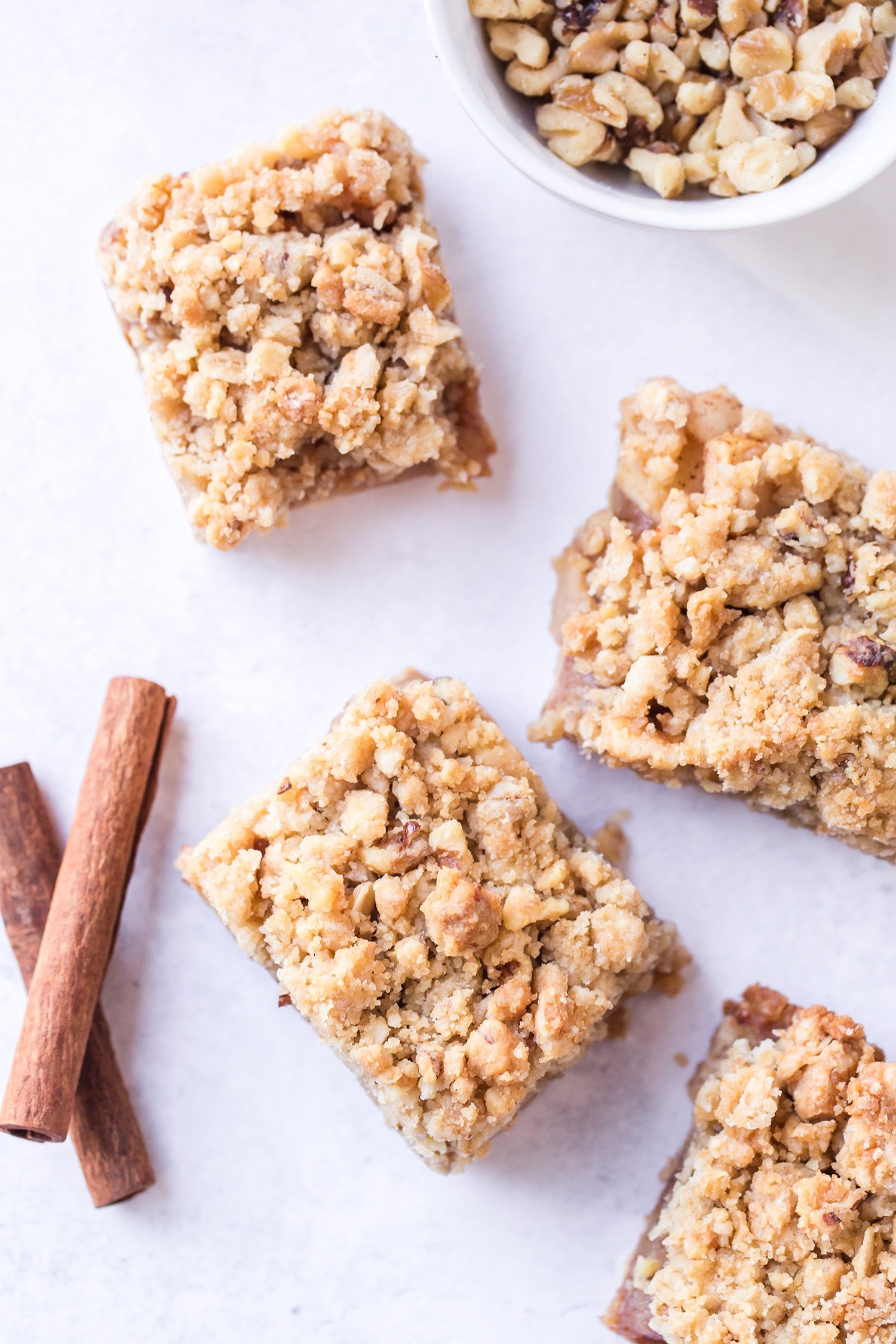 How do I keep my apple pie bars from falling apart?
Let the apple pie bars cool for at least 30 minutes before cutting them apart – I prefer to let them cool completely (you can always reheat the individual bars later on if you want to serve them warm!). Use a shallow pan to help with cutting. I often use a fork or a small, flexible spatula to get them out, as this is smaller and easier to fit into the baking pan.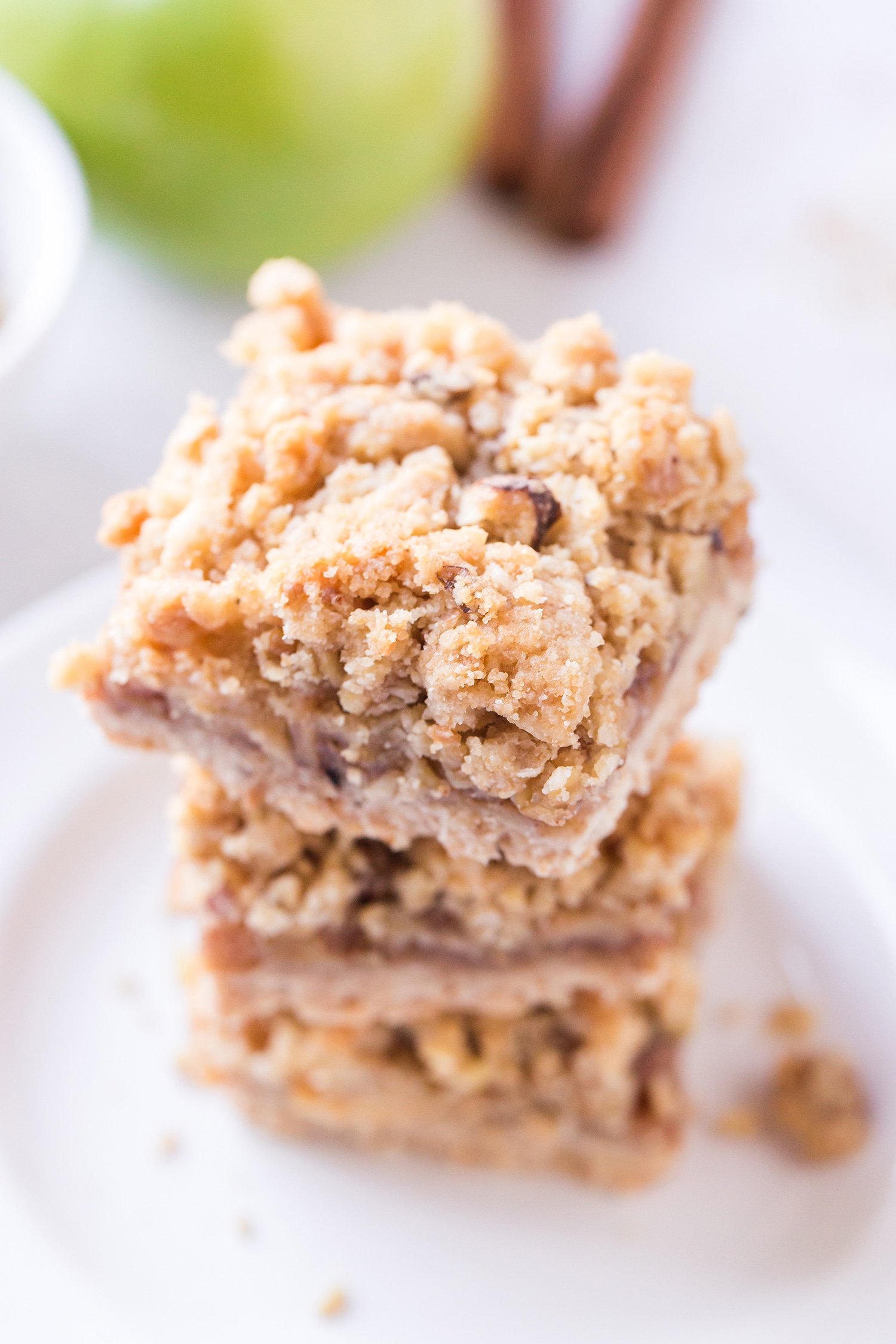 What types of apples can I use in my apple pie bars?
Granny Smith apples will give the bars a tartness that contrasts nicely with the sugar. Other apples, such as Honeycrisp, Fuji, Golden Delicious or Braeburn will be sweeter, but can also be used.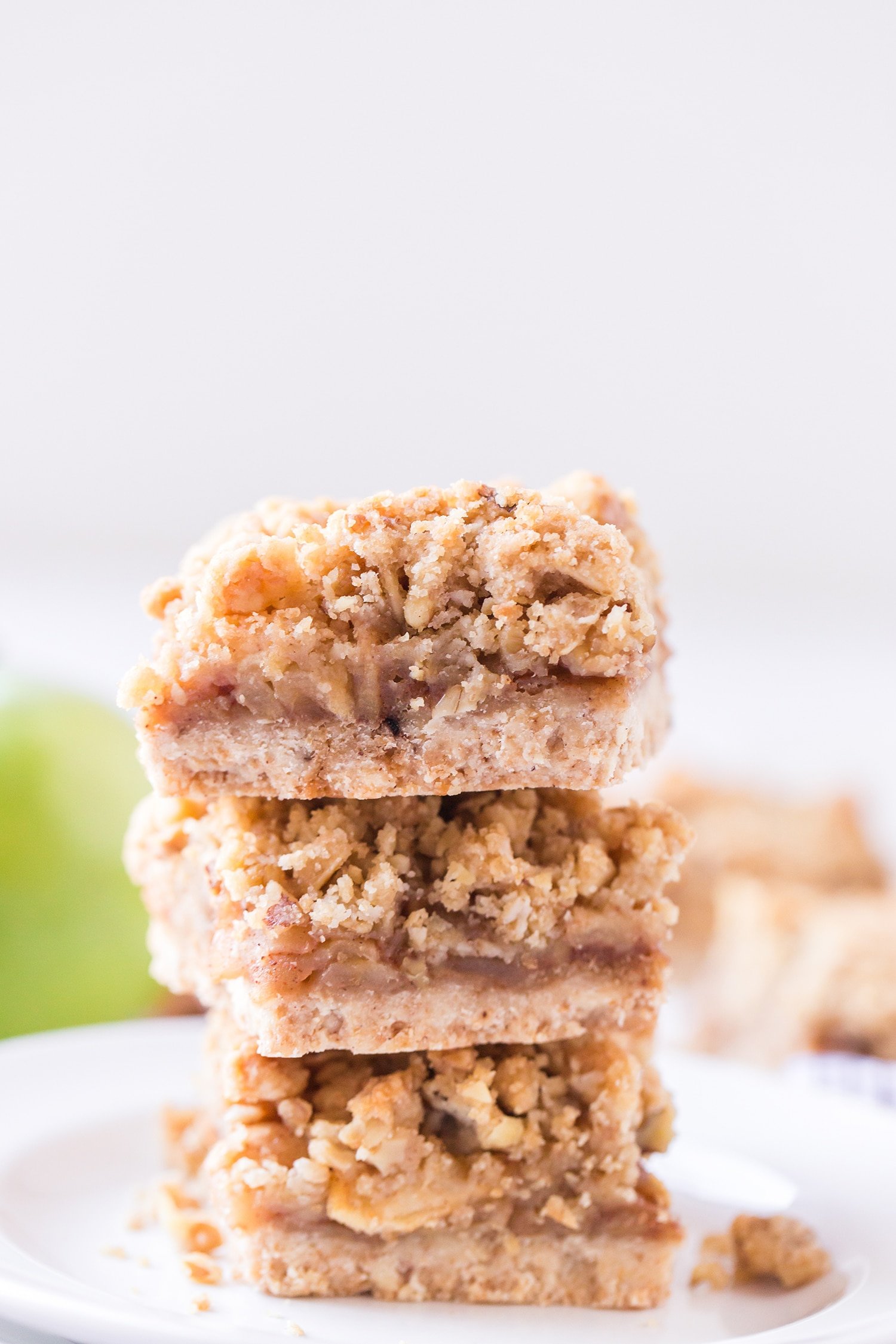 Can I Add More Spices to the Apple Pie Bars Recipe?
Certainly! If you want to amp up the spice flavor profile, you can add nutmeg, cardamom, cloves, and/or ginger to the recipe. A little goes a LONG way, though, so I suggest starting with just 1/8 tsp of no more than 2-3 additional spices and then adjusting for personal taste preference. Spices can be added to the crust, apple filling, or streusel topping.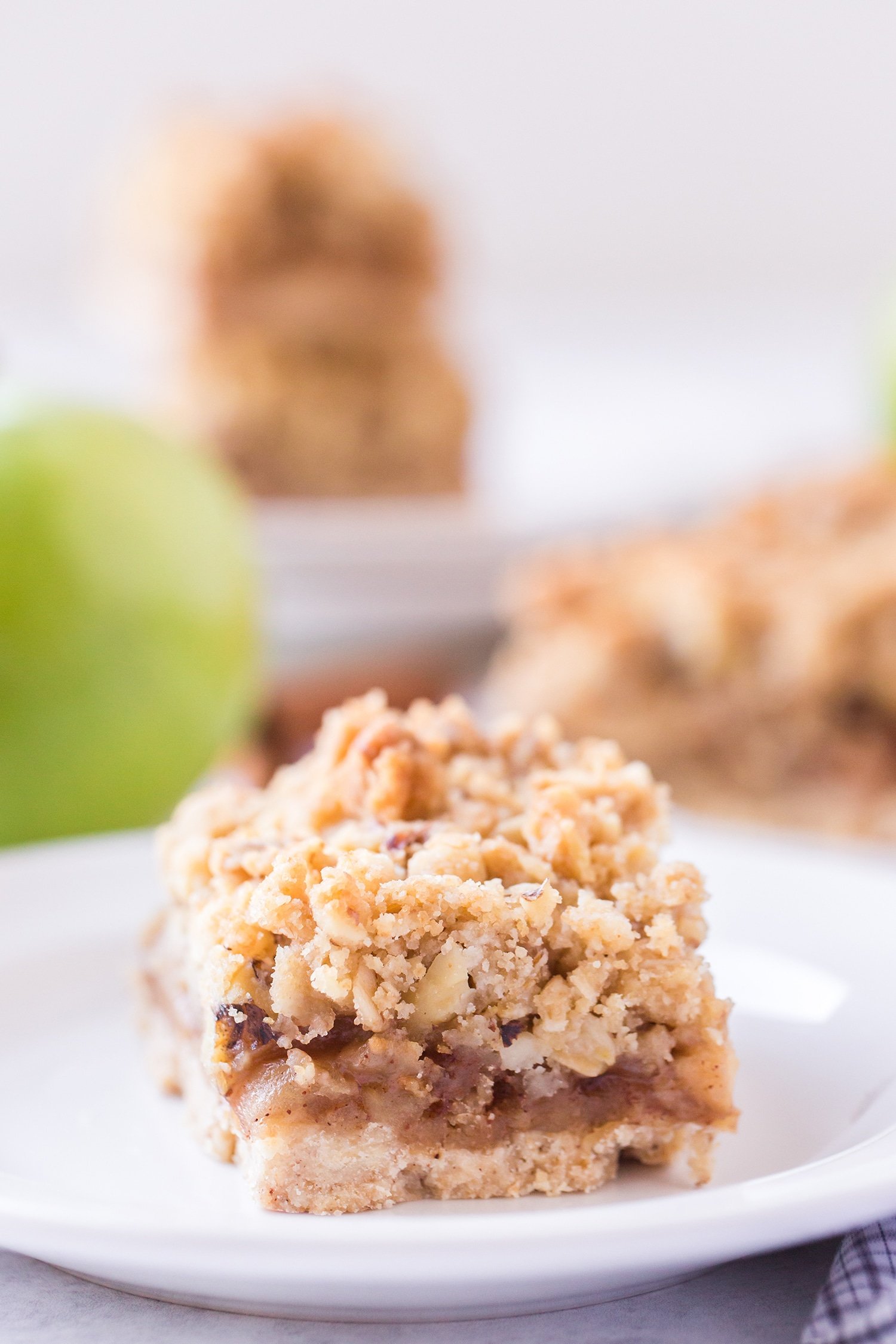 These apple pie bars are sure to be a HUGE hit with your family and friends!
---
Apple Pie Crumble Bars Recipe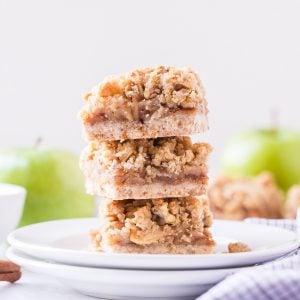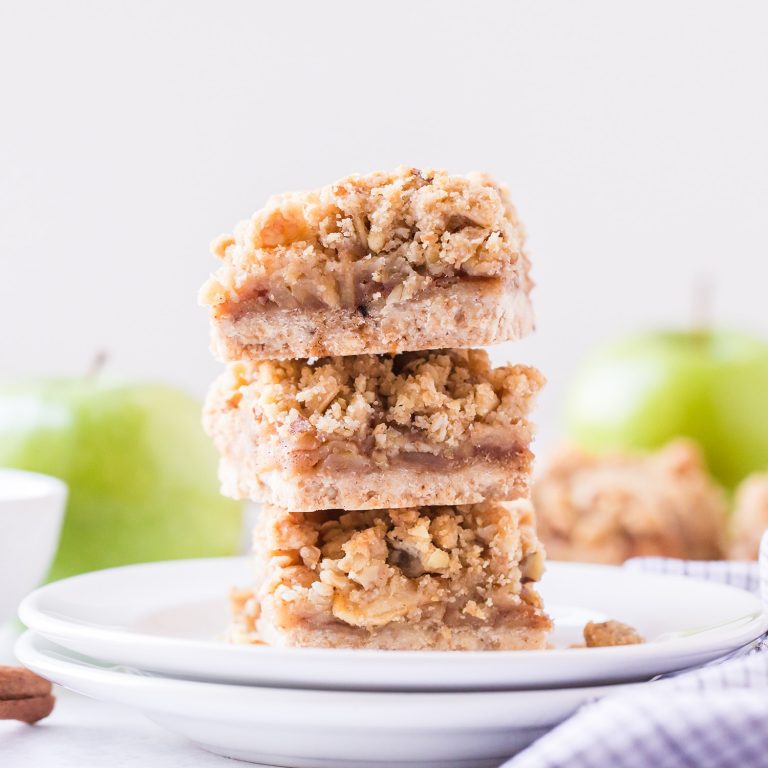 What You'll Need:
For the Crust:
1 1/2

cups

All-Purpose Flour

1

stick

Salted Butter,

melted (1/2 cup)

3

Tbsp.

Brown Sugar

1/4

tsp.

Baking Soda

1/2

tsp.

Ground Cinnamon
For Filling:
2 3/4

cups

Granny Smith Apples,

peeled, cored, and sliced

1 1/2

tsp.

Lemon Juice

3/4

cup

Brown Sugar,

packed

1 1/2

Tbsp.

Maple Syrup

3/4

tsp.

Ground Cinnamon

1 1/2

tsp.

Vanilla Extract
For Streusel Topping:
3/4

cup

All-Purpose Flour

1/2

cup

Walnuts

1/4

cup

Old-Fashioned Oats

1/2

stick

Salted Butter,

melted

1/2

cup

Brown Sugar,

packed
Instructions:
Preheat the oven to 350 degrees F. and lightly grease an 8 x 8-inch pan.

For the crust, stir together flour, butter,brown sugar, baking soda and cinnamon until fully incorporated.

Transfer the crust to a greased or parchment lined 8×8 inch pan. Press the crust into the bottom until it reaches the edges.

Bake for 20-25 minutes or until the edges are lightly golden.

While the crust is baking, make filling by adding the apples to a medium bowl with the lemon juice, sugar, maple syrup,spices, and vanilla extract. Toss to combine, then set aside.

Prepare topping by combining flour, walnuts, oats, butter, and brown sugar. Stir until clumps form

Take the crust out of the oven and pour apple filling over the crust. Spread to form an even layer.

Sprinkle the topping over the apples.

Bake for 40-50 minutes or until bubbly and the topping is golden brown.

Remove from the oven and let cool for at least 20 minutes before slicing. The bars will not hold their shape if cut too soon.
If you try these out, I'd love to hear about it! Drop me a comment below or tag me on social media at @hiHomemadeBlog!

You May Also Like:
Don't Forget to Pin These Apple Pie Bars for Later!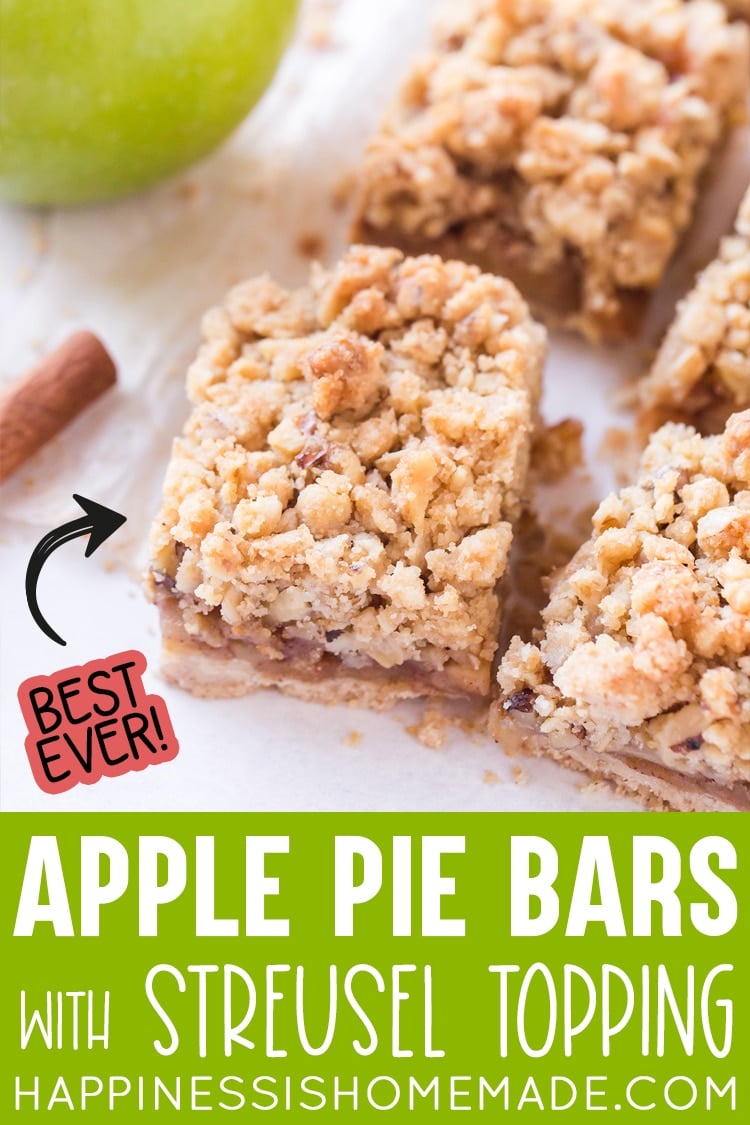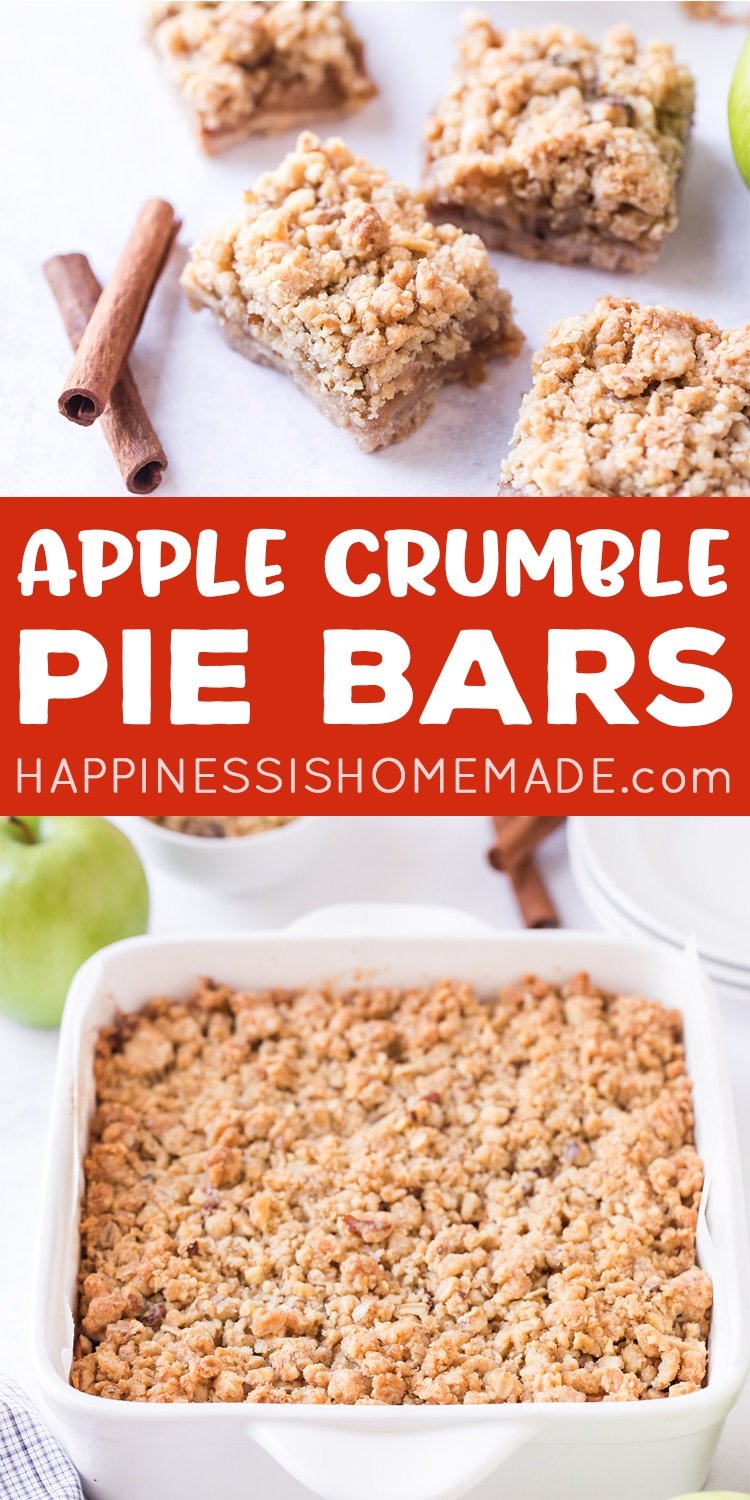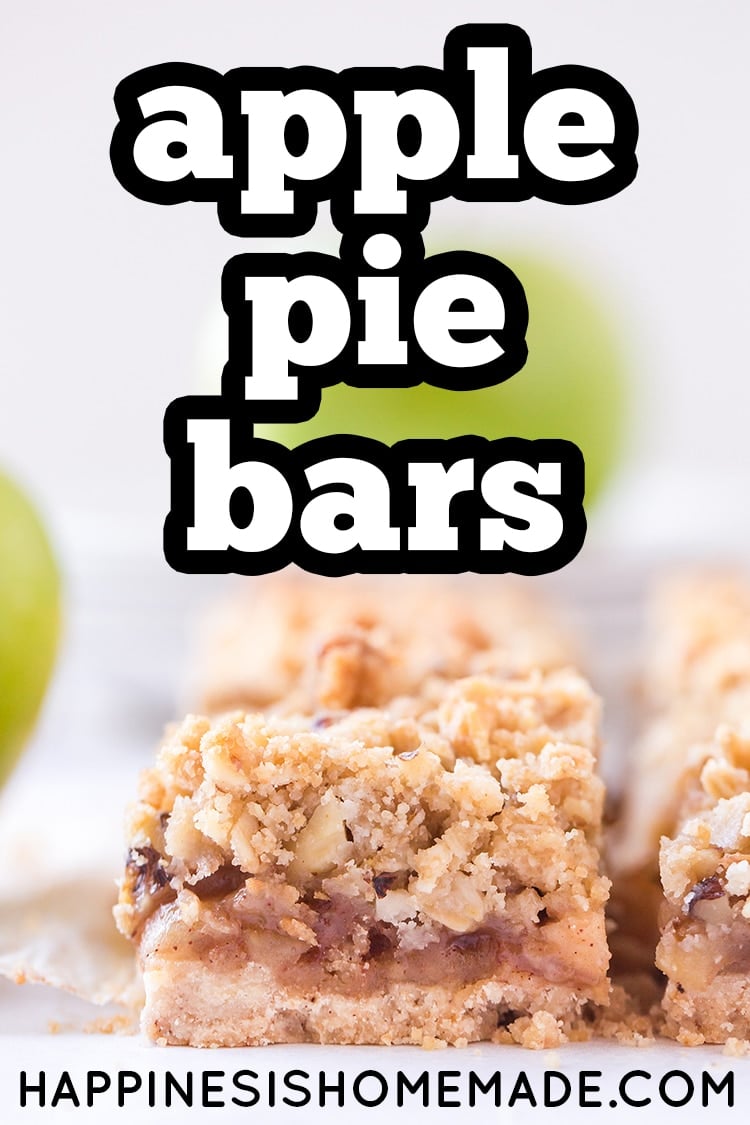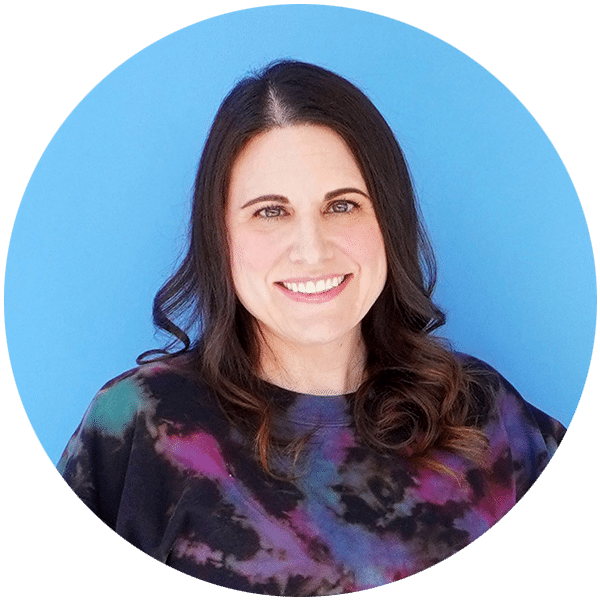 Heidi Kundin has captivated the hearts of millions with her colorful and inspiring approach to crafting, celebrations, and family fun. With over 15 years of experience, Heidi's website has become a must-visit destination for those seeking quick and easy creative ideas and last-minute solutions. Her warm personality shines through her posts, inviting readers to join her on a creative journey that's fun, rewarding, and achievable.