Once a month I get together with a group of lovely and inspiring women, sometimes for brunch, sometimes to craft, but always to gossip and enjoy some "grown-up time" for awhile. This month we decided that we all wanted to create our own jewelry, and it was so much fun! We made unique jewelry with everything from basic clasps and beads to recycled buttons and even paint chips! I'll be showing off a few of my creations on the blog this week, and I'm going to see if I can snatch some pictures from the other girls to show off their creations too.
The first thing I wanted to make was a piece of jewelry that I could wear to Simon's Little Cowboy Birthday Party. I love the look of red paisley, but I knew I didn't want to wear an entire bandana at the party so I came up with this fun, fast and simple solution!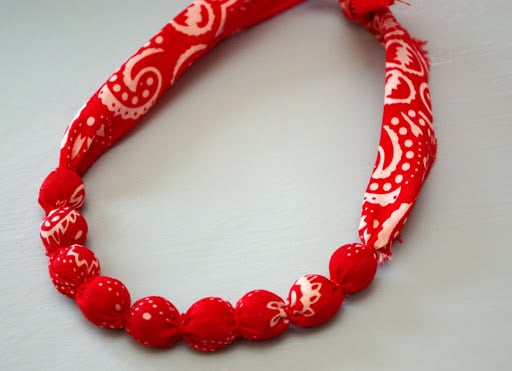 I laid out my bandana and cut a 3″ wide strip running diagonally from the furthest two corners. I rounded up nine of my boys' marbles and laid them in the center of the bandana strip (upcycling beads from an old necklace would work great too!). Working from the center out, carefully wrap the marble up until it in completely enclosed in the fabric and tightly tie the ends off with a piece of matching embroidery floss. Continue until all the marbles have been twisted and tied. I left the raw edges on mine because I thought that it added to the rustic charm.
It's that easy peasy! The whole project took less than five minutes, and I had the perfect cowgirl accessory for my party!