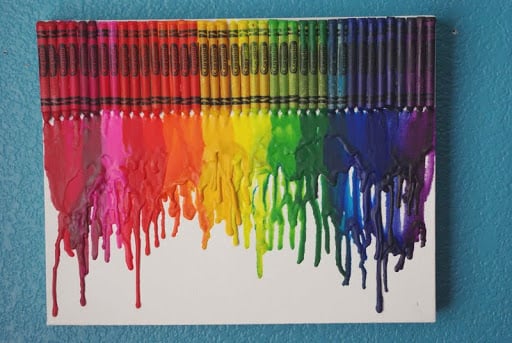 Sawyer and I have been seeing a ton of cool melted crayon art on
Pinterest
lately, and we knew that we were going to have to try to recreate it ourselves. With crayons costing around 20 cents a box at the back-to-school sales, now is the perfect time to make some new creative artwork!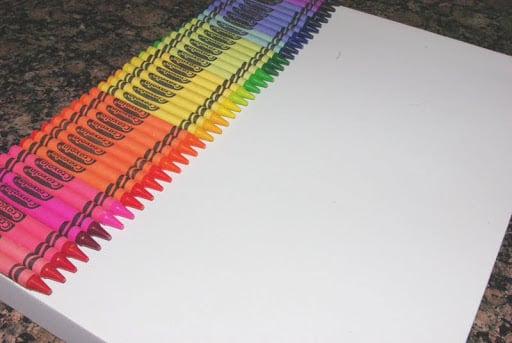 We found an old canvas in the art closet and hot glued on our crayons down in rainbow order. Sawyer originally wanted to use only blues, green and yellow, but finally decided on the entire rainbow since we were going to be hanging it up against his teal bedroom wall (and like most of the Pinterest inspirations). We used a 12″x18″ canvas and two 24-count boxes of crayons (with one extra green and yellow thrown in from our old crayons to fill the gaps).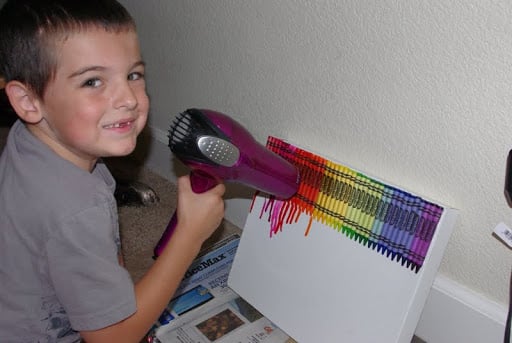 Hand your blowdryer to your helper and let them have fun melting the crayons. You need to keep the air blowing straight directly on to the crayons or pointing downward – any sideways shift of the hot air will cause the wax to splatter sideways halfway across the canvas instead of dripping straight down. We used the hottest setting, and it still took awhile to get the dripping process started. You can also melt your crayons quickly with a heat gun, but since heat guns can get upwards of 1200 degrees you probably don't want to hand that over to your five-year-old 😉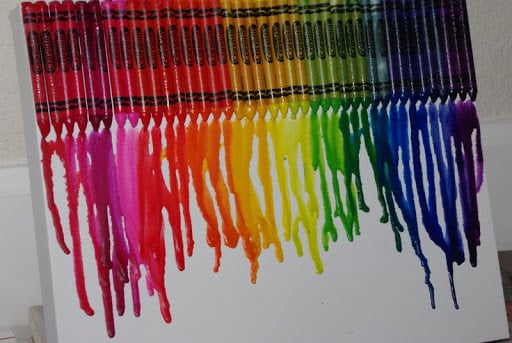 We chose to let our drips cool a little bit and to work in layers to build up some texture.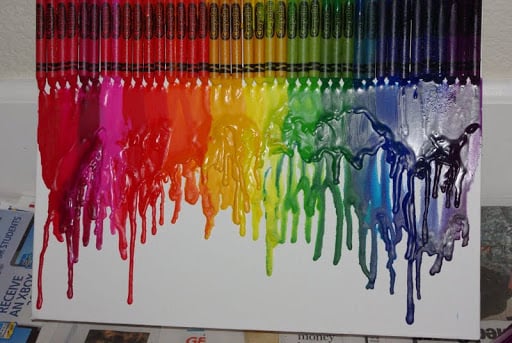 After about 3 different layers of melted crayon.
Sawyer called it good at this point, telling me that we couldn't do any more because "it's just perfect right now!"
The texture is super cool!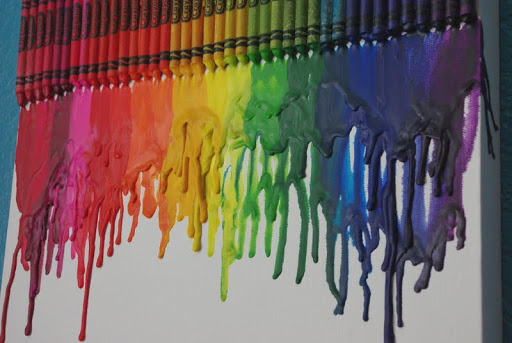 Go choose a spot to hang up your gorgeous (and totally quick and easy to create!) materpiece!