Easy Birthday Gift Card Holders
This post and its photos may contain affiliate links. As an Amazon associate I earn from qualifying purchases. If you make a purchase through these links, I may receive a small commission at no extra cost to you!
Make these quick and easy DIY birthday gift card holders with your Cricut Maker and the new debossing and perforation tools!
Easy Gift Card Holders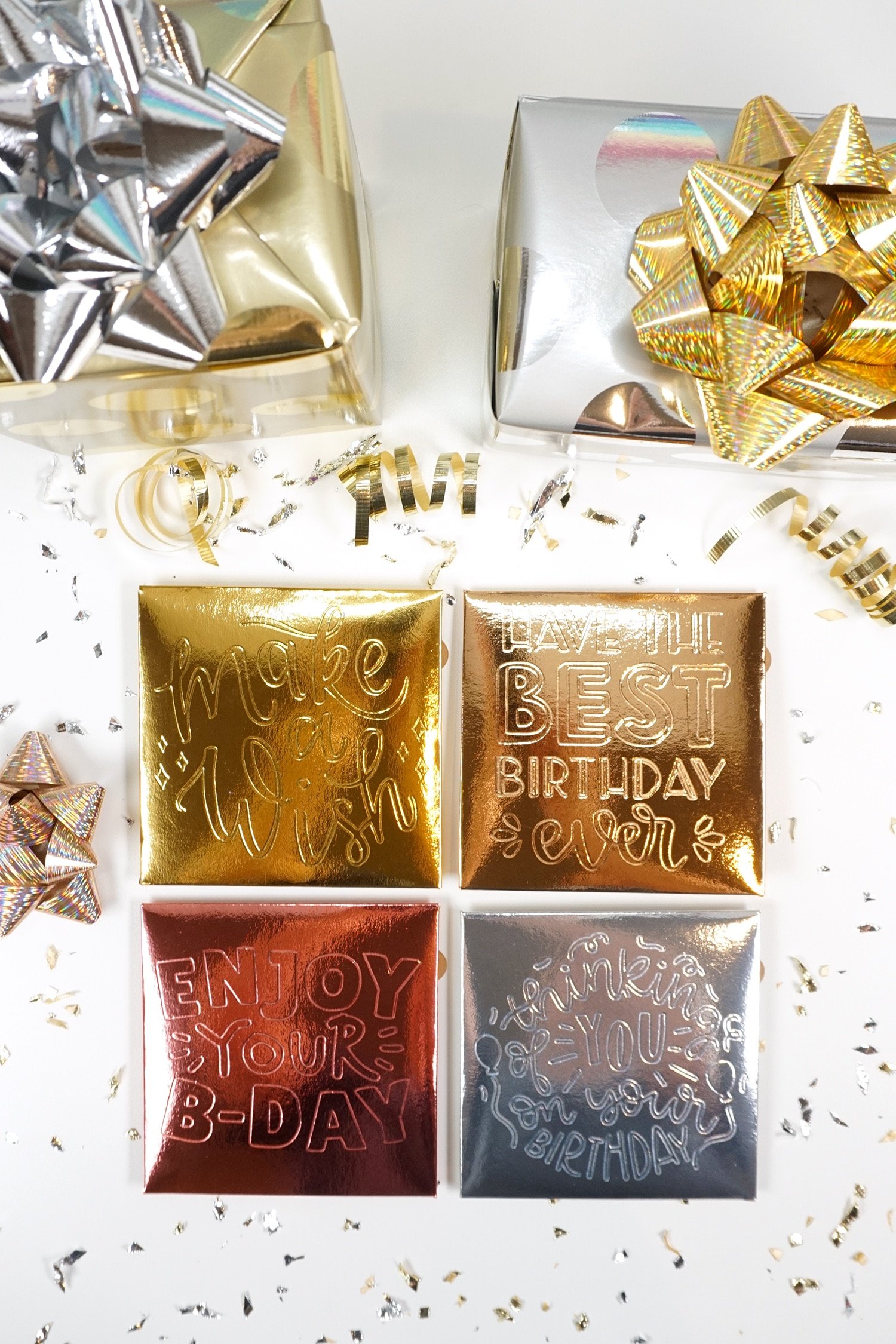 This post may contain affiliate links. I will receive a small commission from these sales at no additional cost to you! This is a sponsored conversation written by me on behalf of Cricut. All opinions are my own.
One of the most frequent last-minute challenges that I always run into is finding a creative way to wrap a gift card when it's time for us to rush out the door to a birthday party (just me?!). To solve my issue, I designed this fun set of debossed foil birthday gift card holders so that now I will always have gift wrap on-hand and ready for the next time we need it!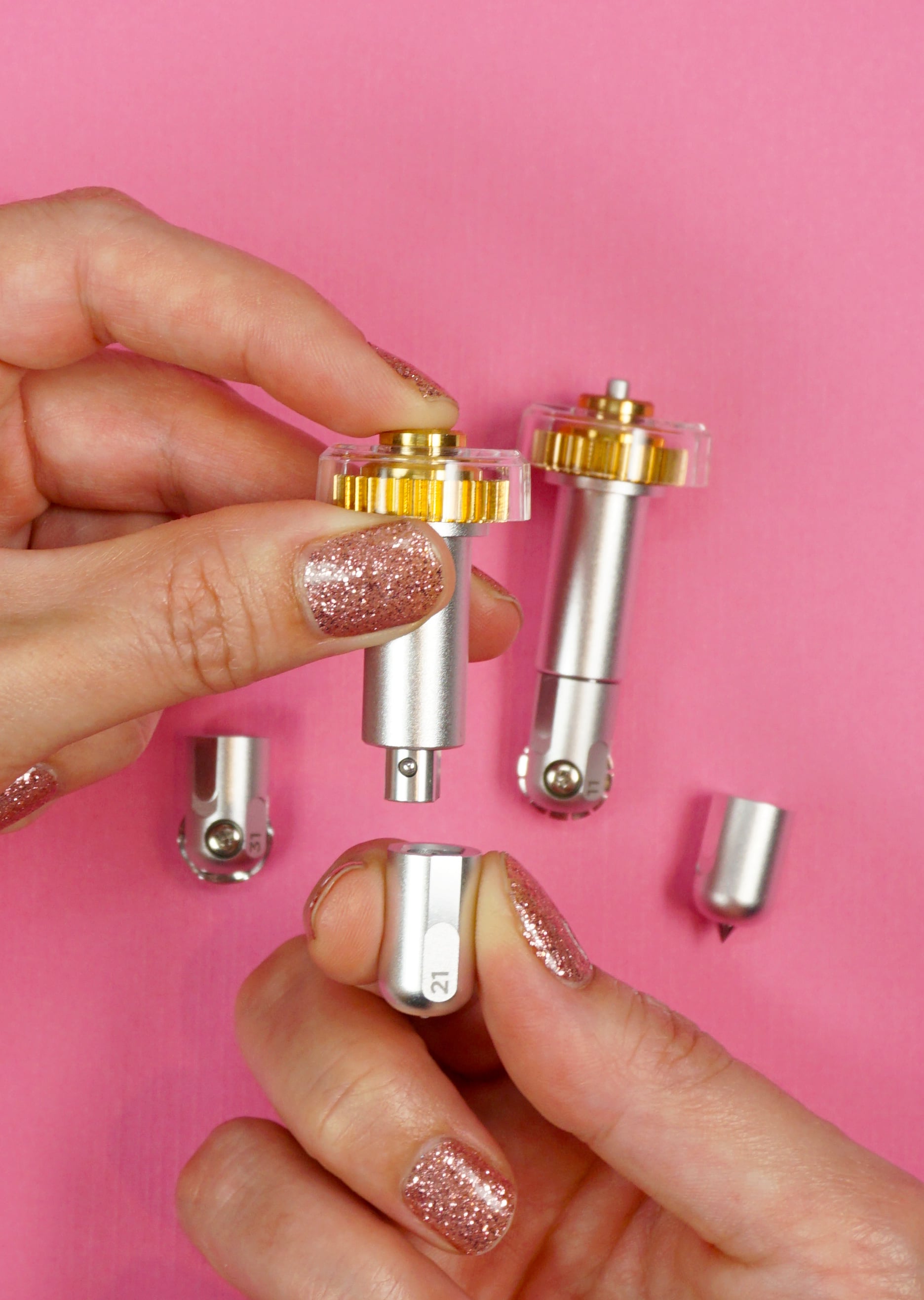 All-New Tools for the Cricut Maker
When the Maker was first introduced two years ago, Cricut promised that they would release more materials and more tools as part of their Adaptive Tool System, and they have lived up to that promise!
Cricut recently introduced FOUR new tools to the lineup, and they definitely broaden the Maker's crafty horizons! Each new tool tip can be quickly and easily changed out in the Maker's QuickSwap Housing, taking full advantage of the fact that the Maker delivers 10 times (4 kg) or more cutting force than the Explore line!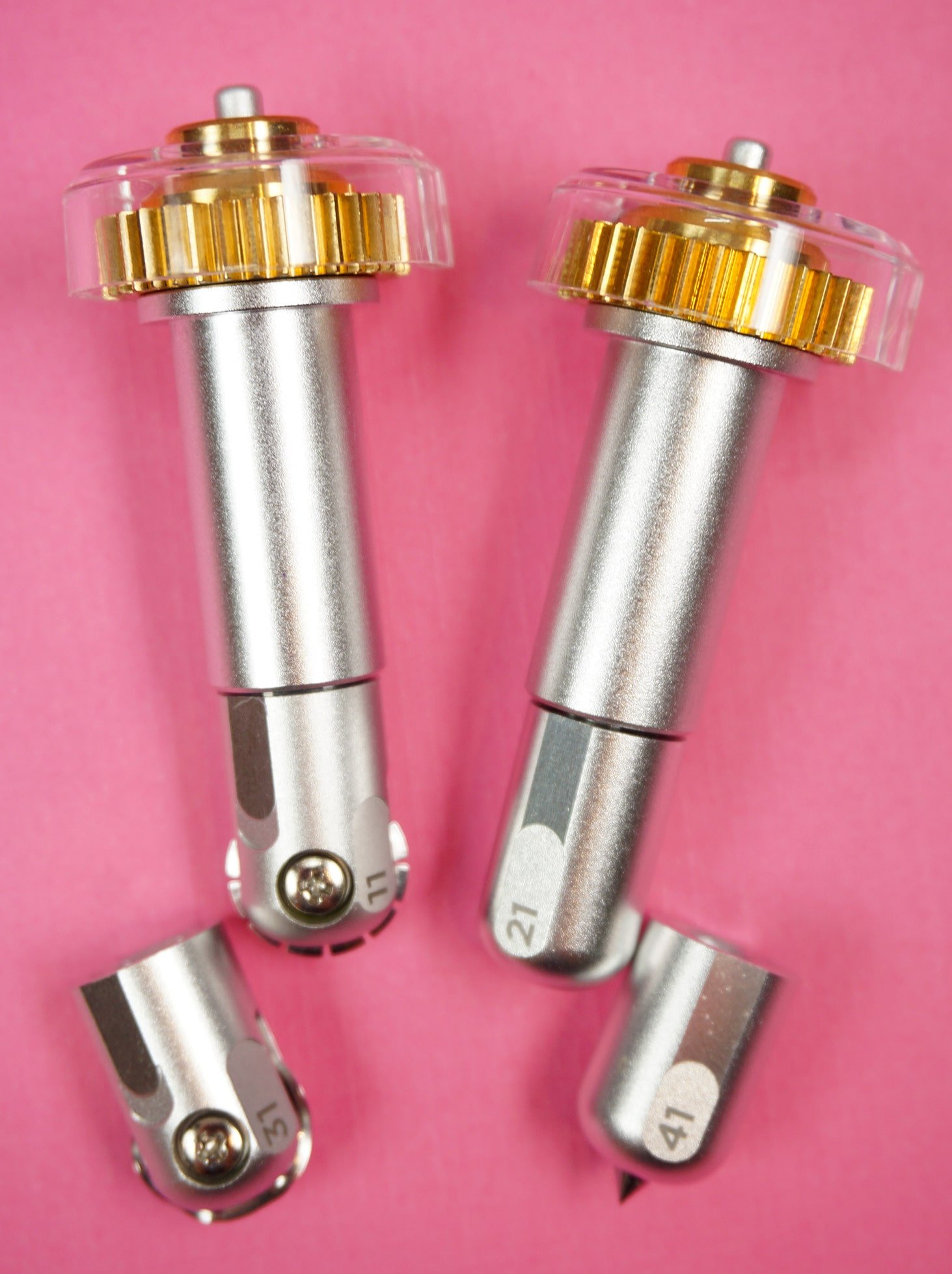 Each tool has a number on the casing to easily identify it. The new tools are:
11) Basic Perforation Blade: Creates evenly spaced perforation lines allow for clean, well-spaced tearing without the need to fold beforehand – especially great for shapes with curves. Perfect for tear-out booklet pages, raffle tickets, homemade journals, or for any project that demands a neat tear.
21) Fine Debossing Tip: Adds professional polish and elevated elegance to paper crafts by creating crisp, detailed debossed designs. Unlike folders, which lock you into a specific design, this rolling debossing ball, with a wider range of motion, gives you free reign to customize, personalize, and design with incredible intricacy. Make a dimensional wedding card, thank you card with your monogram, or add flourish to gift boxes, tags, and more.
31) Wavy Blade: Adds a whimsical wavy edge to any design, this specially sculpted stainless steel blade is great for original vinyl decals, iron-on designs, envelopes, cards, gift tags, collage projects, or any time you need fabulously finished edges and stylish design accents. Perfect for iron-on, vinyl, paper, cardstock, fabric, and more.
41) Engraving Tip: Watch with awe as you write personalized text or create monograms, draw decorative flourishes and embellishments, or inscribe your favorite quotes on a keepsake. For an eye-catching effect, engrave Cricut Aluminum Sheets to reveal the silver beneath.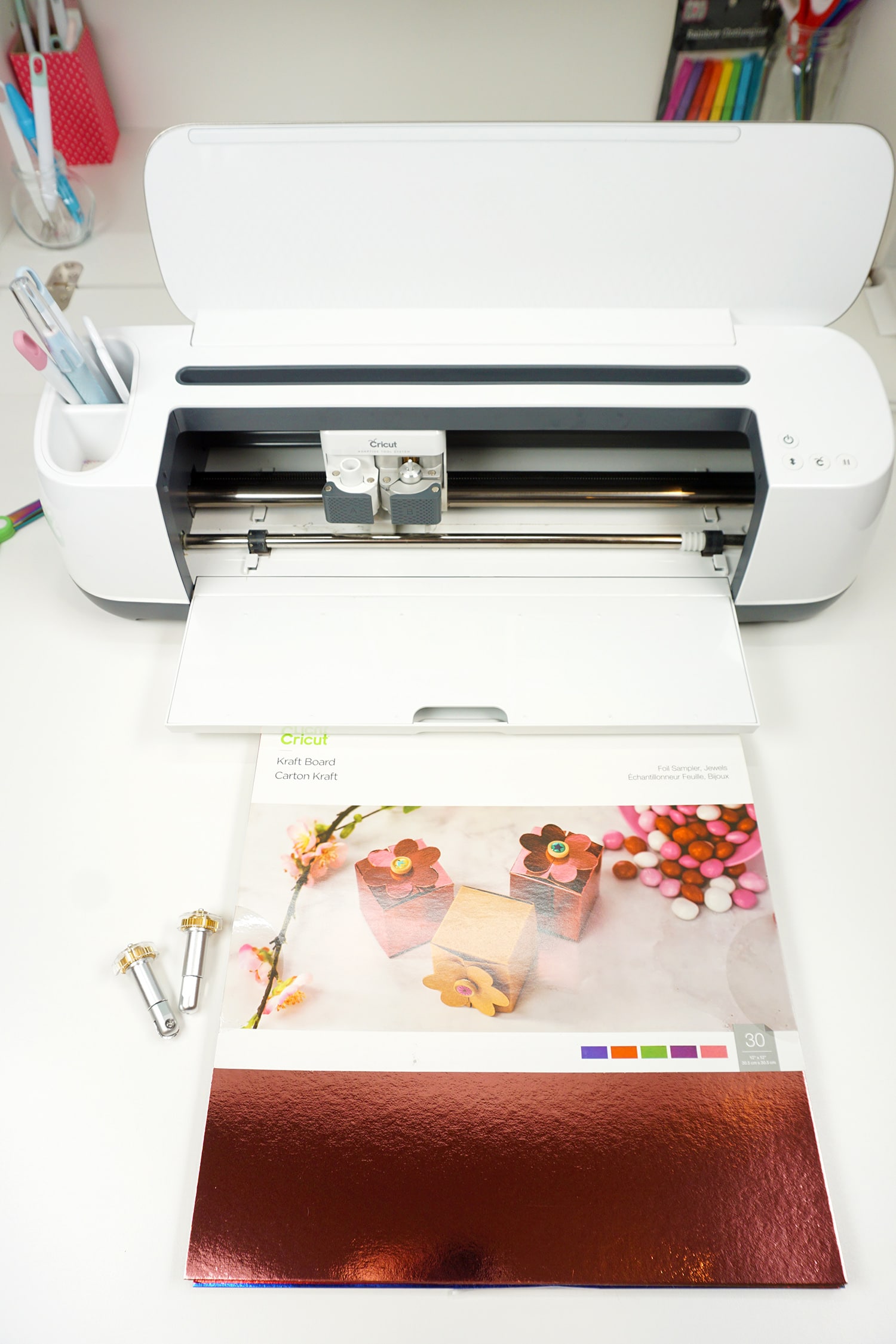 I wanted to test out these new tools, so I used both the perforation blade and the debossing tip along with some Foil Kraft Board to create my gift card holders.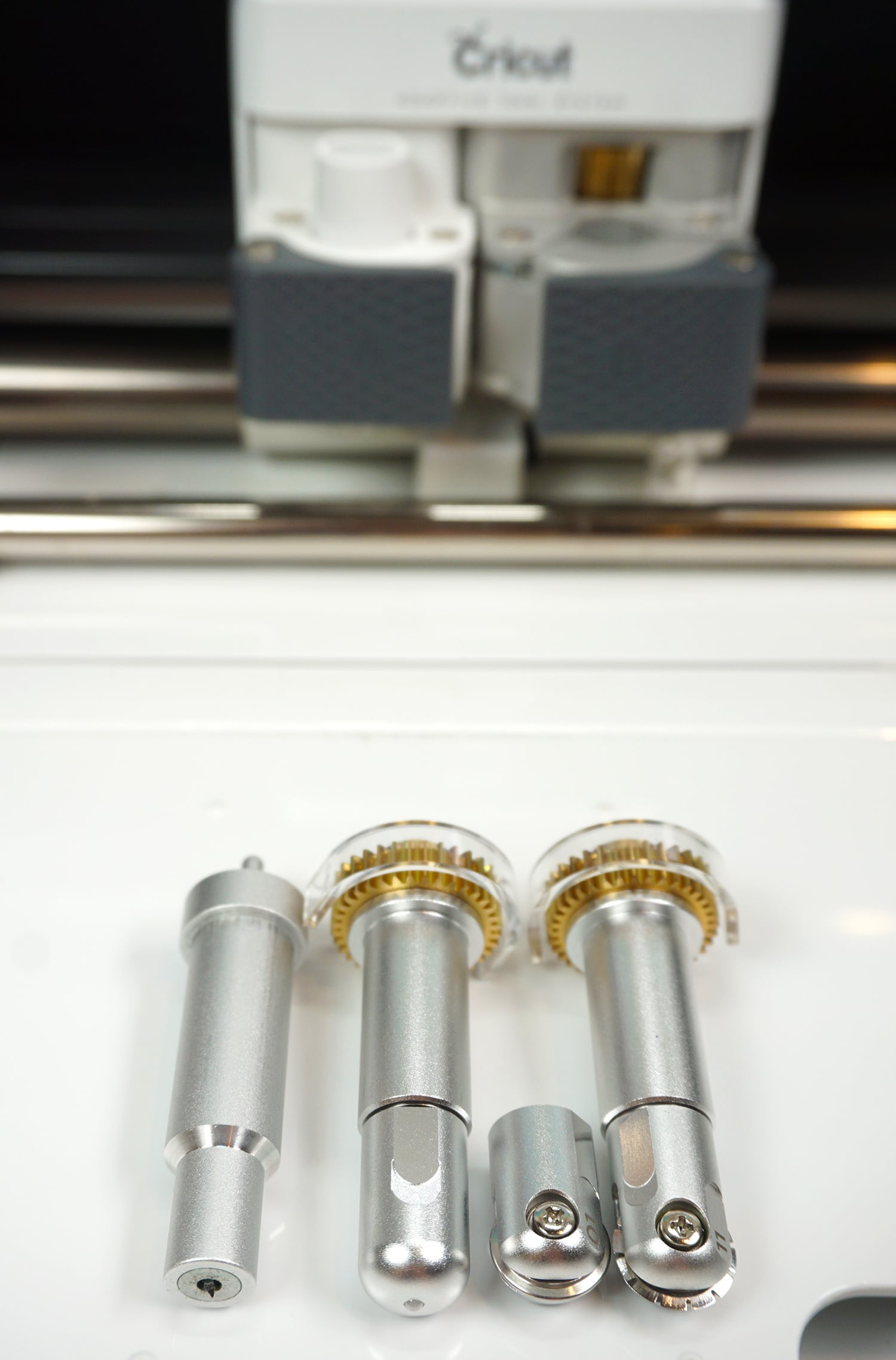 For this project, I also used the Fine-Point Blade as well as the Single Scoring Wheel.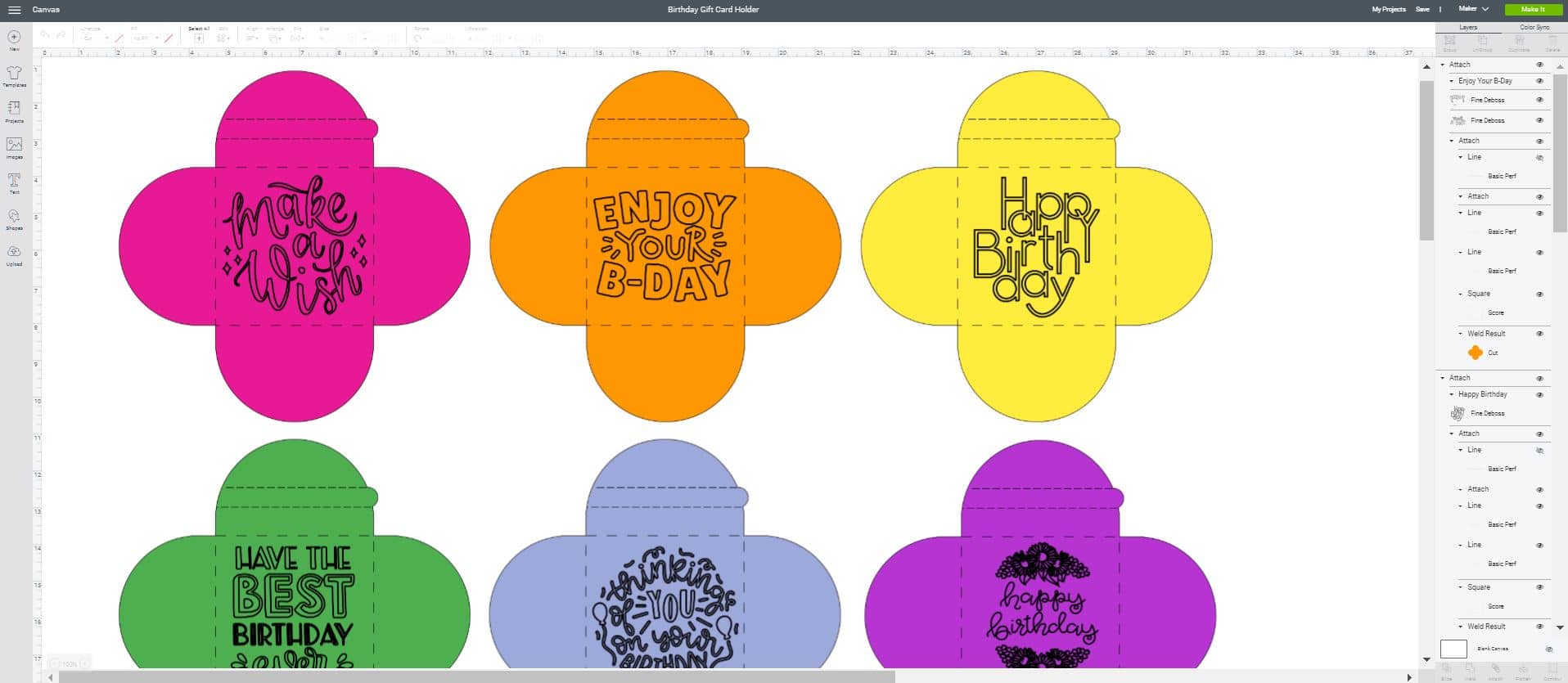 To begin, open up the Birthday Card Gift Holder project in Cricut Design Space.
For each cutting mat, you will see the notations for all of the blades that will be used and the order in which they will be utilized.
Set your material to "Foil Kraft Board" and load the mat into the machine.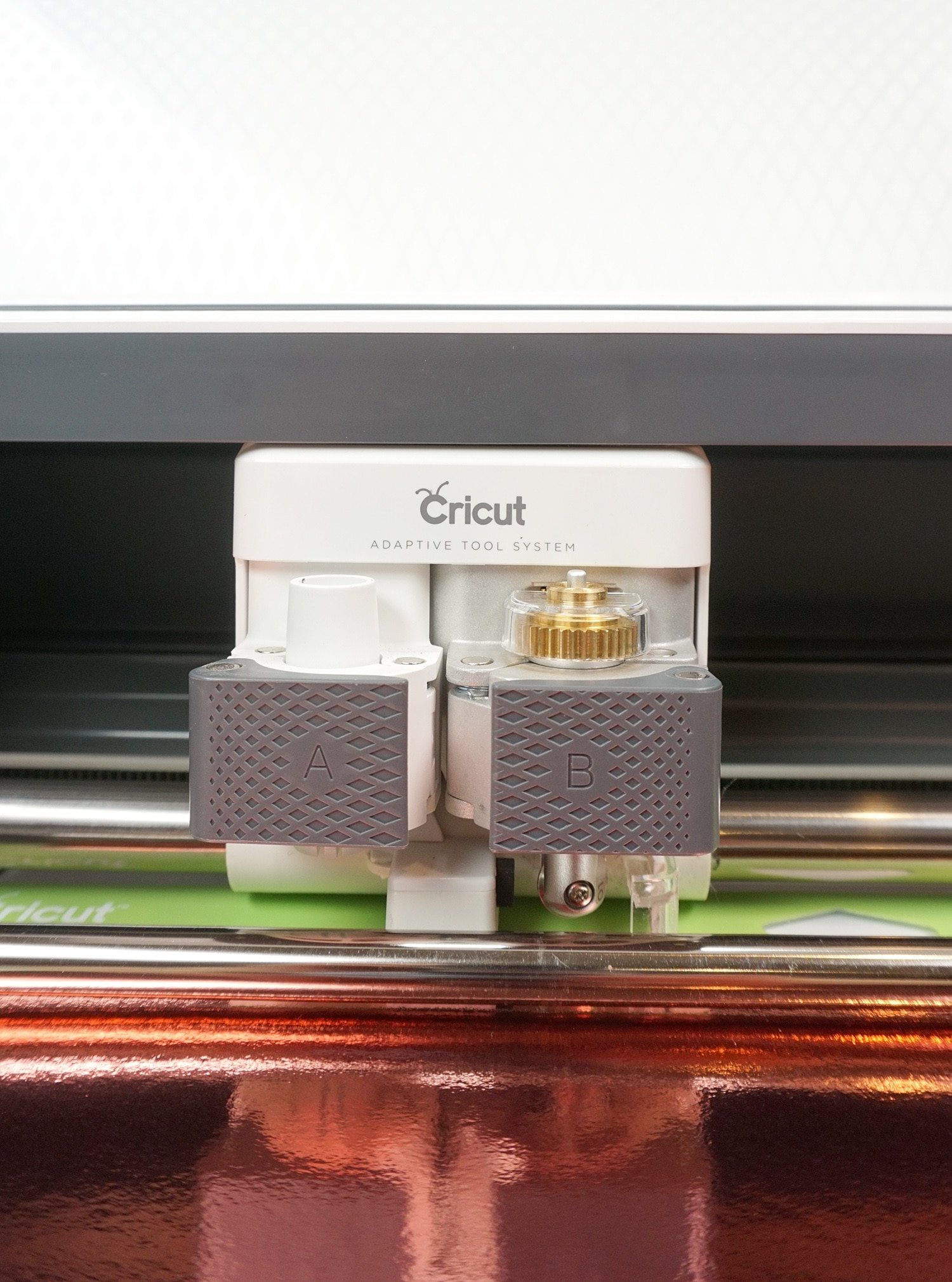 First, the scoring blade will score the gift card holder.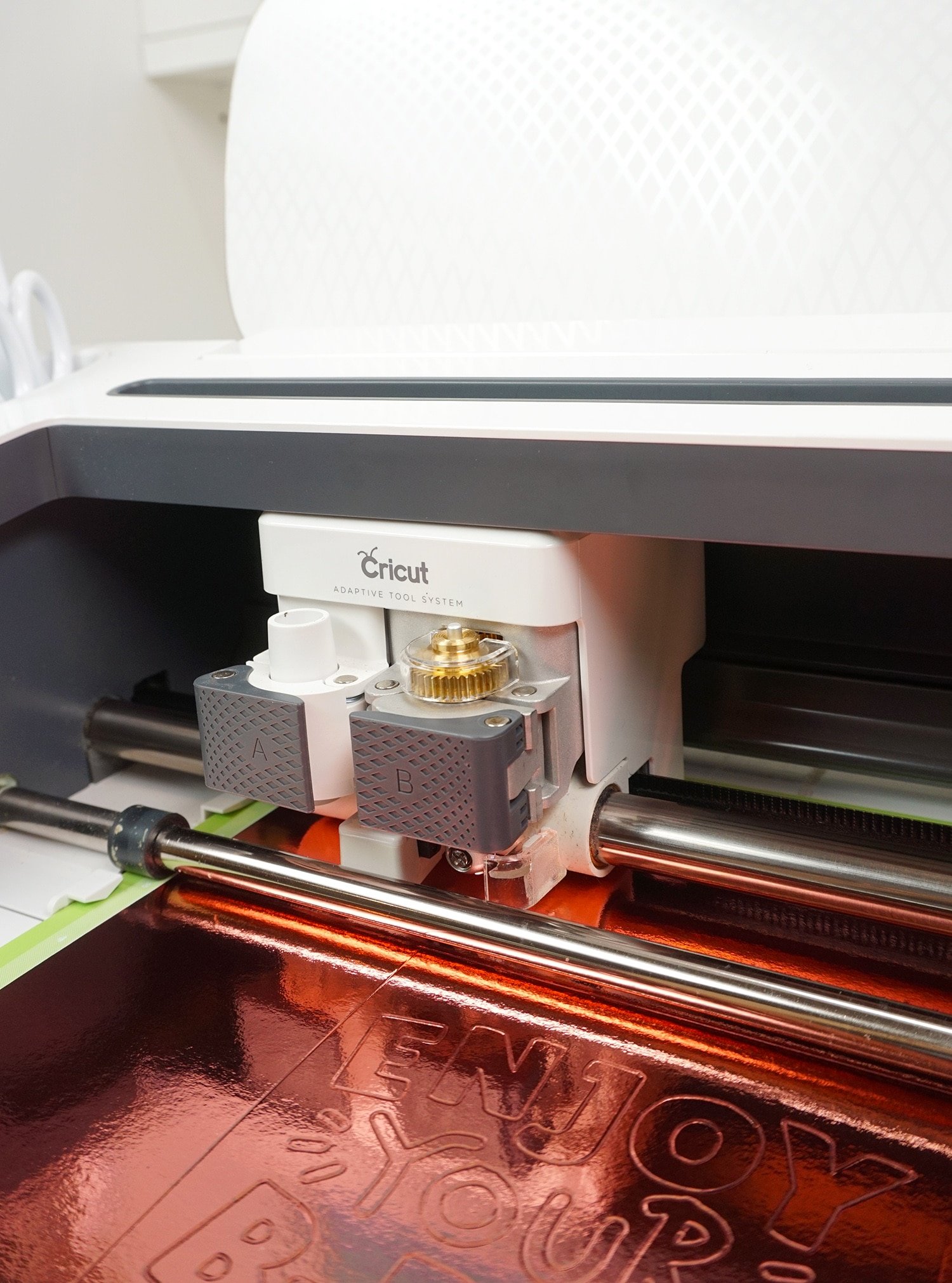 Next, the debossing tip will add the design to the gift card holder – the debossing looks AWESOME on foil! Then, the perforation blade will create an easy-open tear strip, and the fine-point blade will cut out the entire shape.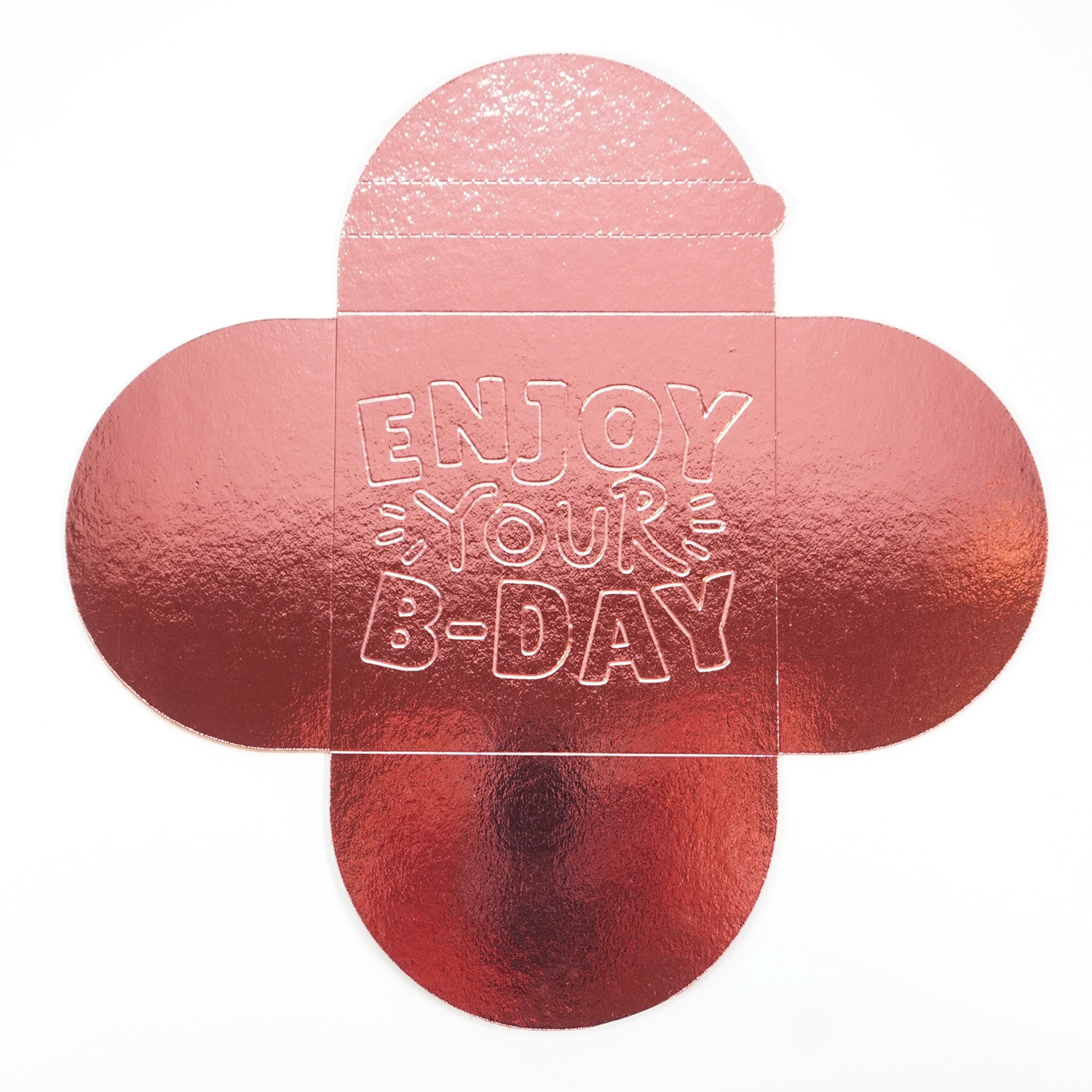 When you're finished, your project will look something like this (or one of the other five birthday debossing designs!).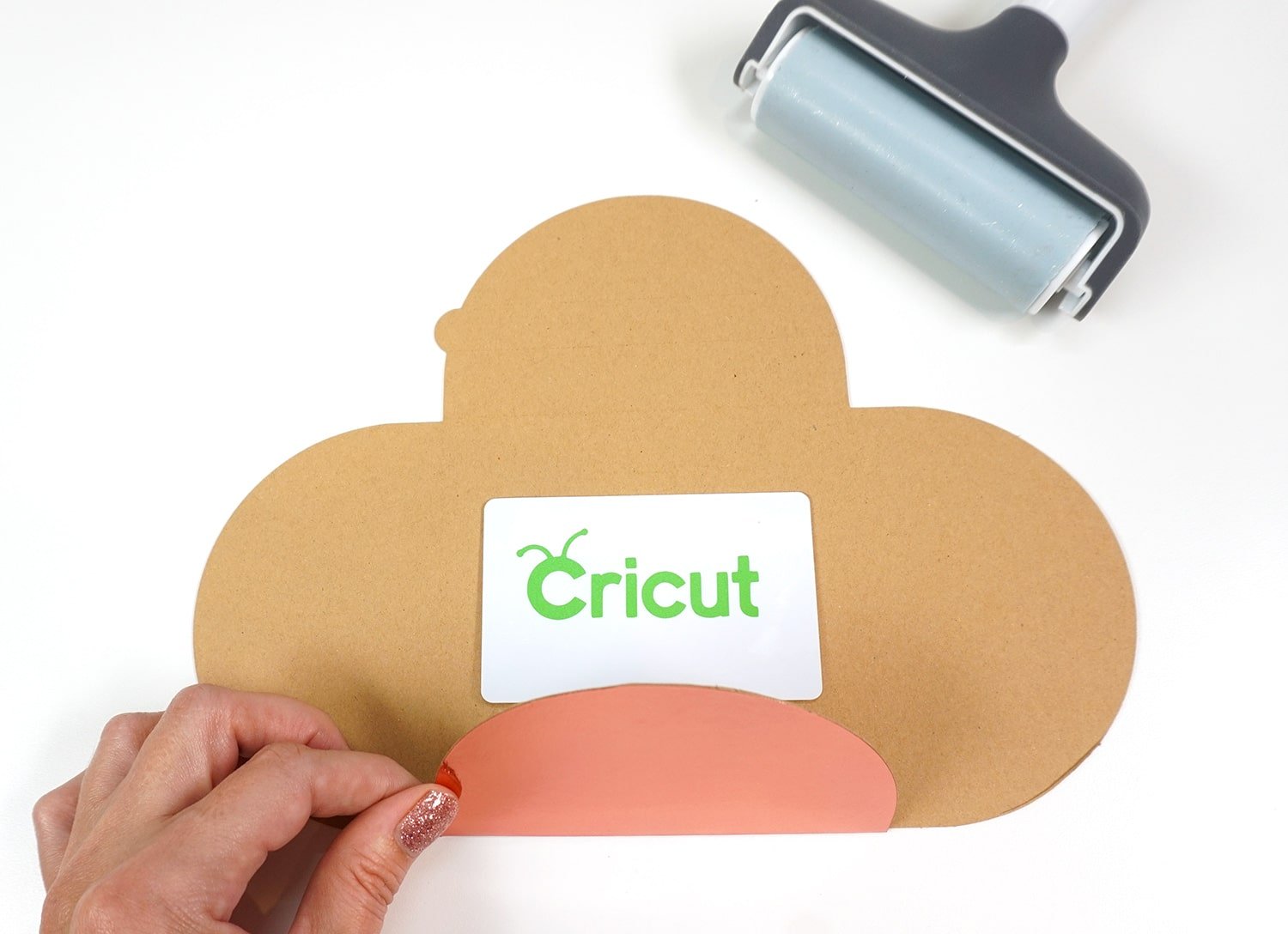 Flip the piece over and use a glue dot to adhere your gift card to the center. Fold each side over on the score line (I like to use my Cricut brayer to help push down the edges for a nice crisp line).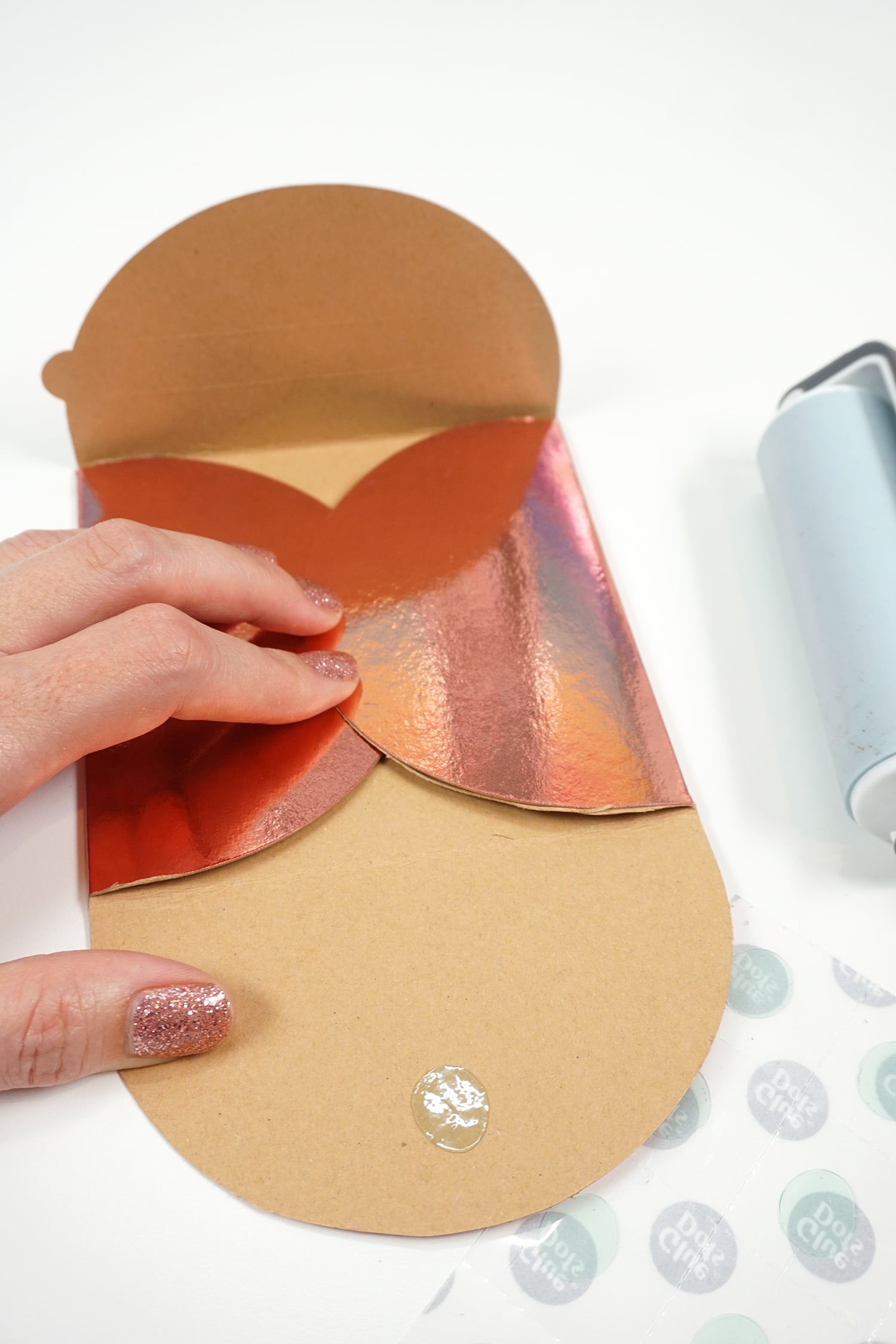 Use additional glue dots to secure the flaps down and close the gift card holder. Easy peasy!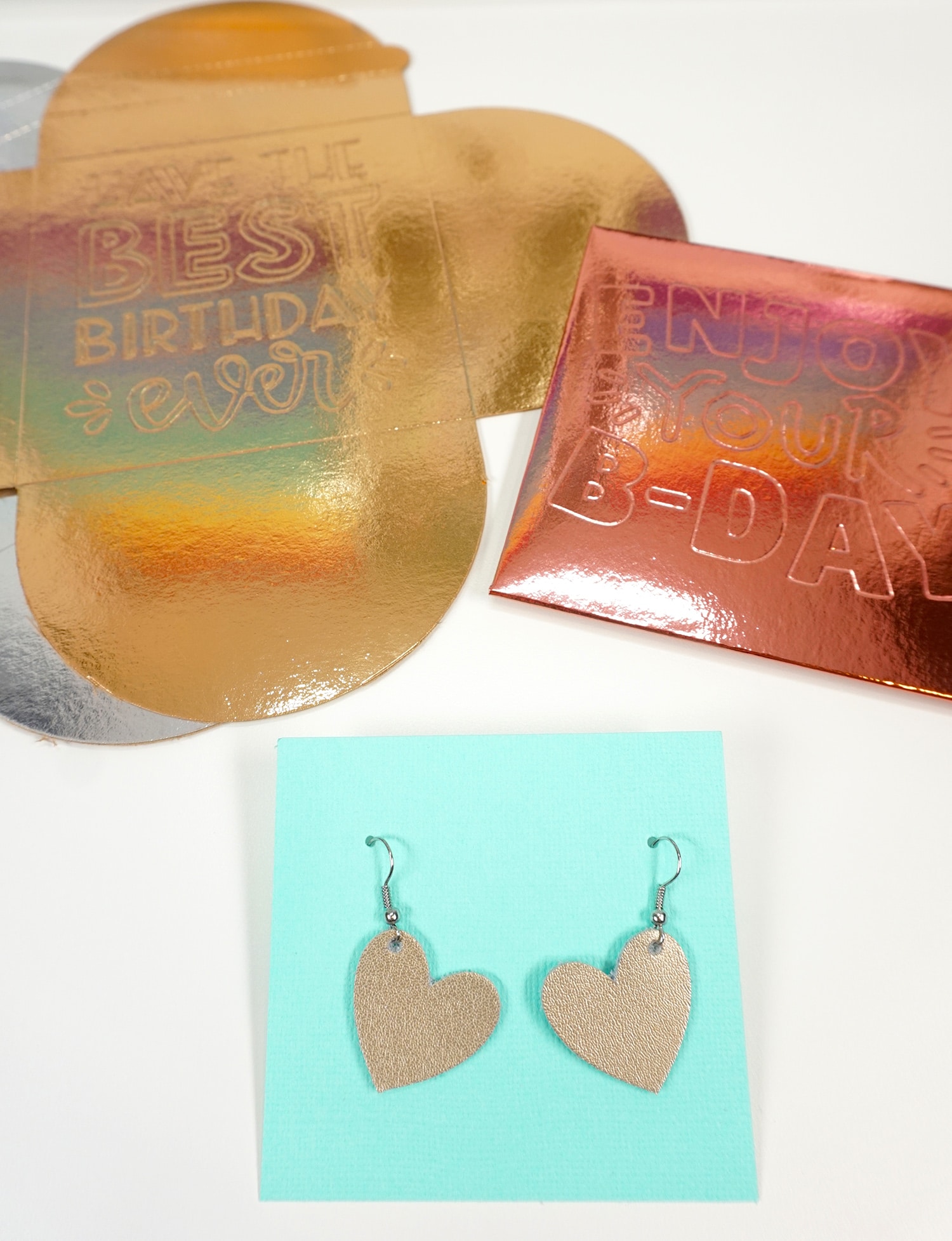 You can also use these "gift card" holders for small gifts as well! I made this cute pair of leather heart earrings with my Maker that also fit perfectly inside the envelope. Any flat-ish gift will work!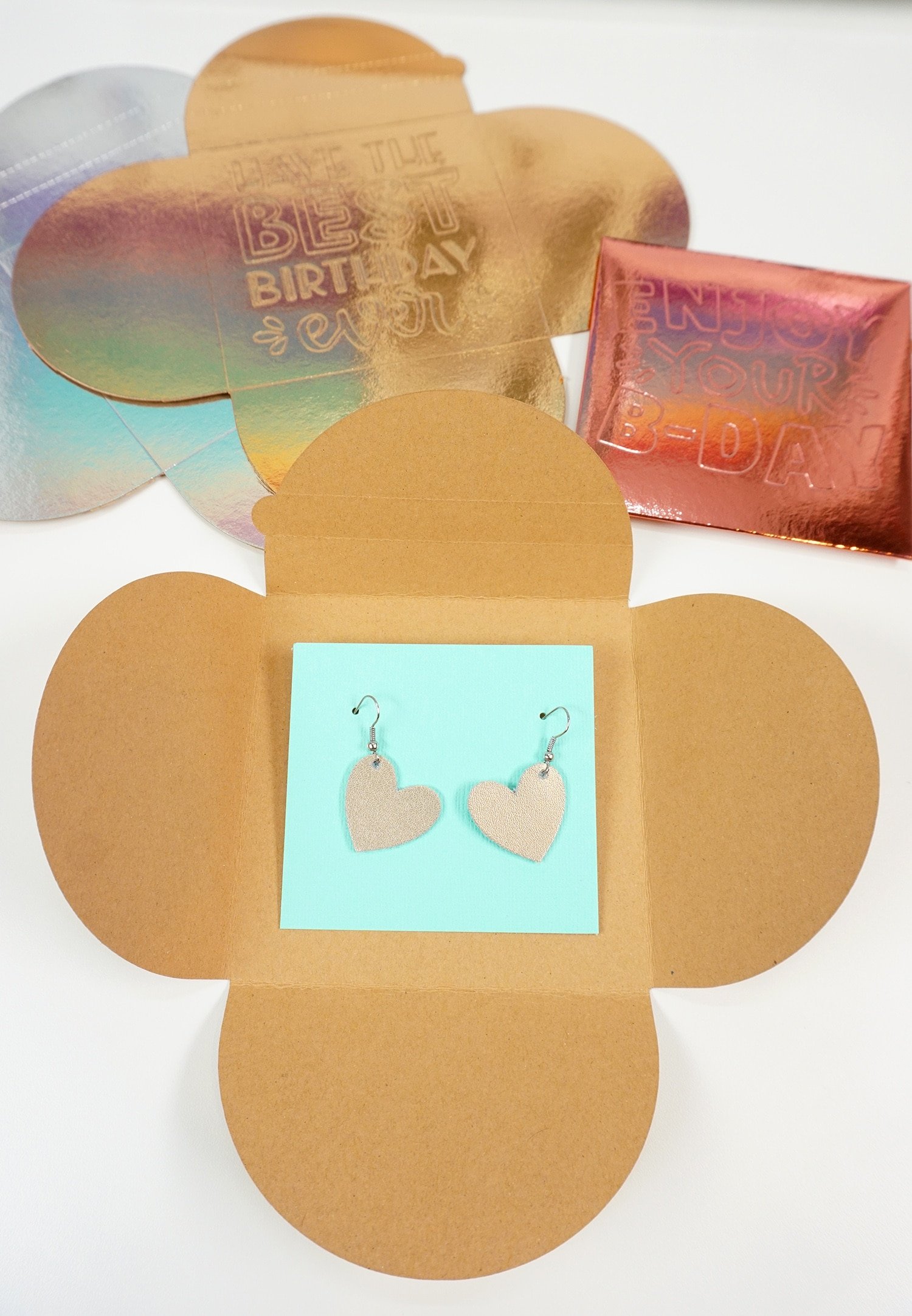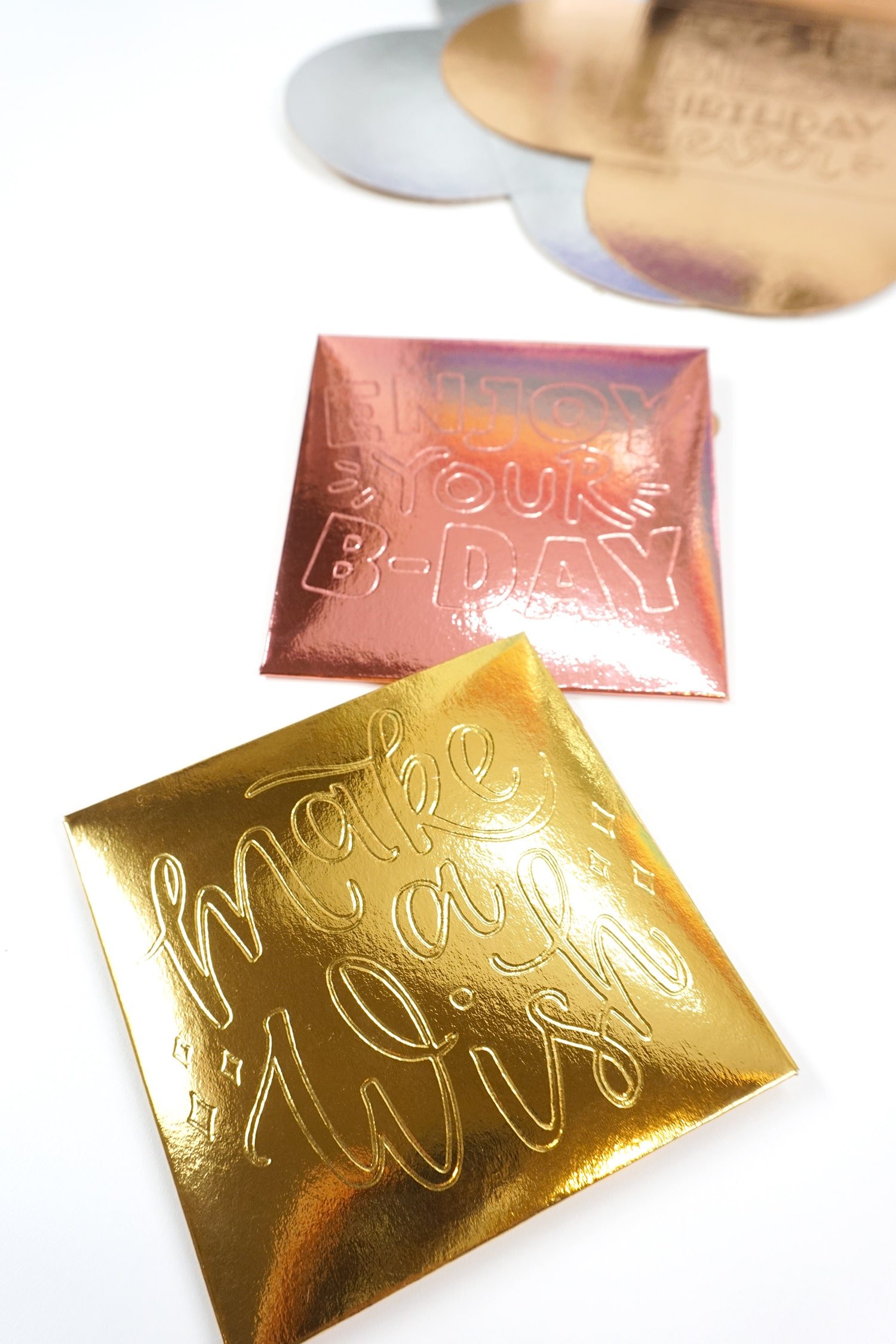 Voila! Quick, easy, and super cute!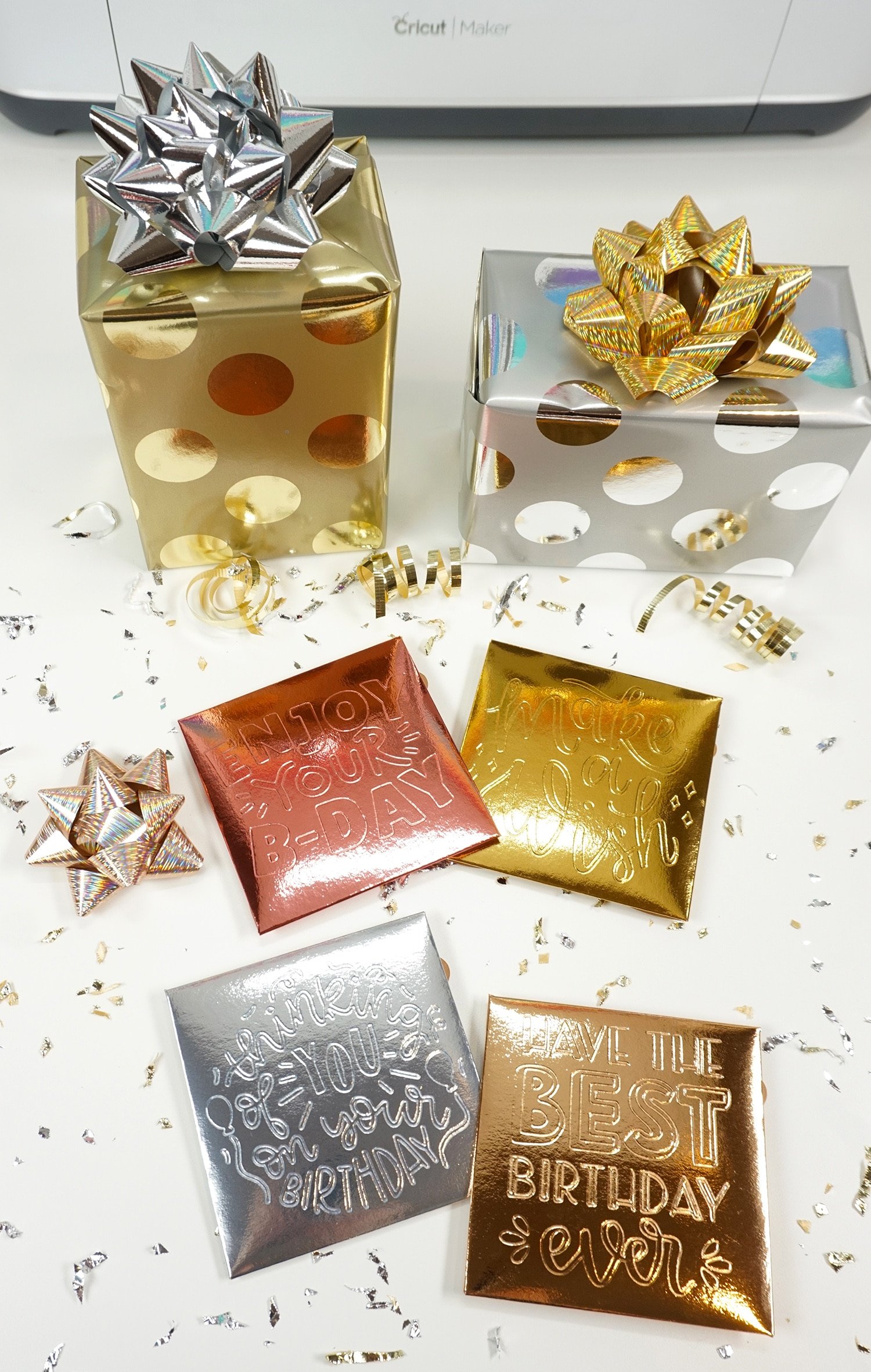 It's a bit tough to photograph the foil, but I promise that the debossing is SUPER crisp, clear, and vibrant in person! It's really impressive looking, especially with the elegance of the foil kraft board!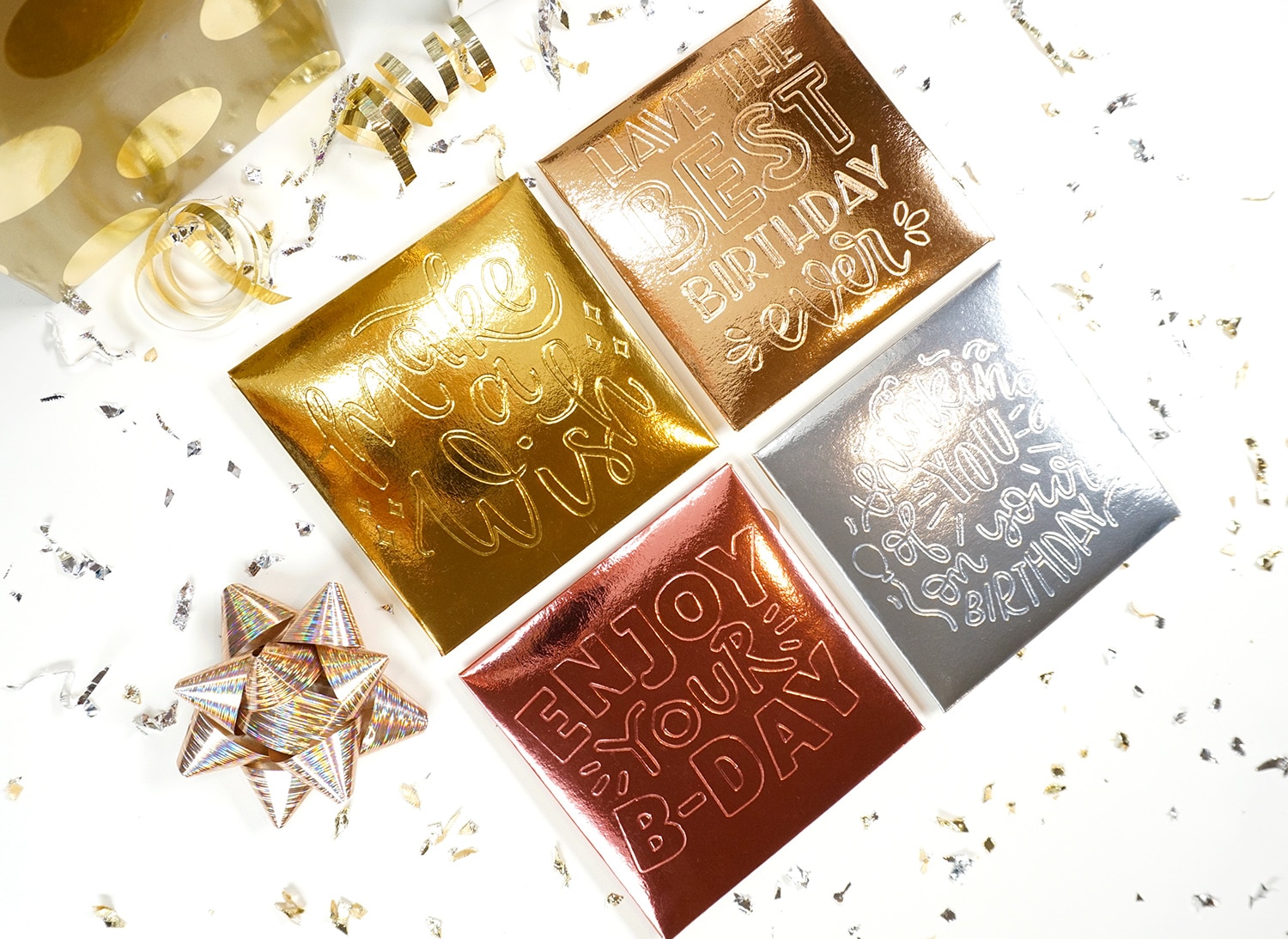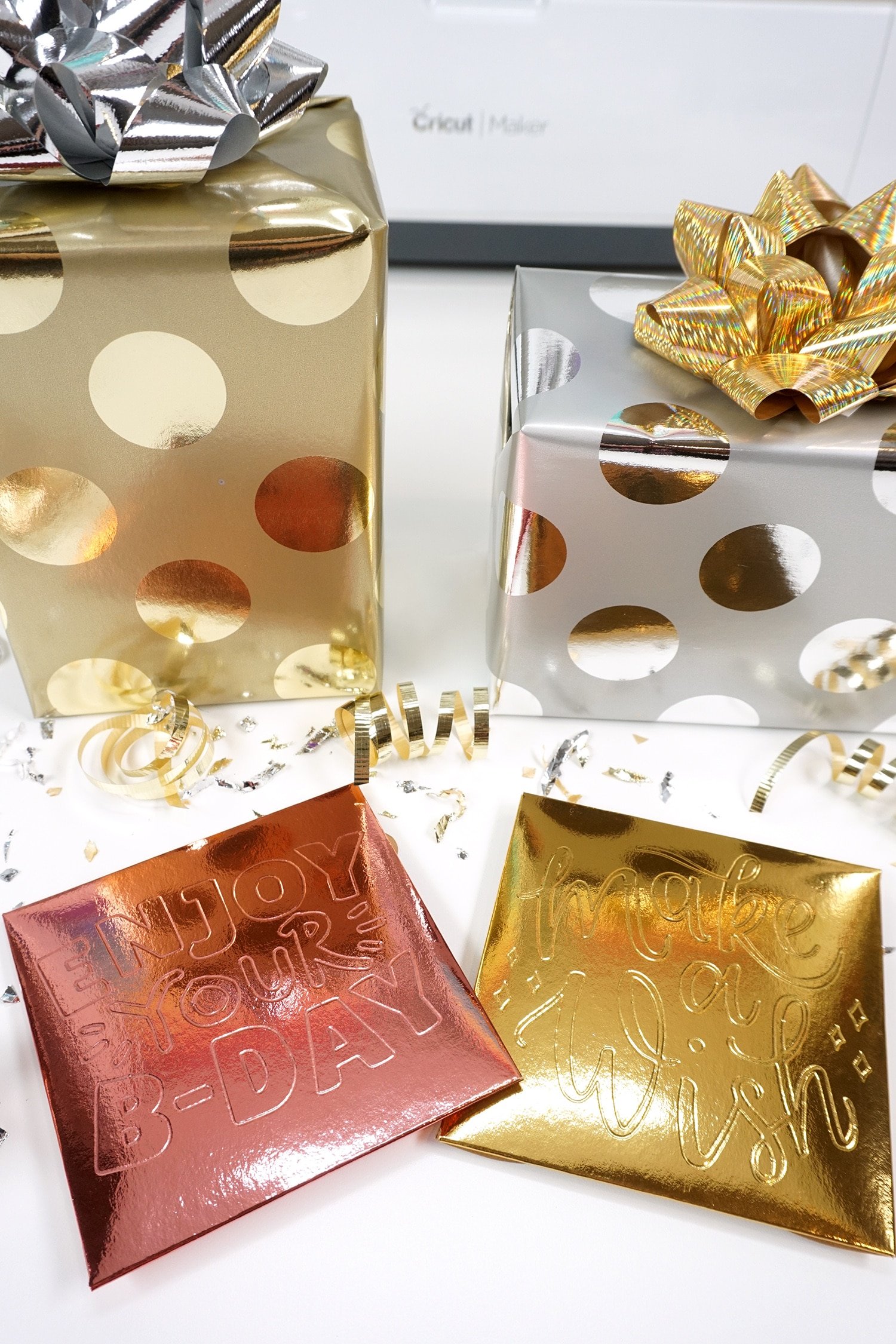 For my gift card holders, I chose to go with pink foil kraft board from the Jewels Sampler as well as gold, silver, and rose gold from the Metals Sampler. They'd be just as fun in other colors, though, too – the Jewels Sampler also has blue, green, red, and purple and the Metals Sampler has a black and pewter that are seriously gorgeous!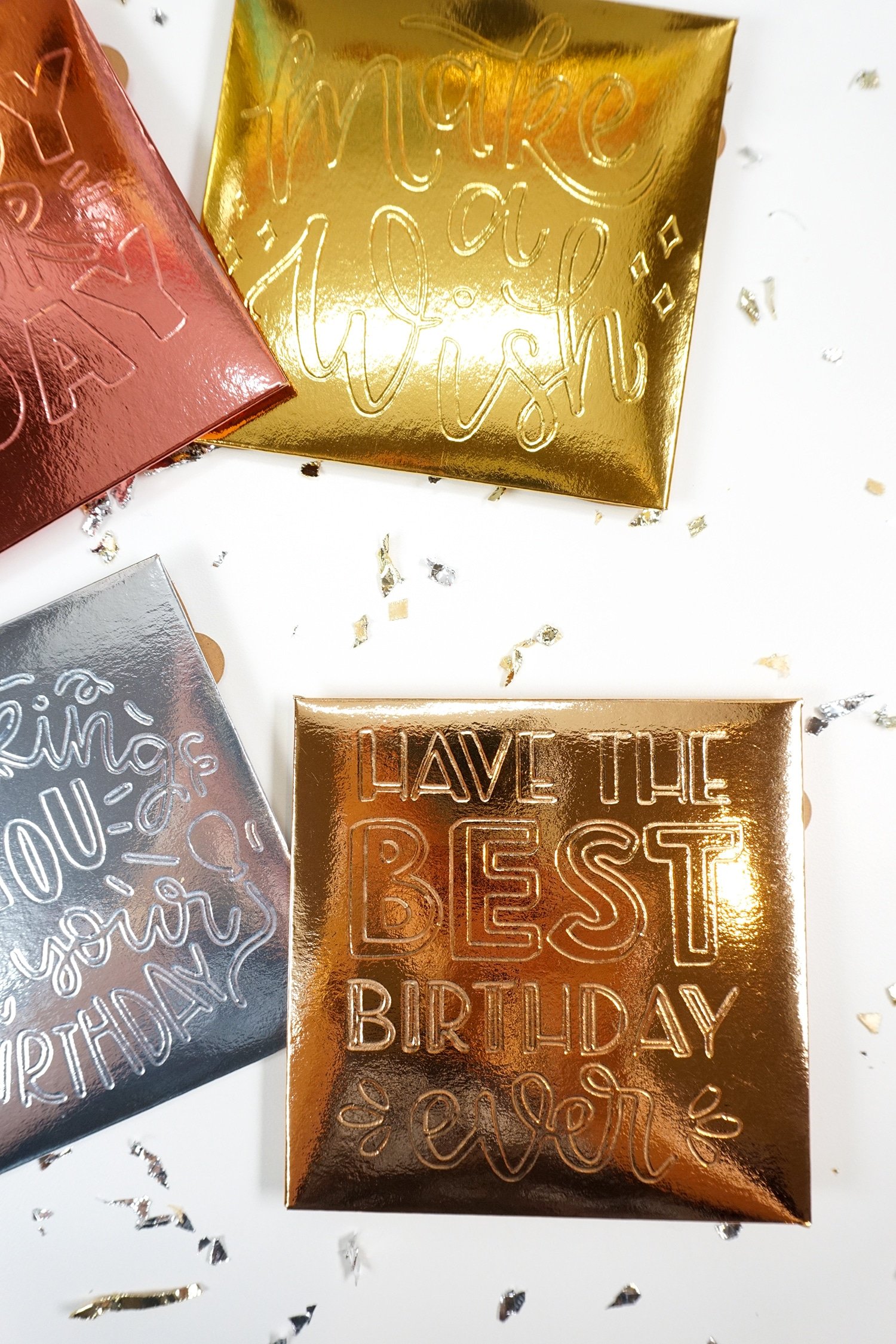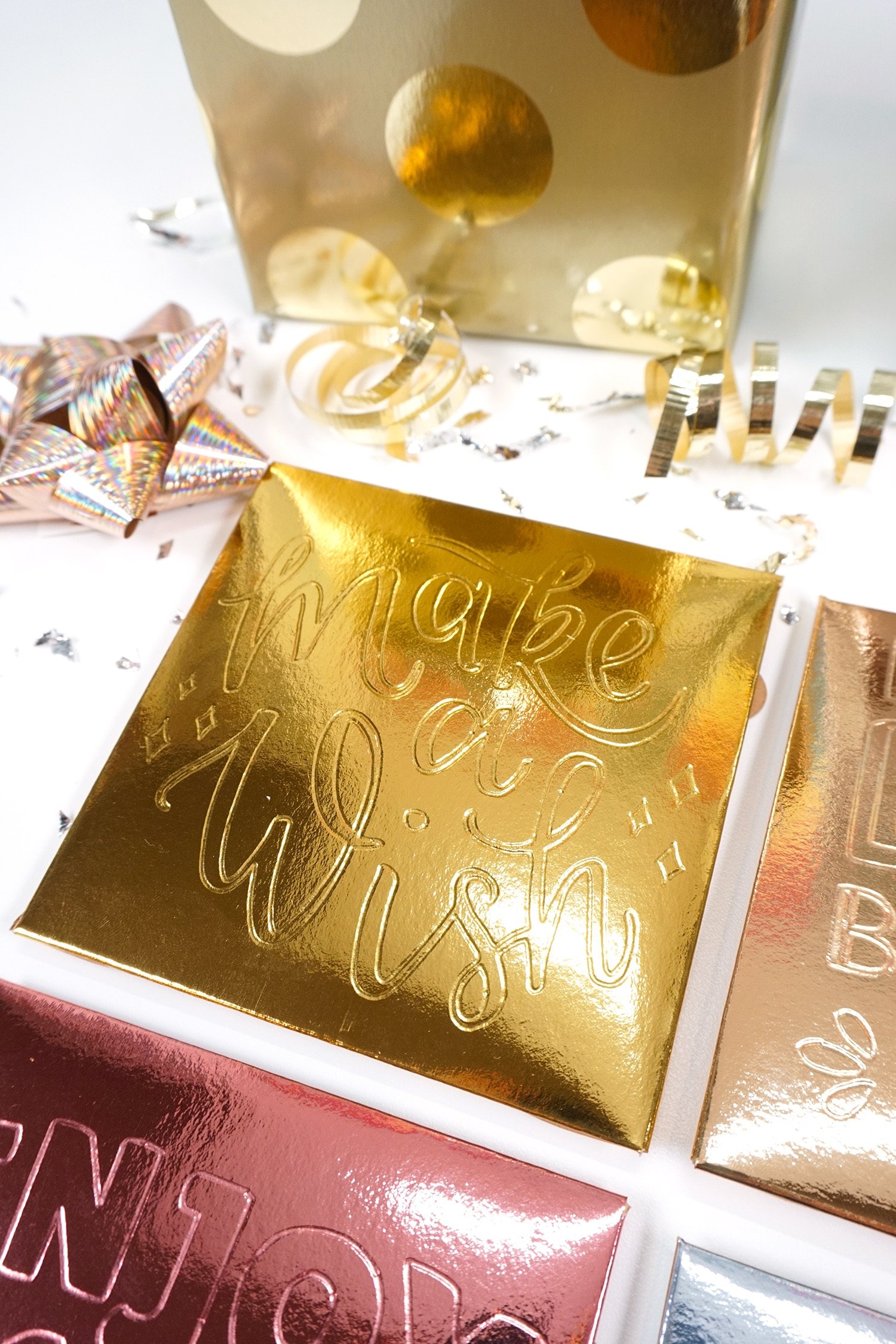 Now whenever we have to race out the door to a birthday party, I can grab one of these gift card holders and know that my gift is going to be presented in a pretty and impressive way (with minimal effort – yay!)!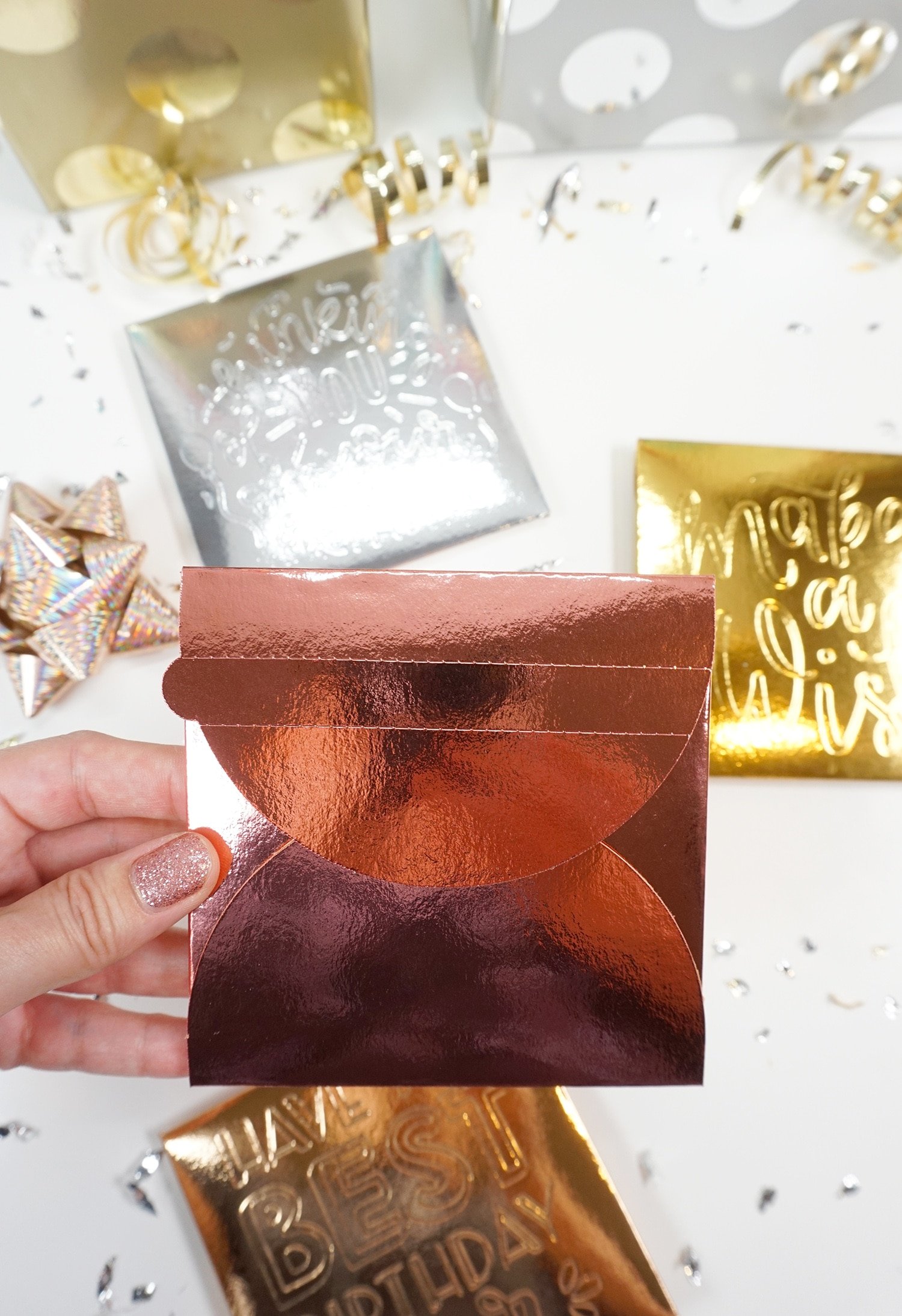 To open the gift card holder, simply pull on the edge of the perforated tab for an easy-open experience!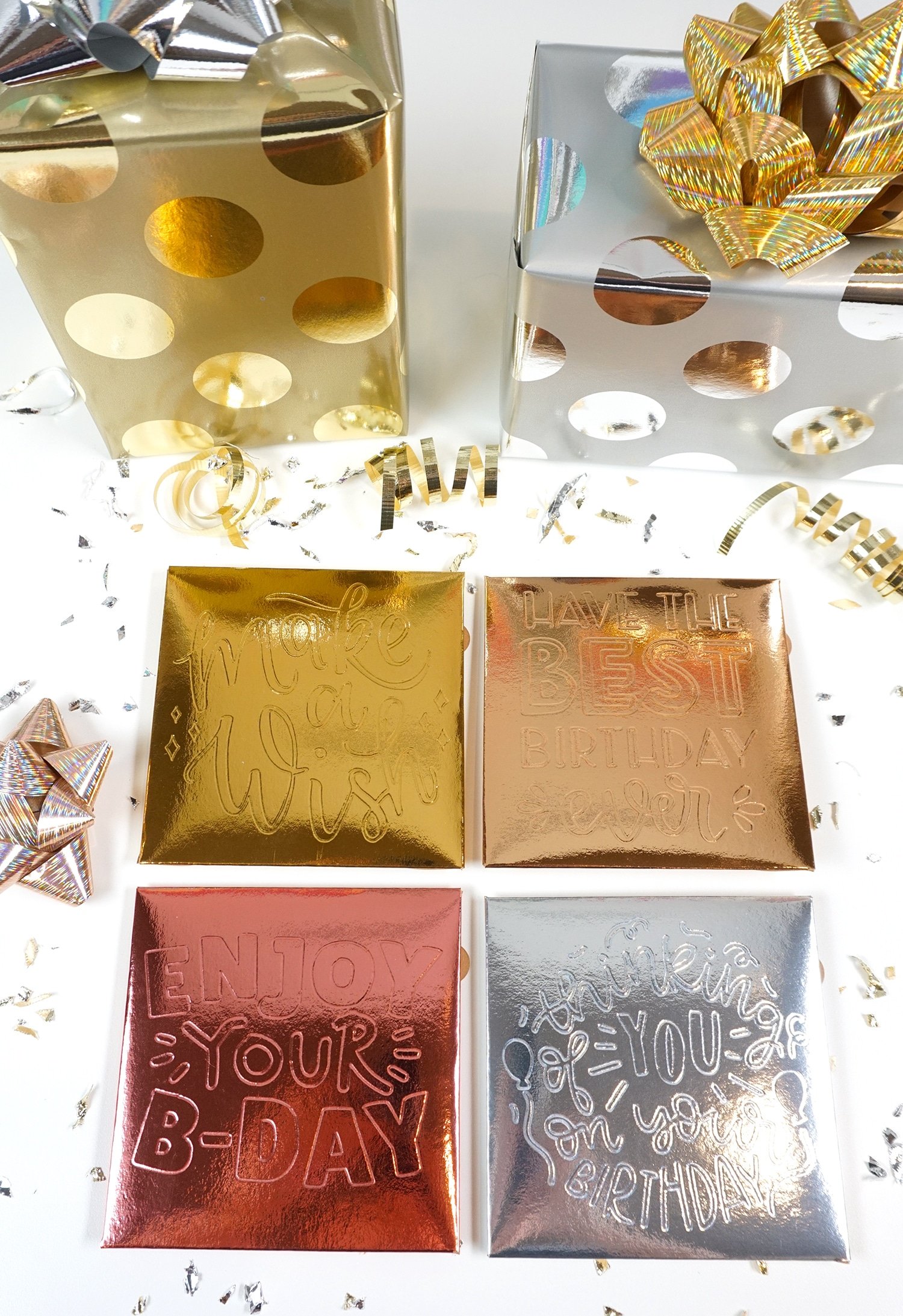 I love the way that these turned out, and I'm already brainstorming ways to make these for other holidays, too! What would you make first?

Don't Forget to Pin these Gift Card Holders for Later!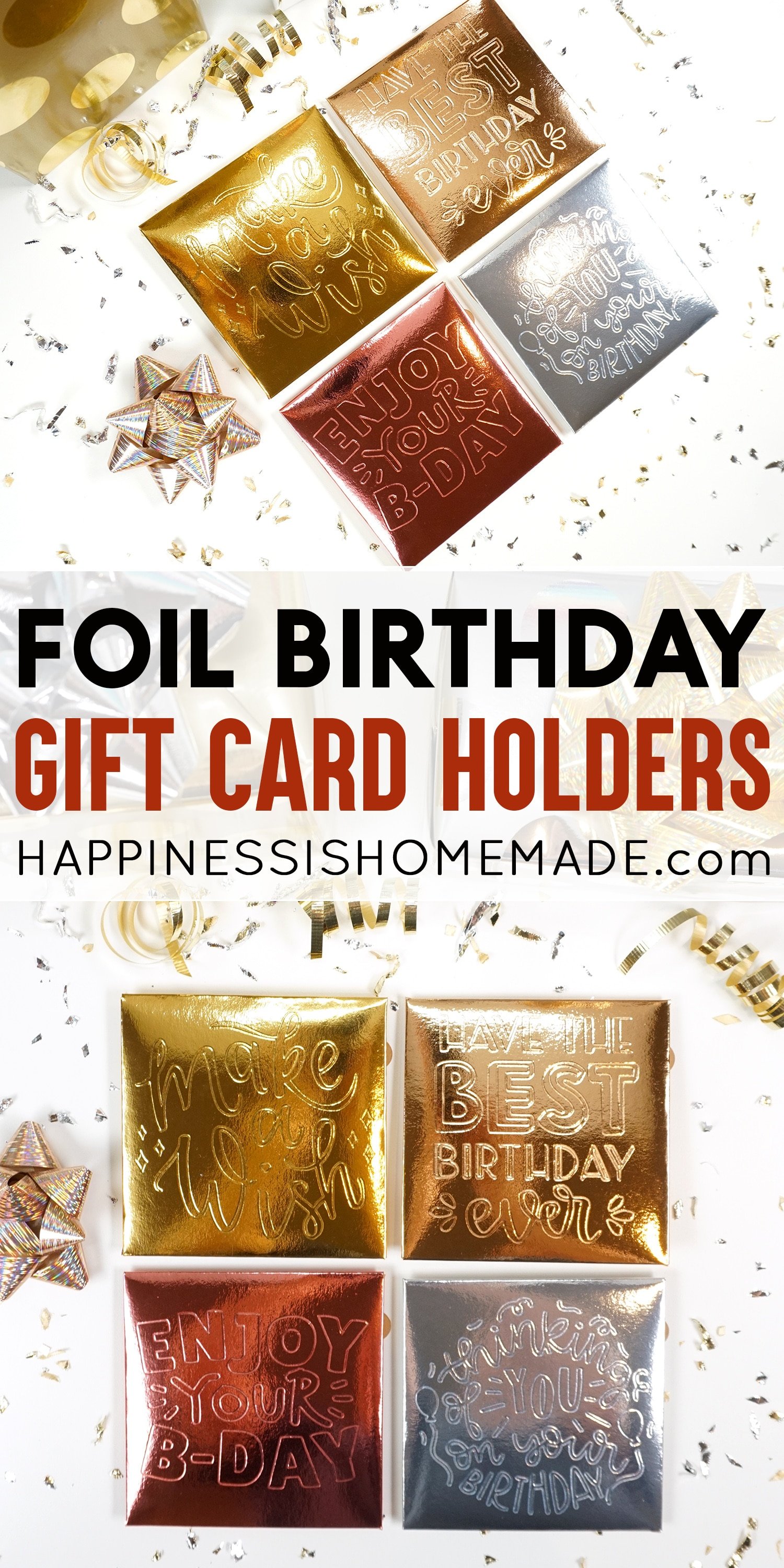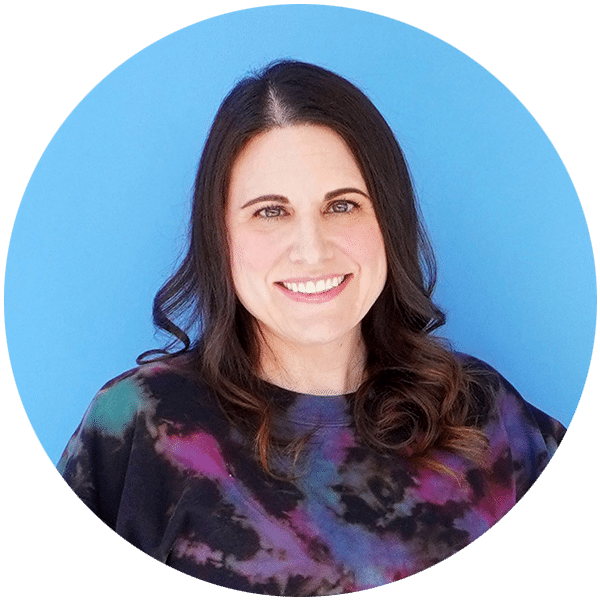 Heidi Kundin has captivated the hearts of millions with her colorful and inspiring approach to crafting, celebrations, and family fun. With over 15 years of experience, Heidi's website has become a must-visit destination for those seeking quick and easy creative ideas and last-minute solutions. Her warm personality shines through her posts, inviting readers to join her on a creative journey that's fun, rewarding, and achievable.