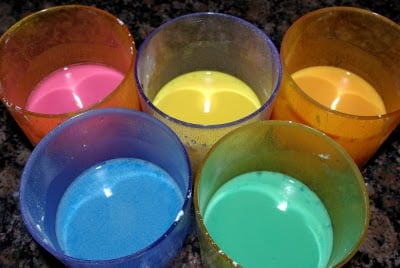 We ♥ chalk paint around here, but I'm not too keen on spending $14.99 for three bottles of the stuff (especially when it inevitably spills all over the place!). Today we made our own chalk paint for mere pennies and found out that it's just as great as the expensive stuff!
To make your own chalk paint, all you need is water, cornstarch and food coloring. Mix the water and cornstarch in equal parts (I used 1/2 cup of each) and add food coloring until it reaches the color desired – it will dry more muted than the colors you see in the cups. It would have been really fun if I had some neon food coloring to match the colors of the expensive chalk paint, but the boys didn't seem to notice the difference.

They started off with a little splatter painting and random brushstrokes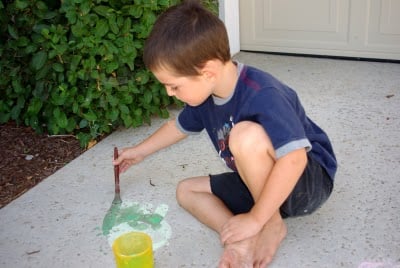 and then quickly moved on to creating other shapes – suns, circles and polka dots seemed to be the theme of the day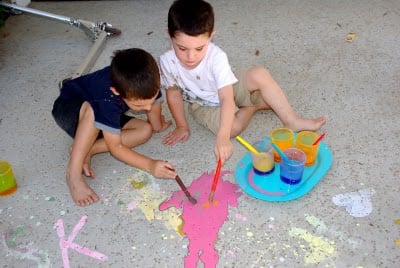 See, the inevitable (inexpensive!) spill! Even the spilled puddle of pink turned into a lesson in color mixing as they tested what would happen when they added other colors to the pink lake.
It's all about the process 🙂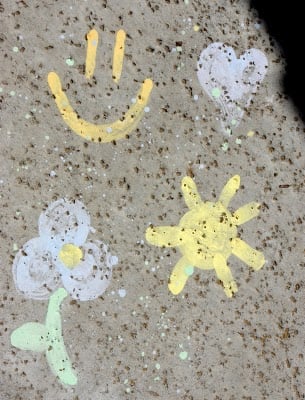 I even got in on the fun and created a few Sutton-requested chalk doodles!
I will definitely be stocking up on cornstarch next time I'm at the market. I have a feeling that chalk painting is going to become a regular addition to our art making. Yay for cheap fun, right!?!
NOTE from the comments: We didn't have any problems with staining or clean up (ours hosed away and cleaned off the kids with soap and water), but I cannot guarantee that the food coloring involved might not stain, especially if you have light or very porous concrete (as noted by one of my blog readers). Please use at your own discretion…it also works great on dark colored paper, so if you're worried about clean up that might be another fun way to try it out. 🙂