DIY Toddler Scarecrow Costume With RIT Dye
This post and its photos may contain affiliate links. As an Amazon associate I earn from qualifying purchases. If you make a purchase through these links, I may receive a small commission at no extra cost to you!
This post may contain affiliate links. I will receive a small commission from these sales at no additional cost to you!
I love everything about Halloween, especially the costumes. I've always loved the idea of getting to play dress up and be someone completely different for a night. I also love making our own costumes, and I try to create one for at least one of my boys every year. Since the older boys have their hearts set on being Mario and Luigi this year (and Dad already bought them their costumes at Target), that left my toddler as the recipient of the Mom-made costume this year.
Check Out More Halloween Ideas:
DIY Toddler Scarecrow Costume
I'm also pretty cheap thrifty when it comes to costume making, and I always try to use and upcycle things that we already have around the house. I had been toying around with the idea of making a scarecrow costume, but the colors of my cast-off clothing were all wrong. When I received a package full of RIT Dye a few weeks ago, I knew that it would be perfect for making Simon's costume.
I started by dyeing the tea towel and the plaid shirt Golden Yellow. The dye process is incredibly simple – just mix up a bucket full of HOT tap water (the hot water aids in dye absorption), half a bottle of liquid dye, and a cup of salt (use salt when dyeing cotton or linen; vinegar for dyeing silk, wool, and nylon). The liquid dye is more concentrated than powdered dye, so you don't need as much to get intense color.
Take your fabric out and rinse it, first in warm and then in cold water until the water runs clear.
I decided that my shirt and the tea towel were a little too matchy-matchy after their Golden Yellow bath, so I added a bit of Sunshine Orange dye into the bucket and put my shirt back in for another ten minutes. Perfect! To darken up the overalls a bit, I added a tiny bit of black to the orange-yellow dye mixture to create brown (as found in the RIT Color Formula Guide). I didn't want them to get too dark, so I only let them soak for about five minutes before rinsing them.
I cut the tea towel into 5″ wide strips (each strip was the length of my tea towel, approx 20″ long), and then used my pinking shears to cut 3/4″ perpendicular strips to create "hay" for my scarecrow. I left about 1″ at the edge so that I could sew it on to my costume. I flipped the sleeves inside out and attached the hay with a quick hand stitch. You could totally do this part on a sewing machine even faster, but my desk was messy enough that it would have taken me even longer to clean it off before I could pull out my machine. I sewed the strips of hay to each shirt sleeve and to the bottom of the overalls pants cuff.
I grabbed some of my scrap fabrics in coordinating colors and cut out patches for the costume. Maybe I'm just way too obsessive-compulsive, but I played around with the layout of the patches for quite a while before I finally settled on patch locations and fabric choices. I hand-stitched each patch to the overalls with contrasting embroidery thread so that it would look more whimsical and sweet.
Check Out These Other Halloween Ideas!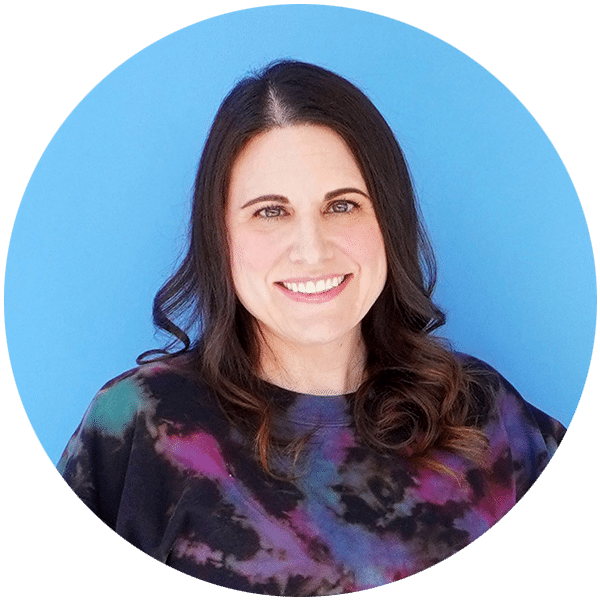 Heidi Kundin has captivated the hearts of millions with her colorful and inspiring approach to crafting, celebrations, and family fun. With over 15 years of experience, Heidi's website has become a must-visit destination for those seeking quick and easy creative ideas and last-minute solutions. Her warm personality shines through her posts, inviting readers to join her on a creative journey that's fun, rewarding, and achievable.