Easy DIY Peppermint Bark Soap
This post and its photos may contain affiliate links. As an Amazon associate I earn from qualifying purchases. If you make a purchase through these links, I may receive a small commission at no extra cost to you!
This Peppermint Bark Soap is an easy, fun, and festive homemade Christmas gift idea! This DIY soap with a delicious chocolate and peppermint fragrance is perfect for friends, family, neighbors, teachers, and more!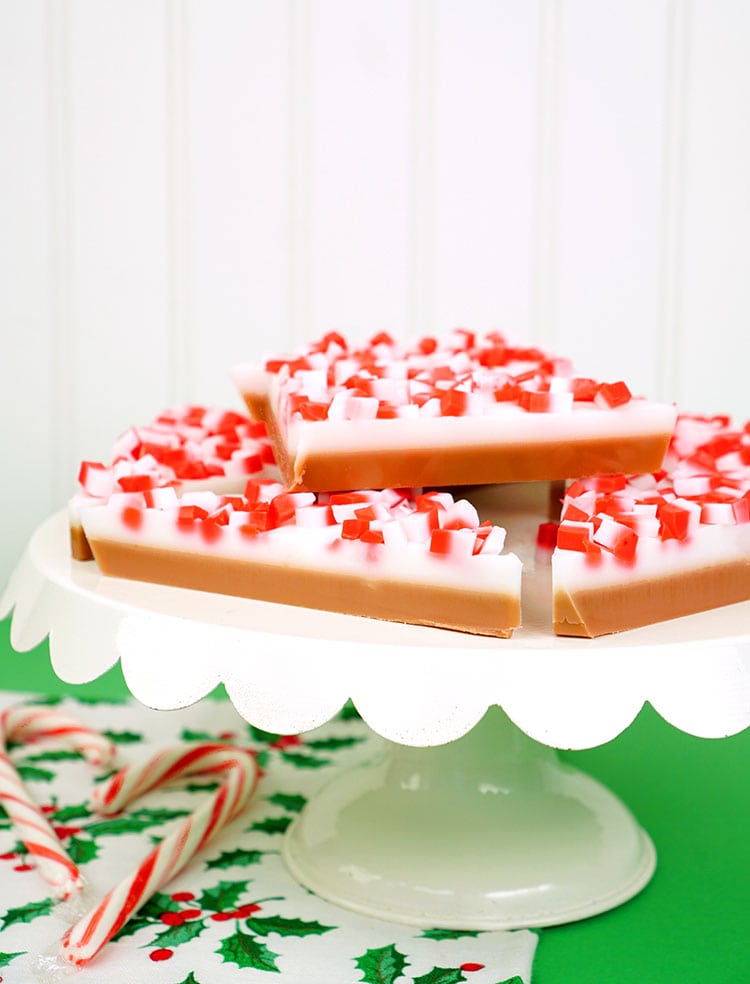 Peppermint bark is one of my favorite holiday treats, so I thought it would be fun to make some cute novelty peppermint bark soap for the Christmas season – it makes a fantastic DIY Christmas gift idea! This peppermint bark soap smells just like the delicious holiday treat, and it's loaded with moisturizing benefits to help keep your winter skin feeling soft and smooth all season long!
Supplies Used for DIY Peppermint Bark Soap: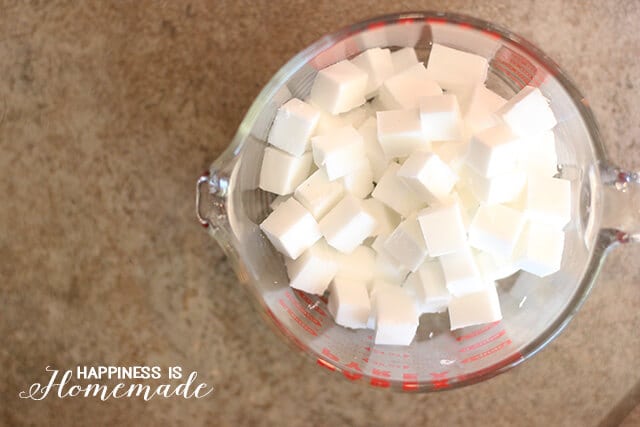 Cut approximately 1/4 lb. of soap base (less than is shown in this photo) into small cubes. Melt in the microwave in 20-second increments, stirring well between each, until completely melted. Add 5-10 drops of peppermint essential oil and mix well.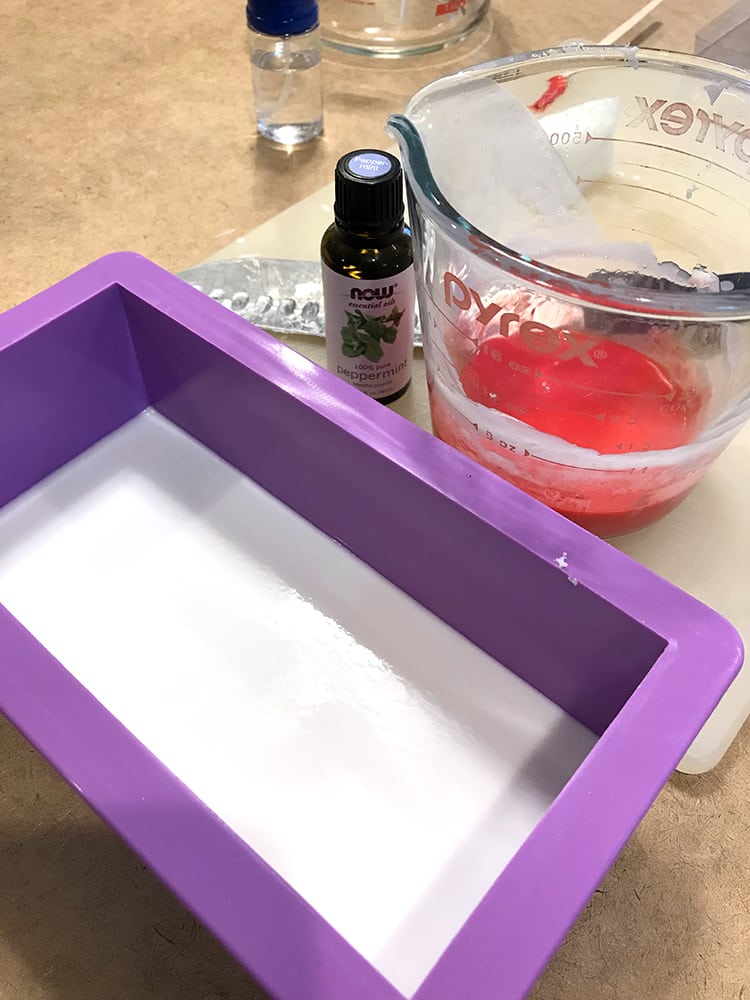 Pour a very thin layer of white soap into the bottom of a loaf soap mold (or several small bar soap mold cavities). Spray the top of the soap with alcohol to remove any bubbles. Allow to cool for 10-15 minutes. Repeat the process with the addition of red soap colorant this time – spray the white soap with alcohol just before pouring the red soap on top to help ensure that the layers adhere together properly.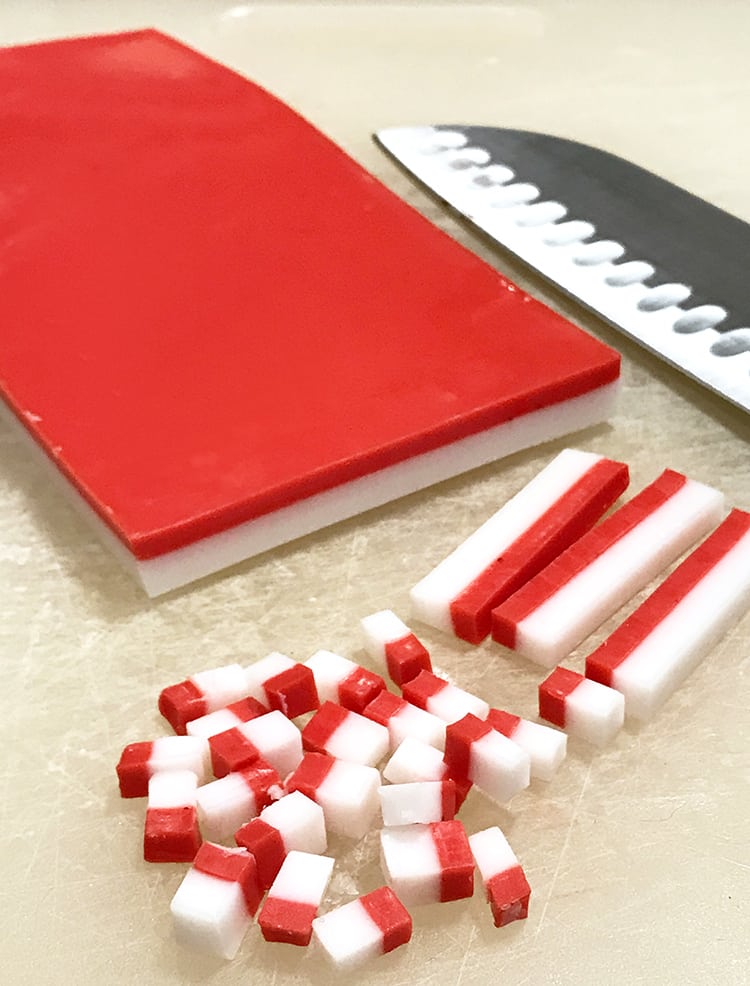 Slice the layered peppermint soap into thin strips and chop the strips into tiny pieces. Set these "peppermint" pieces aside for now. For my soaps, I used a mixture of rectangular pieces like the ones shown above as well as a handful of rough cut and odd-shaped pieces to add texture and realism. [Note: I didn't take a photo of the next step – I apologize! I'll try to go back and take one at some point!] Cut 1 lb. of soap into cubes and melt in the microwave in 30-second increments, stirring well after each, until completely melted. Add brown soap colorant and 15 drops of chocolate mint fragrance oil, and stir to mix well. Carefully pour the "chocolate" soap into a square silicone baking pan. Allow to cool for 15-20 minutes. Note: The brown soap becomes a bit lighter after it cools and firms, so if you would like to intensify the color (and add an additional layer of fragrance), you may also mix 1 tbsp. of cocoa powder into the melted brown soap mixture. Repeat the process with the remaining white soap (approx 1/2 – 3/4 lb.) and 10 drops of the chocolate mint fragrance oil (do not add colorant).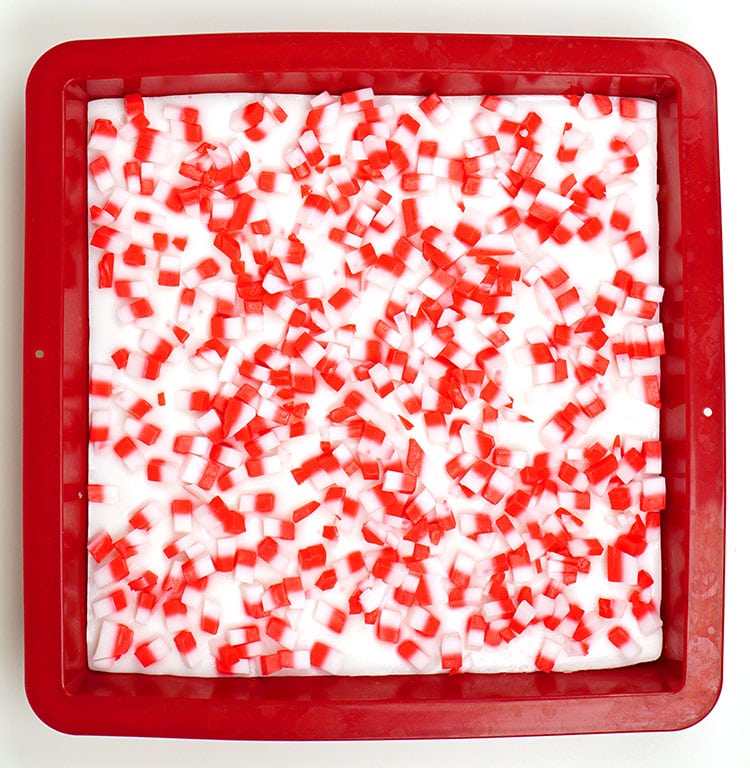 Carefully pour the white soap mixture on top of the brown layer, spritz with alcohol, and allow to cool for 2-3 minutes before topping with the "peppermint" soap pieces. Use the palm of your hand to gently press the peppermint pieces into the white layer.
Allow to cool and firm completely (around 40-60 minutes depending on temperature and humidity).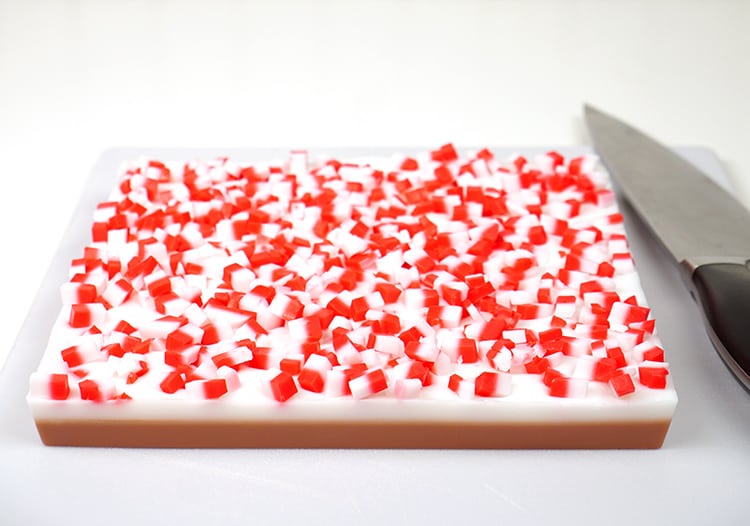 Carefully unmold the peppermint bark soap.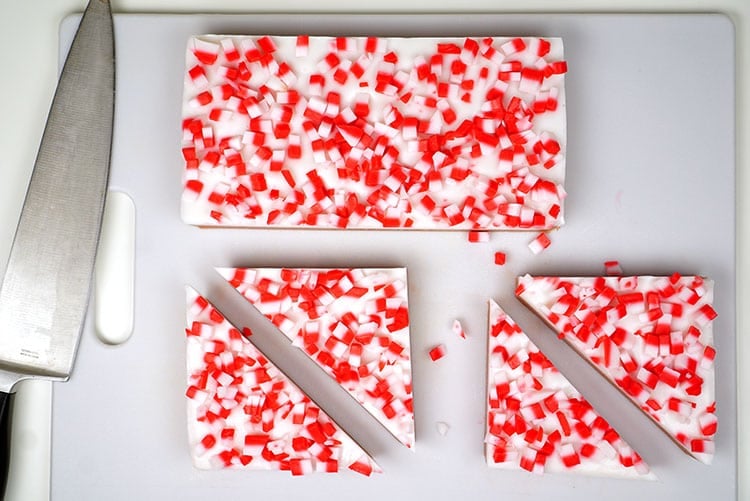 Cut into triangles with a large kitchen knife (don't worry, it washes completely clean afterward!). I cut my soap into eight extra-large triangles, but you could easily get up to 16 soaps from this batch if you cut them just a bit smaller!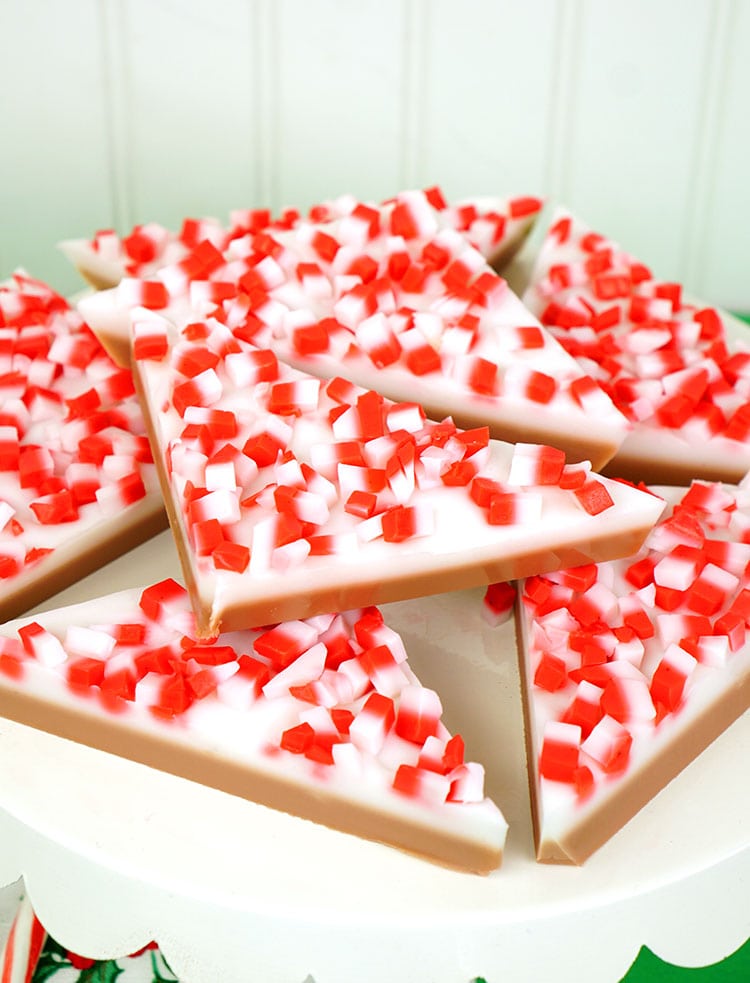 Easy peasy and super cute! These peppermint bark soaps would make a great homemade Christmas gift idea for friends, family, teachers, neighbors, co-workers, and more!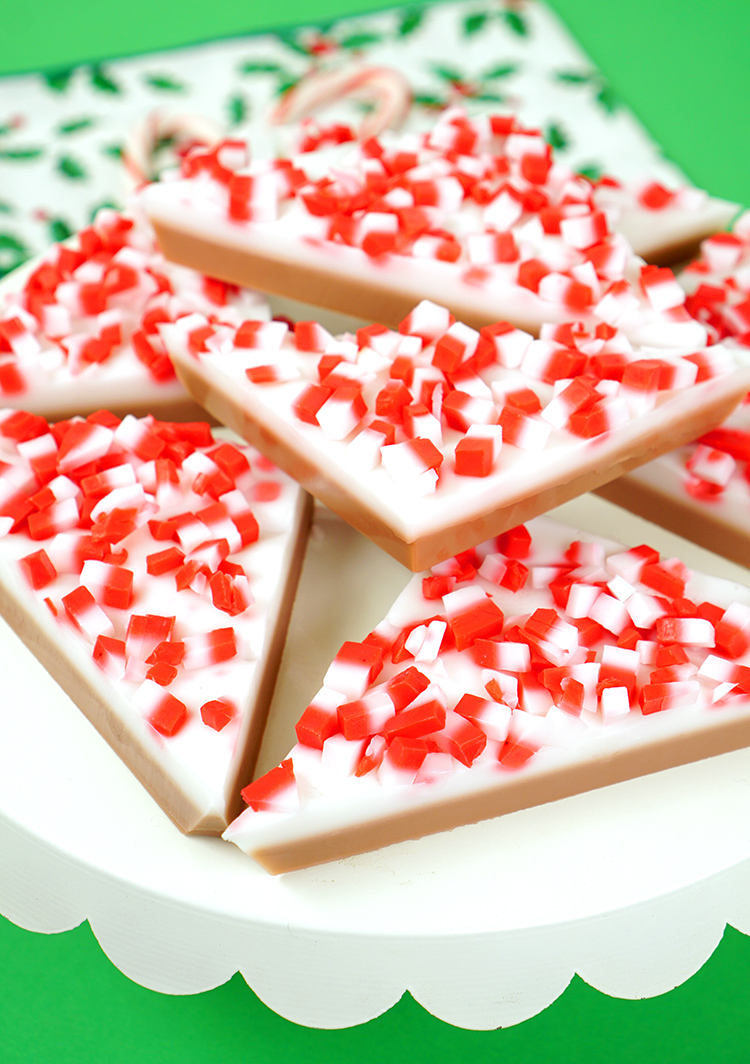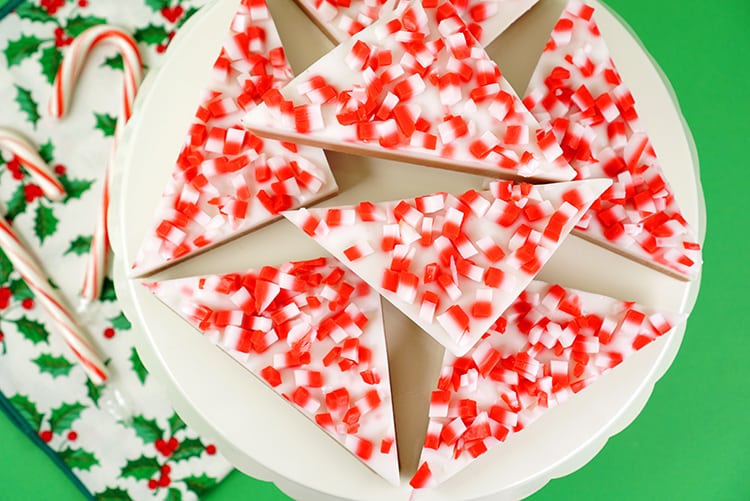 For gifting, wrap each soap in a layer of plastic wrap or package inside of a plastic or cellophane treat bag and top with a pretty ribbon. Simple and sweet!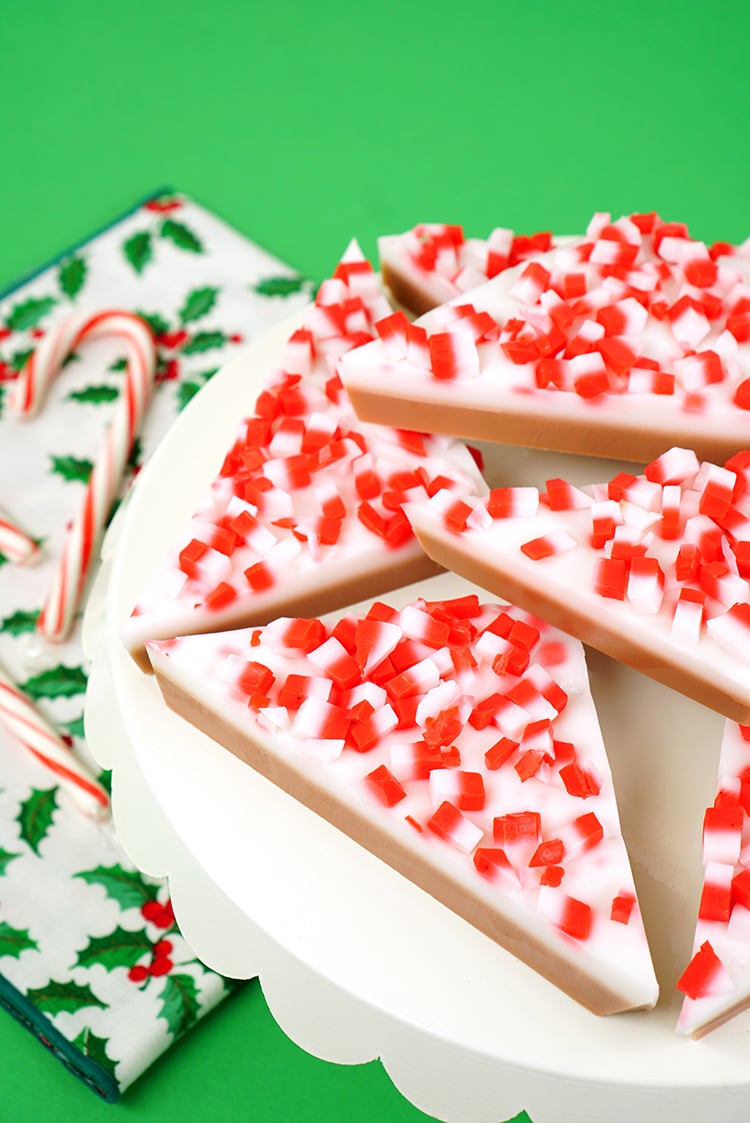 These delicious smelling soaps are sure to be a huge hit with all of your friends and family members! Happy holidays!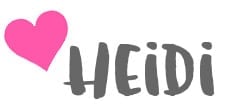 Pin this Peppermint Bark Soap for Later!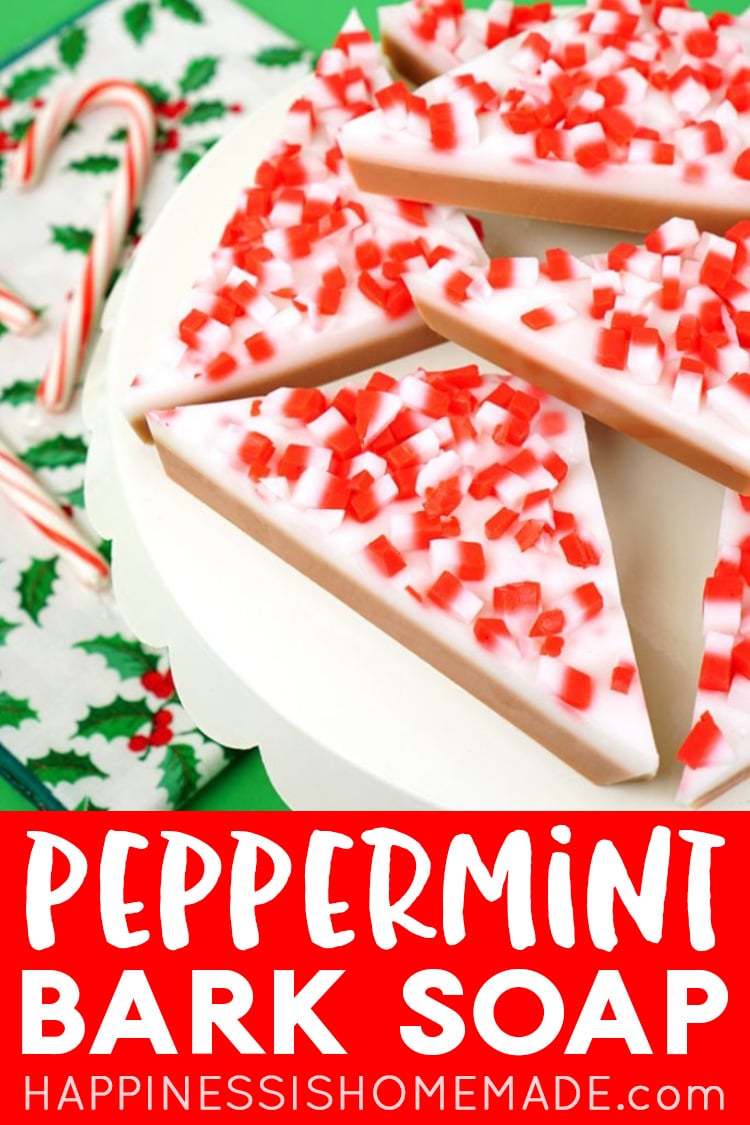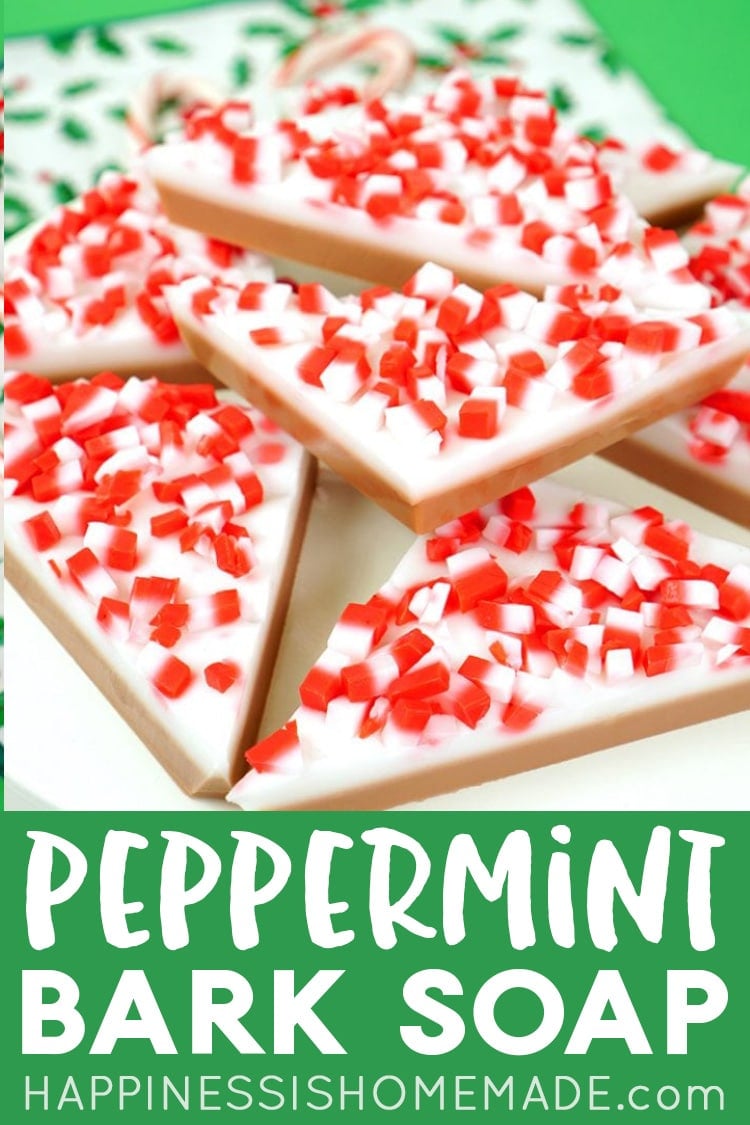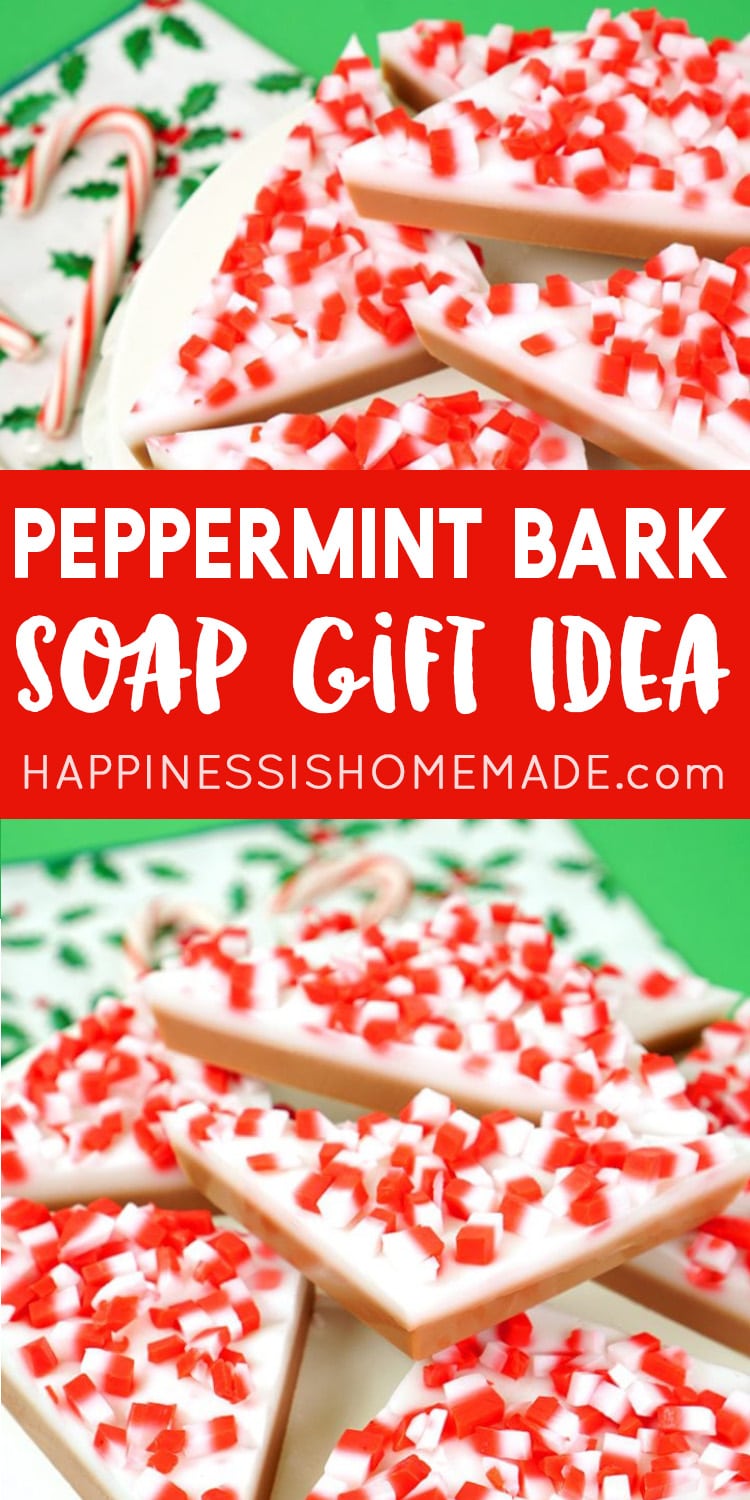 You May Also Like: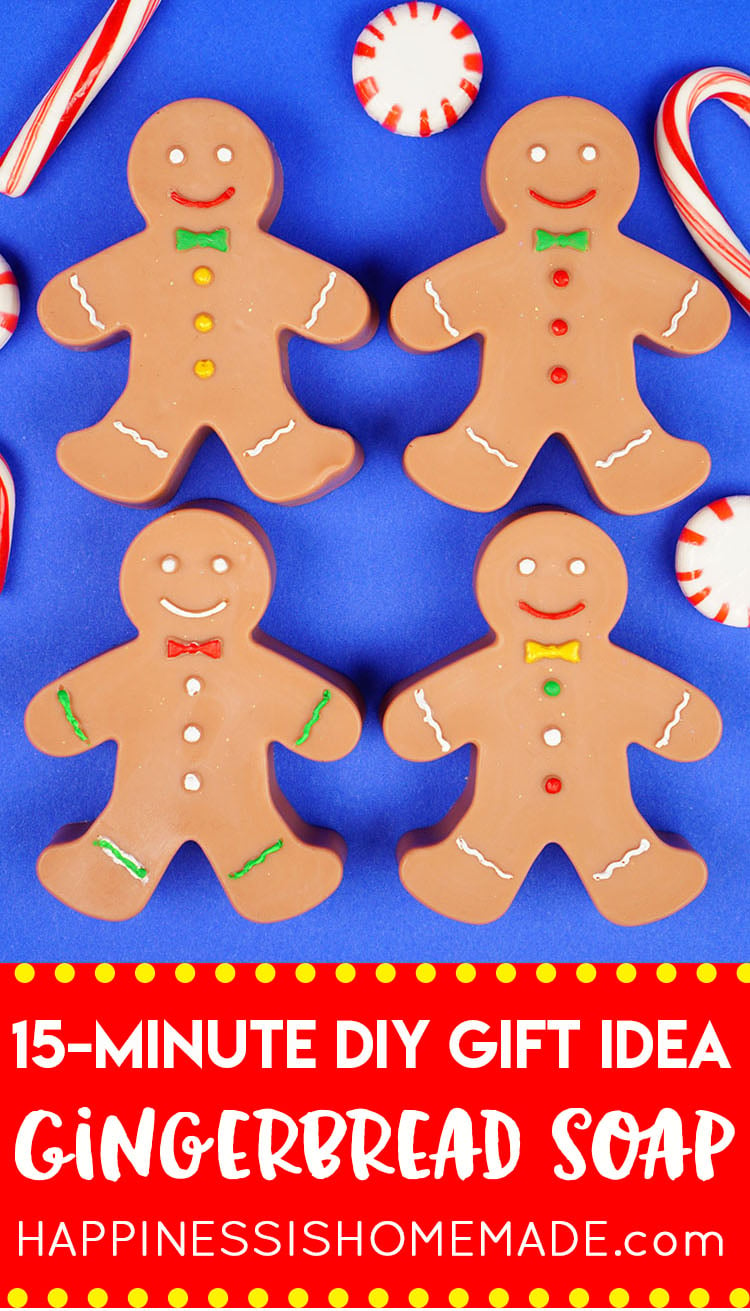 15-Minute DIY Gingerbread Man Soaps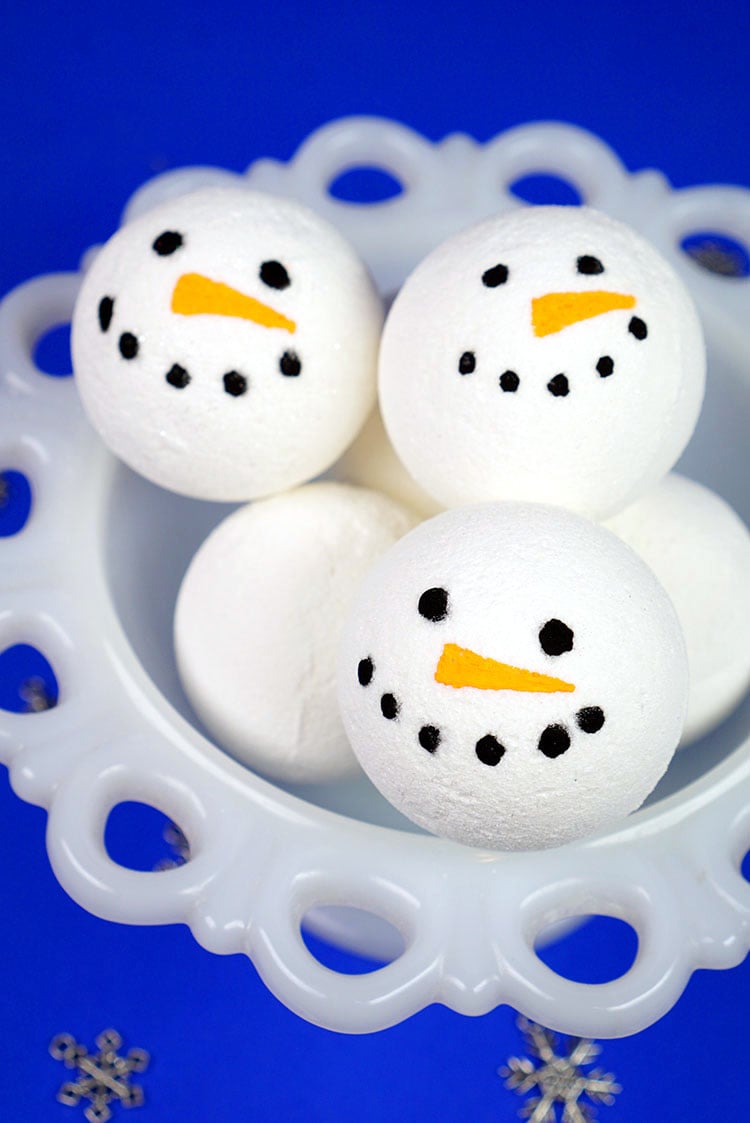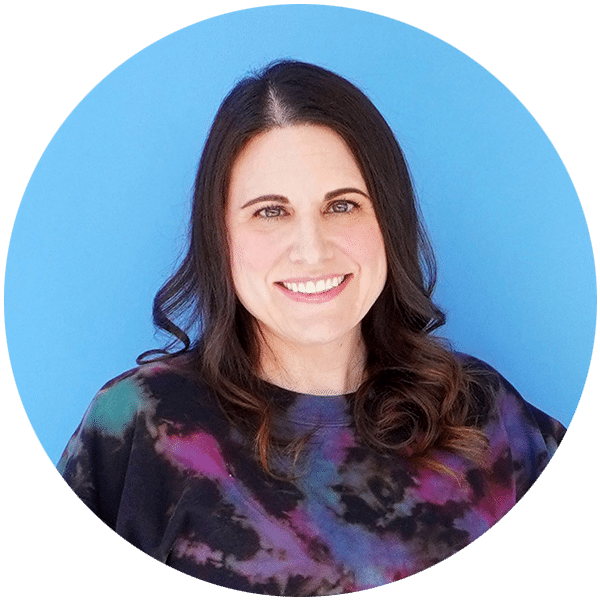 Heidi Kundin has captivated the hearts of millions with her colorful and inspiring approach to crafting, celebrations, and family fun. With over 15 years of experience, Heidi's website has become a must-visit destination for those seeking quick and easy creative ideas and last-minute solutions. Her warm personality shines through her posts, inviting readers to join her on a creative journey that's fun, rewarding, and achievable.