Toddler Time: Simple Valentine's Day Heart Suncatcher
This post and its photos may contain affiliate links. As an Amazon associate I earn from qualifying purchases. If you make a purchase through these links, I may receive a small commission at no extra cost to you!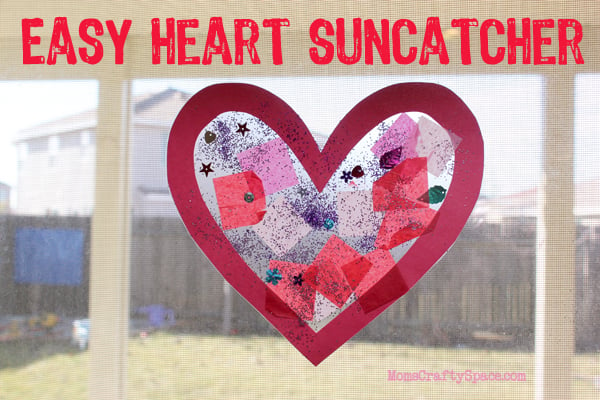 I've mentioned before that my two-year-old isn't really interested in crafting yet, which feels really strange and unfamiliar since his two older brothers were the kings of toddler crafting in their day. He will merely poke for a moment at play dough or make a few random scribbles with markers before he loses interest and moves on to reciting his letters, numbers and shapes. Forget about trying to paint – he hates it! (He didn't seem to mind scribbling all over his face with an orange marker while I was busy grabbing glitter from our art room though!)
Today I struck pure gold though. This easy Valentine's Day heart collage activity was perfect for my little shape-loving guy. Every time he stuck on a piece of tissue paper or a sequin he would tell me what shape he was using. Love it!
To make a heart suncatcher you will need:
Red paper
Clear contact paper
Tissue paper squares
Sequins, glitter and other relatively flat embellishments
Start by cutting a heart frame out of your paper – just fold the sheet of paper in half, cut out a large heart and then cut a smaller heart out of the large one to create a window. Cut a piece of contact paper that is larger than the heart, lay the heart on top of the contact paper and trim off the excess.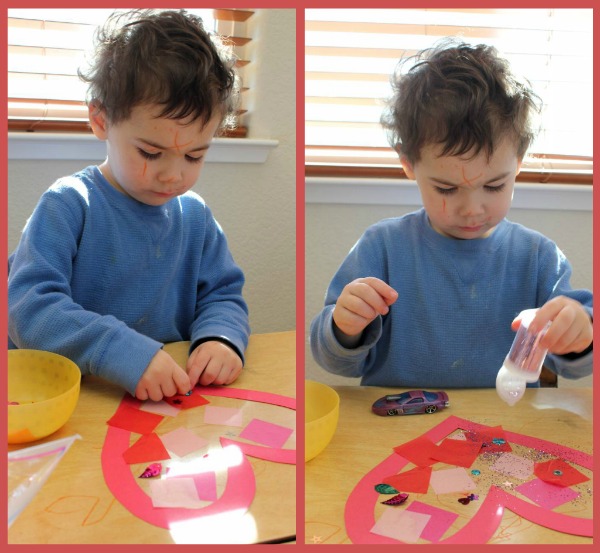 Since the Contact paper is sticky it won't take much pressure for your child to apply their decorations. Today I also discovered that he has a lot of love for glitter!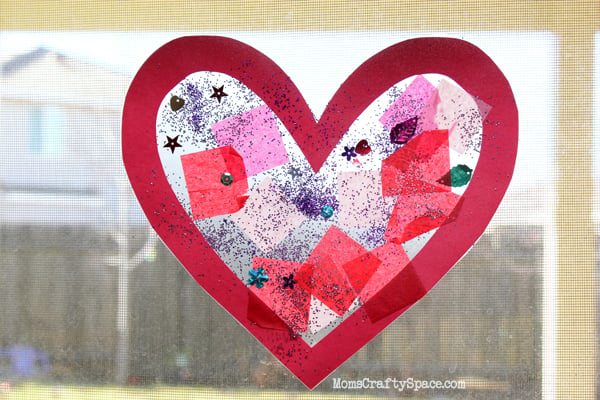 When your child is finished decorating their heart, cut another piece of contact paper and lay it over the top to seal in the all of the "pretties." Trim any excess contact paper and hang in a sunny window.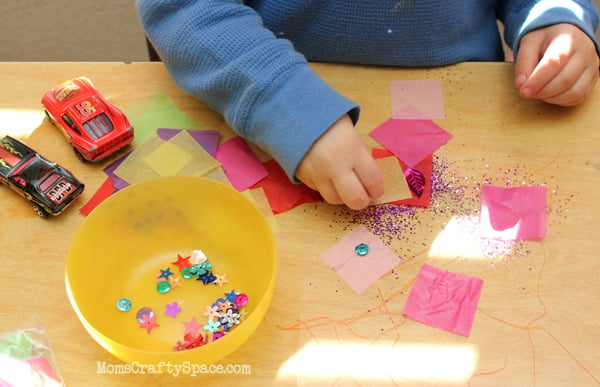 Simon loved the activity so much that we went back and did it again with just a sheet of contact paper!
For more simple Valentine's Day activities and printables, CLICK HERE!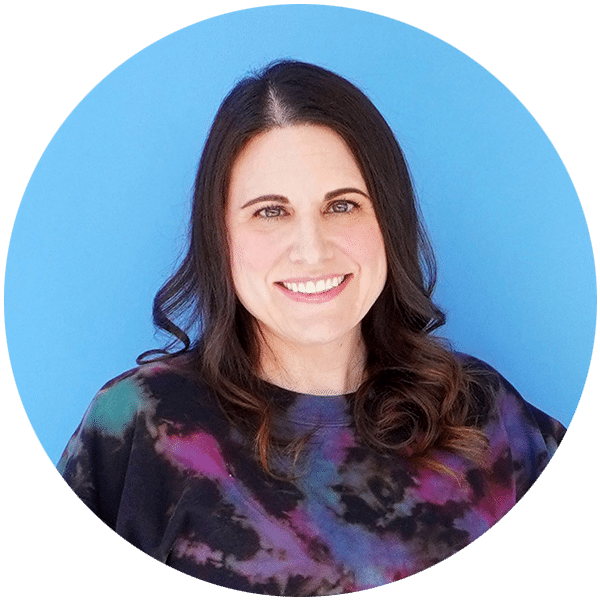 Heidi Kundin has captivated the hearts of millions with her colorful and inspiring approach to crafting, celebrations, and family fun. With over 15 years of experience, Heidi's website has become a must-visit destination for those seeking quick and easy creative ideas and last-minute solutions. Her warm personality shines through her posts, inviting readers to join her on a creative journey that's fun, rewarding, and achievable.