Free Printable Habit Tracker
This post and its photos may contain affiliate links. As an Amazon associate I earn from qualifying purchases. If you make a purchase through these links, I may receive a small commission at no extra cost to you!
Free printable habit tracker for bullet journal (A5 size) and letter-sized monthly habit tracking! Use this circular habit tracker printable to record and log your daily habits!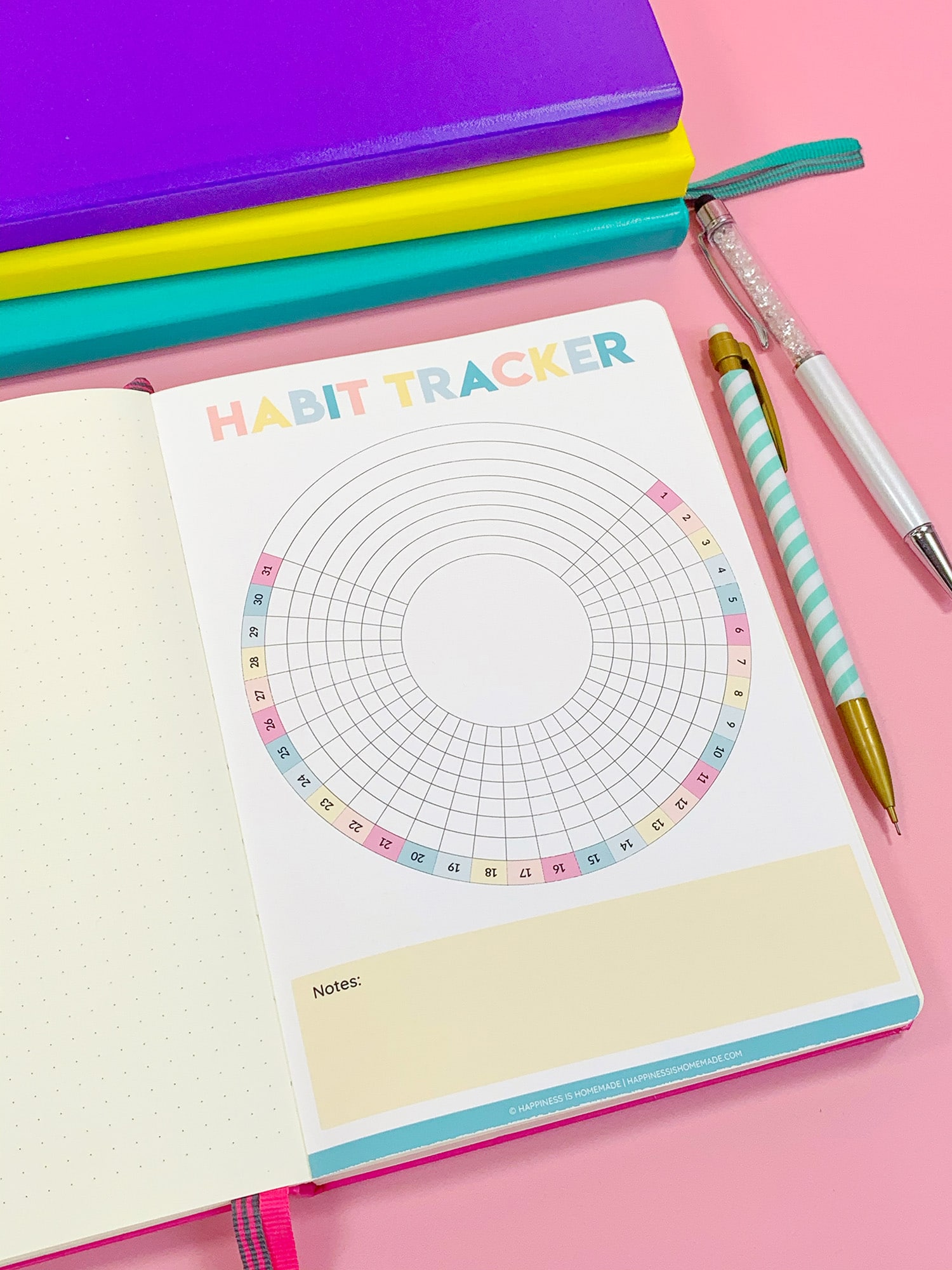 This post may contain affiliate links. I will receive a small commission from these sales at no additional cost to you!
Free Printable Habit Tracker
Get our free printable habit tracker templates – available in both letter sizes and bullet journal (A5) sizes below!
Habits become habitual when they become a subconscious part of your daily or weekly routine, so to make or break these habits, you have to be intentional about them. Choosing to partake in a particular habit (or not!) takes awareness and accountability, both of which can be acquired by using a monthly habit tracker.
Tracking your habits and routines can help you to become more aware of the things you do and the ways in which you spend your time. Paying attention to these habits can help you make (and break!) routines in areas that you want to focus on.
Whether you're tracking good habits that you'd like to continue or bad habits you're hoping to break, this handy bullet journal habit tracker will help you keep track of your habits for the entire year!
Want to Learn More About Bullet Journaling? Check Out These Posts!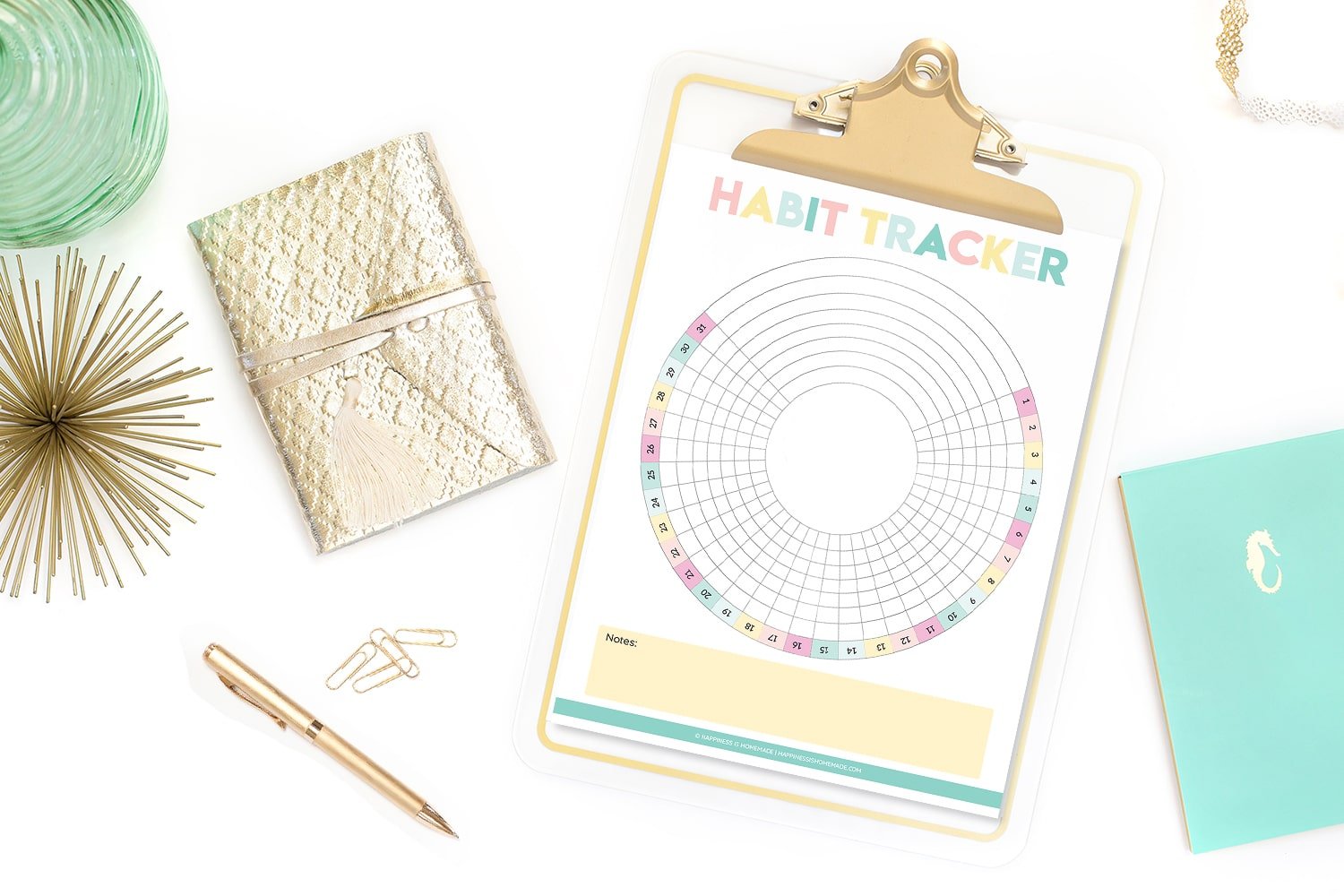 What is a Monthly Habit Tracker?
A monthly habit tracker is a simple grid chart to record the frequency of your daily/weekly habits for the entire month. This allows you to view your entire month of routines at a glance to see which monthly habits you want to pay more attention to and which behaviors you might wish to change.
Using a habit tracker encourages mindfulness and self-accountability and can lead to more consistent behaviors and routines.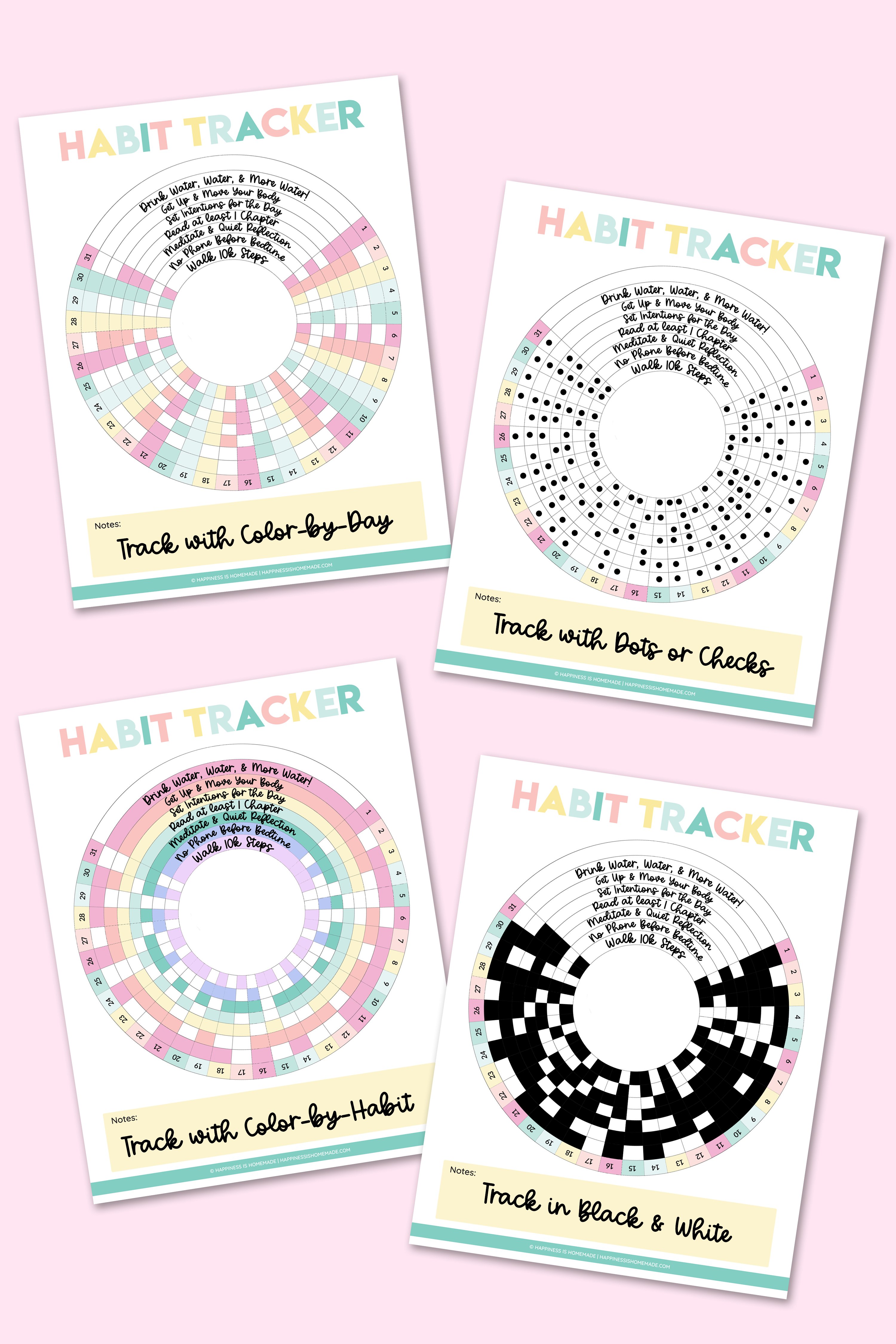 How to Use a Habit Tracker:
Using our free habit tracker printables is as easy as selecting the specific habits and behaviors you'd like to track and focus on, and then checking off the grid box for each day that you accomplish/participate in that habit. They're a great way to keep a visual reminder of your daily progress and stay on track of your goal setting. Easy peasy!
Types of Habit Tracking Recording:
You can opt to fill out the habit tracking matrix in any way that you choose, but here are a few of the most popular recording methods (as illustrated above):
Track with Color-by-Day: Assign each day in the tracker wheel a color, and color in the habits for each day with the designated different colors. Pretty soon you'll have a pretty, colorful habit tracker!
Track with Dots or Checks: A check mark, Xs, or / marks, or teeny little hearts ♥ – whatever you like!
Track with Color-by-Habit: Assign each circular habit ring its own color, and use that same color for the designated task every day as you move throughout the monthly circle.
Track in Black and White: Keep things simple by filling in the habit tracking boxes in bold black and white.
There's really no right or wrong style of habit track recording, so long as the tracked information is accurate and easily readable. Pretty soon – you'll be crushing your new year's resolutions and making that positive change you've always been trying to make, into a reality!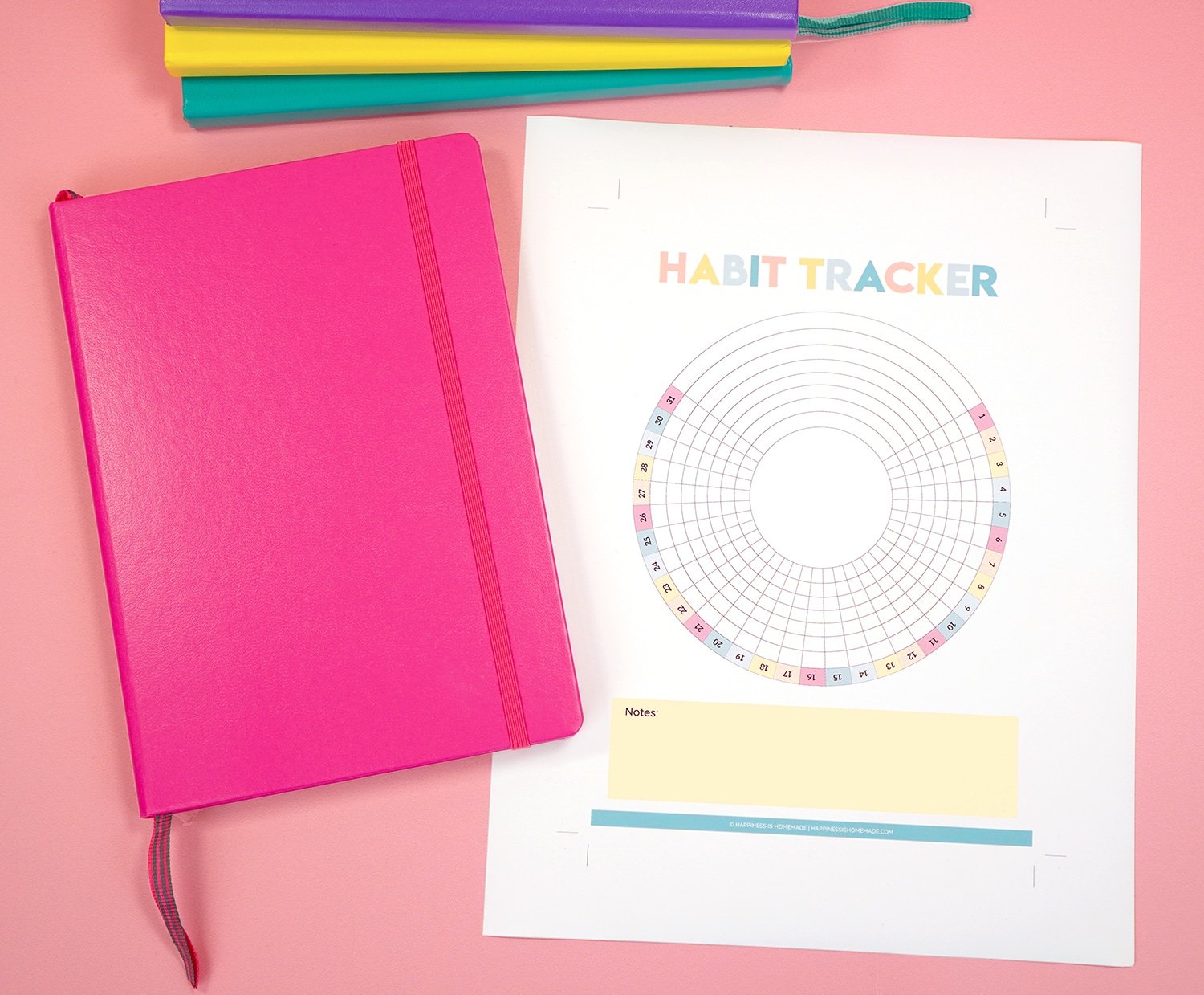 What Habits Should I Track?
There are a multitude of different habits that you may wish to track in your circle habit tracker, but we recommend focusing on tasks and habits that you are aiming to complete on a daily basis, or at least weekly.
Some popular examples of habit tracker ideas are:
Exercise/Go to the Gym
Meditate/Pray
Read
Journal/Gratitude Journaling
Drink X Amount of Water (Water Tracker)
Walk/Run X Steps or Miles
No Alcohol
Cook Dinner at Home
Make Bed
Go to Bed before 10:00
Floss Your Teeth
Take Vitamins/Medications
Healthy Eating
No Soda/Sugar
Business Goals (such as contacting one potential lead each day)
Call or Check-In with a Friend or Family Member
In the habit tracker examples above, I demonstrated tracking these healthy habits:
Water Intake (water, and more water!)
Get Up & Move Your Body
Set Intentions for the Day
Read at Least One Chapter
Meditate & Quiet Reflection
No Phone Before Bedtime (an hour before bed)
Walk 10k Steps
Really, the habits that you choose to track are entirely up to you! Focus on positive habits that you would like to develop to enrich your life and new habits that will add more enjoyment to your daily routine.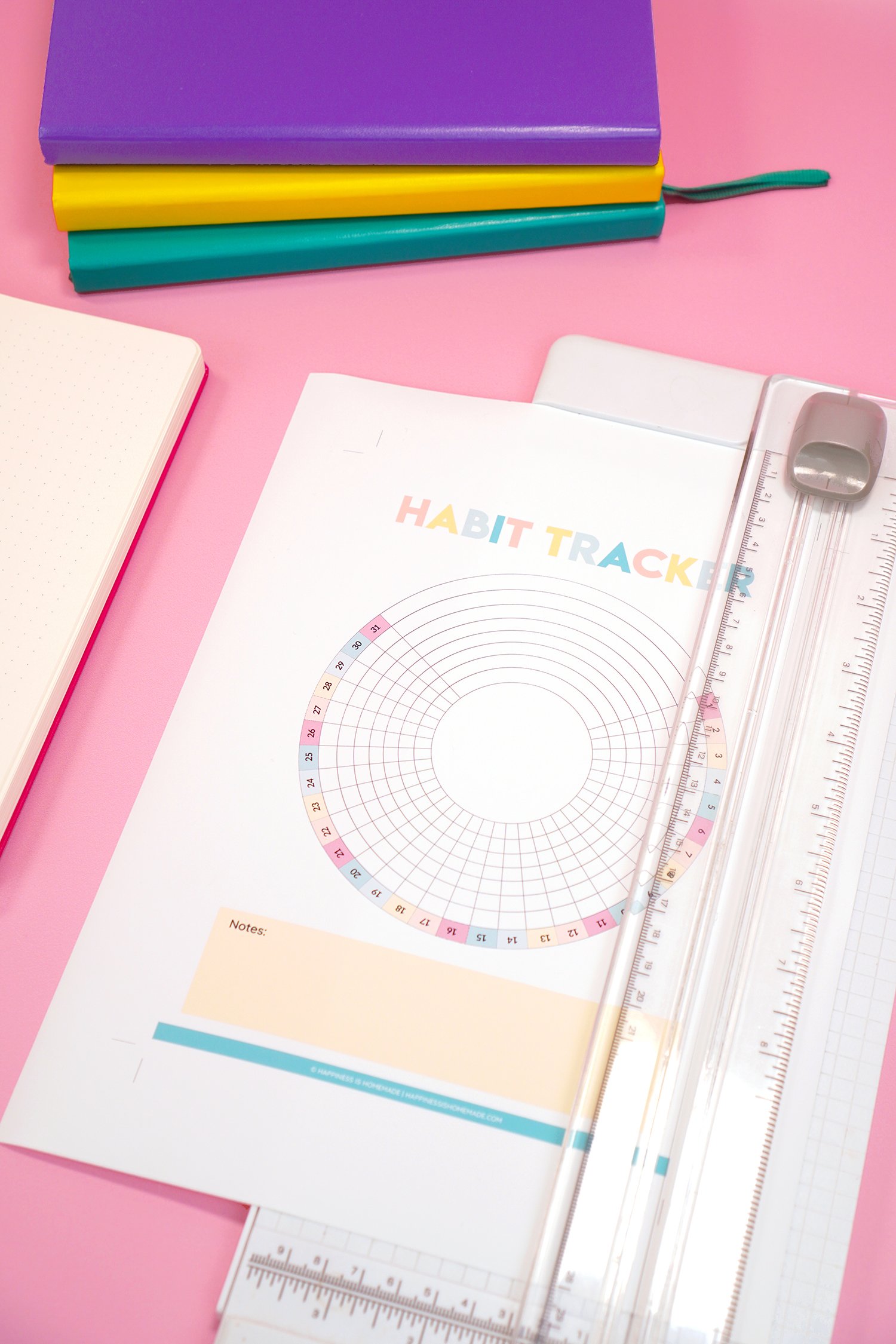 How to Use This Tracker in a Bullet Journal:
To use our free monthly habit tracker in a bullet journal, download and print the A5 sized tracker (available below). We highly recommend printing the tracker on to printable matte vinyl sticker paper! I use PaperMate Flair pens with my sticker paper trackers, and the ink colors apply smoothly and are bold and vivid with no smearing.
Trim the tracker to size using scissors or a paper trimmer.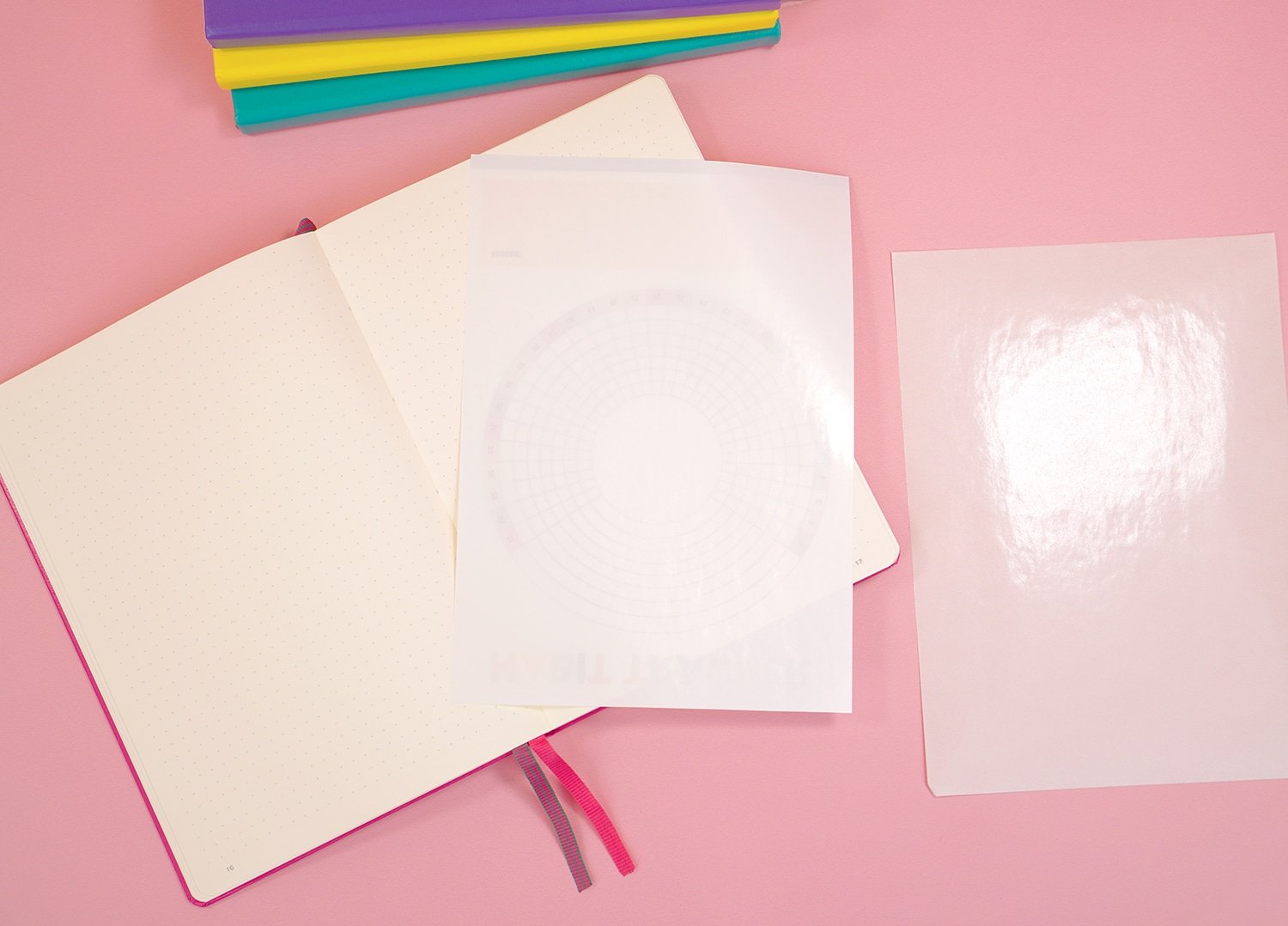 Peel the backing from the sticker paper (or use a glue stick to apply adhesive to the back if you printed on standard paper), and place the daily habit tracker into the bullet journal.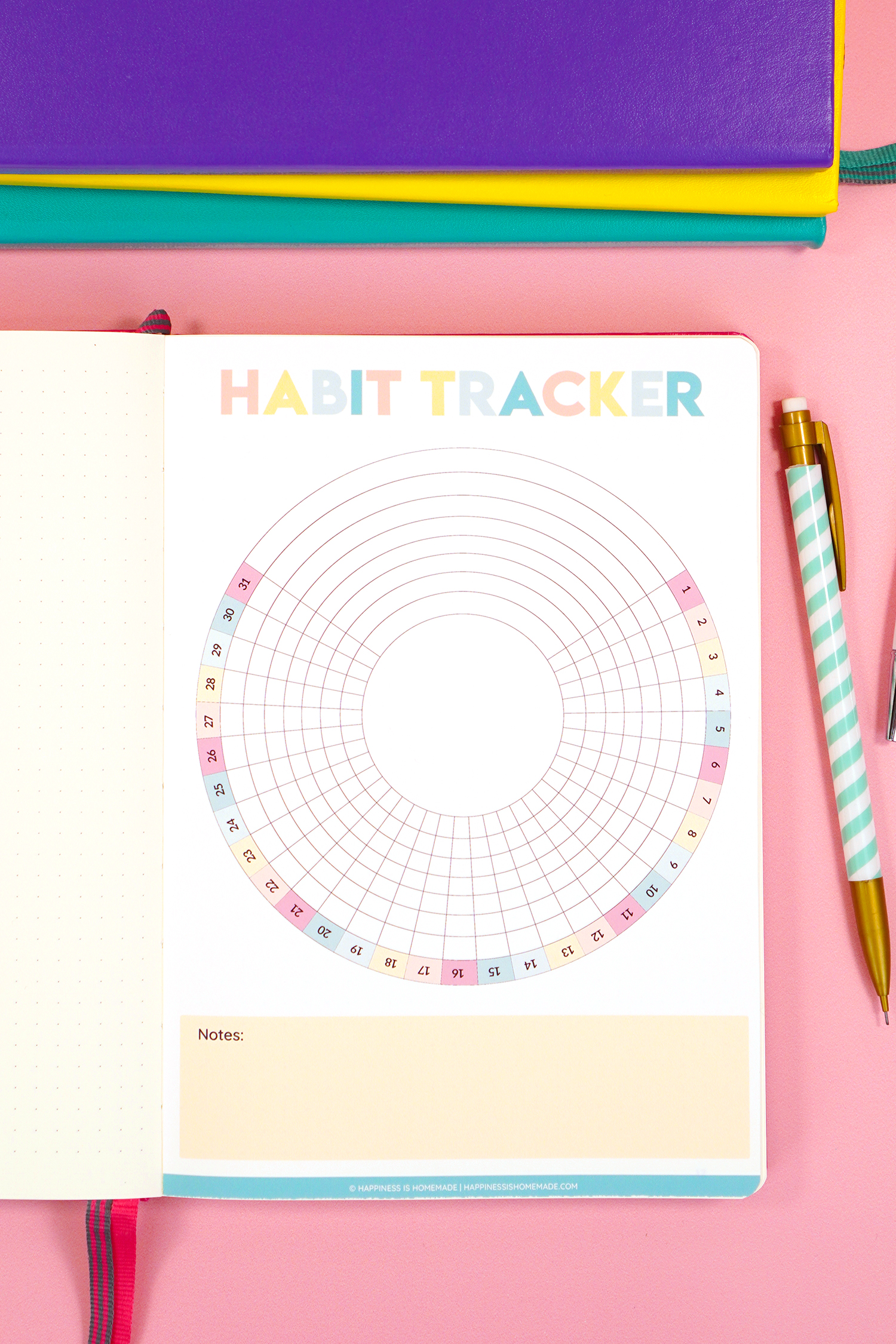 Use scissors or a round corner punch to trim any excess if your bullet journal has rounded page corners.
Get The Free Printable Habit Tracker
---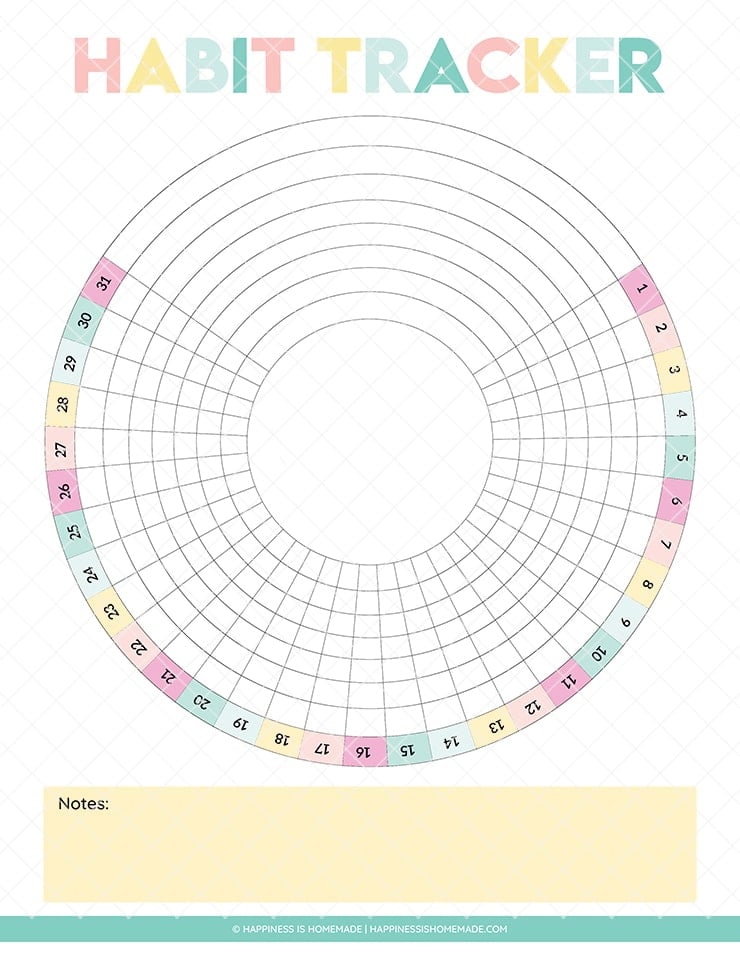 To get the Printable Habit Tracker, enter your name and email address into the form below and click the "Get It Now!" button!
Choose your habits and start keeping track of your progress! You might be surprised at what you discover about yourself!

Check Out These Other Bullet Journal Ideas & Free Printables!
Don't Forget to Pin This Circle Habit Tracker for Later!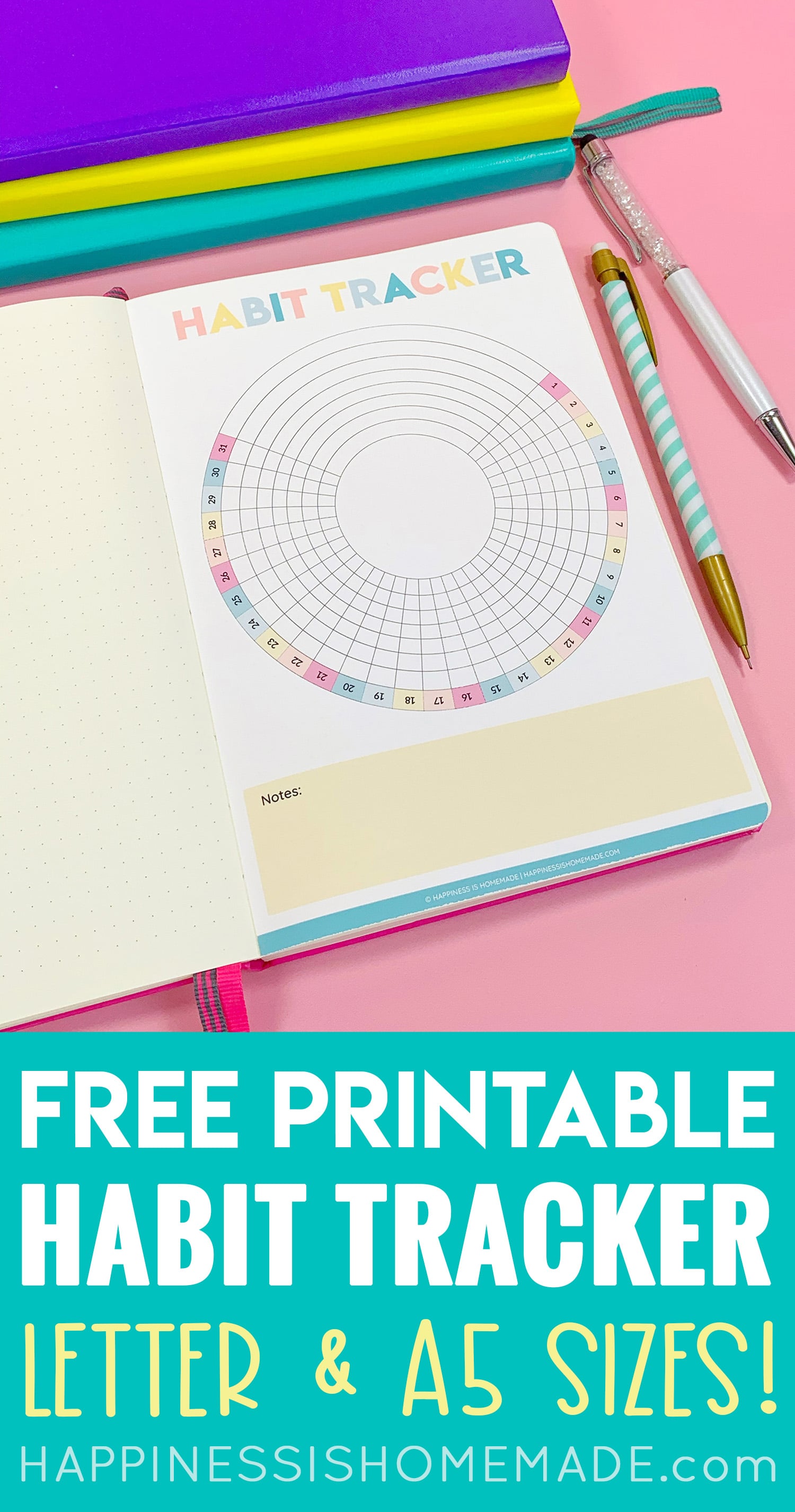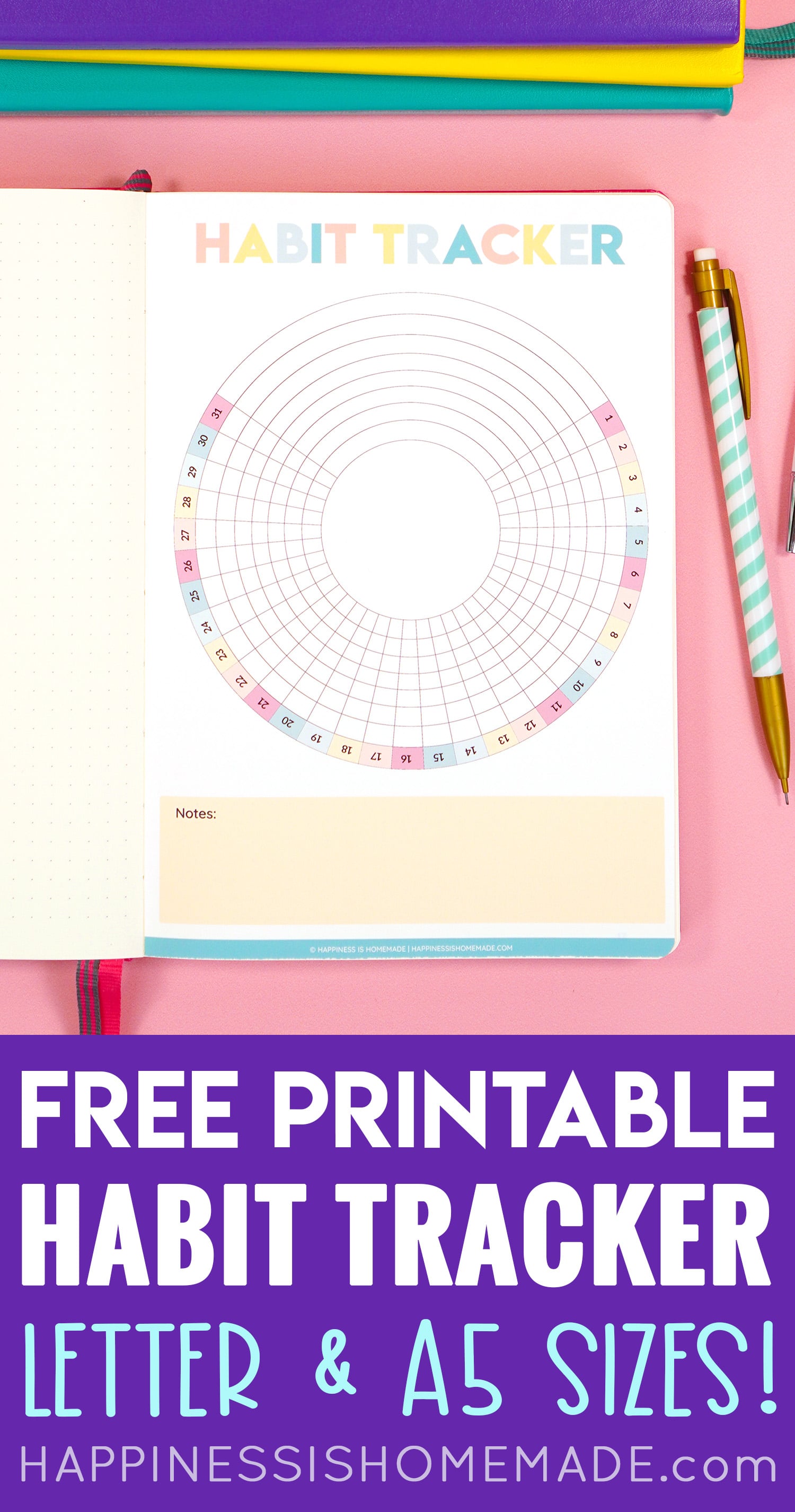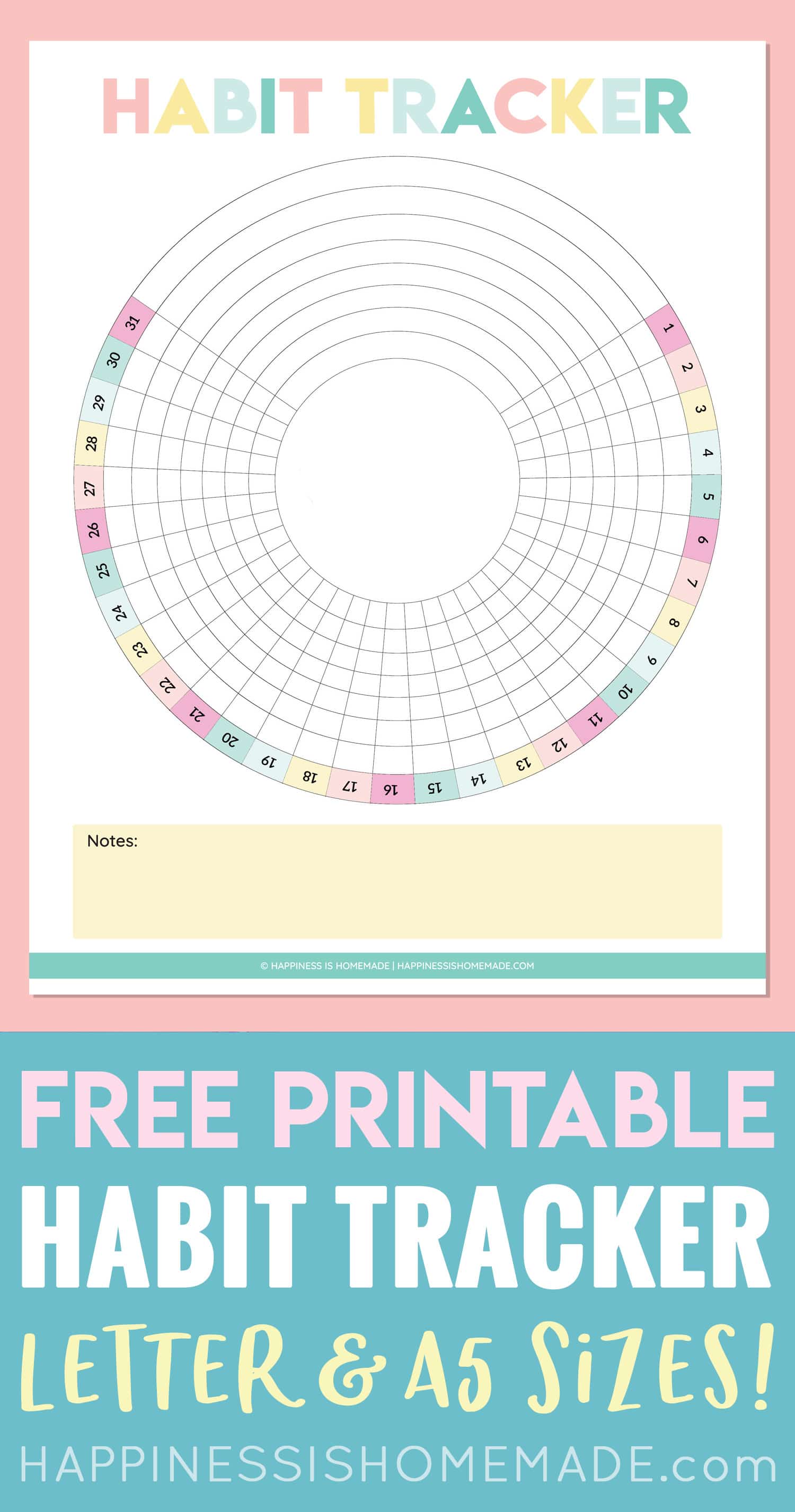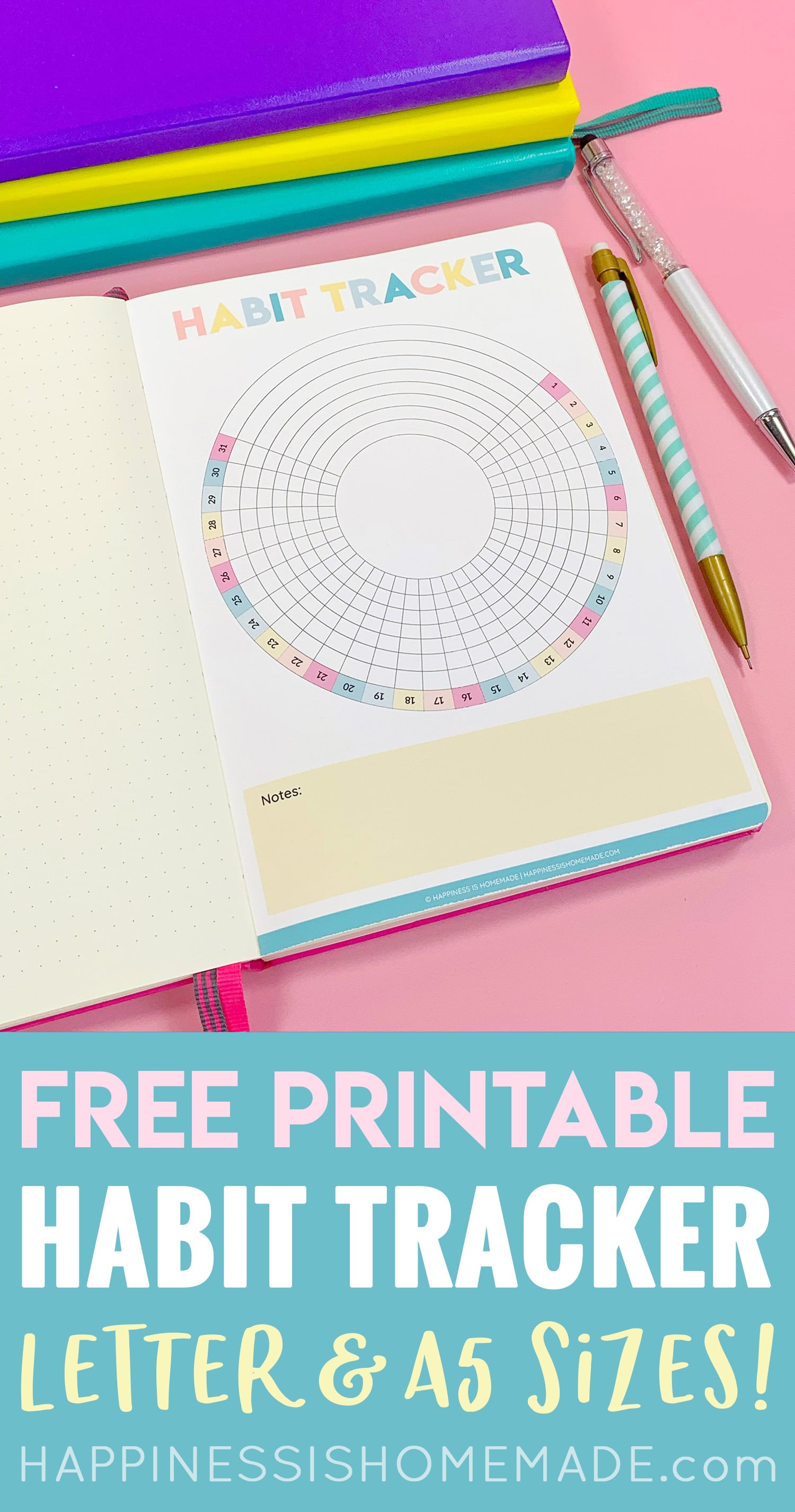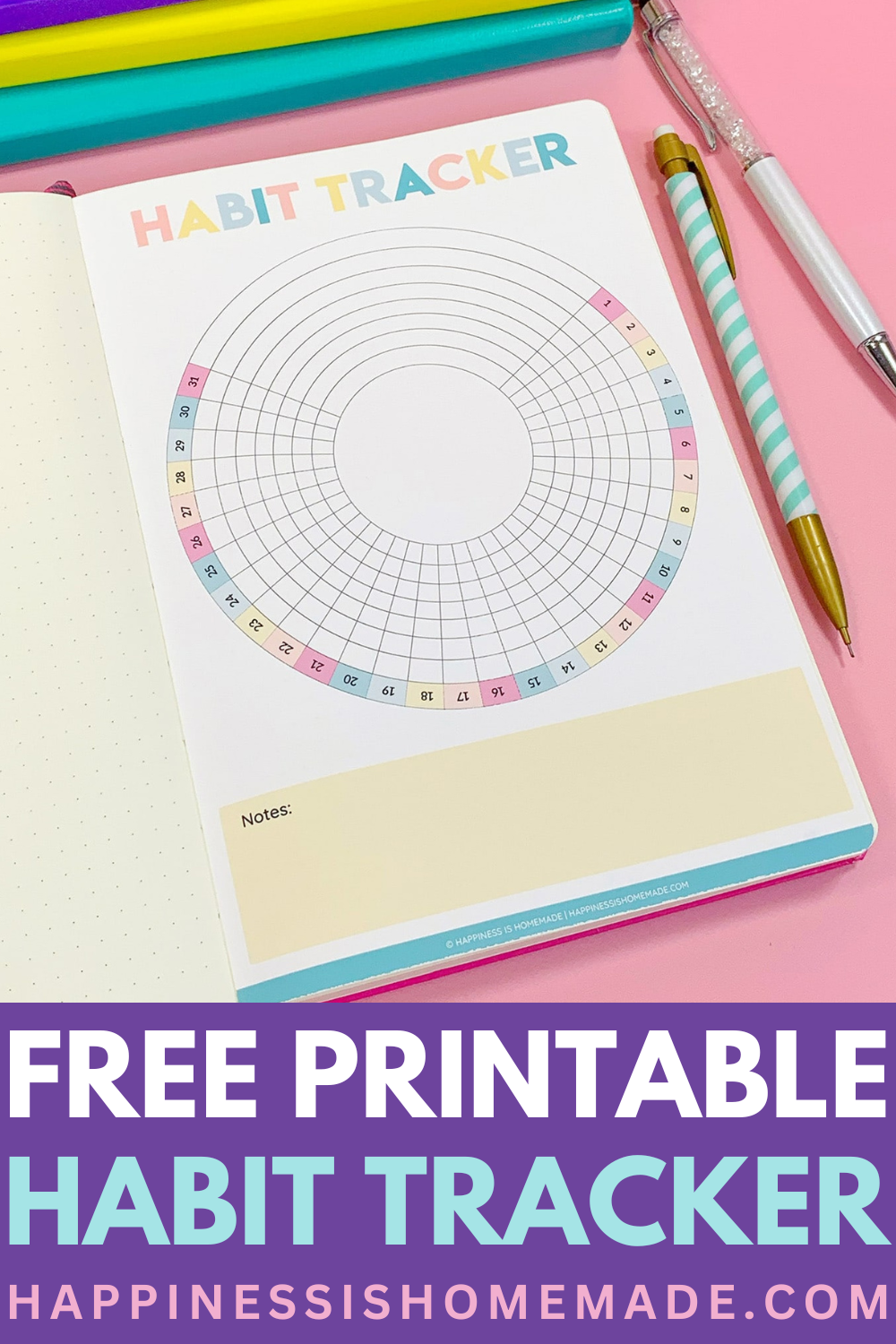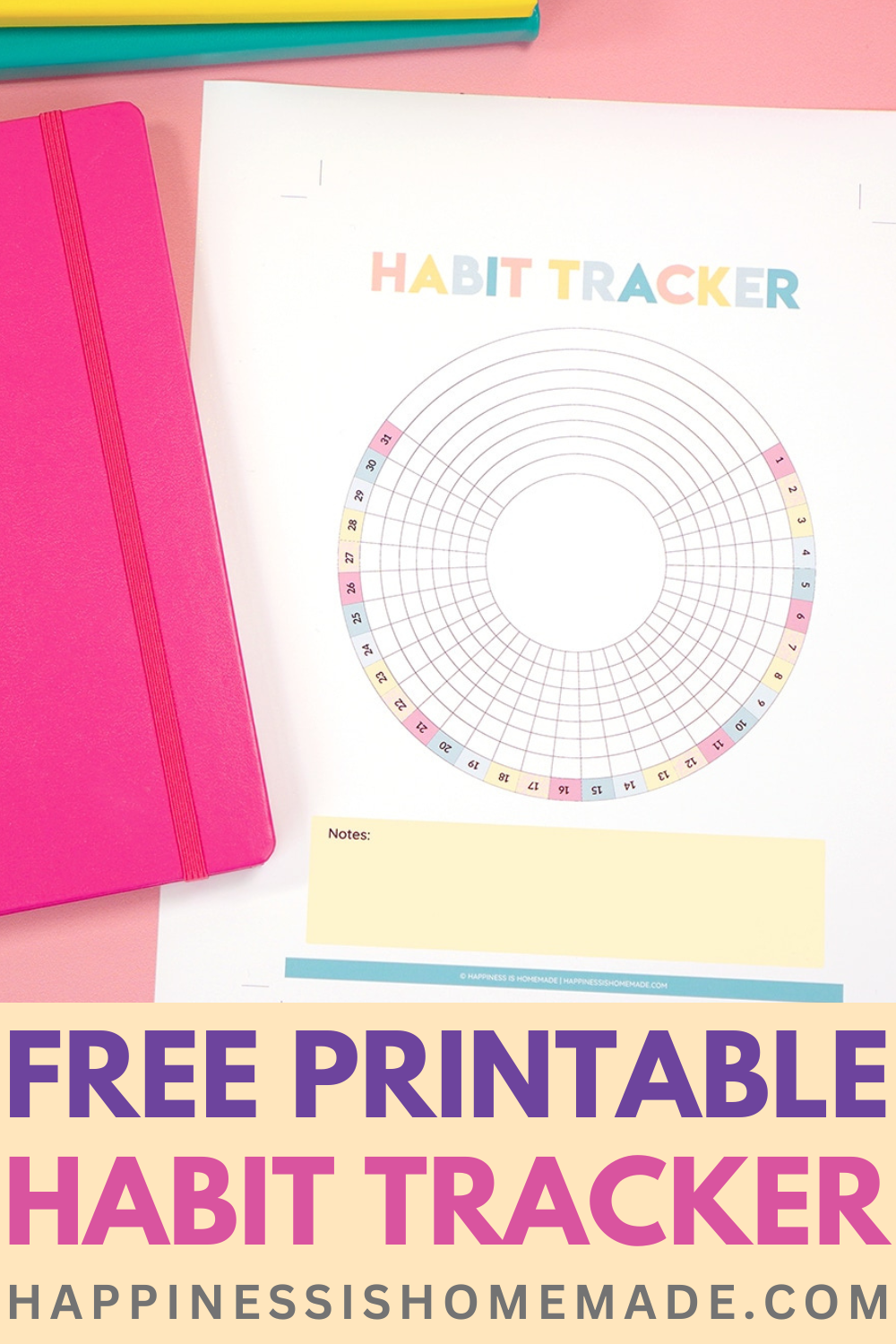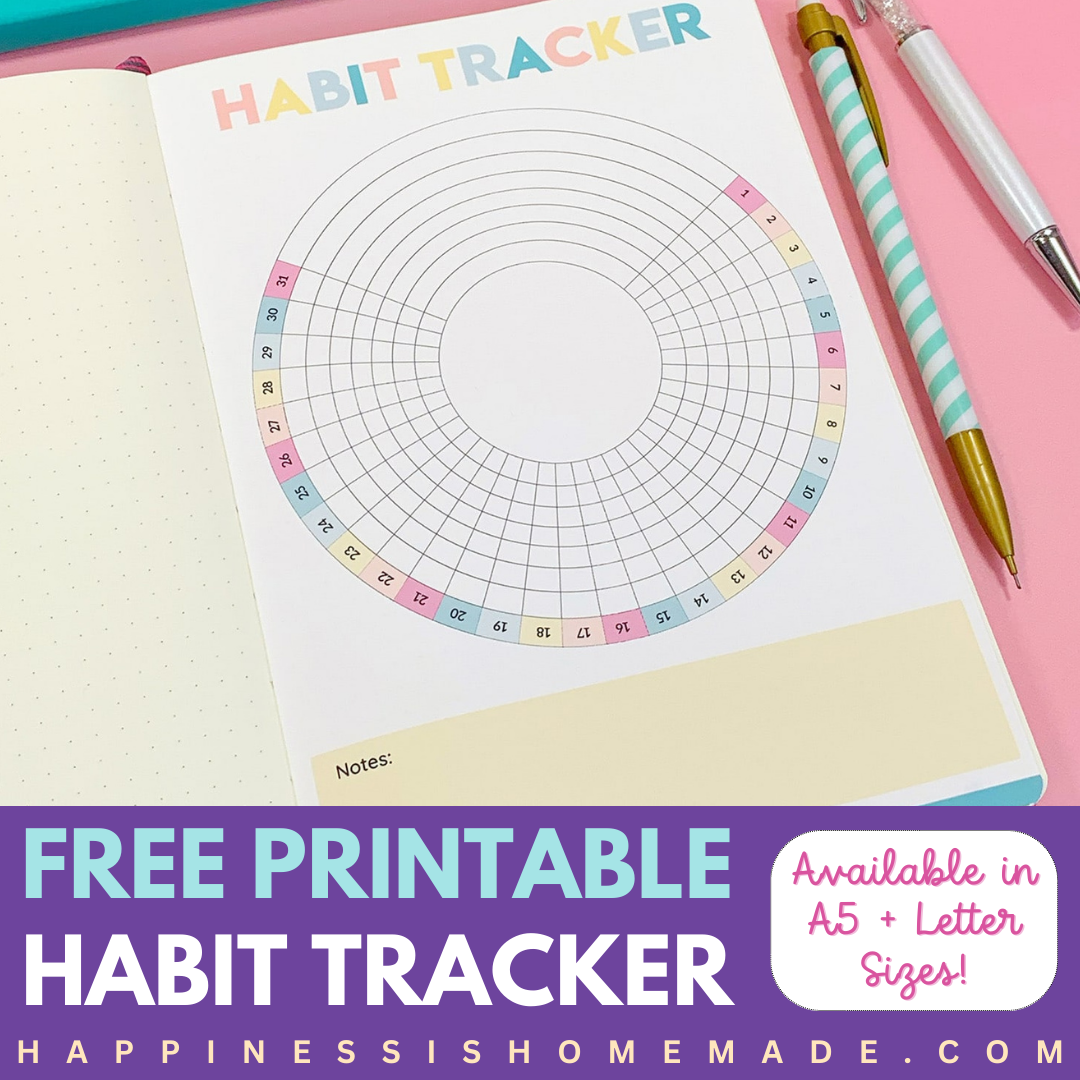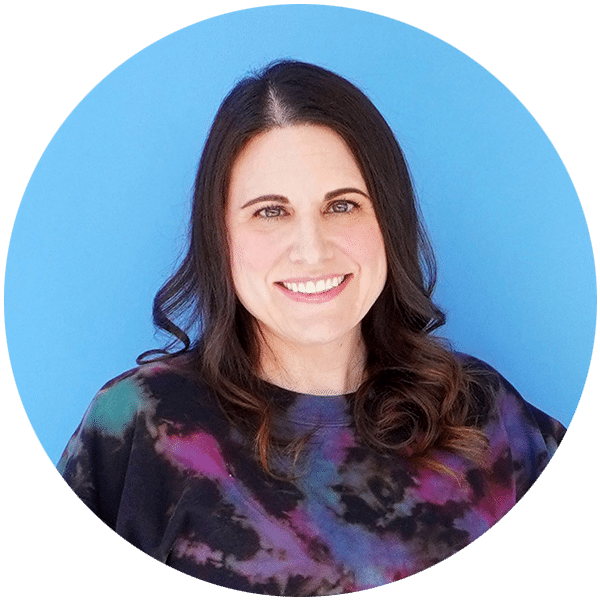 Heidi Kundin has captivated the hearts of millions with her colorful and inspiring approach to crafting, celebrations, and family fun. With over 15 years of experience, Heidi's website has become a must-visit destination for those seeking quick and easy creative ideas and last-minute solutions. Her warm personality shines through her posts, inviting readers to join her on a creative journey that's fun, rewarding, and achievable.