Lemon Blueberry Cake Donuts
This post and its photos may contain affiliate links. As an Amazon associate I earn from qualifying purchases. If you make a purchase through these links, I may receive a small commission at no extra cost to you!
These better-for-you Baked Lemon Blueberry Cake Donuts are tender, moist, and loaded with the zesty sweet-tart flavors of fresh lemon, blueberries, and vanilla!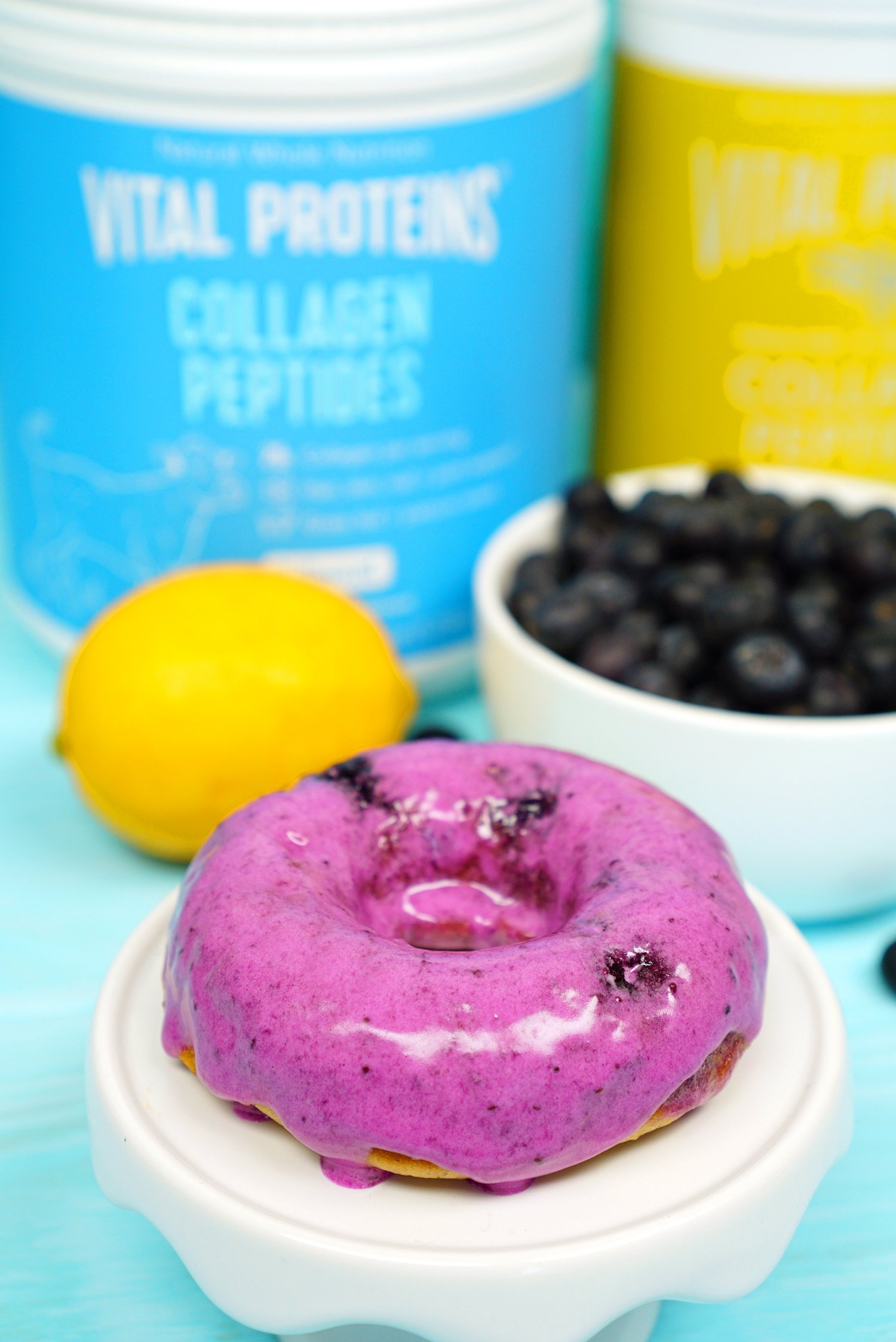 This post may contain affiliate links. I will receive a small commission from these sales at no additional cost to you!
There's nothing that I like better than a yummy fresh-baked donut, and this zesty lemon blueberry cake donut recipe is one of my favorites! Lightened up ingredients mean that you can enjoy your lemon blueberry donut treat without the guilt and with ALL of the flavor!
Check Out These Other Dessert Recipes: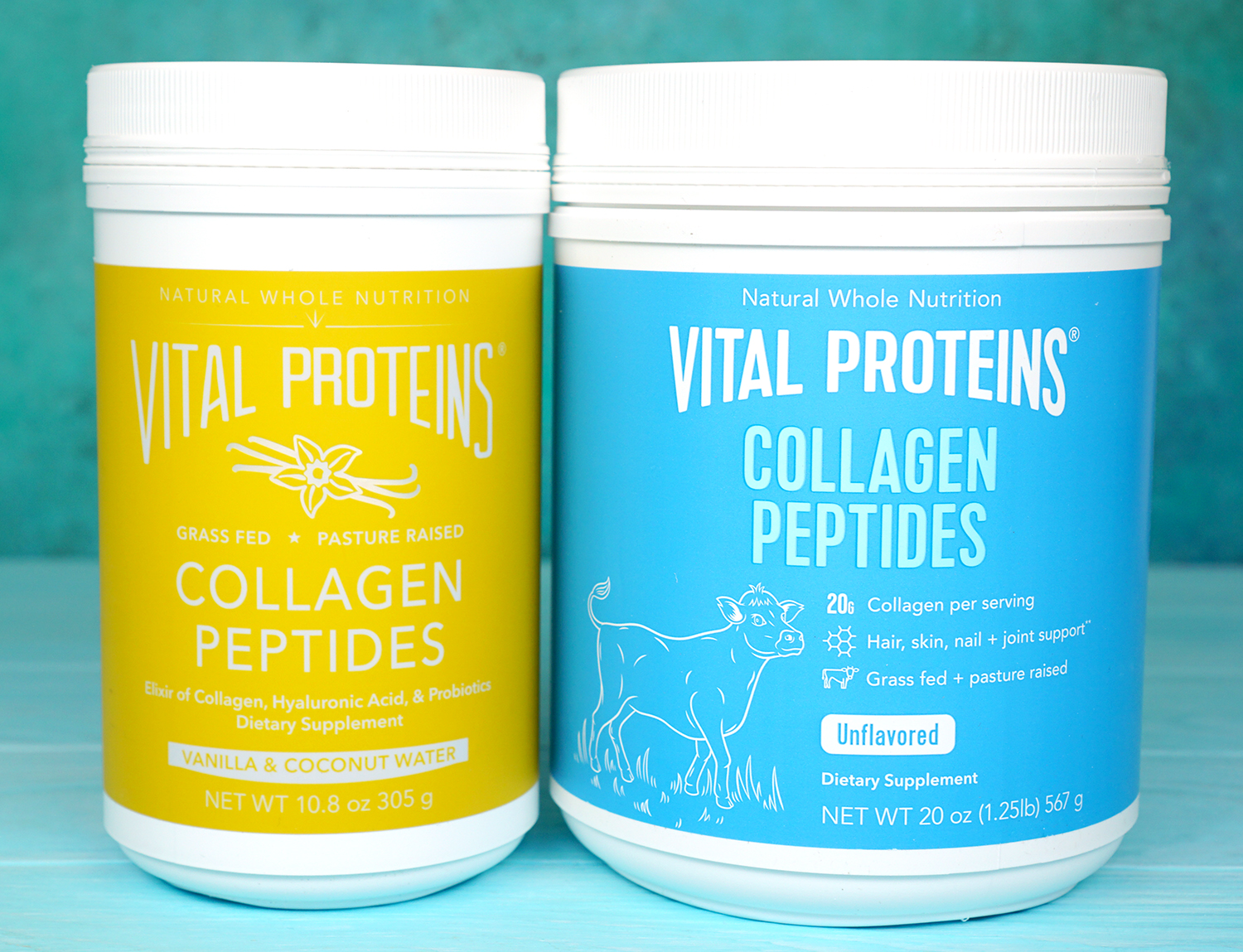 If you haven't tried Vital Proteins Collagen Peptides yet, you're missing out on all kinds of amazing health benefits! Collagen provides incredible benefits for hair, skin, and nails that can rescue thinning hair and help improve dull skin and brittle nails. Collagen also aids in improving digestion and joint health so that you can start feeling better than ever!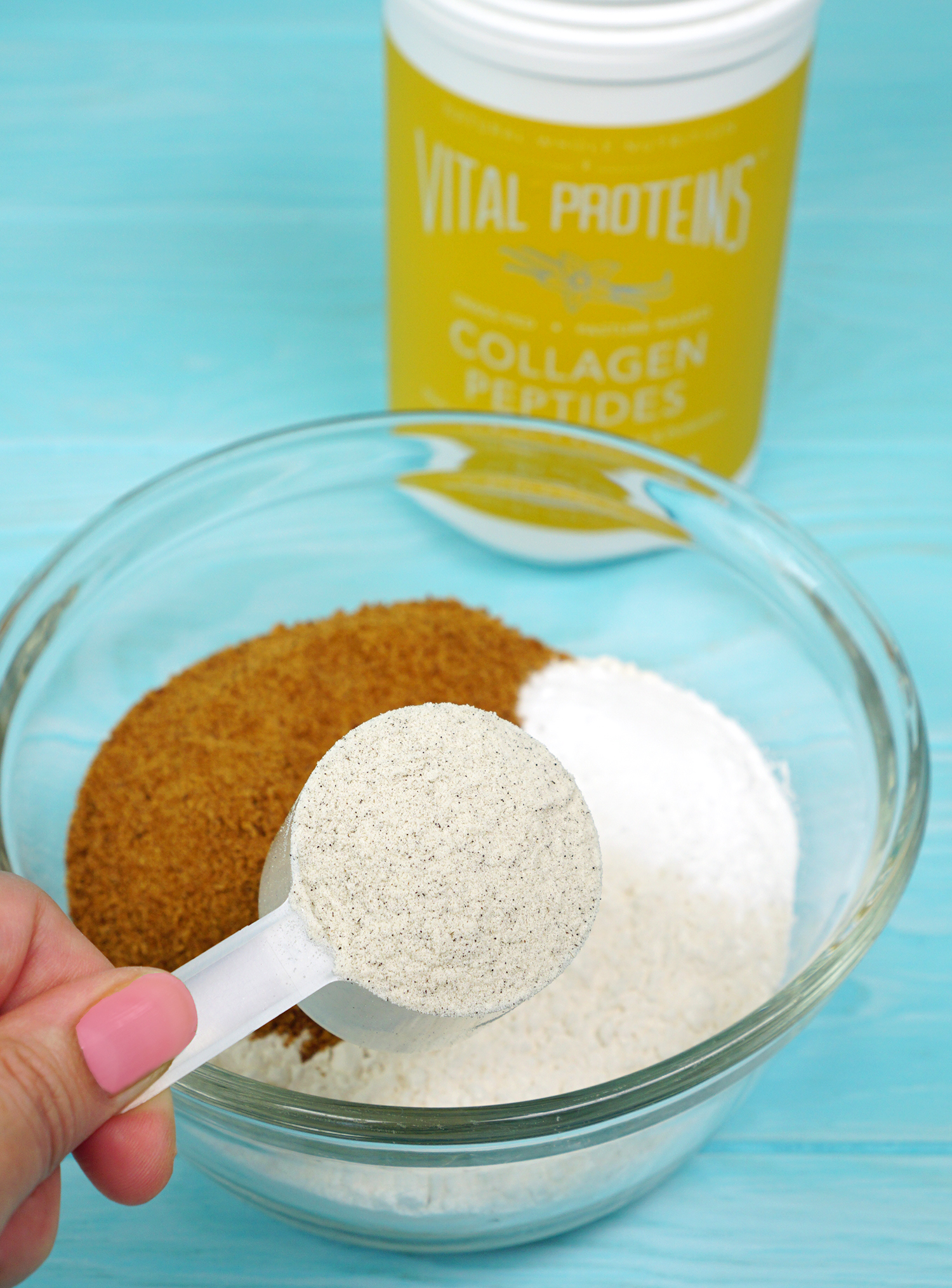 I really love the Vital Proteins line of products because they dissolve easily and completely and don't leave any kind of funky aftertaste or change in texture. The Unflavored Collagen Peptides truly are completely flavorless and odorless, so I can add them to anything from baked goods to a glass of water and reap the benefits without even noticing that it's in there! I added Vanilla & Coconut Water Collagen Peptides to the lemon blueberry donut recipe, and it adds just a mild vanilla flavor to the batter without being overpowering.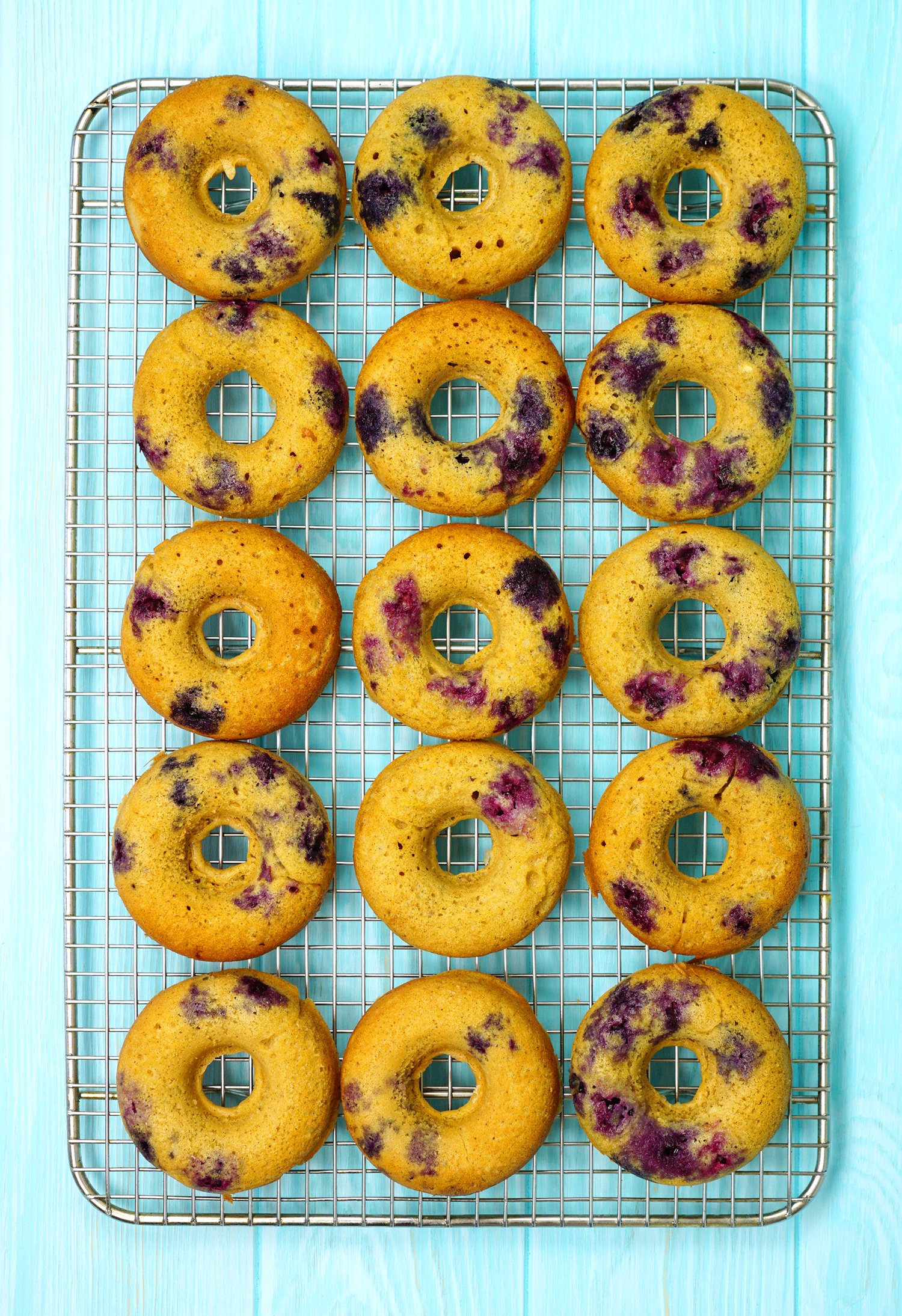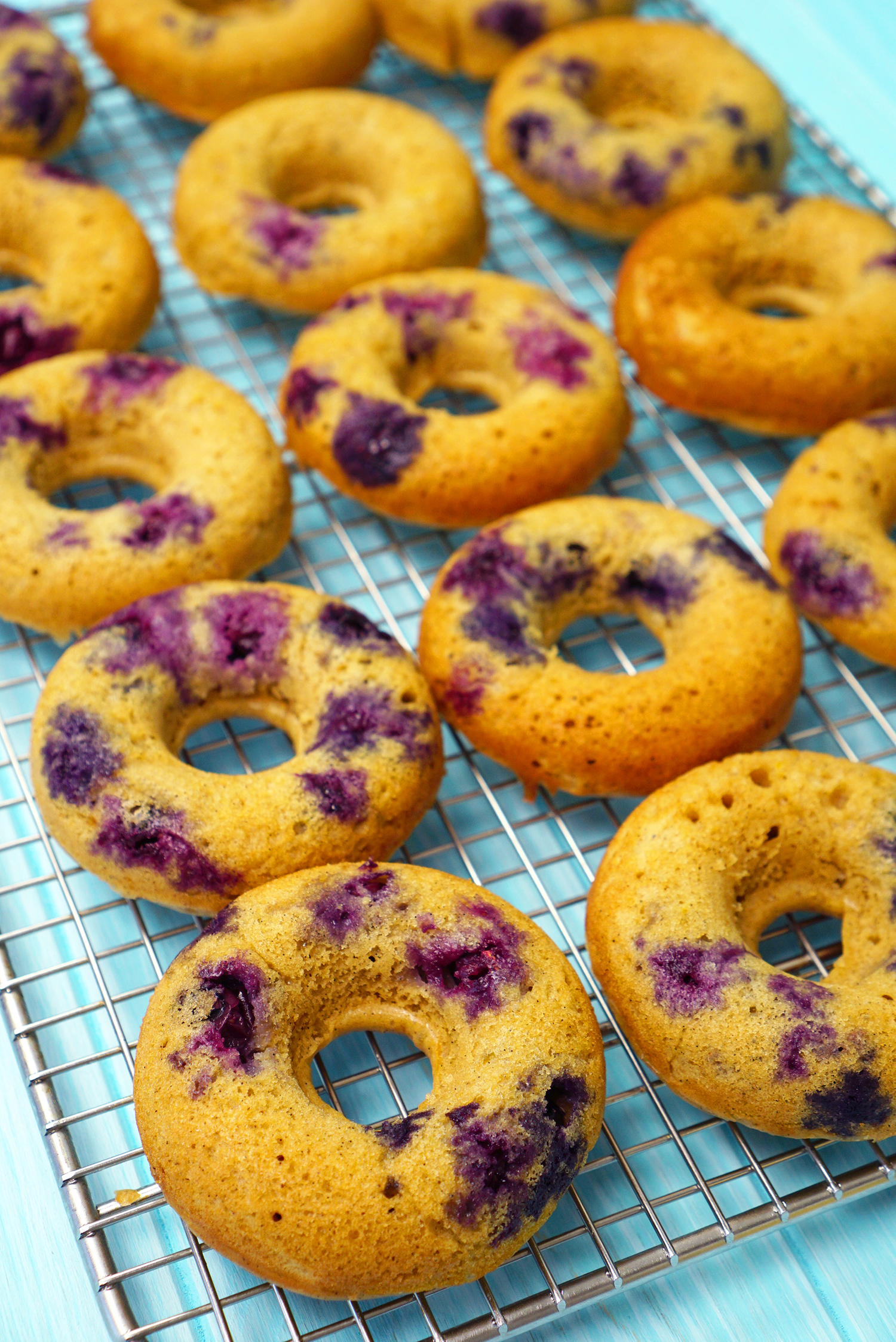 These baked donuts have SO much yummy lemon and blueberry flavor that they don't really even need any icing (a fine sprinkle of powdered sugar would be delicious, too!), but we wanted to pretty them up just a bit, so we whipped up a blueberry glaze that tastes amazing!
For the glaze, I combined blueberry sauce with lemon juice, powdered sugar, and a scoop of Vital Proteins Unflavored Collagen Peptides – again, I love getting those awesome hair, skin, nail, join, and digestion benefits without any additional flavor, texture, or aroma! Win-win!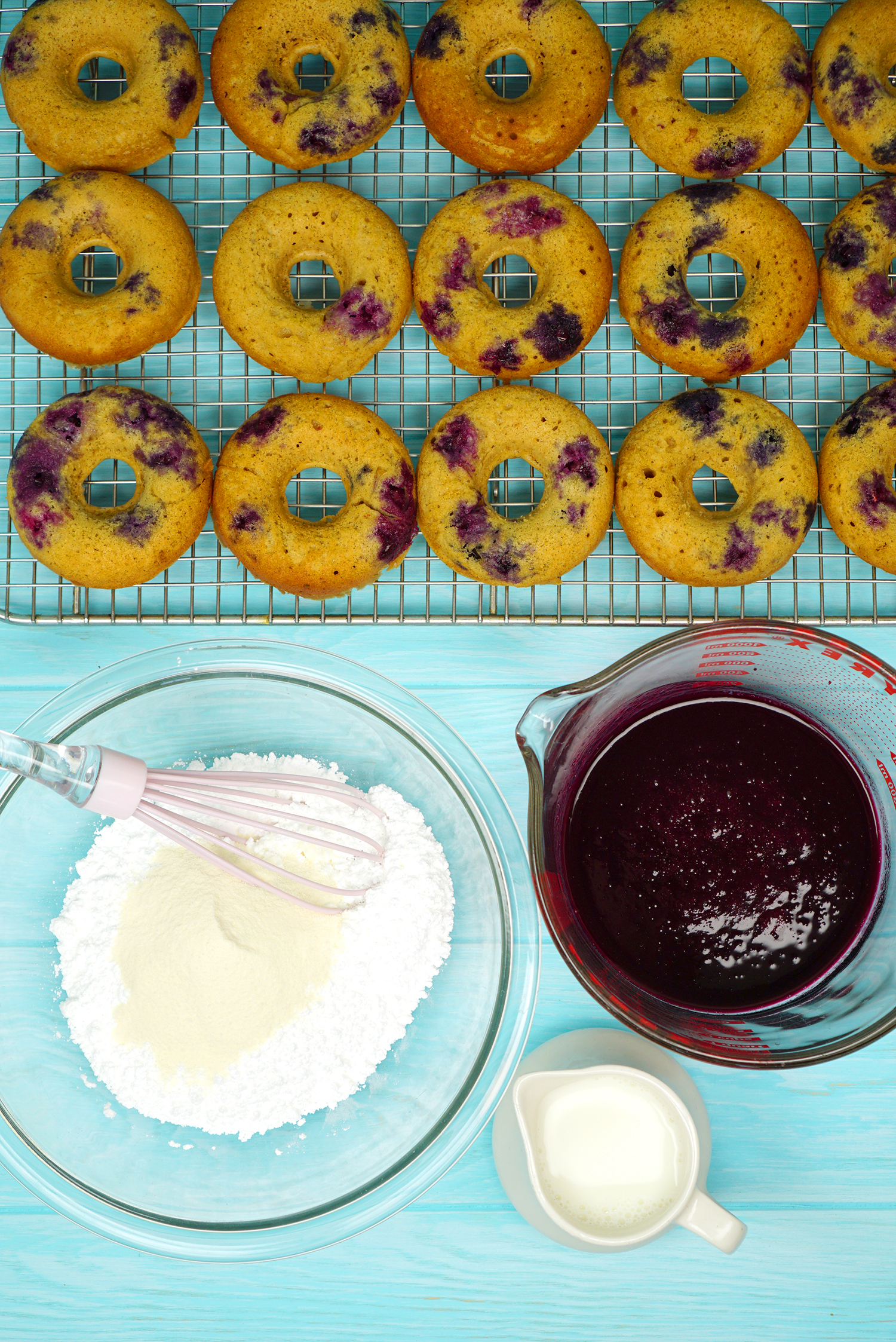 If the glaze needs to be thinned, add a tiny splash of nonfat milk.
Isn't that lemon blueberry glaze such a pretty color? All the heart eyes!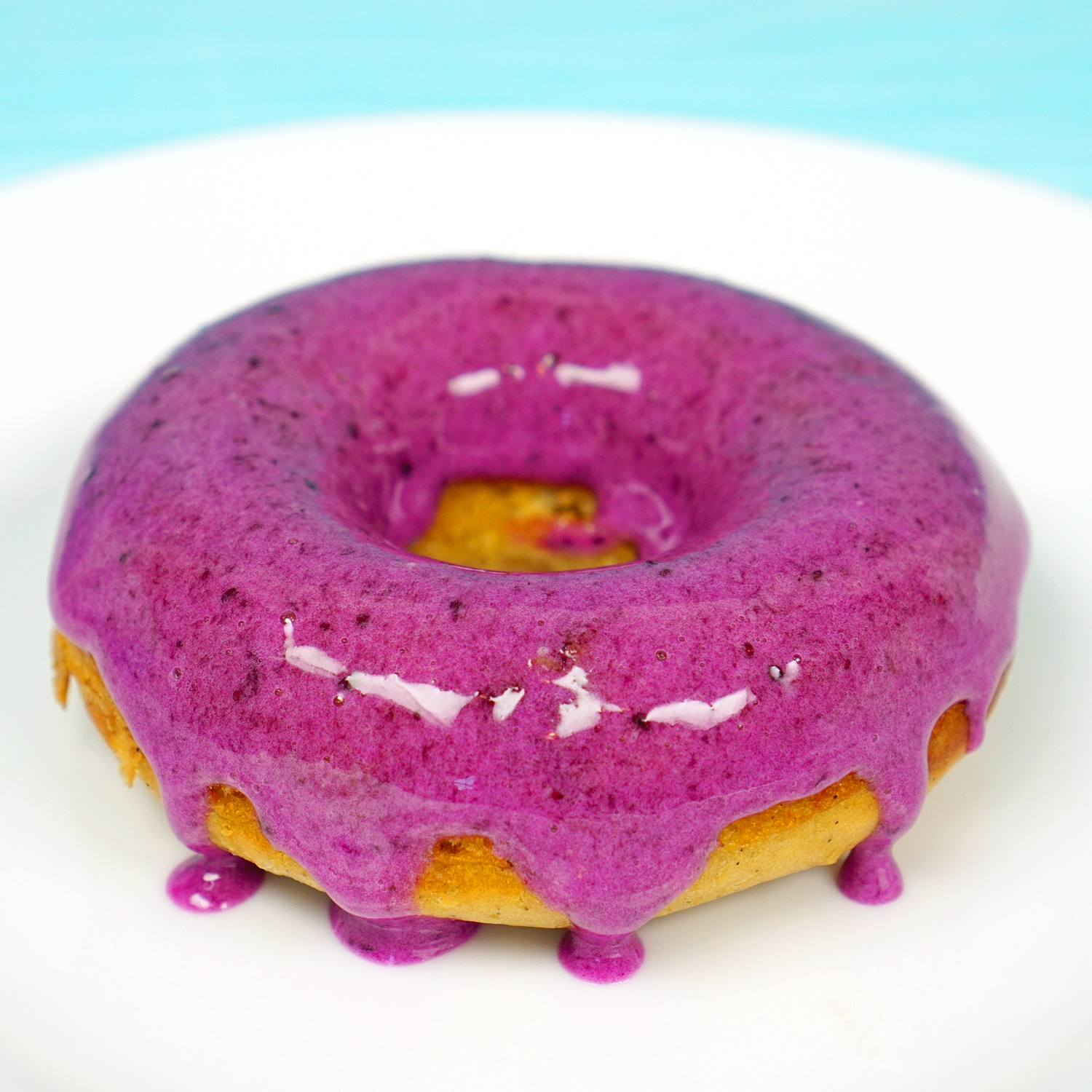 Dip the top of each donut into the glaze and allow them to sit at room temperature for 30-40 minutes to set up.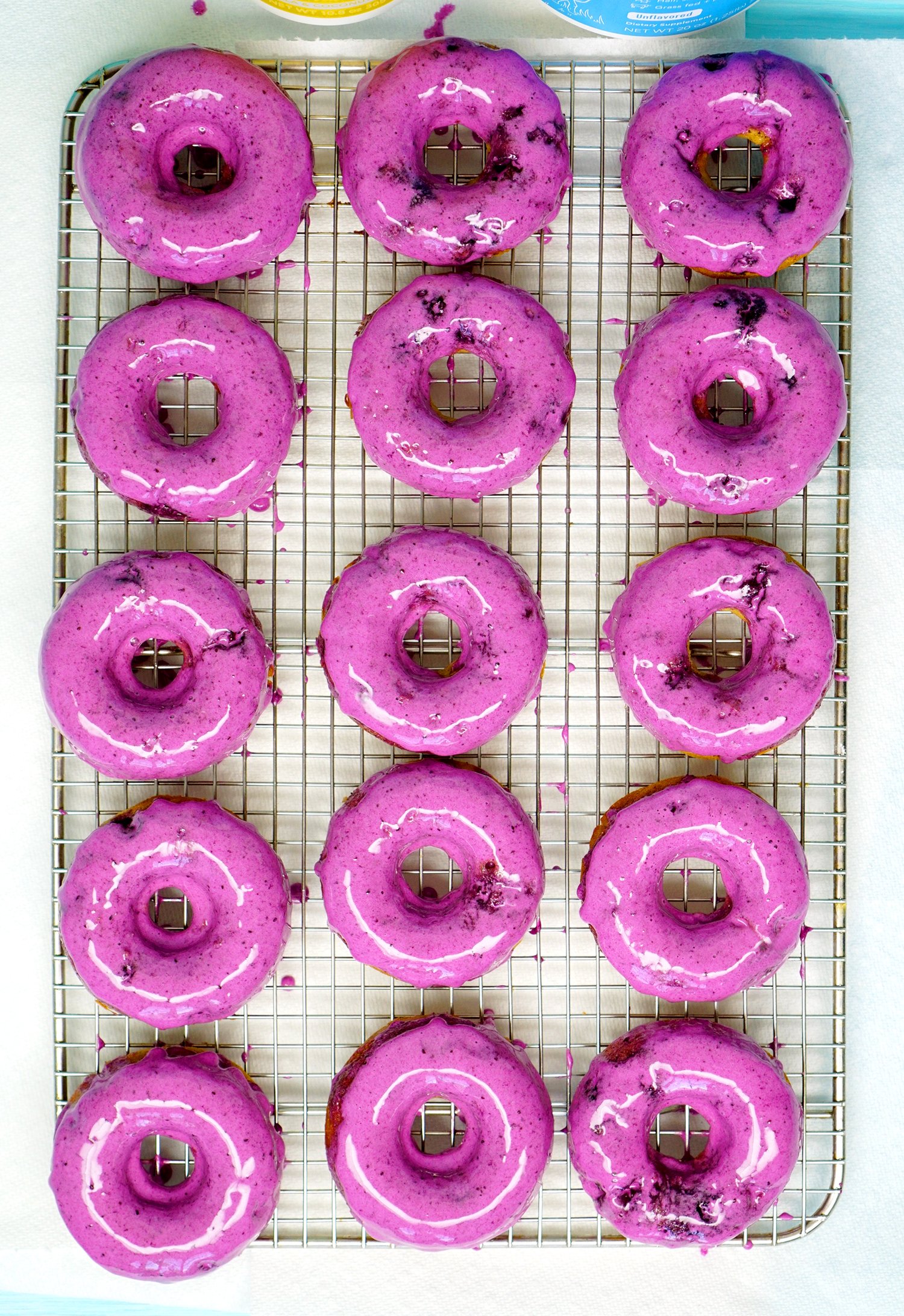 YUMMMM! My youngest son couldn't wait for the glaze to set, so he ate his first lemon blueberry cake donut straight off of this cooling rack, and he declared that they were the "best lemon blueberry donuts in the whole entire world!"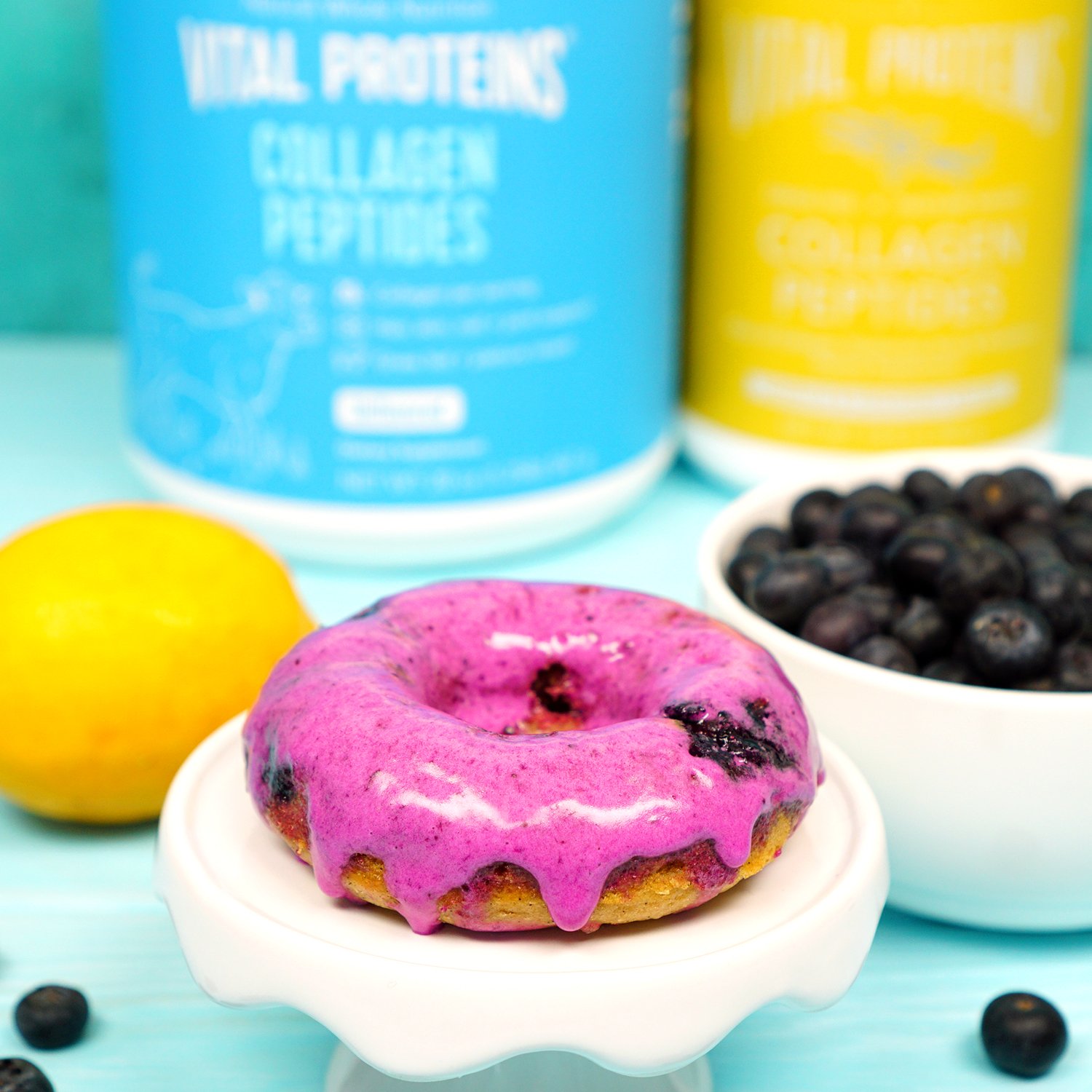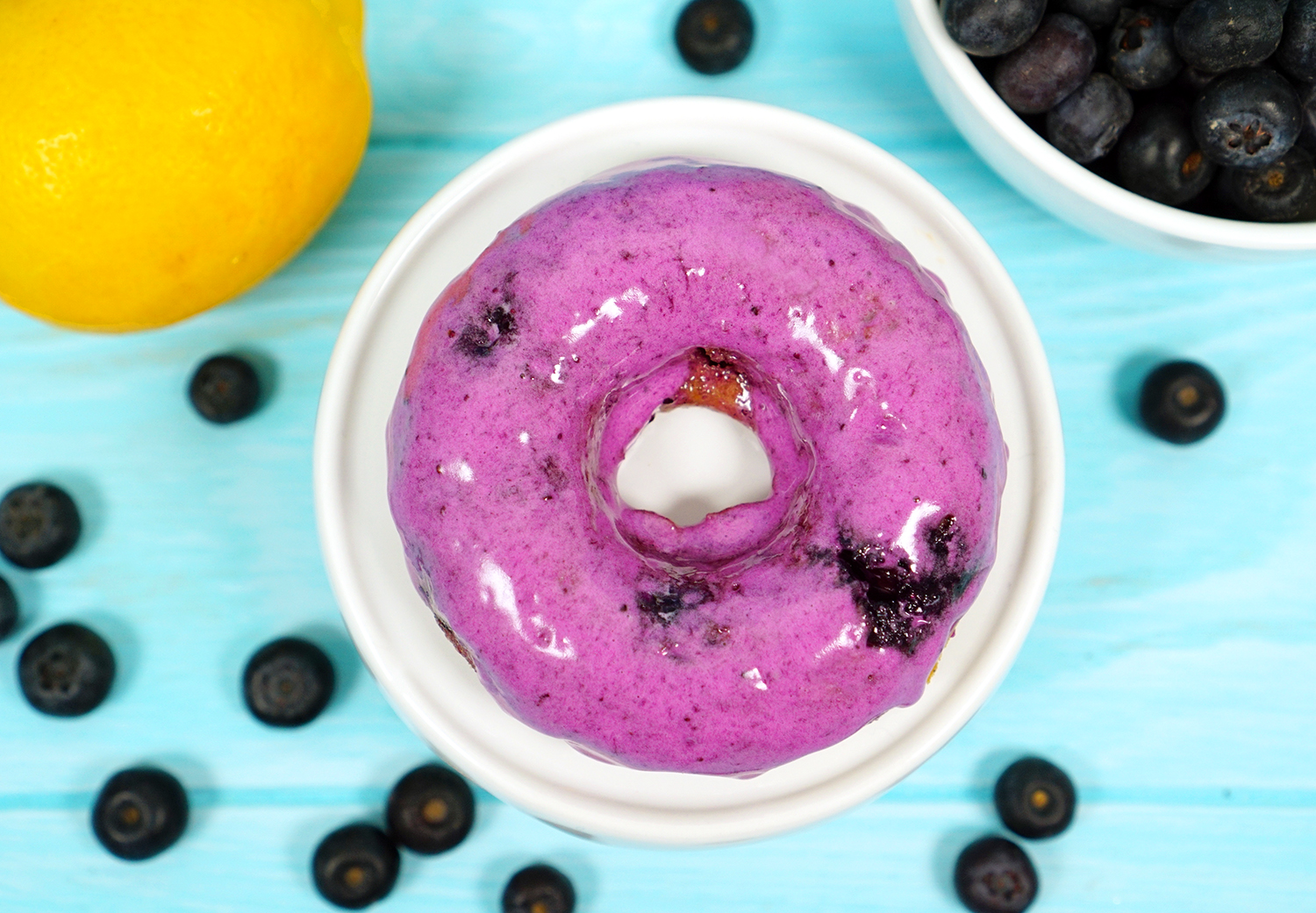 These baked lemon blueberry donuts are perfect for breakfast or dessert, and they are sure to be a hit at your next brunch party, Bible study, or book club meeting!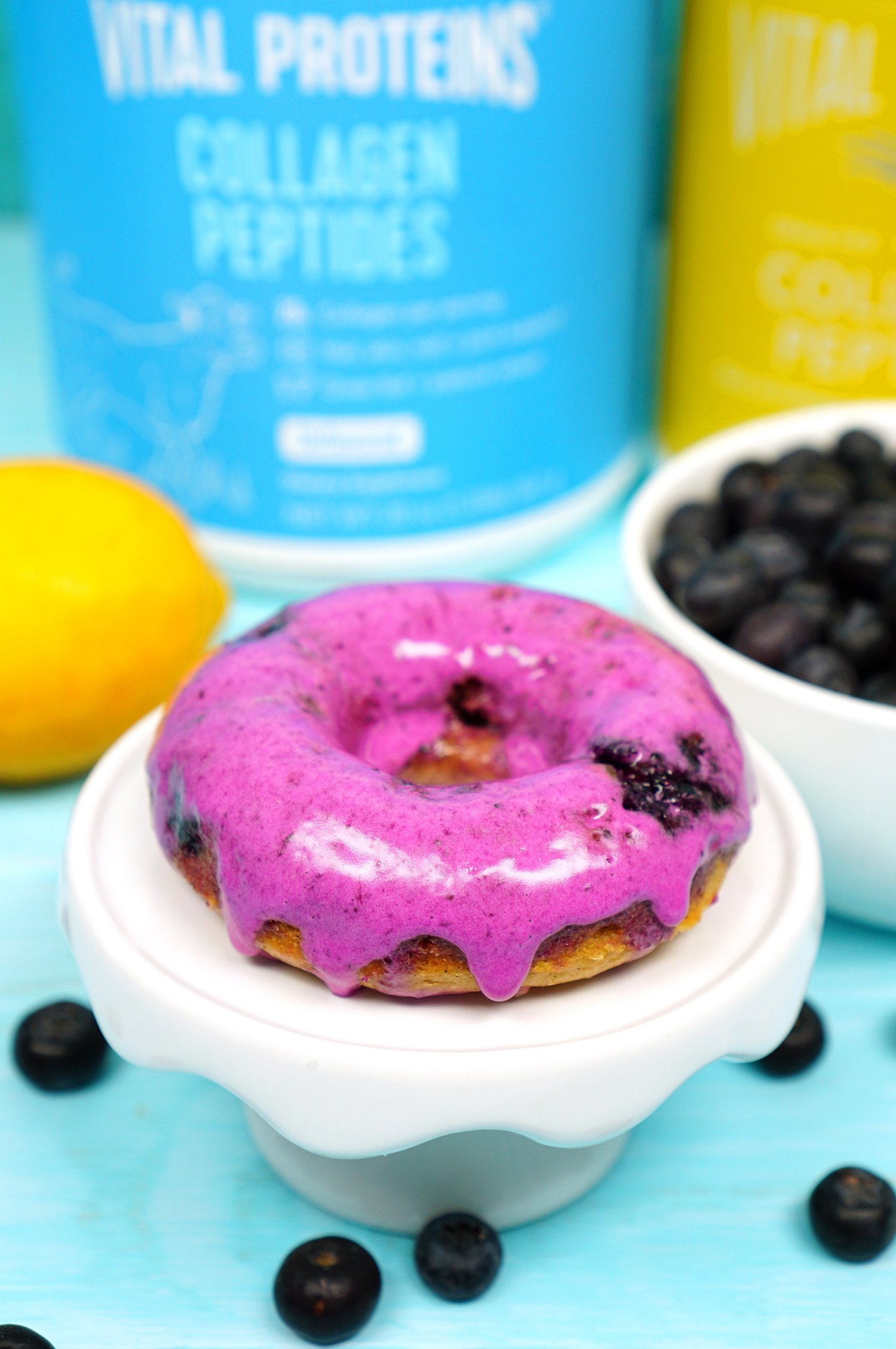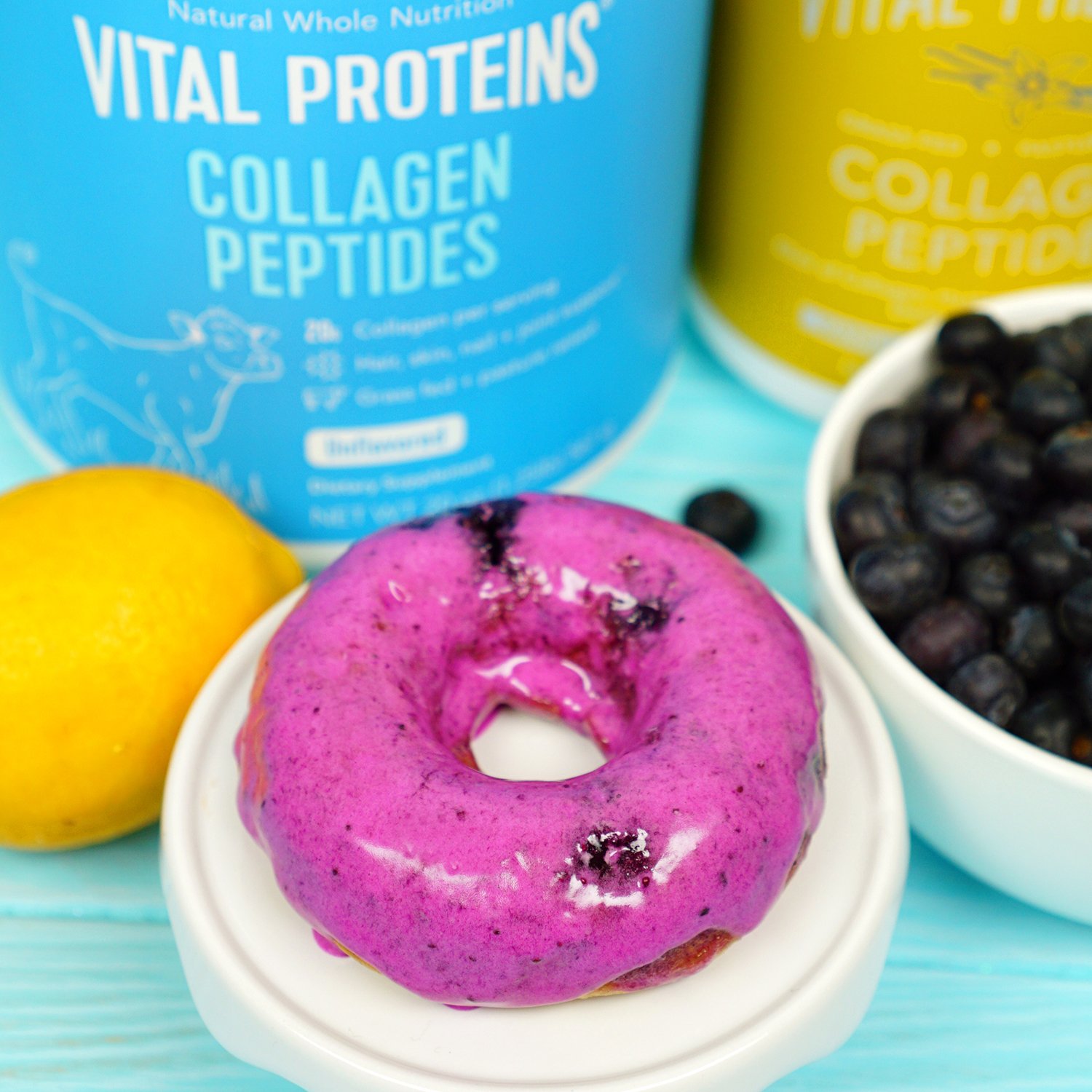 Nutritional Notes: These baked lemon blueberry cake donuts as shown have 180 calories and 6 grams of protein each. If you opt to skip the glaze in favor of a light dusting of powdered sugar, each donut will have 135 calories. If you swap the butter in the recipe for applesauce (my usual go-to, but we were out of applesauce when I made these!), you can save an additional 20 calories per donut.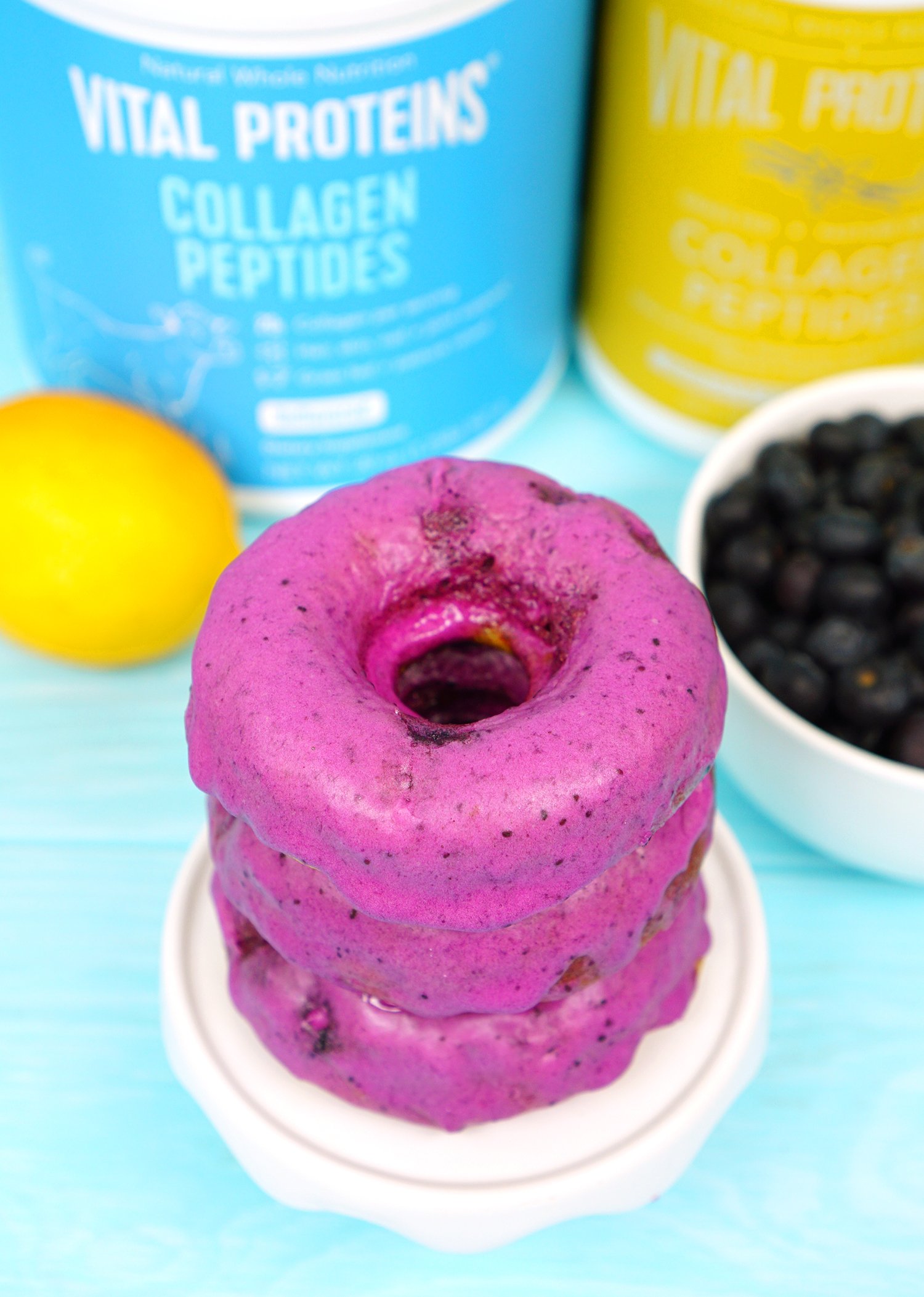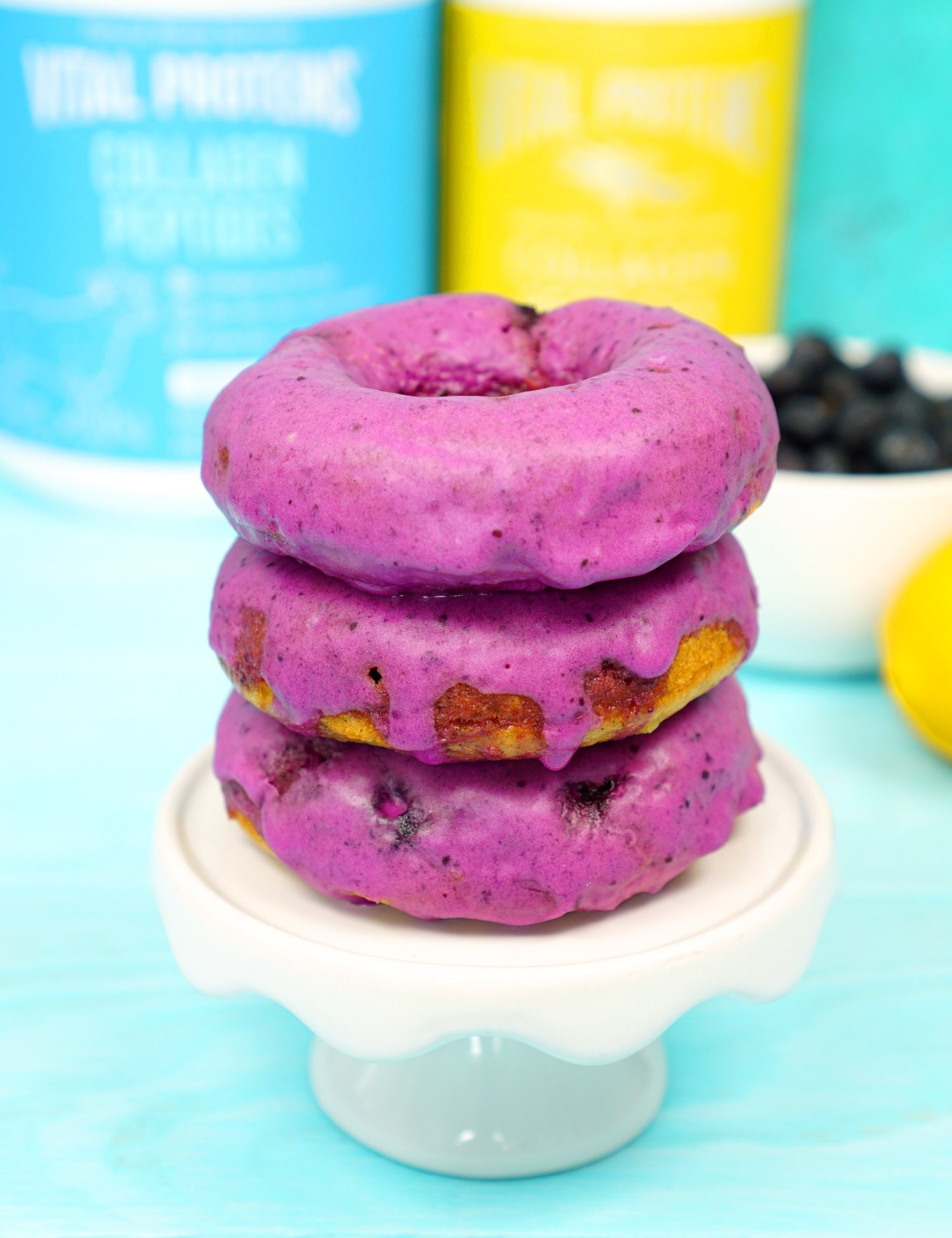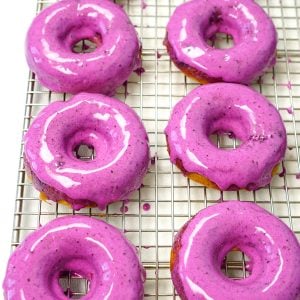 What You'll Need:
1/2

cup

Coconut Sugar

2

Eggs

4

Tbsp.

Lemon Juice,

divided into (2) 2 Tbsp.

Zest of One Lemon

1/4

cup

Greek Yogurt

(plain or vanilla)

1/4

cup

Nonfat Milk

1 1/2

cups

Gluten-Free Flour

3

Tbsp.

Butter,

melted

1

tsp.

Vanilla

1 1/2

tsp.

Baking Powder

1/2

tsp.

Baking Soda

1/2

tsp.

Salt

2

cups

Blueberries,

divided into cups

1 1/2

cups

Powdered Sugar
Instructions:
Preheat oven to 350 degrees. Lightly grease the donut pan with baking spray.

In a large bowl, combine the butter, coconut sugar, eggs, and vanilla. Add 2 Tbsp. lemon juice, lemon zest, nonfat milk, and yogurt, and mix well.

In another bowl, combine flour, baking soda, baking powder, salt, and Vanilla + Coconut Water Collagen Peptides.

Add the dry ingredients to the wet ingredients and stir until well combined. Add 1 cup of blueberries.

Carefully spoon the batter into the donut pan, filling each well about 2/3 full.

Bake for 8-10 minutes or until the tops of the donuts are lightly golden. Allow to cool on a cooling rack.

While the donuts are cooling, simmer 1 cup of blueberries and 2 Tbsp of lemon juice in a small saucepan over low heat. When the berries are soft, smash them with the back of a spoon, and then strain the mixture through a fine-mesh sieve to remove the skins.

In a small bowl, whisk together powdered sugar and 1 scoop of Unflavored Collagen Peptides. Add the blueberry sauce and whisk until smooth. If necessary, add a splash of non-fat milk to thin the glaze.

Dip the top of each cooled donut into the glaze and allow to set up for 30-40 minutes.
These better-for-you lemon blueberry cake donuts are sure to become a well-loved and often-requested recipe by your family and friends! To learn more about Vital Proteins and the benefits of collagen, be sure to check out their website!

Pin these Lemon Blueberry Donuts for Later!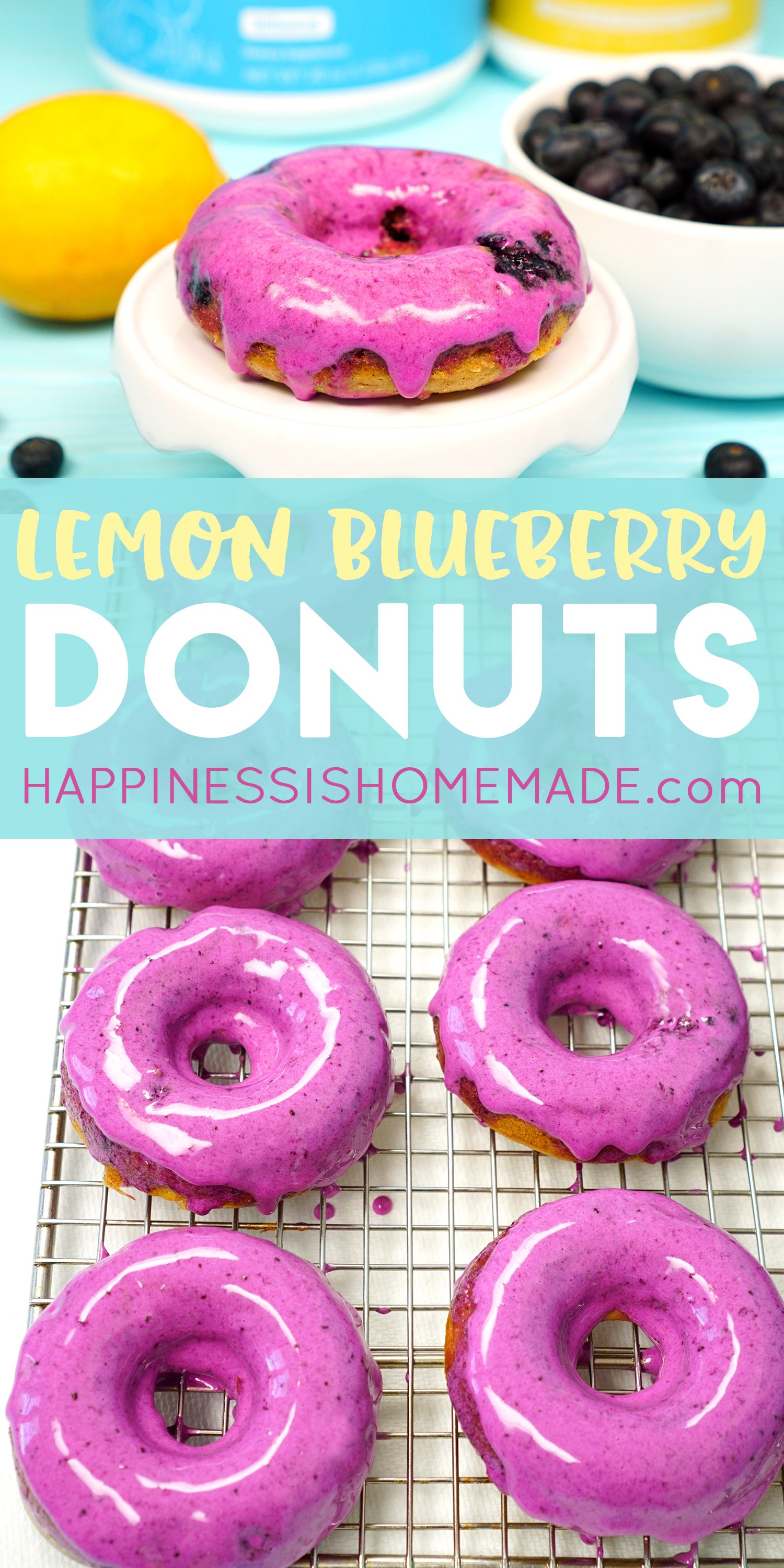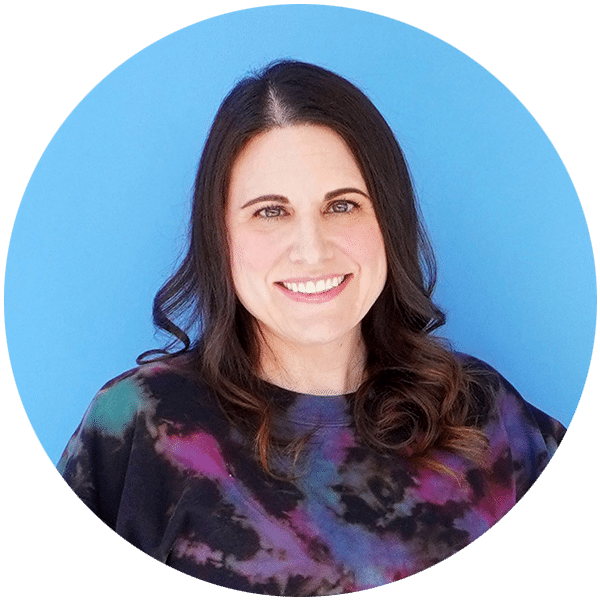 Heidi Kundin has captivated the hearts of millions with her colorful and inspiring approach to crafting, celebrations, and family fun. With over 15 years of experience, Heidi's website has become a must-visit destination for those seeking quick and easy creative ideas and last-minute solutions. Her warm personality shines through her posts, inviting readers to join her on a creative journey that's fun, rewarding, and achievable.