How to Make Graham Cracker Gingerbread Houses
This post and its photos may contain affiliate links. As an Amazon associate I earn from qualifying purchases. If you make a purchase through these links, I may receive a small commission at no extra cost to you!
Decorating gingerbread houses is a fun holiday tradition, and now it's even easier with this simple step-by-step tutorial for How to Make Graham Cracker Gingerbread Houses – quick, easy, and perfect for school classrooms, large groups, or at home with your family!
I've been making Honey Maid graham cracker gingerbread houses for my boys every year since my oldest son was two years old (that's nine years for those of you who are counting!), so I've had a LOT of practice when it comes to making these! Each year we get together with our friends and classmates to decorate gingerbread houses, and it has become one of my favorite holiday traditions. Holiday baking and decorating is always more fun when you do it with friends!
What You'll Need:
Honey Maid Graham Crackers – 5 per house

Royal Icing (see recipe below – eggs, confectioners sugar & cream of tartar)

Paper Plate or Cardboard

Bread Knife or Serrated Knife

Disposable Piping Bag

Assorted Candy, Pretzels, Dried Fruit, Etc. for Decorating
I always allow my boys the creative freedom to decorate their houses however they choose, so we only have ONE rule for making an awesome gingerbread house – always, always, ALWAYS use Honey Maid graham crackers! (Seriously, trust me on this one!) The Honey Maid graham crackers are sturdier, flatter and much easier to cut than any of the other competitors (not to mention they taste a lot better, too!).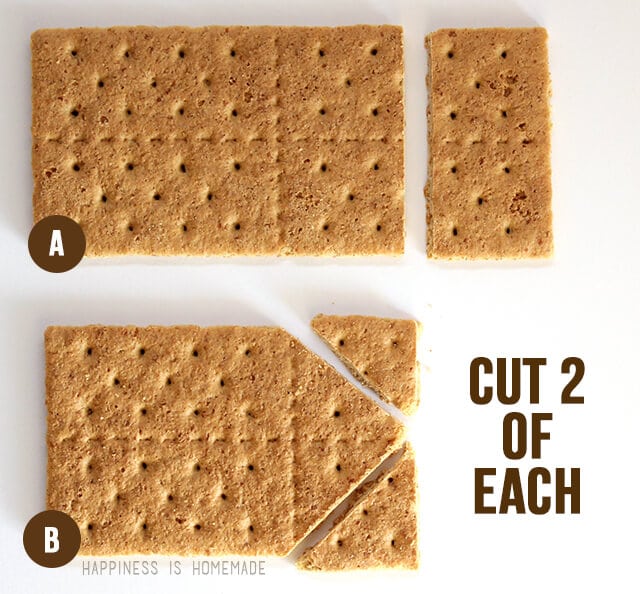 To begin, cut four graham crackers into Shape A by using a bread knife to remove 1/4 of the cracker. Save the smaller excess pieces for snacking (I've got a yummy recipe for those below!)! Cut the corners off of two of the crackers (using the center lines as your guides) to create Shape B. You should end up with two Shape A crackers and two Shape B crackers.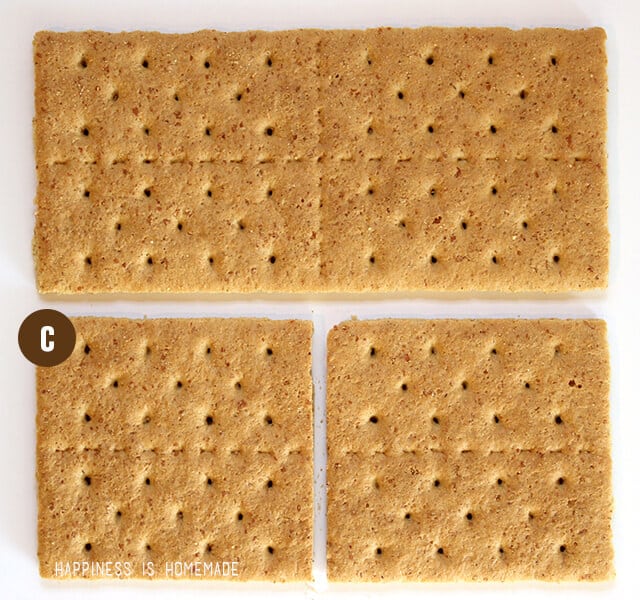 Cut another graham cracker in half to form two Shape C pieces.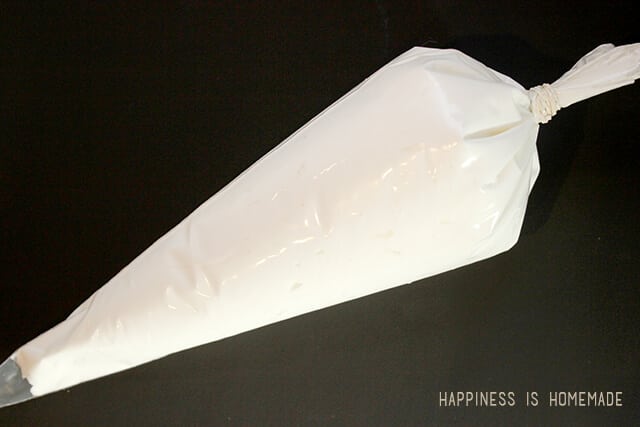 Next, whip up a batch of royal icing: You'll need 3 cups of powdered sugar, 2 eggs whites and 1/4 tsp of Cream of Tartar. Whip the egg whites until frothy, add the other ingredients, and whip for 7-9 minutes until the volume has increased and the icing holds stiff peaks. Put your icing into a disposable piping bag.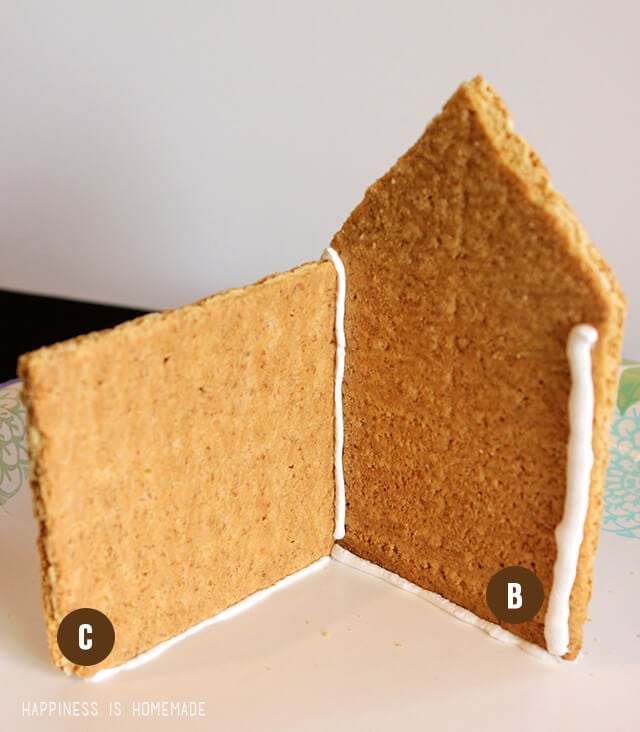 To assemble the gingerbread house, start by piping a line of icing along the bottom of Shape C and adhering it to a paper plate or cardboard base. Pipe three lines of icing on Shape B – along the bottom, and just inside both edges. Carefully join Shape B to Shape C while also attaching Shape B to the paper plate at the same time. This will ensure a strong bond and make for a sturdy gingerbread house. I find that the kids can decorate their houses much easier when they can lift up the plates and move the houses around without worrying that they will fall apart or tip over.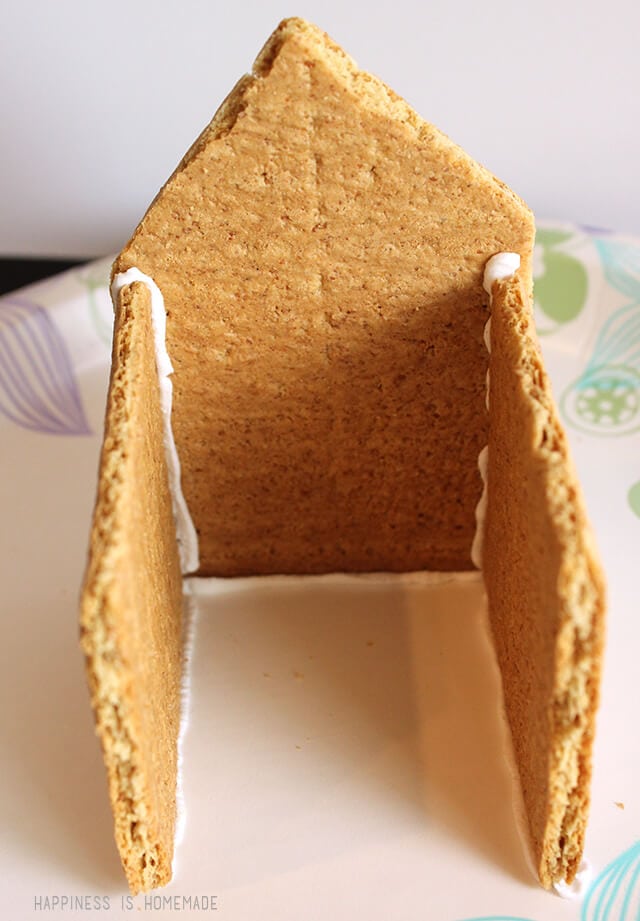 Repeat the process for the other two walls.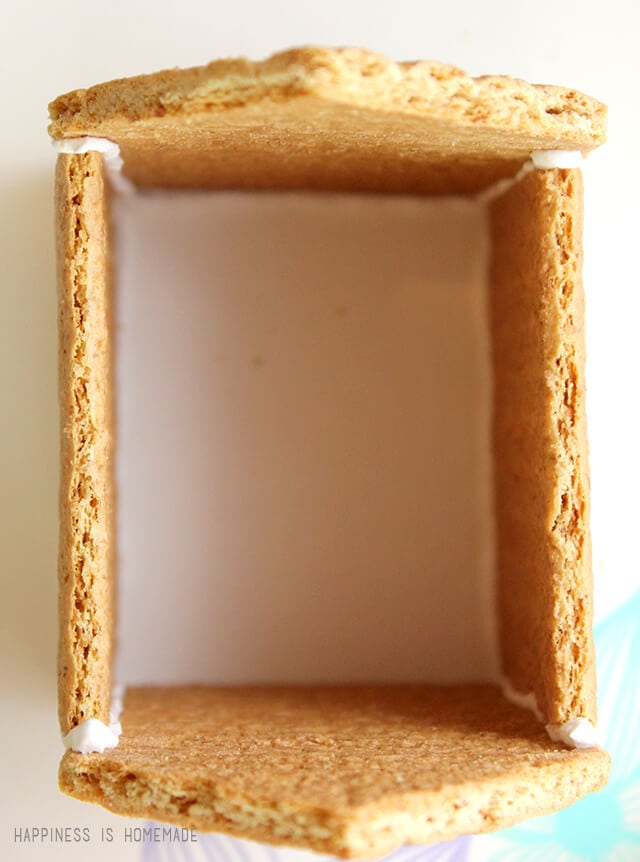 Make sure that everything is lined up properly, and give the edges a gentle squeeze to ensure that everything will hold together.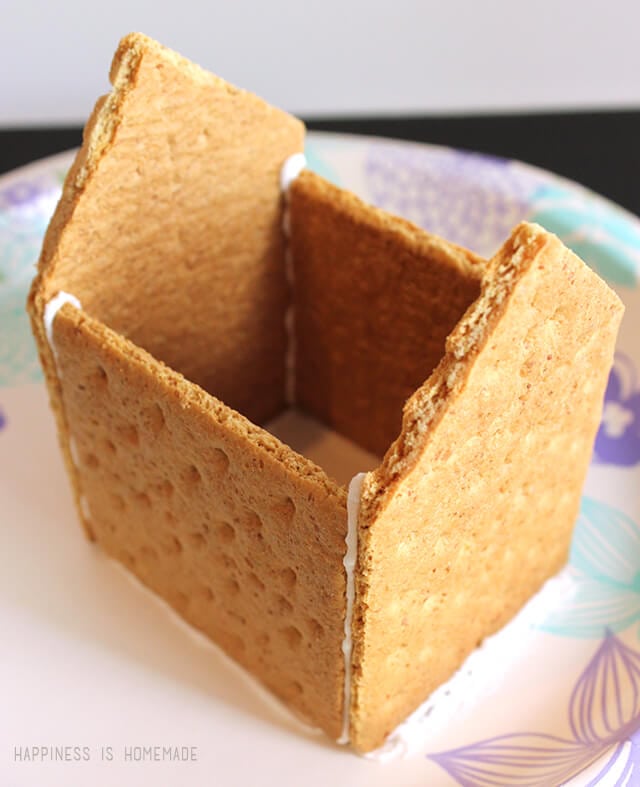 Allow the icing to set up for a few minutes before applying the roof. I generally make anywhere from 10-30 of these houses at a time, so I usually assemble all of the bases like this first, and then go back and add the roofs as the final step.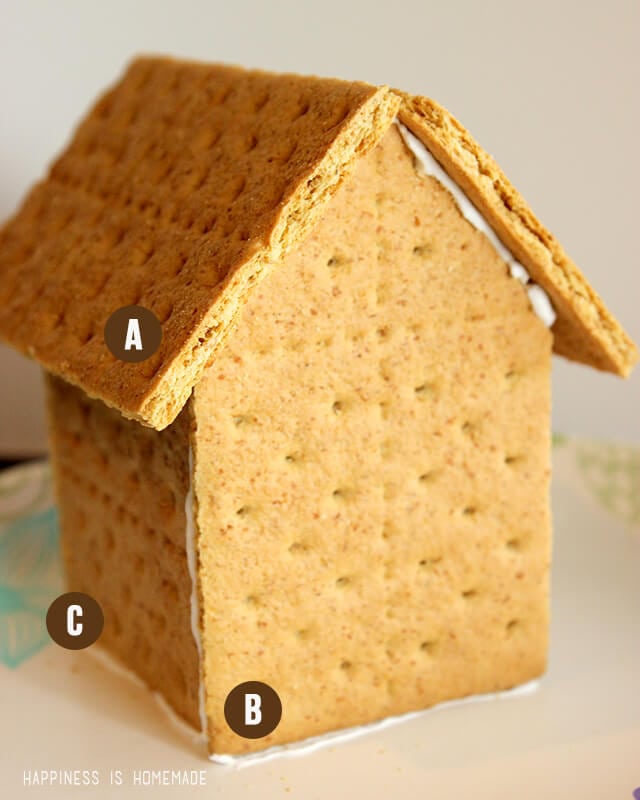 Run a length of icing up and down the peak of the tall Shape B walls, and add two of the Shape A pieces to create the roof.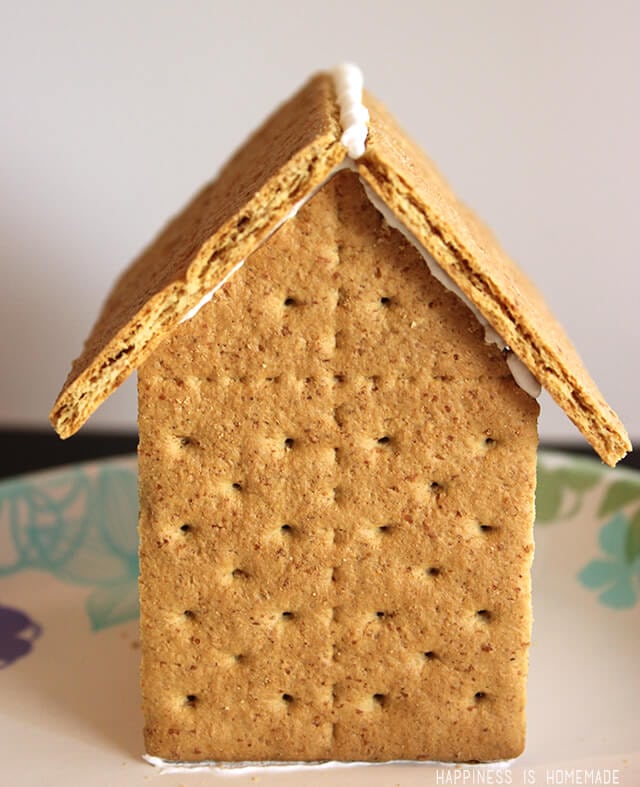 If desired, add another line of icing along the peak of the roof for added strength and stability (plus, it looks pretty cute, too!). Allow the icing to set up for at least 30-60 minutes before decorating. (Note: I usually make our gingerbread houses the night before so that the icing has time to fully harden overnight.)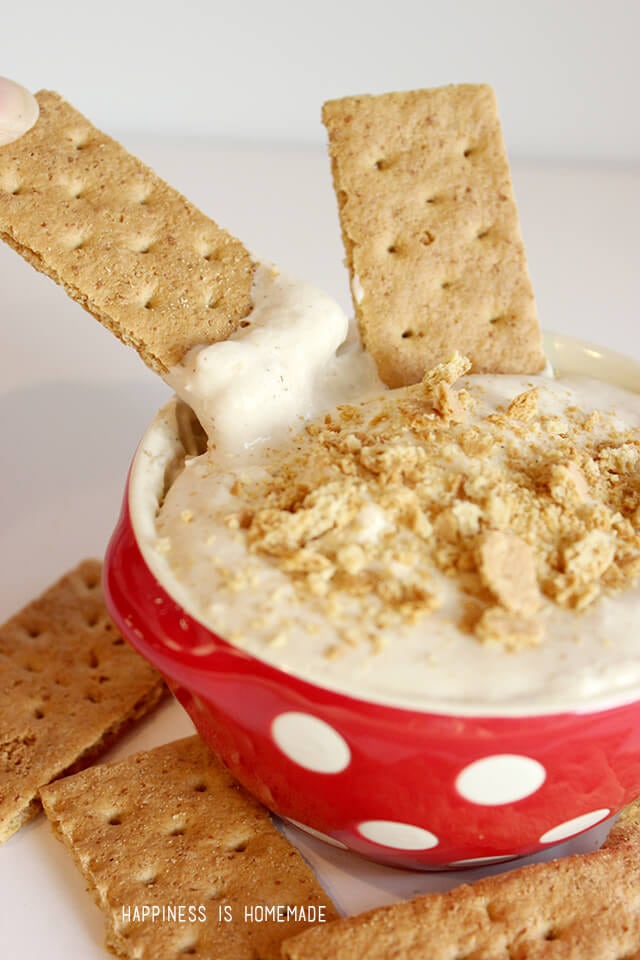 In the meantime, while you're waiting for the icing to set, remember those leftover graham cracker pieces you saved? I've got just the recipe for them!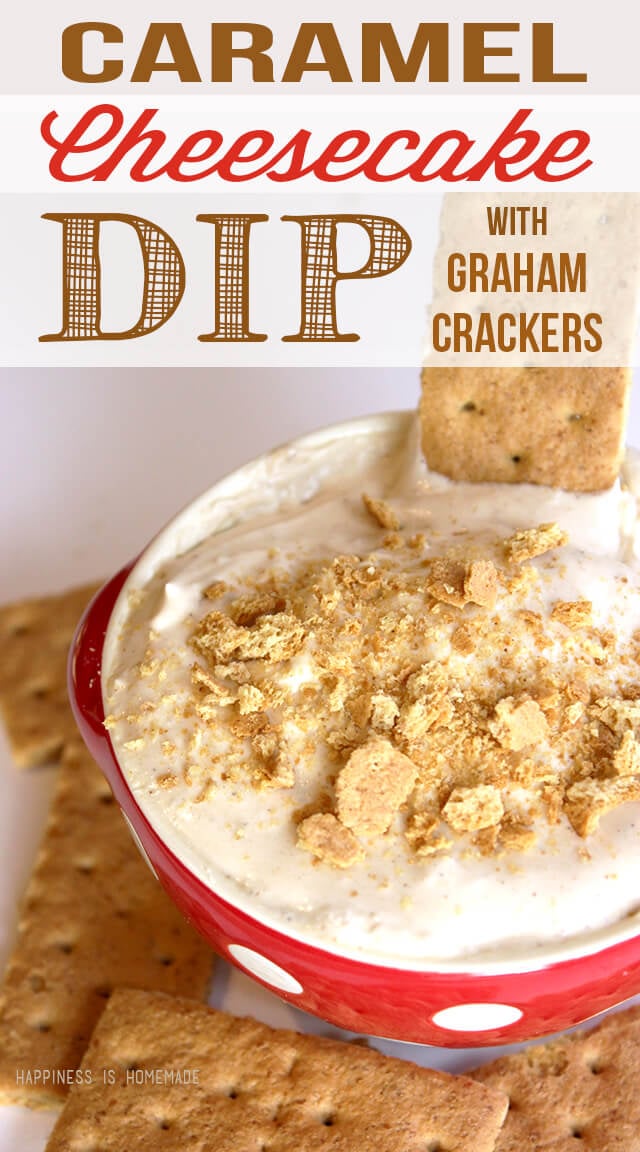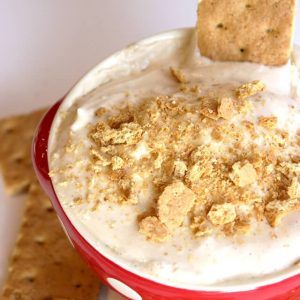 What You'll Need:
Bowl #1:
8

oz.

Cream Cheese,

softened

3/4

cup

Brown Sugar

1

tsp

Vanilla

1/2

tsp

Cinnamon

2

Graham Crackers,

crumbled, or 8 mini sticks if you're using the house leftovers!

1

cup

Heavy Whipping Cream

1 1/2

tbsp

Vanilla
Bowl #2:
2

tbsp

Brown Sugar

2

tbsp

White Sugar
Instructions:
In a stand mixer, whip cream cheese, brown sugar, graham cracker crumbs, cinnamon and vanilla until light and fluffy.

In another bowl, follow the directions from

Living Better Together

to combine heavy whipping cream, vanilla and both sugars into perfect homemade whipped cream.

Gently fold the whipped cream into the cream cheese mixture.

Top with additional graham cracker crumbs for garnish. Serve with graham cracker sticks and sliced apples for dipping.

Keep refrigerated for up to three days.
This year we decorated our graham cracker gingerbread houses with one of our homeschool groups, and the boys had a ton of fun! We met at a local park and set out all kinds of different ingredients for the kids to decorate their pre-assembled houses.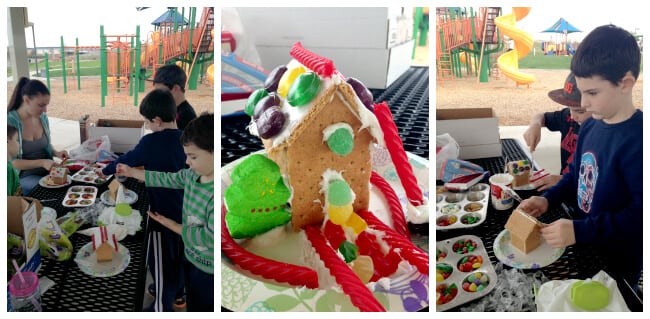 The kids used red licorice, hard candies, gumdrops, gummi bears, butter mints, candy-coated chocolates, cinnamon toast cereal, and marshmallow Christmas trees to decorate their houses, and they looked awesome!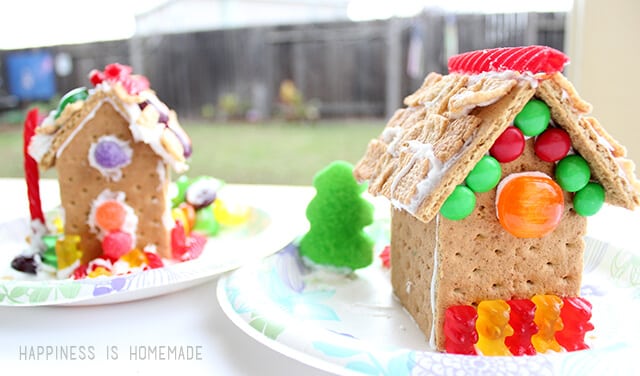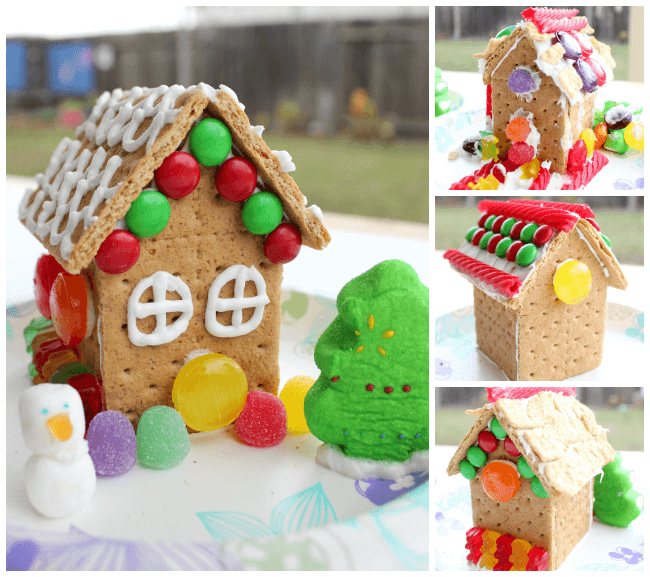 The kids were having so much fun that I joined in and decorated a gingerbread house of my own this year, too!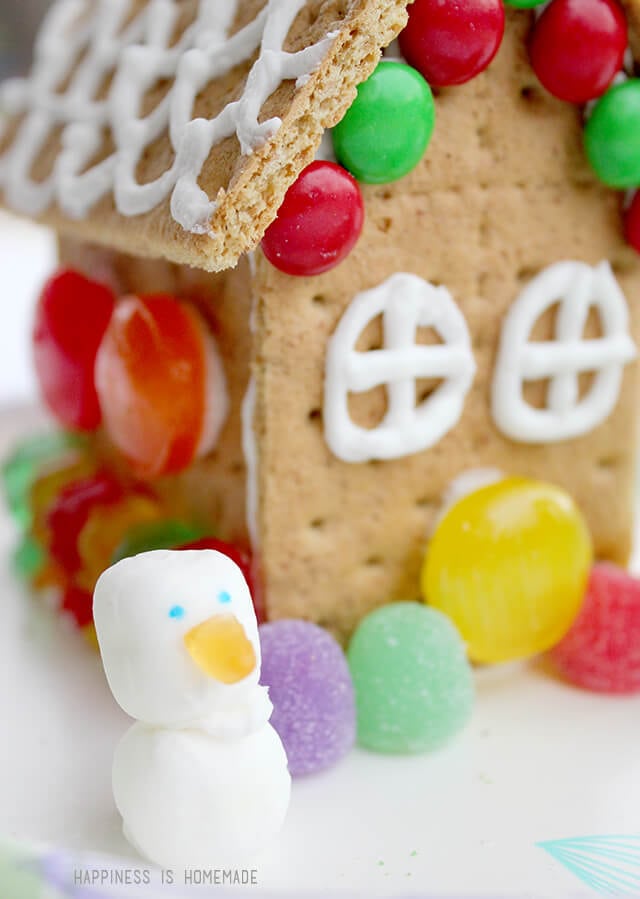 My favorite part is this cute little butter mint snowman and his gummi bear slice nose!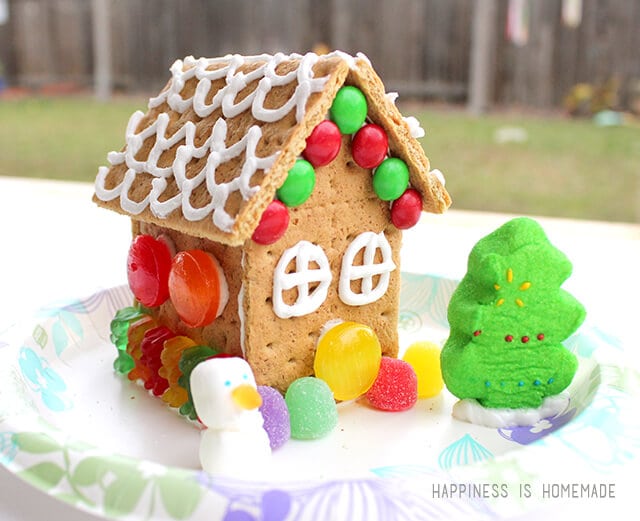 Decorating gingerbread houses is a fun holiday tradition, and it's SO simple to make your own delicious houses with Honey Maid graham crackers (bonus: there's a printable coupon available right now for you to save $0.50 when you buy one Honey Maid Grahams – 12.2 oz. or larger). How will you be decorating your gingerbread house this year?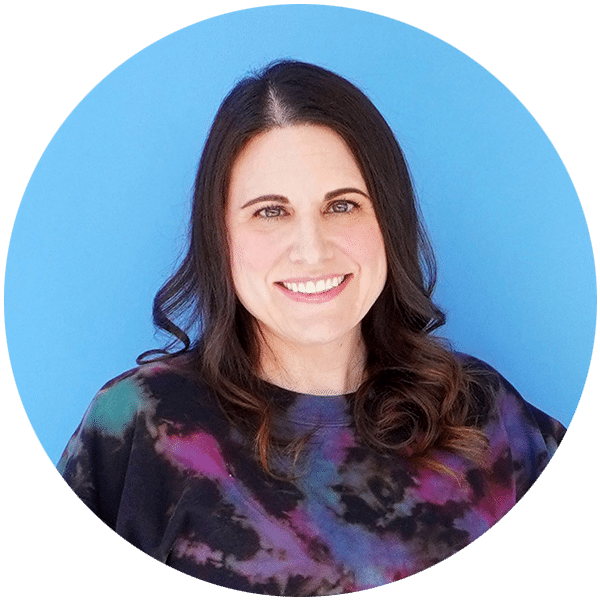 Heidi Kundin has captivated the hearts of millions with her colorful and inspiring approach to crafting, celebrations, and family fun. With over 15 years of experience, Heidi's website has become a must-visit destination for those seeking quick and easy creative ideas and last-minute solutions. Her warm personality shines through her posts, inviting readers to join her on a creative journey that's fun, rewarding, and achievable.