DIY Snow Cone Ornaments
This post and its photos may contain affiliate links. As an Amazon associate I earn from qualifying purchases. If you make a purchase through these links, I may receive a small commission at no extra cost to you!
These easy DIY Snow Cone Ornaments are fun for all ages! Add some sparkle to your Christmas tree with whimsical snow cone Christmas ornaments!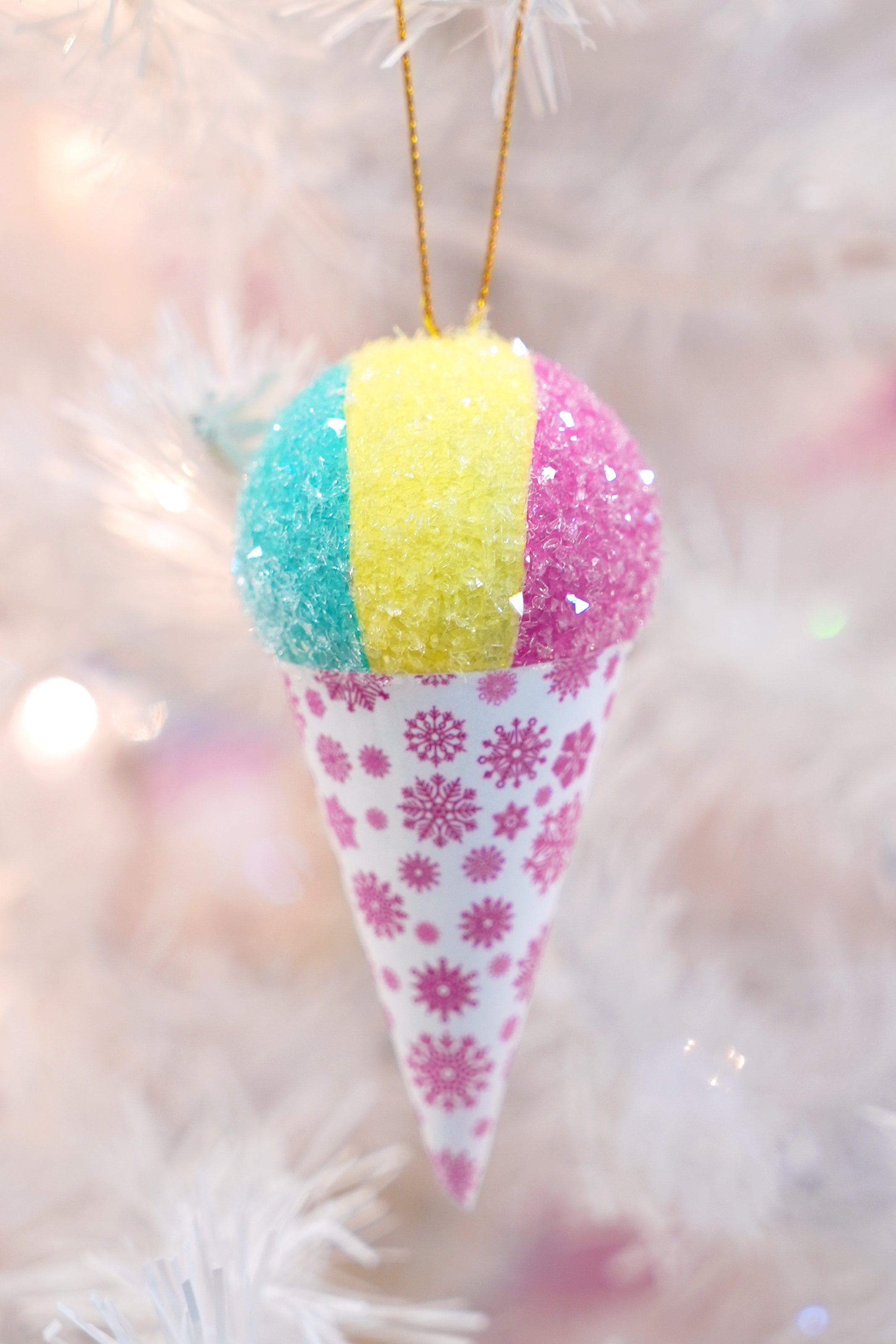 This post may contain affiliate links. I will receive a small commission from these sales at no additional cost to you!
If you're looking for a fun and easy Christmas craft project, you're in the right place! In this post, we'll walk you through the steps of creating adorable snow cone ornaments that will add a touch of whimsy to your tree.
Whether you're a beginner crafter or a seasoned pro, you'll find these sparkly snow cone Christmas ornaments easy to make and a joy to display. So grab your craft supplies, and let's get started!
You May Also Like These Other DIY Ornament Ideas:
---
Snow Cone Christmas Ornaments
Watch this quick video above to see how to make snow cone ornaments, and then scroll this post for more details and information!
Supplies Needed for Snow Cone Ornaments:
---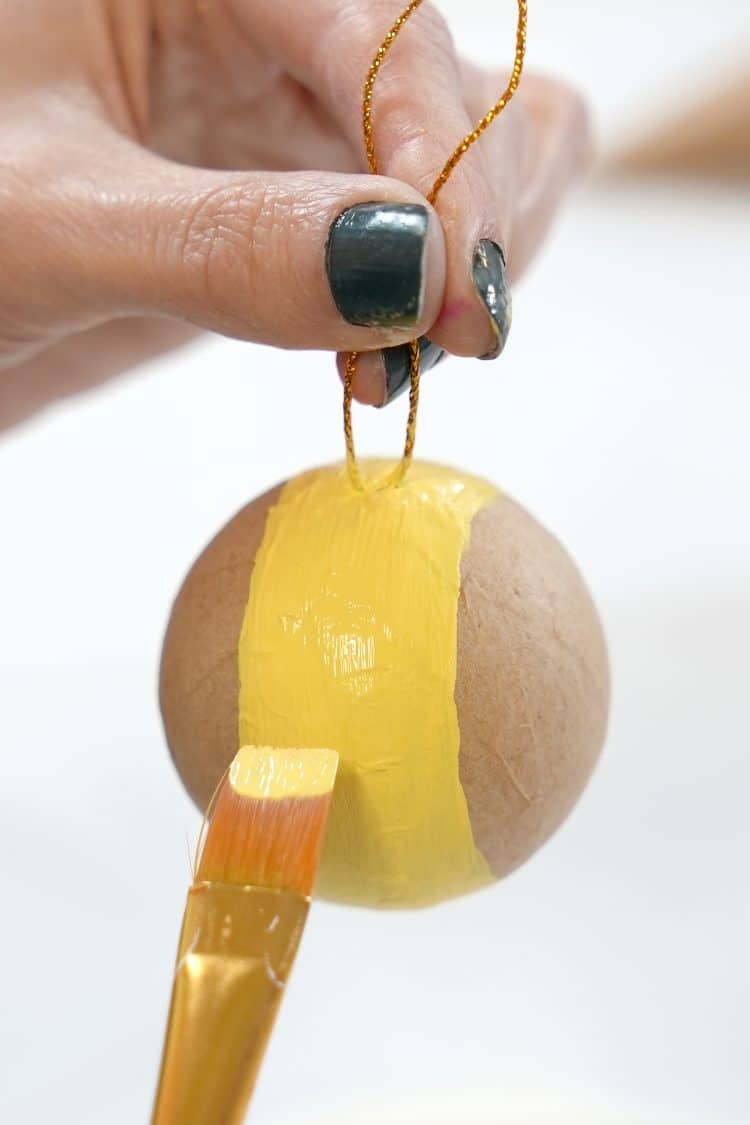 How to Make Snow Cone Ornaments:
To begin, start by using your acrylic paints to paint the paper mâché ornaments in your choice of colors.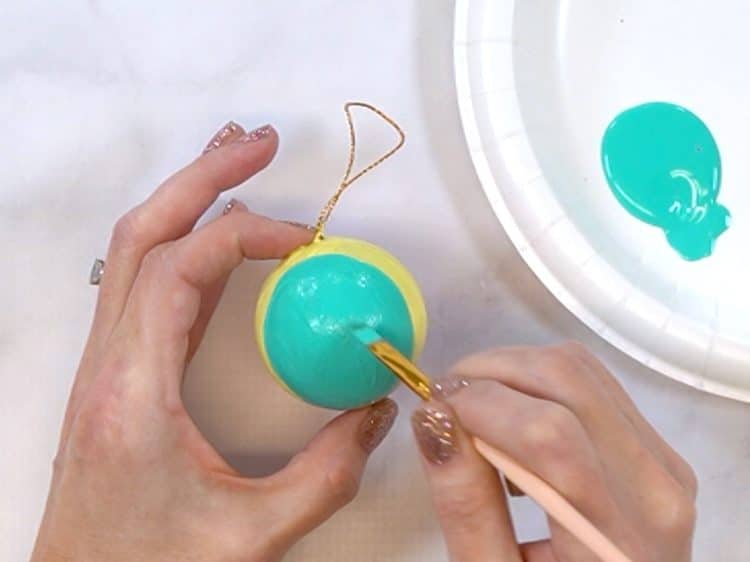 I painted mine with a classic 3-color striped look, but you can do whatever you want with yours! Once you are finished painting, allow the ornament to dry completely.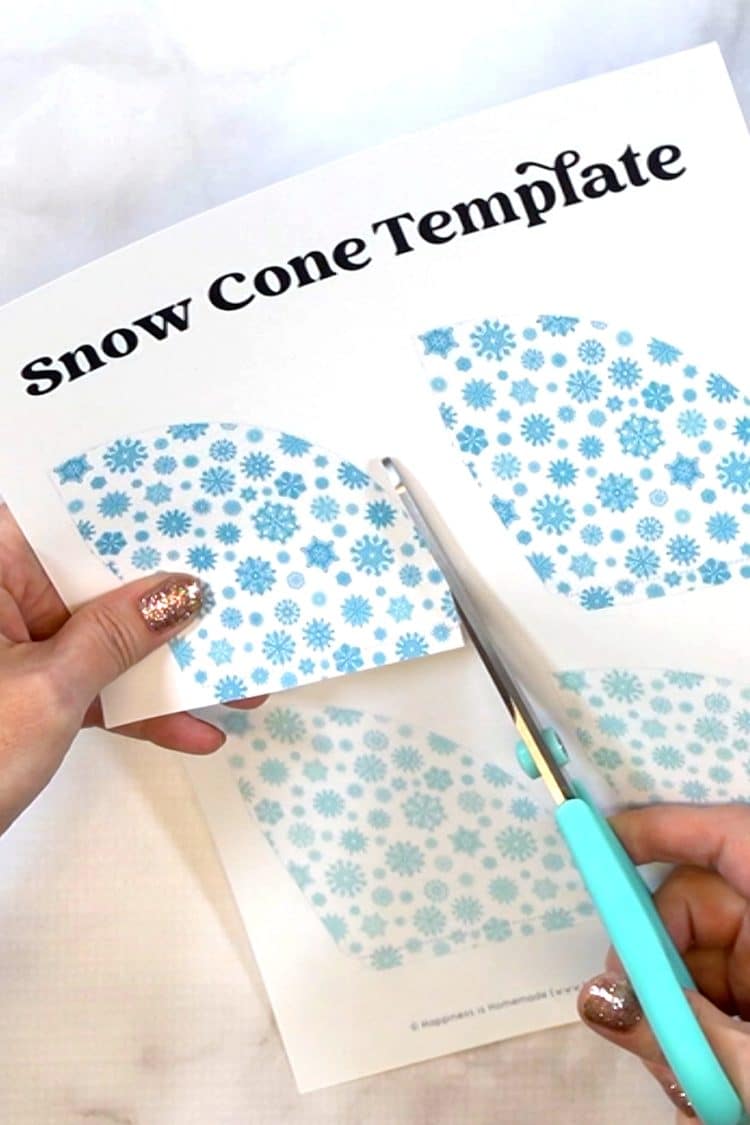 Print the snow cone template in your choice of colors, and cut it out.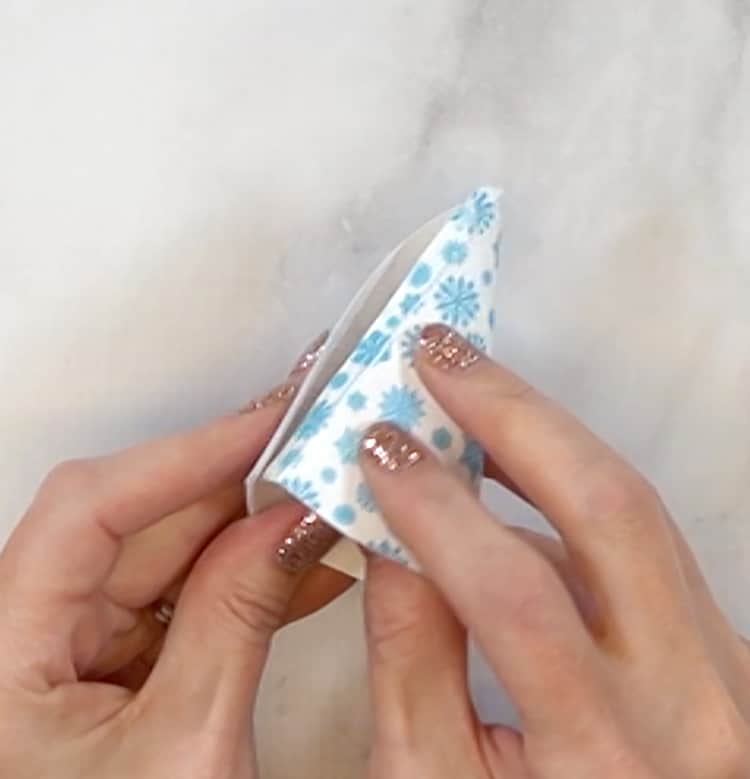 Roll the paper template into a cone shape, securing the edges with glue.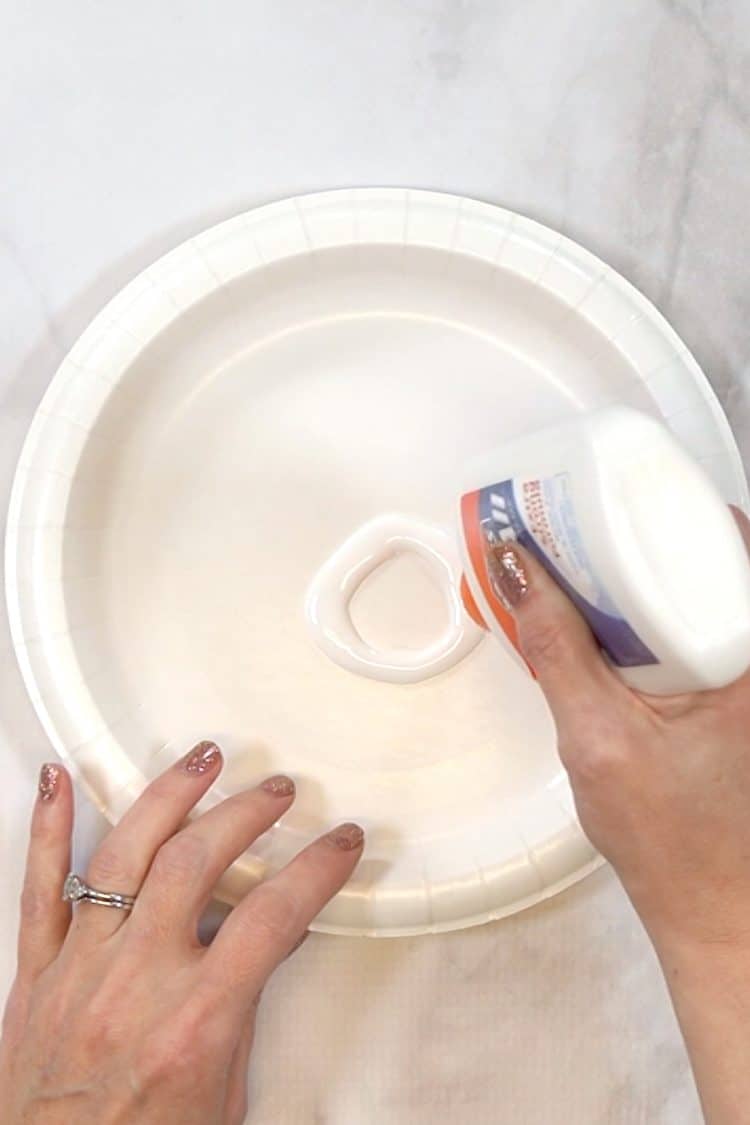 Next, attach the paper cone to the painted ornament. You could do this several different ways, but I find that this method works best for me: make a circle of glue on a paper plate, about the same size as the circumference of the top of the cone.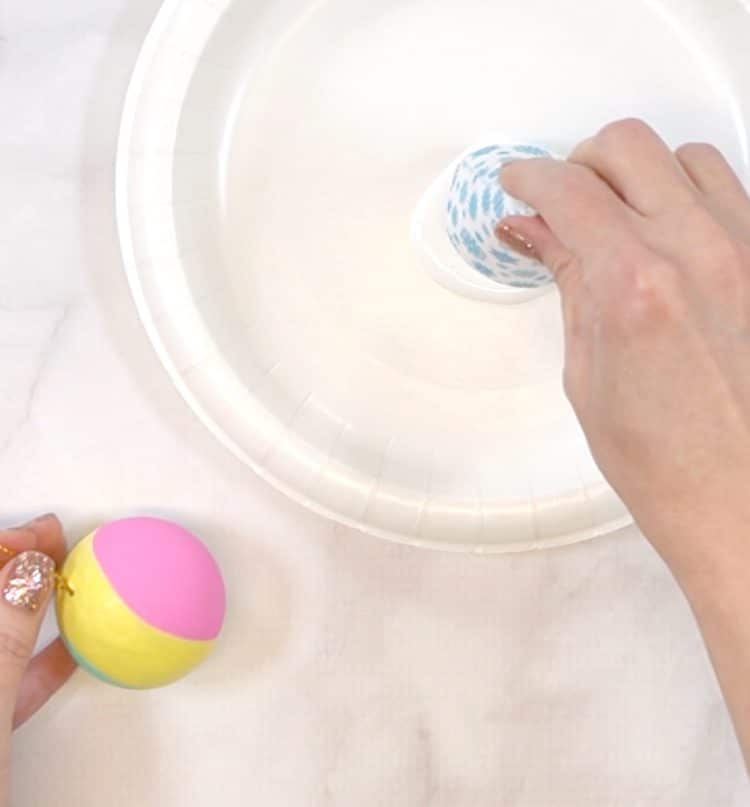 Dip the top of the cone into the glue, making sure that there is a small amount of glue on the entire rim.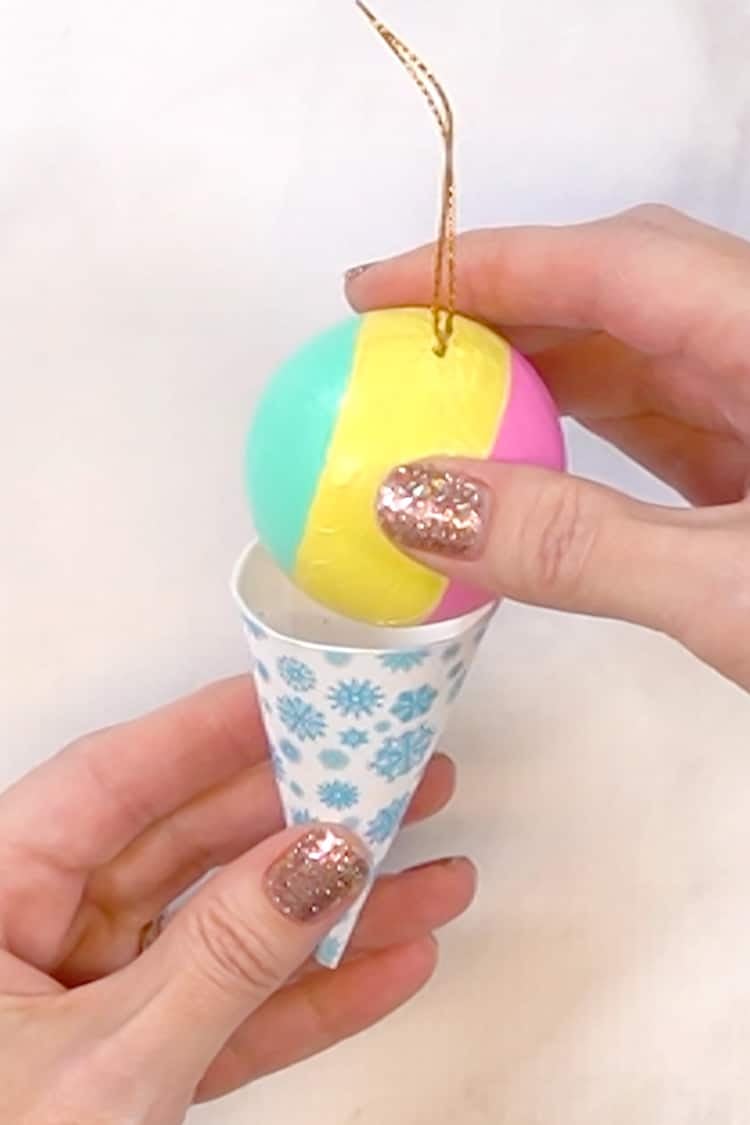 Place the painted ornament on top of the cone, and then use your fingers to carefully smooth away any excess glue. Allow to dry.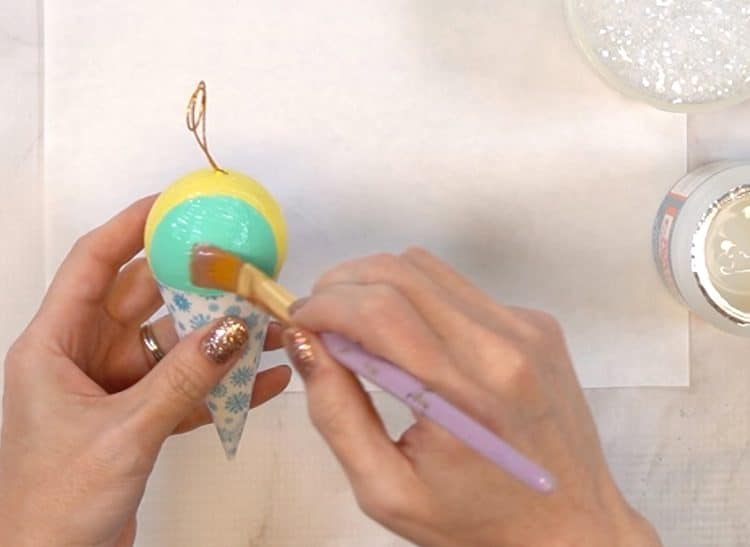 Paint the ornament with a coat of Mod Podge. I really like the Extra Thick Glossy version for this project so that it's extra shiny and not drippy at all!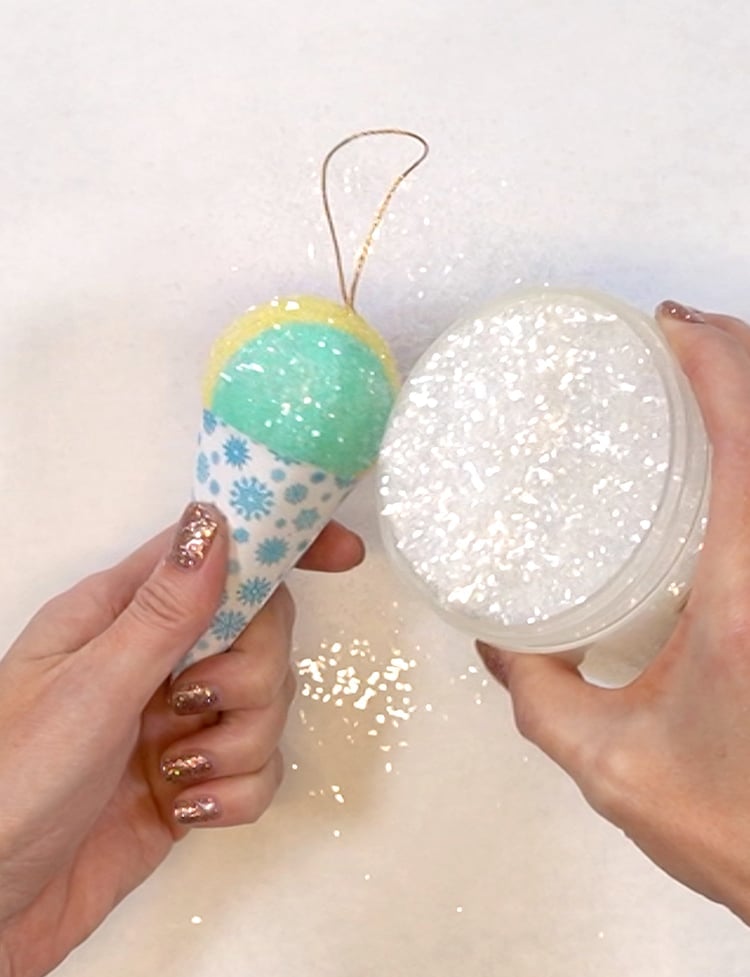 Sprinkle the Diamond Dust glitter on top of the Mod Podge and allow to dry.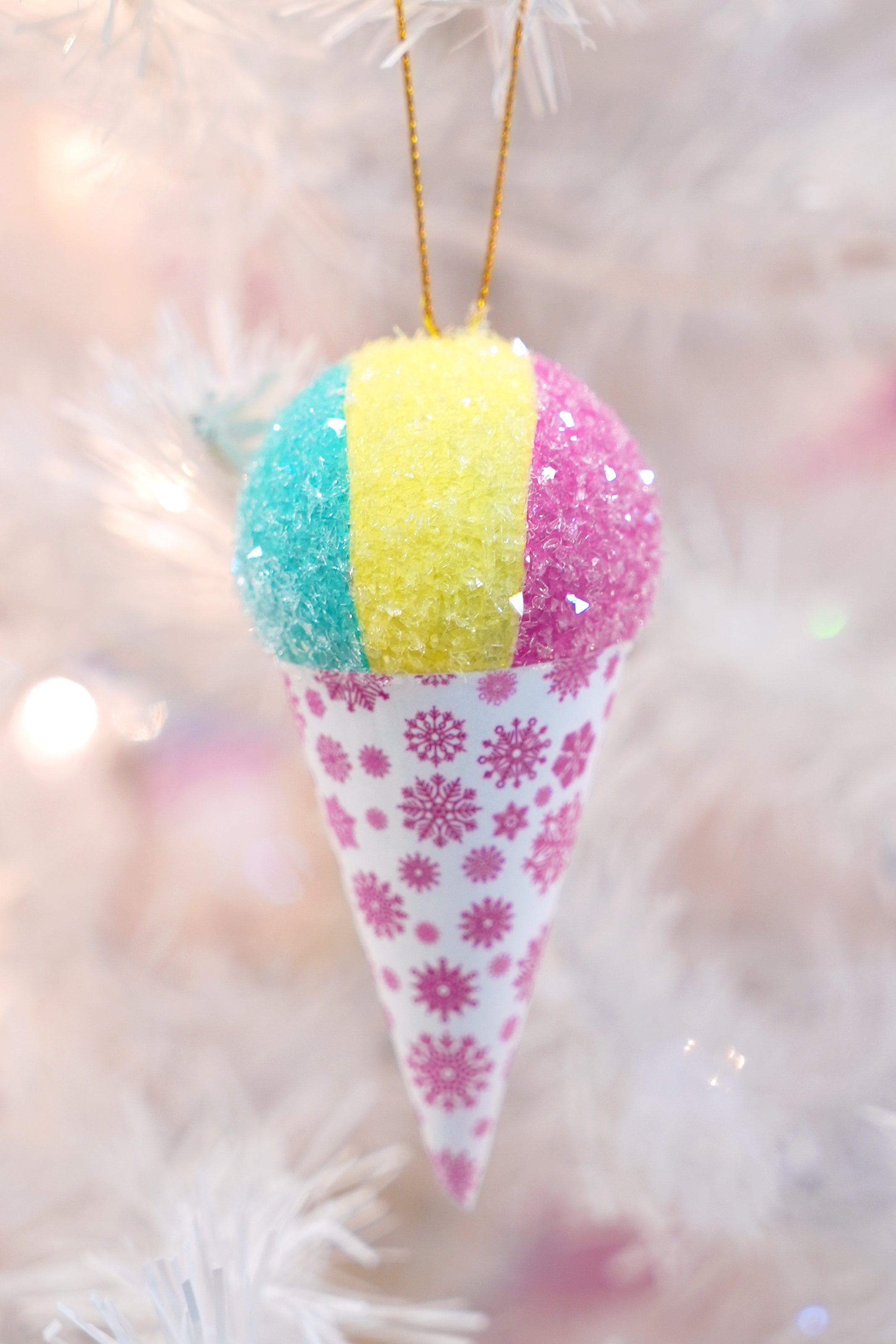 Easy peasy and SUPER cute!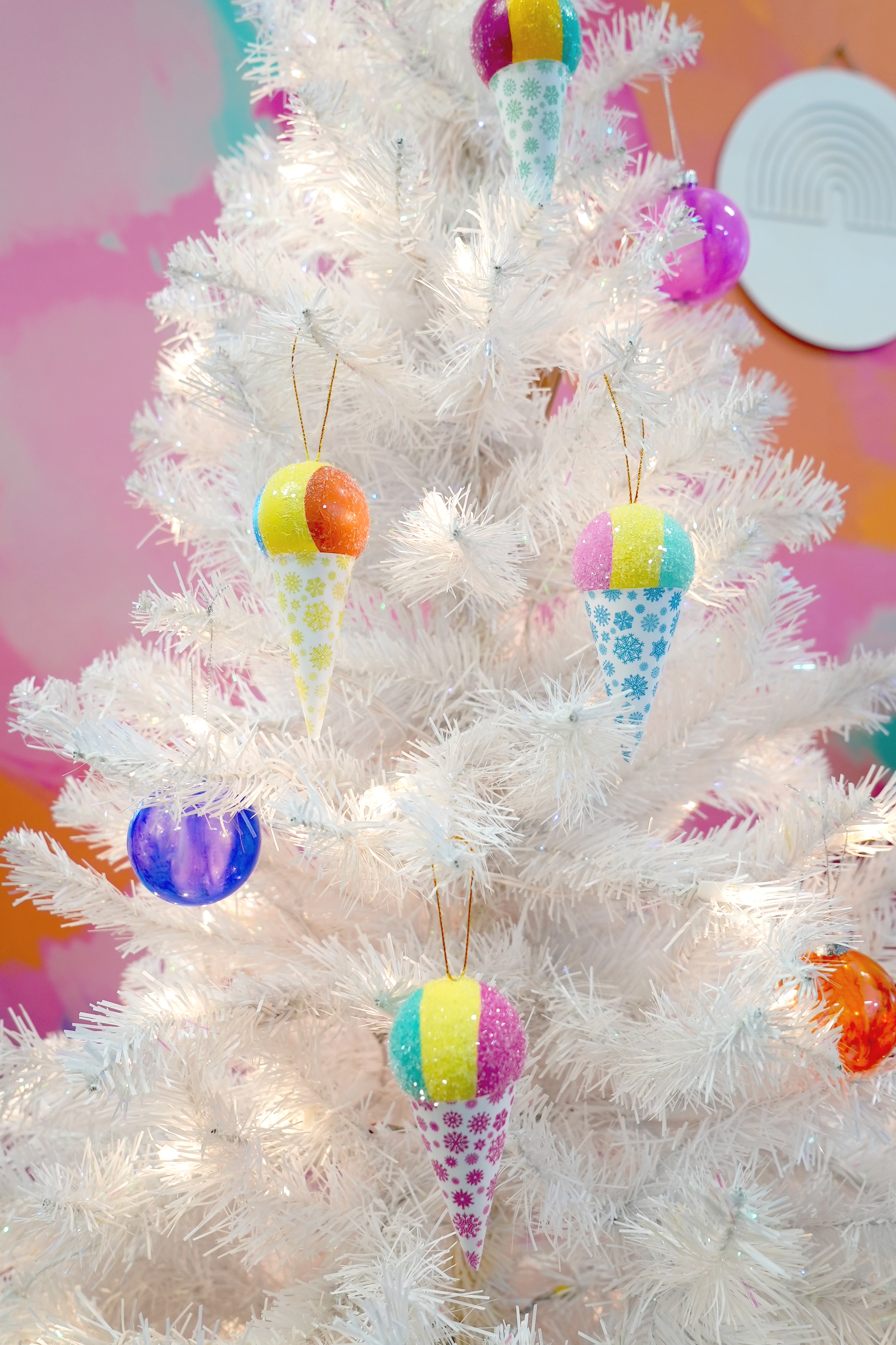 These snow cone ornaments look great on your Christmas tree, and they would also make fun gift toppers, too!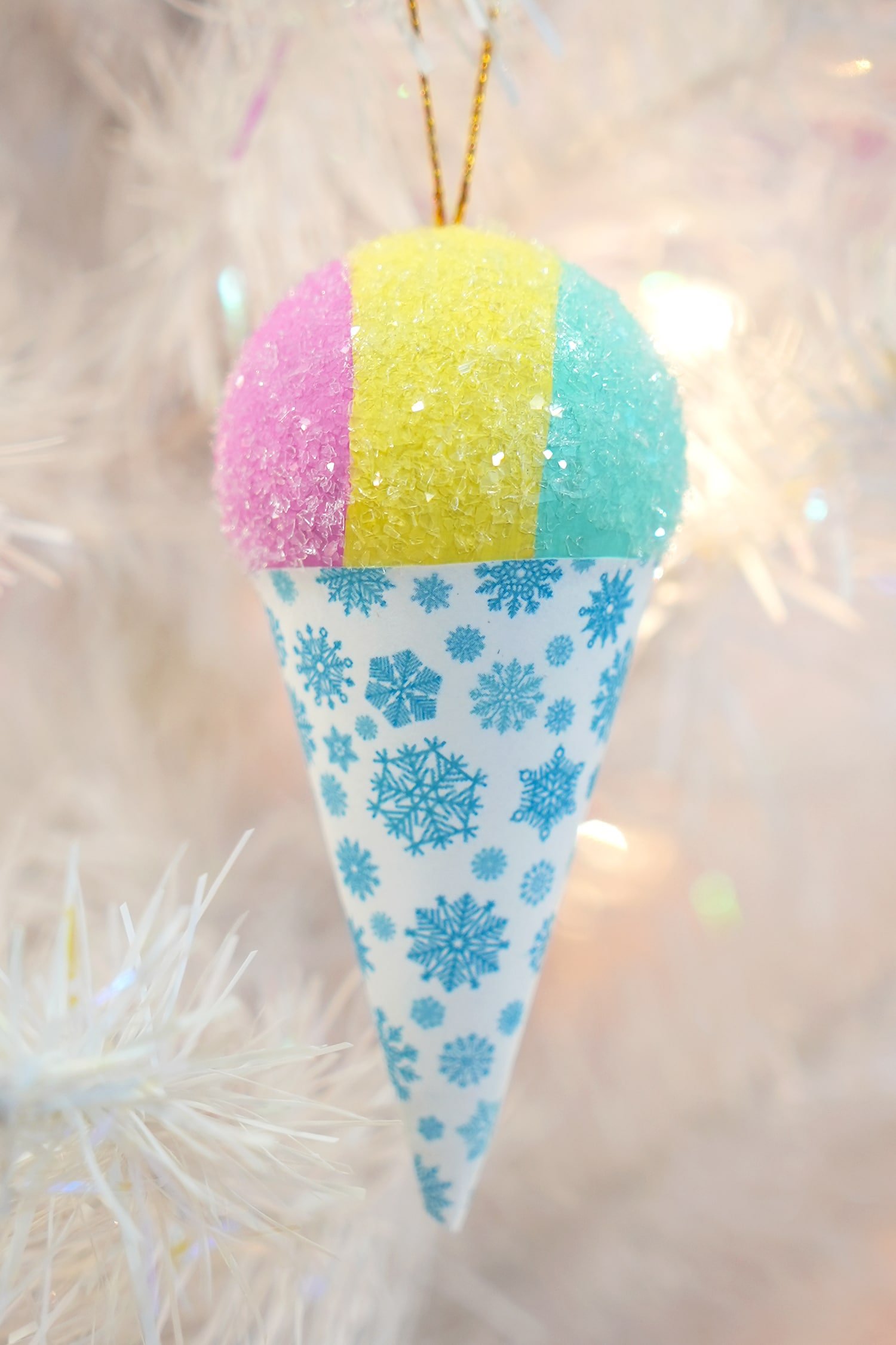 These cute and colorful snow cone ornaments are sure to bring a smile to your face and add a touch of cheer to your holiday décor. Whether you're making them for yourself or as a gift for a friend, these ornaments are sure to be a hit. So go ahead and give them a try – and don't forget to share your creations with us on social media! Happy crafting!

---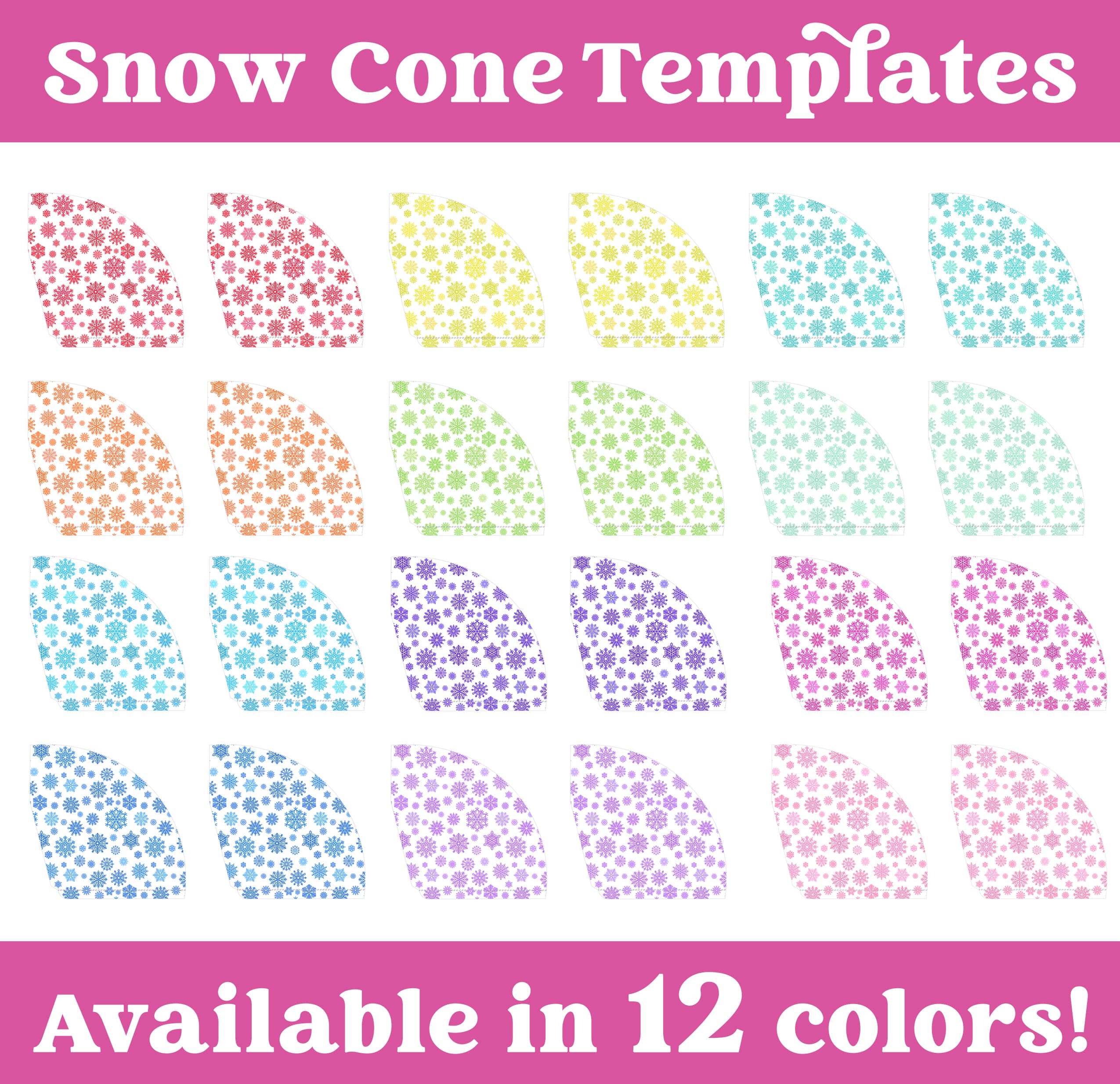 To get the Snow Cone Template, enter your name and email address into the form below and click the "Get It Now!" button!
Can't find the download form? Having issues with the file? Check out our Digital Downloads FAQ page for answers to the most common troubleshooting questions!
Please note that during times of heavy website traffic, download forms may take a little longer to load than the rest of the page. Please allow up to 1-2 minutes for everything to load completely.
---
---
Check Out These Other Fun DIY Ornament Ideas!
Don't Forget to Pin These Snow Cone Ornaments for Later!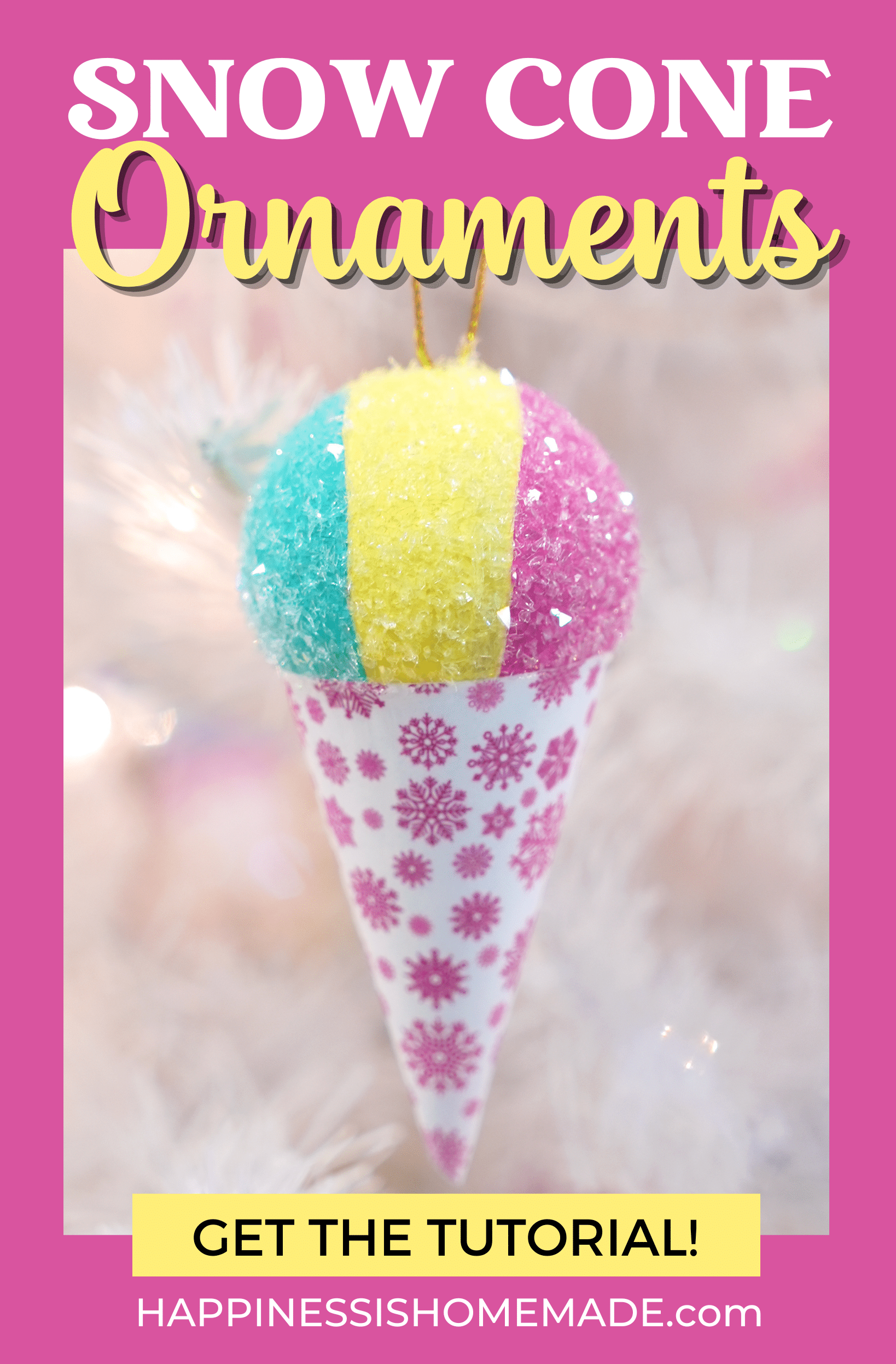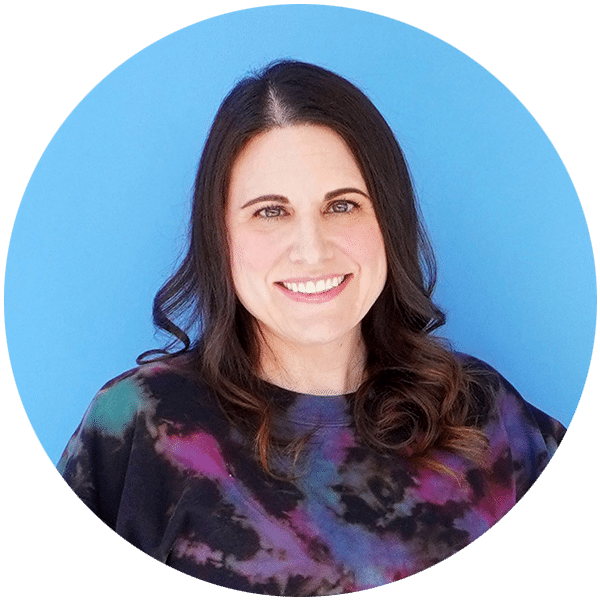 Heidi Kundin has captivated the hearts of millions with her colorful and inspiring approach to crafting, celebrations, and family fun. With over 15 years of experience, Heidi's website has become a must-visit destination for those seeking quick and easy creative ideas and last-minute solutions. Her warm personality shines through her posts, inviting readers to join her on a creative journey that's fun, rewarding, and achievable.