The Best Glue for Glitter Christmas Ornaments
This post and its photos may contain affiliate links. As an Amazon associate I earn from qualifying purchases. If you make a purchase through these links, I may receive a small commission at no extra cost to you!
Making DIY glitter Christmas ornaments? Discover the very BEST glue to use for glitter ornaments! We put ten different adhesives to the test, and we're sharing the results here!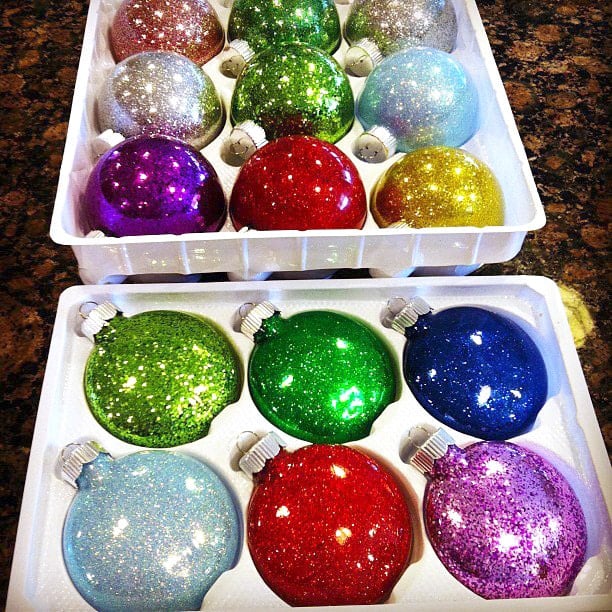 This post may contain affiliate links. I will receive a small commission from these sales at no additional cost to you!
Ever since we first shared our Personalized Glitter Christmas Ornaments way back in 2012, I receive countless questions from readers each year about which glue is the BEST to use for making glitter ornaments.
There are many, MANY different ways to make DIY glitter ornaments, and there are LOTS of different glues and adhesives that you can use. We took the top 10 reader suggestions and tested each of them out, and we're rating and ranking each of them below! Keep reading to find out which glue is best for glitter Christmas ornaments!
Check Out These Other Fun Christmas Ornament Tutorials!
---
The Best Glue for Glitter Ornaments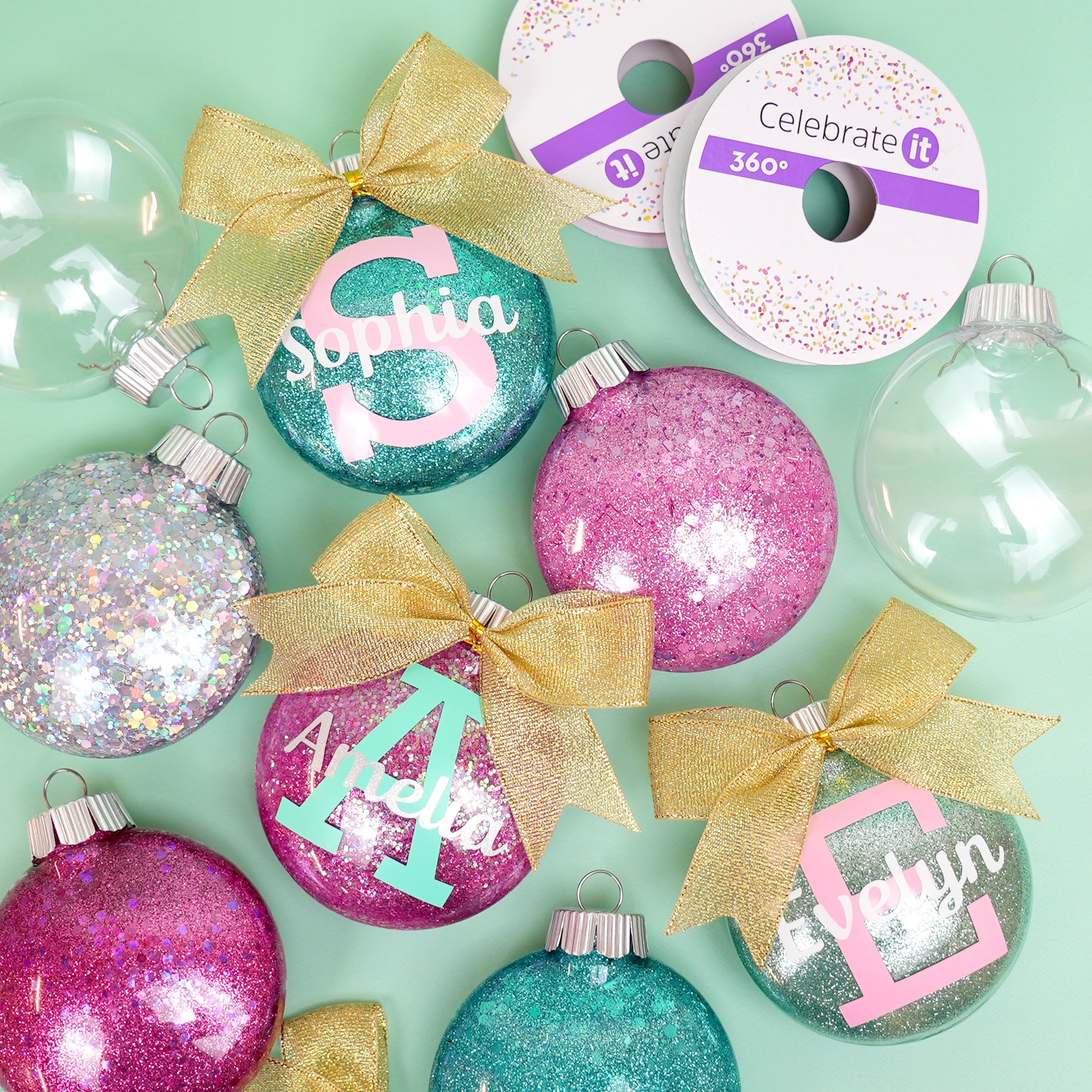 Supplies Used for Testing Glitter Ornament Glues
The Adhesives:
Other Materials Used for Glitter Ornaments:
---
Testing Glues for Glitter Christmas Ornaments
If you've never made glitter ornaments before, take a peek at this step-by-step video, or follow along with our written DIY Glitter Ornaments Tutorial here.

Okay, now, on to the testing…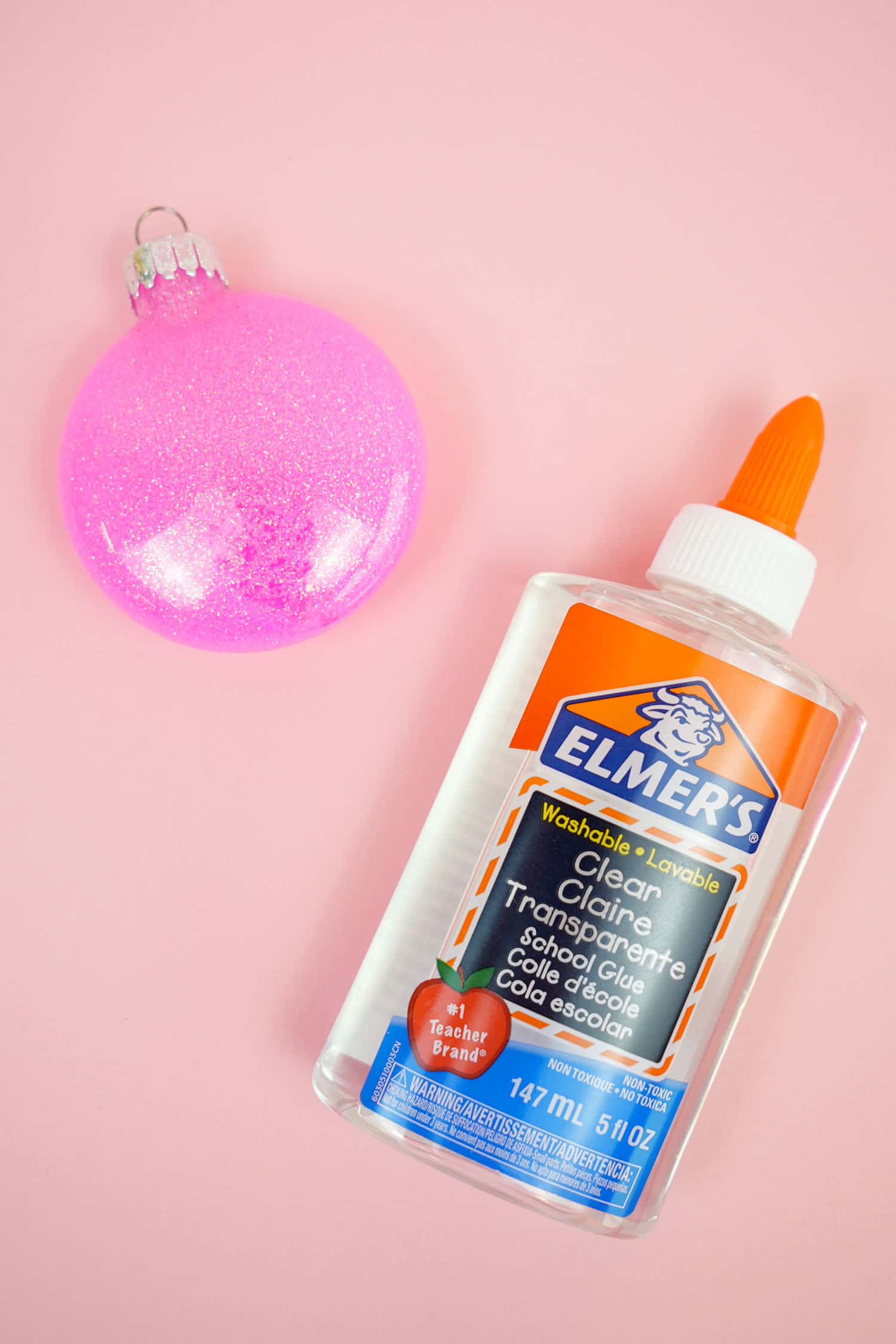 After the homemade slime craze of the past few years, many of us crafters and moms still have a supply of Elmer's Clear School Glue on hand, and everyone has been asking us if it would work well for DIY glitter Christmas ornaments.
Though it IS possible to use Elmer's Clear School Glue for glitter ornaments, we do not recommend this adhesive for several reasons:
The thickness of the glue makes it very time consuming to coat the inside of the ornaments. We tested this glue at full-strength and at half-strength (diluted with water), and our final results were the same; however, it was quicker and easier to coat the ornaments with the half-strength mixture.
At both full-strength and half-strength, the finished ornaments had "thin" spots in the glitter coverage.
This glue only works with fine and ultra-fine glitter; heavier, chunky glitters will not stay stuck to the ornament.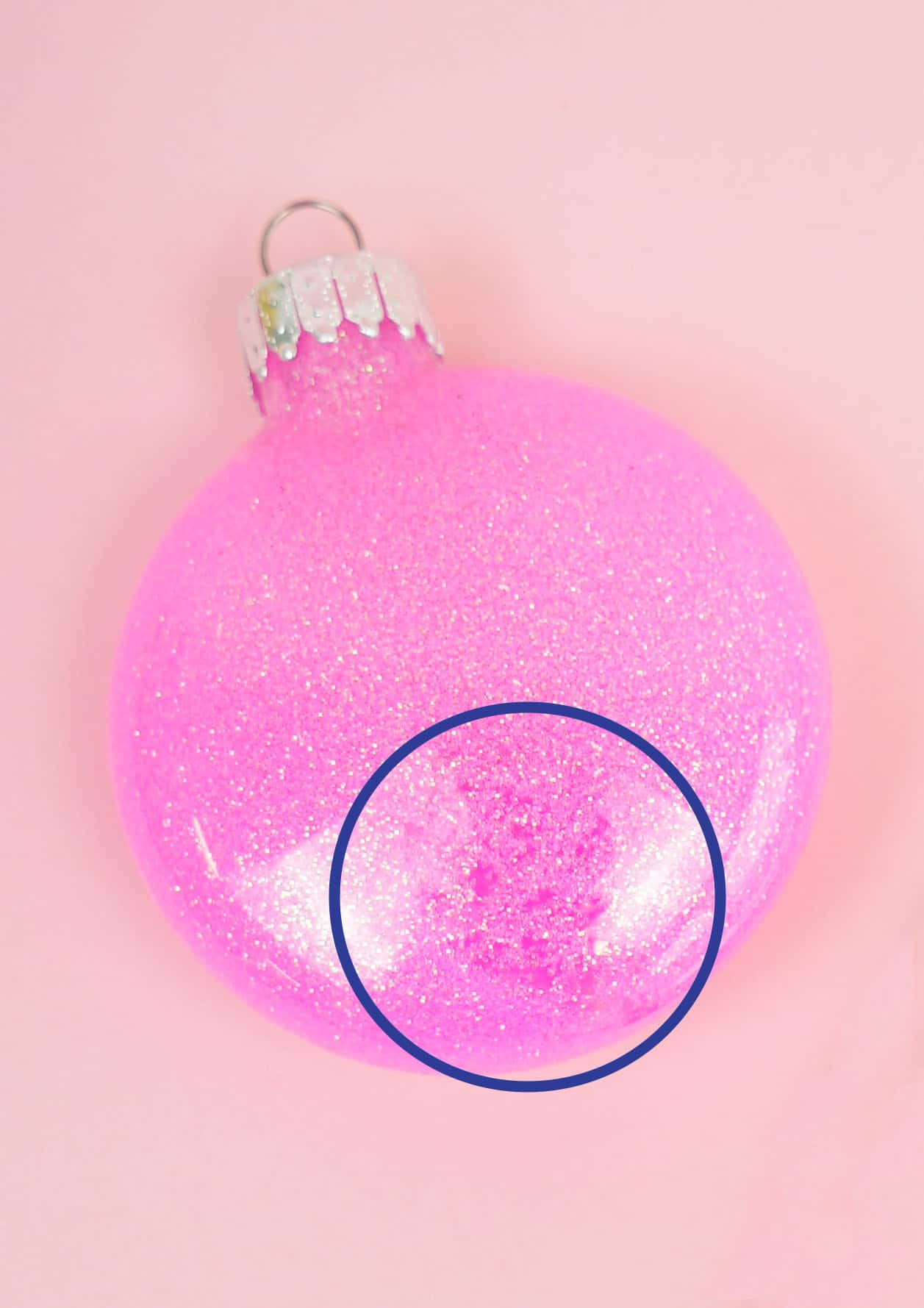 As you can see above, once the Elmer's Clear School Glue had dried, we experienced some glitter loss on the walls of the ornament. We found this to be true with both the full-strength and half-strength adhesives.
BOTTOM LINE: We don't recommend using this adhesive, but if you do decide to try it, we suggest using only ultra-fine glitters in darker colors for best results.
---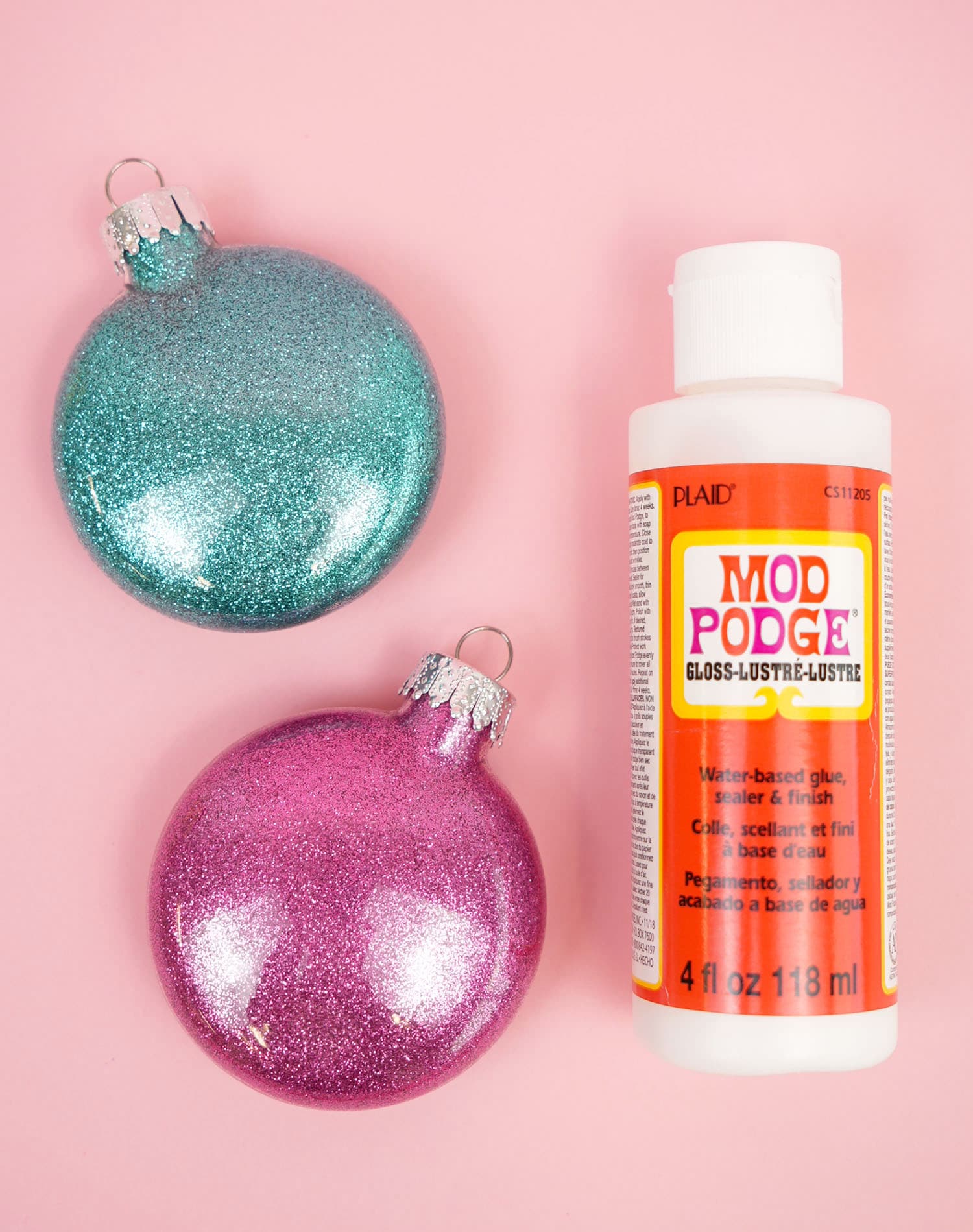 Mod Podge and Elmer's Glue-All provided virtually identical results in our testing, so we are lumping them together and ranking them the same here. We tested both adhesives at both full and half-strength, and we had better success with the full-strength options, though half-strength was still acceptable. Both Mod Podge and Elmer's Glue-All are decent options for making glitter ornaments, but neither were ranked among our most highly rated options.
Both adhesives provided total glitter coverage on the ornament surface, but they only worked well with fine glitters and didn't handle the extra weight of chunky glitter very well.
There was no glitter loss after the adhesives had dried.
Mod Podge is slightly thinner than Glue-All, so it took a slight advantage when it came to ease of coating the ornament's surface.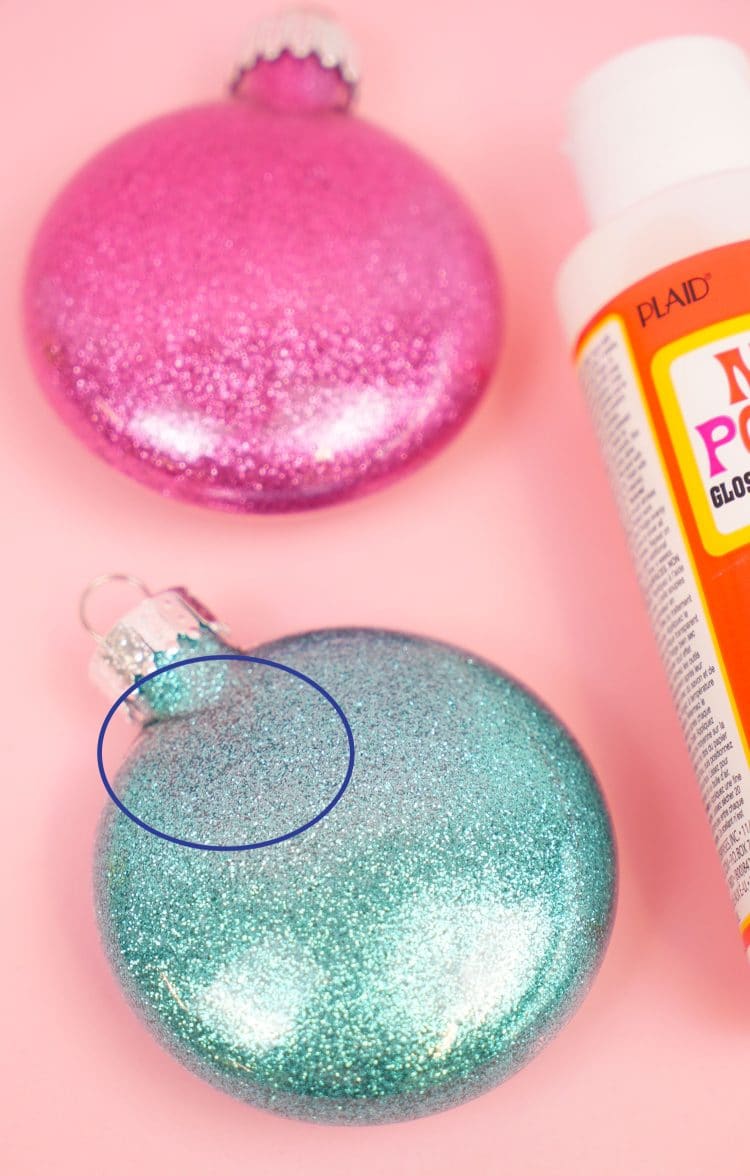 You have to look very closely to notice them, but the Mod Podge and Glue-All ornaments both had several areas that resulted in fine "cracks" along the solid surface of the glitter. They don't photograph very well, but they're easy to see with your own eyes.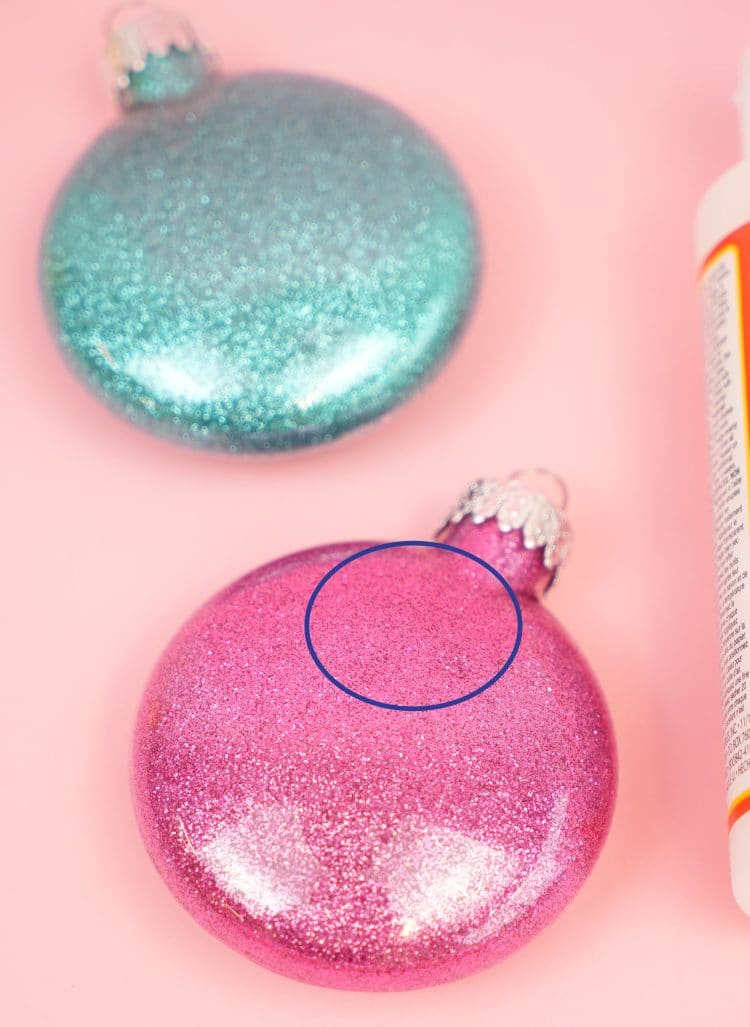 BOTTOM LINE: If you are planning on adding vinyl decals to your ornaments, you may be able to easily cover these minor flaws, but if you're planning on keeping your ornaments plain, or if you will be selling your ornaments, I would suggest using one of the more highly rated adhesives.
---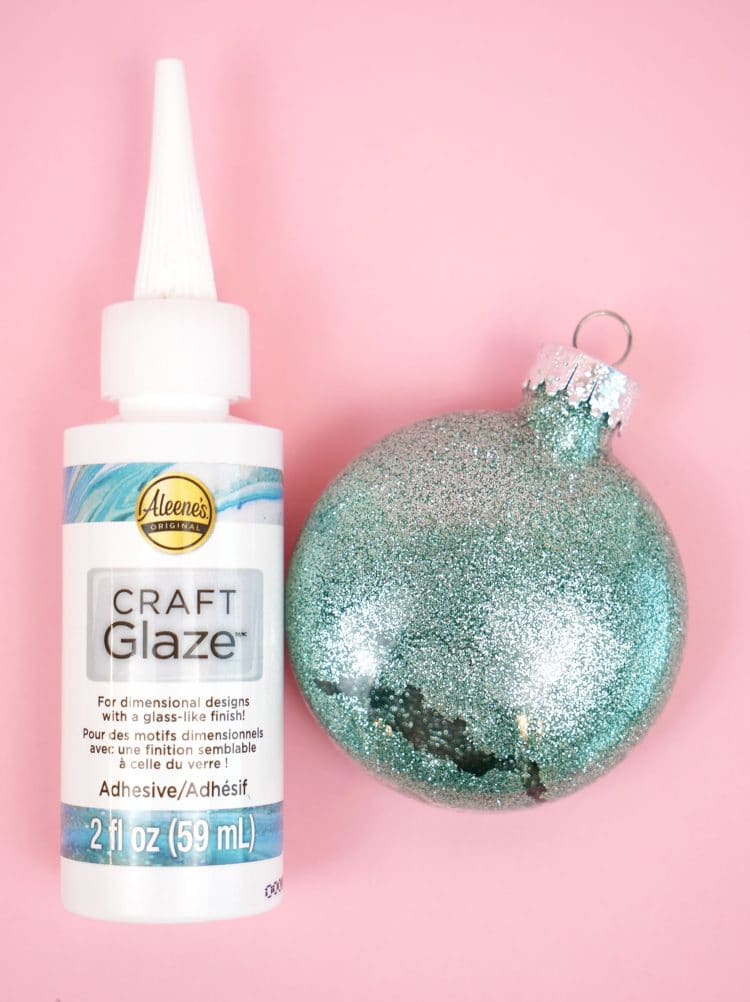 Aleene's Craft Glaze was suggested to us as a good option to test based on its "glass-like finish," and as you can see, it was a TOTAL craft fail! There were lots of cracks and crazing in the surface of the glitter, and whole sections of the finish detached from the ornament walls as the adhesive was drying.
BOTTOM LINE: Zero stars, do not recommend.
---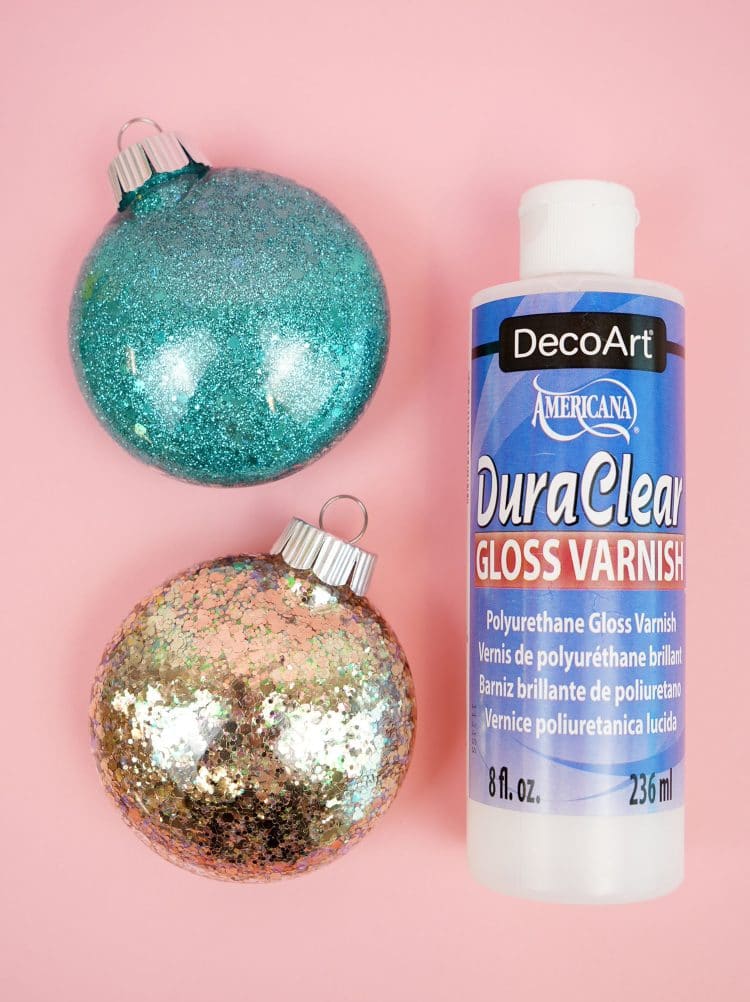 We tested DuraClear Polyurethane Gloss Varnish and Minwax Polycrylic with identical and virtually indistinguishable results, though we give the advantage here to DuraClear Varnish simply because the packaging (squeeze bottle) was far easier to use than the Polycrylic (which comes in a traditional metal paint can). If you choose to use Polycrylic, we recommend adding it to a squeeze bottle for ease of use.
Both adhesives coated the ornaments quickly and easily.
Both adhesives are available in large size bottles/cans, which works out to an extremely low cost-per-ounce and makes both options very cost effective.
Both worked incredibly well with all weights of glitter including our heaviest and ultra-chunky glitters.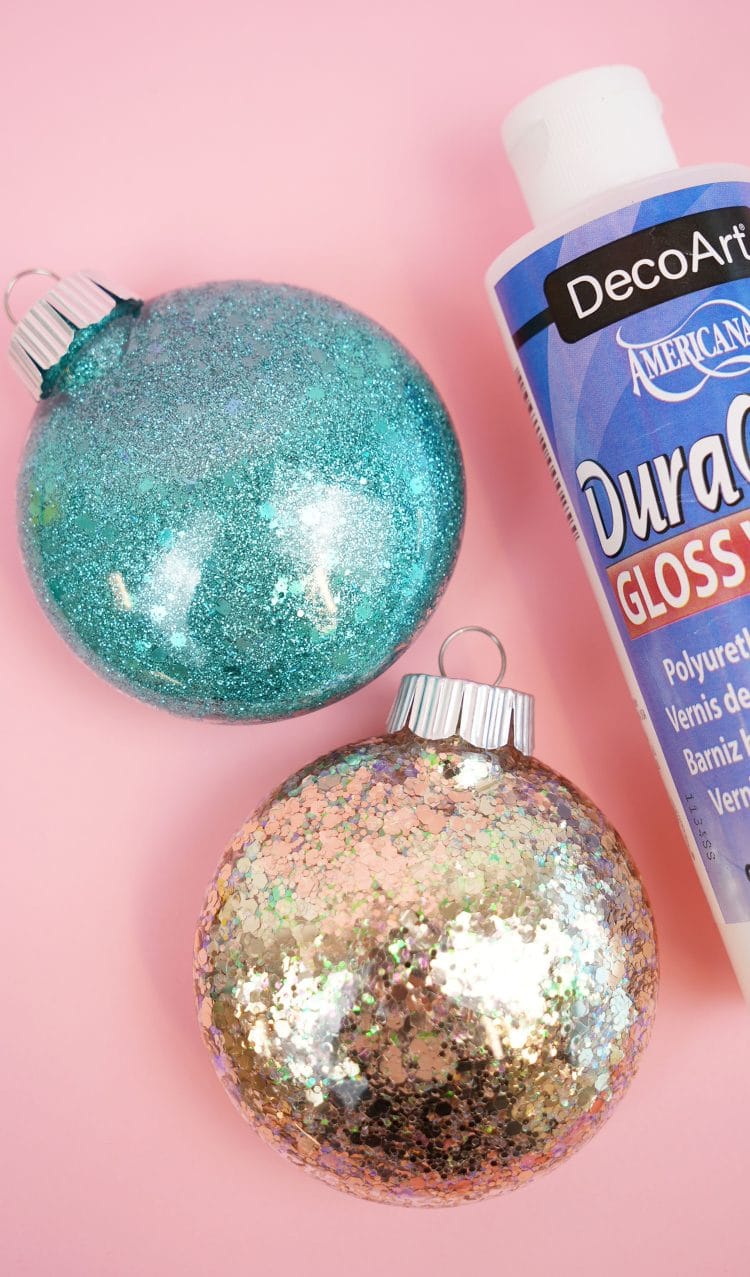 As you can see, many different sizes of glitter worked beautifully with the varnish adhesives and provided full surface glitter coverage. The finish was smooth and flawless, and there was no glitter loss after the adhesives dried. These definitely look like professional-quality glitter Christmas ornaments!
BOTTOM LINE: Highly recommended! Two enthusiastic thumbs up! You really can't go wrong with either of these options, and the price is definitely right, too.
---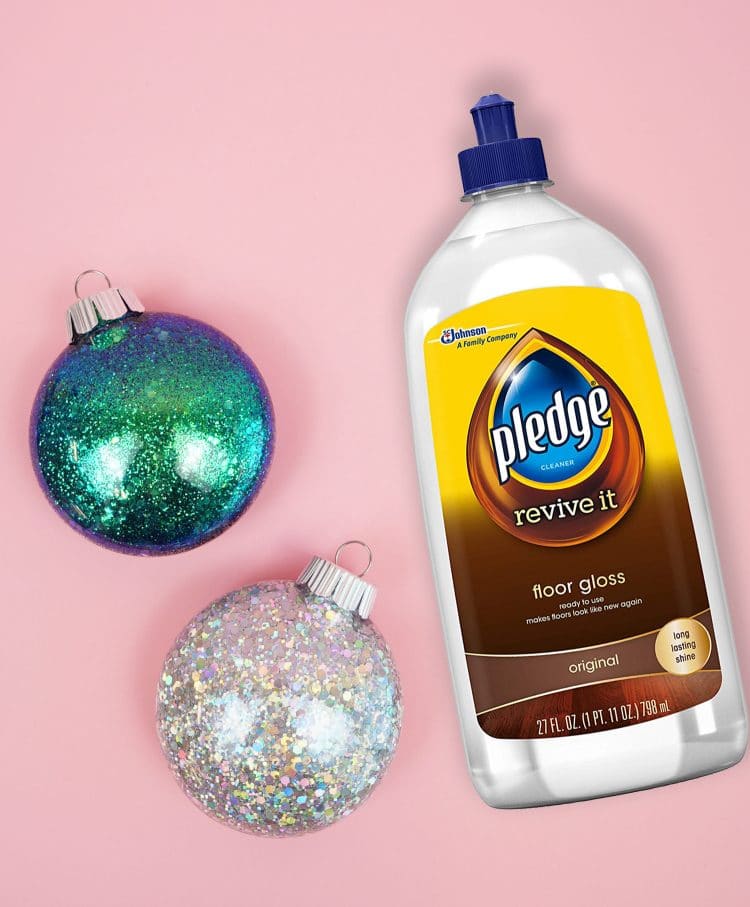 Pledge Floor Gloss was what I initially used when I first started making glitter ornaments, and I still really love it! It does have a few pros and cons, though:
Pro – The thin, clear liquid is incredibly easy to swirl around inside the ornament and drain, so you can make your ornaments even more quickly and easily.
Pro – the thin squeeze bottle tip fits perfectly inside the ornaments for minimal mess and clean-up.
Con – if any of the floor cleaner does drip on the outside of the ornament, it can be difficult to remove, and it may leave a sticky residue.
Con – it has been reported to me by some of our readers that the adhesive may lose strength over time, and you may experience some glitter loss after awhile. My own glitter Christmas ornaments that I made with Pledge Floor Gloss back in 2012 still look perfect, so I haven't personally experienced this, but wanted to pass along that feedback!
It should also be noted that this adhesive seems to work better with clear glass ornaments than with plastic, and more glitter loss has been reported in plastic ornaments. We recommend using glass ornaments with Pledge Floor Gloss for best results.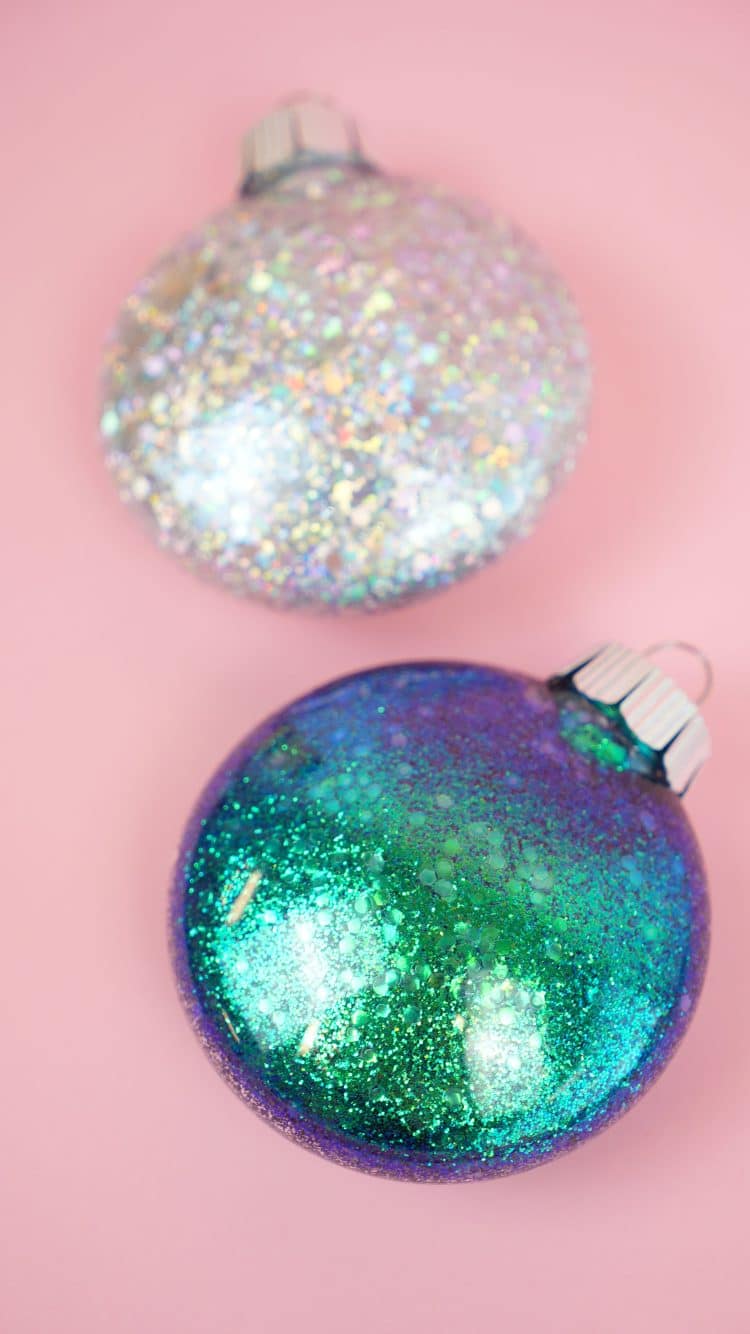 The glitter coverage is smooth, solid, and even, but this adhesive does work best when combined with fine to medium-weight glitters and nothing heavier than lightweight chunky glitters.
BOTTOM LINE: A solid choice, especially if you are using glass ornaments!
---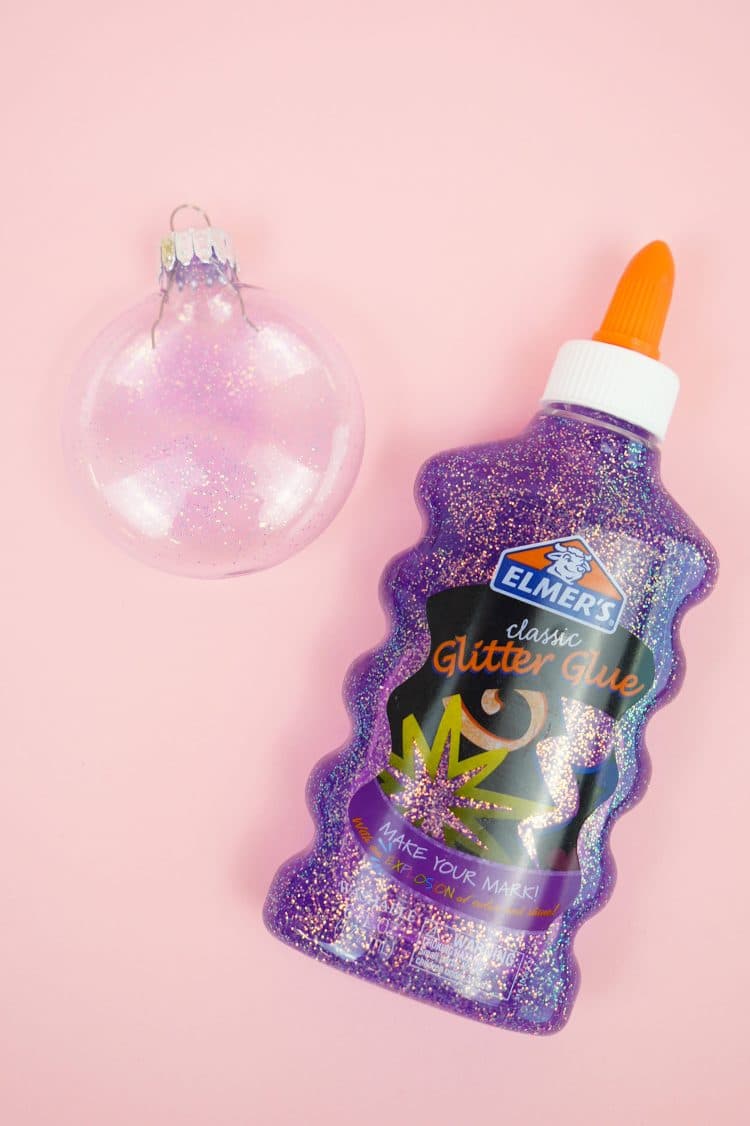 Now, depending on the look that you're going for, you might be able to make Elmer's Glitter Glue work for you, but it is certainly not an ideal solution. For this test, we used only the glitter that is found in the glitter glue and did not add any additional loose glitter.
The glitter glue is VERY thick (and does not work well if diluted), so it takes an incredibly long time to thoroughly coat the inside of the ornament with glue. You may speed up the process by using a paint brush, but it can be a challenge to not create noticeable brush strokes.
Because the glitter glue is so thick, it does not drain easily, which resulted in thick/thin spots in the finish even though the ornament was turned completely upside down for a full 12 hours.
Glitter glue creates a transparent glitter finish vs the solid opaque look of traditional glitter.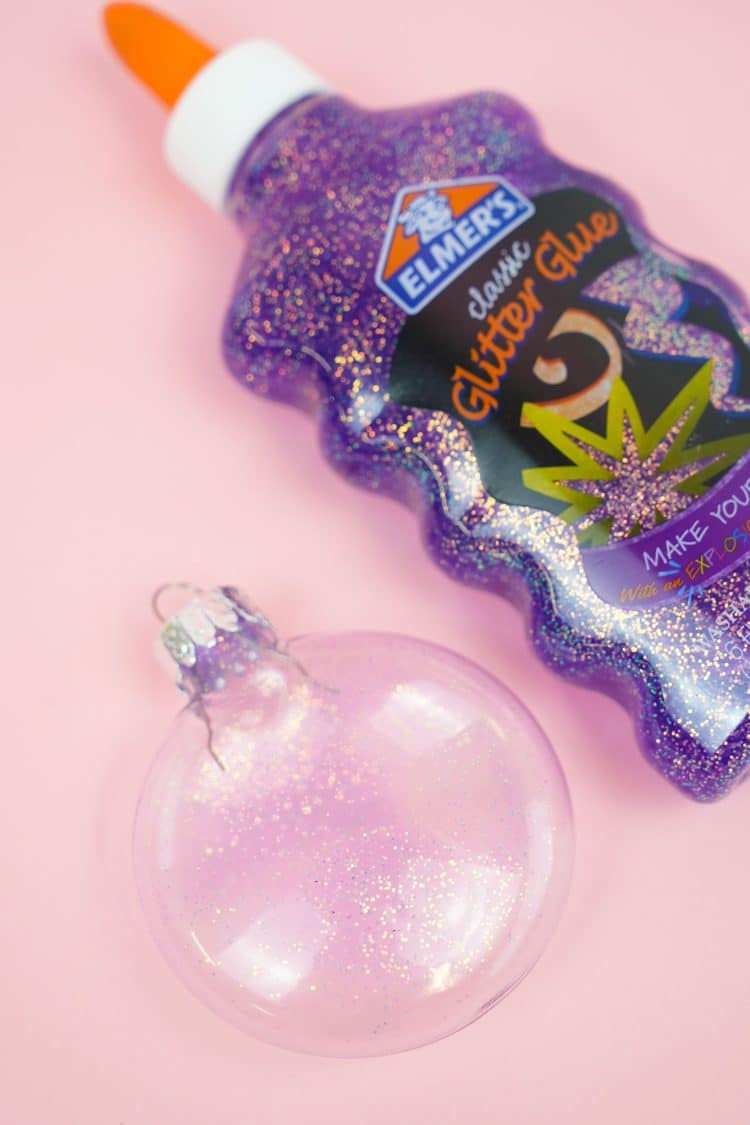 Despite the uneven finish that was achieved, the transparent glitter effect is actually really pretty even though it's very subtle.
BOTTOM LINE: We wouldn't call glitter glue a total failure, but you would need to invest a good amount of time and patience to make this one work well!
---
Beacon Glitter-It! adhesive is designed specifically for the task of adding glitter to glass surfaces, so it's no surprise that it scores so highly in our rankings!
The ultra-thin liquid adhesive quickly and easily coats the interior surface of the ornaments, and the fine tip nozzle fits easily into the opening of the ornament and makes it a breeze to work with.
Works well with both chunky and fine glitters. No glitter loss even with the heaviest of our glitters!
Works equally well with both glass and plastic ornaments.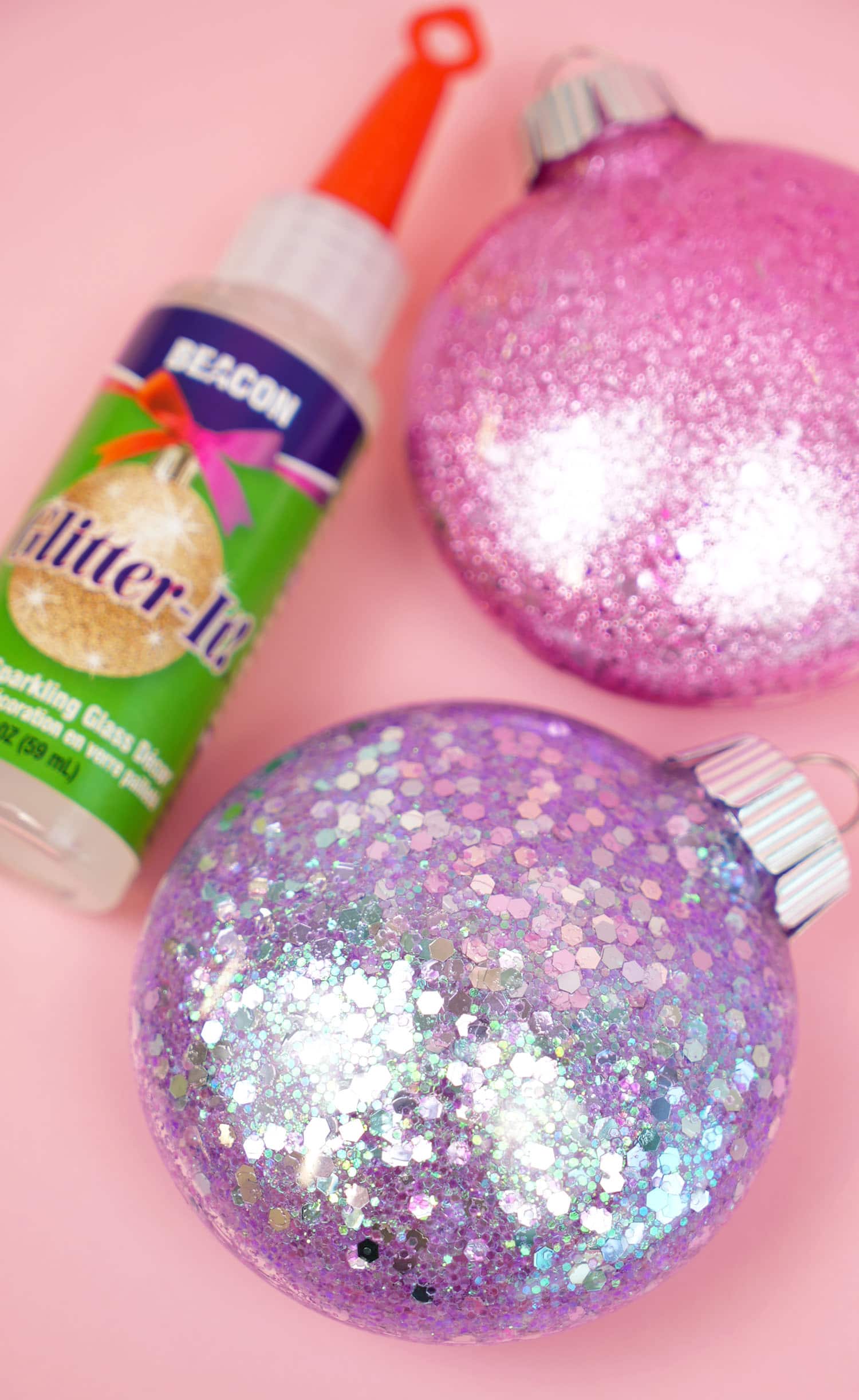 Glitter-It! works with a variety of glitter sizes, and the finished glitter Christmas ornaments were smooth with full glitter coverage and no flaws. Very professional looking!
BOTTOM LINE: Glitter-It! is a fabulous choice, and a little goes a long way, but it is more expensive per ounce than our other 5-star options.
---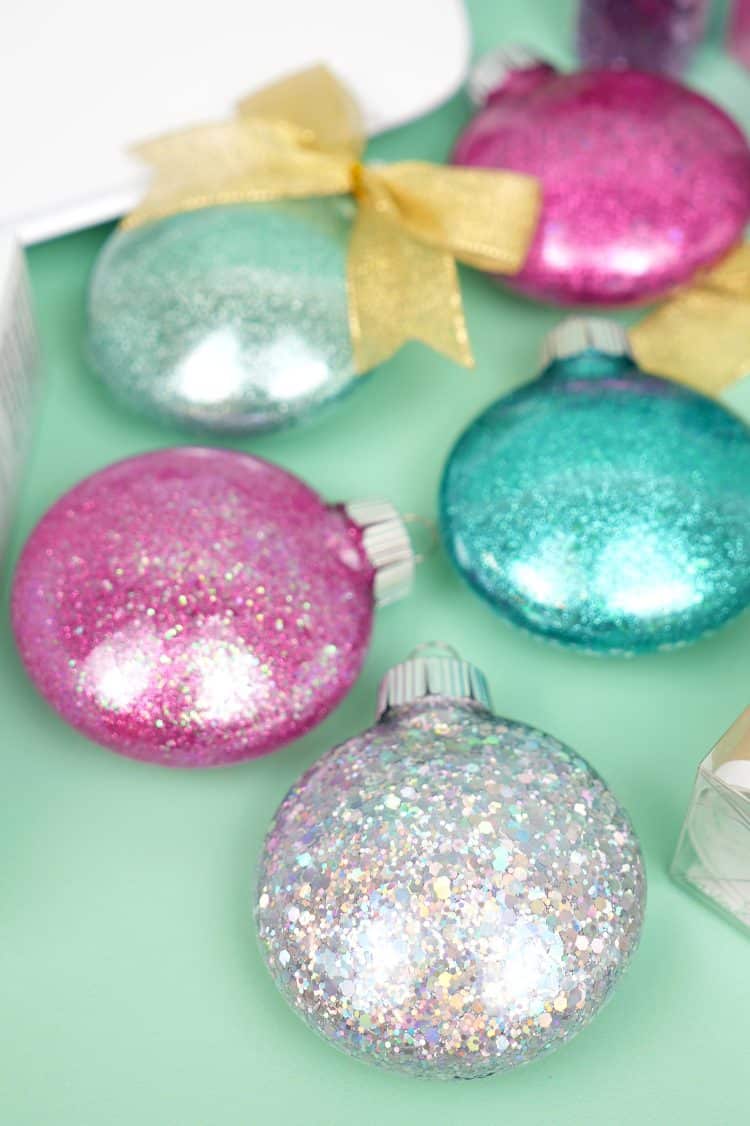 This was the #1 adhesive that readers have been asking me to test over the years! Hairspray is an appealing idea because it's inexpensive and widely available, and many different brands and varieties have been reported to work well. For our test, we used Aussie Instant Freeze Hairspray. Make sure that you use a "freeze" or extra-hold hairspray (level 4 or 5) for best results.
Despite our best efforts, it was difficult to avoid getting a small amount of hairspray on the outside of the ornaments. Once the ornaments were finished, we had to go back with a damp cloth to clean off the excess.
The hairspray worked rather well as an adhesive for fine and ultra-fine glitters, but it lacked the strength necessary to hold heavier, chunky glitters. The ornaments that we made with chunky glitter looked nice for a few days, but then the glitter started detaching from the ornament walls and leaving gaps in the coverage.
BOTTOM LINE: Hairspray worked well enough, but it wasn't worth the extra steps of having to clean up the excess mess. Not bad with ultra-fine glitters, but there are better inexpensive options available!
---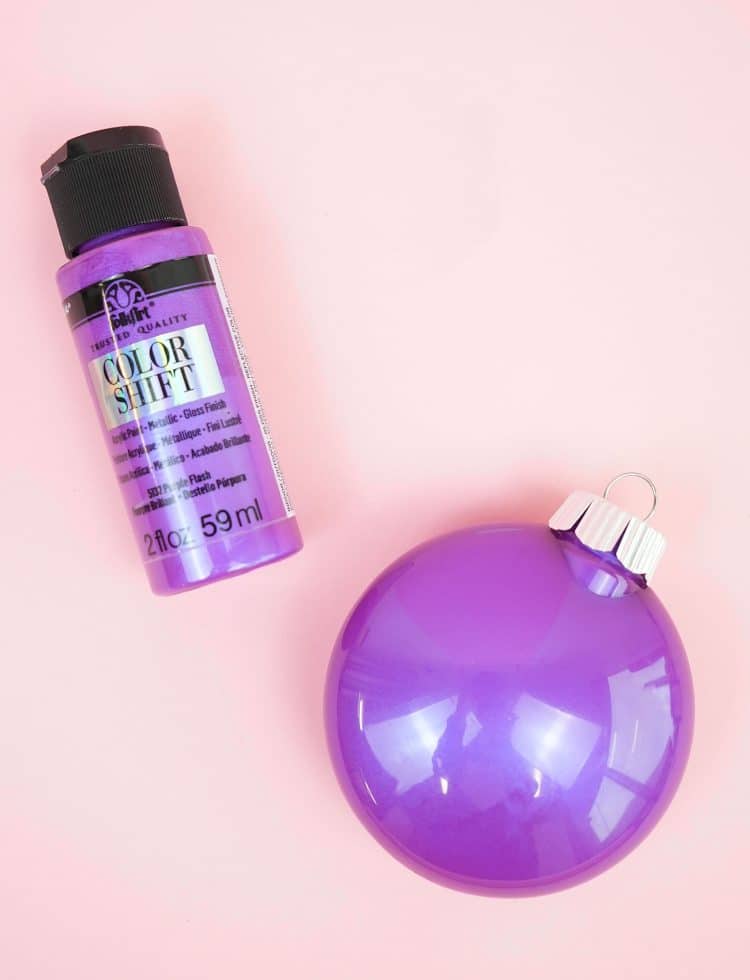 Okay, so this one isn't technically an adhesive, but we have also had lots of inquiries about the effectiveness of using acrylic paint inside of clear glass ornaments, so we couldn't pass up testing them out, too!
We tested several different paints (including this FolkArt Color Shift Paint) inside both glass and plastic ornaments, and all of them worked like a charm! (For best results, use opaque paints.) Note that some paints worked better on glass ornaments and some worked better on plastic, so you may need to experiment with your particular supplies to determine your best combination.
BOTTOM LINE: Acrylic paint is a fun option that worked really well! I will do some further testing with glitter paints!
---
The Final Results: Which Glue is Best for Glitter Christmas Ornaments?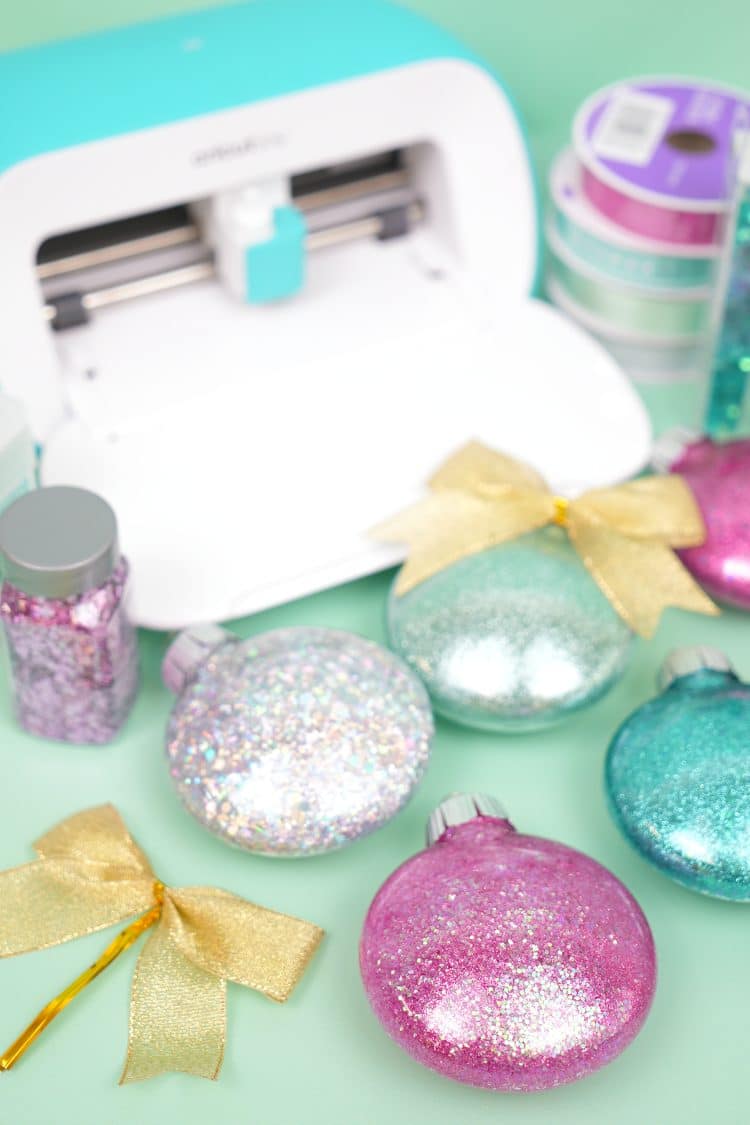 What is the best glue to use for glitter ornaments?
Out of all the different glues and adhesives that we tested, our top three choices for The Best Glue for Glitter Ornaments are:
All three of these adhesives earned a solid five-star rating in our extensive testing! Choosing any of these glues will provide stunning results for your DIY glitter Christmas ornaments.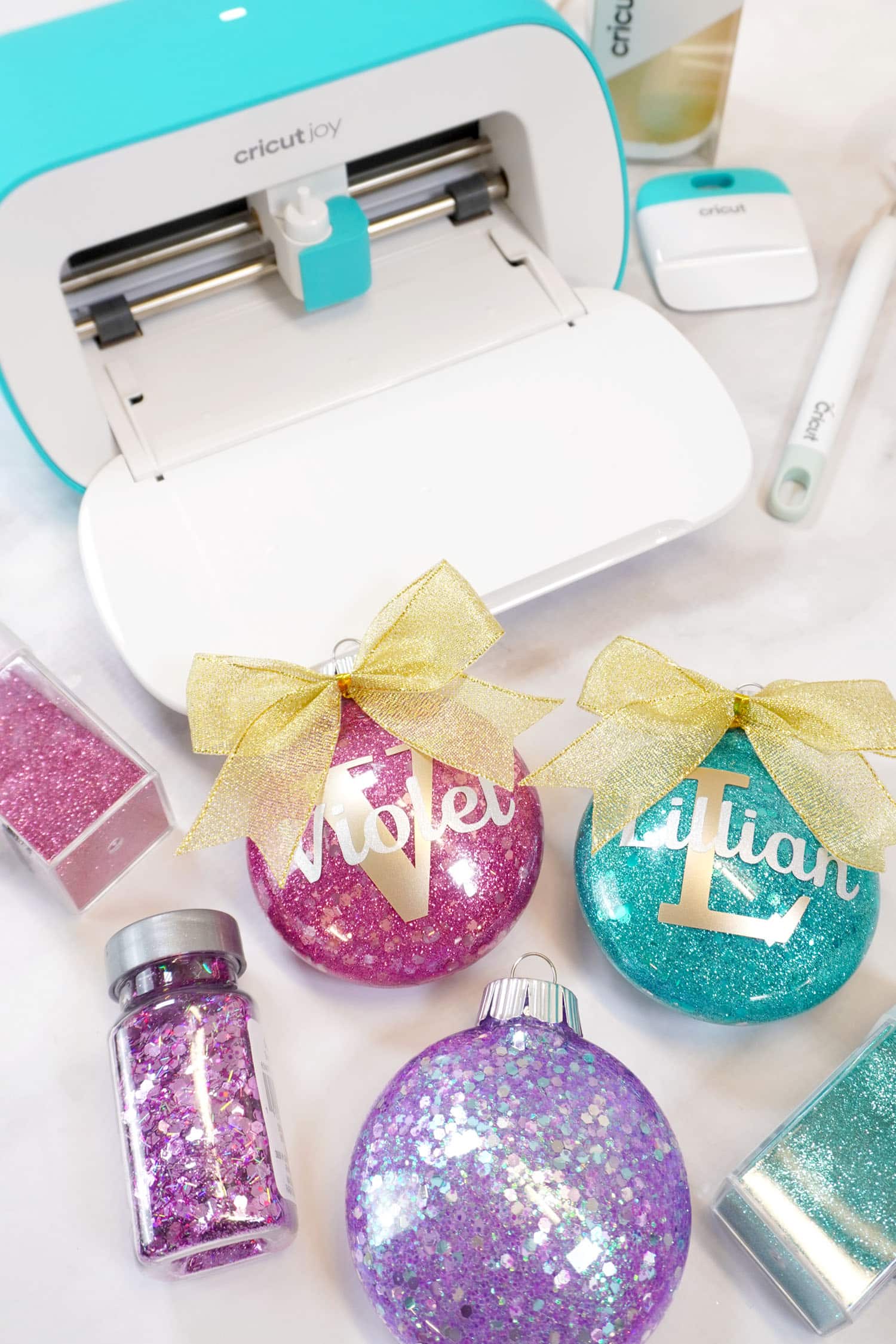 How did all of the adhesives rank in order of best to worst?
[drumroll, please] The final ratings and rankings of all ten adhesives and glues, from best to worst are as follows:
DuraClear Polyurethane Varnish (Gloss) – 5 stars
Beacon Glitter-It! – 5 stars
Minwax Polycrylic – 5 stars
Pledge Floor Gloss – 4 stars
Mod Podge – 3.5 stars
Hairspray – 3.5 stars
Elmer's Glue-All -3.5 stars (I would have rated this 3.25 if they let me use quarter stars, though! 😉)
Elmer's Clear School Glue – 2 stars
Elmer's Glitter Glue – 1.5 stars
Aleene's Craft Glaze – 0 stars
So, there you have it! I hope you found all of this testing information helpful, and I wish you the best of luck with making your glitter Christmas ornaments! Happy crafting!

Check Out These Other Christmas Ornament Ideas!
Don't Forget to Pin This for Later!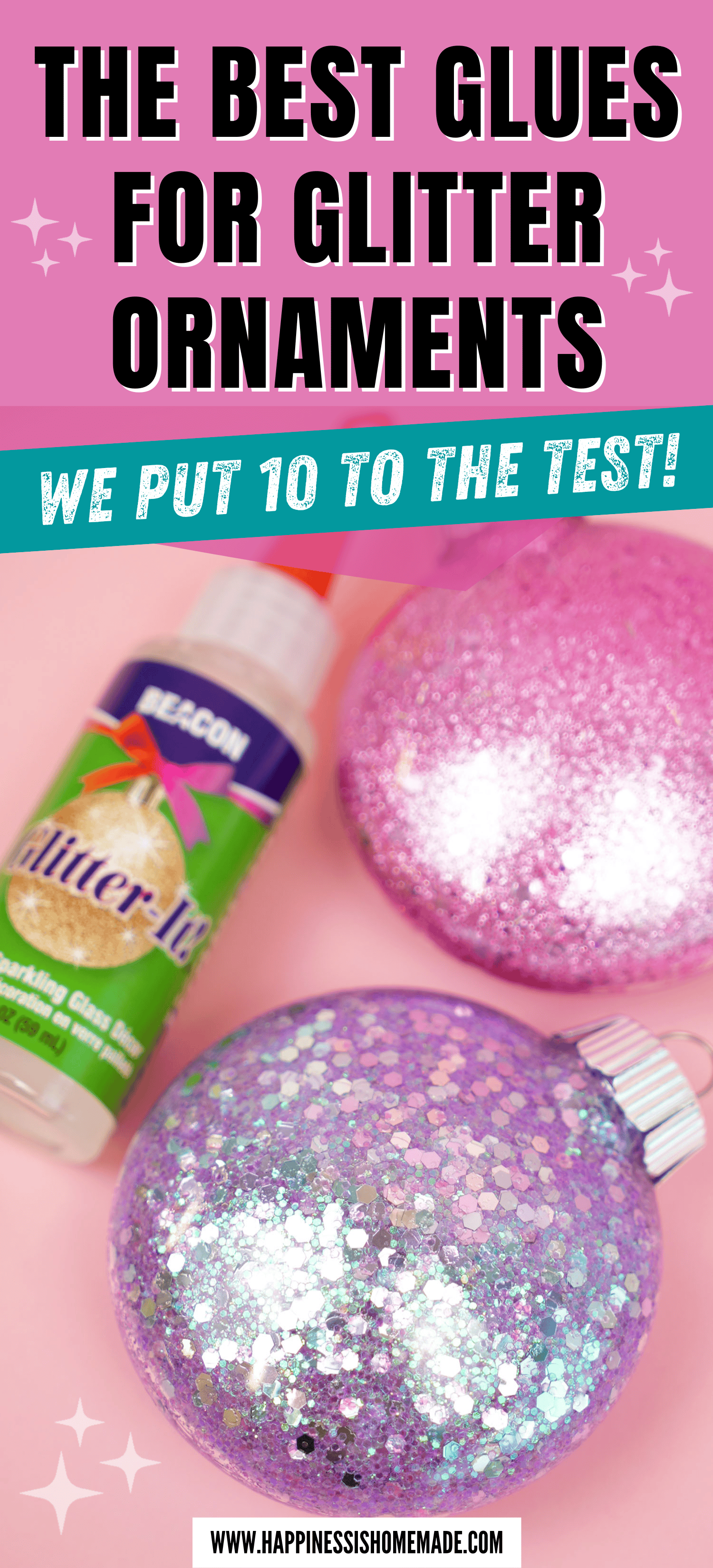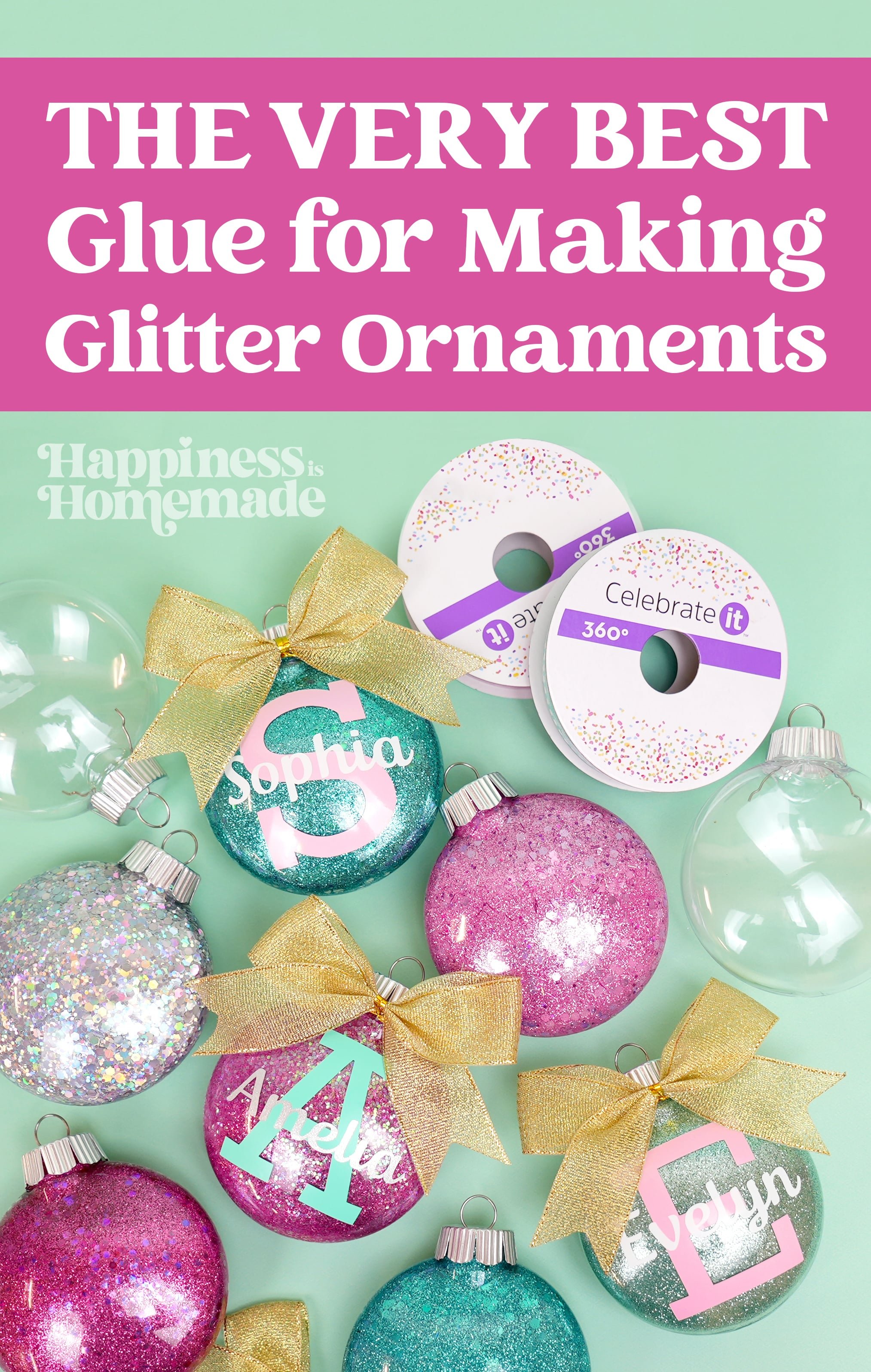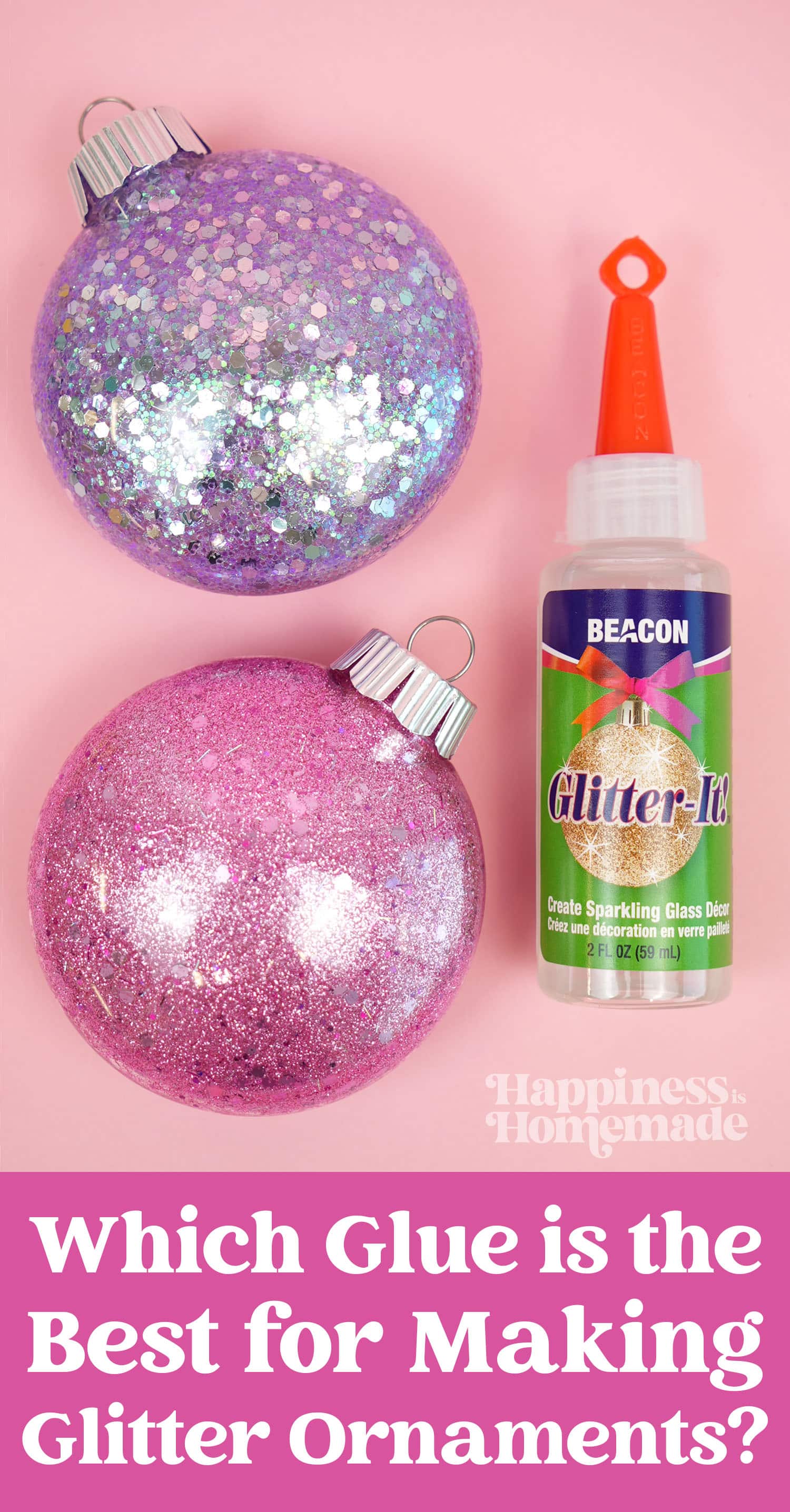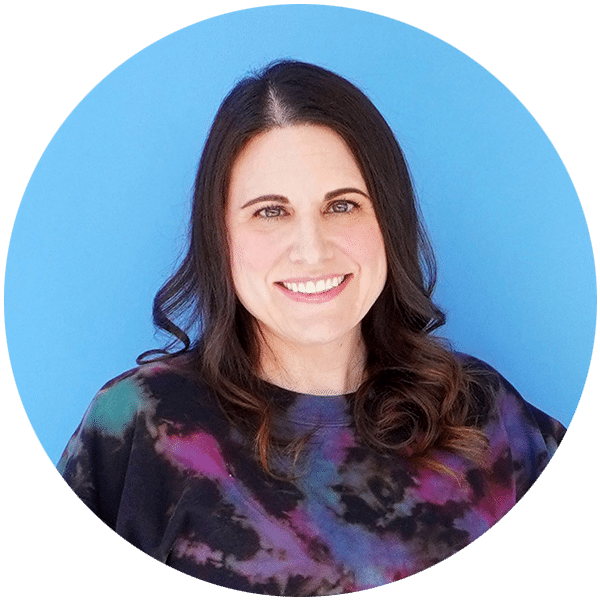 Heidi Kundin has captivated the hearts of millions with her colorful and inspiring approach to crafting, celebrations, and family fun. With over 15 years of experience, Heidi's website has become a must-visit destination for those seeking quick and easy creative ideas and last-minute solutions. Her warm personality shines through her posts, inviting readers to join her on a creative journey that's fun, rewarding, and achievable.