"Mean Green Machine" Smoothie Recipe
This post and its photos may contain affiliate links. As an Amazon associate I earn from qualifying purchases. If you make a purchase through these links, I may receive a small commission at no extra cost to you!
Here's a great way to get your busy on-the-go kids to eat their fruits and vegetables – fruit skewer kabobs and a "Mean Green Machine" pineapple smoothie recipe!
It's mid-springtime here in Northern California, and that means that the weather is already H-O-T! My boys have been spending nearly every waking moment in the pool, and though I love that they're keeping cool and getting a good amount of outdoor physical activity, it can be SO hard to get them to come indoors for meals or snacktime!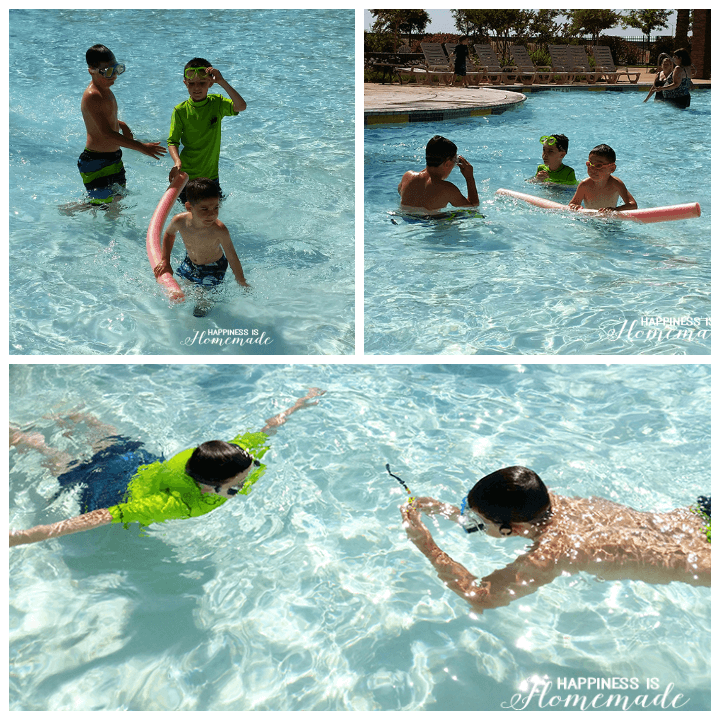 They've also been having a blast taking pictures and videos with their new underwater camera (we'll be posting a review later this week!), so that makes it even harder to drag them away from their fun in order to eat. These guys are like fish in the water!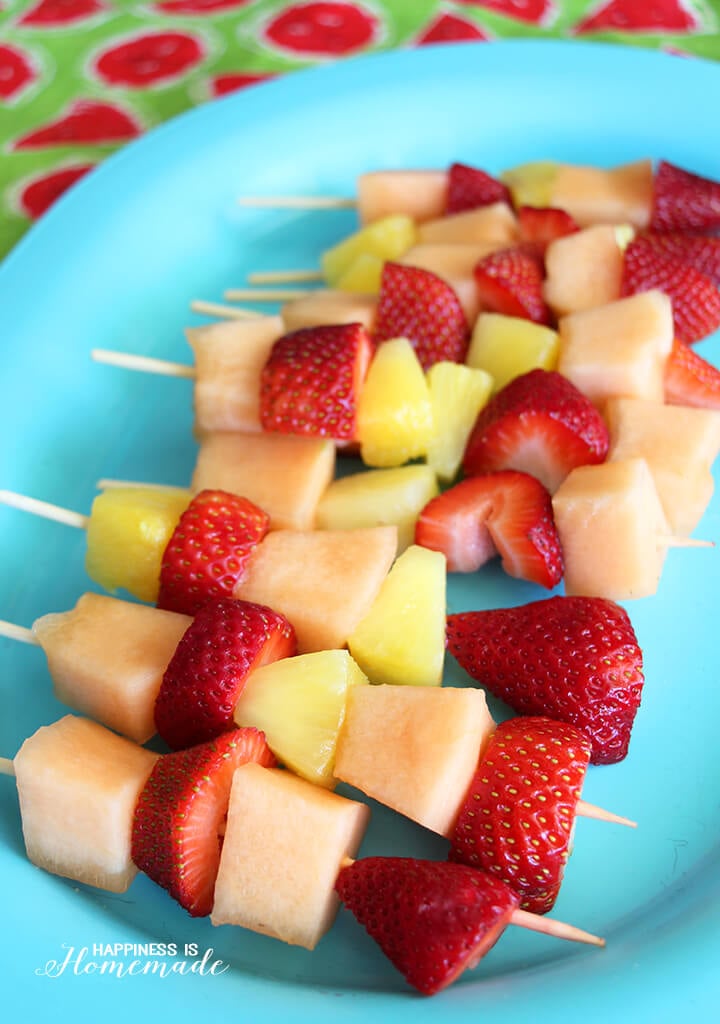 My solution for getting them to take a healthy snack break is to make it quick, easy and portable! These fruit skewer kabobs are perfect because I can serve the boys poolside without slowing them down with any plates or extra utensils.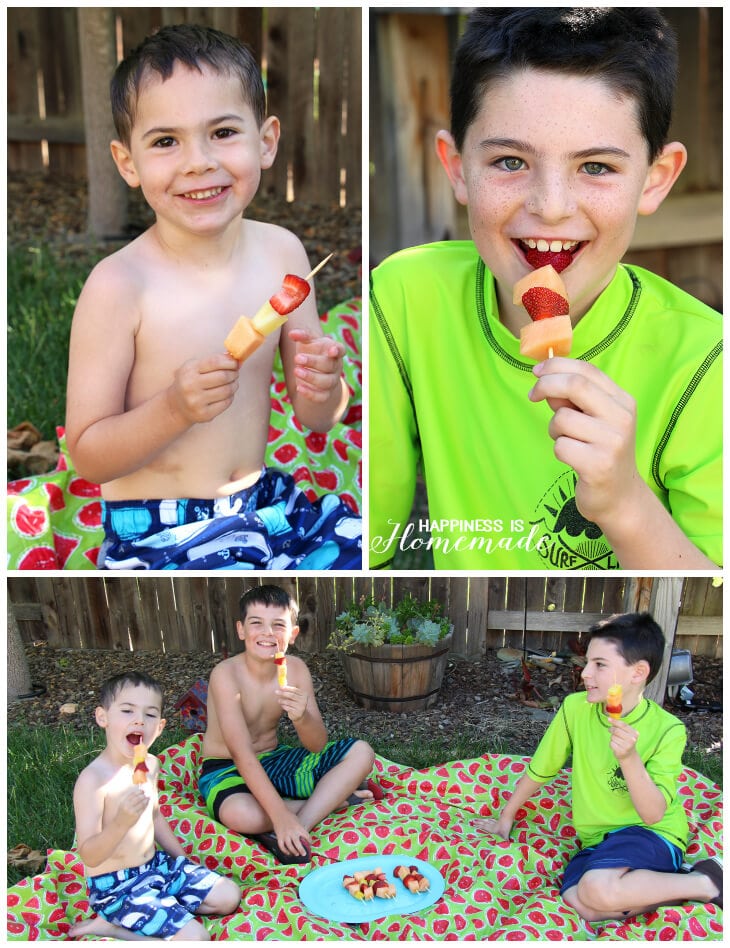 These guys will eat any kind of fruit on a skewer, but they're especially fond of melons, pineapple and strawberries. If only I could get them to devour veggie skewers with the same enthusiasm!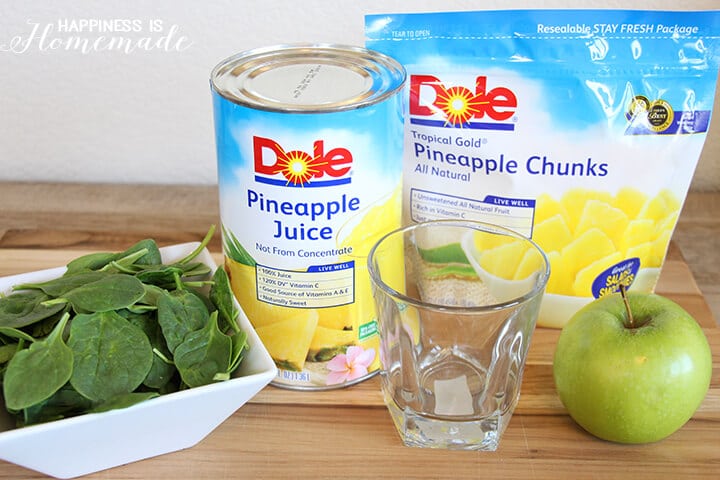 Since those veggies can be a bit harder to convince my kids to eat while we're on the go (carrots are usually the only raw veggies that they're willing to snack on), I found a fantastic way to pack some power greens into their favorite smoothie. This "Mean Green Machine" smoothie includes 4 cups of spinach, and my boys love it!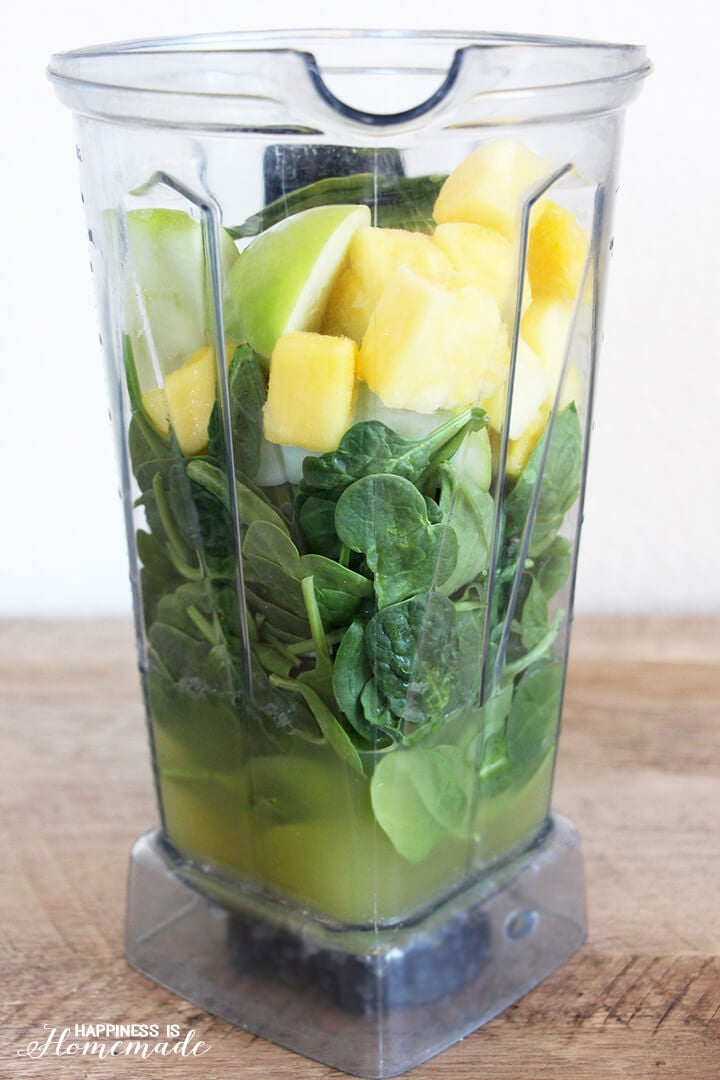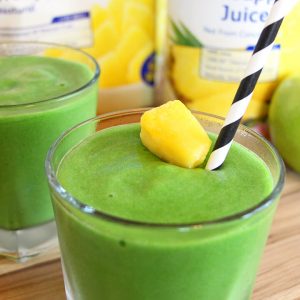 What You'll Need:
2

6-oz. cans

Pineapple Juice

4

cups

Baby Spinach

2

cups

Frozen Pineapple Chunks

1

Granny Smith Apple,

cored and quartered

Handful of Ice
Instructions:
Combine all of the ingredients in a blender and blend until smooth. Serve immediately.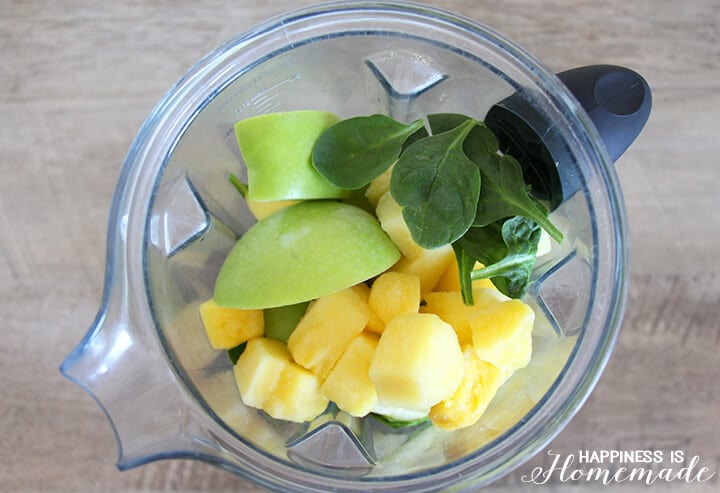 This smoothie is packed full of good-for-you ingredients like 100% not-from-concentrate pineapple juice, and it's also a great source of Vitamins C, A & E! DOLE Pineapple Juice is available in a 46 oz can or 6 oz 6-pack of cans, and right now you can save with this $1.00 off #coupon for any 46 oz or 6-pack of DOLE Canned Pineapple Juice (for a limited time only.) It's a great pantry staple to keep on-hand so that you're ready to whip up a Mean Green Machine smoothie anytime!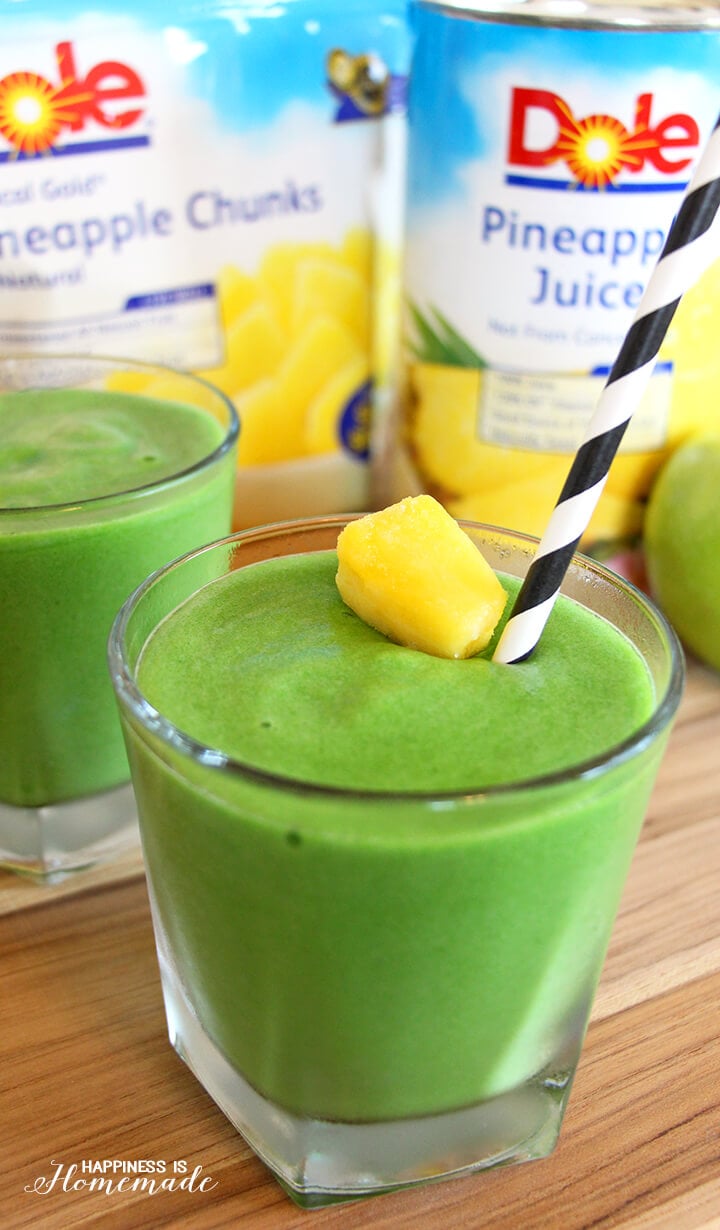 These smoothies are definitely get-out-of-the-pool-worthy! I love knowing that I'm giving my kids a healthy dose of nutrient-rich fruits and vegetables, and they love that they're getting served a cool frozen drink poolside! My oldest son said that the combination of Mean Green Machine smoothies and the pool makes him feel like he's on vacation!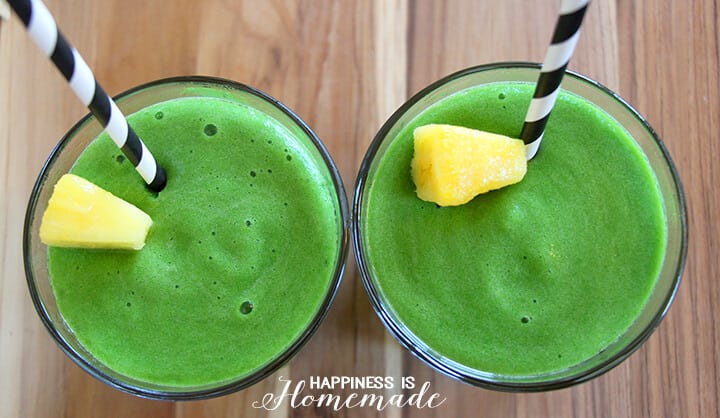 Celebrate everyday special occasions and holidays with DOLE Canned Pineapple Juice. Visit dole.com/sunshine to learn more about DOLE Canned Pineapple Juice's Year of Sunshine, and enjoy bright ideas on mixing tasty tropical cocktails, marinades and other delicious menu items. Be sure to follow DOLE on Facebook, Twitter and Pinterest for even more great ideas and product information!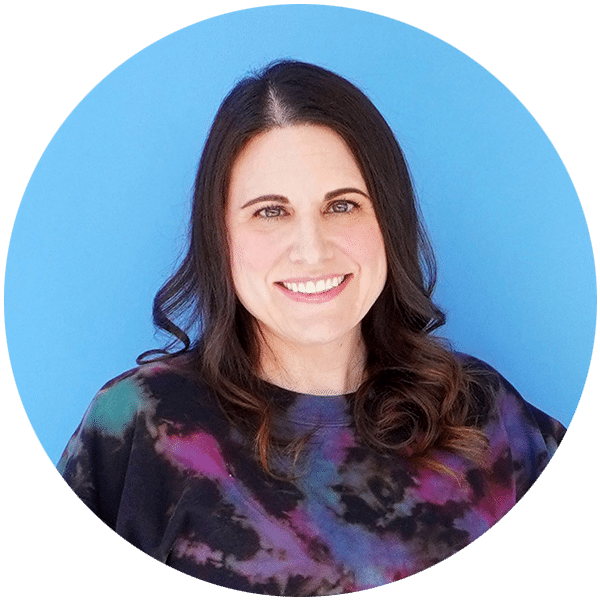 Heidi Kundin has captivated the hearts of millions with her colorful and inspiring approach to crafting, celebrations, and family fun. With over 15 years of experience, Heidi's website has become a must-visit destination for those seeking quick and easy creative ideas and last-minute solutions. Her warm personality shines through her posts, inviting readers to join her on a creative journey that's fun, rewarding, and achievable.